A special vehicle - ferry. Forcing the Onega River.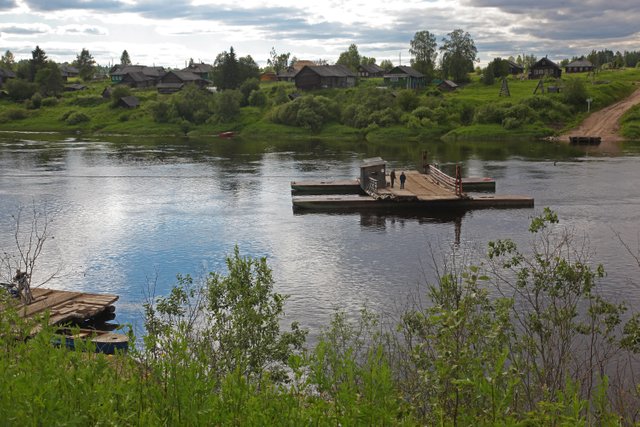 I happened to an incident. I prepared the article and when I clicked the "post" button I received an error message. I clicked the button again and as a result I published two identical articles.
This is not very good and I immediately decided to change one of them and make another post. Since I am now going on a long journey - an expedition for 1000 kilometers, then I decided to make an article about road stories.
Stories from my travels.
Waiting for a new trip.
It was in my first Russian north travel. We drive among the Onega river and sudenly we saw a ferry.
The ferry was commanded by two heavily drunk people.
These good-natured northern people happily ferry us to the left bank of the Onega. We walked around an abandoned village, inspected an old wooden church. It was a whole adventure.
This is the place known on the river Onega. Now this village, and in ancient times was a city, so it is called in the description of the Russian land - "The Big Drawing Book (1627) -" the city of Turchesovo, "the city of Turchasov." This is one of the oldest settlements of Novgorod in the North, but the first mention of It refers only to the year 1536. In the 17th century Turchasov was the administrative center of the Turchasovo camp, which included nearby villages, as well as the Kozheozerskaya desert, and later, when Turchasovo lost its administrative significance, it continued to be a large commercial village.
By assumption, the word "Turchasovo" comes from the words "tour" - the tower and "hour" - the watch; watch tower.
On the left bank - the country side. In some old documents, the village is called Posadniy. Three huge majestic structures occupied until recently the central place on the hill of the Posad - two churches twenty-two sazhens high (sazhen - 2.13 m) and a bell tower. The age-old experience of carpentry, the skills accumulated by generations, are worthily embodied in the Tourchas ensemble, which closes the 18th century and, one can say, the history of Russian wooden temple architecture.
It's amazing that we were in this place and saw this temple with our own eyes. There are traces of attempts at restoration on it. Maybe people will bring it back to life?