Climbing Mount Elbrus in Russia - Home to base camp
My trip to Mount Elbrus started off rather shaky – I think I may have underestimated the preparation time and perhaps prioritized the climbing requirements above everything else. It is always great to combine a climbing expedition with a vacation but the complexity of carrying excess baggage is not to be underestimated.
Mount Elbrus is one of the "Seven Summits" and at 5642m above sea level, has the highest peak in Europe that lies along the Caucasus mountain range in Russia. Mount Elbrus has another summit (East summit) that is 5621m above sea level that is sometimes recognized as an alternative summit, especially if weather conditions do not allow for the higher summit. The two highest points are like twin peaks, as shown in the picture below. Both Mount Elbrus peaks can be summited from the North or from the South. The number of people attempting the summit from the North side is very small compared to those from the South. During our time at the mountain, it was estimated that during the climbing seasons, there is about 1 summit attempt (1 or more climbers at a time) from the North side in 3 or 4 days but the statistics might have improved slightly since then. The South side is much more "touristy" and is equipped with "Snow cat" vehicles that transport climbers from around 3800m to about 4200m. The North summit, however, is a lot harder, breadth-taking and does not present any opportunity anywhere to be lifted to a higher altitude.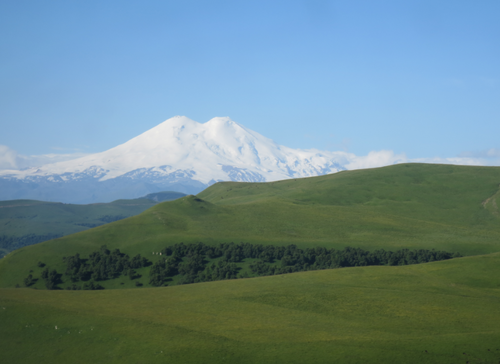 The twin peaks of Mount Elbrus
I did not fly out from Johannesburg on the planned departure date because my visa would have been valid an hour after my scheduled time of arrival in Moscow! I failed to check and double-check the visa dates – assuming that the Moscow arrival date on my flight ticket would be used on my visa and not the expedition start date. Fortunately I had booked Emirates Airline and so there are more than enough flights into and out of Dubai and I was not penalized for the error.
I also cannot emphasize the need for a translator app or phrase book to assist with getting around and settling down into a hotel quickly. English is not generally spoken and so valuable time was wasted sorting out problems that originated from miscommunication. Very often people cannot recognise some of the alphabets that we use, so it might not fully assist to even write things down. We missed our domestic flight from Moscow to Mineralnye Vody because the driver dropped us at the wrong airport, and we could not read the name of the airport ourselves to correct that mistake early.
Moscow has three international airports that are located fairly far apart. So when booking flights, especially if you are booking your own flights at expedia.com or similar sites, makes sure you connect to the next flight at the same airport. The other issue to keep in mind is that domestic airlines have lower baggage limits than international flights. It works better if your international flight has a domestic partner in Russia and will honour your international allowance but unfortunately for us, this was not the case. To ensure you are on the flight, online check-in is very important.
So after the rocky start, a few comedy of errors, newly booked tickets, emergency (mis)communication to reschedule our airport pick-up, we eventually landed in Mineralnye Vody, ready to start the expedition. We drove from the airport in Mineralnye Vody to Kislovodsk town in two separate cars and had firsthand experience of Russian driving on an open road. The two drivers (obviously on retirement for some time now) were pretty much racing against each other and a couple of near-misses on barrier lines later, in pouring rain, we arrived safely in town! The same afternoon we met the expedition leader Alex and we completed all gear check.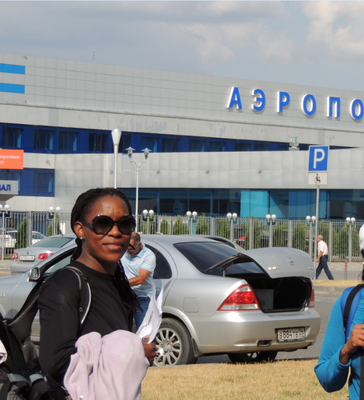 Outside the airport at Mineralnye Vody
The most important items he was looking for were summit jacket and pants, gloves and mitts, mountaineering boots and sub-zero socks, thermos flasks, balaclavas, hiking pants, boots and jackets (for lower altitude), goggles, a sub-zero sleeping bag, thermal inner wear, tracking poles and backpacks. Because of baggage limitations, most of us opted to rent ice axes and crampons.
After breakfast the next day we were ready to drive about 2 hours off-road to base camp and after the rough ride from the airport, we were pretty much ready for anything. We were in two vehicles and I would have loved to ride in the formidable, "Old Russia", never-die, hard as rock machine, but watching it in action from a bit of distance was not a bad compromise.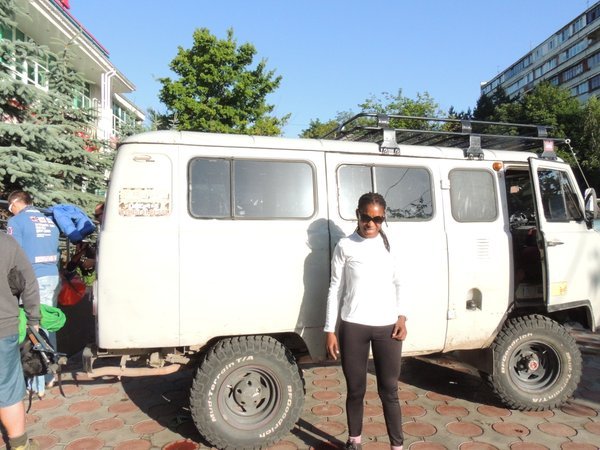 The Russian 4x4 that blew me away
We came across rural Russia for the first time, with shepherds and all that and about an hour before reaching the base camp, the quality of the gravel road deteriorated completely, with narrow cliffs, river crossings, bad drops and steep uphills where our 4x4 skidded from time to time. It was a completely hair-raising experience but the beautiful views of the mountains and the snow-covered twin peaks of Mount Elbrus provided the necessary distraction.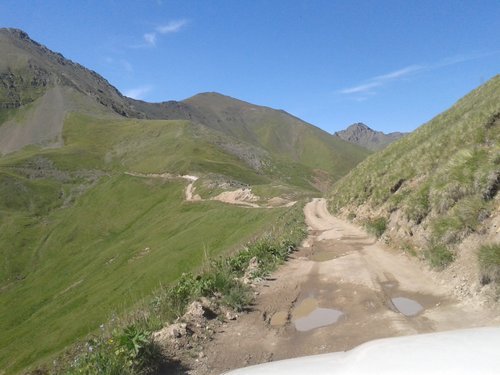 Driving to base camp on hair-raising terain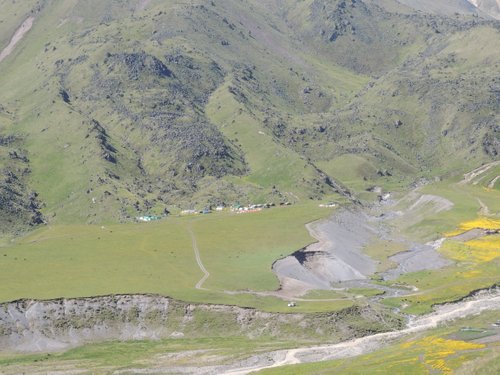 View of basecamp as we approached
It was a huge relief to reach base camp. There were orange tents lined up and next to them additional shack-like structures in blue, our home for three nights while we do acclimatization.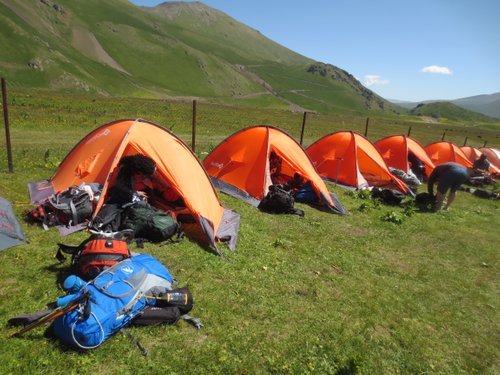 Our home for three nights