Great View of Maron River Pacitan East Java
The Road to Maron River Tour Pacitan East Java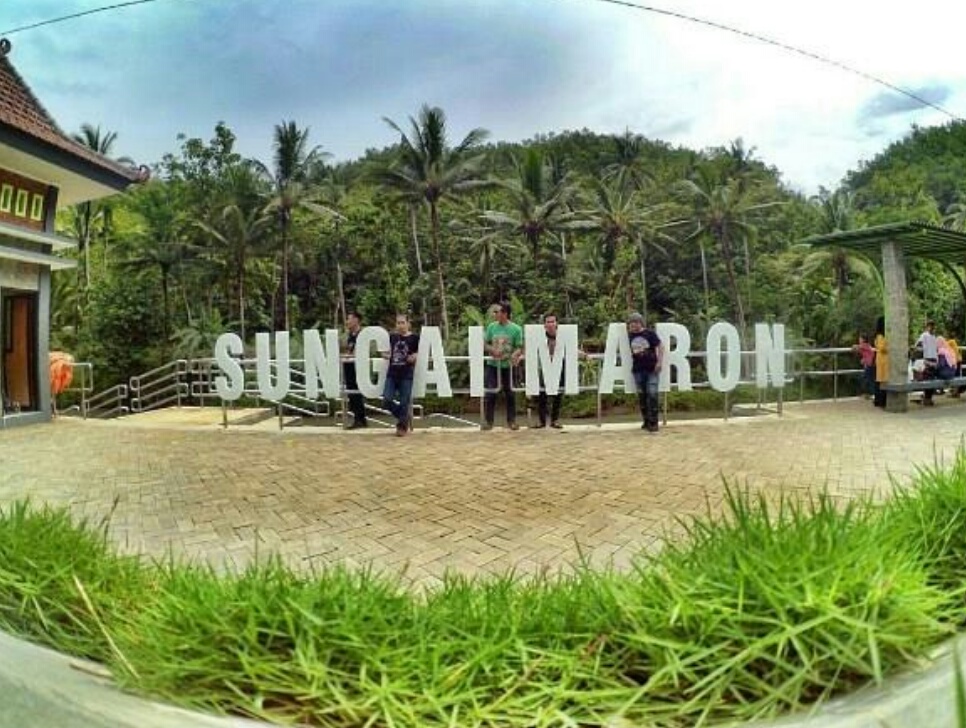 River Maron Pacitan - Speaking of Pacitan tourist attractions are never exhausted. There's always a new place to explore when you're there. Indeed, a small town in East Java bordering Central Java always provides a beautiful charm for those who want to spend vacation time, or just simply spend time with friends and family. In addition to the beach and the usual cave become a tourist destination in Pacitan, there is still one tourist attraction that is not less beautiful than the beach - the famous beaches and has a prestige like Teleng Ria Beach, Buyutan Beach, and Soge Beach. The tourist attraction is none other than Maron River Pacitan.
The Maron Pacitan River of East Java is very beautiful and fascinating. Here you will be presented with beautiful scenery and syahdu, where you can along this river with the palm tree accompanied on the right side of the river. Water sungainyapun seemed green because the reflection of the color of trees so soothing. In fact, because of its beauty, this river gets its nickname Green Canyon Pacitan because the green atmosphere is really charming. There are also those who call this place like the Amazon River of Indonesia, because when you enjoy this Maron River, your adrenaline flavor and adventurous spirit as if challenged to be able to explore this river thoroughly.
Location of the Pacitan Maron River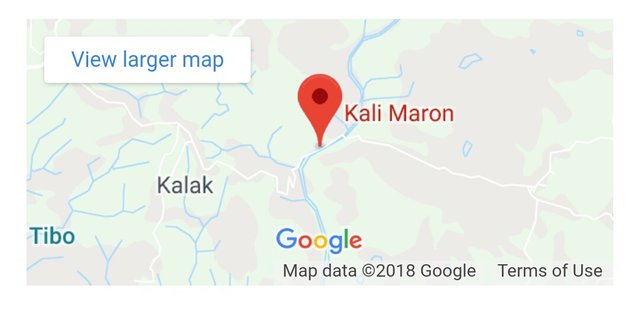 To find the location of this one tour is not too difficult, the address of Maron Pacitan River itself is precisely located in the Village Dersono, District Pringkuku, Pacitan East Java. It is quite far from the center of Pacitan City, its own distance about 40 km from Alun - Alun Pacitan. It takes about 1 hour and can be reached by landline. If you are from Solo, its own distance is about 100 km, and it takes more or less 3 hours to get there. You should go there using a private vehicle only because public transport still can not reach the edge of the Maron River.
The Road to Maron Pacitan River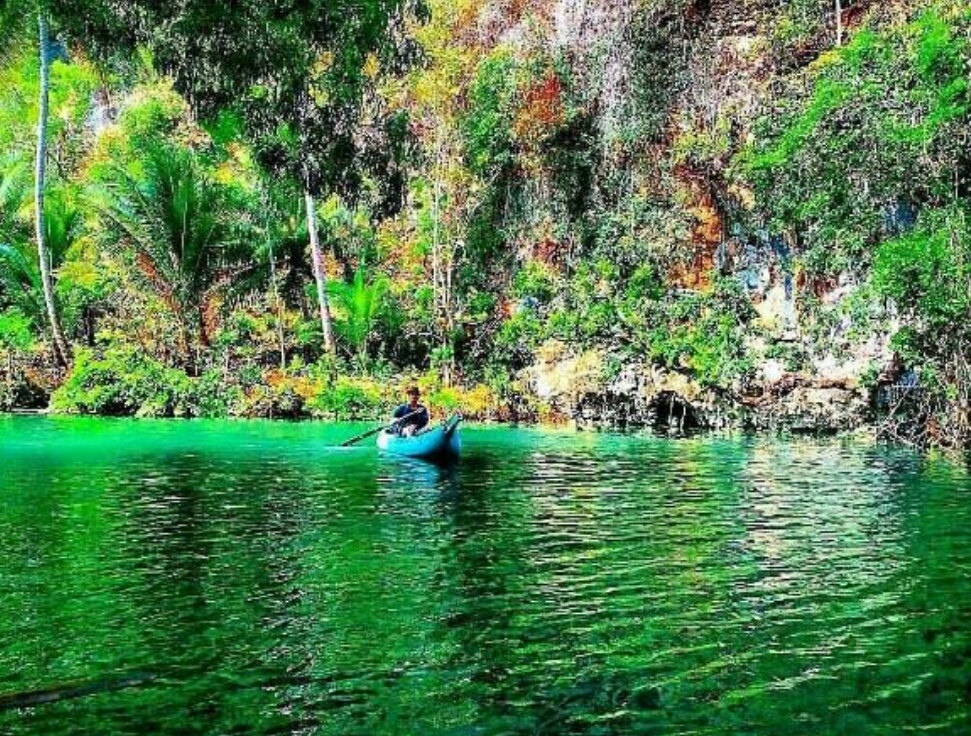 Although it is quite a distance away, you do not have to worry about the road to the Pacitan Maron River. The way to get there can be fairly easy to find. The easiest way to get there is to use the same route as Gong Gong. When you get there, you just continue the journey to the south about 15 km, or approximately takes 30 minutes to reach the river bank.
You need to know, the field trip to the Maron River in Pacitan is not so smooth. You need to be careful with uneven road conditions, especially roads that approach the parking lot. Make sure you stay focused to drive your vehicle, especially you who use two-wheeled vehicles. Because, in addition to the uneven road, the road to the Maron River is quite rocky and slippery because of puddles and moss.
HTM River Maron Pacitan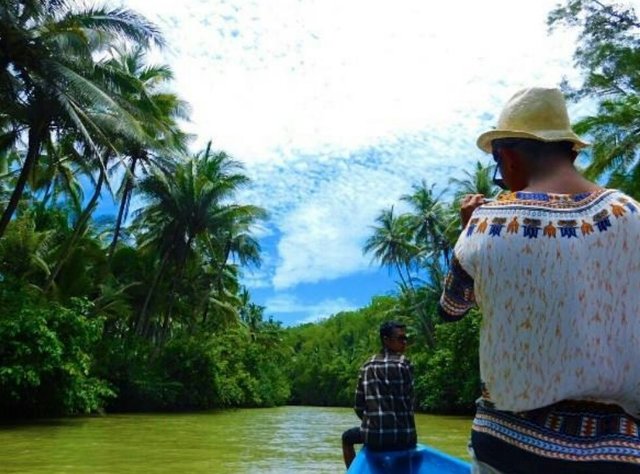 To enjoy the tour on the Maron River, you do not have to worry about your wallet because the cost should not be too much. For own admission only 2,000 rupiah per person, certainly will not drain your pocket. The price is very cheap considering the scenery presented by the river is very fascinating, you are guaranteed to not be bored and will be more curious to want to explore along this river.
Maron Pacitan River Tours Indonesia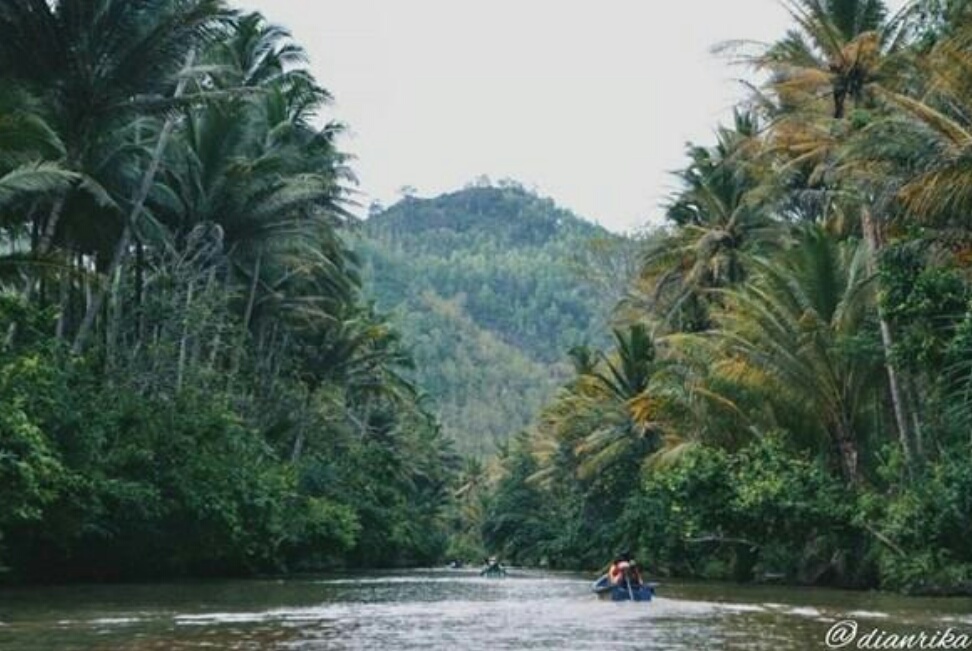 If you just enjoy the Maron river from the river bank it will not be complete. You are advised to save Maron Pacitan River if you want to enjoy the beauty of this place thoroughly. Because it is the best way to enjoy the beauty of this place is to rent a boat that many provided by local residents. Lots of people around who provide facilities that tourists need such as public toilets, food stalls, parking, and rental of other support equipment.
As for the cost of renting the boat Maron Pacitan River itself is actually dependent on the condition of the boat. The boat rental price itself is around 100,000 to 150,000, and can accommodate 5-6 people. And if you want to use a boat that has a backrest, then you need to pay additional 5000 rupiah. The fee is included with the boat steering helmsman who also served as a guide who will take you to down a river that has a length of 4.5 km. The duration of the trip in this river rafting will take approximately 45 minutes.
Because the river flow is quite challenging, there are often various festivals or competitions that attract many tourists. Since 2012, in this river every year there is a 300m rowing competition followed by participants from various regions. The event is very crowded and makes the Maron River increasingly crowded and vibrant.
With the relatively affordable cost of the Maron Pacitan River, this place is perfect for your exciting holiday. But during the play here, you have to be careful, because this stunning clear river has a depth of up to 20 m. For those of you who can not swim, be careful, even if you already wear a buoy, but this river has a fairly heavy current. The river itself boils down to Ngiroboyo Beach, and when you get to the beach, you can do exciting and exciting activities like surfing or water tubing. How, exclamation is not it? The more you want to find out info about this river, you will be more curious because the charm of this place is endless.
Fishing on the Maron River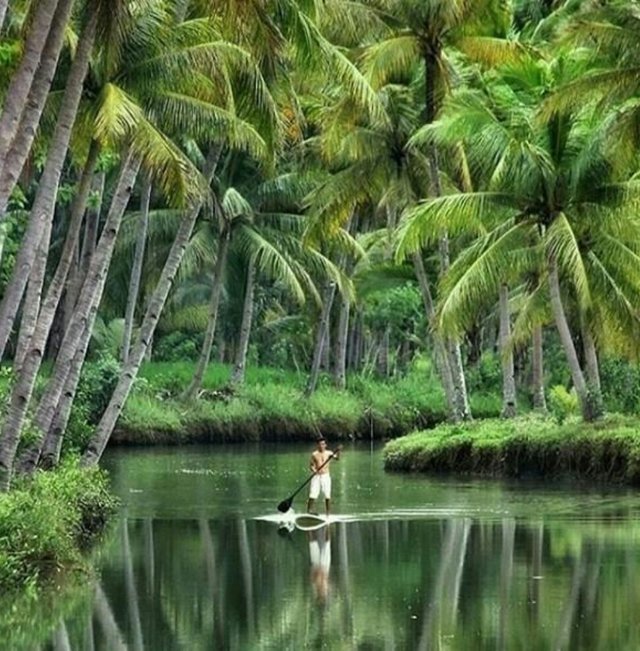 In addition to river rafting, this place is also the best spot for you who like fishing. Every day a lot of people are fishing in the River Maron Pacitan is because a lot of fish species that are in this river. There are many fish such as eel fish, tilapia, pomfret, and many more because this river is a meeting of sea water and fresh water. So when you fish here, you will not be alone because many people are fishing, and you will not be disappointed because you will not forget this experience.
These exotic, exotic beauties in the Maron Pacitan River are perfect for you as an option as your destination for a trip to the Maron Pacitan River. Especially for you who deliberately come to Pacitan, this location must you go and do not you miss if you really do not want to regret. Because it is incomplete if you come to Pacitan and have not enjoyed this Green Canyon Indonesia. In fact, the artists of the capital alone are willing to far - far come to enjoy the beauty in exploring this river. So make sure this place is on your to-do list, and good-bye!