CEBU: The Unplanned Weekend Get-away
---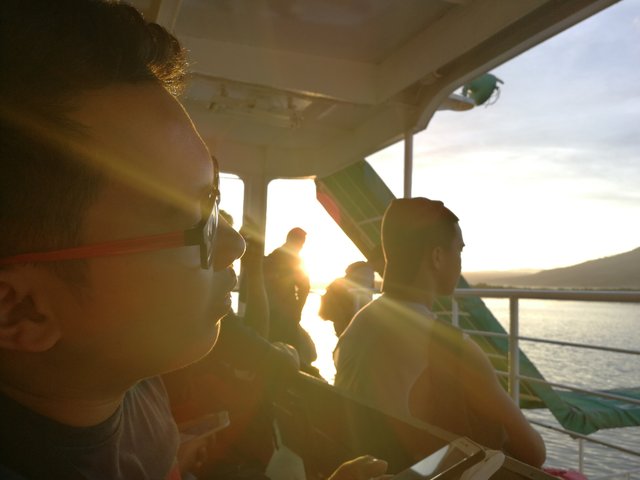 Good day my co-steemians! Although it is unlikely for me to share stories not related to technology, I decided to share one of my recent travels because I believe it's worth sharing. Last Friday, February 23, 2018, @keenlyrac and I went to Cebu for the third time.
Initially, it was her decision that she would go to Cebu City to support the dance crew where she belongs in a competition at Robinsons Galleria Cebu. She opened up that she really wanted to go there because that's the only thing she could do to support her team. I myself would not allow her to go to Cebu City without me but as planned by Niantic, the company that owns Pokemon Go arranged February 24, 2018 at exactly 11:00 AM to 2:00 PM as the schedule for the monthly Community Day Event wherein the famous pokemon "Dratini" would be globally spawning at a higher rate during that event. This leads me to have second thoughts to go with her to Cebu City. However, my friend Jed helped me contact the Pokemon Go community in Cebu City thru the app "Discord" to help me with my problems for the Community Day Event. With discord, I was able to reach out some of them and I was thankful that I was welcomed to join them.
And so our journey to Cebu City started last Friday, 4:00 PM at the Port of Iligan City. The vessel that we rode on would travel to Ozamis City prior to going to Cebu City. The vessel was expected to arrive at Cebu City early in the morning at the following day, February 24, 2018.
Upon arriving at Cebu City, we immediately contact some of @kneelyrac's colleagues and decided to stay with them at New Era Inn, Mabolo, Cebu City for us to be able to prepare for our own agenda.
It was already 10:00 AM when we decided to depart for our own agendas. The Pokemon Go Cebu community invited me to go to JY Square Mall where they will have the Community Day Event celebrated but, the problem is I'm not well versed with the locations within Cebu City and so Google Maps came to the rescue.
It was already past 11:00 AM when I arrived at the place and met them. At first, I was hesitant to approach them because I don't know them or their playing type as a group. It was Xifi who introduced me to everyone in the group and gave me tips for me to maximize the 3-hour event. However, the system didn't work well during the event and so they decided to extend the event initially from 2:00 PM to 5:00 PM. Imagine a 6-hour event with me holding 2 mobiles for me to catch as many Dratini's I could.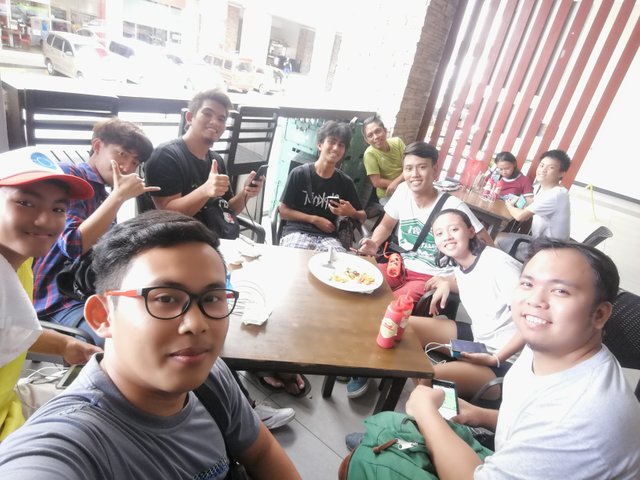 At 2:00 PM most of us started to get hungry and so one of the group offered to host a feast on his Pizza House inside the mall. With the fact that the event would go for 6 hours, around 4:00 PM I decided to go after @kneelyrac because my mobile phones are about to go dead.
Things went on my side because the HipHop International dance contest started at 3:00 PM on the same day and so, I was able to see her colleagues perform at Robinsons Galleria. Her team, the League of Aces was lucky enough to garner the third place in the Mega Crew Division and will compete at the National level this coming April at Manila, Philippines.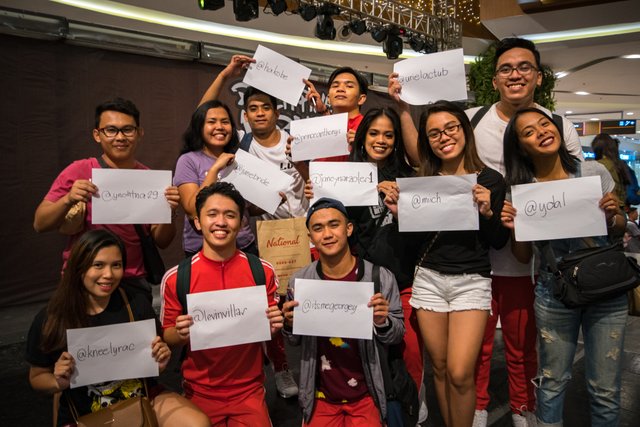 Photo Credits: @junebride
Right after the announcement of the winners for the said event, @kneelyrac told me that some of out co-SteemitAchievers residing in Cebu wants to meet us up personally and we were warmly open for it. It was @junebride and her husband whom we met at the same place, Robinsons Galleria. We were gathered at the stage and captured a couple of photographs for us to treasure that moment.
To continue our celebration for the success of the League of Aces, Caryl and I decided to invite one of our closest friends in the group, @prince and his babies to join us for a dinner. It has always been our plan to have a dinner together to celebrate our birthdays. Caryl's birthday is on February 26, Prince's is on February 27 and mine is on February 29. For us to realize such plans, I dominantly asked Prince to join us together with some of Caryl's friend, Ianna, Arif and Thea.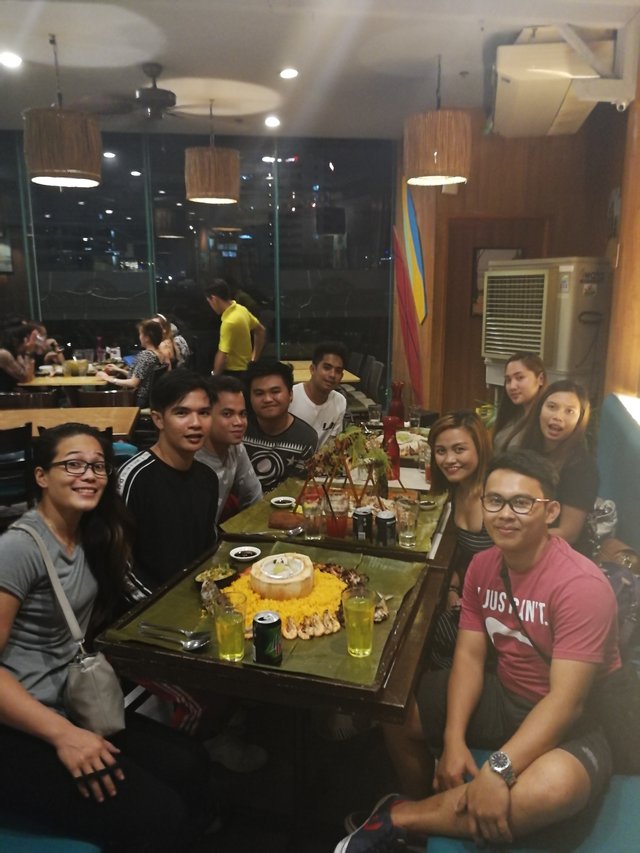 Deciding on where to eat has always been a problem for us since I am allergic to majority of the seafood and in chickens but that didn't stopped me from choosing Seafoods Island as our place to celebrate and have our dinner. After our dinner, we aimed to maximize our stay in Cebu City so we decided to have some night life but the allergic effects of the seafood started in my body which lead me to be sleepy and left to rest at the Inn.
Day 2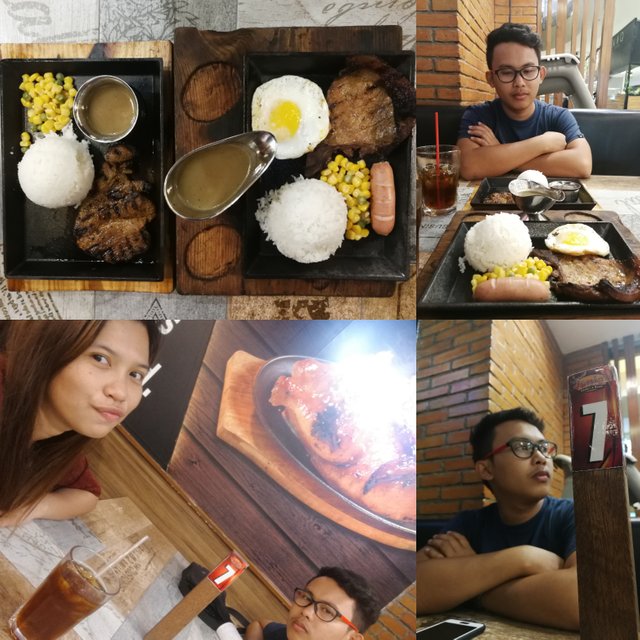 Early in the morning, Caryl and I was considering to extend our stay in Cebu City and planned to return at Monday, February 26 but we got lots of work left in Iligan City so we decided to go home instead. Our day was spent roaming around SM City Cebu and in Colon because our vessel was scheduled to leave the Cebu City Port at 7:00 PM. We were able to have some quality time together since we got busy on our agendas the previous day. Again and again, we were having hard times on where to eat because of the restrictions of my body for it would react to specific foods. We ended up eating at Jonie's Sizzlers and Roast. We just killed the since were 7 hours too early for our scheduled travel back to our homes.