Sculpture park in the Frogner Park with more than 200 sculptures by Gustav Vigeland (1869–1943) in bronze, granite and cast iron, including The Angry Boy (Sinnataggen in Norwegian), The Monolith (Monolitten) and The Wheel of Life (Livshjulet).
Vigeland was also responsible for the design and architectural outline of the park, which is one of Norway's top tourist attractions, with more than one million annual visitors.
The park is free to enter and open all year round, 24 hours a day.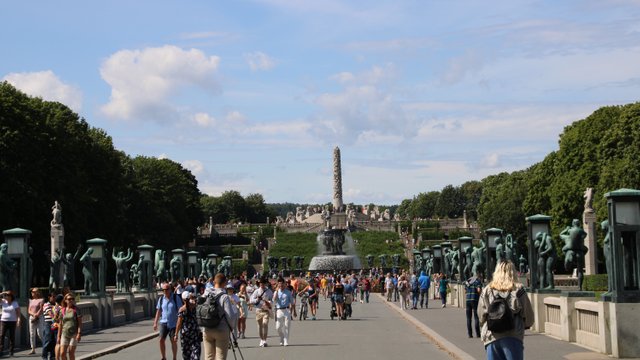 photos @xpilar
The Vigeland installation (Norwegian: Vigelandsanlegget), originally called the Tørtberg installation, is located in the present centre of Frogner Park. It is the name of the arrangement of sculptures and not of an area as such, as the entire park is called Frogner Park. The Vigeland installation in Frogner Park is sometimes incorrectly referred to as the "Vigeland Park," but this name has no official status, is not commonly used in Oslo and is considered inaccurate. The legal name of the entire park in accordance with the Place Name Act (stadnamnlova) is Frognerparken (Frogner Park).The sculpture installation was, as part of Frogner Park, protected under the Heritage Act on 13 February 2009 under the name Frogner Park and the Vigeland installation
(Norwegian: Frognerparken og Vigelandsanlegget).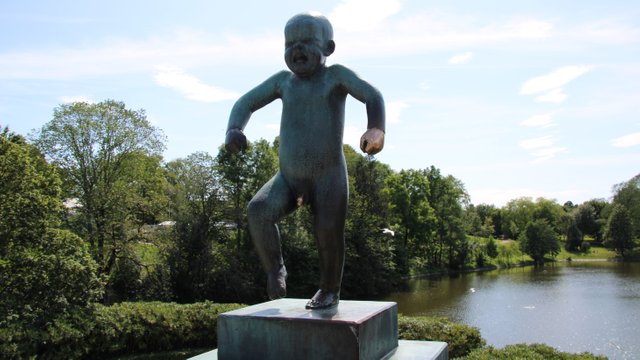 Angry Boy (Sinnataggen) photos
@xpilar
The sculpture area in Frogner Park covers 80 acres (320,000 m2) and features 212 bronze and granite sculptures, all designed by Gustav Vigeland. The Bridge was the first part to be opened to the public, in 1940. The Bridge forms a 100 metre (328 ft)-long, 15 metre (49 ft)-wide connection between the Main Gate and the Fountain, lined with 58 sculptures, including one of the park's more popular statues, Angry Boy (Sinnataggen). Visitors could enjoy the sculptures while most of the park was still under construction. At the end of the bridge lies the Children's Playground, a collection of eight bronze statues showing children at play.
---
All photos/video are taken by me with the Canon EOS 2000D
and Samsung Galaxy S7 edge
---