Cameron Highlands Resort Review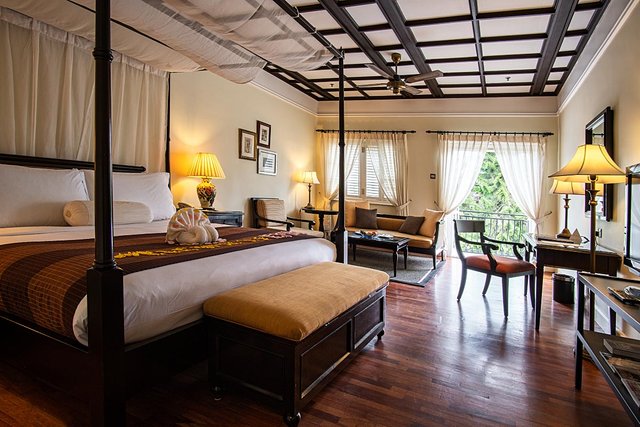 We have teased you enough with our Cameron Highlands Resort High Tea Review, haven't we? Now is time to show you this magical resort where they serve it. It is a bubble that offers a sneak-peek into the distant past. We are not going to lie to you, Cameron Highlands isn't as pristine as it was back in the Jim Thompson's times. That's because of all the deforestation, massive agriculture and heavy pollution happening up there. Luckily, Cameron Highlands Resort is a peaceful place in this chaos, and we love contrasts. Check why we are hyped over this heritage hotel and enjoy our Cameron Highlands Resort Review.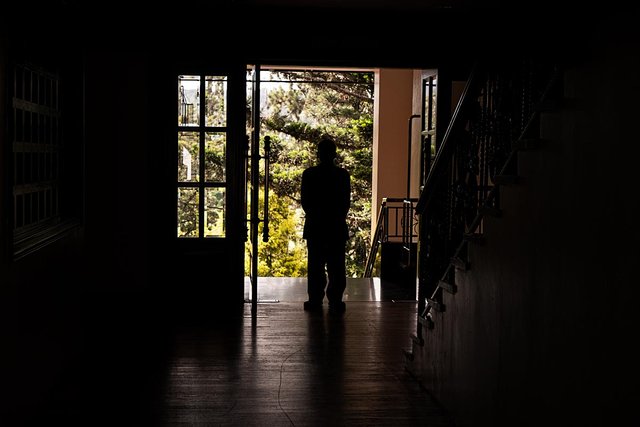 Cameron Highlands Resort is a perfect getaway point.
Cameron Highlands Resort Background
Cameron Highlands was established as a hill station, attracting British colonials and expatriates, who escaped the searing tropical heat. Delightful spring-like climate and fertile grounds quickly made this area trendy, and it became known as a 'little piece of England in Asia.'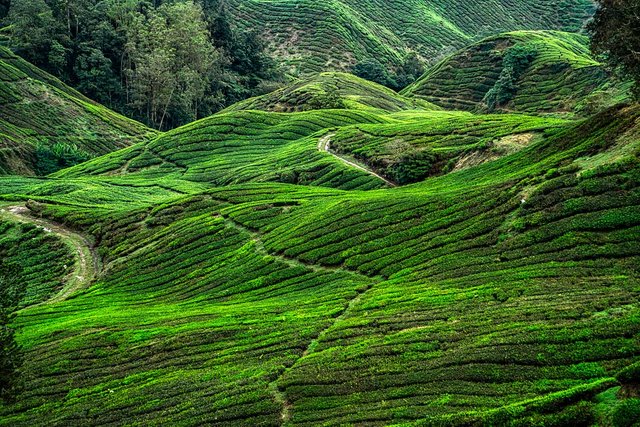 Where English colonials stepped there is a tea.
For this reason, the hotel rooms were very much needed. Therefore in the 1930s, they extended the existing cottage and made this place perfect for guests. Nevertheless, the main architecture on today's resort dates from the 1970s.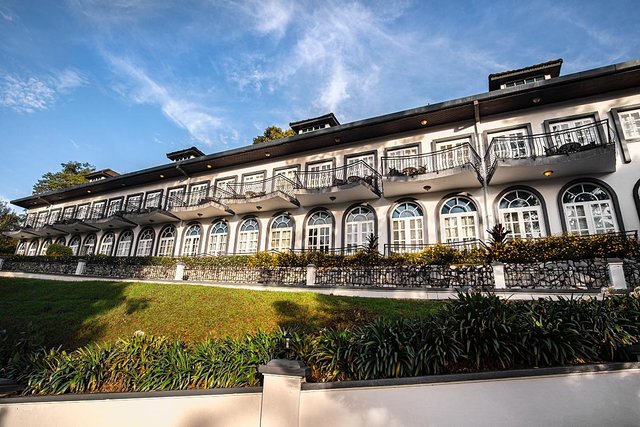 This extension of the original cottage happened in the 1930s.
Sadly, the location of the Cameron Highlands Resort isn't the dreamy one as it was back in time. The view over the golf course will be interrupted by the main road, which can get very busy. Locals are desperate, especially on jammed weekends, when local tourists are all over the Cameron Highlands. Because of that, expect your commute six times longer than usual and stay calm. Despite all, once you get to the resort, your nerves will undoubtedly relax.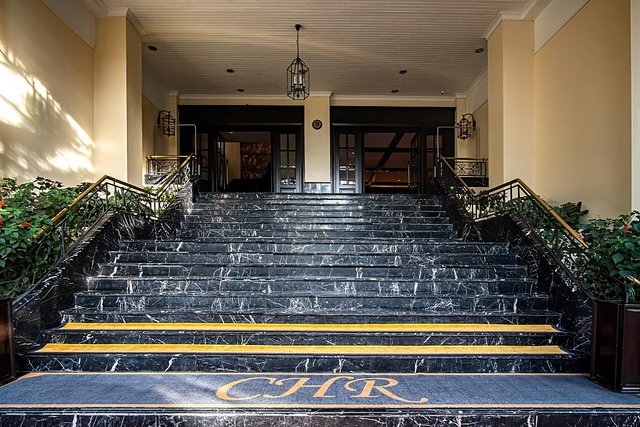 Welcome to the heritage Cameron Highlands Resort. You can relax now!
Ambiance
The exterior of Cameron Highlands Resort is reminiscent of old colonial times. Black and white facades with French doors, sporting fanlights, plantation-style shutters, and ironwork balconies give pristine colonial feelings. The view is facing the 18-hole golf course in front and forest at the back.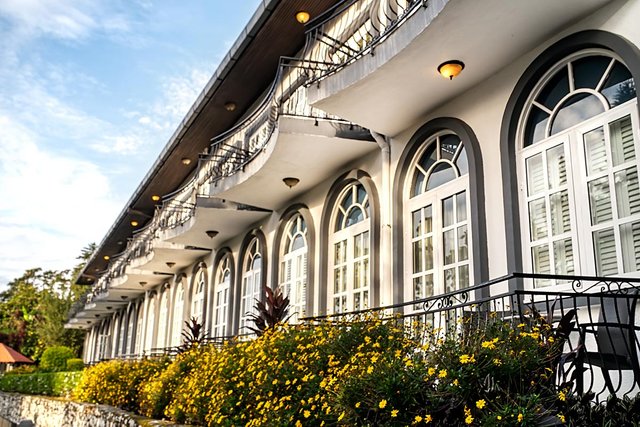 Stylish extension of the 1930s cottage matches the 1070s design.
After all, the interior is the one that matters the most, and it will amaze you. Colonial-era design on every step makes this hotel remarkable. Public rooms are furnished with cane loungers and comfy sofas beneath lazy circling fans.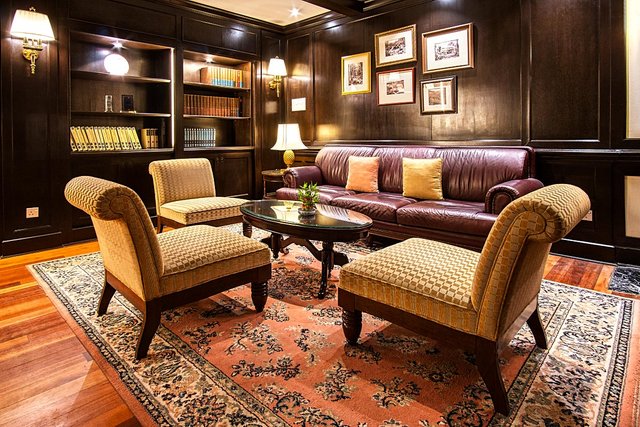 Cozy Cameron Highland Resort library.
Plenty of warm wood and wall decor will soothe your visit. Overall, the atmosphere can be described as tranquil and hearty. After all, isn't that the main goal for every heritage hotel on the globe?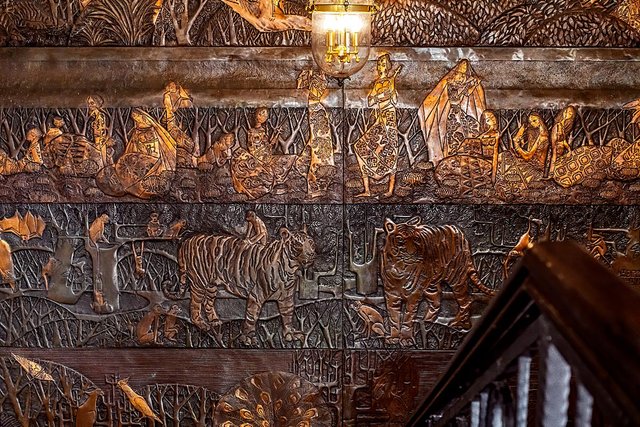 Back in time, tigers roamed the pristine jungle and they had company.
Our Room
Each of the 56 well-appointed rooms perfectly captures the colonial feel. Polished timber floors, beamed ceilings, and plantation shutters. What can be more colonial than that? On top of that, bespoke furniture merges perfectly with Jim Thompson's finest teak and silk. The last time we had his silk at Mandarin Oriental Bangkok, and it was great to feel it again.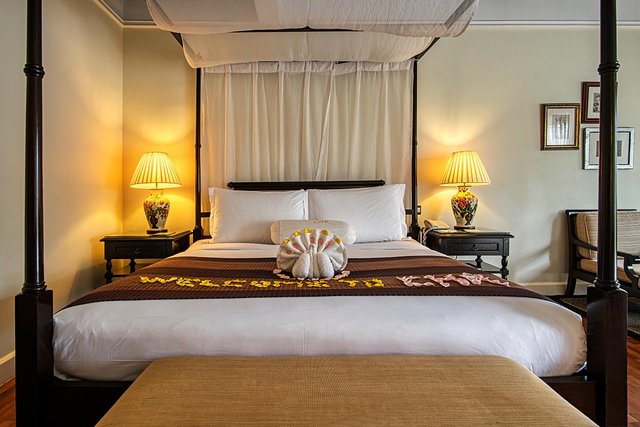 An antique canopy bed offers maximum comfort.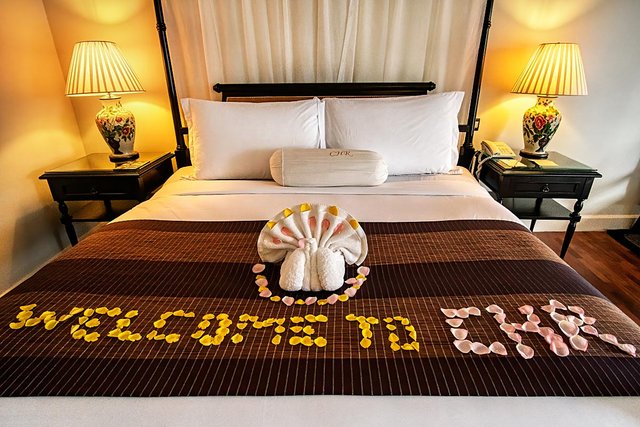 I am super glad we were welcome at CHR, but I can't stop thinking that this messages should stay in 1999... In Turkey...
The main color scheme is cream, chocolate brown with hints of copper. The room is spacious with a good layout and, most important - it has a balcony, from where you can enjoy the sounds of the birds and sip your favorite tea.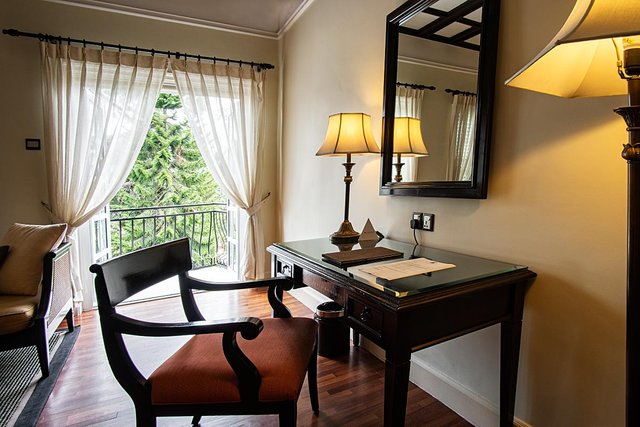 Our room at Cameron Highlands Resort
The bathroom is decorated in dark marble, floor tiled in the black and white pattern, and offering both - spacious shower and bath. It is quite similar to those in the Majestic Hotel Kuala Lumpur. After all, these two hotels have the same owner - YTL Hotels.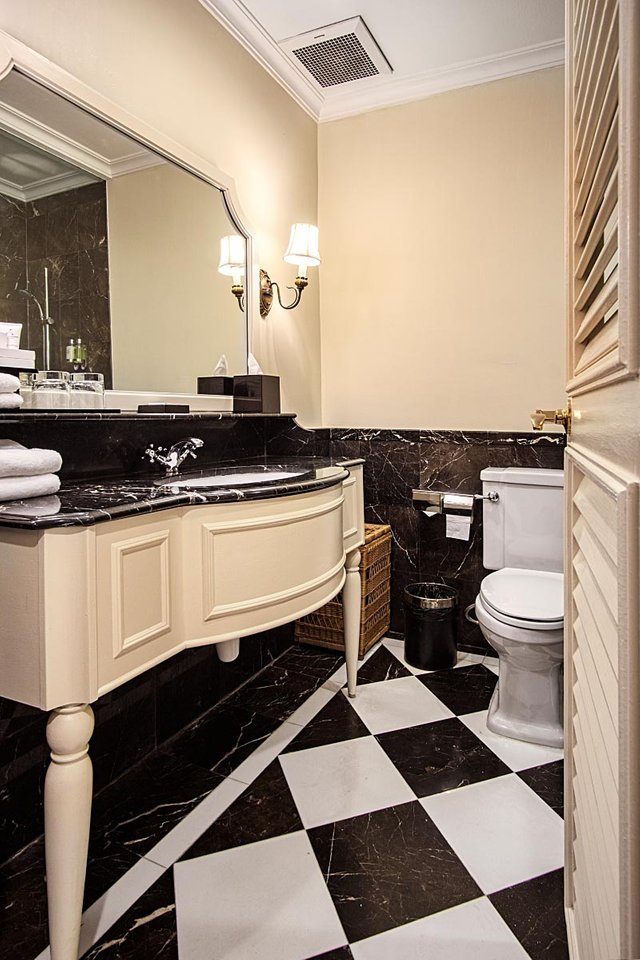 Creamy additions make the black and white marble more appealing.
Amenities and Facilities
When it comes to the amenities, it has everything that you can expect from the 5-star heritage hotel. It is great to see that they are offering BOH tea, which is essential in the Cameron Highlands. Not only that, we even got local strawberries with chocolate. Yum.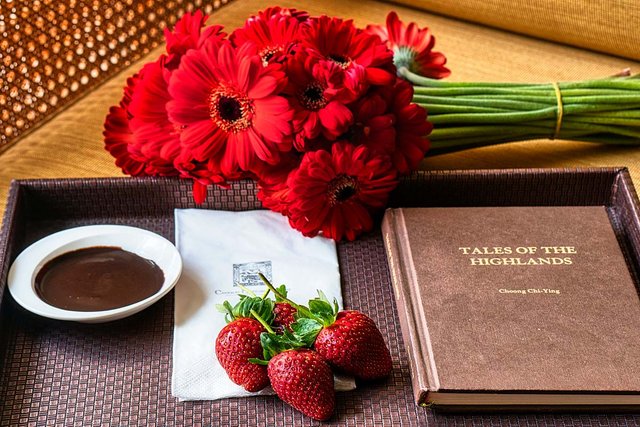 Perfect, I can enjoy my book now.
Regarding Facilities, there is a dining room, bar, tea room, and even a steamboat restaurant. Somehow, we don't find it fit for this hotel, but we suppose it can be a nice way to warm up in the evening. Still, we prefer to get comfortable with the fireplace in the downstairs library.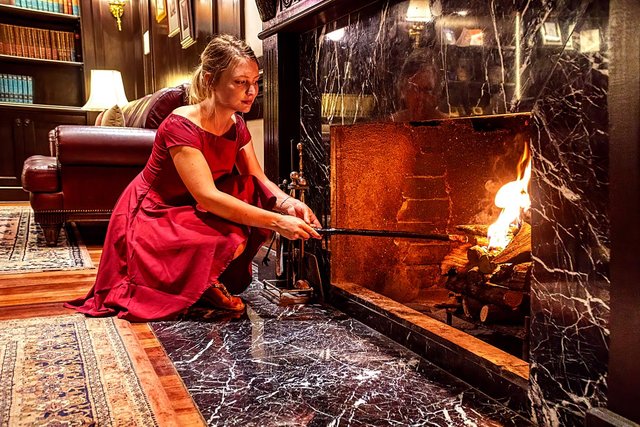 Once the sun sets, the fireplace is lighted in a short but heartfelt ceremony.
Anyway, for all who would like to warm more active, there is a small but very functional gym. Sadly, you won't find any swimming pool. On the other hand, the air in Cameron Highlands is quite crisp, so we bet you won't miss the swimming pool after all.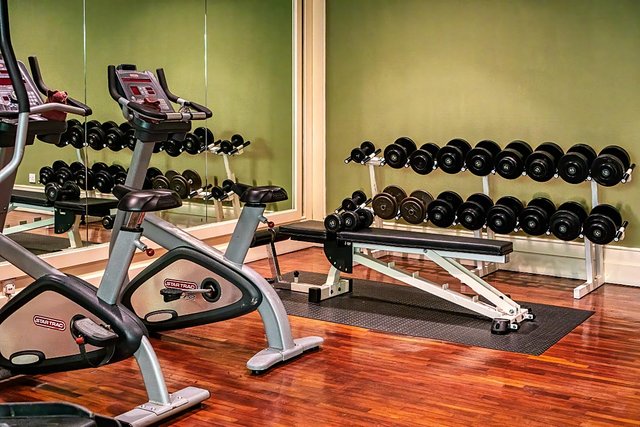 Small but very functional gym.
Nonetheless, there is a pleasant in-house spa with many treatments that perfectly fit in this tranquil environment. We will post a review of their spa next time.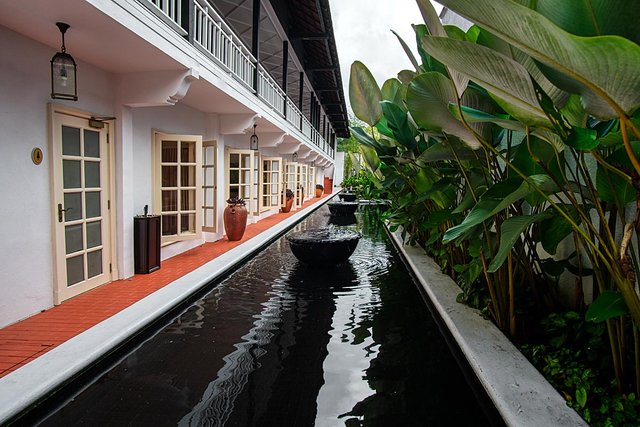 Cameron Highlands Resort's Village Spa is a tranquil place.
Dining at Cameron Highlands Resort
At Cameron Highlands Resort, they serve English plates and Malaysian classics. There is a self-serve breakfast with live station, lunch and afternoon tea at Jim Thompson Tea Room, a la cart dinner in the dining room, and hot pots at Gonbei Restaurant. We have tried out almost all the options, except the hot pot.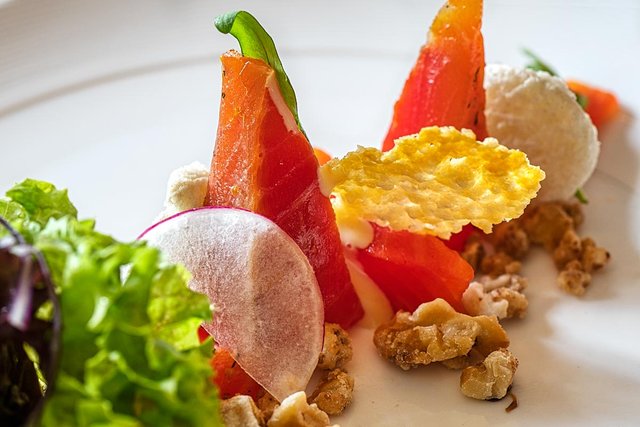 Cured citron ocean trout with walnuts and honey mustard dressing.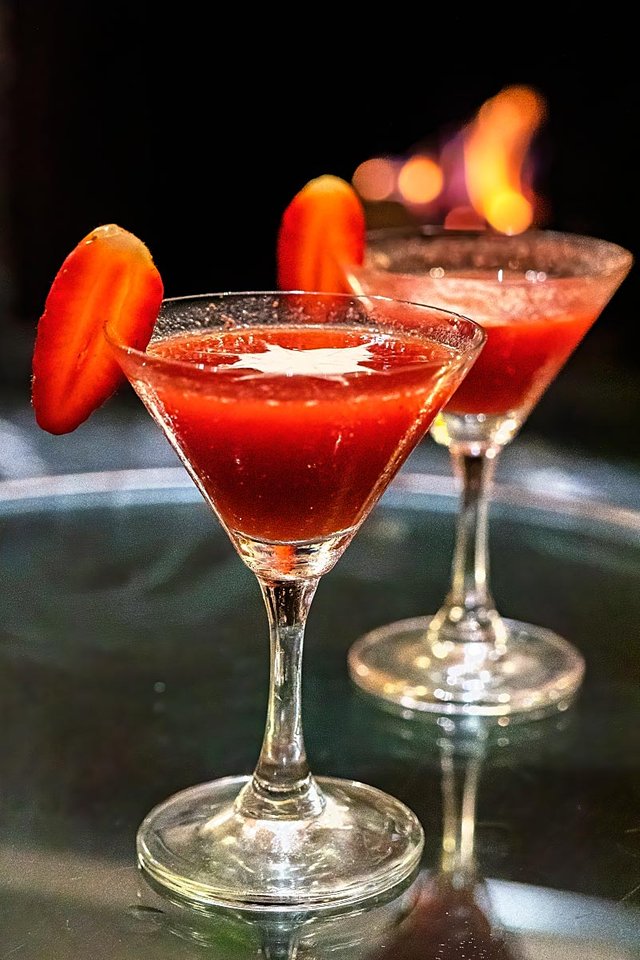 We loved observing the dancing flame while sipping strawberry juice with cream as a part of the traditional fire lighting ceremony.
Breakfast
Buffet style breakfast at the Dining Room includes the classic Malaysian breakfast dishes and Western favorites, plus fresh fruit, pastries, and cold cuts. Here, we must admit that we'd rather see the processed cheese slices and pale ham sausage gone.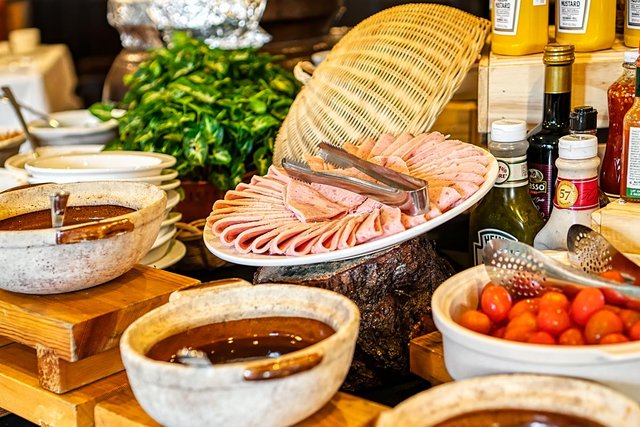 The a la carte breakfast menu stretches morning offer beyond the breakfast buffet.
On the other hand, a la carte breakfast menu stretches morning offers. Really, don't miss on the eggs benedict with free-range eggs. We also recommend the buttermilk pancakes with delicious house-made apple compote.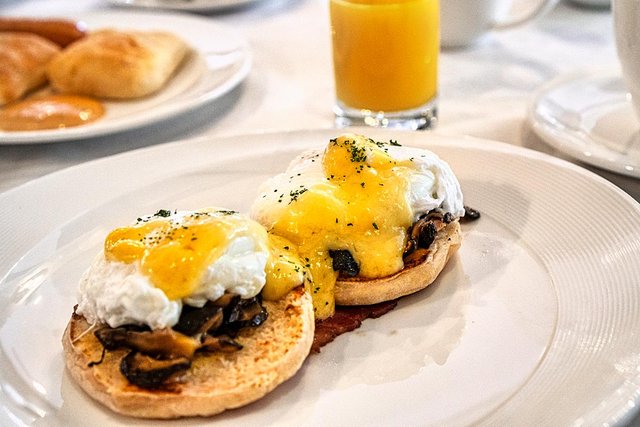 Free-range eggs benedict with mushrooms and Hollandaise sauce.
Lunch at Jim Thompson Tea Room
During our stay at the Cameron Highlands Resort, we loved the choices between the creative and healthy appetizers and fulfilling mains. We loved the succulent prawns with sweet melon and crunchy lettuce in a Marie Rose sauce for our appetizer at Jim Thompson Tea Room.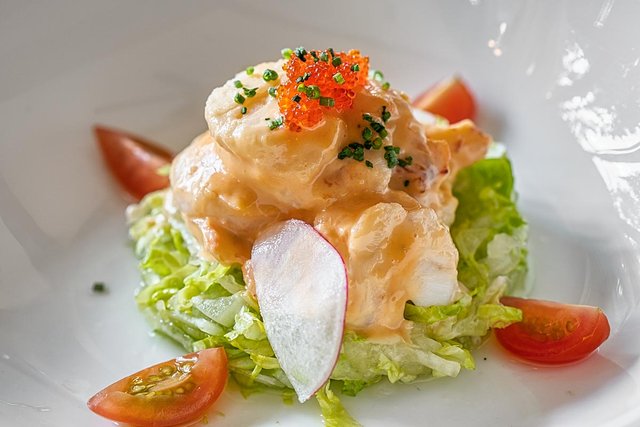 Prawns in cocktail sauce with melon lettuce and smoked roe.
Our favorite main dish has to be the pan-roasted lamb with slow-roasted garlic butter potato beside a reduction of mustard and balsamic. Toothsome sticky toffee pudding satisfied our sweet tooth with moist cake and warm buttery sauce, not to mention the delightful scoop of banana ice cream on top.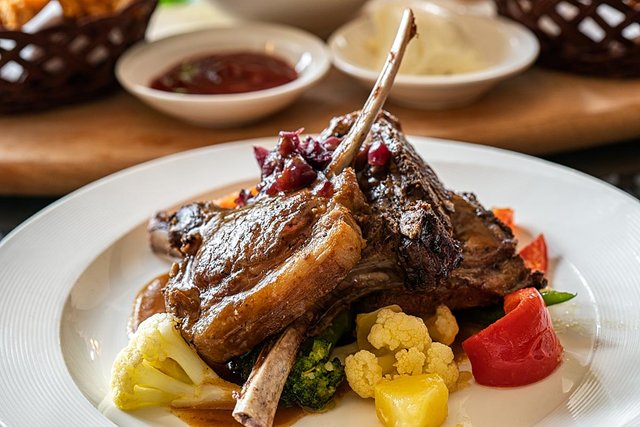 Lamb cutlets with slow-roasted vegetables and balsamic mustard reduction.
Dinner at the Dining Room
Let us shortly share the favorites of our romantic candlelight dinner with you. Both appetizers, the dancing prawns, and the Mossy Forest salad were fresh and luscious, with only a minor drawback. The caramelized walnuts were unnecessary and overly sweetened the dish, in our opinion.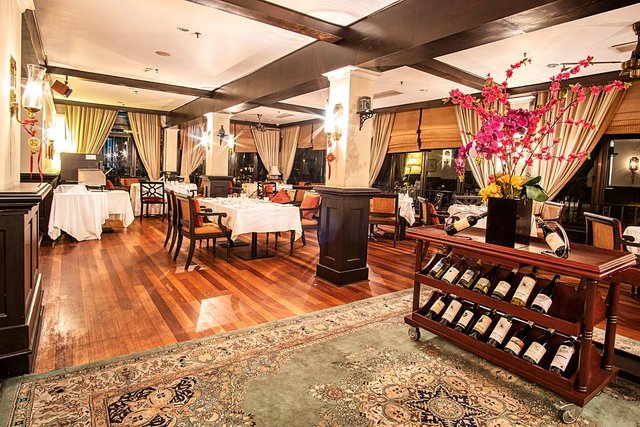 The Dining room comes to life for breakfast and dinner.
However, we did enjoy them on their own. Chef kept a healthy touch throughout the main dishes. Both were light on the carbs and heavy on the proteins, with modest seasonings that connected the fish and vegetables.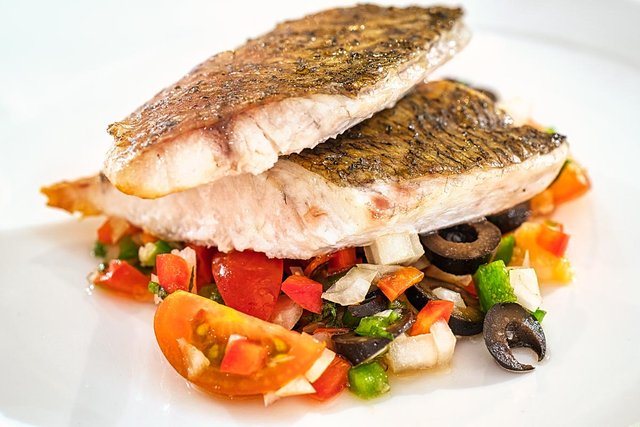 Salmon trout roasted till perfection.
Since we kept our dinner light, we had to have a dessert; cheesecake with strawberry sauce and ice cream, and chrysanthemum infused creme brulee. Both were exquisite and ticked all the boxes.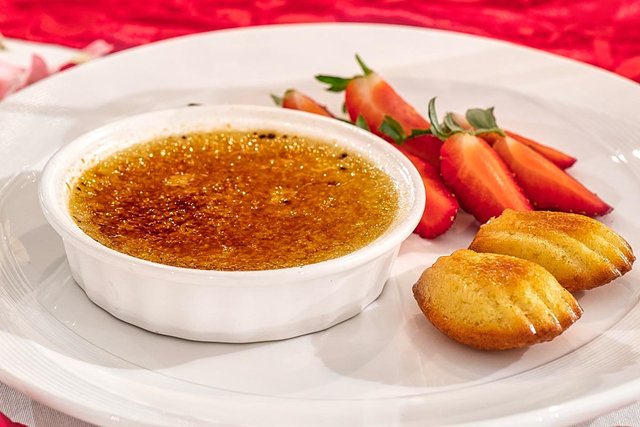 Chrysanthemum infused creme brulee with honeyed madeleine and fresh strawberries.
Afternoon Tea at Jim Thompson Tea Room
The classic afternoon tea set consisted of the traditional bites that were freshly prepared and tasty. Both plain and raisin scones were light and didn't overly crumble. Every piece of dessert and each sandwich was different, so we ended up sharing everything. After all, the afternoon tea is meant as a light refreshment before dinner. If you would like to know more, don't miss our Cameron Highlands Resort High Tea Review.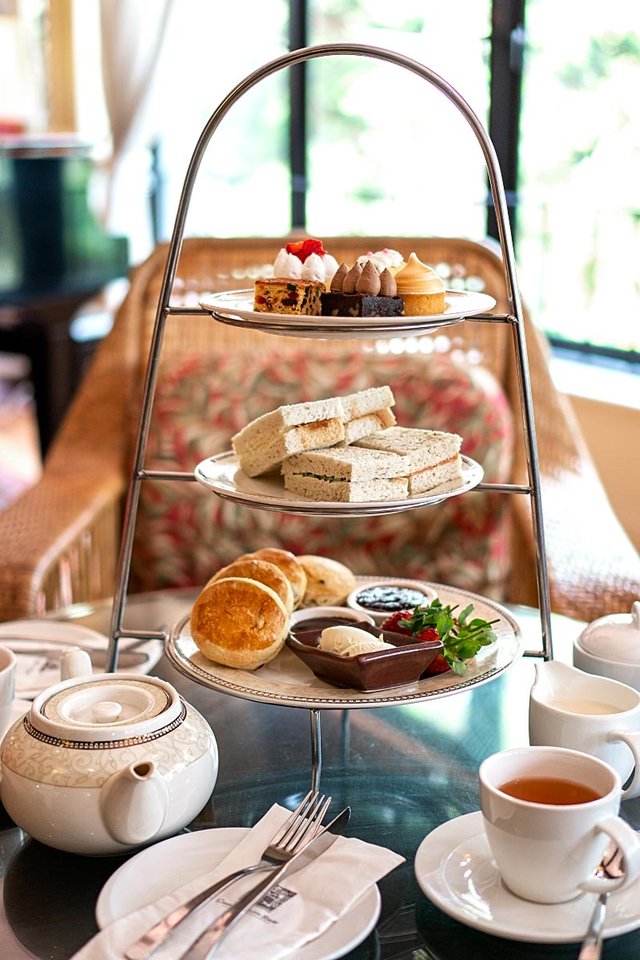 The afternoon tea set for two at Jim Thompson Tea Room comes with Gold Blend BOH tea.
Conclusion
There is no doubt, Cameron Highlands Resort is the best hotel in Cameron Highlands! Charmy colonial look, perfect service, lovely room, amazing spa, and decent food are just a few things that can only confirm my bold statement. The most remarkable is the service itself. To point out, the staff is super nice and always ready to chat with you. For this reason, staying there will give you that homely feeling instantly.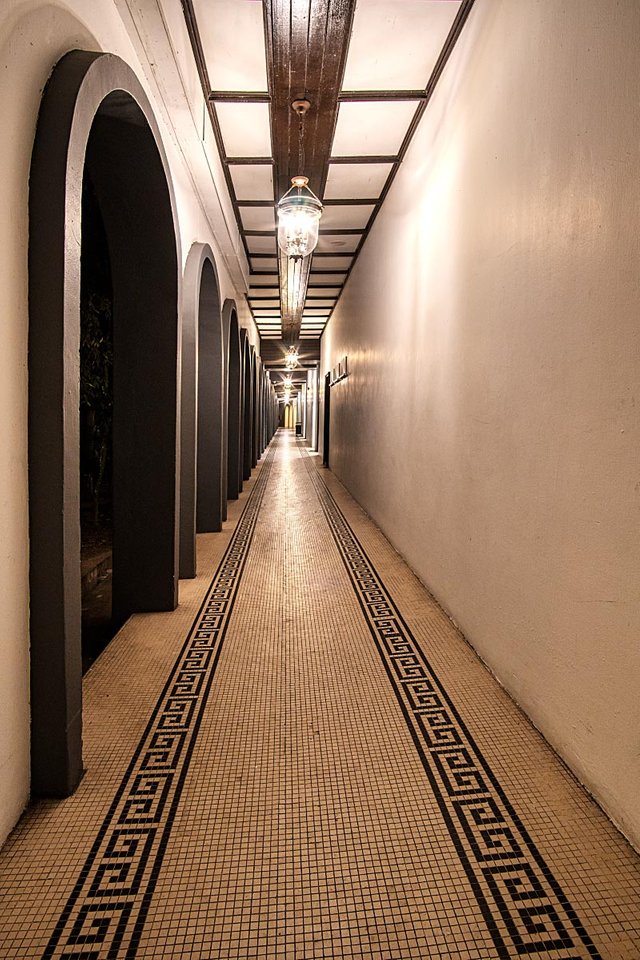 Lovely way to reach the hotel room.
However, even though the hotel is top, there is always room for improvement. I think there should be some maintenance to be done and redesign as well. Some sections look dull and not so luxury, if I may. In a word, with some creativity and a small investment, it could be easily improved. And remember old is gold! We need to take care of our heritage.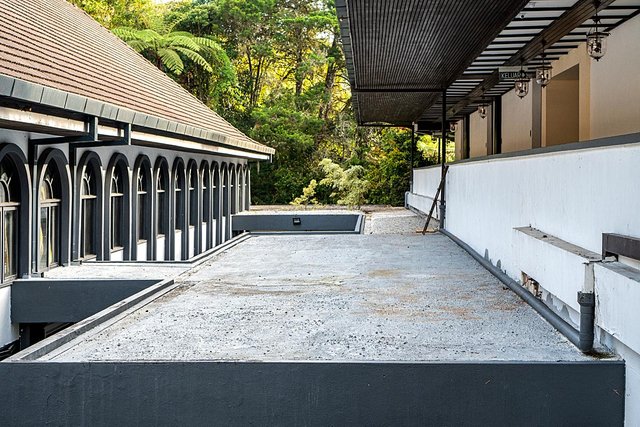 There are some maintenance work and style transformation actions needed
Cameron Highlands Resort Review Card
ATMOSPHERE – 9.3/10
CLEANLINESS – 9.2/10
ROOM – 9.2/10
FACILITIES AND AMENITIES – 9/10
FOOD AND BEVERAGE – 8.9/10
SERVICE – 9.9/10
VALUE – 9.0/10
9.2/10
Price and Location
A night at Cameron Highlands Resort will cost you about 200 USD. Here is a link to the location for easier navigation.
---
Posted from my blog : https://wnfdiary.com/cameron-highlands-resort-review/
---