I took a walk around the North End of Boston yesterday.
The North End is out of the way of my usual walking commute, and I realized it's a shame I haven't explored that part of the city yet. Soon the days will be shorter and I won't be able to explore after work in daylight.
I took lots of pictures, of course - too many to share in one post. (If your attention span is anything like mine, you're not up to it. Trust me.) So here I'll just focus on one aspect of my exploration.
This is a photograph of the Leonard P. Zakim Bunker Hill Memorial Bridge from the top.
---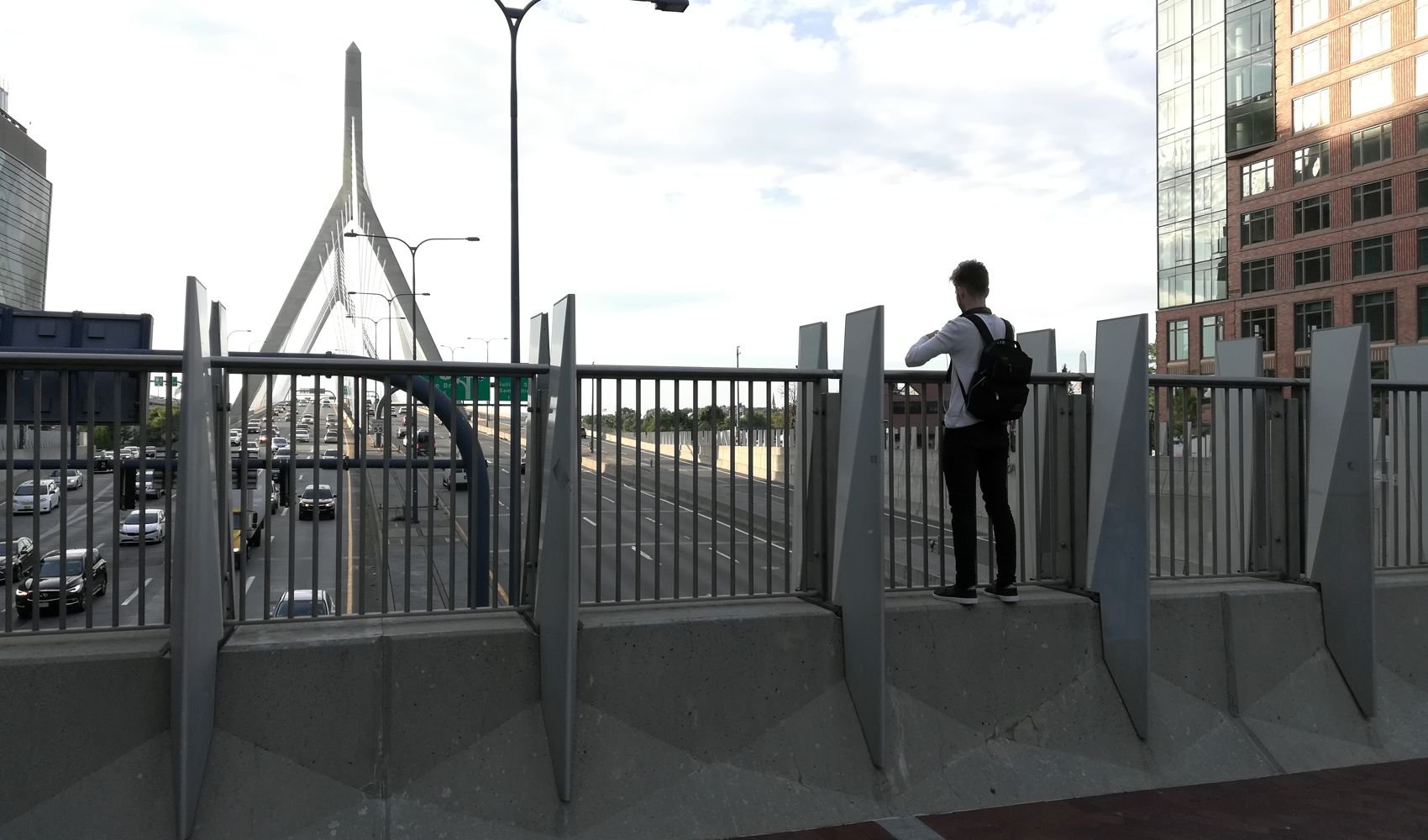 As you can see, I wasn't the only one taking a picture of it.
Towards the beginning of the walk I got side-tracked exploring the area around this elegant bridge. It opened fairly recently, in 2003. It's a significant structure, serving US Route 1 and Interstate 93 simultaneously, in the bewildering manner of Massachusetts highway labels. It sits right next to the TD Garden venue, used for hockey and arena-size musical performances.
North Station is nearby as well - which I've never used, since I live South of the city. I have, however, driven across this bridge on many occasions. This is the first time I've explored it on foot. I didn't realize it was surrounded by parks, plazas, and sidewalks.
Equally iconic is the statue of hockey legend Bobby Orr's famous goal.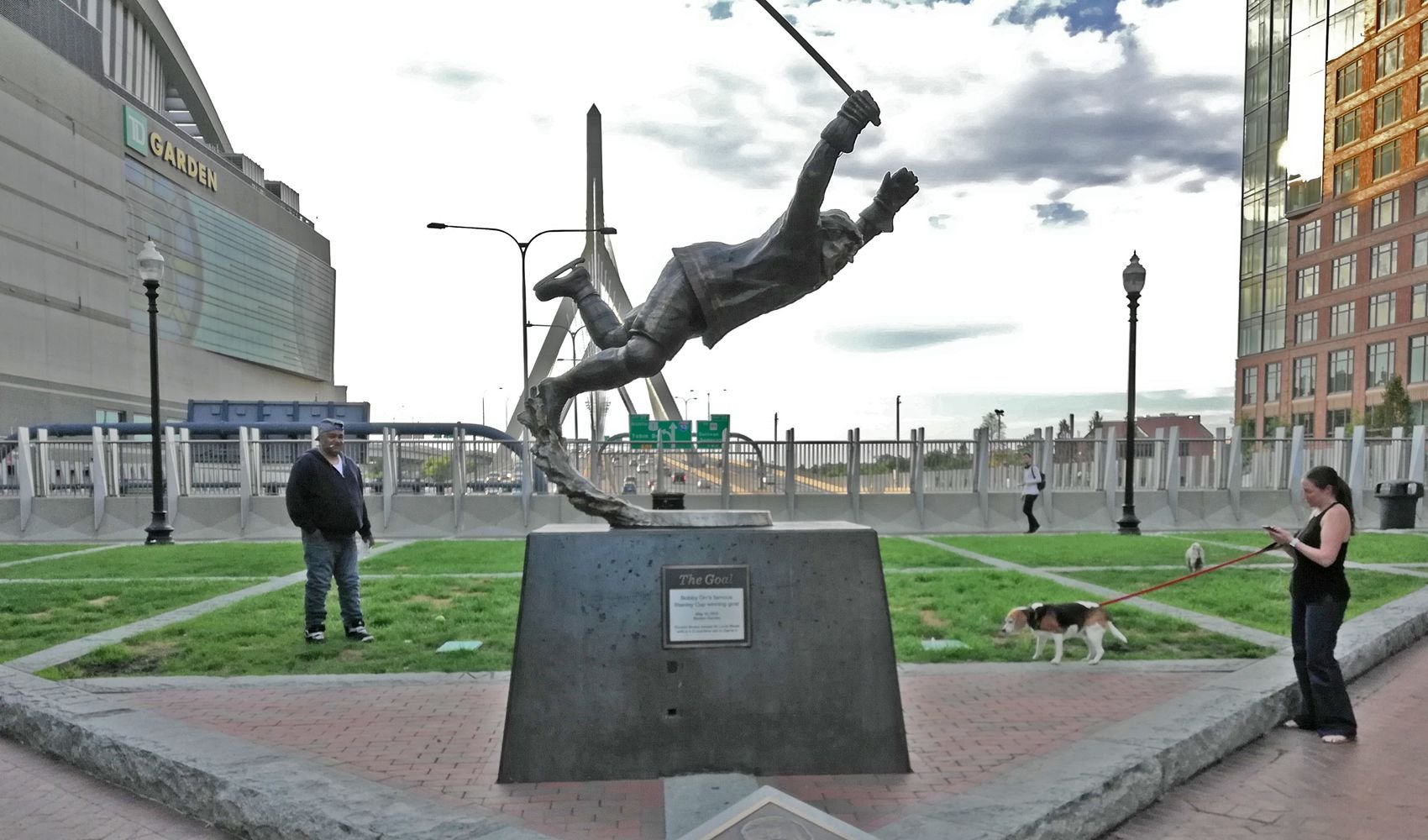 I don't know much anything about hockey, but I will say that Mr. Orr is one of the most modest and gentlemanly celebrities I've ever met. He was a regular cigar buyer when I was a tobacconist on Cape Cod. I had no idea who he was, but one day he came in with a signed copy of this print for the owners as a gift. I looked at it and said, "Hey, is that you?"
The owners were mortified, of course. "You didn't realize that was Bobby Orr that's been coming in?" But it wasn't like he went around announcing his identity, like the football players who just had to make themselves known when they arrived.
Anyway, back to the bridge. There's also a monument to late house speaker Thomas "Tip" O'Neil. It's much smaller than the hockey statue. I don't know if this says anything about our priorities as a country; more likely it's just because this bridge is so close to the rink.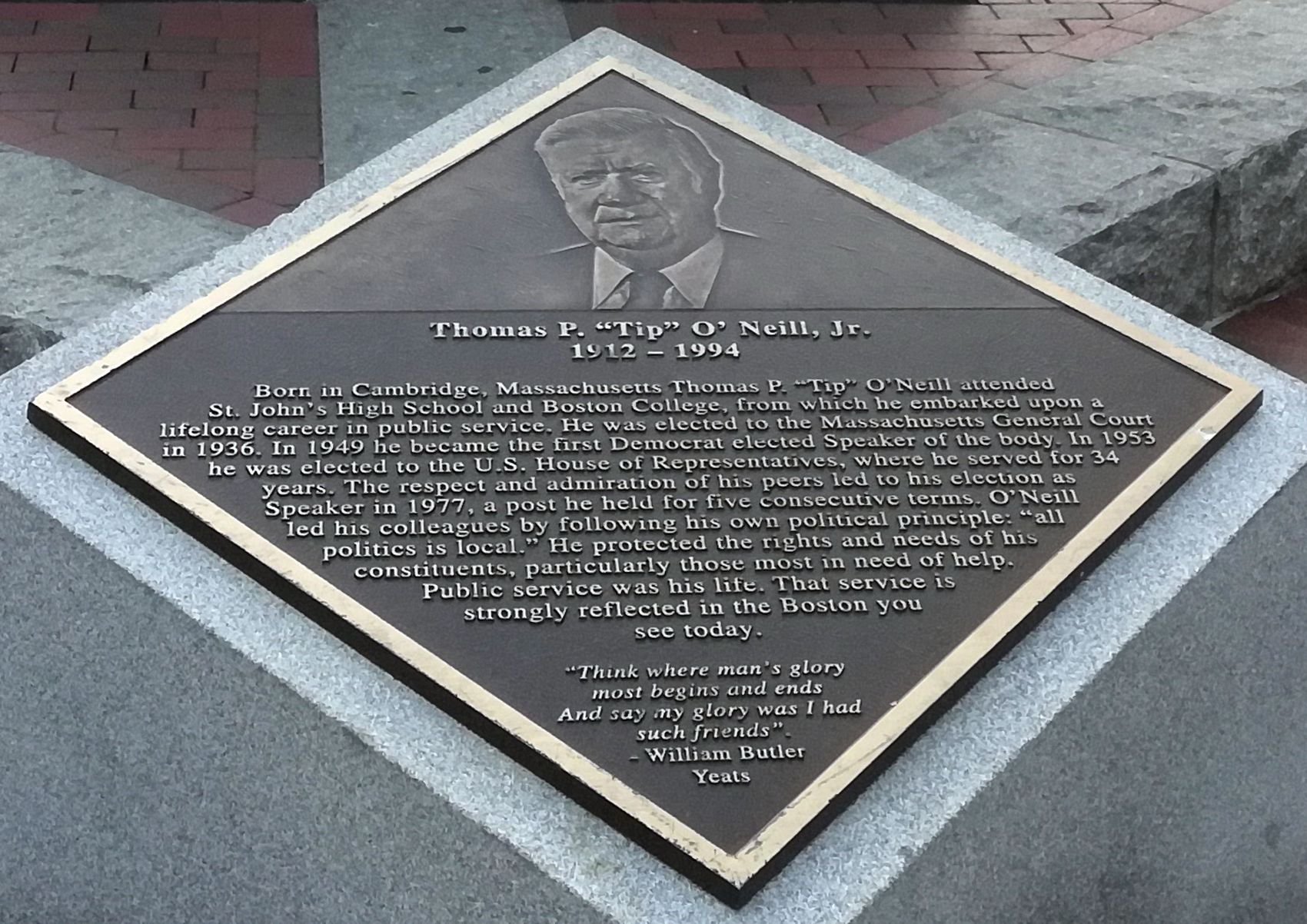 Here's the bridge from the side, where a series of concrete walkways will actually carry the intrepid pedestrian to a park on the North side of the Charles River.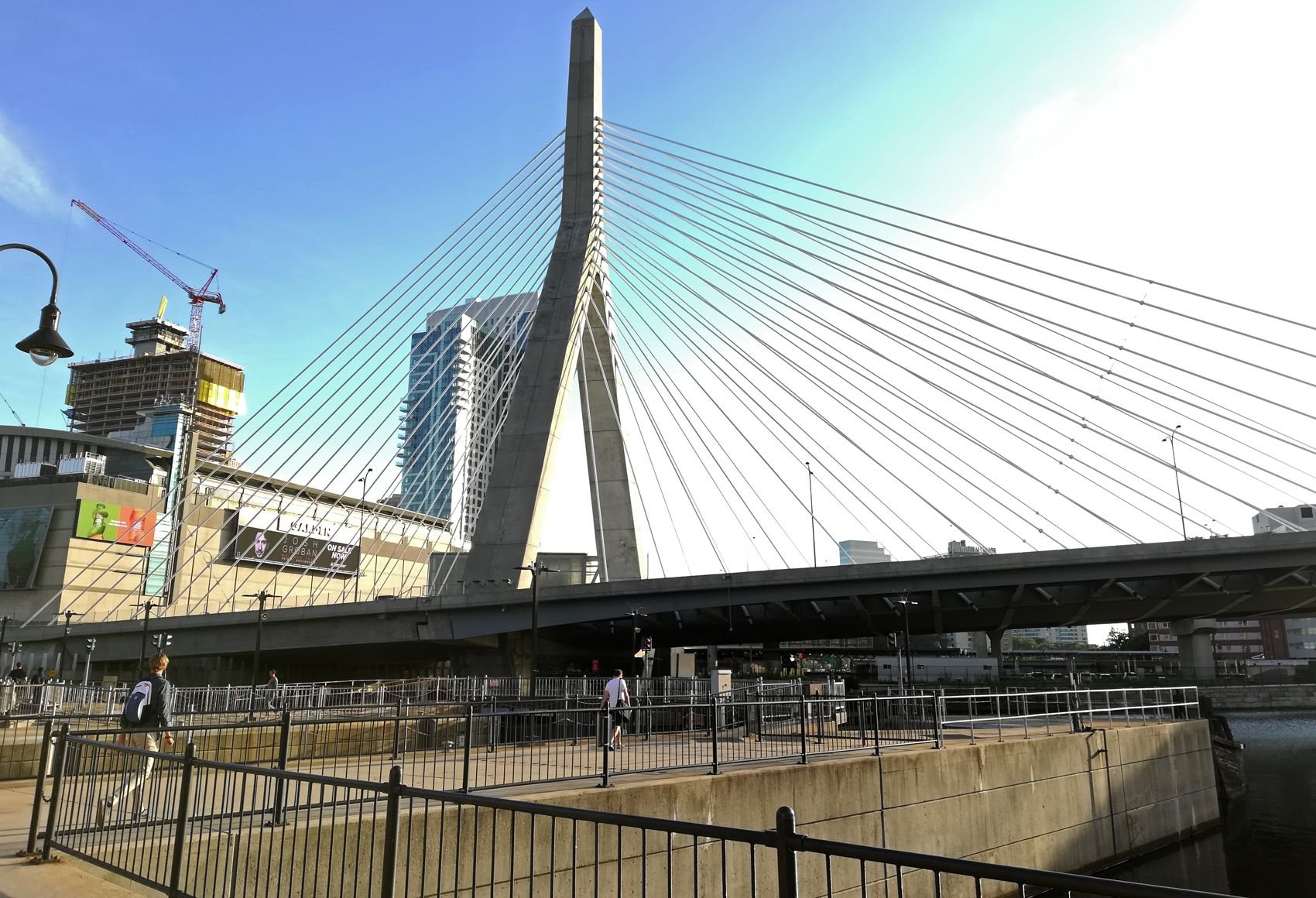 And here's what mostly got my imagination going about this structure:
There are several areas underneath the bridge that are also accessible to pedestrians. And the space seems to have been adopted by a group of people who, like me, are attracted by the gritty undersides of things. That being said, I didn't exactly feel comfortable going down and exploring this place alone.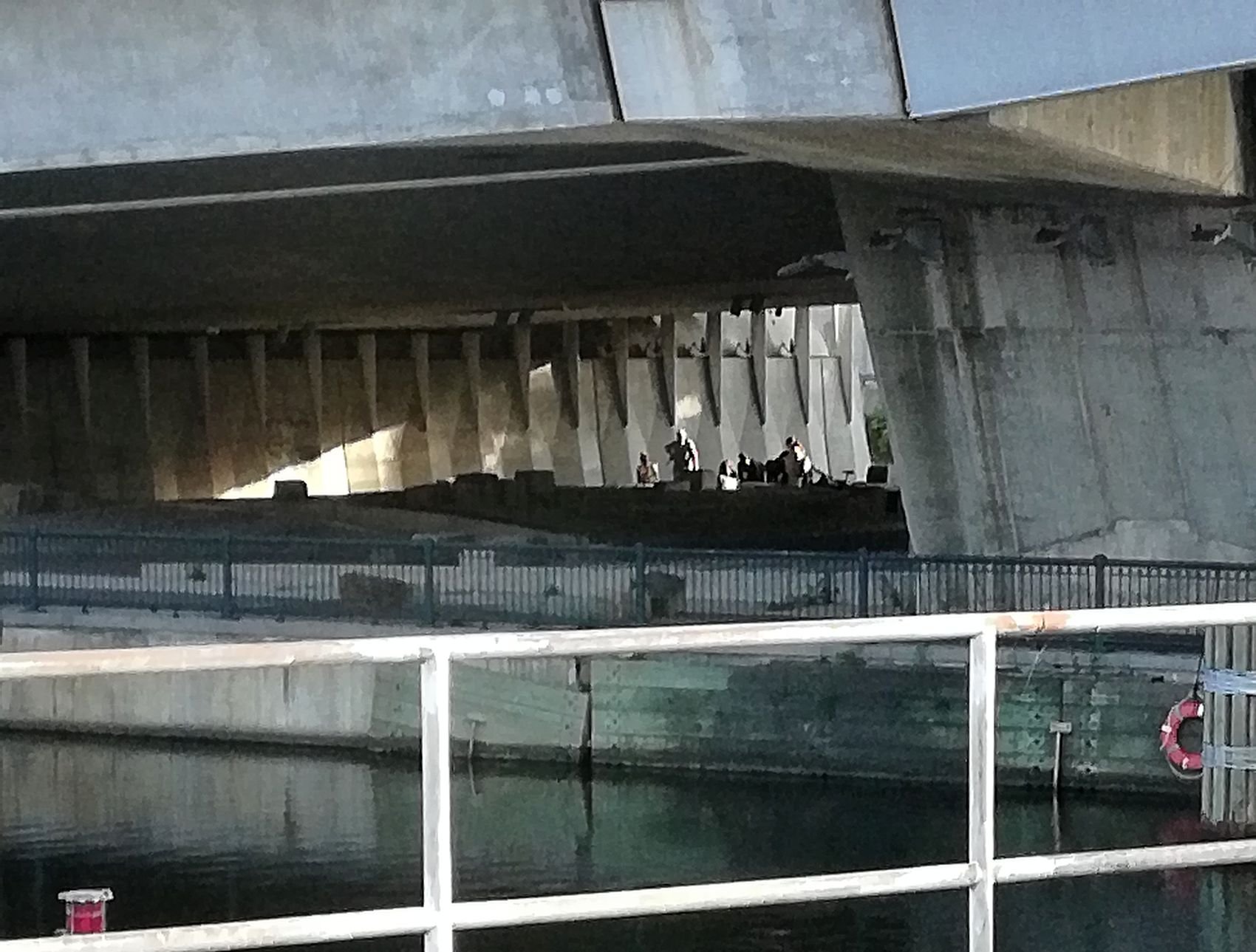 Although I did see other pedestrians making their way past this group, there seemed to be something intimidating about the way they'd gotten comfortable among a collection of random concrete blocks and buttresses. A sort of "privatization of public space" was going on.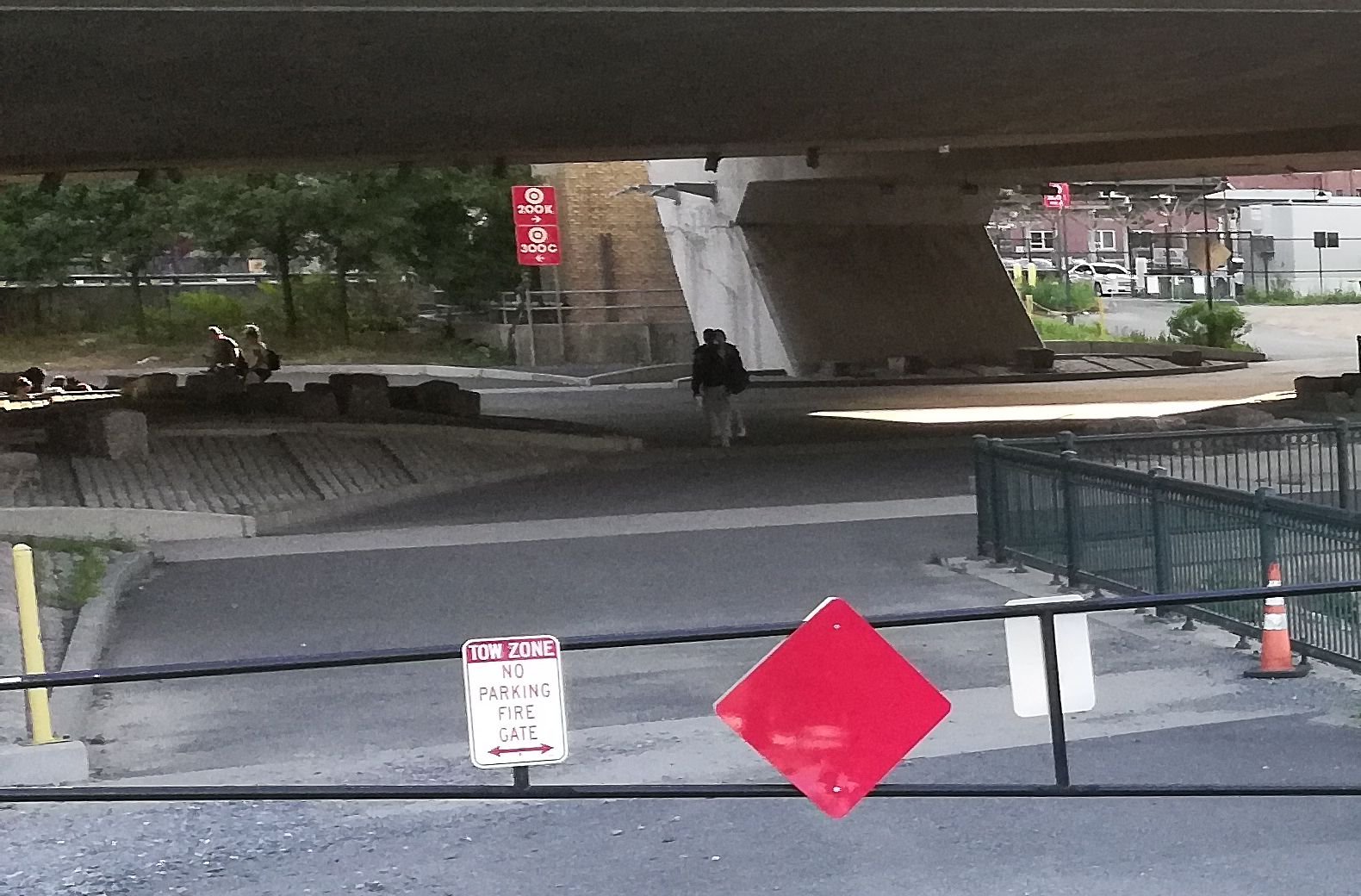 Then again, isn't that what we do when we set up for a picnic, or a day at the beach? Why is it so much more intimidating when people want to relax under a bridge?
In any case, it's satisfying to get up close and personal with a landmark you've only experienced from a distance, or when locked into a metal shell and traveling 65 mph.
Next time I drive over this bridge, I'm sure I'll be thinking about what's going on beneath me.
---

---

---
Unless otherwise stated, photography is the work of the author. Feel free to copy, remix and share photographs from this post according to the terms of a Creative Commons Attribution Sharealike 4.0 International license.
Camera divider and signature illustration by @atopy.
If you'd like to read more, you can check out a categorized catalog of my posts on Steemit here.