Hey All, after a week's wait, it's time for another tour of Nainital. Excited? I am equally eager to share. Hope you all liked my previous post. You can also catch it here again-
Let's gear up to explore further -

Eco cave Gardens-
This was an interesting place to visit, adventurous and full of fun. The caves are lighted with petroleum lamps, you will feel the chill as soon as you enter the first cave- Tiger cave. Not to worry, the chill is because of the cold wind and not the actual Tiger. There are caves built in different dimensions which you need to pass by crawling or at times climbing.
After this workout, sip your coffee, enjoy and relax amidst the nature while giving absolute joy to your senses.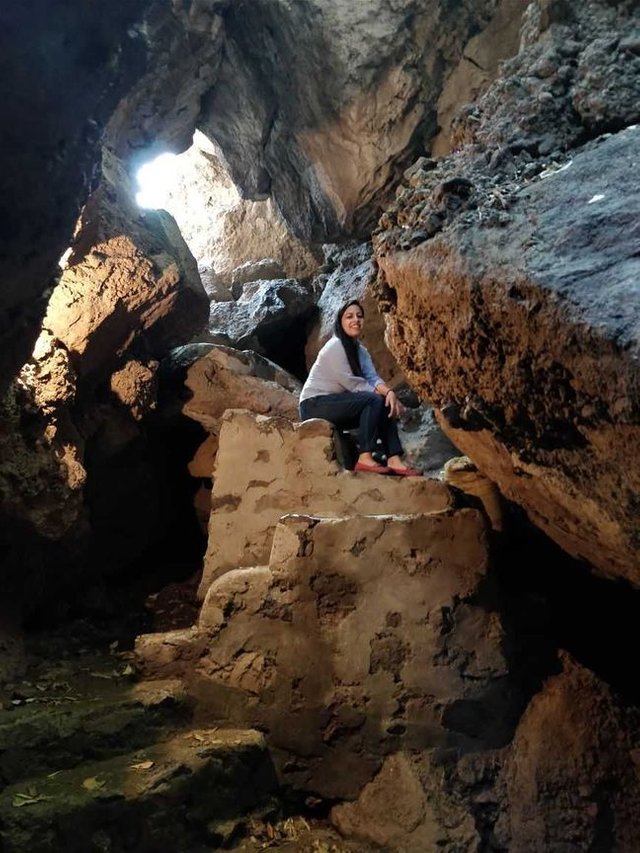 The caves were too relaxing to leave!!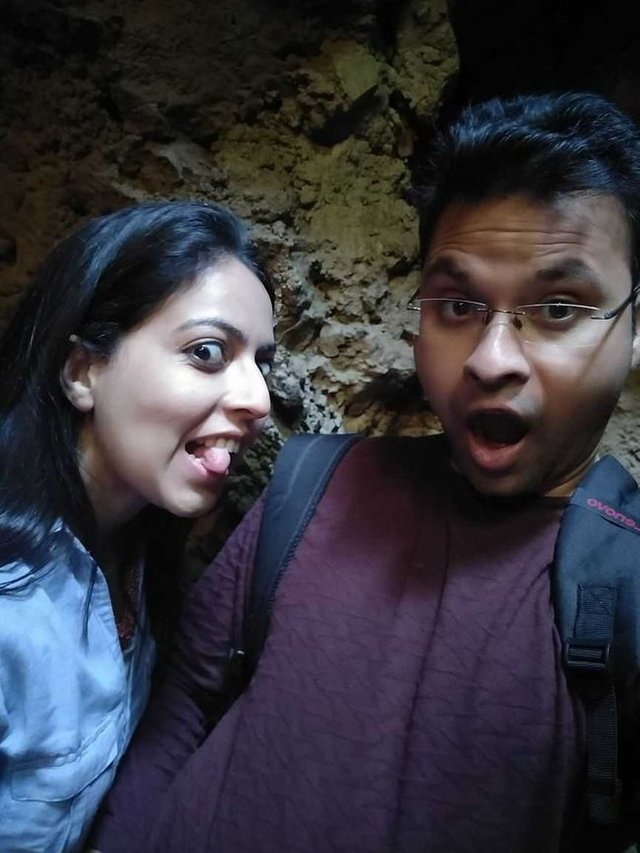 Inside the Tiger cave- What if there is an encounter with a real Tiger!! :P Just Kidding, Go ahead.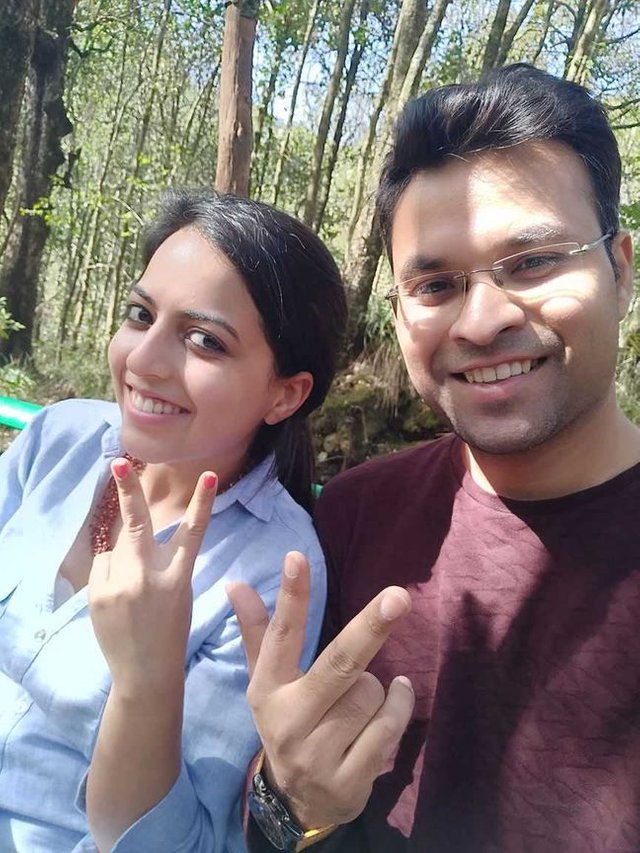 All the caves conquered!! Many people backed out, we did it, Victory sign justified!!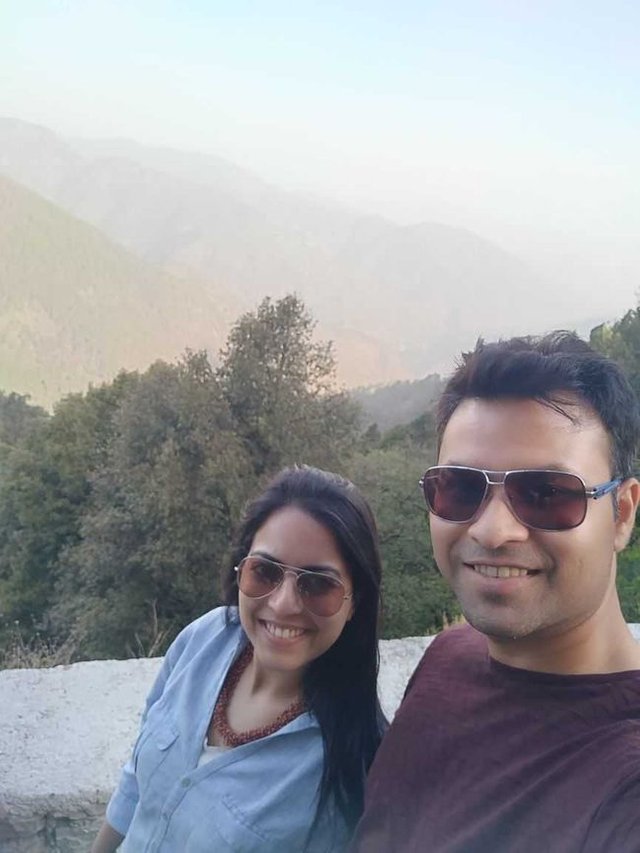 Sit Back and relax the surroundings!!
Naina Devi Temple –
You cannot miss visiting Naina Devi temple that rests on the banks of Naini Lake. It is believed by the locals that Goddess Sati's eyes fell at the same spot where this temple stands. Situated at the top of Naina Hill, the temple attracts a great number of devotees. This temple is a small slice of heaven in the midst of lush green surroundings.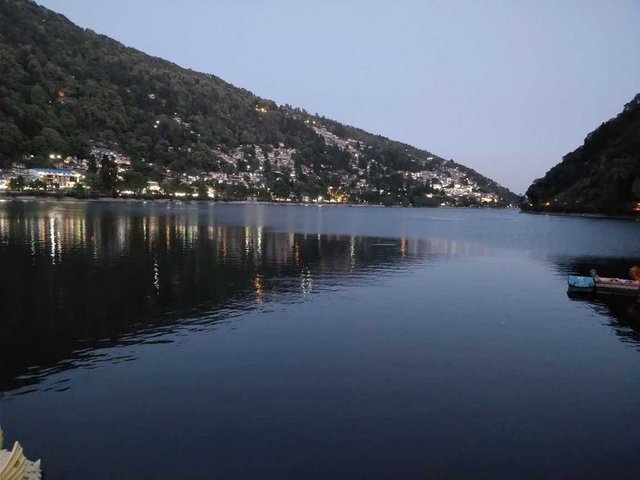 Evening view from the Naina Devi Temple,Surreal!!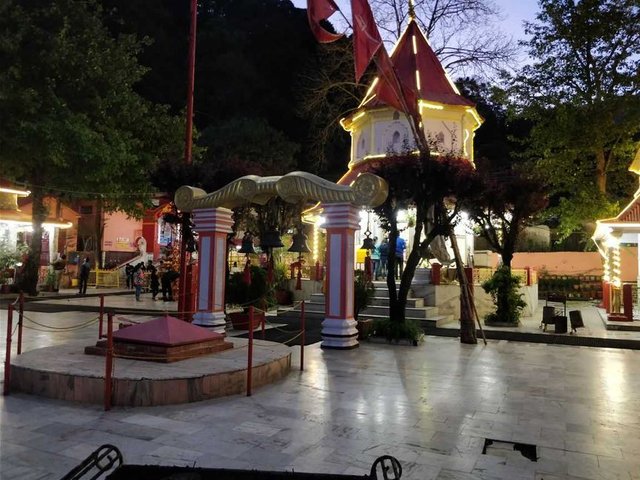 A must Visit- Naina Devi Temple
Snow View Point-
At the Snow Viewpoint, be ready to get the mesmerizing viewpoint of the snow-clad peaks of the Himalayan range that will leave you spellbound. A peace seekers' paradise, the peak is well connected by motorable roads. Tempted much? Some people also opt to trek to the point while enjoying the views of snow-capped hills of Nanda Kot and Nanda Devi. Maggi noodles lovers will love this place as the joy of digging in a hot bowl of spicy noodles cannot be described.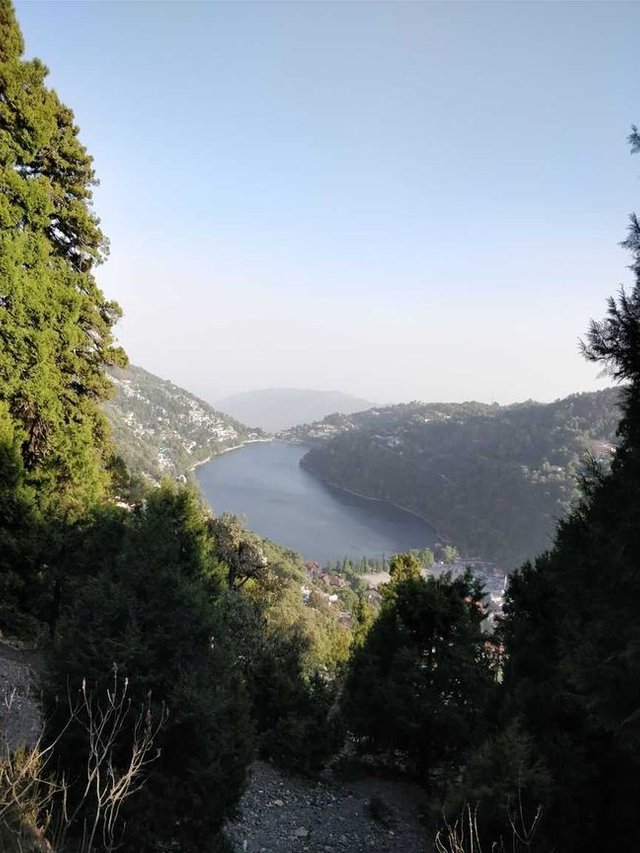 We could not capture the snow- covered peaks because of the hazy weather but we could not take our eyes off from this view!! On our way back from the Snow View point.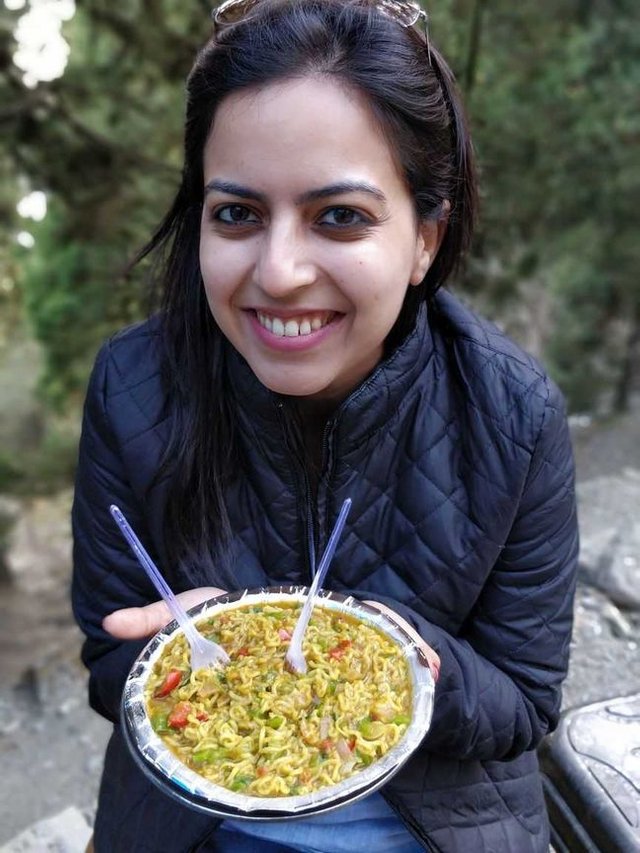 Nothing can match the joy of slurping on your favourite Maggi Noodles at Hill stations. P.C- Dearest Husband- Saurabh, thank you for capturing the exact emotions!! 😊
Nainital evenings-
Evenings in Nainital are all about relaxing, relishing food, enjoying some great views. You can easily get lost there with so much to do. Even a casual stroll sipping on your hot coffee will be calming, that is the beauty of the place.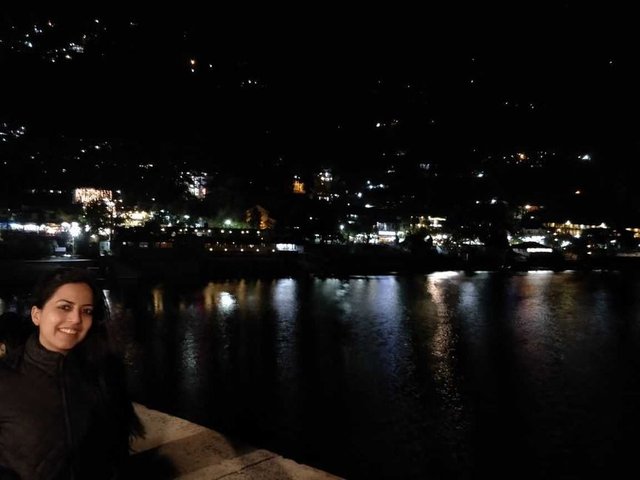 Boating-
To avoid the rush and to fully get absorbed in the nature's lap, we opted to do boating at the Naini lake in the evening around 6 PM. Since this is the closing hour, the boat riders will not rush in completing the round to get their next customers, so purchase your tickets, sit back and just breathe in the fresh air and get a complete view of the city.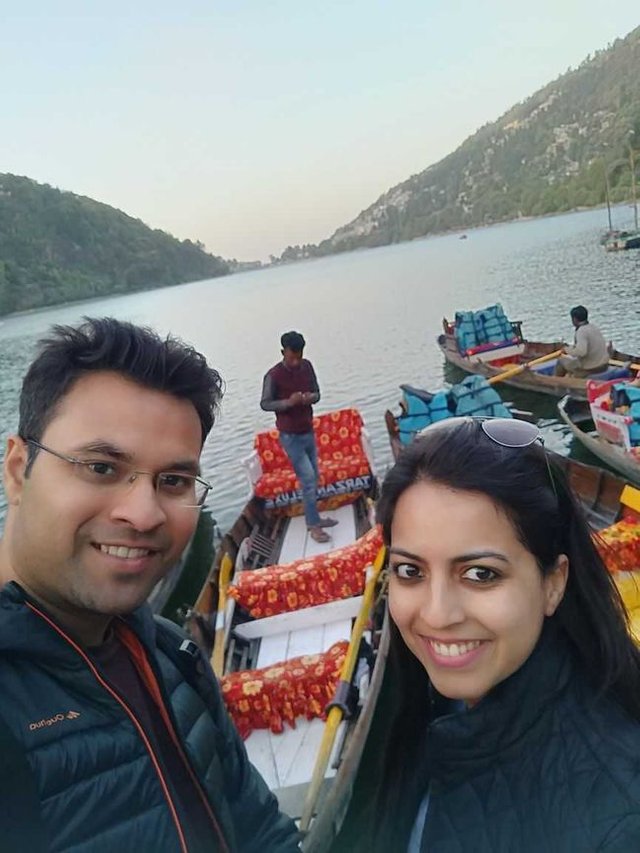 All set for the Boat Ride on a windy evening!!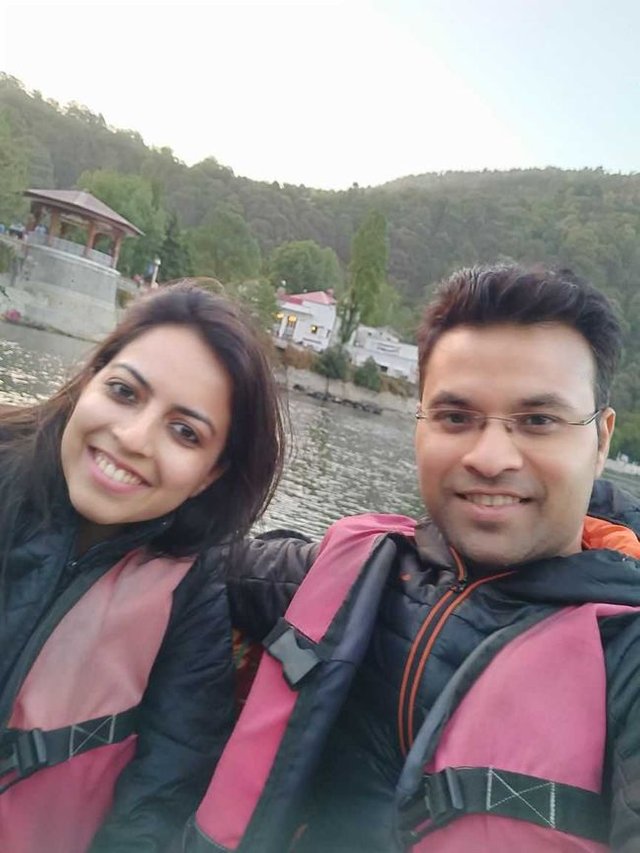 Breathing in some fresh air, want to soak it all in!!
For those who are craving for some adrenaline rush, experience the sail Boat. This will satisfy the adventure in you for sure. The yachts ride depends on the wind speed and we were lucky to have a windy weather during our ride. I got really scared but yes it was real fun. The boatman was trained and experienced so nothing to worry about. Charges are INR 500 per yacht for two people along with a sailor.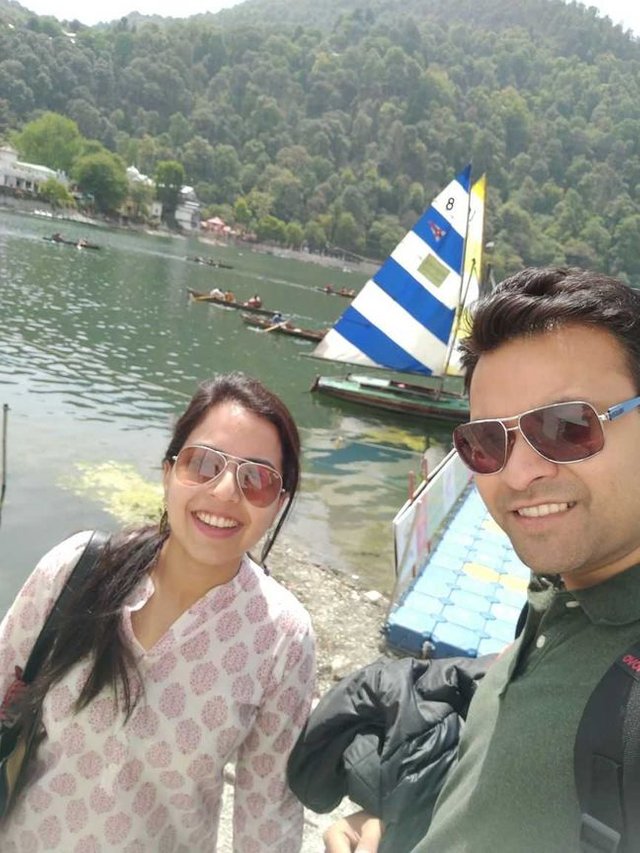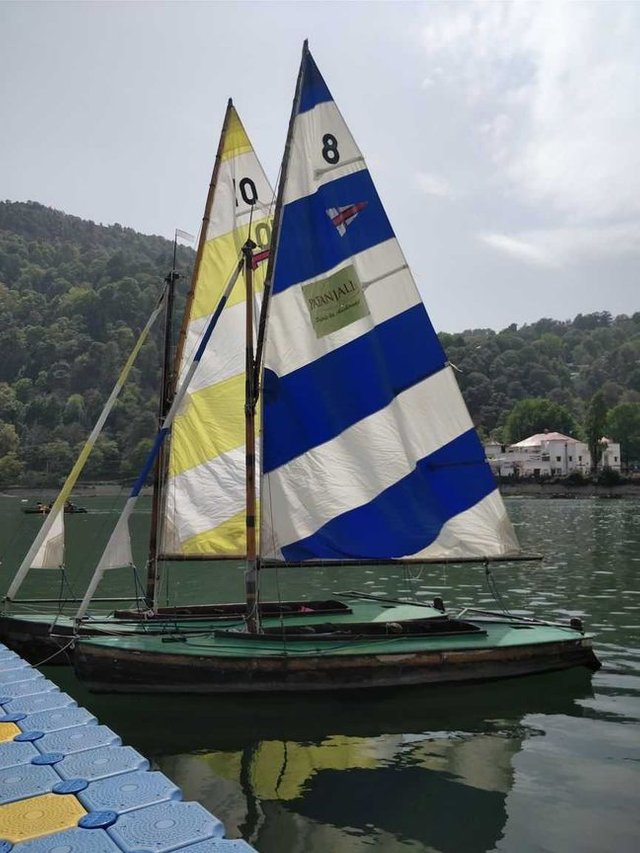 Nainital Boat House club-
Have a drink with a breath-taking view of the lake, some nice music and delectable food. This place takes the onus of the management of the yachts and offers services to its members. However, non-members can pay for a day membership and enjoy the club amenities.
Mall Road-
Our accommodation had a walkable distance that allowed us with the ease to visit the Mall road at our convenience. The Mall Road is a shopaholic's and a foodie's paradise and one could stroll here for hours. The road is loaded with street shops selling the beautiful candles which Nainital is famous for, shopping centres for apparels, gifts and mementos, banks, hotels and lodges and restaurants. Take a nice leisure walk in the evenings on the windy road alongside the magnificent Naini lake looking by the locals singing and alluring caffeine aromas. It leaves a promise to return before you leave!!
Our trip got extended from a day as we wanted to soak it all in. For Saurabh and me, it isn't so much about ticking off all the popular touristy spots, rather it's about living the place, walking in those natural surroundings overlooking the cosy nooks and corners and gazing the sky that changes its colour every hour.
So, pack your bags this season and head to this hill station and bear in mind that you need to keep some time to absorb all that Nainital is all about. Here your quest for fun, adventure, peace and relaxation will definitely find a blissful end.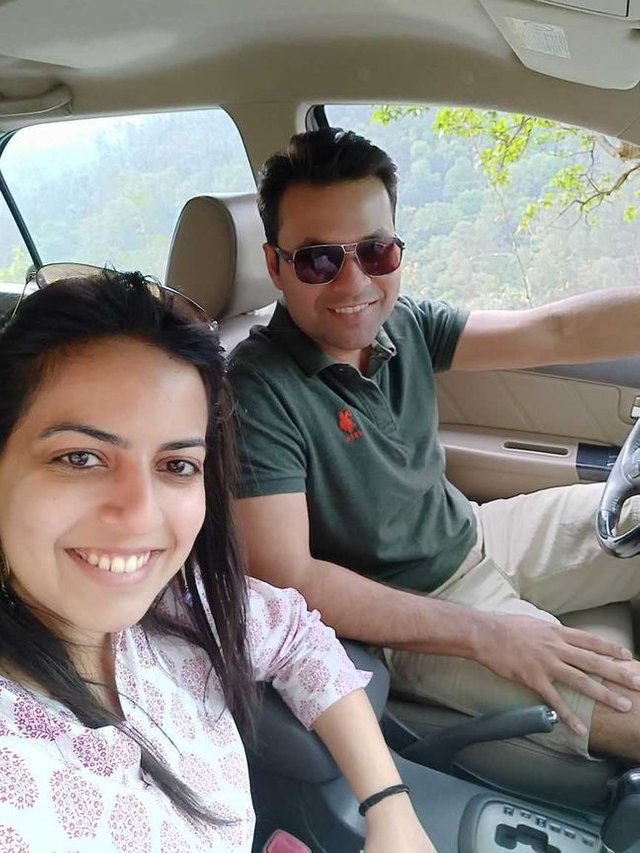 Here we are heading back home all recharged to get back to work, all smiles for the camera.
If you need any kind of assistance in planning your trip, I will be more than happy to help. Just connect with me and you shall have your answers.
Happy Reading and Thank you for stopping by!!