From meditating on a full moon night beneath the sacred Bodhi tree to taking a calming stroll in the cool environs of Mahabodhi temple complex and vising the magnificent monasteries, how about some 'real' time off and Just you, connecting with yourself. If you espouse my sentiments, you will definitely understand our quick dash to Bodh Gaya.
In Hindsight, a great decision.:)

Bodh Gaya is a spiritual dwell and a pilgrimage place in Gaya district in the Indian state of Bihar. On my recent visit in the month of May to Patna, Capital of Bihar, I got this opportunity to make a quick 1-day visit to Bodh Gaya. It is some 4-5 hours' drive from main Patna city.
Mahabodhi Temple
An architectural marvel and amongst the World Heritage Sites, it is an absolute joy to unravel this vibrant place. Witness the site that holds the Bodhi Tree under which Lord Buddha gained enlightenment and has been a pilgrimage site for devotees for well over two thousand years now. The present pyramidal temple is a visual treat, you will see people meditating in the quiet and tranquil atmosphere despite the crowds of tourists. In fact, don't be surprised to learn that they sleep in this meditation pose too. They have the luxury to bathe in the first rays of the sun descending on the holy place.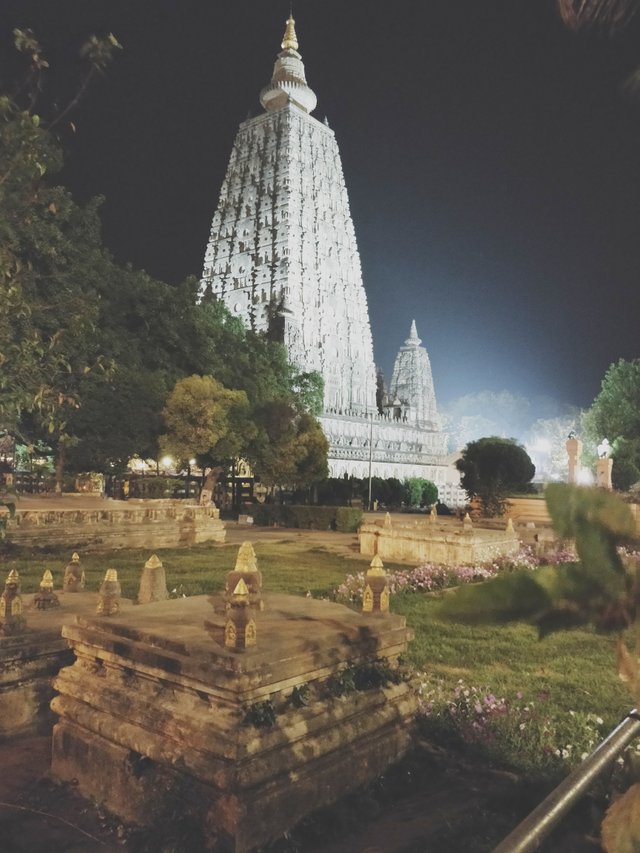 Mahabodhi Temple Complex!!
Great Buddha Statue
Your eye cannot miss The Great Buddha Statue. Stepping inside the complex is like entering a place enveloped in peace!! The statue stands 64.00 ft high in meditation pose or dhyana mudra seated on a lotus. Surrounding the main statue, one can see many sculptures in varied poses. It is said that the greatest driving force for this project was the wish for further expansion of Buddhism from the holy place Bodhgaya, as well as for the realization of world peace.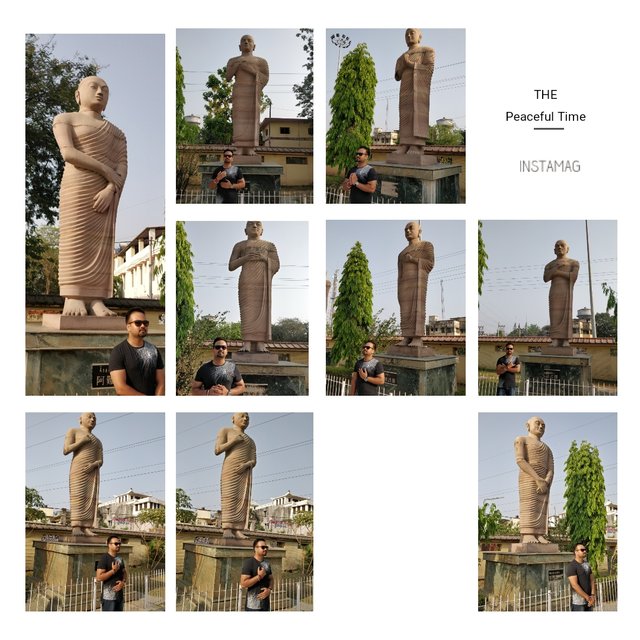 My Brother-in-Law did it all..:)!!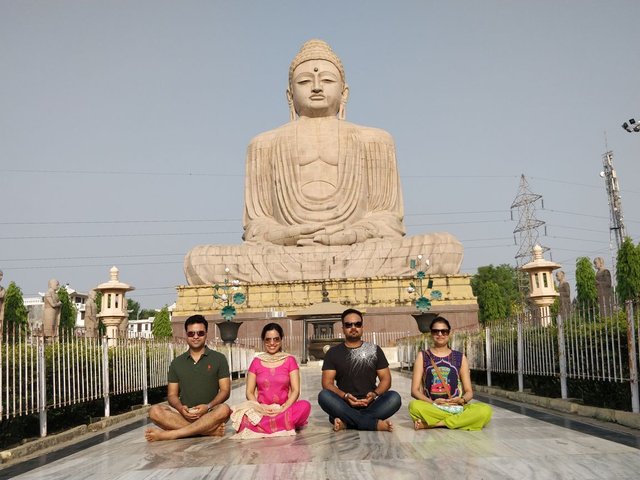 We tried our best to be in Dhyan Mudra!!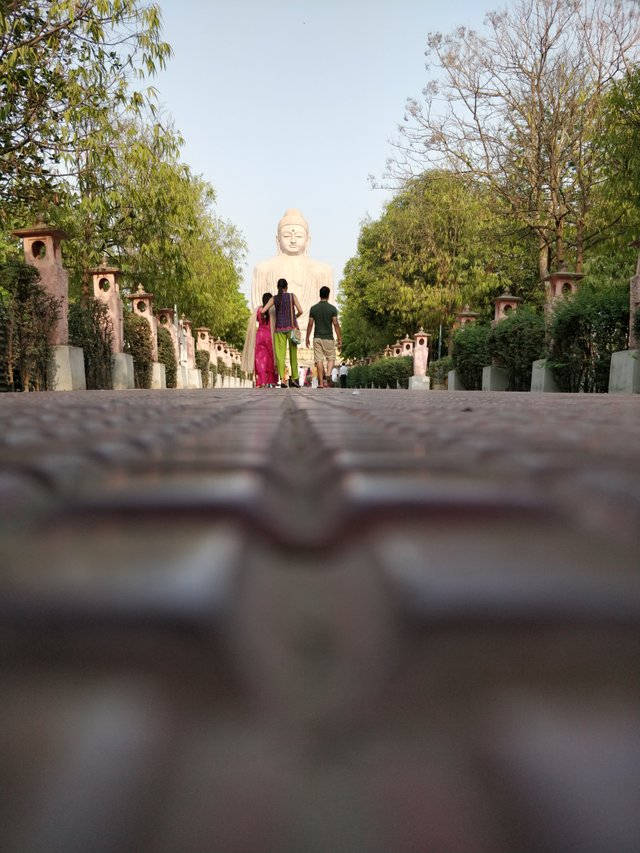 Lord Buddha emerging in all his glory!!
Monastery Visit
Bodh Gaya has numerous monasteries to visit, you will be spellbound to see the architectures there. Even a quick visit to a monastery can be so serene- Imagine spending quiet moments with those vibrations of monks chanting and meditating daily. These monasteries or I should say "Powerhouses" have the influence to energise, heal and rejuvenate. What a sensory indulgence it is when you hear your heart beating and the sound of your breath, Isn't it!! You will be all surrounded with such pulsating and glimmering monasteries of various countries at Bodh Gaya.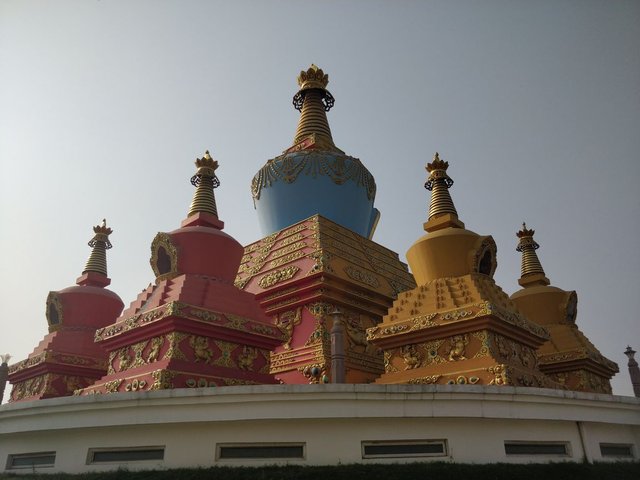 The Vibrant Colors describe it all!!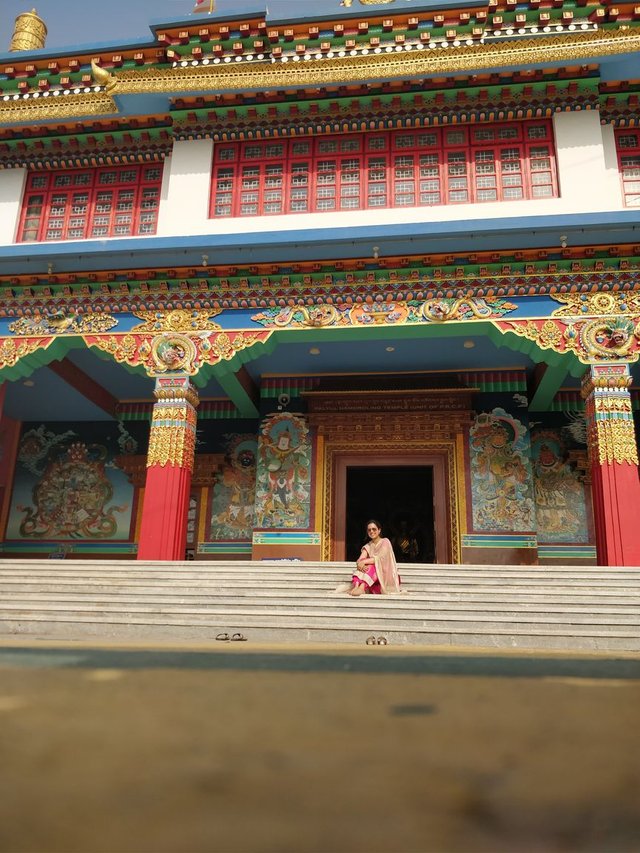 The Monastery complex was too relaxing to leave!!
Food Talks
To feed your empty stomachs you have ample options to choose from and the restaurants here serve all the cuisines. We tried South-Indian, Tibetan- Thukpa, some cutlets and sandwiches. Do try this café named- Be Happy. This place is extremely famous there and is known for delicious pizzas, coffee and freshly baked treats.
We wanted to explore more but the temperature was soaring. This place has a lot to offer and I will be planning my second visit very soon in winters. Trust me, if you really want to live this place, plan for about 3-4 days. The weather is too hot during April- September months so better to avoid this time of the year. Best months to Visit- October to March.
I heard so much about this place that I could not contain my excitement, the added advantage was the company. It was so much fun with these 3 wonderful people. What else- Fun, endless laughs on jokes which can make sense only to us, food and a long drive only to end in a fun-filled quick getaway.
Thank you for Stopping By!!
Have a great week ahead