Cappadocia Red and Green Tours - 2 Day Cappadocia Itinerary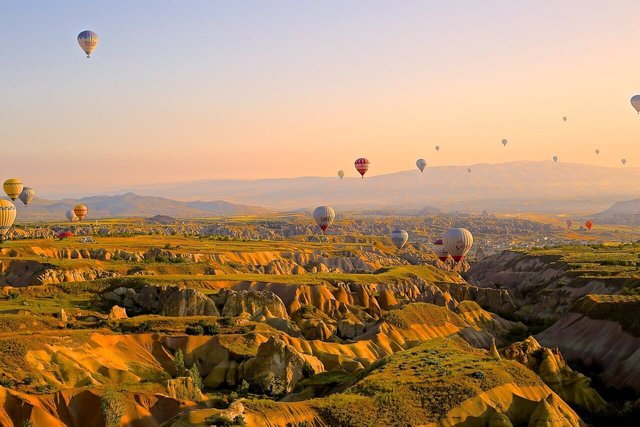 If Istanbul enchanted me with it's infectious energy and diverse culture, then Pamukkale had me gasping at the beautiful white travertines & archaeological cities. My Turkey trip was going like a dream. With one final destination left, I was hoping to finish my journey in Turkey on a high note. And boy was it a high note or what! I had no clue that I was about to explore a place so starkly contrasting that it would be etched in my memory forever. The place I'm talking about is Cappadocia. Cappadocia is so weirdly picturesque that words fall short to describe it's beauty. The terrain is rocky with a large expanse of volcanic rocks shaped like towers, cones, mushrooms and even male genitals. Since Cappadocia is a huge territory, exploring all of it can seem like a bit of a task. Therefore, the tour companies there have designed three Cappadocia tours to help you cover different regions of Cappadocia. They are Green tour Cappadocia, Blue tour Cappadocia and Red tour Cappadocia. In this blog post, I'll be sharing with you the best 2-Day Cappadocia itinerary ie. exploring Cappadocia through the Cappadocia Red and Green tours.
HOW TO GET TO CAPPADOCIA
Before discussing the details of exploring Cappadocia, let's find out how to get to Cappadocia both, from Istanbul and Pamukkale.
FROM ISTANBUL TO CAPPADOCIA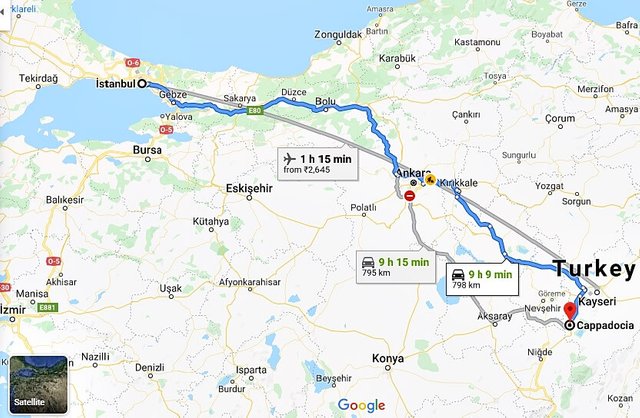 1. BY PLANE - The fastest and most convenient way to get to Cappadocia from Istanbul is by flight. If you book your domestic travel within Turkey in advance, then you can get your flight tickets at a cheap rate. Turkish Airlines & Pegasus Air operate daily non-stop flights from both the Istanbul airports - Istanbul Airport (IST) and Sabiha Gökçen Airport (SAW) to Nevşehir-Kapadokya Airport(NEV) and Kayseri's Erkilet Airport (ASR).
So pick and choose your airport based on the location of your accommodation and enjoy your 1-hour 15-minute journey!
But the journey doesn't end there. Once in Cappadocia, don't you want to get to your accommodation? You can get to your hotel through an airport shuttle service. I'd recommend you to use Peerless Travel Services as their shuttle rates are economical and the customer service is good too.
You can also use the shuttle service operated by Argeus travel company (official Turkish Airlines shuttle service), Turkish Heritage travel, and Rock Valley travel. However, if you're rich and travelling in a public shuttle isn't your thing, then you can hire a private car as well.
2. BY BUS - If sleeping on a bus during a 10-12 hour overnight journey excites you, then, by all means, go ahead & travel from Istanbul to Cappadocia by bus. It's the cheapest means of transportation with a ticket costing just 90 TL-100 TL. But let me warn you, it's a long ride that covers a distance of around 750 km so you might be exhausted at the end of it.
The advantage with this is a) you save accommodation money by spending the night sleeping on a bus instead of a hotel in Istanbul and b) you can use that very money you saved to do tours and activities in Cappadocia instead.
3. BY TRAIN - If you choose to travel from Istanbul to Cappadocia by train, then you have two options. You can take a high-speed YHT train from Istanbul to Ankara. Check the train timetable by clicking here.
Then take a metro from the Ankara station to the bus terminal. This can take about 45 minutes to an hour. Buses from Ankara to Gorëme in Cappadocia run every couple of hours throughout the day.
Journey to Gorëme takes about 4-5 hours and a ticket can cost you anywhere between 70 TL-110 TL depending upon the bus company you're opting for. You can book your bus tickets by clicking here.
The second option is that you can take a high-speed train from Istanbul to Konya. Check the train timetable by clicking here. Then book a bus ticket from Konya to Gorëme in Cappadocia by clicking here. The journey to Gorëme takes 4 hours and a ticket can cost you anywhere between 65 TL-100 TL.
4. BY CAR/TAXI - For the adventurous braveheart who wants to drive a car from Istanbul to Cappadocia, a journey of 8-9 hours awaits. If you take meal and pee breaks into consideration, then the journey duration becomes 10 hours. It's a long 800 km drive so avail this option at your own risk.
You can also hire a private taxi from Istanbul to Gorëme by clicking here.
FROM PAMUKKALE TO CAPPADOCIA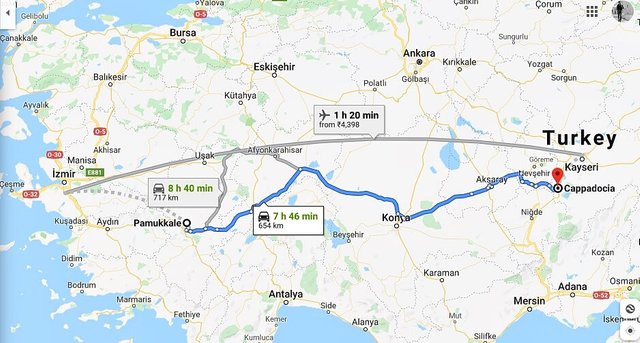 1. BY PLANE - There's no direct flight from Pamukkale to Cappadocia. So what you can do is take a shuttle from Pamukkale to the nearest airport ie. Denizli airport (which is approximately a 1-hour journey). Your hotel in Pamukkale can help you book this shuttle at a reasonable price.
Then take a flight from Denizli airport (DNZ) to Kayseri's Erkilet Airport (ASR). You will have a stop at Sabiha Gökçen International Airport (SAW) in Istanbul because there is no direct flight that's operational. So the flight duration can be anything between 4-5 hours depending on your stoppage time in Istanbul.
The second option is that you can take a shuttle from Pamukkale to Izmir (3 hours) and then hop on a flight fro Izmir to Cappadocia ( 1 hour 20 minutes). Once you're at Kayseri's Erkilet Airport (ASR), you can get to your accommodation by using the shuttle services of companies I've mentioned above in the "getting to Cappadocia from Istanbul by plane section".
2. BY BUS - There are direct buses available from Denizli otogar (otogar means bus terminal in Turkish) to Nevşehir otogar. It's a 9.5-10 hour journey with a ticket costing you around 80 TL. You can book your bus tickets by clicking here.
In case direct buses are booked during peak season, then you'll have to change buses in Konya. It's a 6-6.5 hour journey from Denizli to Konya with a ticket costing you around 70 TL. From Konya otogar take a bus to Nevşehir otogar (Cappadocia). It's a 3-hour journey with a ticket costing you around 45 TL-55 TL. Book both your bus tickets by clicking here.
The distance from Nevşehir otogar to Gorëme is just 19km (25 minutes approx.) so you can take a cab/taxi from the bus stop to your hotel in Gorëme.
3. BY CAR/TAXI - If you're in the mood for a road trip, then you can hire a private car and drive a distance of 650 km from Pamukkale to Cappadocia. It's a 8-9 hour journey and your fuel charges can range anywhere between 450 TL-700 TL. You can also book a private taxi by clicking here.
WHERE TO STAY IN CAPPADOCIA - CAPPADOCIA ACCOMMODATIONS
There are mainly two popular places in Cappadocia where you could book your stay -
Göreme
and
Uçhisar.
I stayed in
Göreme
and I'd recommend you to book your stay here as well. Why?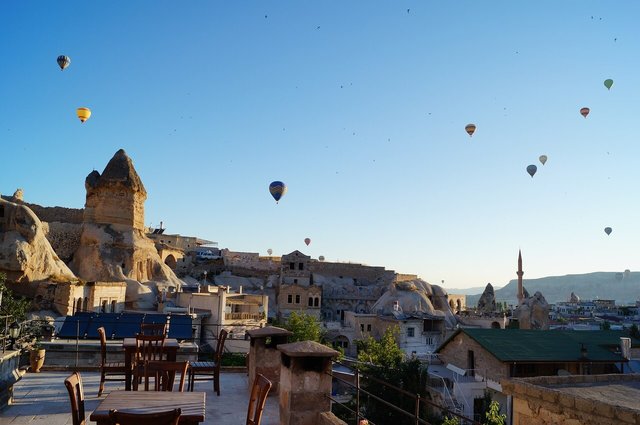 1. Firstly, because it has a centralized location with easy access to all parts of Cappadocia. As a result, you cut down on travel time to get to a particular place. Additionally, most of the good tour agencies have their offices in Göreme. So if you're staying in Göreme, then you won't have to worry about the pickup when choosing the Cappadocia Red and Green tours.
2. Secondly, it provides you with more options as far as eating, shopping and nightlife are concerned.
3. Thirdly, since Göreme is situated among the many fairy chimneys of Cappadocia, it offers you unique cave-style accommodations from where you can enjoy breathtaking views of the hot air balloons during sunrise and sunset.
BEST HOTELS IN GOREME WHERE YOU CAN STAY
1. Cappadocia Cave Suites
-
This is the place I stayed at and I unabashedly
recommend
you to stay here. Why? Because firstly, it has the
best cave rooms at a minimal price
(if you book in advance) and in the evenings it looks like THIS!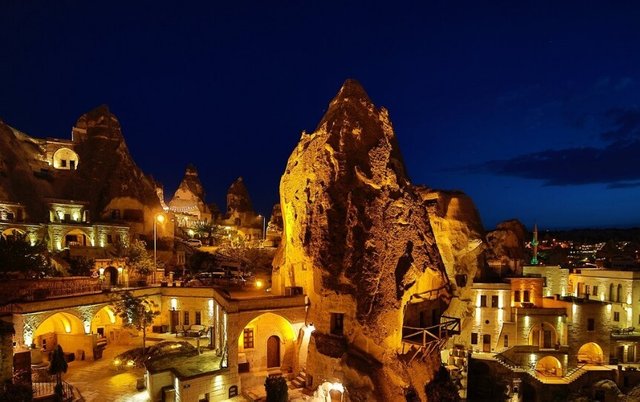 Photo @Cappadocia Cave Suites Management
Secondly, it's restaurant serves you the most delicious and sumptuous food you can find in Cappadocia.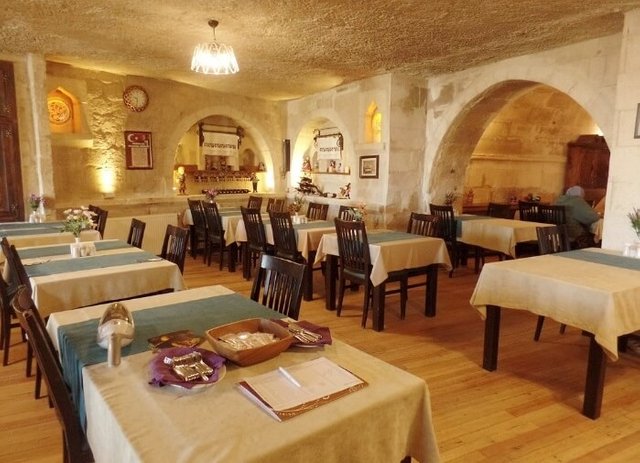 Thirdly, the staff is polite, friendly and assists you in booking your tours through a premium tour company that doesn't overcharge you.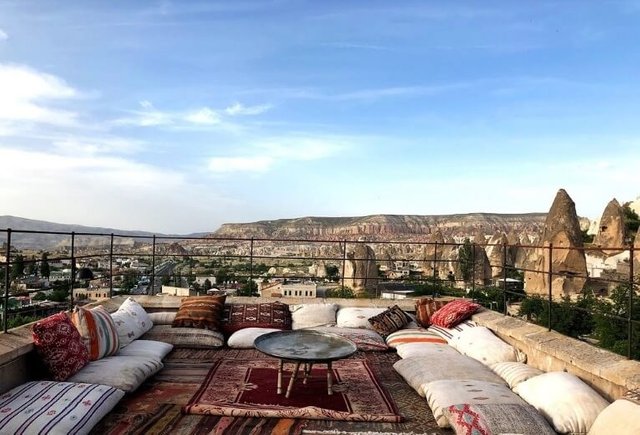 Finally, you get to see lovely sunset views from the terrace of the hotel. Check out the Cappadocia Cave Suites property and book your stay by clicking here.
2. Sultan Cave Suites - Check out the property and book your stay by clicking here.
3. Grand Elite Cave Suites - Check out the property and book your stay by clicking here.
4. Charming Cave Hotel - Check out the property and book your stay by clicking here.
5. Aydinli Cave Hotel - Check out the property and book your stay by clicking here.
WHY CHOOSE CAPPADOCIA RED AND GREEN TOURS?
I had two and a half days to explore Cappadocia and wanted to make the most of it. Since I kept aside half a day to do bucket list items like
Hot Air Ballooning
and ATV bike riding, I effectively had two days to do the tours.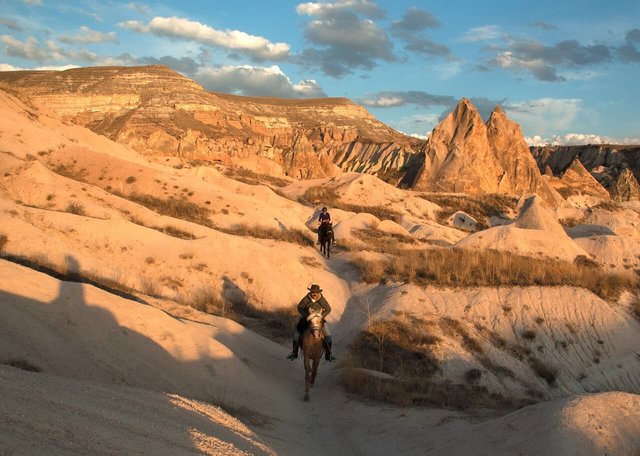 I chose to do the Red tour Cappadocia and Green tour Cappadocia.
Why? Because the two tours not only cover the museums, underground cities, castles, valleys, monasteries but also include lovely hikes through valleys, local food/wine tastings and art workshops. Therefore, you have a near-perfect itinerary in which you get to experience the best of Cappadocia. Besides, you anyway end up covering a few places similar to those included in the Blue tour. So it makes more sense to do the Cappadocia Red and Green tours. This way you end up saving both time and money. However, you can do the Blue tour as well if you have an extra day or two.
RED TOUR CAPPADOCIA - DAY 1
Red Tour Cappadocia helps you explore the northern region of Cappadocia. The places and activities that you'll be covering on your first day under this tour are :
Göreme Open Air Museum,
Uchisar Castle,
Carpet Shop,
Love Valley and Rose Valley,
Ceramik Kapadokya Pottery Workshop,
Urgup Fairy Chimneys,
Devrent Valley and
Wine Tasting in Urgup
1. GOREME OPEN AIR MUSEUM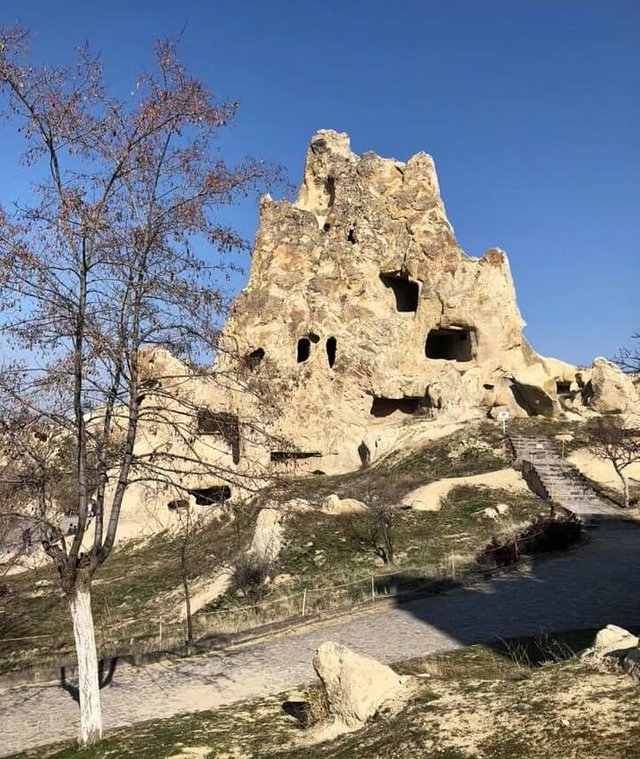 A
UNESCO World Heritage site
since 1984, the Göreme open-air museum is one of the
most popular attractions
to visit in Cappadocia. It's a vast monastic complex consisting of individual monasteries placed side by side - each with a refectory and a private church.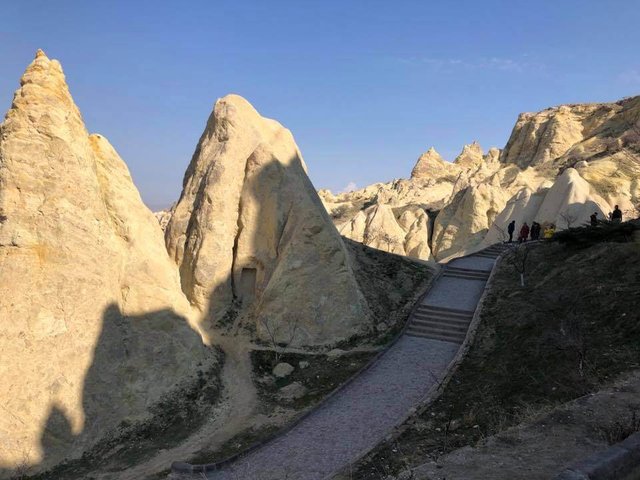 You feel like you're in a parallel universe as you walk through the rocky settlement area exploring the various cave houses, churches (kilise in Turkish), dining halls, chapels, sitting-rooms inside the rock-cut blocks. The rock-cut churches are well preserved and have some beautiful frescoes and paintings that date back to the Byzantine era.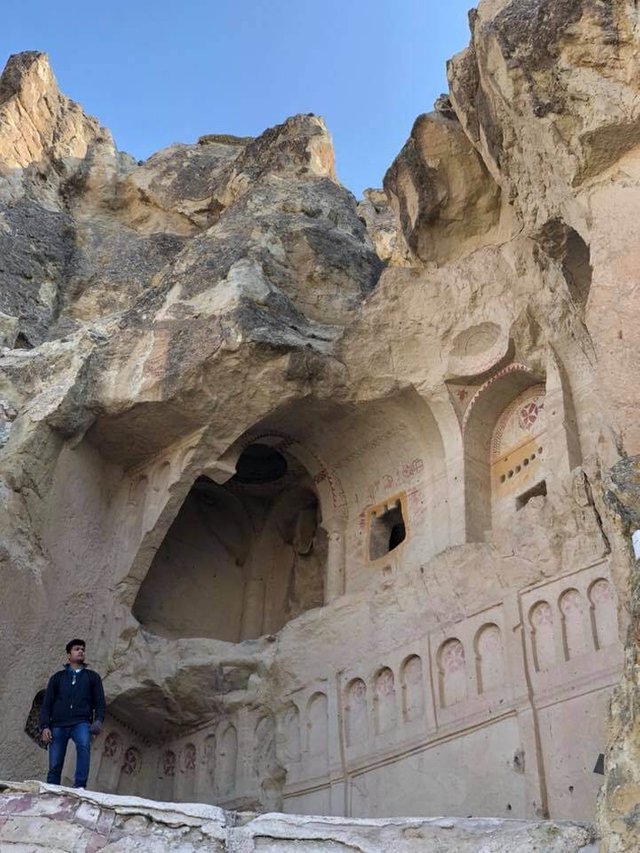 You see a reflection of the monastery life led by nuns and monks in the Byzantine cave churches. These churches have wall paintings and frescoes that depict scenes from both the Old Testament and the New Testament.
Some of the popular cave churches in the museum which you must not miss out on are the Dark Church (separate entrance fee), Tokali (Buckle) Church, Elmali Church, Yilanli Church, St. Basil's Chapel, Saint Barbara Chapel and St. Catherine's Chapel.
Entry fee for the Göreme open-air museum is 40 TL.
IMPORTANT NOTE :

1. Visit this place early in the morning (around 8 am) to avoid both, the queues and the hot afternoon sun.
2. If you wish to explore the place on your own, then you can opt for an audio guide. The audio guide fee is 15 TL.
3. Your Cappadocia Museum Pass is valid for this museum.
2. UCHISAR CASTLE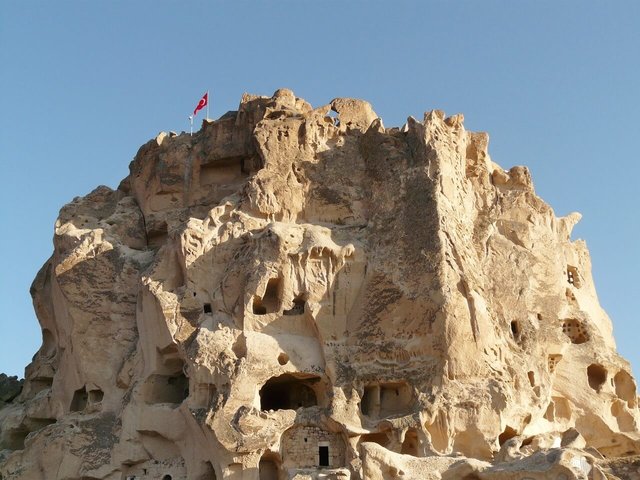 Situated on the highest point of the small town of Uchisar, this tall volcanic-rock outcrop is a famous tourist spot in Cappadocia. The Uchisar Castle, located just 5 km away from the town of Göreme, is one of the best viewpoints to witness the alluring sunsets of Cappadocia.
You can either take a bus from Göreme bus station to Uchisar village (a 10-minute journey) which costs you 3-5 TL per ticket or walk your way from Göreme to the Uchisar castle, hiking through the Love Valley/Pigeon Valley.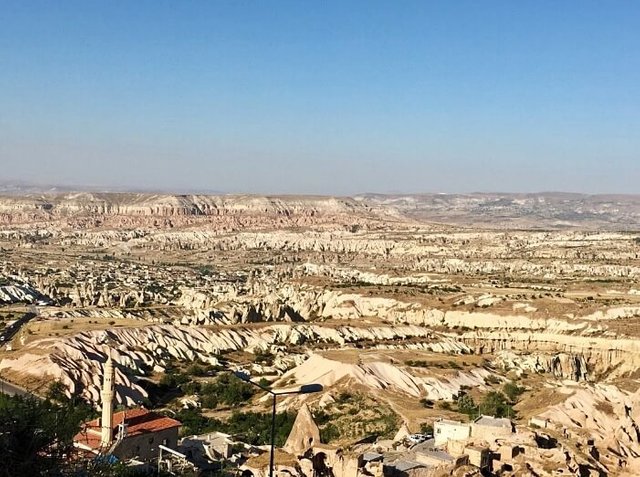 The Castle historically acted as a place of refuge for the locals when the enemy armies attacked/occupied the surrounding areas. Once you climb the 100 odd stairs (10-minute climb) that lead you to the top, you are rewarded with the most spectacular 360-degree panoramic view of surrounding towns and rock valleys garnished generously with the surreal-looking fairy chimneys.
Entry fee for the Uchisar Castle is 9 TL.
3. CARPET SHOP
I know that as soon as you read the word
shop
, all you can visualise is locals pestering you to buy their stuff. But trust me this inclusion in the itinerary isn't a tourist trap. In fact, by the end of your tour of the shop, you are tempted to buy every silk carpet that you lay your eyes on. Carpet weaving is an art and the Anatolian region is the centre where this art flourished.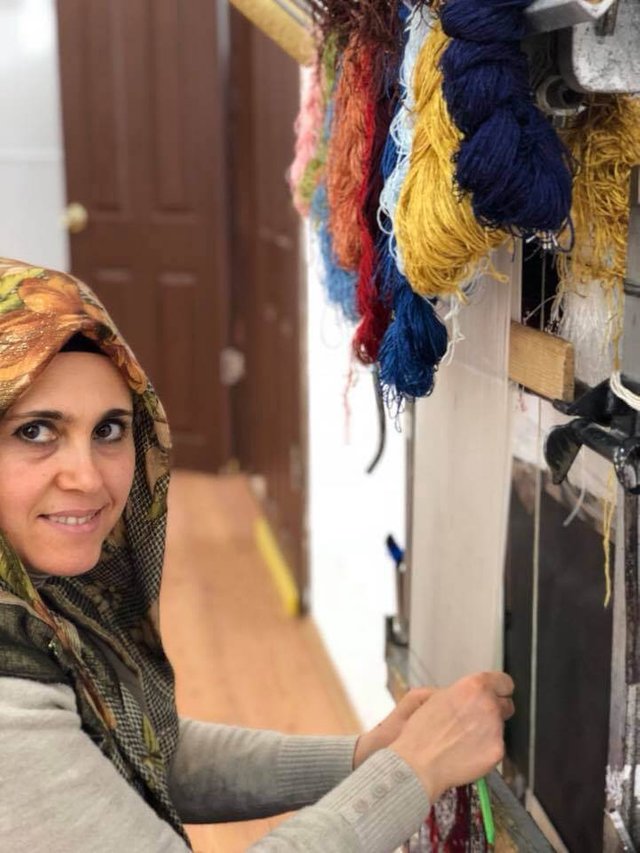 In the carpet shop, you are shown the 2 main types of rugs under production currently - the
kilim
(a flat-woven carpet) and
halı
(knotted rug). I particularly loved watching graceful Turkish women making woollen and silk carpets with their bare hands using designs that reflect the cultural heritage of Turkey.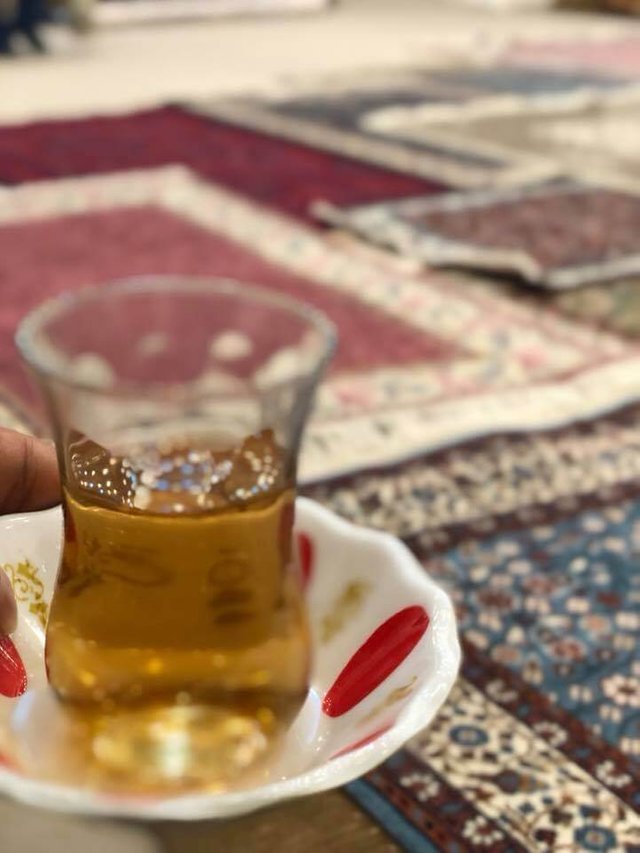 The staff at the store show you different kinds of Turkish carpets - both vintage and modern. They teach you how to distinguish between an authentic silk carpet and a fake one, winning you over with their warmth, genuineness and knowledge. You get to witness products of their masterful craftsmanship over a delicious cup of Turkish tea/coffee which, according to me, is an absolute win!
4. LOVE VALLEY AND ROSE VALLEY
Considering the one-of-a-kind terrain that Cappadocia is blessed with, the valleys form an integral part of the gorgeous landscape. Two such valleys are the
Love Valley
and the
Rose Valley.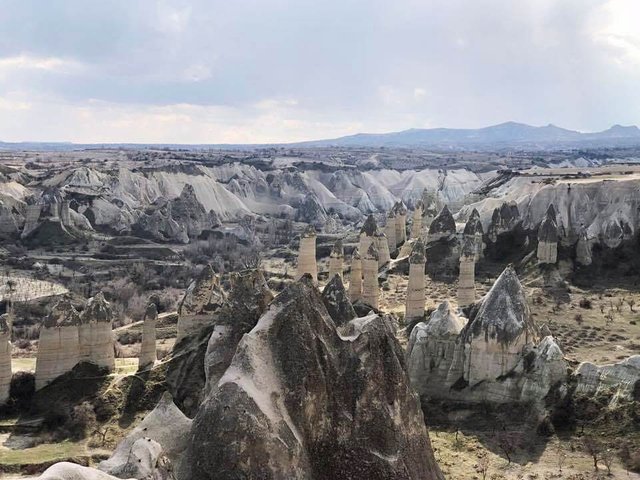 Love Valley gives you an interesting perspective of the cave dwellings and volcanic-rock formations. You see an endless spread of cone topped rock structures called Fairy Chimneys, formed due to wind and rain erosions over thousands of years. The rock structures strangely resemble mushrooms. So I'm assuming the person responsible for naming this valley had a "love for mushrooms".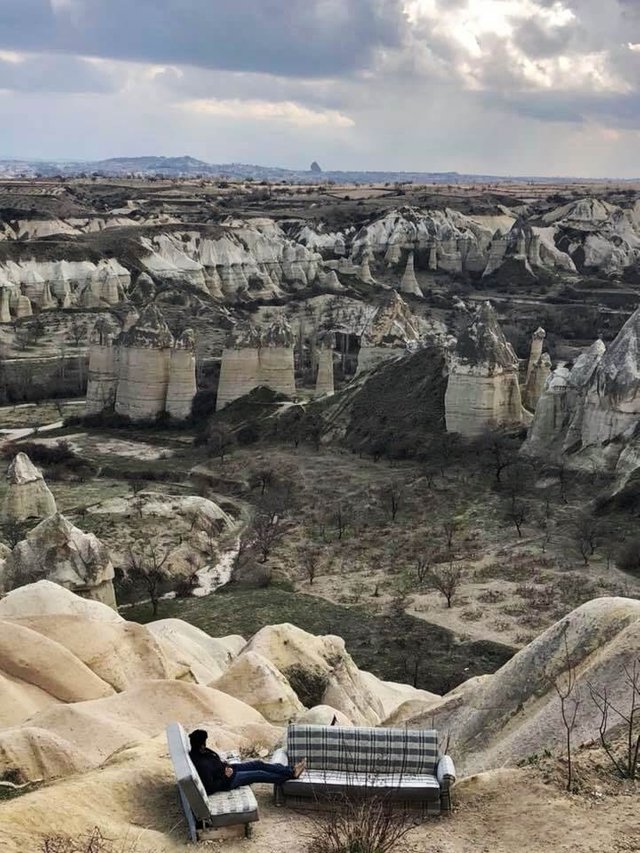 Hiking through the Love Valley is an option if you love hikes and have time on your hands. I, however, got a bit creative. I spotted a sofa at a vantage point which offered an incredible view of the valley (no kidding!). So I removed my footwear, slid down a rocky slope and enjoyed the remarkable view of the valley, resting my butt on that oddly but strategically placed sofa.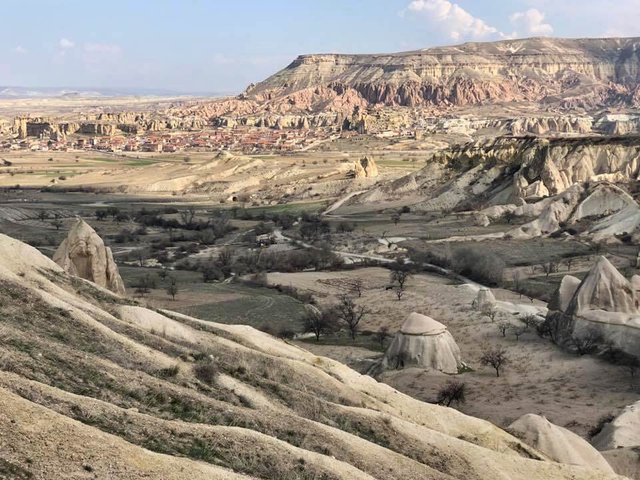 Rose Valley is another picturesque valley that has to be on your must-visit list. Again, you have the option of hiking the Rose Valley trailhead to get to the valley or you could drive for 15 minutes from Göreme town and get straight to the viewpoint. I chose the latter option.
Rose Valley has unique rock formations which give it a corrugated appearance. But what makes the Rose Valley incredibly exquisite is the fact that the minerals in the sandstone have a pink coloured tinge to them. This pink is accentuated through the day and is at it's peak during sunset when the slanting rays create an impression of a valley resplendent in a rosy pink blanket. Rose Valley during sunset is a sight to behold and an absolute natural wonder that leaves you awestruck.
5. CERAMIK KAPADOKYA POTTERY WORKSHOP
If you think that weaving beautiful silk carpets is all there is to Cappadocia, then you're wrong because there's an entire world of ceramic art that awaits you. I went to
Ceramik Kapadokya
which is a ceramic pottery workshop cum store.
The place has a demonstration area where you're shown how the pottery products are made from scratch. You can even try your hand at it and learn the skill from the masters. The ease with which they make such intricate and wonderful pieces of ceramic art leaves you mighty impressed.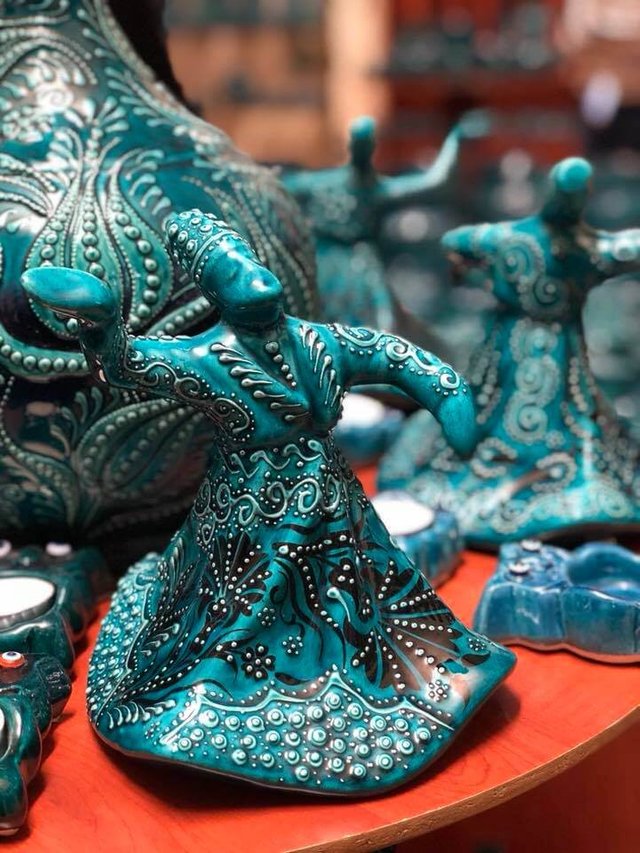 There is a section of products in the store that's exorbitantly priced as it is designed and made by the experts at the craft. But then there is another section made by the students that's more affordable. I chose the latter section to buy Turkish wine decanters and decorative plates famous in that region. If artgasm (yeah, I coined that) is a thing, then the sight of turquoise ceramic pieces of whirling dervishes in a "sema" dance pose has to be the definition of it. The place is an absolute haven for art lovers!
6. URGUP FAIRY CHIMNEYS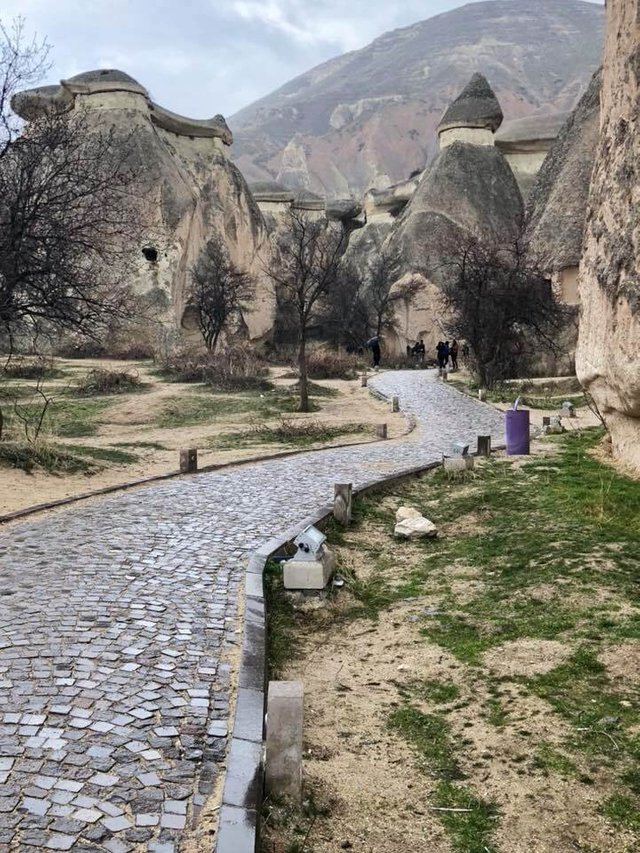 The
Fairy Chimneys
are a distinctive geographical feature of Cappadocia that make it one of the most famous destinations in Turkey. In the Red Tour Cappadocia, you'll be visiting Urgup and seeing the Fairy Chimneys from close quarters. A 15-minute drive from Göreme town leads you to these surreal towering rock formations.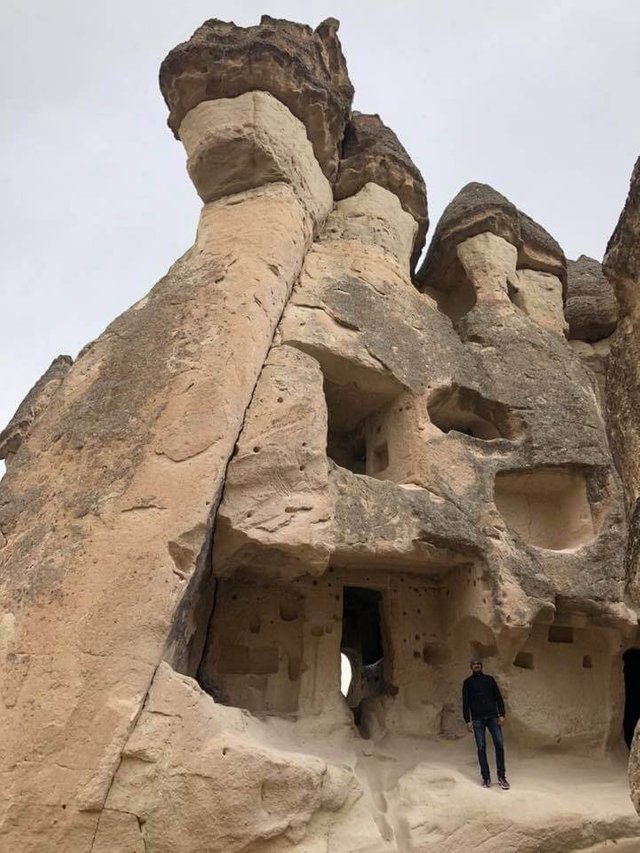 What's interesting to know is the story behind their emergence! Volcanic eruptions that occurred millions of years ago blanketed the region with a thick layer of ash, which later solidified into tuff (soft rock). Then erosion by wind and water removed the softer layers of the rock formations leaving only the harder elements to form the Fairy Chimneys.
Fairy Chimneys generally have a conical-shaped body with a boulder on top of it that could resemble a cap, mushroom or pointed rock. Fairy Chimneys of different kinds can be spotted in different parts of Cappadocia.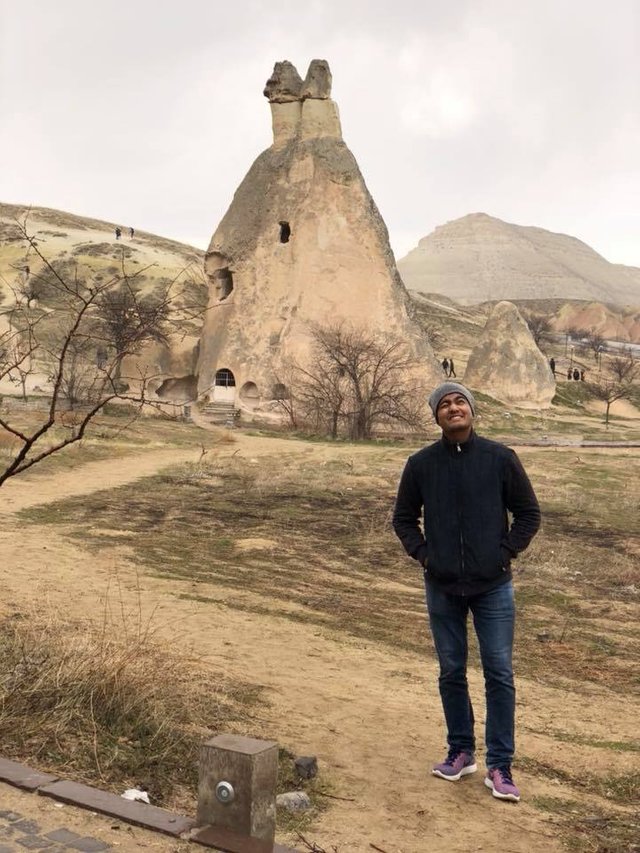 Human inventiveness during the Roman period gave the Chimneys their current structure. In this period, Christian inhabitants made a network of caves, churches, sitting rooms, tunnels and storehouses. Holes in the walls were for air circulation and blackened walls implied they were part of the kitchen. Just walking around these structures transports you to those times and makes you wonder how the nuns and monks must have lived the "monastery life" inside them.
7. DEVRENT VALLEY
Devrent Valley is a place you'll enjoy visiting if you have an active and vivid imagination. No kidding! The valley is also called
Imagination Valley
for the same reason. Wondering why? That's because the rock formations here resemble shapes of animals. The most noticeable animal shapes are those of camels, snakes, dolphins and snails!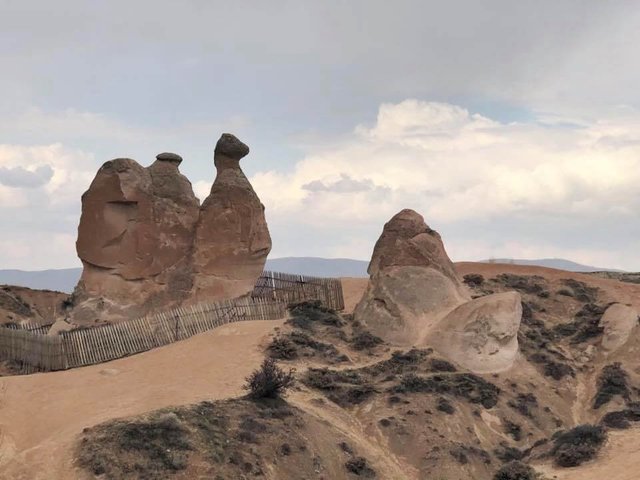 You feel like you're in a customized sculpture zoo designed by nature. The small Fairy Chimneys here have a different appearance compared to those in other valleys. You'll see them forming a moonscape or a lunar landscape because of their strange look.
Unlike other valleys, you won't find any cave dwellings or churches in this valley as it was never inhabited by the humans. But what will appeal to you about the Devrent Valley is the lunar landscape. The place is a mere 15 minutes away from Göreme town (11.5 km) and is worth visiting.
8. WINE TASTING IN URGUP
Exploring Cappadocia would be incomplete without getting a taste of the natural, authentic, delicious wines of the region. Turkey is the world's fourth-leading producer of grapes with Urgup being the heart of the wine-producing region of Cappadocia. So it comes as no surprise that wine's always been an integral part of the Turkish culture.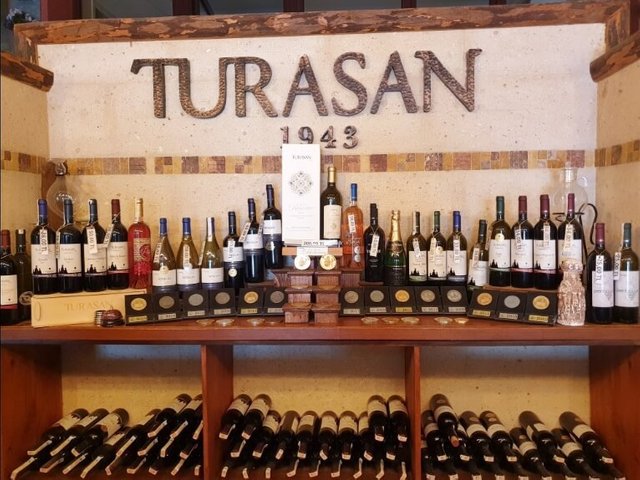 I was taken to the Turasan Sarapcilik in Urgup. The staff members at Turasan Sarapcilik were warm, friendly and offered me complimentary tastings of their award-winning wines. The quality of wine here is great thanks to the stocking of the grapes at a constant temperature inside the caves. The main grape varieties that are used to make wine here are Emir, Okuzgozu, Kalecik Karasi, Bogazkere and Narince.
My favourite wines from the ones I tried were Kalecik Karasi and Emir. They have a unique aroma and flavour which makes them irresistible. I ended up buying a couple of them and I recommend you to try them as well!
GREEN TOUR CAPPADOCIA - DAY 2
Green Tour Cappadocia helps you explore the southern part of Cappadocia. The places and activities that you'll be covering on your second day under this tour are :
Göreme Panorama Viewpoint,
Kaymakli Underground City,
Ihlara Valley Hike,
Selime Monastery,
Pigeon Valley,
Turkish Delights Tasting and
Kapadokya Onyx Stone Centre
1. GOREME PANORAMA VIEWPOINT
You begin your Green tour Cappadocia with a marvellous view that could easily replace your current desktop wallpaper. Since the name of the place is self-explanatory, I don't need to tell you much. You just need to take a deep breath, marvel at the stupendous panoramic views of Göreme and have a good camera with you to capture the magic on display!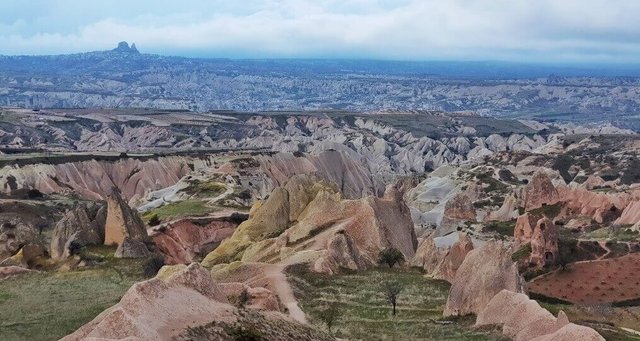 It's best to go to the Göreme Panorama point either at the beginning of the tour (just after sunrise) or the end of the tour (during sunset). Because it's during these two periods of "golden light" that the valleys containing fairy chimneys and other rock formations of Göreme come alive. There is no entrance fee and the parking here is free as well. There are some souvenir stores and small coffee shops at the venue for tourists.
2. KAYMAKLI UNDERGROUND CITY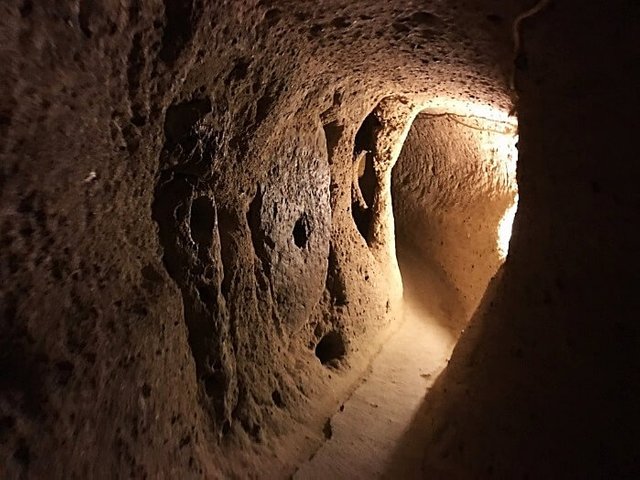 Does the idea of an underground city fascinate you? If yes, then you're in for some exciting times as the Green tour gives you a chance to explore the widest underground city of Cappadocia. Built under the hill known as the Citadel of Kaymakli, the Kaymakli underground city was first opened to tourists in 1964 and was part of the UNESCO World Heritage List in 1985. The ancient name of the city was Enegup.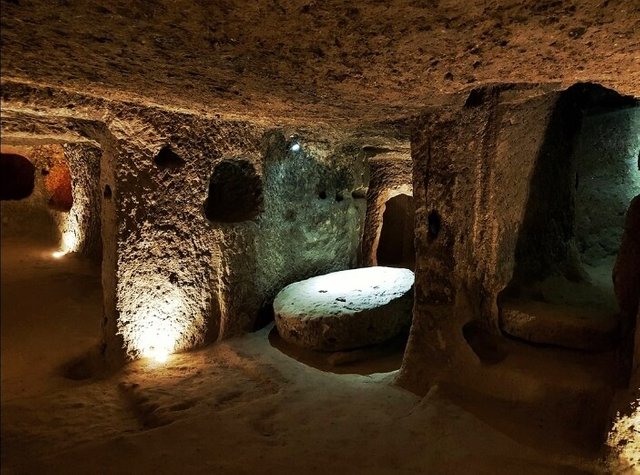 Though Kaymakli city is an 8 level deep maze of tunnels and rooms carved into the Earth, only 4 of them are open to the public. Each space is organized around ventilation shafts. So the size and design of rooms vary depending on the ventilation available.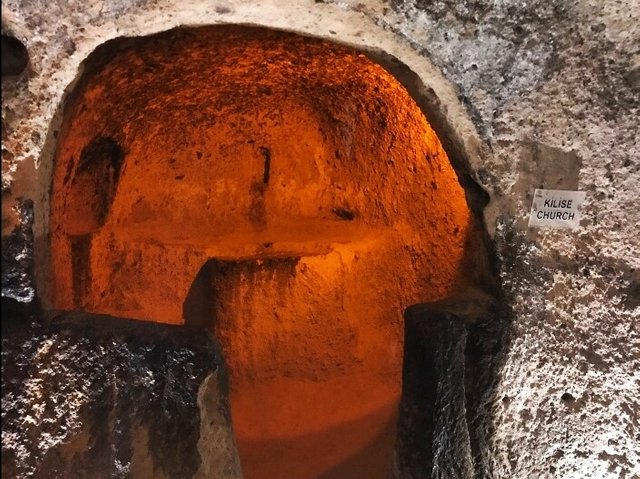 Our guide informed us that the first underground caves were built by Indo-European people called "Phrygians" and the material they used to build the city was soft volcanic rock. Later, Christian inhabitants expanded the cave chambers by constructing chapels, storage rooms and living spaces. But the underground caves were mainly used by the Christians to seek protection from the Arab, Mongolian and Ottoman invasions that occurred at different times.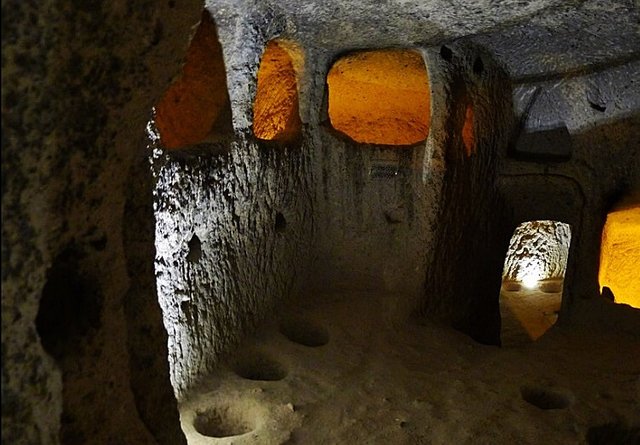 The
first floor
was used as a stable since it was difficult to take animals downstairs to lower floors through narrow passageways. To the right of the stable, you'll see rooms that were probably living spaces. On the
second floor
, you'll see a church with a few small living spaces. The
third floor
is the largest and the most important of them all. Here you'll come across community kitchens, wine/oil presses and storage areas. On the
fourth floor
, there are spacious living quarters and storage rooms.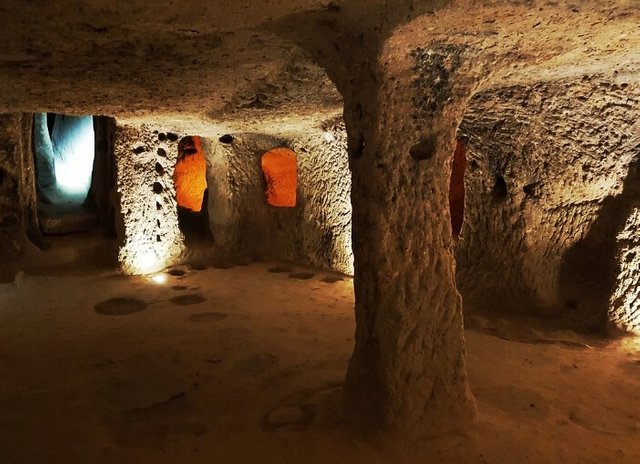 Archaeologists believe that the city once accommodated 3000-3500 people. I had a great time exploring this special place. After all, where else would you get the opportunity to time-travel to 7th century BC while squat-walking fancily through narrow tunnels? It is a must-visit place in Cappadocia and an experience you just can't miss!
IMPORTANT NOTE :
1. Exploring the underground city requires a certain level of fitness. So if you have a bad back or knee problems, then I advise you to avoid visiting the place.
2. Only the passageways that lead you from one level to another can get a bit too tight. Otherwise, it's very easy to navigate the site. However, if you're too claustrophobic, then don't visit the place.
3. IHLARA VALLEY HIKE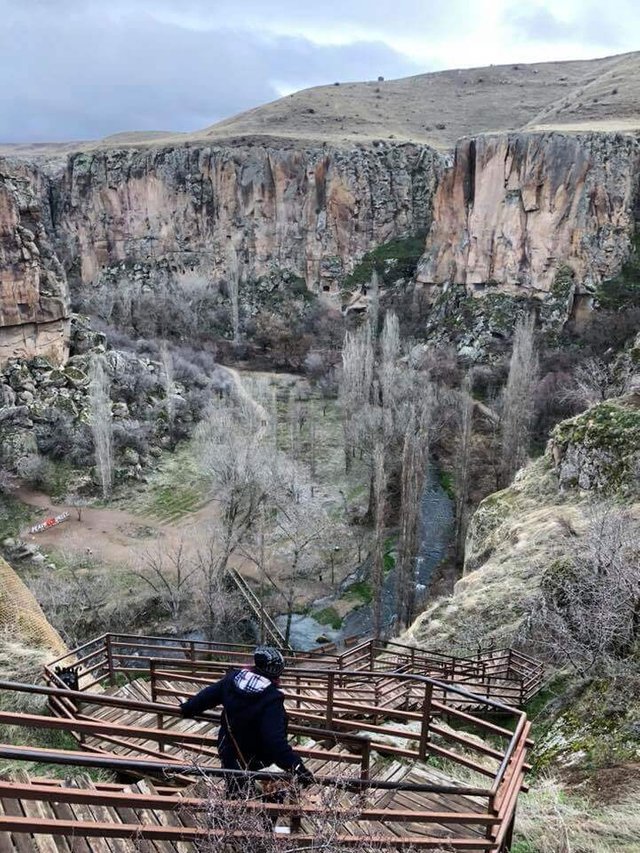 This was my favourite part of the Green tour of Cappadocia. The Ihlara Valley is a beautiful gorge in the Aksaray province of central Anatolia region. Lined with trees on both sides, the Melendiz river flows through the Ihlara valley and gives it a calming appearance. For those wanting to connect with nature, this hike is highly recommended.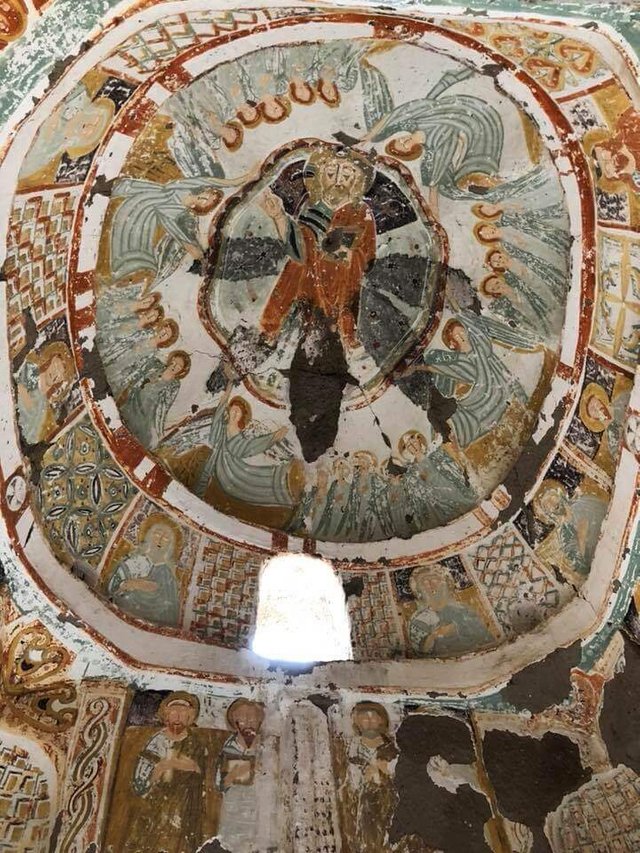 It's an easy 3.5-4 km walk from one end to the other. You get down a series of steps and reach the base of the valley where the hike begins. Along the stairway path, you'll come across a lovely little cave church carved into the volcanic rock. What surprised me were the colourful frescoes on the inside walls of the church! They were surprisingly well maintained.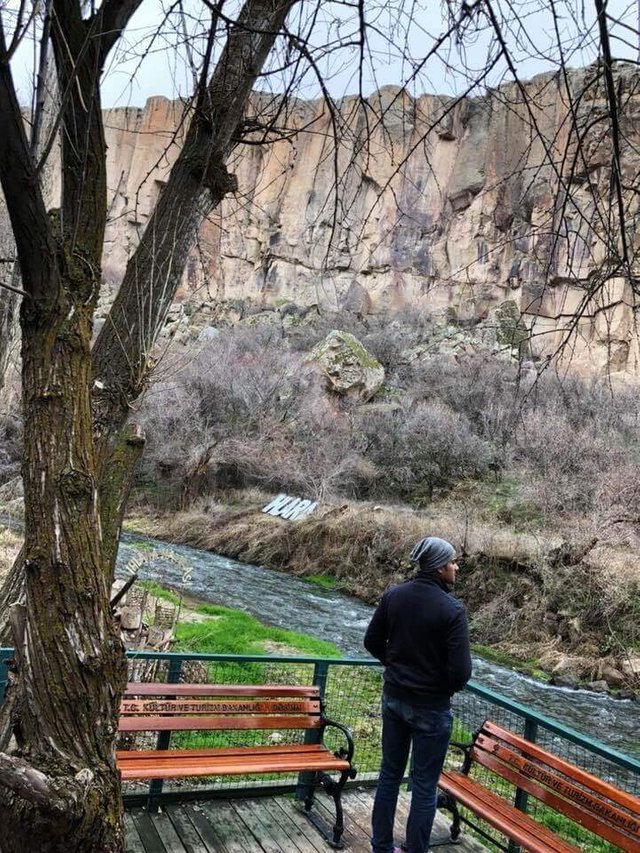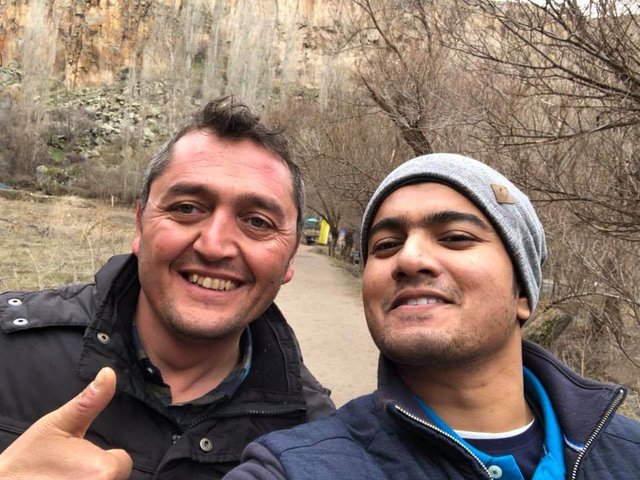 Walking along the river, you'll see many historically significant caves and rooms carved into the cliff that arouse your curiosity. Thankfully, I had a guide named Ahmet (from Andromeda Tours) who answered all my questions. He informed us that Christians escaping from the Roman soldiers took shelter in the rock caves of the Ihlara valley because of the abundant water supply.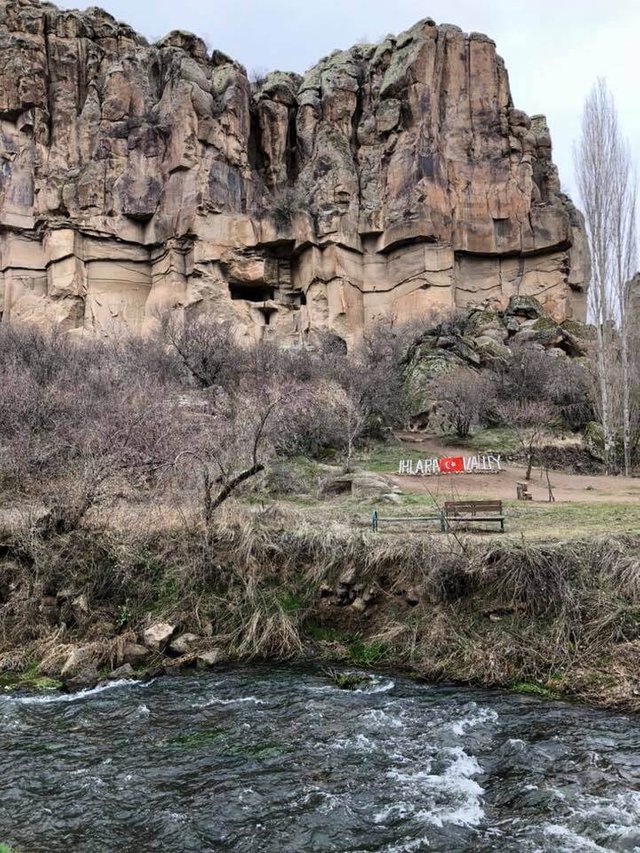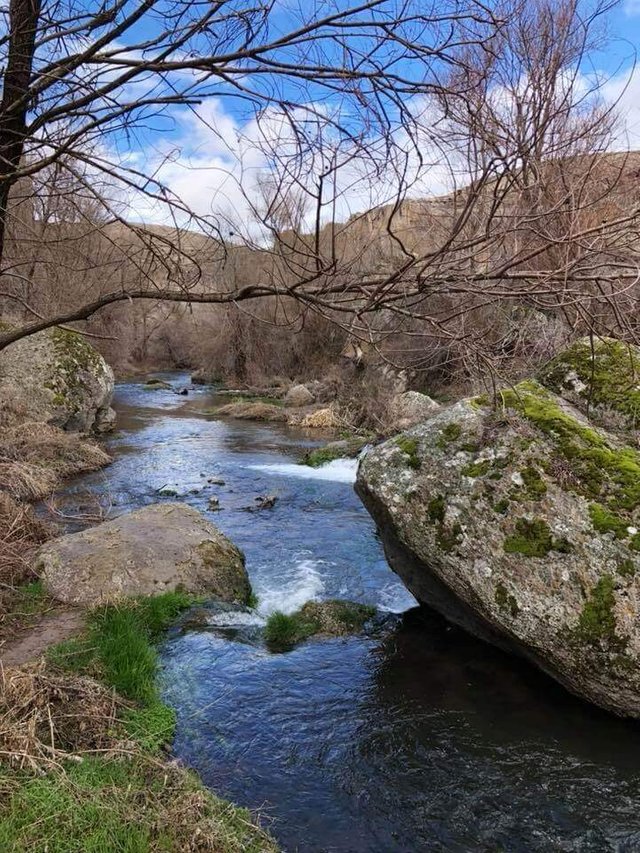 The hike is full of visually pleasing sights that have a soothing effect on you. When you've got cool fresh air, serene atmosphere and pristine natural beauty for company, what more can you ask for?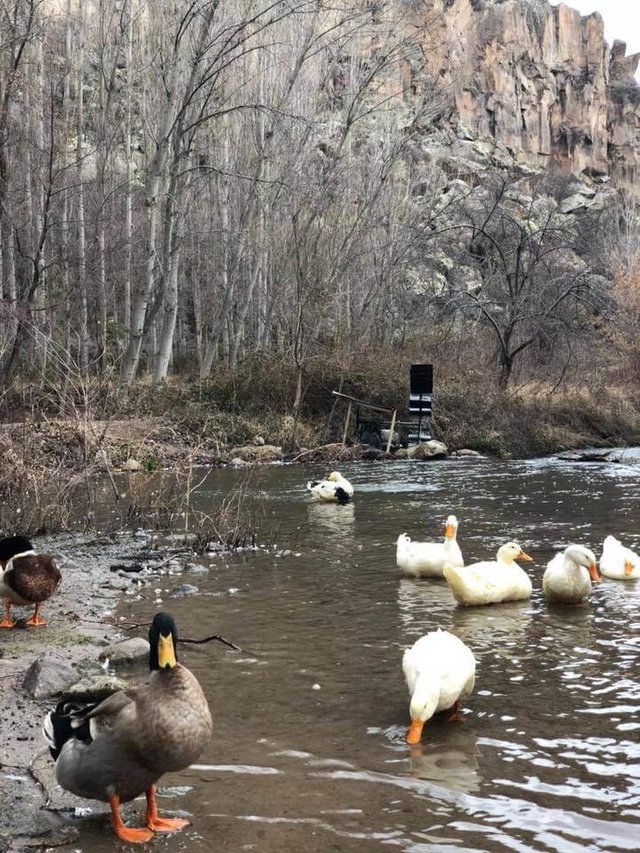 You'll even find ducks roaming around freely near the river, at a washroom stop in your hike.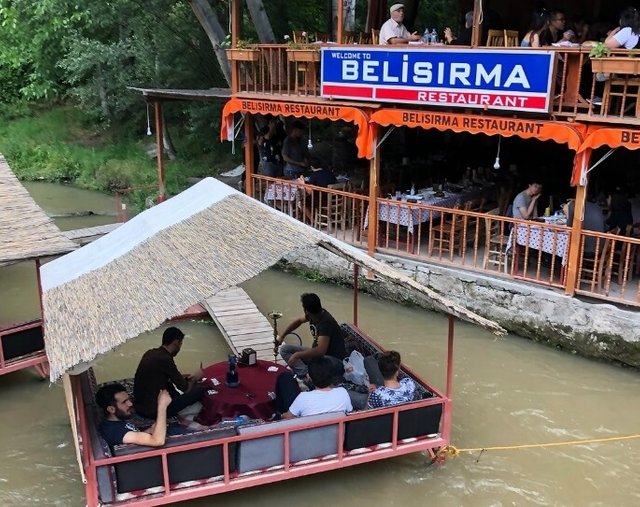 The hike ends with an appetizing lunch at the
BelisIrma restaurant
which offers you an
"over-the-river"
dining experience. Tasty food, a friendly staff that serves you with a smile and a view of the picturesque scenery ensure you end your Ihlara experience on a high. Luckily, I even got to experience my first live snowfall while standing on the wooden bridge just outside the restaurant. Forget feeling exhausted, I felt rejuvenated after the hike.
4. SELIME MONASTERY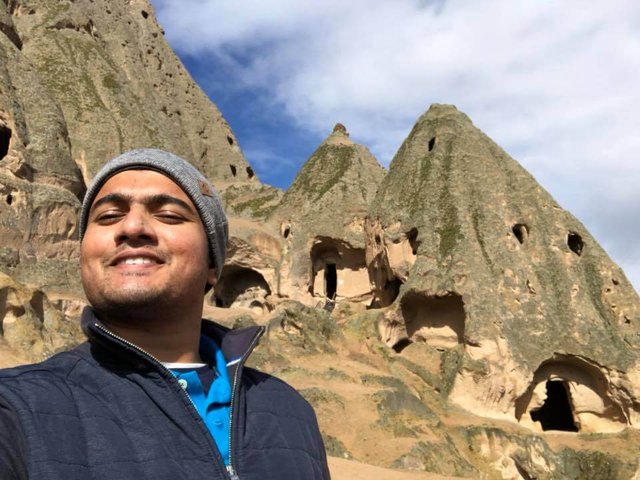 Located at the end of the Ihlara valley, at a distance of about 28 km from Aksaray province, is the stunning rock-cut Selime monastery. Selime Monastery is one of the most stunning places to visit in Cappadocia. It is the biggest religious building in Cappadocia with a cathedral-sized church.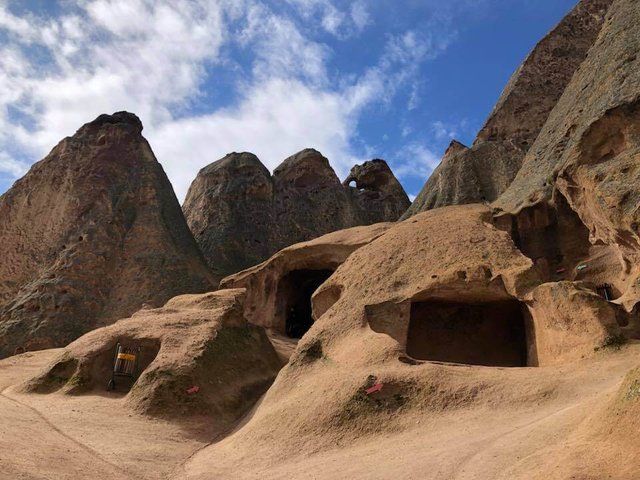 The monastery is said to date back to 8th or 9th century BC and it took almost 200 years to shape and organize the monastery. Inhabitants from Hittite, Assyrian, Persian, Roman, Byzantine, early Christian, Seljuk and Ottoman civilizations settled here.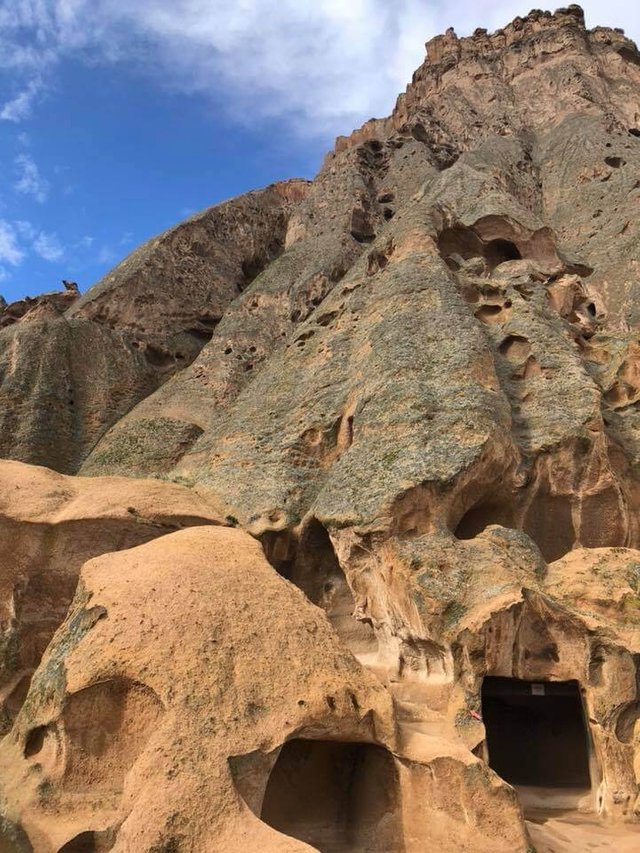 The monastery was believed to house 5000 people at one time, which is 1,500 people more than the total capacity of the Kaymakli underground city.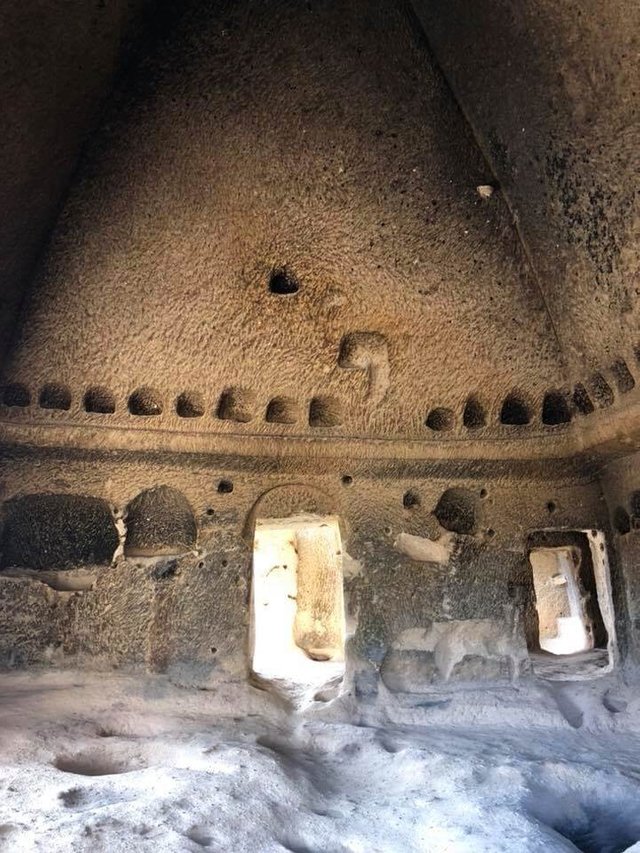 After the 11th century, the monastery was converted into a caravanserai ie. a resting place/hotel for travellers and traders along with their animals. This practice was started by the Seljuk Turks to promote the growth of trade in Turkey along the Silk Route. As you climb up the steep slippery path to the top of the monastery, you'll see kitchens, stables, dining rooms, living quarters, storage spaces, a church, a chapel and a cathedral.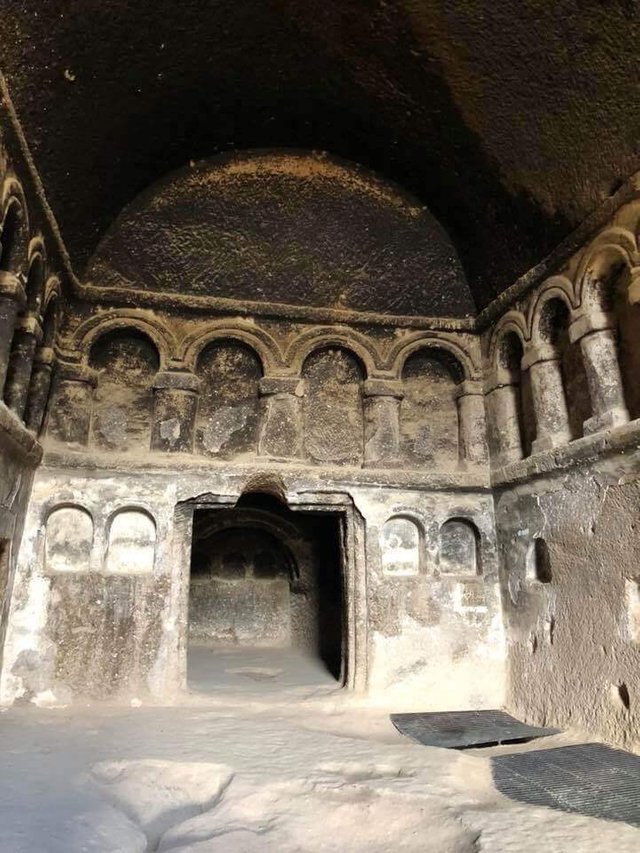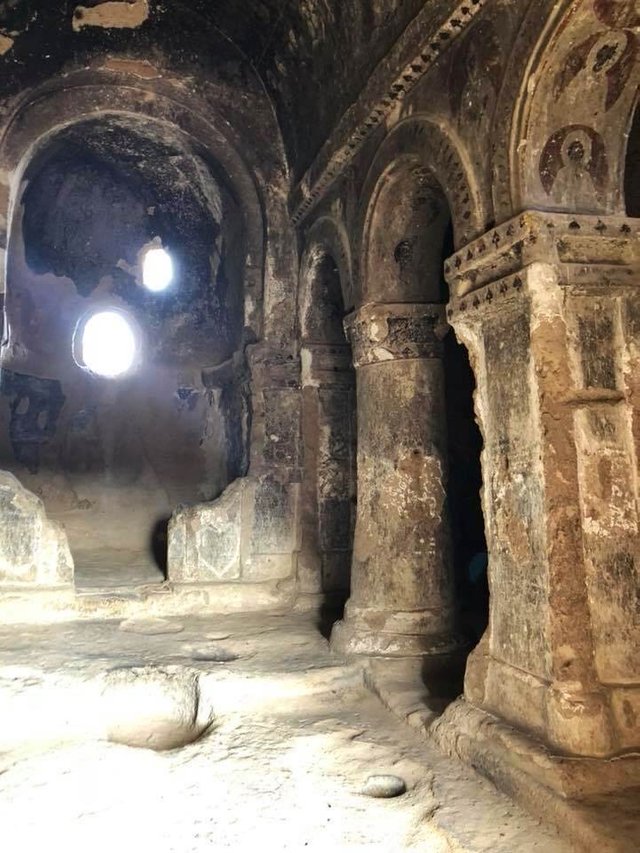 Walking inside the impressive rock-hewn caves gives you an idea of the lifestyle of the people from ancient civilisations. After the 16th century, the monastery was abandoned and only the local shepherds and village kids visited the place for the longest time, damaging the interiors of the monastery. The paintings and frescoes inside the church though are mostly destroyed due to vandalism and smoke.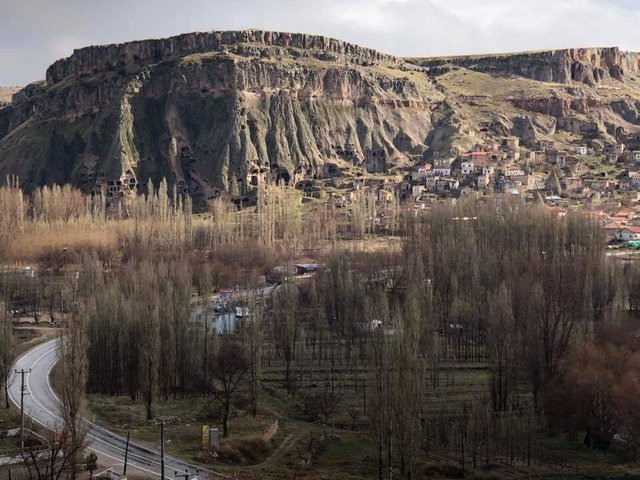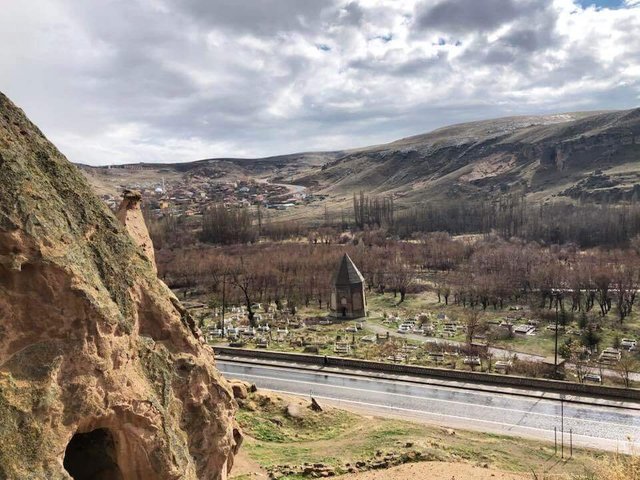 There are various vantage points in the monastery from where you can enjoy breathtaking views of the surrounding areas. You can easily spend 1.5 hours to 2 hours touring the monastery.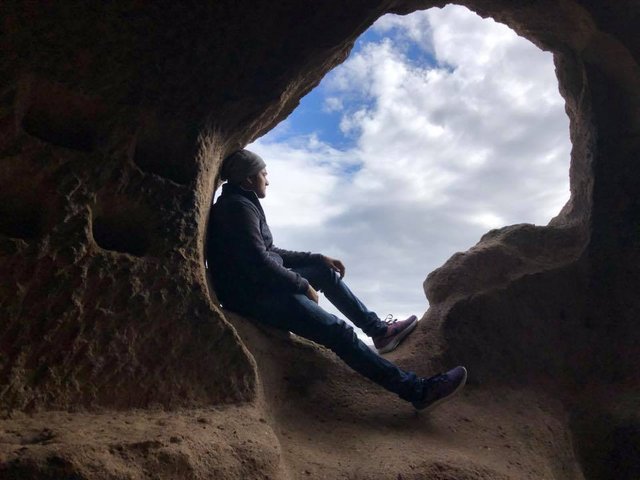 All in all, the Selime Monastery is a wonderful place worthy of your time and effort.
IMPORTANT NOTE :
1. Exploring the place requires some climbing. Since the path is steep and slippery, elderly people and people with knee issues can avoid the climb.
2. Remember to wear proper climbing shoes.
5. PIGEON VALLEY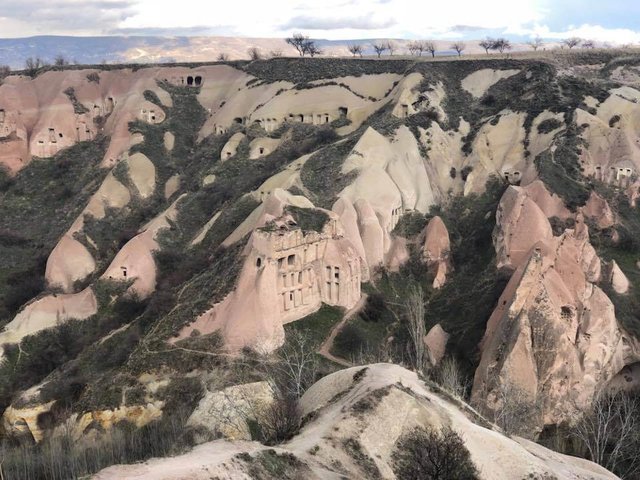 After exploring the Selime monastery on foot, you proceed to the Pigeon Valley viewpoint. The Pigeon Valley gets it's name from the various pigeon houses and shelters with nest holes for domesticated pigeons that were carved into the rock formations.
But why give such importance to pigeons? Well, pigeons were once used as message carriers and their poop was used as a fertilizer. So they helped the people of those times in communication and effective farming. As a result, pigeons became an important part of the local household and subsequently a valley was named after them as a mark of reverence to honour their contribution to the Turkish culture.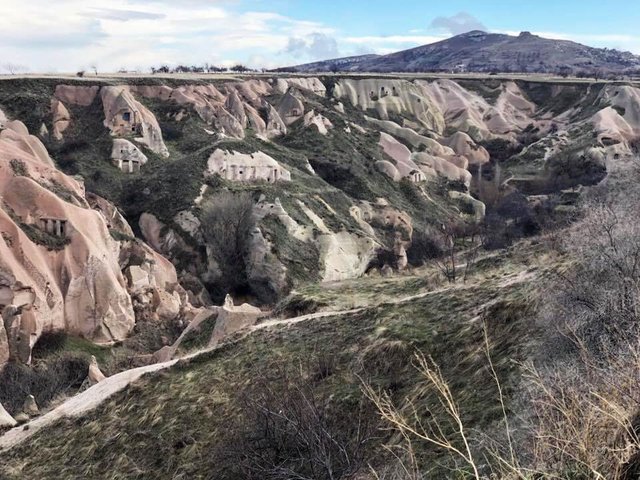 You can feed the pigeons and enjoy scenic panoramic views of the valley. Keep your eyes open and you'll be able to see the Uchisar castle from here as well. You'll also spot a strikingly beautiful evil eye tree at the viewpoint.
If you choose to hike the Pigeon valley, then you'll come across cave dwellings, ancient paintings, earth pillars and of course a huge flock of pigeons!
6. TURKISH DELIGHTS TASTING
Travelling to Turkey and not tasting their world-famous Turkish delights is a sin. And since I'm not a sinner, I thoroughly enjoyed the Turkish delights tasting included in the Green tour Cappadocia. Turkish delight, also known as
lokum
is a delicately chewy confectionery item made from sugar, starch and exotic dry fruits.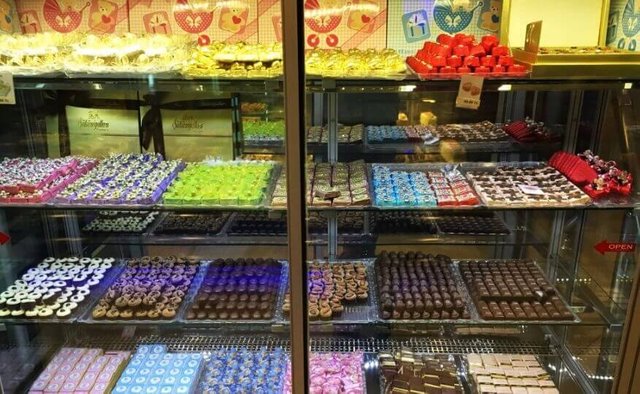 In this tasting, you'll be taken to a sweet mart where you'll be made to taste all kinds of local dry fruits and exotic Turkish delights. The scent of these desserts coupled with the rich flavours of hazelnuts, walnuts, pistachios and dates makes for a deadly combo. Chocolate-coated apricots were my absolute favourite and I recommend you to try them. For people with a sweet tooth, this experience is truly worth it!
7. KAPADOKYA ONYX STONE CENTRE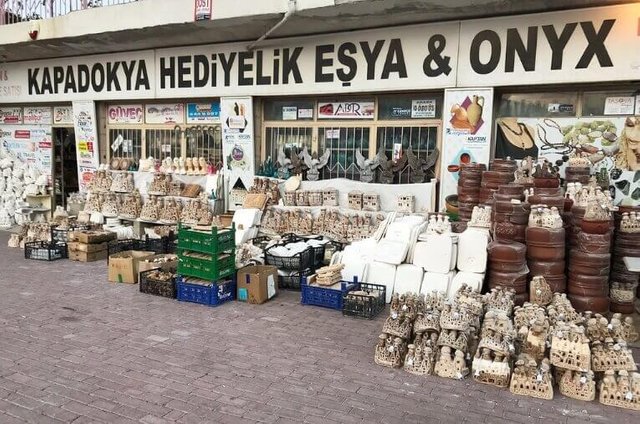 If you're into handmade jewellery, onyx stone souvenirs and pottery, then you will love visiting the Kapadokya Onyx stone centre. It's located just outside of Uchisar on Hacialibey Street No: 36. The owner - Mr Alpaslan is a friendly, funny and knowledgeable gentleman who gives you information about different types of Onyx stones and explains the techniques used to craft them into attractive jewellery.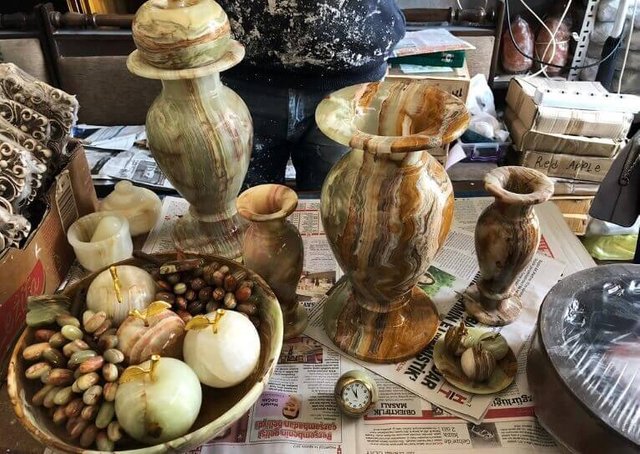 The handmade stonework in the centre is impressive and most importantly, authentic. Since all the stonework is done at this very place, you get the best quality products at a cheap price. The variety of onyx stone jewellery on display is so huge that you'll be spoilt for choice. Unlike other onyx stores in Cappadocia where the prices of products are exorbitant, the Kapadokya Onyx stone centre offers you bona fide products that are bang for your buck.
ACTIVITIES TO DO IF YOU HAVE AN EXTRA DAY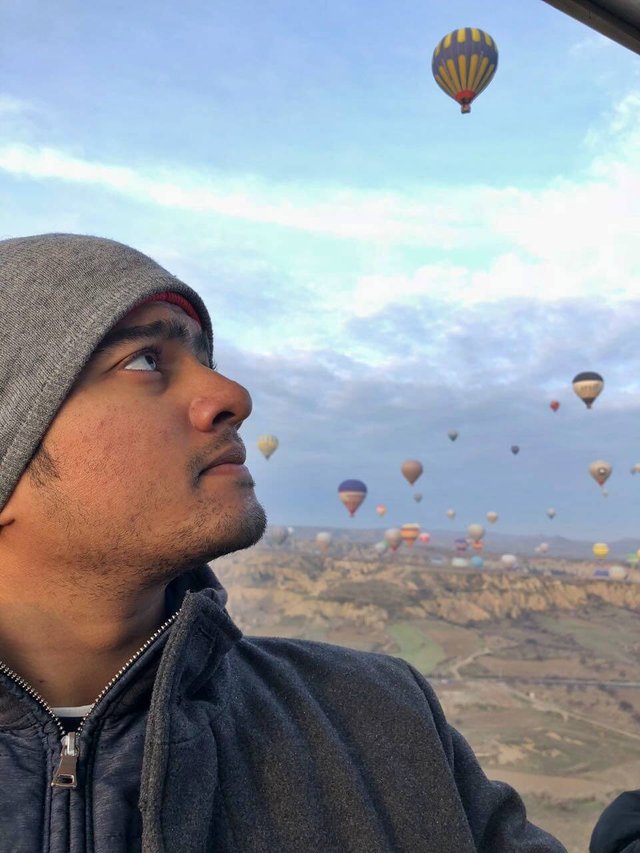 Since I had half a day extra in addition to the 2 days, I chose to do an activity that I'm sure many people have on their bucket lists ie. an ultimate Hot Air Balloon Tour of Cappadocia with Royal Balloons. I had the time of my life on that Hot Air Balloon and can't recommend the activity enough!!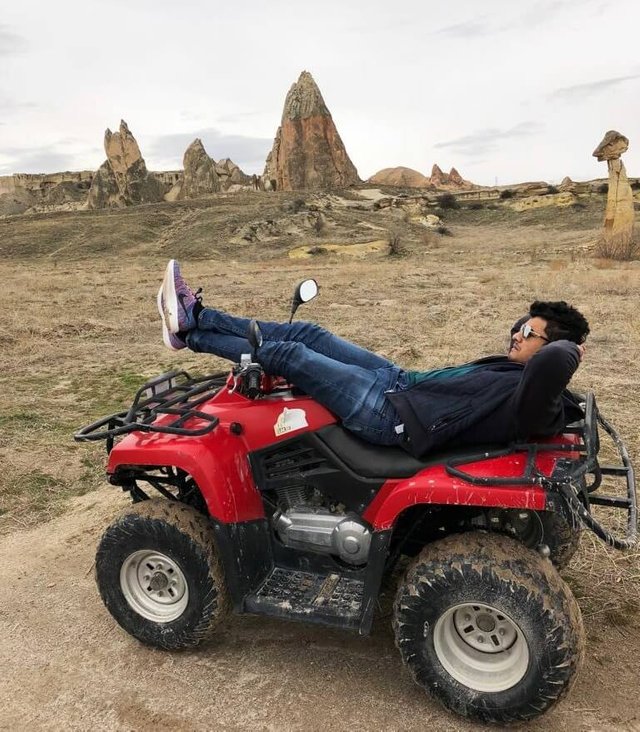 Besides that, you can do an ATV Bike Tour of Göreme, visit the Red Valley, Sword Valley and book a spa appointment at a nice Turkish Hamam to end the Cappadocian journey on a relaxing note.
CONCLUSION
Cappadocia is a jaw-droppingly beautiful destination. The magical Cappadocian landscape makes you feel like you're on Mars and not Earth. And it's this very characteristic which makes Cappadocia appear almost otherworldly and sets it apart from other places in Turkey.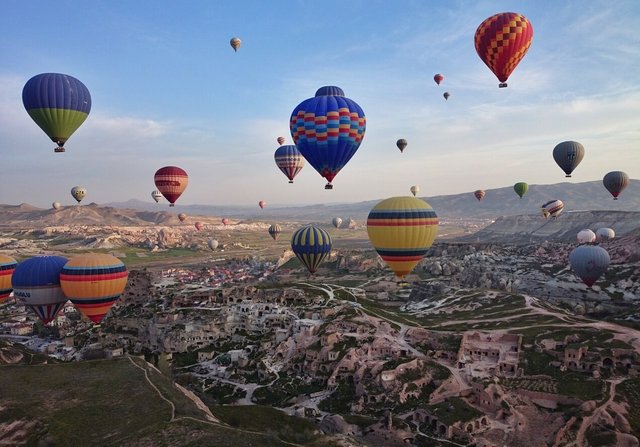 I thoroughly enjoyed my time in Cappadocia and hence, strongly recommend you to include it in your Turkey trip itinerary. Any number of days feels less when it comes to exploring a place like this. However, I tried curating an ideal 2-3 day itinerary where you get to explore the best that Cappadocia has to offer through the Cappadocia Red and Green tours. Trust me, the money spent here doesn't feel like expenditure, it feels like an investment!
SHARE the post "Cappadocia Red and Green Tours - 2 Day Cappadocia Itinerary" on your social media channels so that you can help your near and dear ones plan their ideal Turkey trip!
Also, SUBSCRIBE to "The Wandering Vegetable" for more such travel inspiration. Cheers to wanderlust!

---
Posted from my blog with SteemPress : https://thewanderingvegetable.com/cappadocia-red-and-green-tours/
---