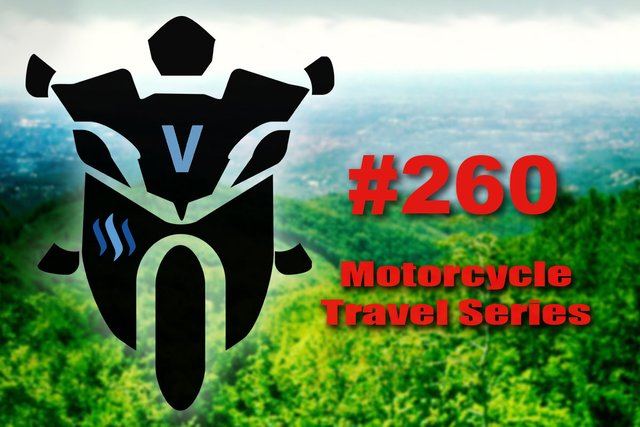 'A Surprising Encounter'

The property appears to be smaller than it is. Must be the angle. Before I leave the place, I want to find the big mill wheel Zoran spoke about. I ride back down, following the road. It was so warm inside the restaurant that I find outside to be even colder than before lunch. But not for long. I hope.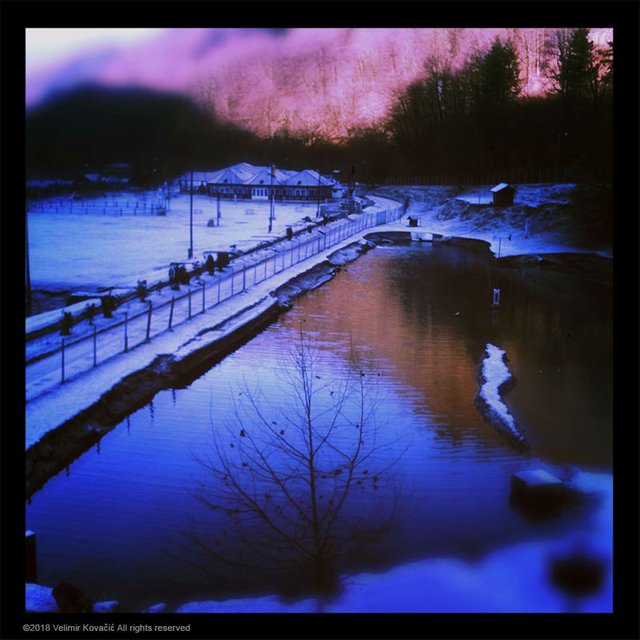 And, indeed! The huge wheel is where I was told it would be. Even though its side is covered in ice, the wheel keeps turning. Tired wood is singing a song while making its neverending rounds. It feels like watching a good movie over again and again. A winter tale could easily be filmed here.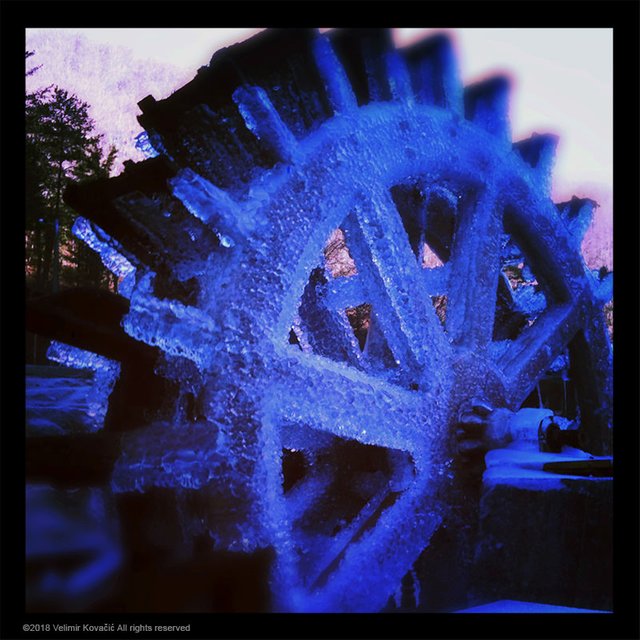 The movement is what doesn't allow the wheel to freeze. If it was to stop, the ice would cover it quickly. I love to hear the sound it makes. It is quite different from the sound of the small wheel, the one I've found before. This one is somewhat deeper. It makes me sleepy. But, it could also be the lunch. :-)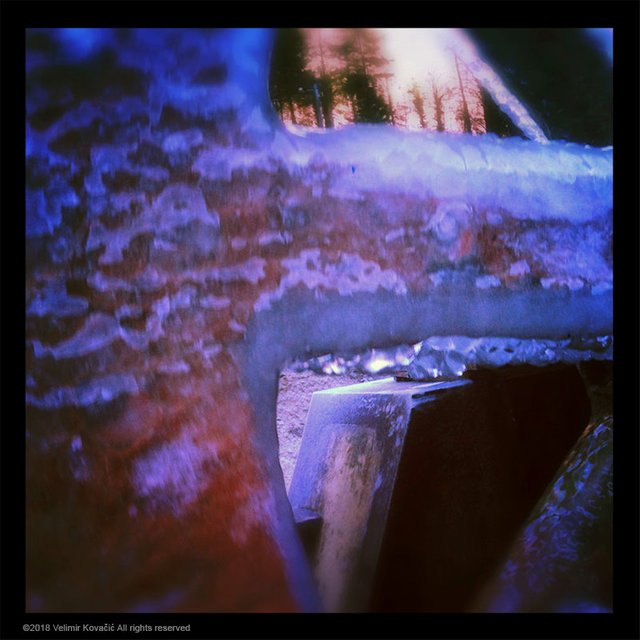 For a moment, I lose myself staring at the turning wheel. Time passes by, I feel so good that I have no cause to move. Then I realize it's quite late.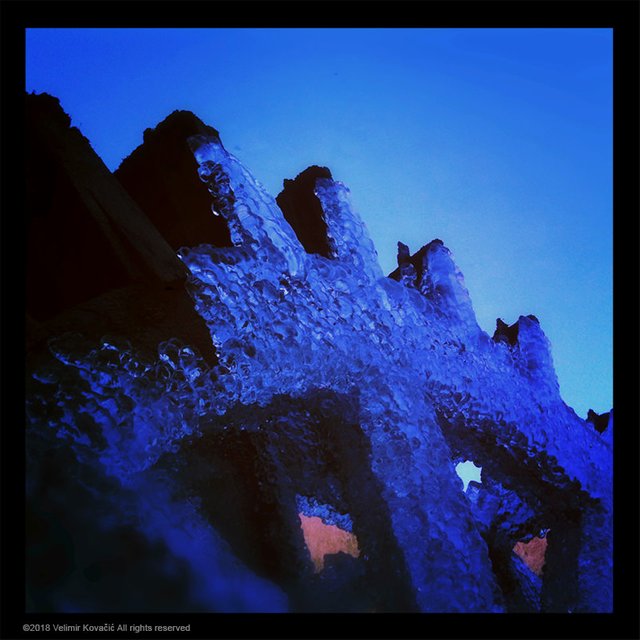 I turn away to sit on my motorcycle. I'm not alone anymore! Those ponies walked up to me when I wasn't looking. What a surprise! Who would expect them to walk 300, maybe 400m, where they were grazing when I arrived? This is heartwarming. I didn't see them coming, I didn't hear them coming but here they are out of the blue. For some unknown reason they came to the frozen wheel and now gently uncover the grass under the frost and slowly graze.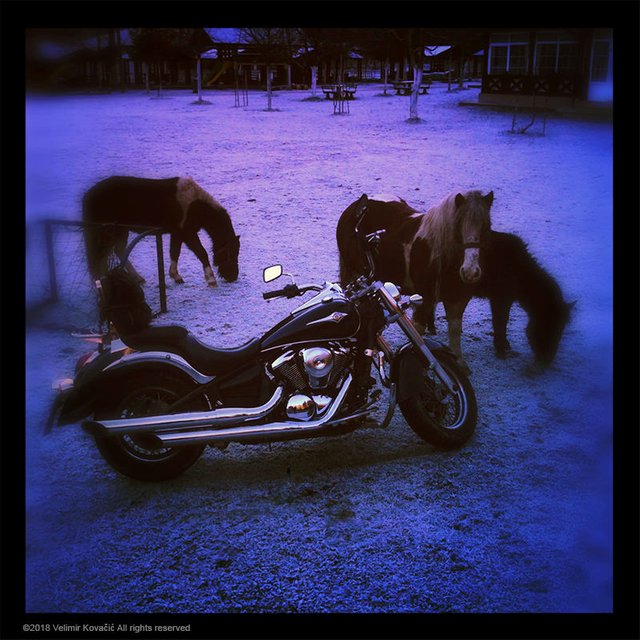 Some moments are memorable. This is one of them. Was it my whispering? Did they remember the man with a motorcycle from before lunch? They seem to be really smart and friendly. I wish I have something to feed them. Living beings are much more interconnected than we realize or comprehend. That very thought dwells in my mind as I sit on the bike and leave this place of wonder...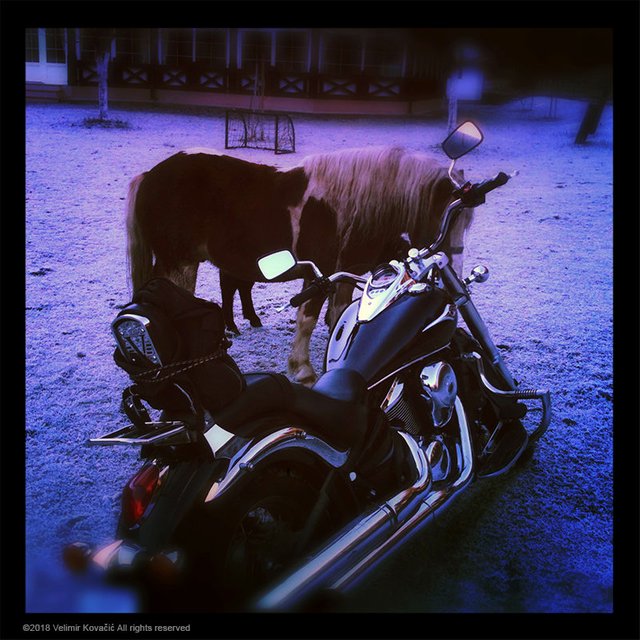 Enjoy your day! :-)


©2018 Velimir Kovačić All rights reserved.

All images and text published in this post are my original work. I encourage everyone to use own texts, thoughts and images as much as possible. Be yourself and stay yourself. This is a proper way to build steemit.com. I do not have respect for dishonest authors. Also, bloggers actually DO matter!

---
---

• For good, inspirational read on various subjects follow: @gavvet
• For crypto news, follow always up-to-date @kingscrown 's blog on the subject.
• I really like to read @vcelier 's life story!
• @ezzy writes awesome stories and reviews. :)
• If you want to laugh away enjoy @meesterboom 's posts full of brisk humour and positive attitude!
• @thecryptodrive and @reggaemuffin are good guys who run good witness service!
• I suggest a visit to @adsactly society's blog if you feel like reading hi-quality posts about many themes, daily provided by ADSactly society members!
Vote @adsactly-witness for your witness in the Witness Parliament. ADSactly Society is good people who will represent you well.
I'd like to extend my gratitude to everyone who continuously supports both of my ongoing projects (Motorcycle Travel Series and Art Photography Series). Big thank you for enjoying the content and appreciating my effort. This is what steemit.com is meant to be about.
---
---

I am a member of the @buildteam crew, innovative creators of @minnowbooster @steemvoter and @steemsports blockchain projects.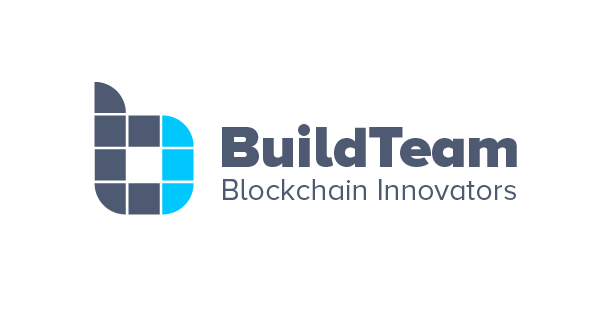 The @adsactly society is a meeting point for free thinking individuals who want to cooperate. It is a welcome addition to Steemit.com community. Feel free to ask about it.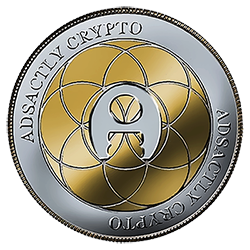 The @adsactly society Discord channel is here: ADSactly You are welcome to join!

Note to my dear readers, friends and followers: Please understand that I am unable to answer all of your comments because if I cycling to do that, I'd not have any time left for creating the series and for all of my other Steemit-related work. The amount of comments is overwhelming. It is beautiful to see that my work is appreciated and that it inspires so many people. I read all of your comments before going to sleep. It is my evening routine. Thank you so much for your support!