I left Gdańsk Monday, April 30th 2018, and drove to Wrocław.
Wrocław, that is known in German as Breslau, is a city that has belonged successively to the Kingdom of Poland, the Kingdom of Bohemia, the Kingdom of Hungary, the Habsburg Monarchy, the Kingdom of Prussia, the German Empire, the Weimar Republic and Nazi Germany. It only became part of Poland in 1945 after World War II. It had then a German population of 190,000 and a Polish population of only 17,000. These days there are only a handful of Germans in Wrocław.
I am unable to pronounce correctly Wrocław like the Polish people. listen
---
I arrived at my hotel at around 2:30PM. After putting my car in the underground garage, I was ready to eat.
There was a restaurant at the hotel, but nothing vegan. One of the waiters told me that there was a vegan restaurant on the Market Square, so I went to have lunch there.
Afterward, I visited the Market Square, that is one of the largest markets in Europe (213 m by 178 m). It includes buildings in its center, including two city halls.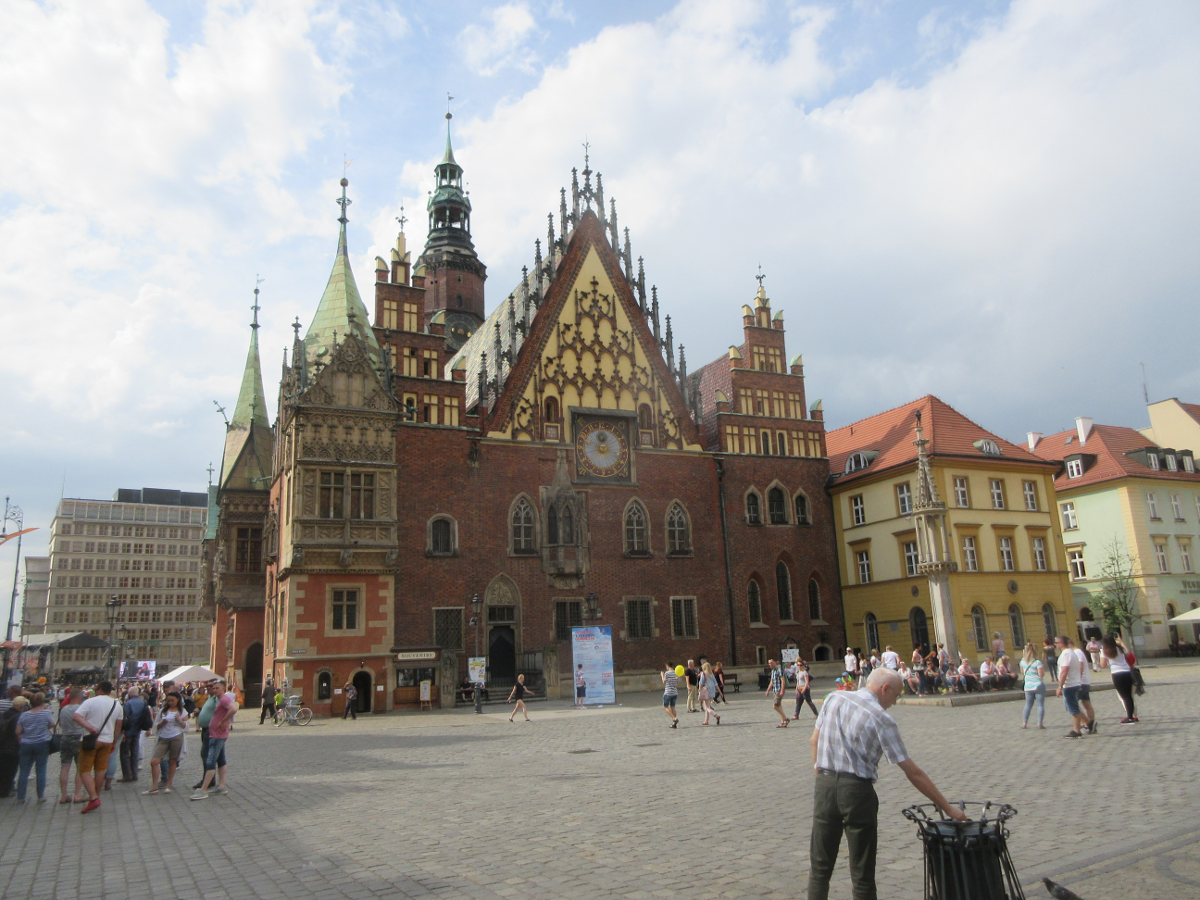 East side of Wrocław old city hall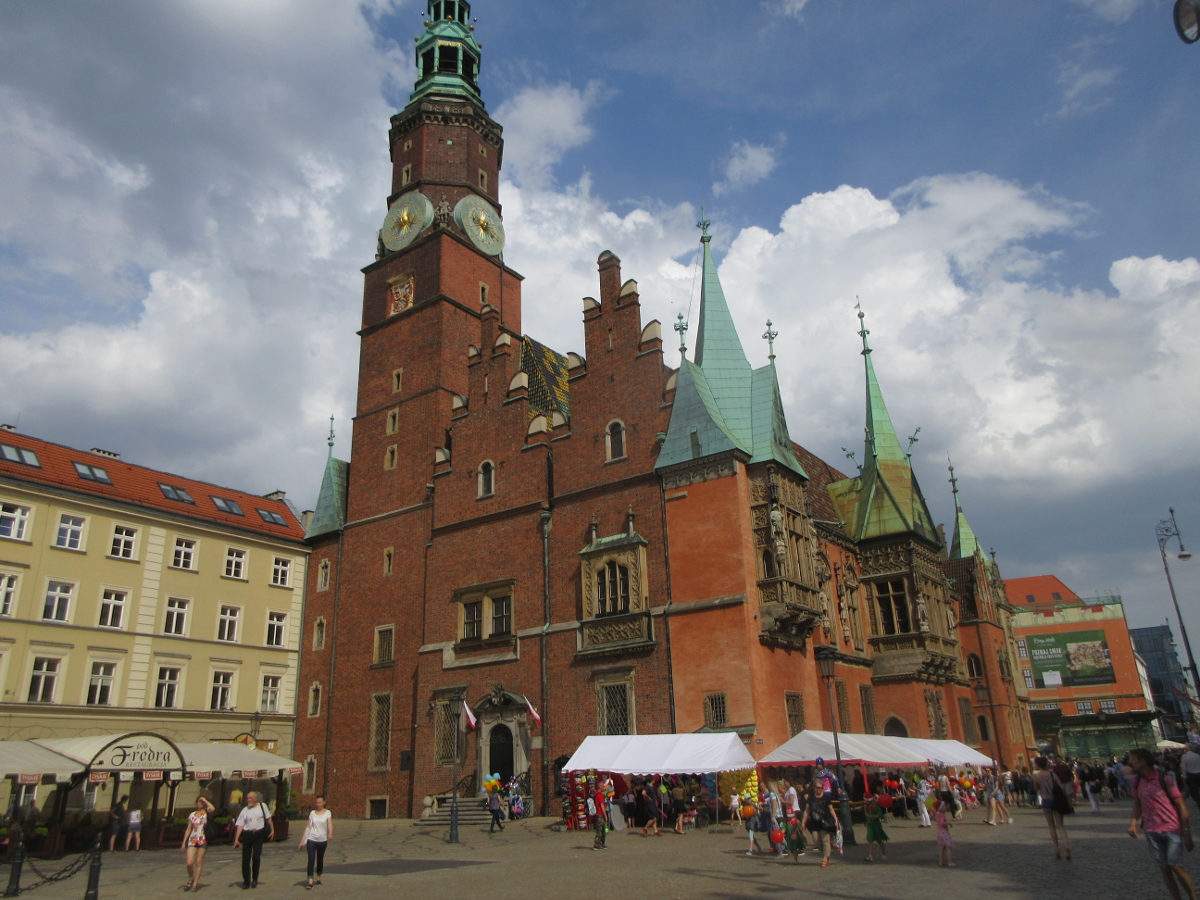 West side of Wrocław old city hall

There was a small guitar festival on the Market Square

Wrocław guitar festival

Even this statue was playing guitar!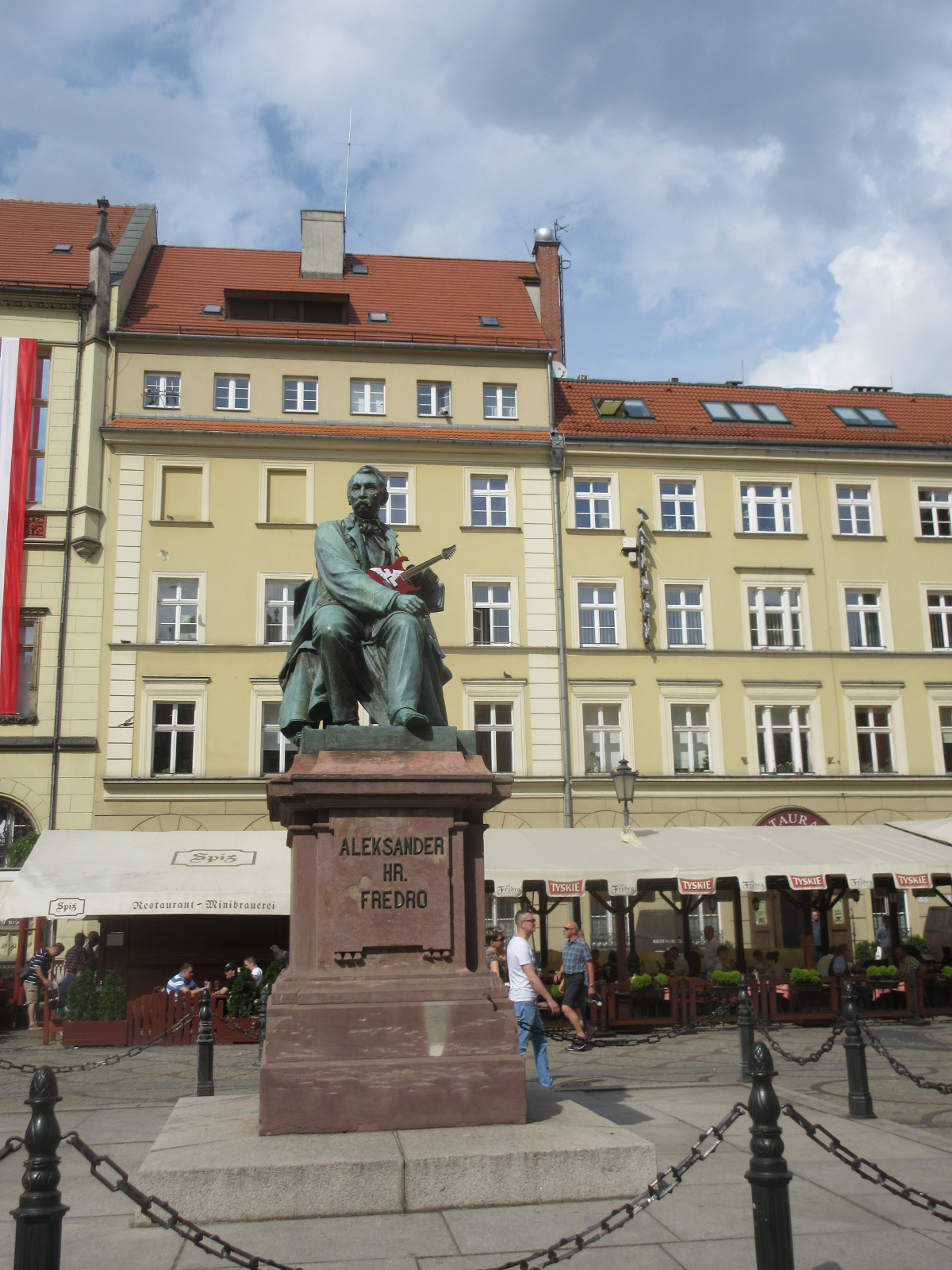 Aleksander Fredro, playing guitar

This monument had been erected in Lviv in Ukraine, where Aleksander Fredro, a Polish playwright, died in 1876.
It has been move to Wrocław after World War II. I could not find any relation between Aleksander Fredro and Wrocław, so I have no idea why it has been moved there.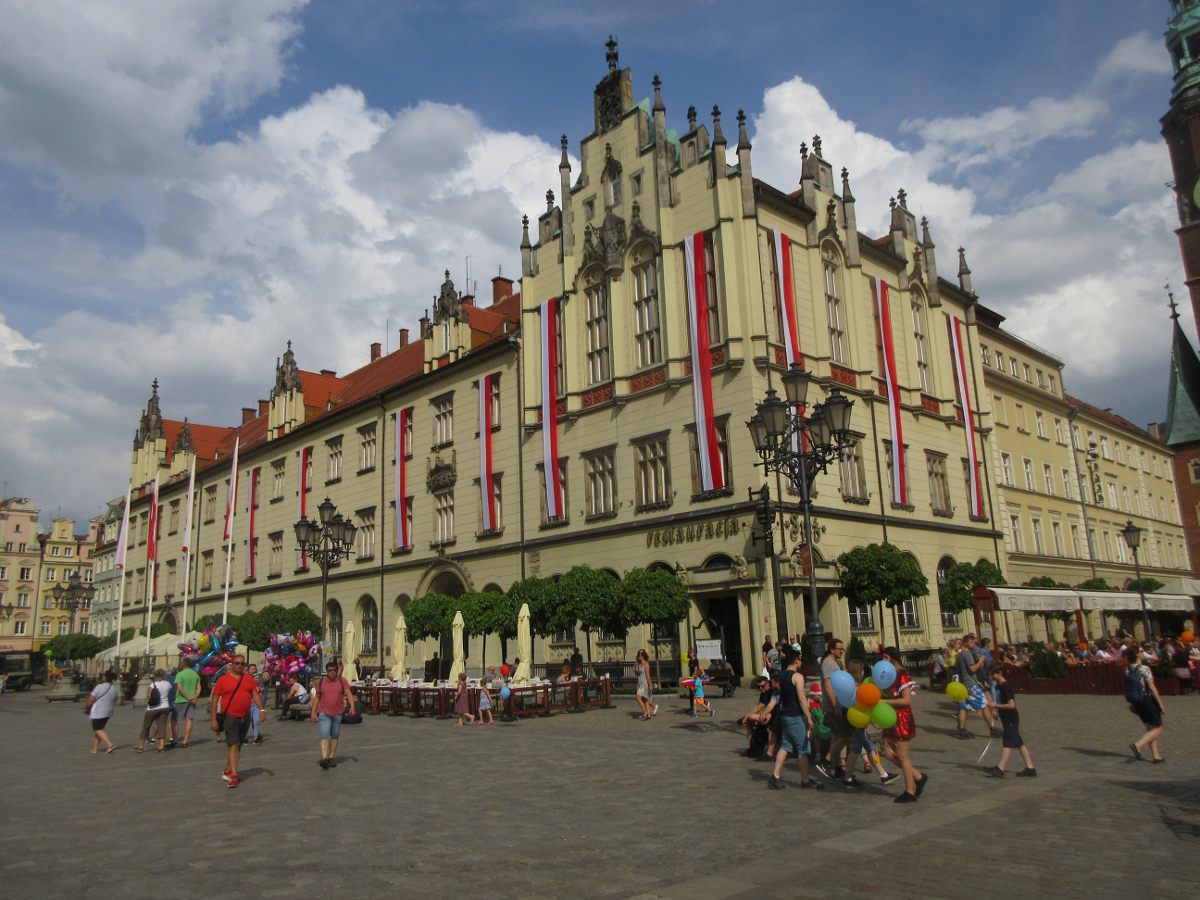 Wrocław new city hall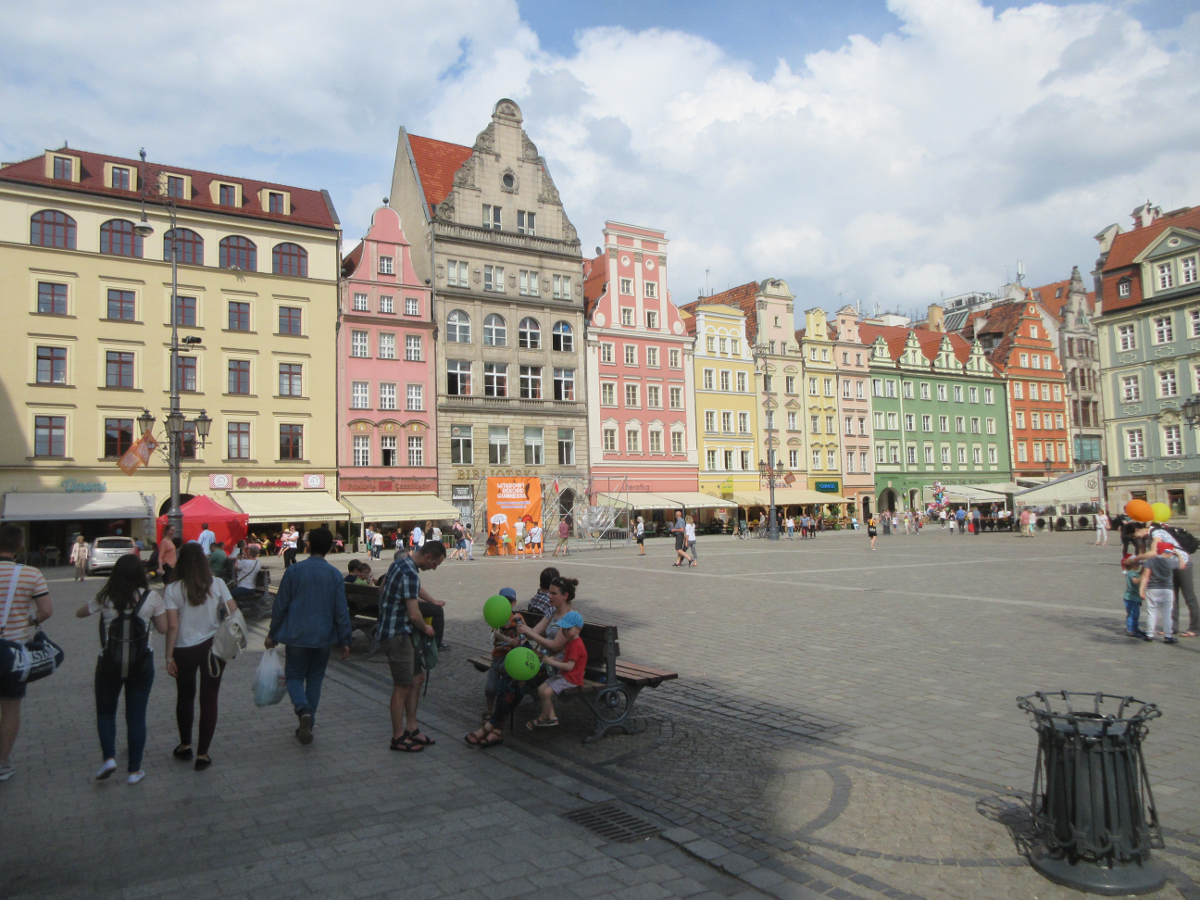 Pastel colored houses

---
My hotel was the Art Hotel that was occupying these two buildings, connected only on the ground floor.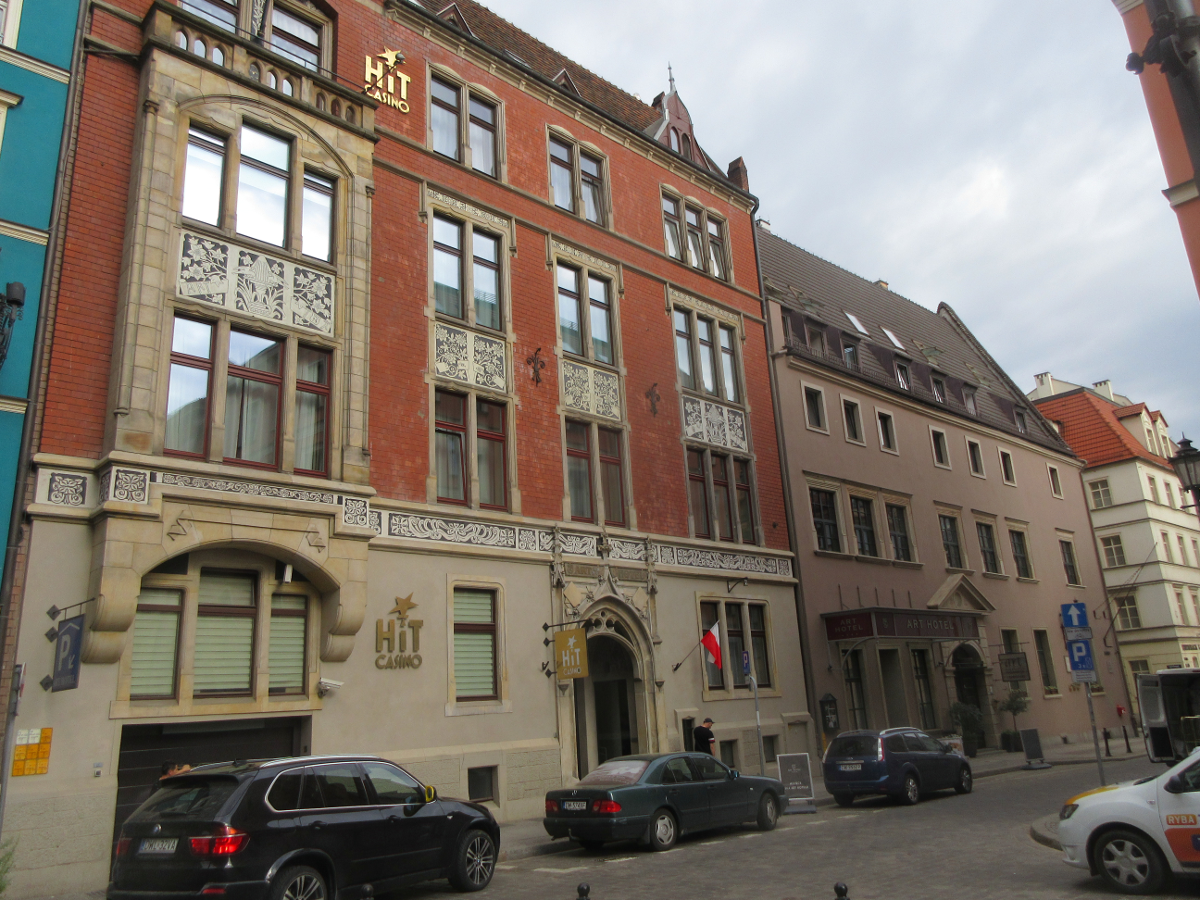 Art Hotel in Wrocław

These buildings were first built in the XIVth century.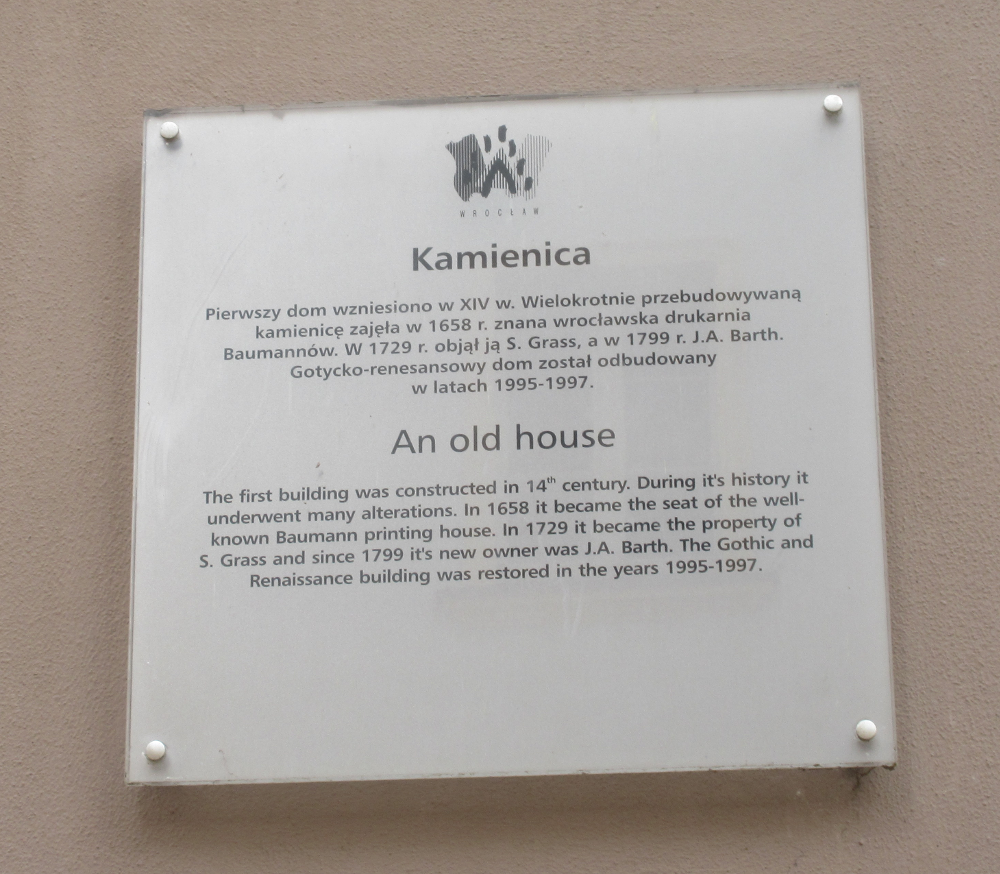 ---
On Tuesday morning, I went for a walk in the city.
There are several tramway lines in Wrocław.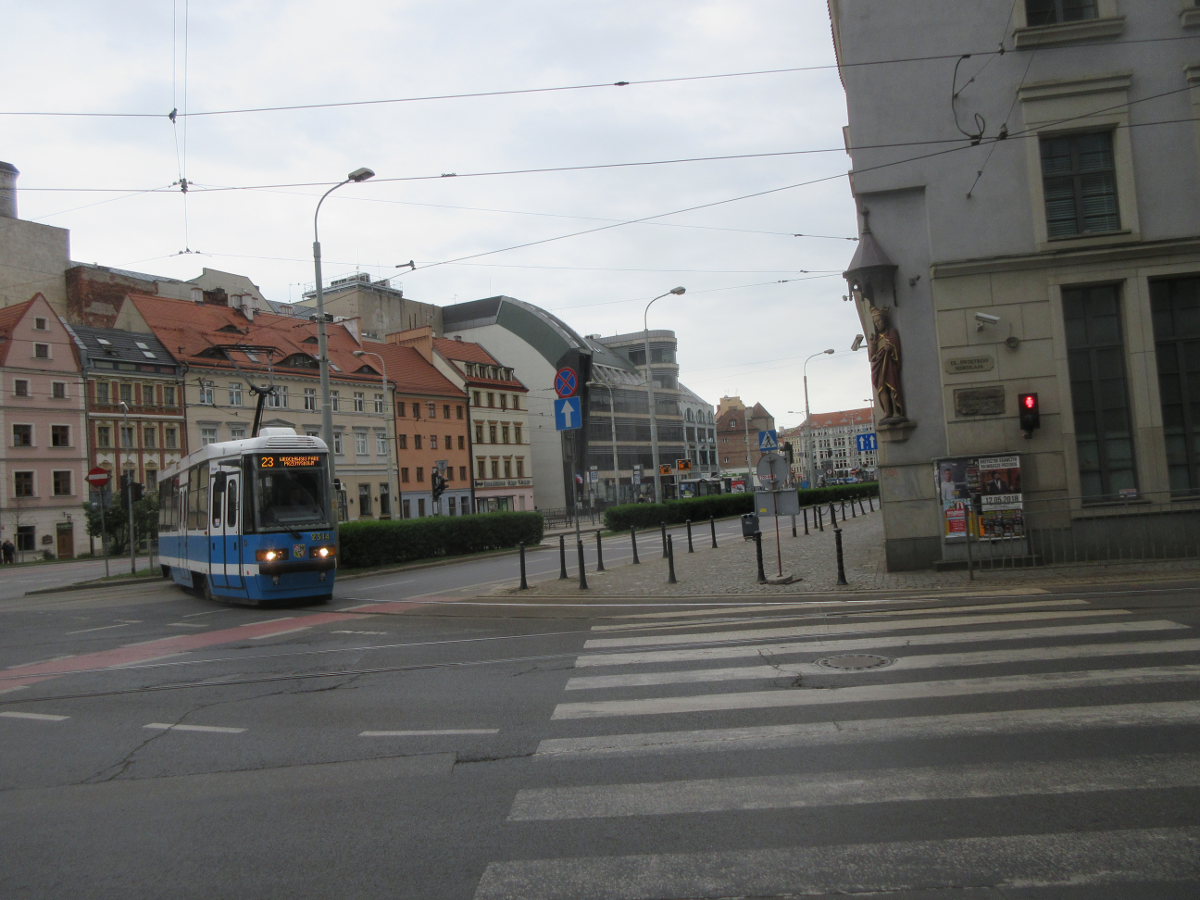 Tramway in Wrocław

I was surprised to find a branch of the French bank Crédit Agricole. Crédit Agricole started as a kind a cooperative for farmers at the end of the XIXth century. It is now a full fledged bank with branches worldwide.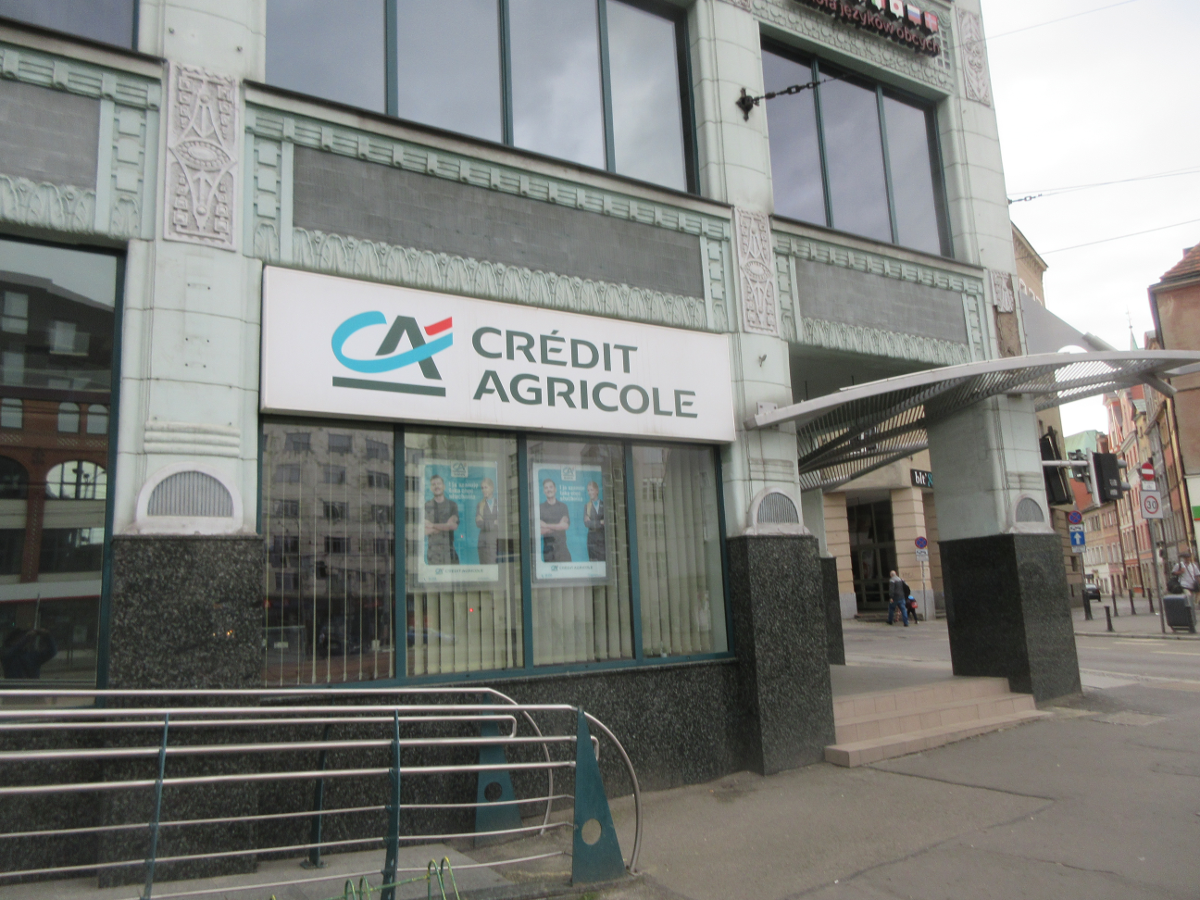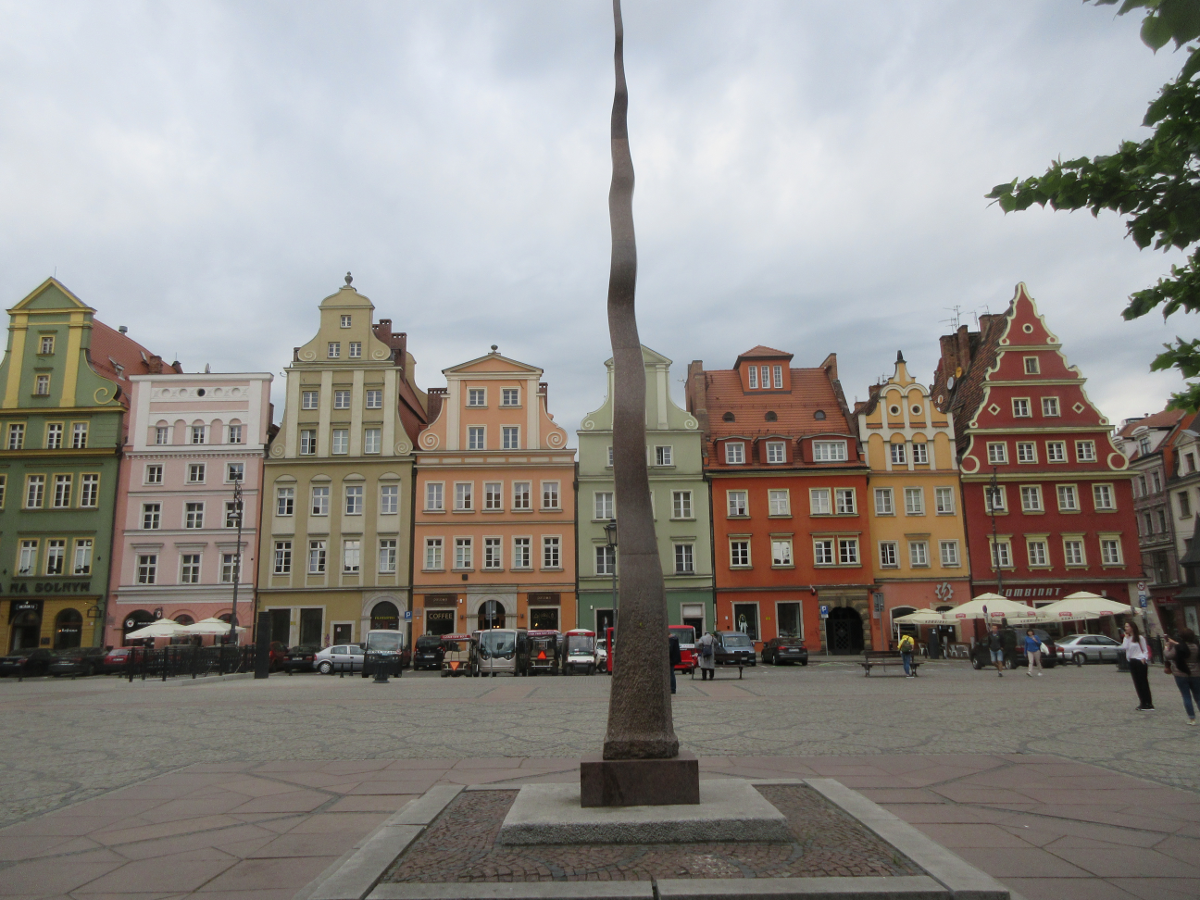 Another square: Plac Solny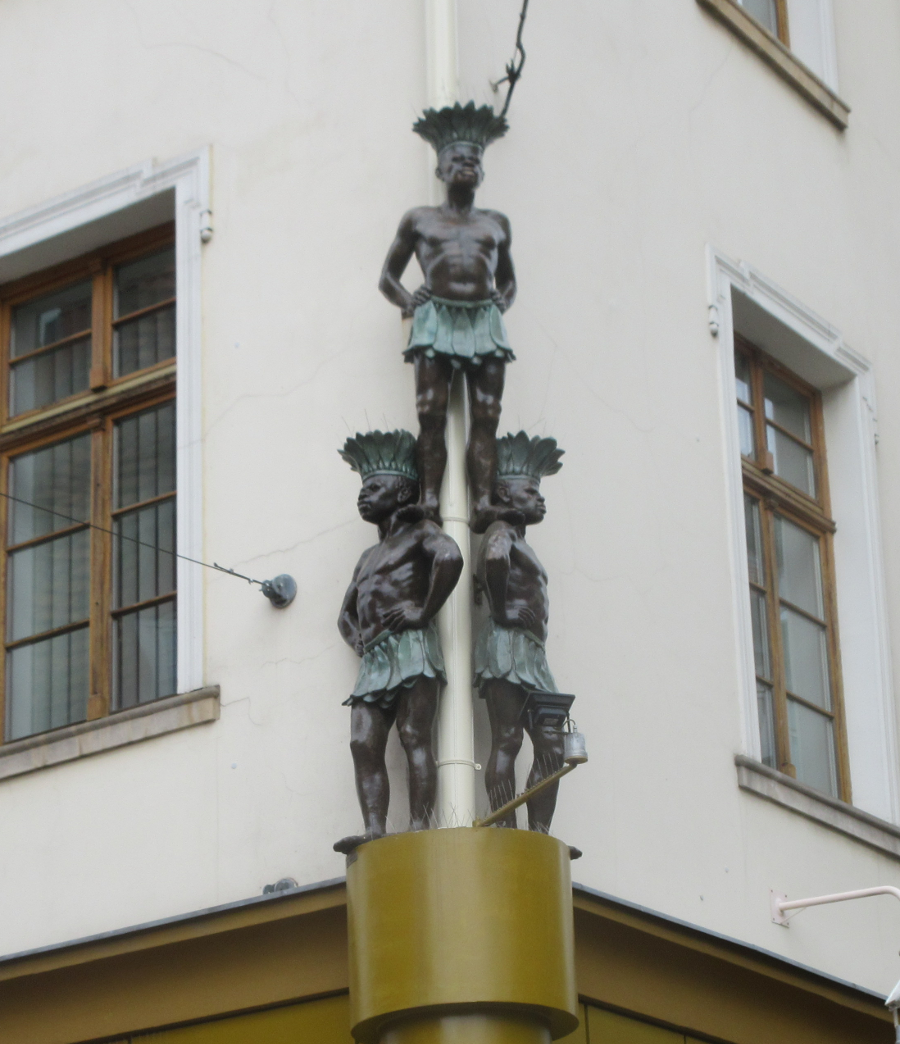 ---
I was also surprised to see this sign: "Antiquités dans la cave' (Antiques in the basement). Why was this written in French? I have no idea and was not able to ask, as the stored was not open.
---
The Art Hotel has its own Wrocław dwarf, small figurines that were initially created to commemorate the Orange Alternative (a Polish anti-communist movement),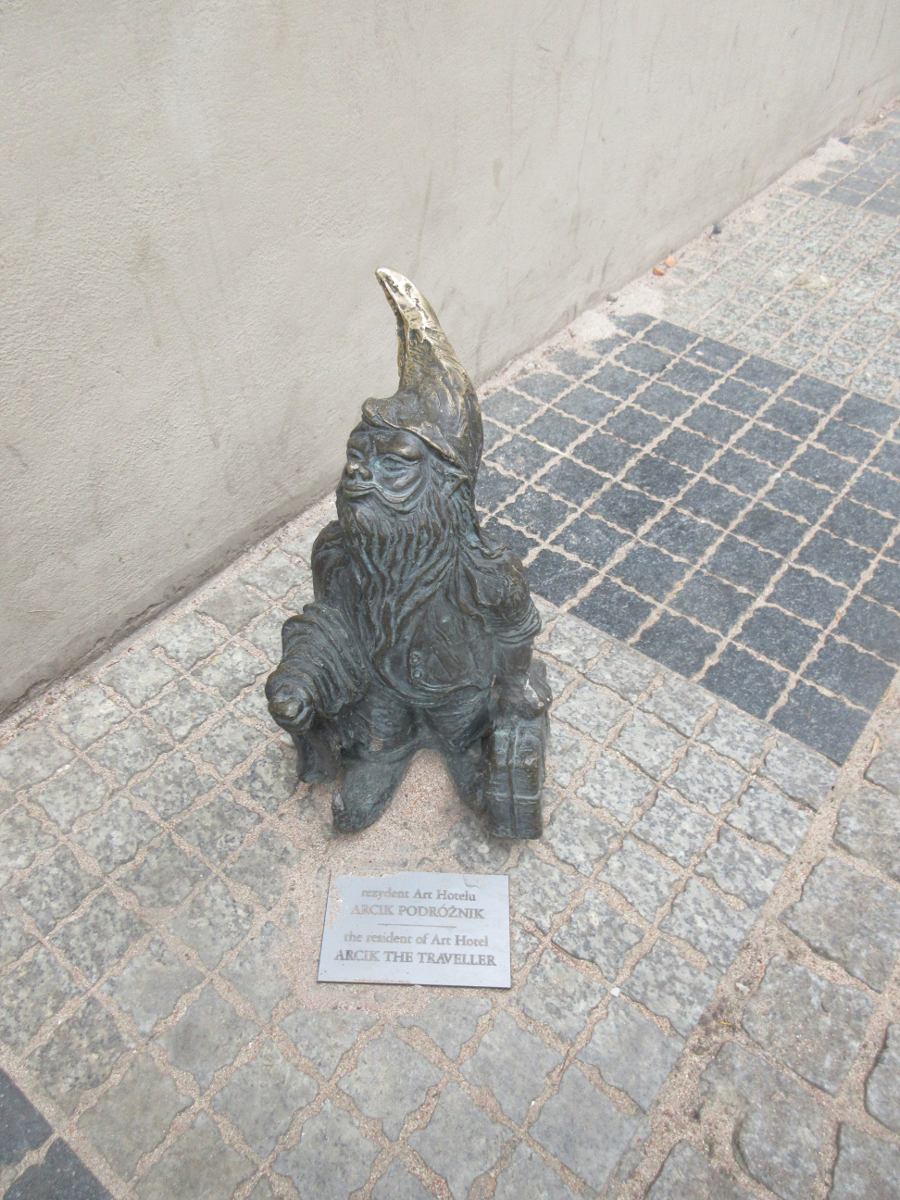 The Art Hotel's own Wrocław dwarf

After having lunch again at the same vegan restaurant, I drove to Prague, the capital of the Czech Republic.