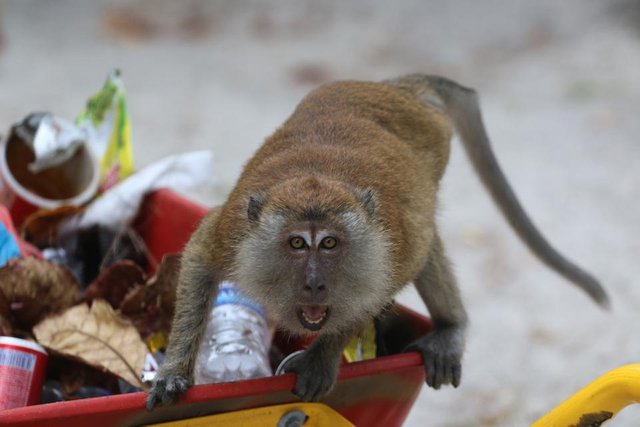 Some of you have probably already experienced this for yourselves. In the zoo you usually see the monkeys walking around very tame. It is often the case when you see monkeys for the first time in the real free world, you are fascinated by these animals.
But that can change very quickly. Because monkeys are often so cheeky and take things out of people's hands and take them with them or if it is something to eat or drink, then of course this is consumed.
That was a close shave. When we were in Malaysia visiting the temple. A woman walking next to us had just opened a soft drink in the can and wanted to drink this.
Suddenly a monkey came from the side, lightning fast and tore the can out of her hand. There was a loud scream that first drew our attention to it.
The woman was totally shocked and the monkey was visibly happy about the booty he had drunk a few meters away.
A monkey wanted to try it with us too, because I had the baby bottle on the side of the backpack. From behind, a monkey crept up on me. Salima had then given me a sign and I turned around and frightened him. He hadn't expected that. Lucky again.
During our visit to the temple, 3 more had to copy their things from the monkey. If you add that up every day, you can imagine how much prey the animals make each day. Quite a bit.
Therefore, it is always important, however sweet the monkeys are, to keep away and not to have any objects hidden in the backpack after drinks, food or when then.

Das hat von euch bestimmt schon der ein oder andere selbst erlebt. Im Zoo sieht man die Affen meist sehr zahm umherlaufen. Oft ist es dann so, wenn man Affen das erste mal in der echten freien Welt zu Gesicht bekommt, ist man fasziniert von diesen Tieren.
Doch das kann sich sehr schnell ändern. Denn Affen sind oft so frech und reißen den Leuten Dinge aus der Hand und nehmen es mit zu sich oder wenn es was zu essen oder trinken ist, dann wird dies natürlich verzehrt.
So erging es haarscharf uns. Als wir in Malaysia waren und den Tempel besucht hatten. Eine Frau, die neben uns gelaufen ist, hatte ein Softgetränk in der Dose gerade offen und wollte dies trinken.
Plötzlich kam ein Affe von der Seite, blitzschnell und hat ihr die Dose aus der Hand gerissen. Es gab ein lauten Schrei, der uns erst dazu überhaupt aufmerksam gemacht hatte.
Die Frau war total erschrocken und der Affe war sichtlich glücklich über die Beute, die er ein paar Meter weiter dann getrunken hatte.
Bei uns wollte ein Affe es auch probieren, da ich die Babyflasche an der Seite des Rucksack hatte. Von hinten schleichte sich ein Affe an mich an. Salima hatte mir dann ein Zeichen gegeben und ich habe mich gedreht und ihn erschreckt. Damit hatte er nicht gerechnet. Nochmals Glück gehabt.
Währen unseres Besuches beim Tempel haben 3 weitere ihre Dinge den Affen abschreiben müssen. Wenn man jeden Tag das zusammen zählst, dann kann man sich ausmalen wie viel Beute die Tiere pro Tag machen. Nicht wenig.
Daher ist es immer wichtig, auch wenn die Affen noch so süß sind, abstand zu halten und keine Gegenstände, die nach Getränke, Essen dabei zu haben oder wenn dann im Rucksack versteckt.