TRAVELMAN GAETA, ITALY: Yeah, they go out for American food in Italy.
I wanted to stay somewhere between Naples and Rome for a couple days; the little town of Gaeta proved to be the perfect stop. It's known for its olives and ...um, other things and stuff. All I remember is the Gaeta olives.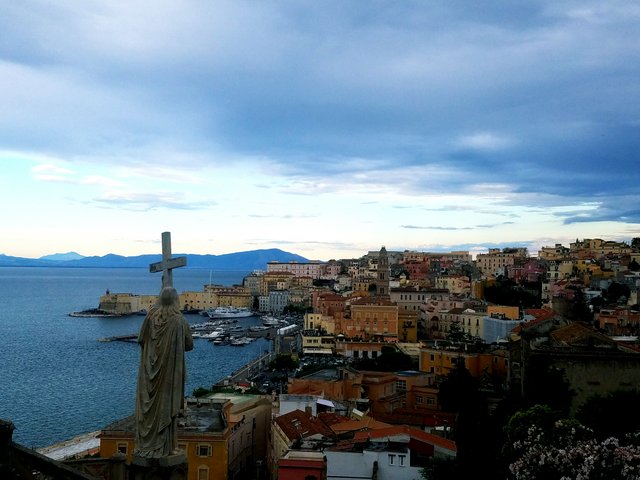 The train only takes you to the town of Formia on the other side of the bay. A free shuttle took me to the bus that took me to Gaeta five miles away.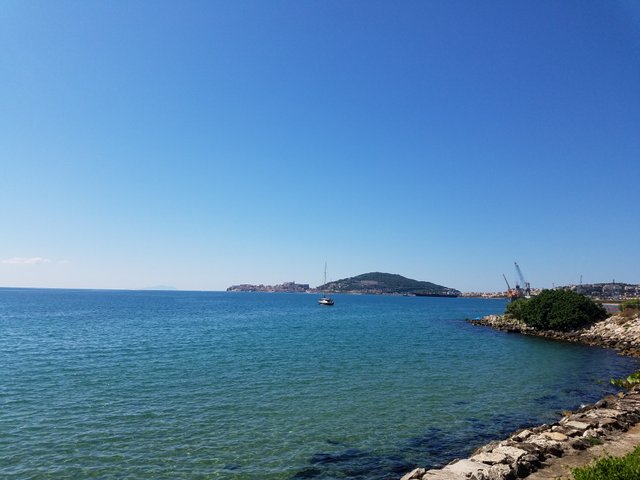 (Above: That's the town in the distance. I took this pic on my walk back to Formia to catch the train. A five mile hike.)
I wasn't exactly sure of the bus route. My hotel room was near the only road the bus could go down if it went to the part of town on the end of the peninsula. Things were looking good, we were on that road, then things looked bad. The bus turned right, now going away from my hotel. It went down a hill and turned right again further from my hotel before I could get off at the next stop.
It was only about a mile away and it was a nice walk in which I discovered some cool street art.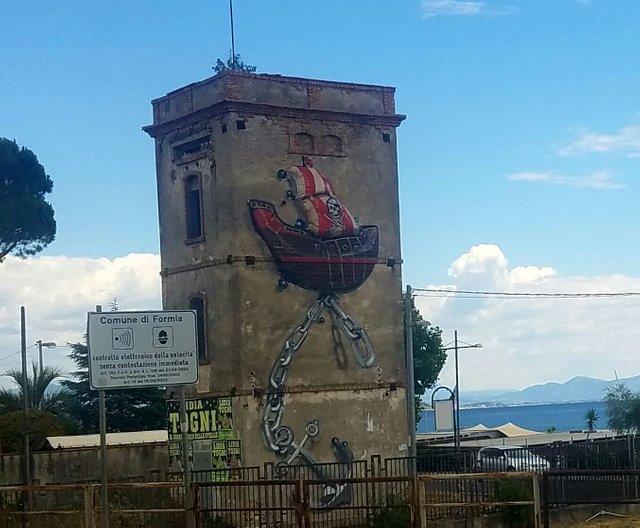 (Above: This is taken from the bus in Formia.)
It took a bit of looking around to find my hotel room because it turned out not to be a hotel. Google maps had me in a small alley with doors to apartments. I found the one marked with the right address and rang the bell. As expected, there was no answer. I was tired and ready to settle in so a surge of irritation ran through me like a cold rake through hot coals.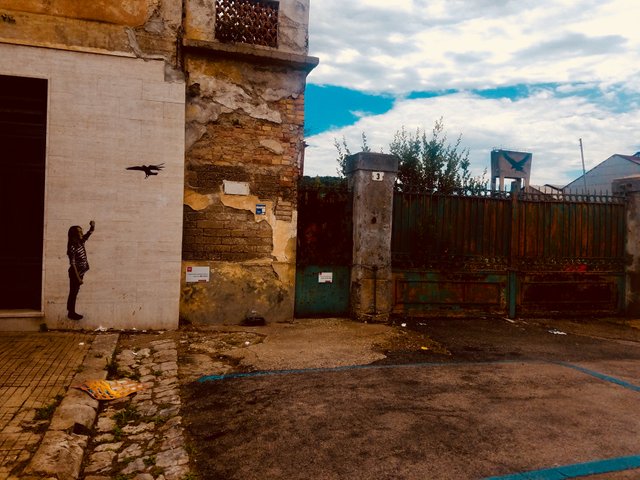 (Above: I got off the bus when it turned a direction that was the opposite of my hotel so I had to double back a bit. There's a lot of street art in the area. Look close and see the bird painted on the tower as well.)
I needed to get a wifi connection to check my email. The restaurant fifty meters away had wifi- that wasn't working. I put my pack on my back, my day bag on my front and walked off in search of WiFi. I found a tiny corner restaurant/stand about 200 meters down the road. On the patio sat the family that owned it, Father, mother, and adolescent son, along with a couple at a table, their only two customers.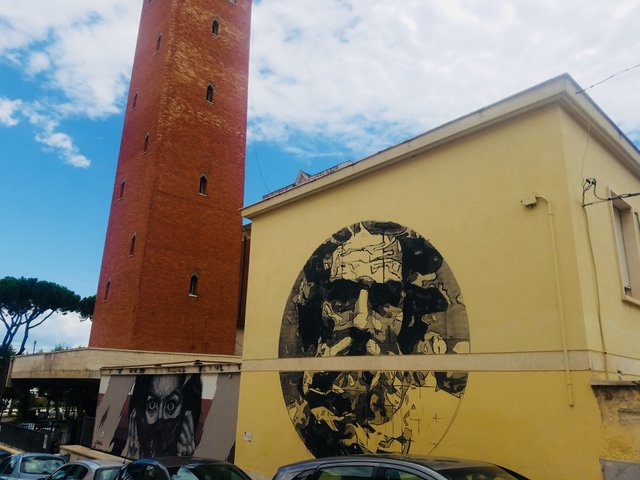 As I entered the patio area, I was reminding myself that everything would work out, none of it was anything to get a bur up my bum about. That's when the lounging couple decided to stand and walk to the counter a moment before me, as though whatever they needed suddenly couldn't wait until after I approached. They ordered something to go and had a million questions about it. ...C'mon Travelman, keep the burr out of your but, just a coincidence, I'm sure they didn't pop in front of you on purpose when you clearly have the body language that you've been traveling and are in need of help, and a shower. I'm sure they are nice people and they'll finish up in a moment, just relax, be like Fonzie, cool.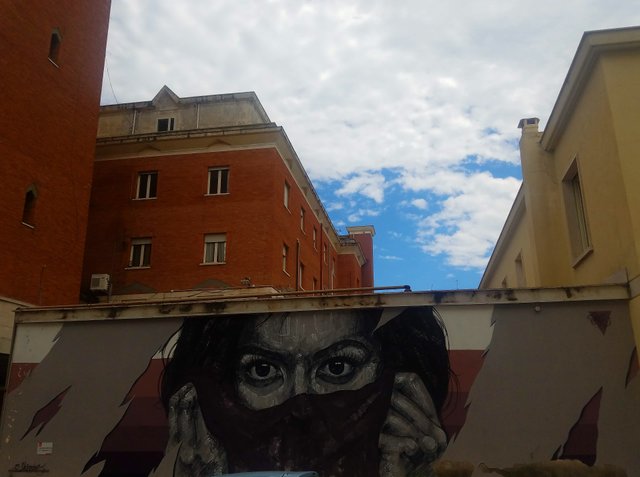 They finished up (FINALLY!). And I asked for the wifi and got into my email. It turns out there's important info in those confirmation emails, not just a confirmation. I was supposed to call the owner of the room as I was arriving so he could meet me there to let me in. -Problem was, I didn't have a phone.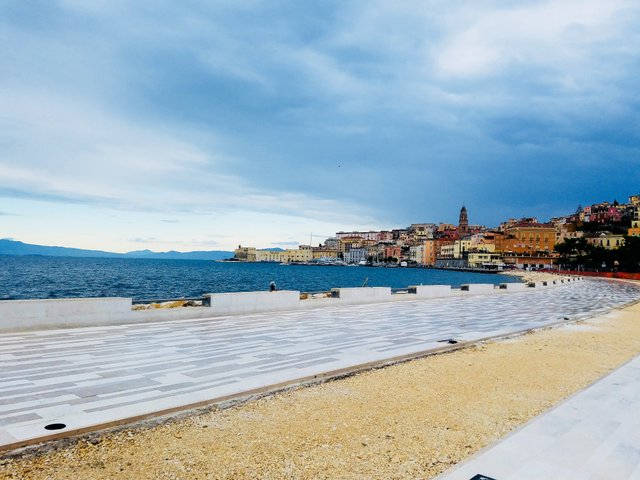 (Above: This is what appears to be a brand new walkway that extends all the way to the historical part of town you see in the distance of the pic. My hotel room was at the edge of that part of town. The walkway down there was still under construction. Chain link fences lined that stretch ruining my pictures. How inconsiderate of the city not to have it finished before Travelman's arrival! Don't they know who I am! ...Don't answer that.)
The family, that was now behind the counter, spoke less English than I spoke Italian. Through pointing at my hotel spot on the map, the phone number on my email, and miming making a call then turning a key to enter (I'm going to be unstoppable at charades after this trip) I was able to get them to call. The dad called, and he spoke to the guy for me. I watched him speaking, recognizing the tone that one takes in the situation, then I heard "Americano... Si... Si." He glanced at me with a slight smile, I smiled back like my teeth were on a billboard and gave a thumbs up.
(Above: The Marina is halfway between the newer part of town-but still old- and my hotel.)
He ended the call (we don't hang up anymore, we just end calls). The owner would pick me up in five minutes. I waited out on the patio and drank the bottle of beer I ordered on the way in because I didn't want to not buy anything. The family sat a few feet away speaking in Italian.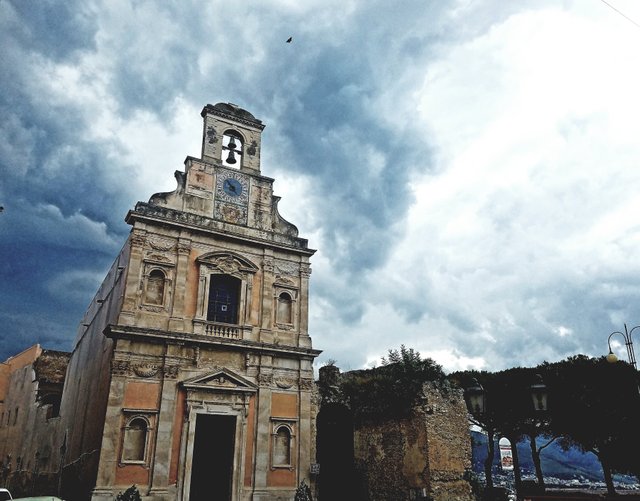 (Above: This picture makes me think I'm a talented photographer.)
After ten minutes, the mom could tell I was beginning to wonder if the hotel guy was coming. When I glanced toward her she got my attention and said in very broken English that the guy called back and said he'll be there in five minutes (a new five minutes.)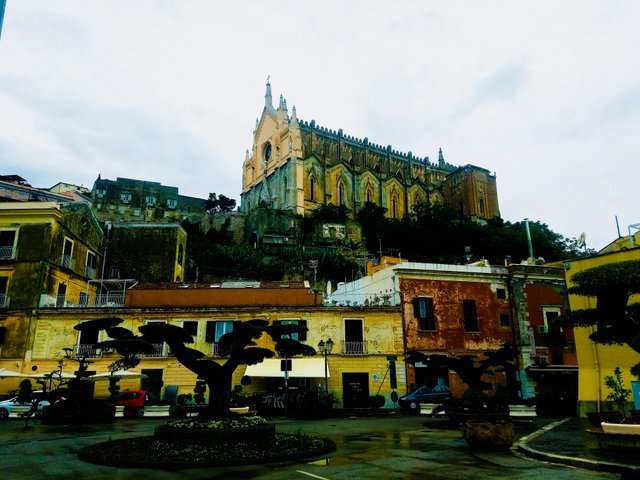 (Above: The restaurant I walked to for help is under the awning at the bottom of the center of the pic.)
The guy arrived in those five minutes. He was on a motor scooter. He gave me a helmet. I thought I'd be hopping on the back behind him but his plan was to let me ride the scooter by myself and he'd meet me there. I told him I'd just walk the less than half kilometer and he could ride his scooter. I didn't feel like having to remind myself where the ignition key and such were located.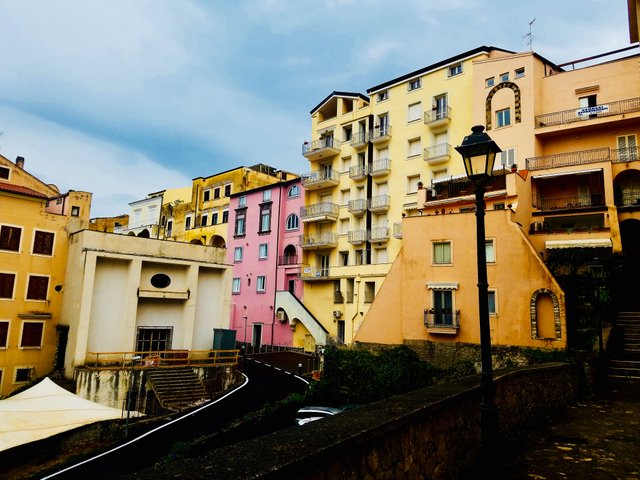 (This is on the hill of the historical section of town. Other than that street, the only way to get around was a maze of cobblestone steps going up and down the steep hills. And yeah, the colors on a lot of these pics are jacked up cell camera filters.)
The room turned out to be a room in a two-bedroom ground level apartment. It was nice. No one else was there so I took the room with a queen sized bed. Then I got a nice surprise, no one else was staying there while I was there for two days. I had the entire apartment to myself for the low, low price of $42 dollars a night! Best deal I've gotten my entire time in Europe.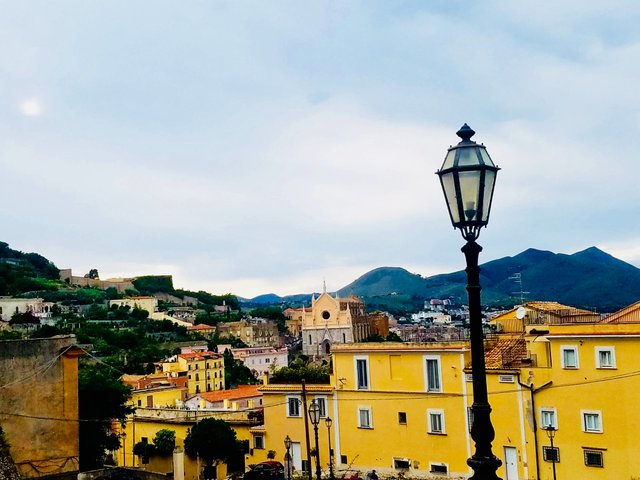 There's a popular pizza place in town, Pizzeria Rustica. I went there twice. On the second visit the owner gave me a half slice of margarita while I was deciding. It's a place where they make large sheet pizzas, put them out and you pick what kind of slice you want. They were so busy that the pizza was usually right out of the oven.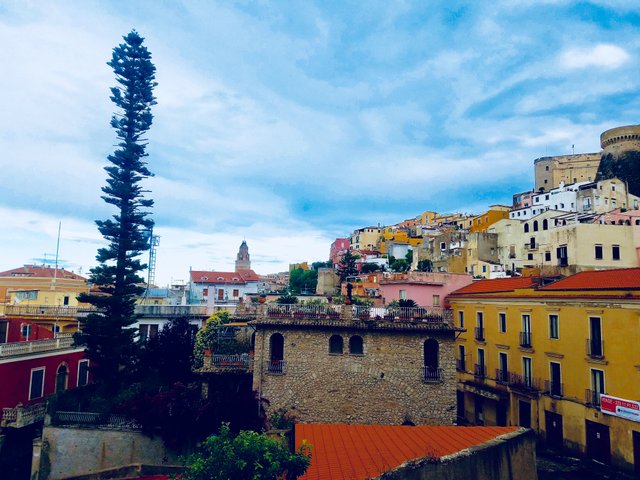 I didn't meet anyone there. I only talked to the bartender at a burger place called The Dutch. He had a great Spotify playlist. I discovered hidden gems by Blue Oyster Cult and Thin Lizzy while eating my burger.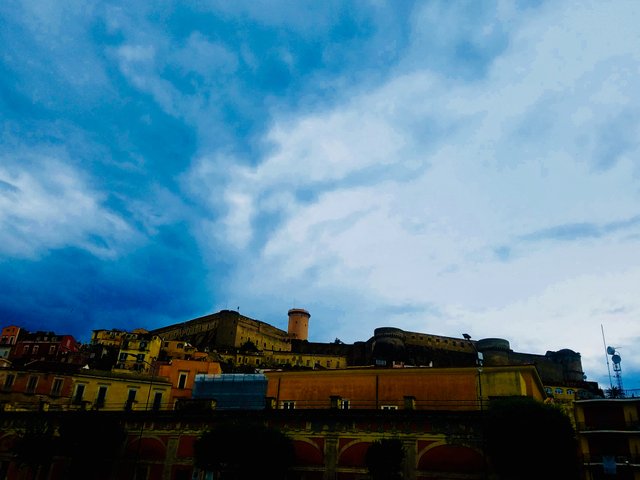 The rest of my stay I walked around town, ate gelato, and cooked pasta in my apartment. It was pretty great. I'm in much less of a mood to meet people lately- Oh, I also ate at a burger place that had an American theme... So people do go out for American in other countries! ...And just like a lot of Chinese, Italian, Indian, etc... that you find in America, The American food in Italy was not the best representation of American Grill food (burgers, fries, onion rings, etc...) The place was really popular with locals though.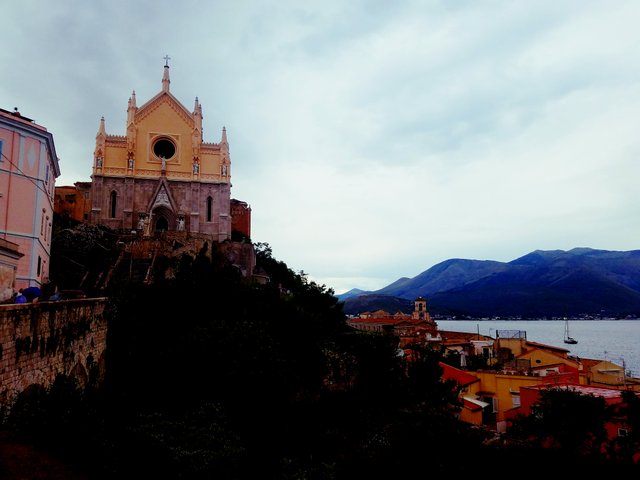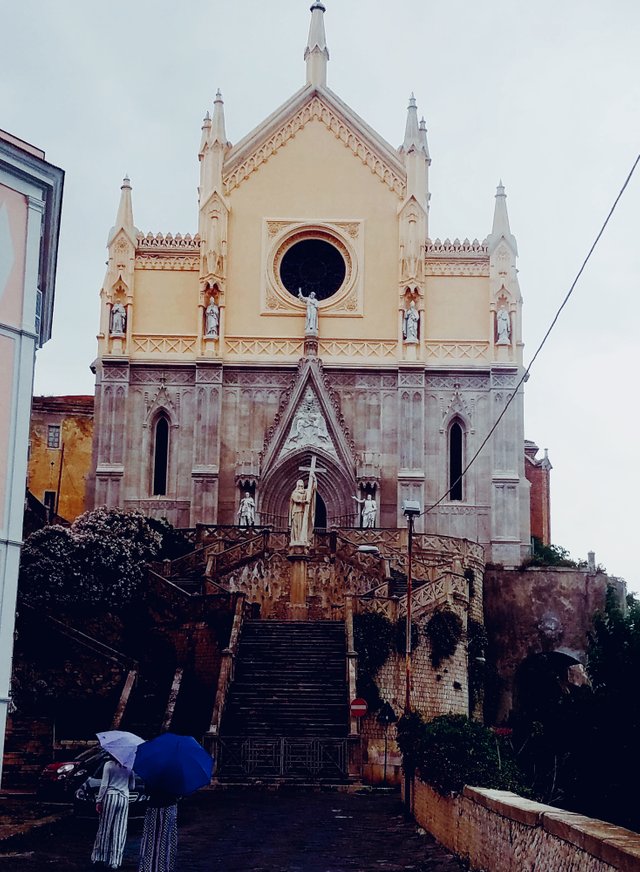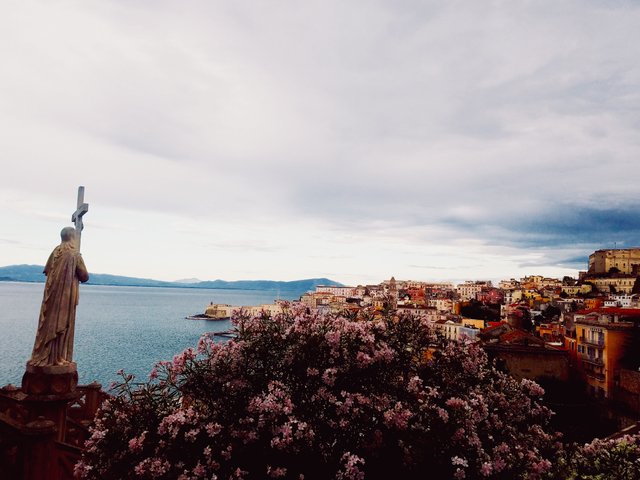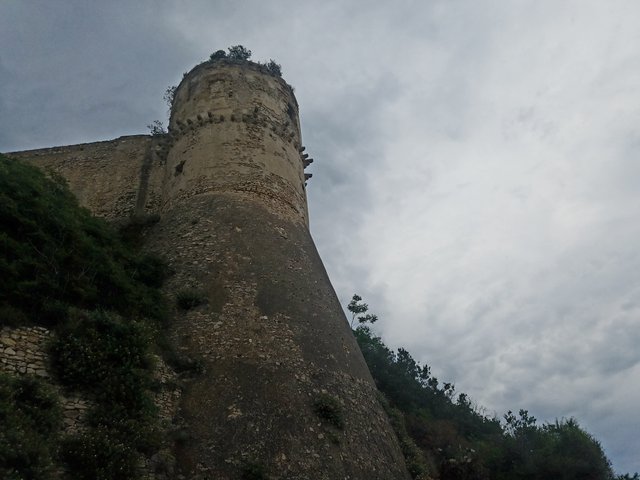 (Above: HELLO! I am King Arthur and I seek the Holy Grail. ...Those are coconuts...(Fill in your own Monty Python quotes here))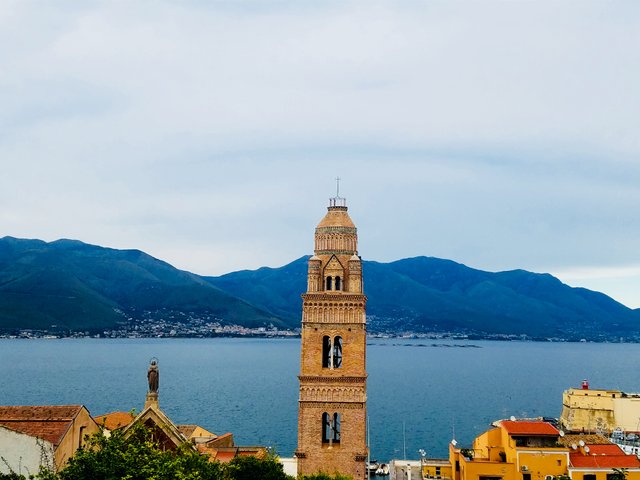 (Calling Dr. Freud, Dr. Freud...)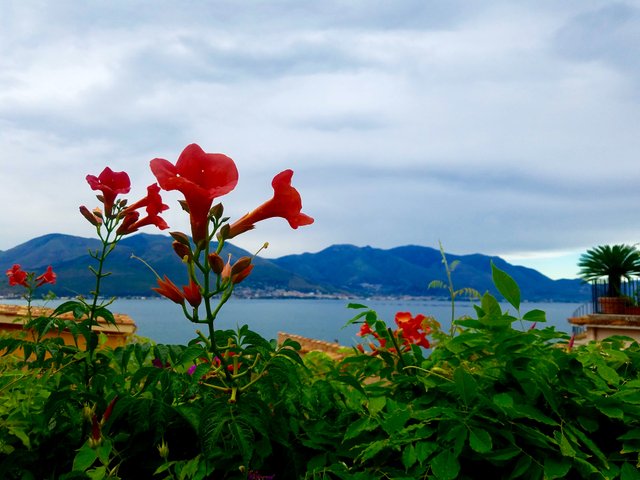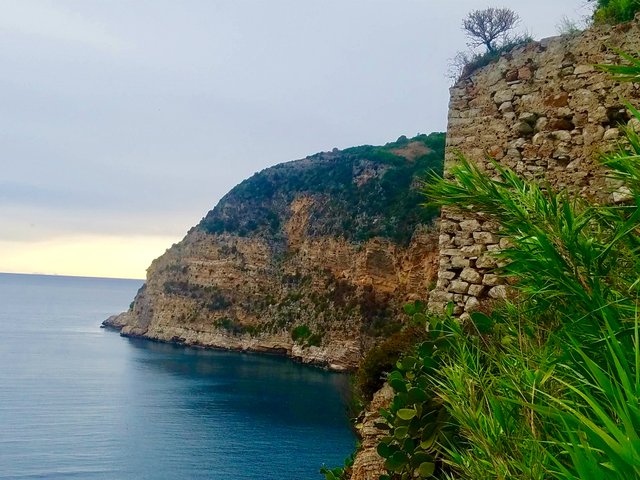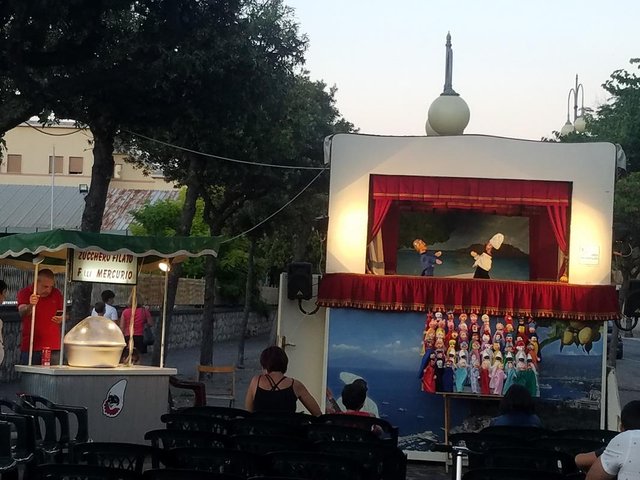 (Above: This puppet show was on a section of sidewalk between the marina and my hotel where there was nothing else around. It seemed to be a semi-permanent feature. About thirty plastic chairs were set up in rows. On the first night, all of them empty except for two in the front, a father and daughter. On the second night, as you see in the picture, five people.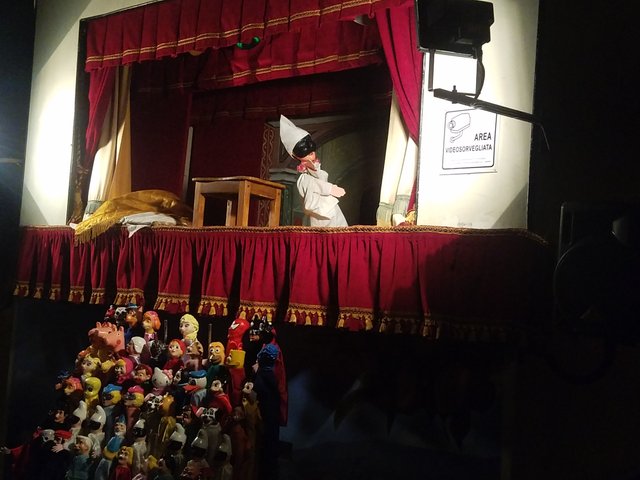 (There were no words in the show and strange European disco music played, Something Puppet This Way Comes.)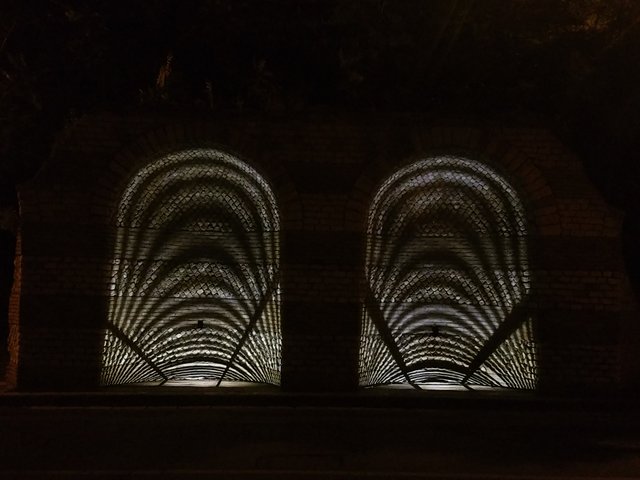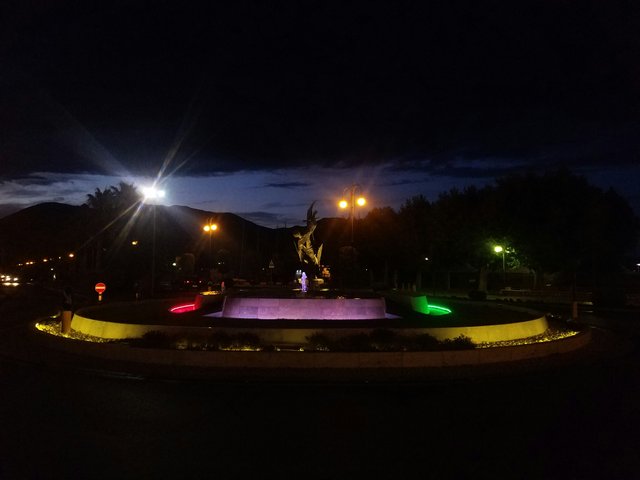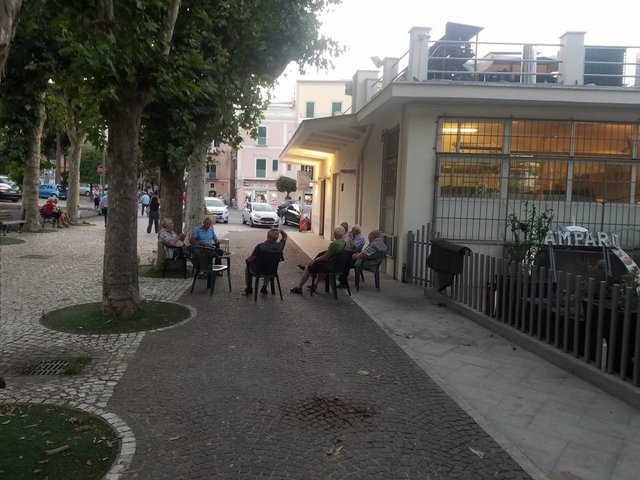 (From what I've seen in Italy, this is a favorite pastime of old Italian men, sitting outside in a circle of chairs arguing about which Spice Girl was most talented.)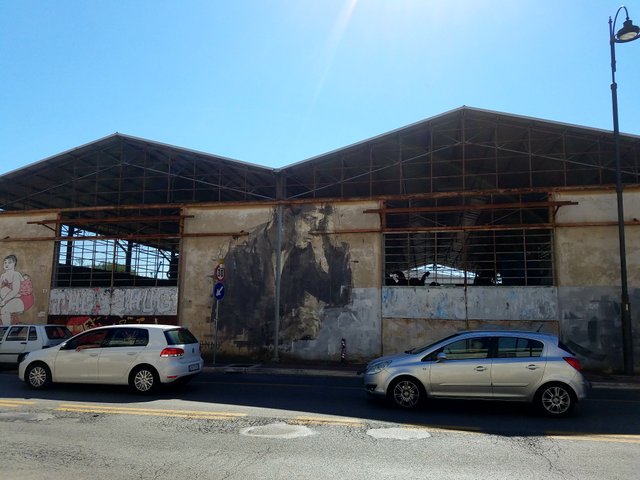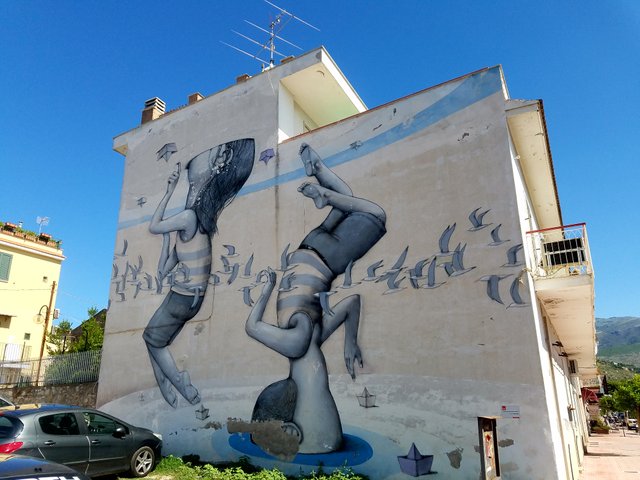 !steemitworldmap 41.2123 lat 13.5799 long Beautiful Gaeta, Italy d3scr