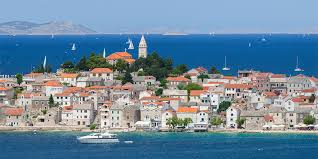 Primosten is my favourite town on the Croatian Coast located in a perfect spot between Sibenik and Split in close vicinity of two major national parks, Kornati islands and Krka.
Compared to better known destinations on the Croatian Coast like Split, Zrce, Vodice, Trogir, Makarska etc., Primosten is a bit quieter in the peak season in terms of tourists which makes it even more enjoyable as you don't have to come early in the morning to secure your spot on the beach or wait for tables at restaurants.
Town is family oriented although one of the biggest nightclubs on the coast is located just outside of Primosten.
As per the image the church on top of the old town hill provides great views of the Adriatic and surrounding nature. The town itself was formed in the 1300 hundreds by fisherman on a little island which was separated from the mainland by a drawing bridge to ensure protection from an Ottoman invasion.
In terms of food, restaurants in Primosten offer great local seafood cuisine and I would recommend trying "Skoljke na Buzaru (Mussels in Olive oil and garlic)", "Sardine (Grilled Sardines in Olive oil)" or "Punjene Lignje (Stuffed Calamari wrapped in prosciutto)".
As mentioned in the intro two major national parks are in the vicinity of Primosten and both of them are well worth a visit. Again recommend visting the Kornati islands and its beautiful lakes as well as Krka waterfalls and the town of Skradin.
Again to avoid the peak and enjoy the town and beach more by it not being so busy late August/early September are good times to visit and the weather is generally still good with temperatures ranging from mid 20's to low 30's.