Dear Steemit friends :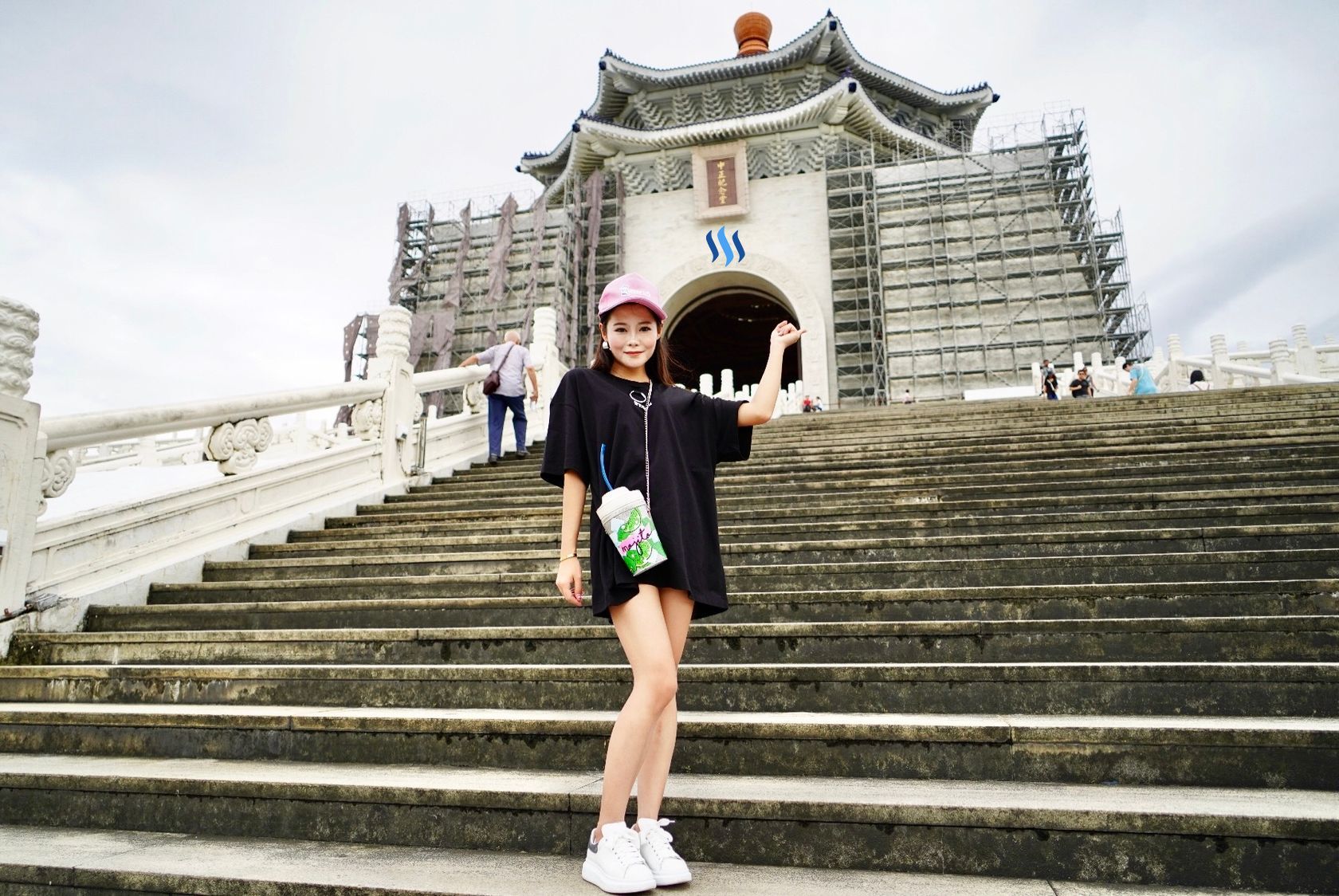 I've always considered travelling an opportunity to learn and enrich myself with experiences which allow me to mature, and expand my knowledge. My second visit to Taiwan has allowed me to dig a little deeper into the complex and intricate history of this region. Many people know that the political relationships between China and Taiwan have had it's peaks and troughs throughout history. Today, considerable effort has been made by both sides of the strait to improve relationships, mostly through better mutual understanding of each other's cultures.

Although people in Taiwan speak a common language to mainland China (Mandarin), the island has drawn it's own path to development, (largely orthogonal to China's) as it followed the rest of the world in embracing industrialisation and globalisation.
Today, Taiwan celebrates democracy, albeit at relative infancy compared with developed nations in the West. In-fact, post WWII, Taiwan came under martial law from the Chinese Nationalist party led by Chiang Kai-Shek who retreated with the KMT party and it's remaining army to the island in 1949 after suffering defeat in a civil war against the communist party led by Mao Zedong.
Chiang Kai-Shek's Official Portrait
Chiang Kai-Shek was regarded as a controversial figure. He was often attributed with the deaths of millions of Chinese people during his rule as the President of the Nationalist Government of China (ROC). He was criticised for spreading ideals of democracy and capitalism under the veil of a dictatorship. His authoritarian rule constituted the suppression of anyone who challenged him, and there were many accounts of purges of opponents and critics throughout his rule.
He was however credited in part for his contribution to the Allied Victory of the Second World War against the Japanese on the mainland front, a task he accomplished whilst putting the Chinese civil war on hold, and fighting together with the Communists to defeat the Japanese.
Chiang Kai-Shek continued to rule in Taiwan as the President of the Republic of China until his death in 1975. A year after his death, the government instructed a funeral committee to build Chiang Kai-Shek's memorial. Even though I have no particular political stance, I do believe in studying history to be better informed of the modern history of China. It's transformation from Imperial rule, to state rule, the parties involved, the conflicts, and their inter-relationships. It's a part of history that very much shapes China, Taiwan and even Japan, Korea and Indochina.
Covering Chiang Kai-Shek's historical arc is a study well beyond the scope of any article I could ever write, but I do hope that the following tour will incite curiosity in many of you, motivating you to read more about the history around not only Chiang Kai-Shek, but also how modern China (inclusive of Taiwan or not) arrived in it's current form today. Believe me, it's a huge backstory well worth reading!
Let's take a look at the memorial hall below!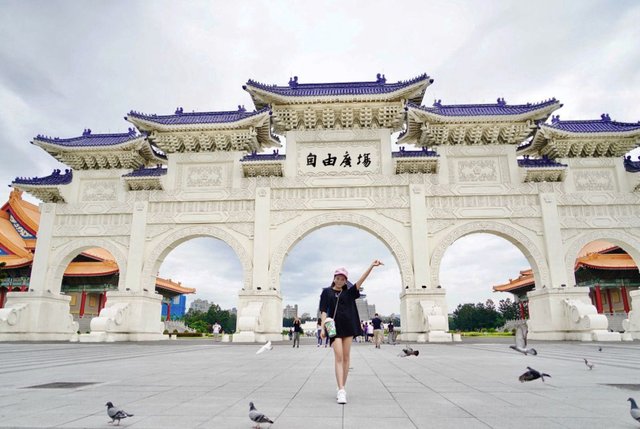 At the West, we have this grand entrance marked with the characters "Liberty Square". The central location of the square, along with it's large open area has made the square one of the most popular places for mass gatherings. Ironically, the gatherings were mostly in protest for pro-democracy, and for several years after it's opening, the rallies held there were pivotal in ushering Taiwan into it's modern day democracy. Of course, we know that by 1996, there were general elections held for the leadership of Taiwan.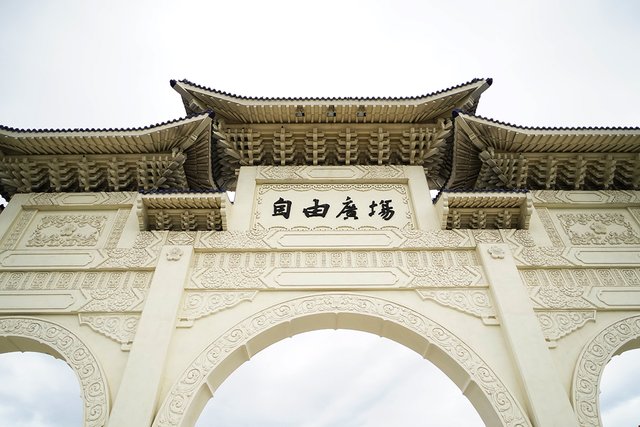 For this reason, the square has played an utmost importance in securing Taiwan's democracy and has been named in dedication of the liberty from martial law.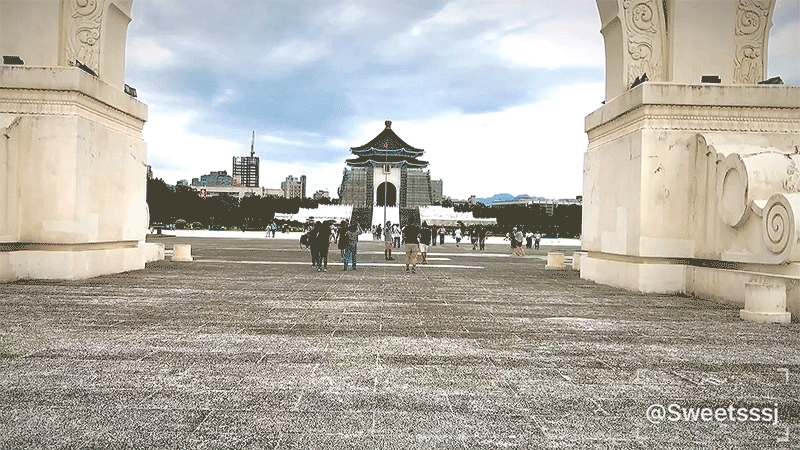 In the background, you can see the Memorial Hall with it's blue octagonal roof and four sided white walls. It's situated on the eastern end of the square.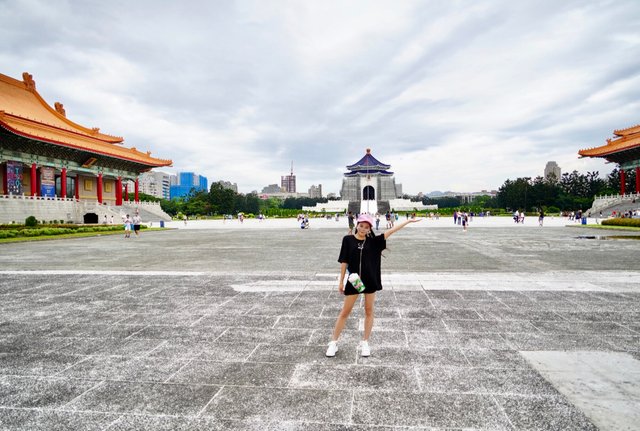 Facing each other, North and South of the square, we have the National Theatre and the National Concert hall.
Behind me is the National theatre. You may not notice the difference, but it's roof is designed differently from the Concert hall. The National Theatre is designed like Beijing's central pavilion of the Forbidden City.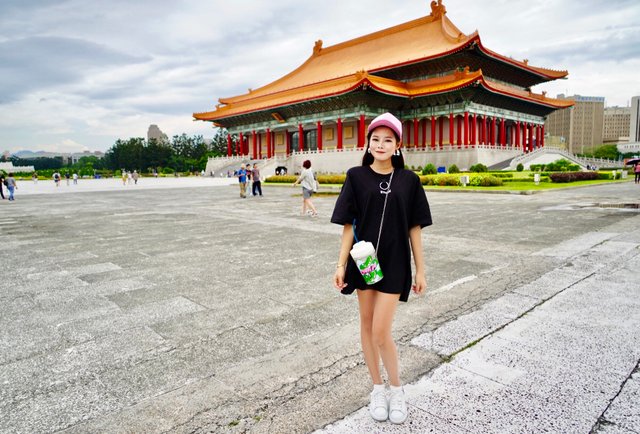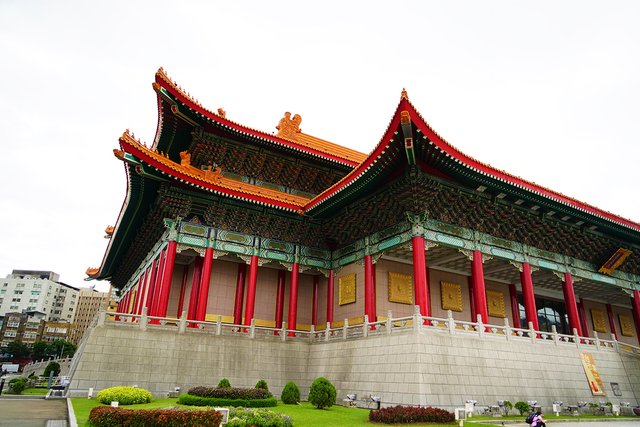 Opposite the National theatre is the National Concert Hall. If you look closely, you can see some white and blue patterns on the side of the roof. The patterns and colour remind me a lot of white porcelain which is commensurate with traditional Chinese colour, as well as symbolic of Chinese culture.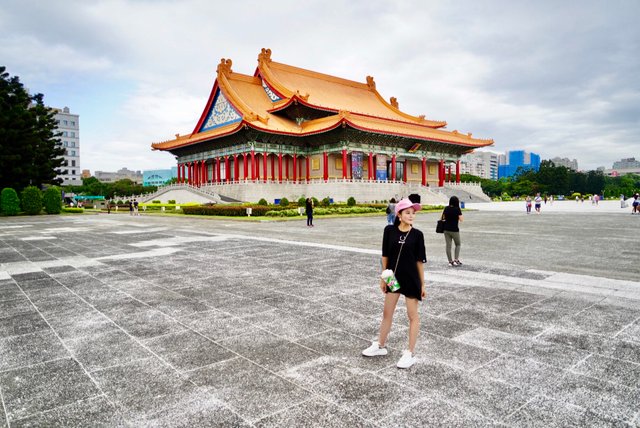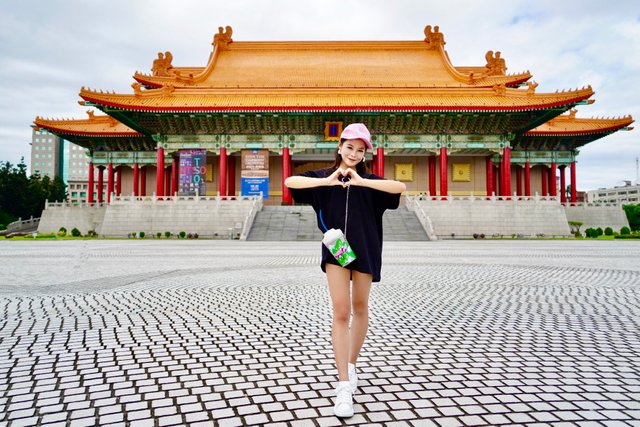 The memorial hall itself is surrounded by a park. Two walk ways lined with trimmed trees lead the way to the memorial hall. You can also walk directly through the middle in the open space.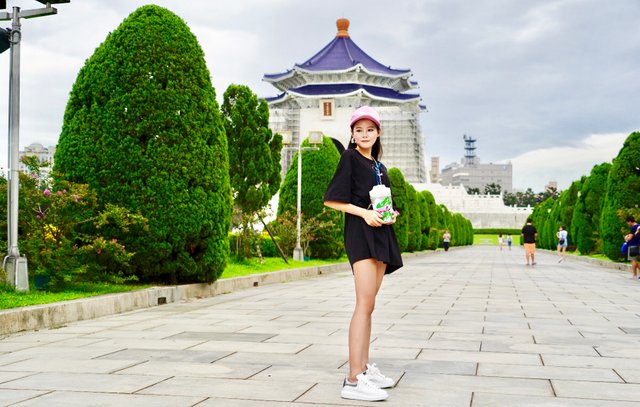 At the base of the steps, you'll find two Chinese guardian lions. Conveniently each guarding one of two steps leading up to the main memorial hall.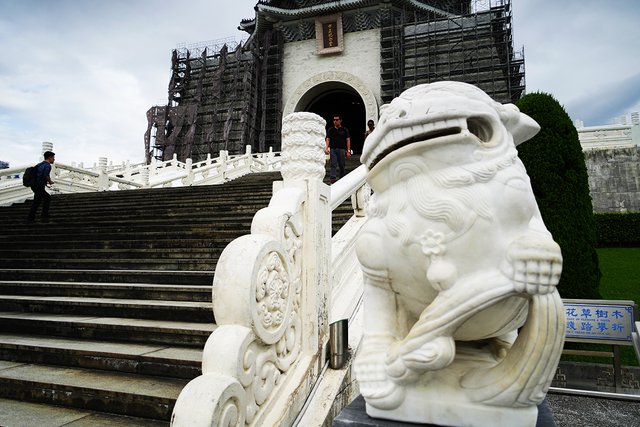 There are two separate sets of stairs leading up to the memorial hall, and each have a total of 89 steps. This number was chosen to represent Chiang Kai-Shek's age when he died. Once you reach the top, the view of Liberty Square and the two halls are pretty spectacular!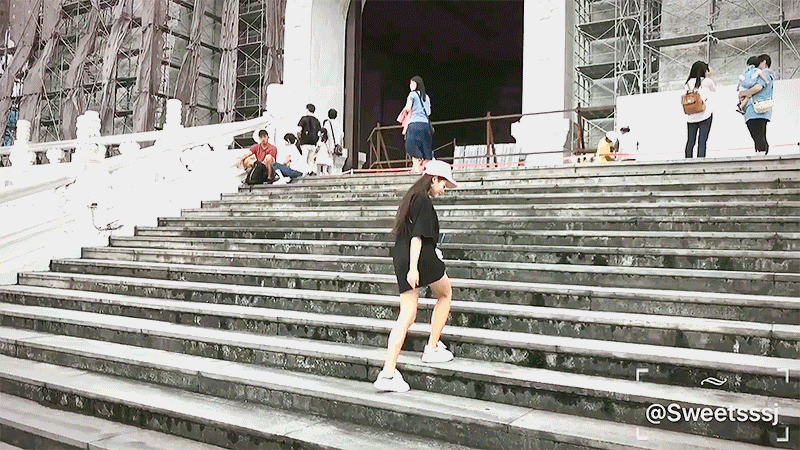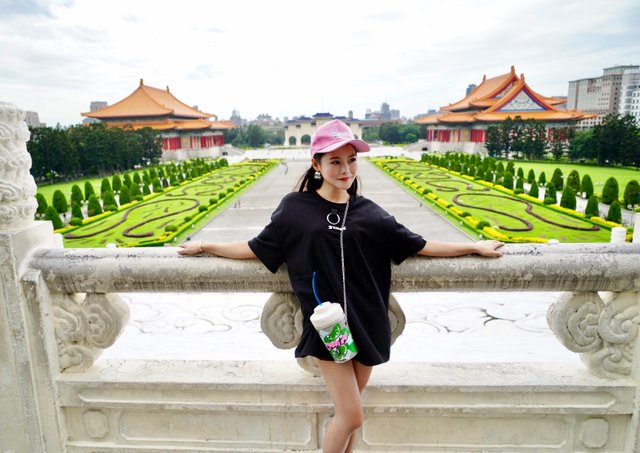 Stepping inside the memorial hall, you'll notice two things. First, the national emblem of the Republic of China on the ceiling.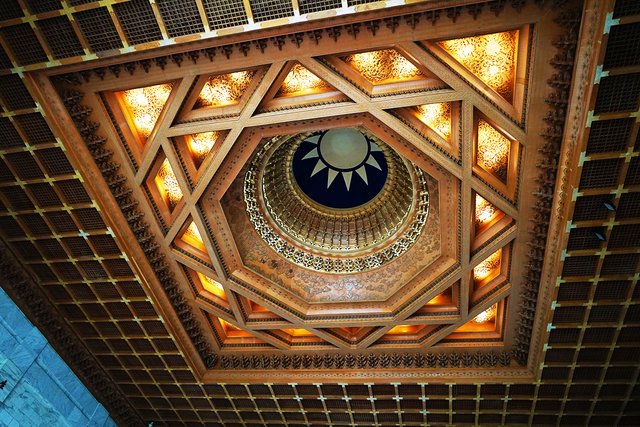 Secondly, a huge bronze statue of Chiang Kai-Shek.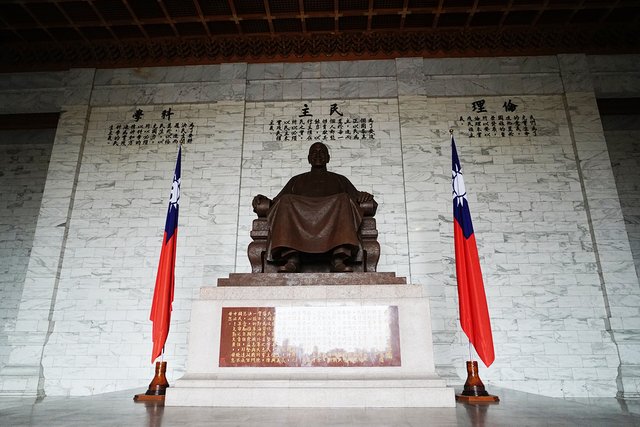 There are some inscriptions on the wall, these are the Chinese characters for Ethics, Democracy and Science. These are the essences of Chiang Kai-Shek's political thinking.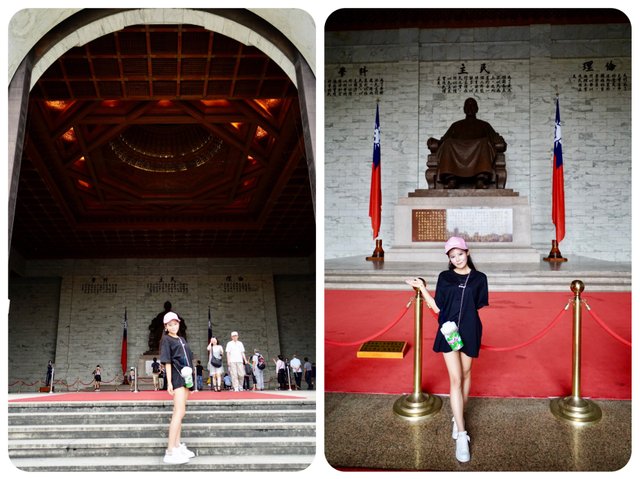 Perhaps the highlight of the cavernous hall, is the changing of honour guards every hour.
The purpose of this ritual is to relieve the guards on duty for fresh ones but it has become some what a display of perfect synchronisation, both of the movements as well as the guards steps. In such a big empty all, the echo's from their steps resonate around the large crowd who watch in awe as they perform their routine.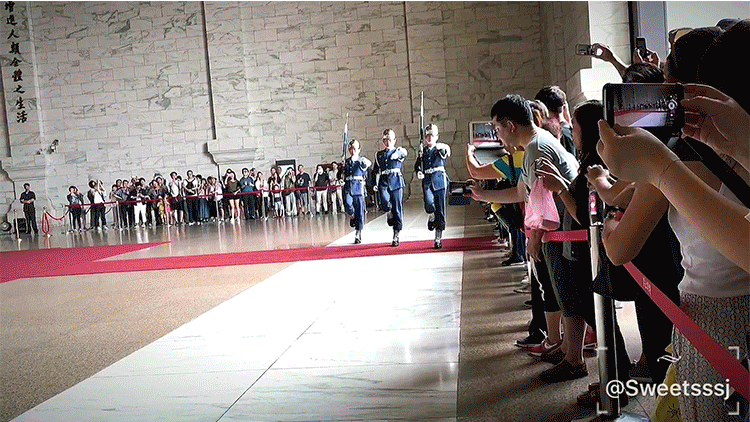 Museum
On the ground level, there is a museum which showcases many of Chiang's belongings, including items from his personal treasure, his writings, clothes and even his cars.
Moreover, the various rooms exhibit Chiang Kai-Shek's life at various points in time, and in various places. From China, to Japan, to Taiwan.
You'll also see pictures of his wife, Soong May-ling and her sisters, Soong Ai-ling and Soong Ching-ling.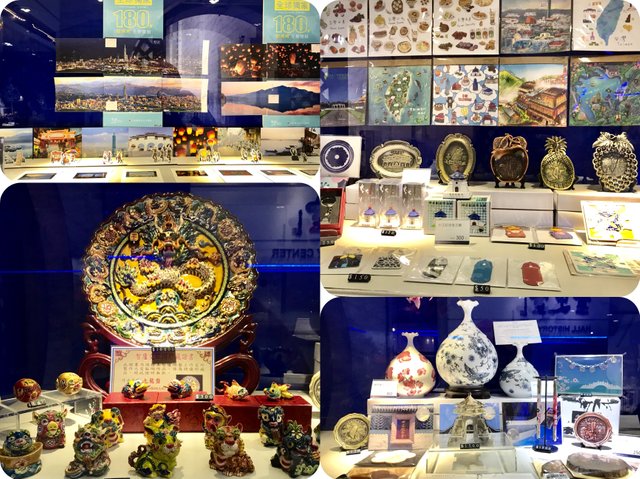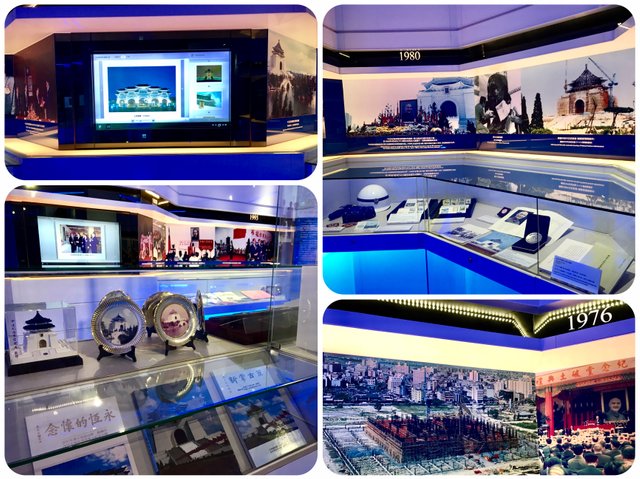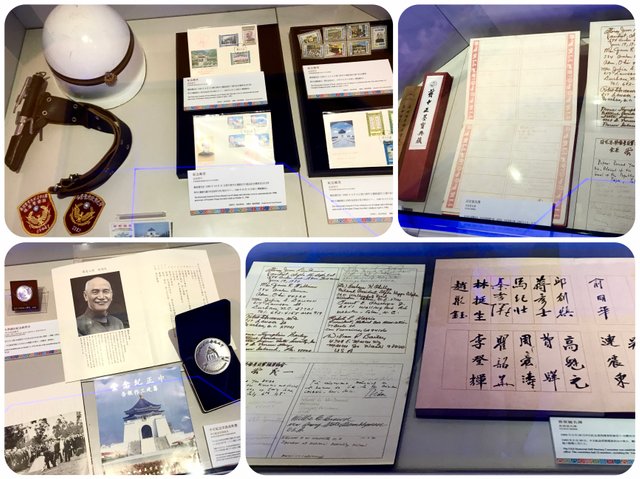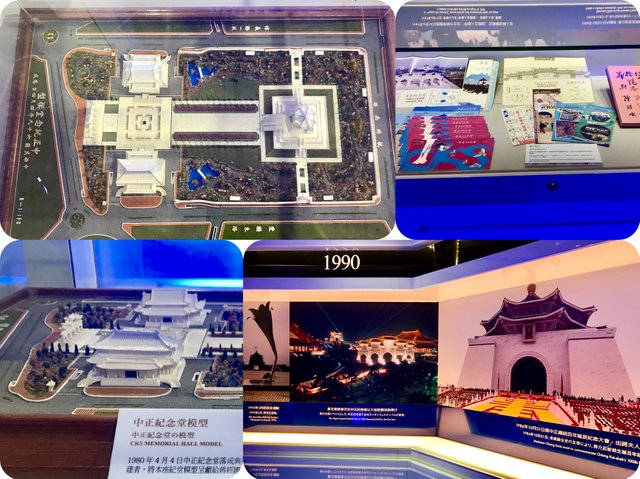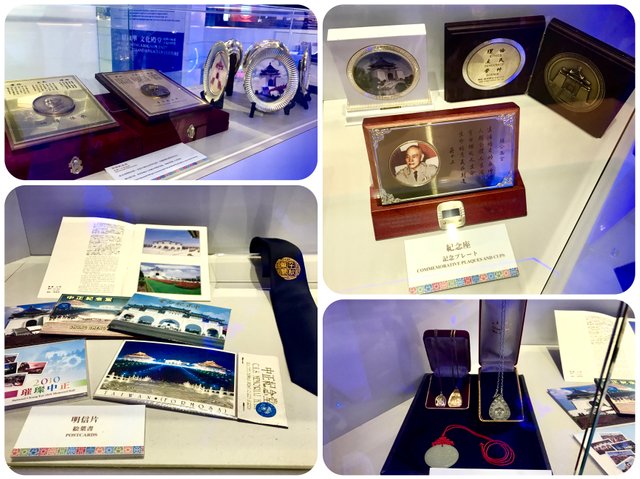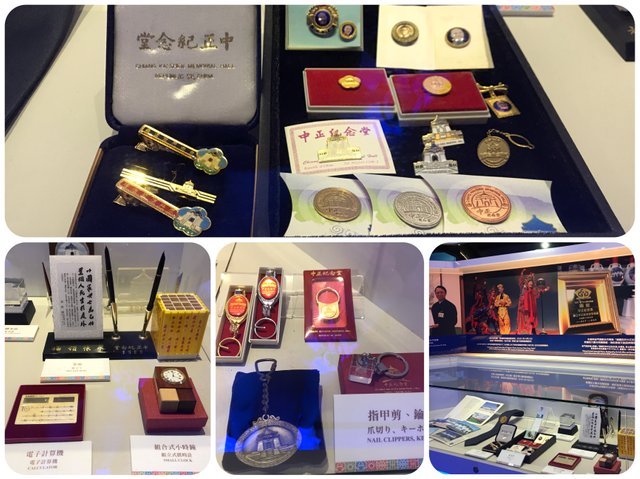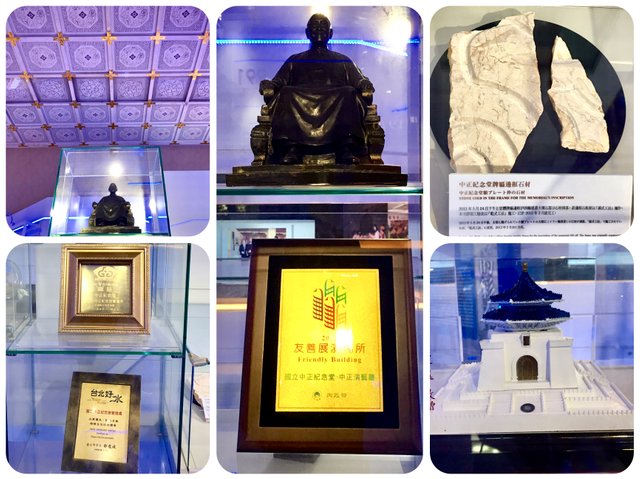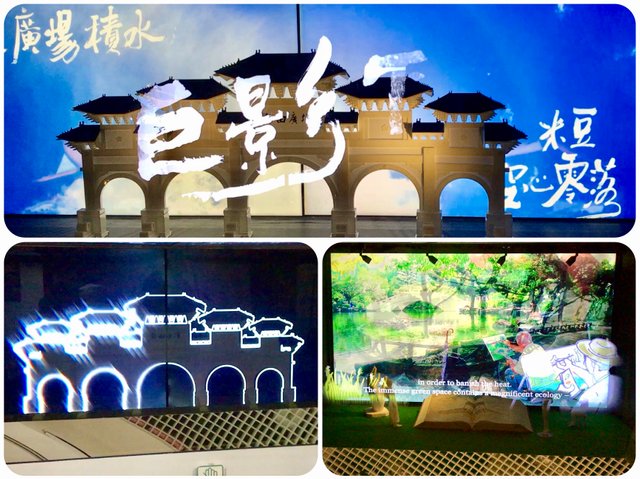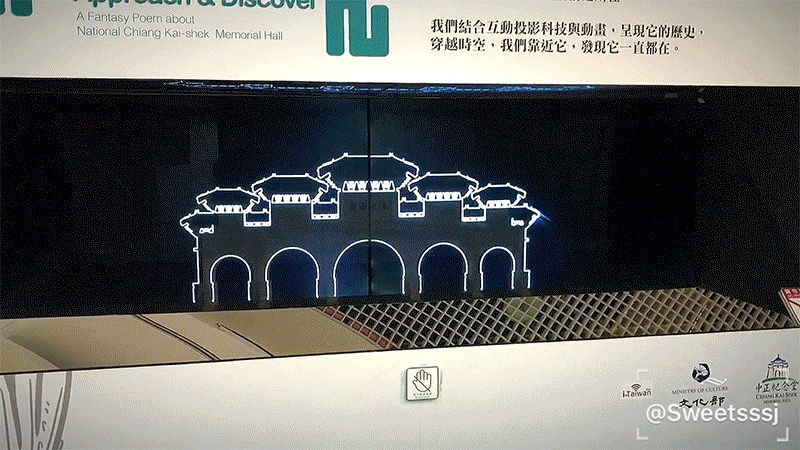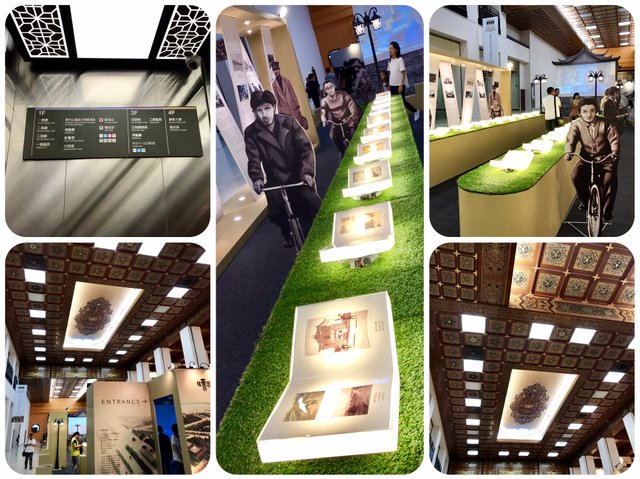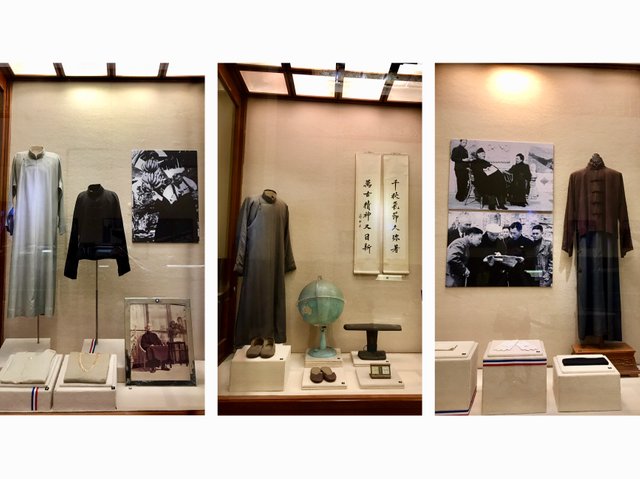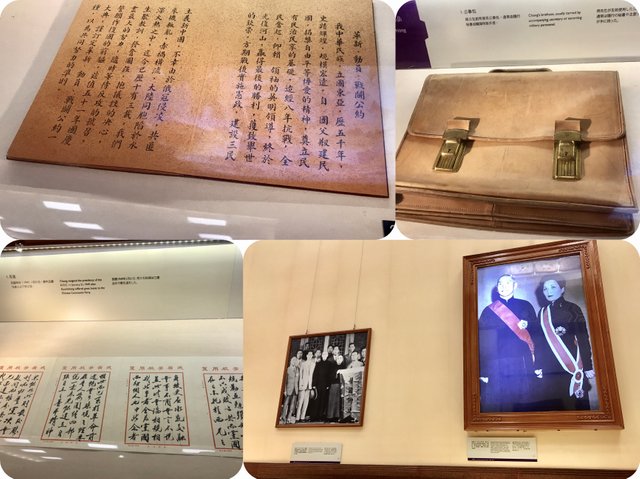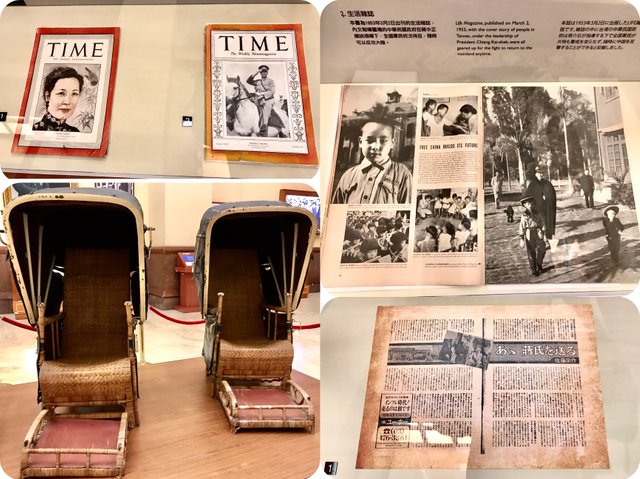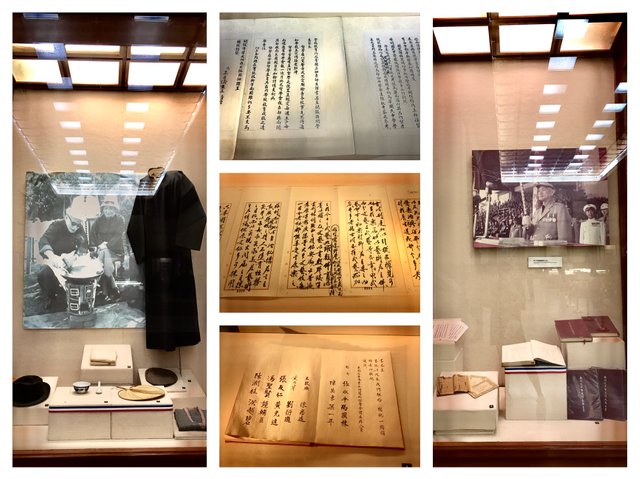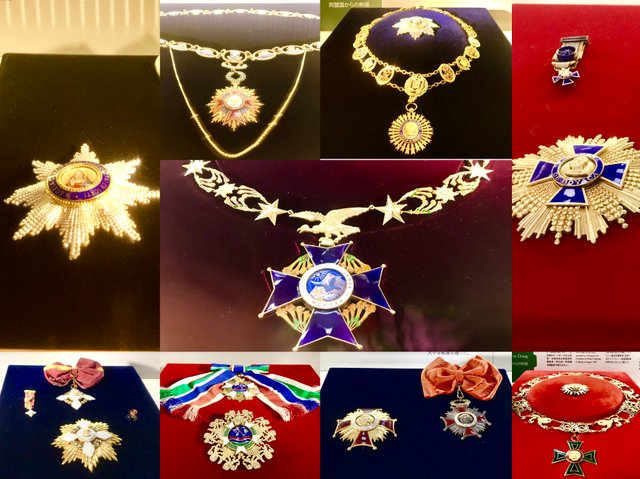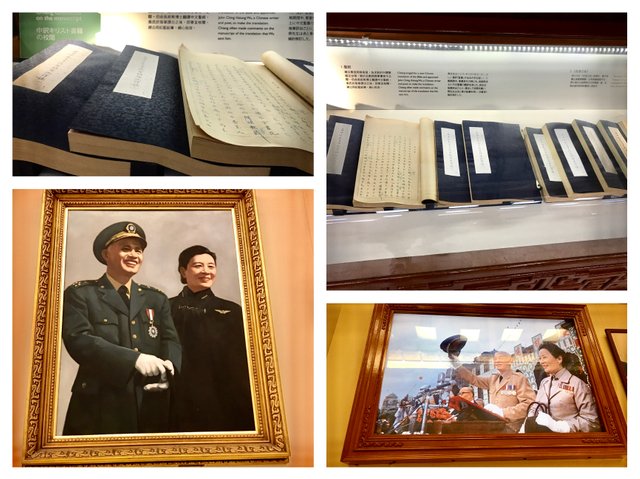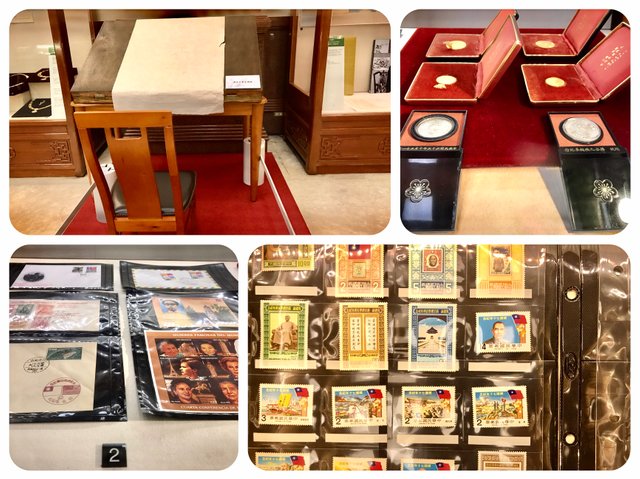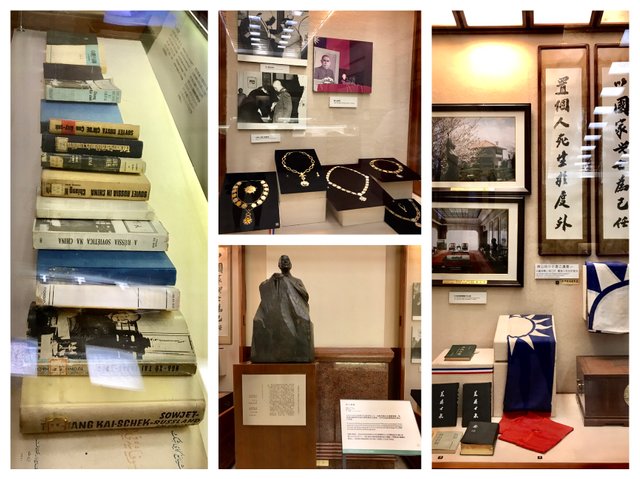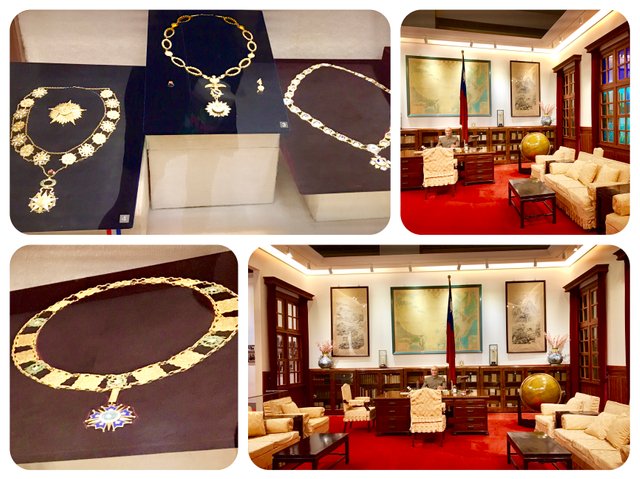 This is Chiang Kai-Shek's 1972 GM-manufactured Cadillac.
This was the car he actually used right up to his death. He had another car which was a 1955 bulletproof Cadillac Limosine, but he only ever used that one once.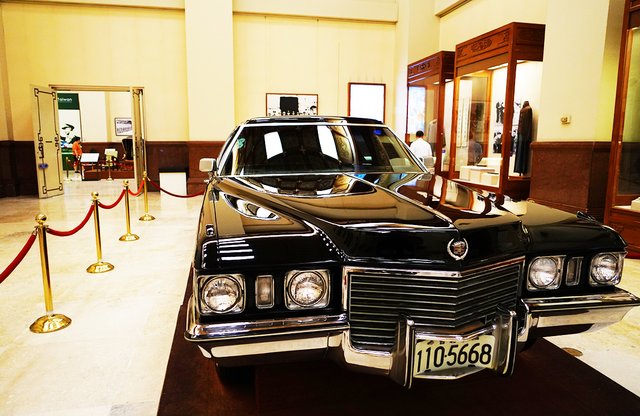 This is a life-size re-model of Chiang Kai-Shek in his presidential office.
When I first walked into this room, I jumped thinking he was actually there!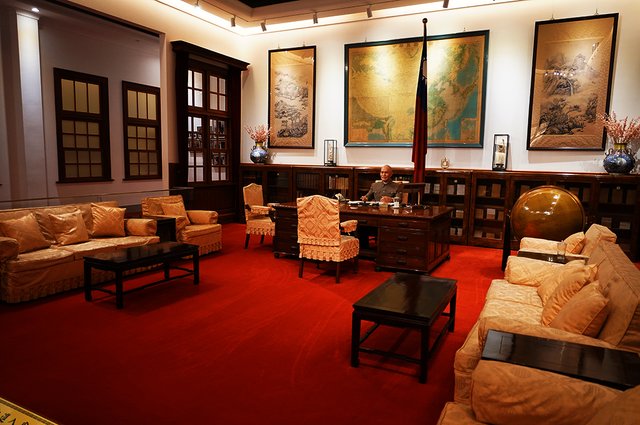 Not too far from the memorial hall, about 5 minutes walk, there is a famous home run restaurant which specialised in braised meat on rice - a Taiwanese speciality. After browsing the museum and seeing the memorial hall, it was a good time to get some late lunch.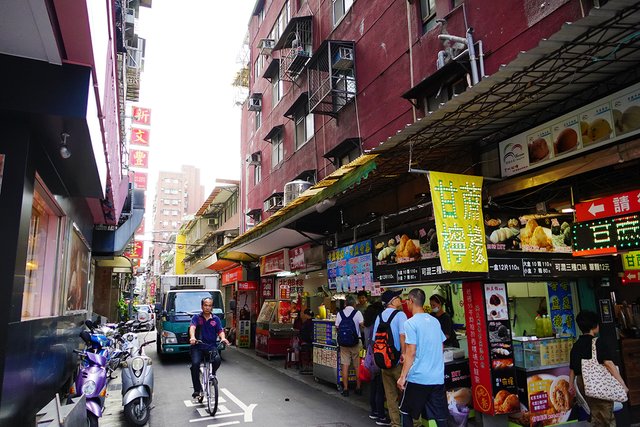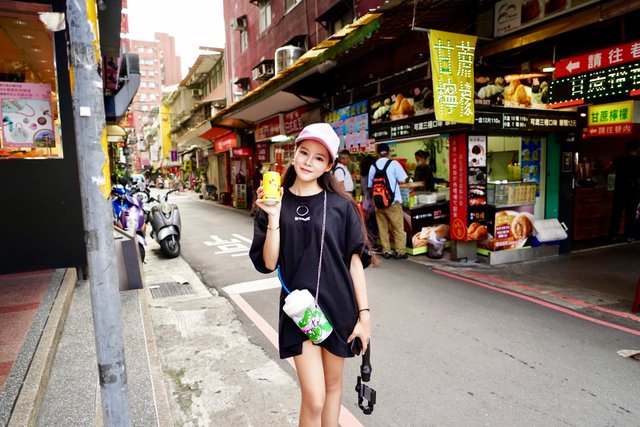 Most home run restaurants will look something similar to this. Nothing fancy, with the menu hanging up on the wall. Kitchen staff will work at the front of the restaurant, and tables will be allocated on a first come first serve basis.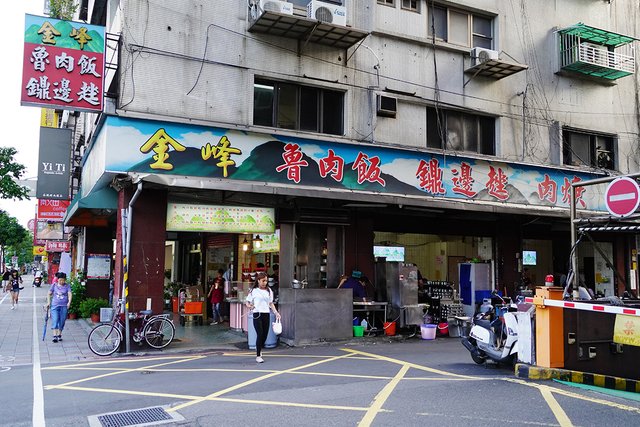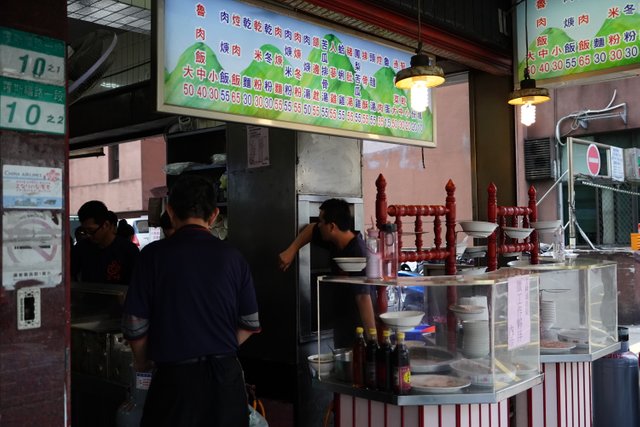 This particular restaurant is so well received that it frequently has queues of people waiting to be seated. This is what the red line on the floor is for.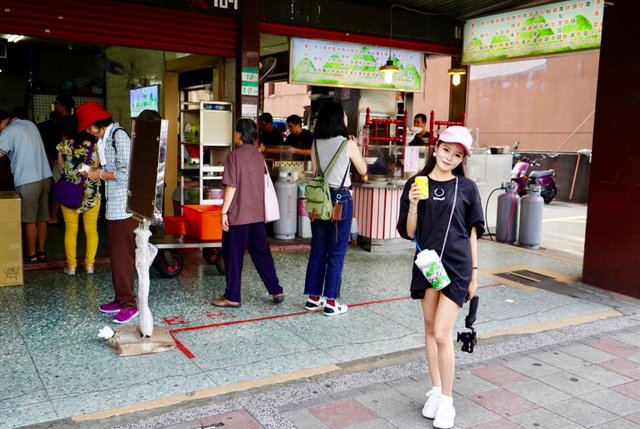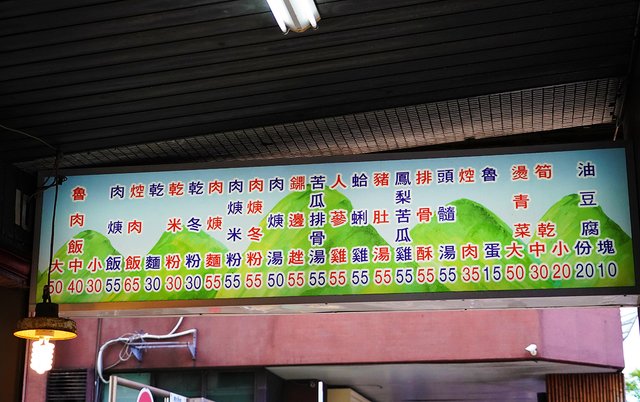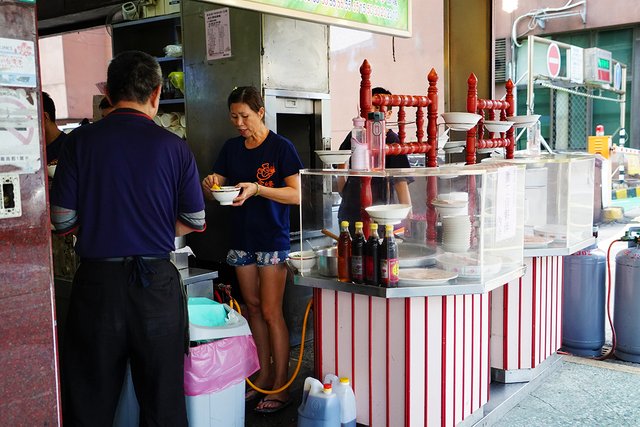 Here's all the food!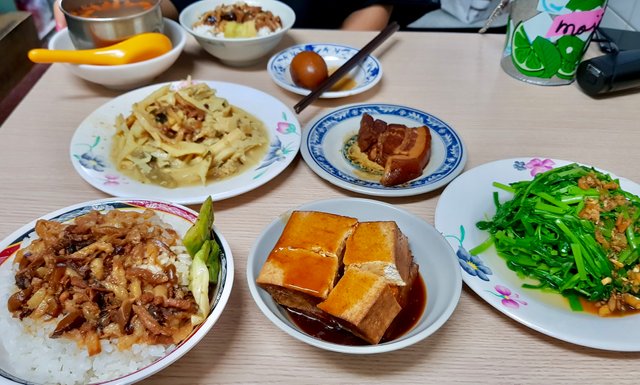 Taiwanese Braised Pork on Rice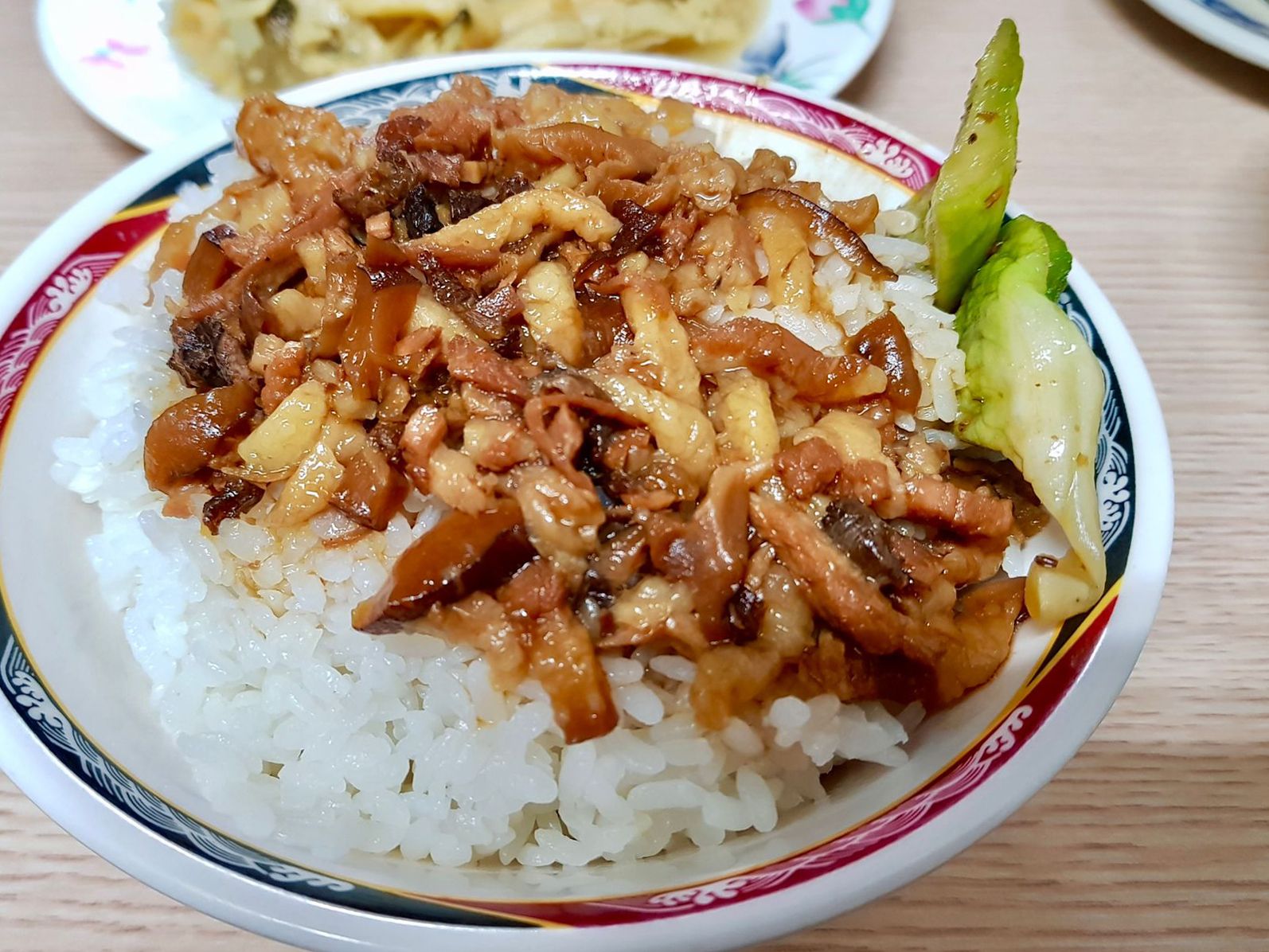 Fried Bean curd in Chilli Sauce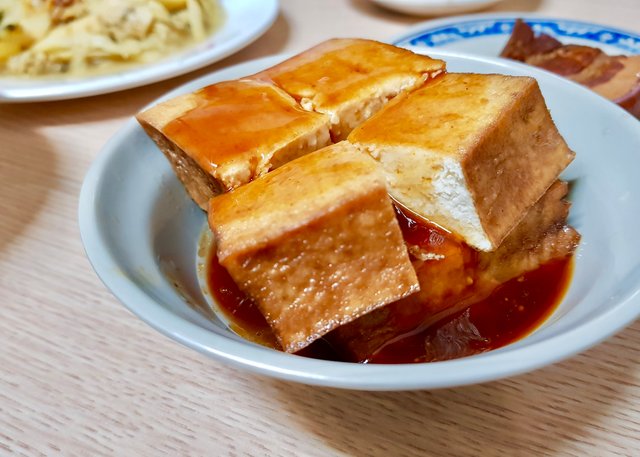 Steamed Bamboo Shoots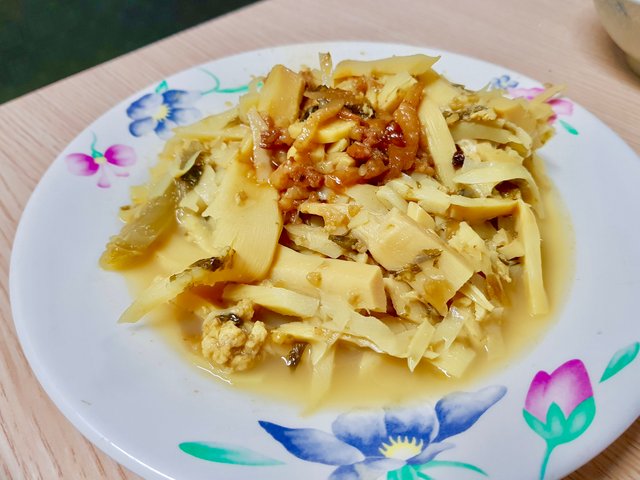 Braised Pork Belly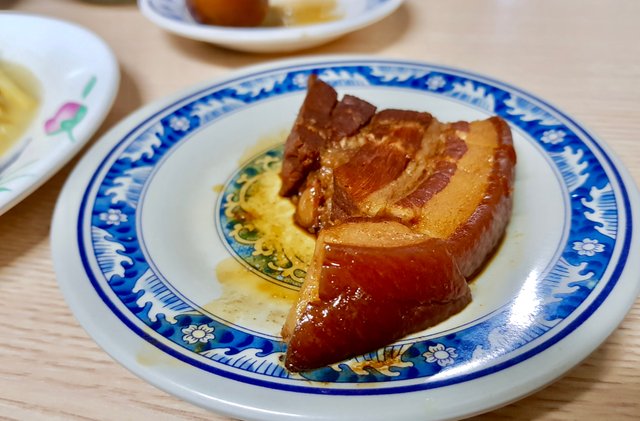 Braised Soy Egg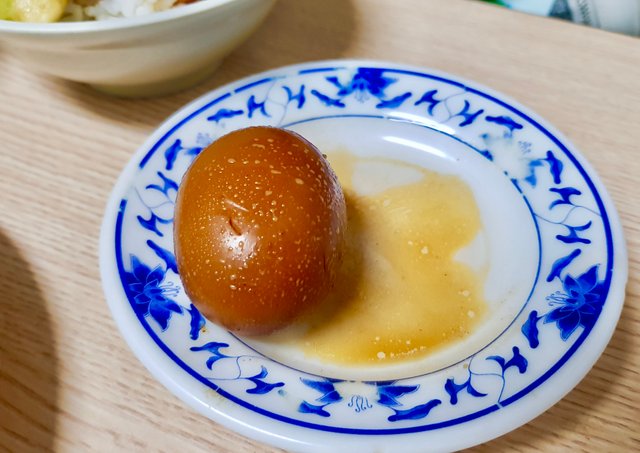 Scolded Water Spinach with Braised Pork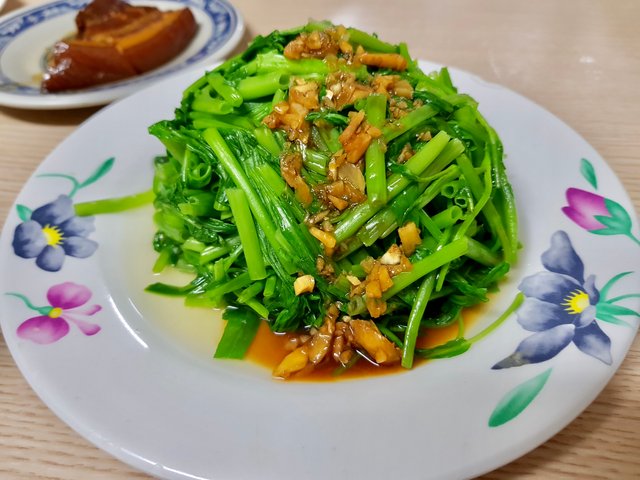 Chicken Soup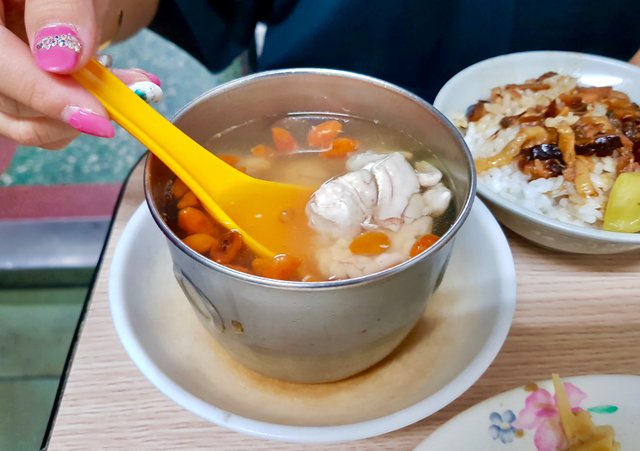 They have Pikachu soda here!!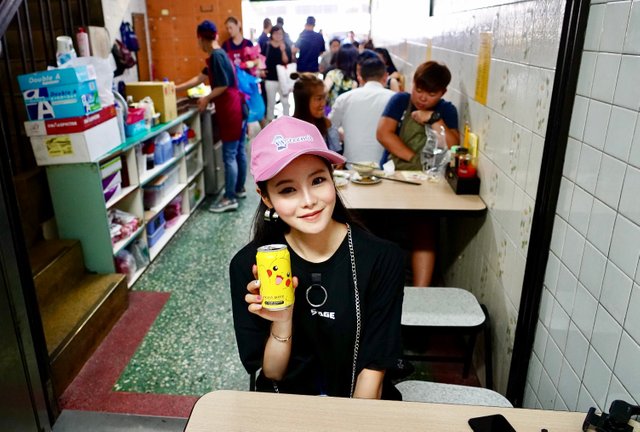 Please check out my video of the visit!
---
Thank you for joining me on a very brisk tour of the Chiang Kai-Shek memorial hall. Visiting this place made me realise that there is so much recent history that I don't know about, particularly as the two Chinese regions have until very recently been isolated from one another.
In China, we've all learned about Chiang Kai-Shek, but it's always been with a one sided perspective. Finally, i'm able to see the story of this man from the other perspective and balance out my views and understanding some more. At the very least, it was an intriguing part of history to look into, and i'm glad that Taipei have preserved this memorial hall (and it's exhibits) as a place to face history, recognise agony and respect human rights.
Please remember to upvote this post if you liked it, follow me for updates on my activities, and please leave a comment to let me know what you think!

台北是一座充满魔力的城市,总是深深把我吸引,它既是现代文化的不夜城,也饱含了传统的人文历史,能让你将这片土地的过去,现在和未来都尽收眼底。这一次的台湾之行,我选择了留在台北深度游玩,体会这里传统又亲切的民俗民风,潮流时尚,文艺气息和历史的精粹,还有那些看不完更品尝不尽的地道小吃。说起台北的中正纪念堂,也许你们很多人已经很熟悉,它是一个重要的旅游景点,是权威时期的象征,是个举办各种大型活动,社会运动和演出的场所,更是个历经时代变迁,风貌犹存的漂亮公园,但是对于我来说,这里有更多有趣的历史文化故事可以挖掘。
中正纪念堂是为了纪念台湾第一任总统蒋介石而建立,蒋介石又名蒋中正,他参与领导和经历的二次世界大战里的中国战场,和冷战时期两岸的国共对抗,对中国近代史有着深远影响。他于1975年逝世,第二年行政院就破土开建了纪念堂,设计师是设计圆山大饭店的杨卓成,现在我们就一起走进中正纪念堂看看吧。车子停在一座蓝白相间雄伟壮观的大门门口,门上有四个大字——自由广场,2007年12月由大中至正改名为现在的名字,这个正门牌楼据说是台湾最宏伟的牌楼,有16米高,75吨重,由青铜铸建,蓝瓦白墙的建筑主体特别漂亮,配上身后的蓝天白云,确实给人一种海阔天空的自由感。我和这个威武的大门照了相,连广场上的白鸽也是自由自在的和我一起出镜。镜头里的自由广场很遗憾没能全部出镜,这又提醒到我,是不是该升级镜头了lol。走过这扇大门,一个巨大的广场出现在眼前,听说有25万平方公尺,之前每年元宵节前的台北灯会,就在这个广场上举行的。
广场以中正纪念堂为主体,依旧蓝白相间的天空色系配色,左右两边是台湾戏剧院和音乐厅,合称国家两院厅,经常有戏剧,舞蹈,音乐等大型表演活动。两座庄严的宫廷式建筑一边一个,十分对称,它采用了中国古典的黄瓦红柱,充分展示了中华文化的特色之美,让我有一种更接近历史的感觉。最有趣的是,这两个建筑乍一看很相似,其实稍有不同。仔细看他们的顶,虽然都自带两层掀顶,但是摆放和组合的位置非常不同。眼前这个是国家戏剧院,屋顶是类似北京故宫的太和殿造型,是台湾罕见的重檐庑殿顶。对面这个是国家音乐厅,外形接近于故宮的保和殿,尊位比太和殿低,拥有重檐歇山式的屋顶,我特别中意于侧面的蓝白花样纹路,让我想起青花瓷,又和整体的蓝白相间建筑群相称,非常有传统中式色彩,展现出中华文化深厚的根基。
中正紀念堂的主要堂体有大概20层楼高,很遗憾这次来的时候,纪念堂外墙正在整修,不过宝蓝色琉璃瓦的八角尖顶依然壮丽,隐约可以看见白色大理石墙壁,我特别喜欢这整体的颜色配上灰色的地面,拍照很有独特的风格。堂前的红色如意花坛也好美。站在纪念堂前可以深刻感受到建筑所传达的自由、平等和博愛的精神。走进大堂,正中央摆放着蒋公坐姿铜像,以供瞻仰。左右各一卫兵,没想到真好赶上了换岗时刻,一起见证了这个庄敬肃穆的时刻。纪念堂分为两层,下层大厅设有文物展视室,演讲厅,怀恩艺廊等。展视室里各种精美华丽的艺术品和文物,瓷器,各种赠予外宾的特制纪念品,还有很多纪念堂建设背后的故事,历史和发展历程。在另几间展堂还展出了很多内战时期关于蒋介石的故事,他的私人用品和各国曾经赠与给他的勋章,金光闪闪的漂亮极了。走出纪念堂,我想大家也要看饿了,我们再去中正纪念堂边上很有名的一家街边小店,吃一碗香喷喷的卤肉饭吧。
金峰卤肉饭,看看门口排长队的人们,就知道这家生意好极了,卤肉饭的特色在于肉酱和肉汁,是我的最爱,这一家的肉酱爽滑酥嫩,酱汁调的味道刚刚好,肉汁四溢十分入味,米饭也松软散发清香,简直太满足了。油豆腐,笋干烫青菜,焢肉和卤鸭蛋也是口感饱满,让人吃了回味悠长呢。今天的中正纪念堂朝圣之旅和美食分享就要告于段落了,之后还有更多绚烂的文化历史故事想要和大家分享。