Dear Steemit friends :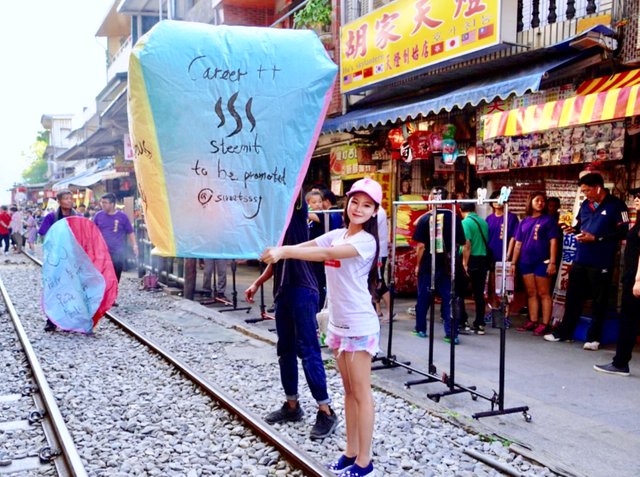 We made it to Travel with me #100!
A big thank you to Steemit, and all my unwavering supporters who have followed me every step of the way. Travelling has been my lifelong passion since I was a little girl, for me, there is nothing more valuable than opening my eyes to the vastness of the world, seeing and learning about new places, their history, cultures, traditions and allowing myself to grow as an individual as I experience the world.
The travel industry is quickly becoming a prime market in China. The rising wealth of the middle class has brought with it a new wave of travel hungry people waiting to see the world the way the rest of the world sees it. Companies such as Ctrip are making plans to facilitate this new domestic demand for travelling and have so far acquired the hugely popular flight booking company, Skyscanner and are looking to invest heavily in technology to better serve this growing market.
In the next year, it is expected that up to 700 Million people in China will be booking a holiday to go abroad. That is an astounding figure and shows just how large the Chinese appetite is for travel. It appears that I come from a country with an insatiable desire to explore, and I'm very thankful to be in a position to help guide all the potential travellers with my first hand experiences.
For my 100th Travel with me post, I will be taking us to a special place in the north coast of Taiwan. As you know from my previous posts about Taiwan, the nation has a complicated history involving the mainland Chinese, Japanese and even the US.
For 50 years, Taiwan was ceded to Japan becoming a Japanese colony. During the Japanese colonisation, Taiwan benefited from Japan rule, advancing industry and economy but this was at the cost of national identity. The rapid development of the mining industries for coal, gold and copper meant that Taiwan became an important supplier of metals for Japan during it's war efforts.
Today, the northern towns and villages are where you'll find some of the most preserved pieces of Japanese history. The rail line Pingxi was constructed along the northern coast of Taiwan and is today known as the Pingxi district. It was originally used as a rail line to transport coal from various mining towns but today, functions as novelty line showcasing Taiwan's coal-mining history.
Yin Yang Sea
Located on the Northern coastal road, Jin Gua Shi was a prosperous mining town for gold and copper during the Japanese occupation. It was believed that due to the smelting operations in the area, the water became polluted with particles of gold and copper giving it that two tone look.
In reality, the water colour is a result of an abundance of Pyrite which forms iron ion particles which do not dissolve in water. The result, is the partial yellow colouring of the blue sea resembling the Yin and Yang. It's quite a spectacle seeing the contrasting colours of blue, yellow and green along the coastline. It definitely gives this area so much uniqueness and character.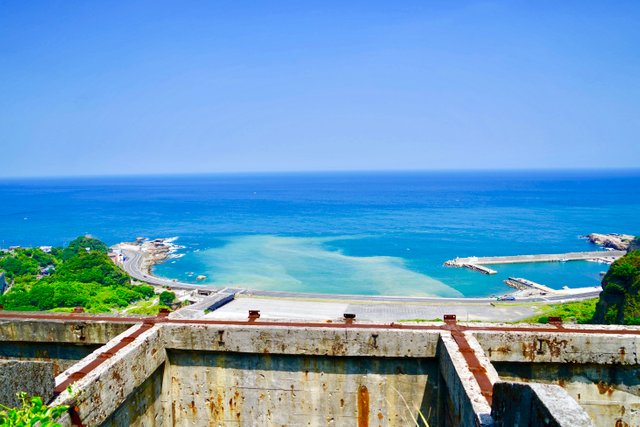 This is the view of the Jin Guo Shi town. It was once a very prosperous Gold, Silver and Copper mining town but in the 70's the output declined to a point where it was no longer profitable. The Taiwan Metal Mining Company which based it's operations in this town, filed for bankruptcy and ended it's mining operations for good. The town later on found salvation as a tourist center because of it's close proximity to places like Yehliu Geopark, Jiufen etc.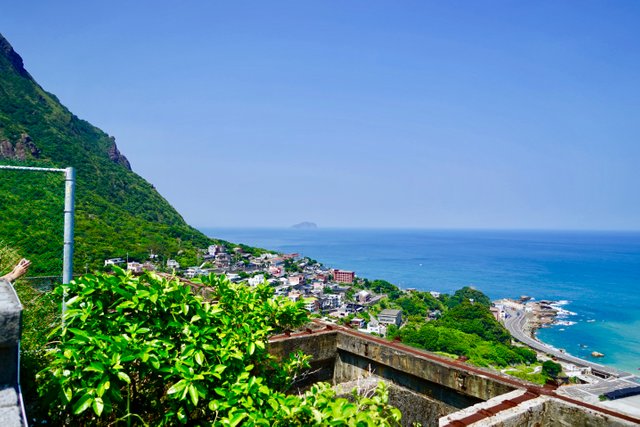 If you look carefully, you will see tunnels running along the mountain side. These were Japanese military tunnels for troops to move between different base camps and were also used as supply lines.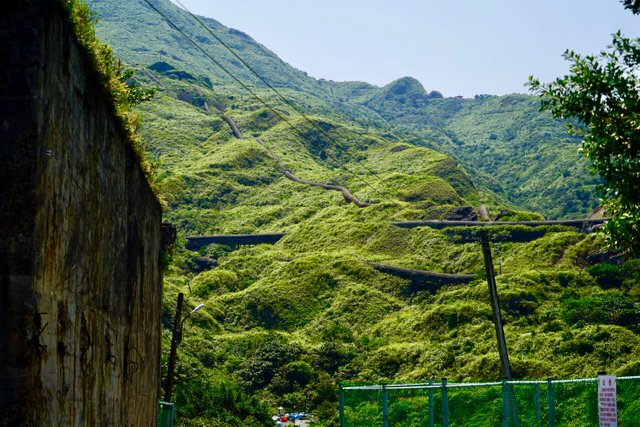 Many of the buildings in the area have been abandoned for many decades. This is one of many which has been sealed off. Though they serve no purpose today, they remind us of the area's mining history.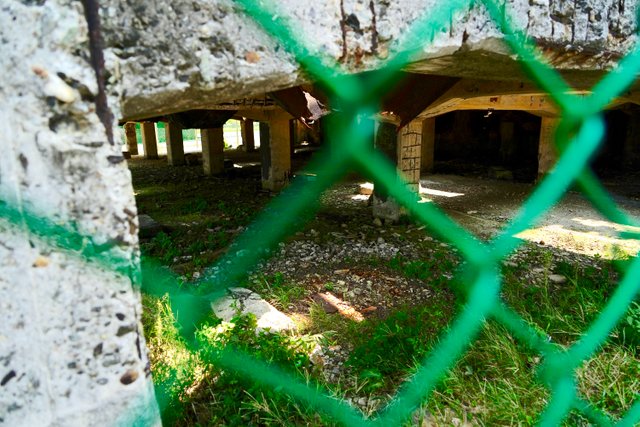 Golden Waterfall
Further up from the Yin-yang sea, there is a famous Golden Waterfall which gains it's gold colouration from the deposits of heavy metal elements abundant in the area.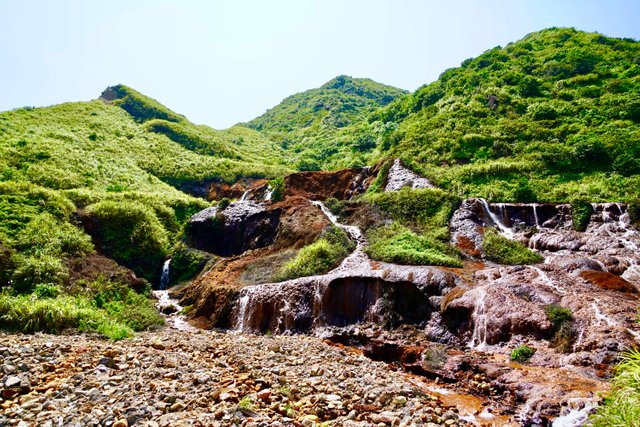 Shifen Old Street
This bustling street is known as Shifen Old Street. It was also once a mining town and was one of the stops along the Pingxi railroad line used for transporting coal. Today, it is a hotspot for tourists with food stalls, restaurants and souvenirs galore.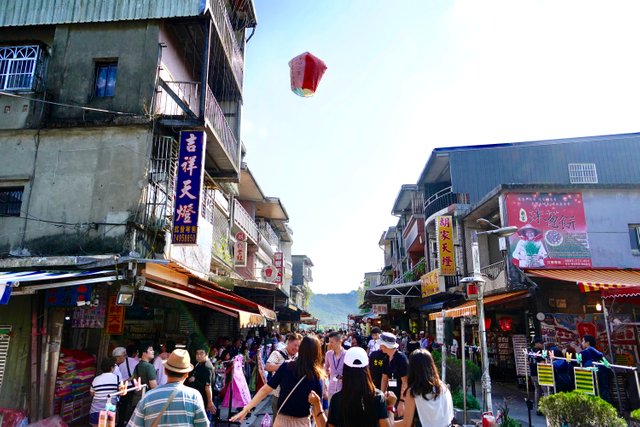 The town is very small, and is essentially one street which is divided by rail tracks. The train service still functions today but carries passengers between the old mining towns instead of coal.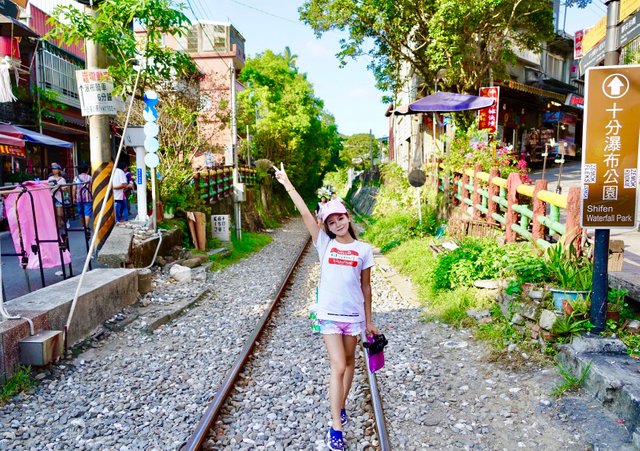 When the trains are not passing by, the street is packed with people browsing the shops and stalls as well as taking pictures of the Japanese style buildings.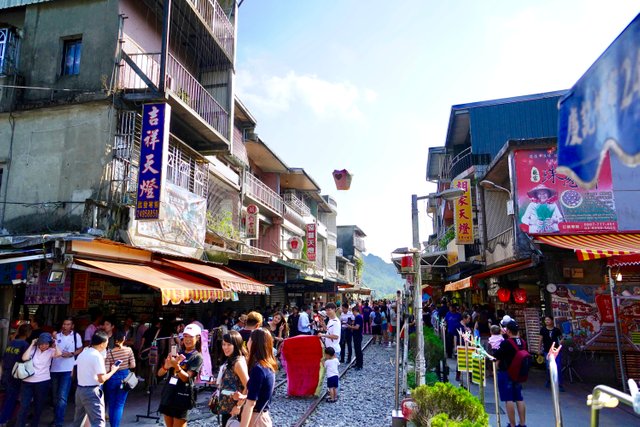 Souvenir shops mainly sell miniature versions of the sky lanterns, but most also offer the real sky lanterns too.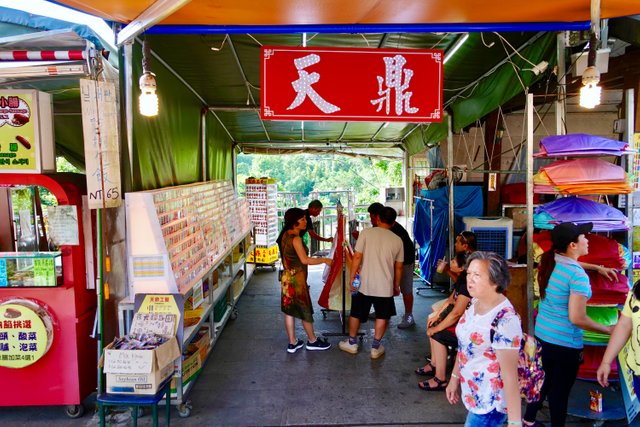 The entire atmosphere reminds me a lot of the famous Maeklong Railway Market in Thailand. Stalls are laid out beside and on the rail tracks and when the train comes, they are removed to allow the train to pass.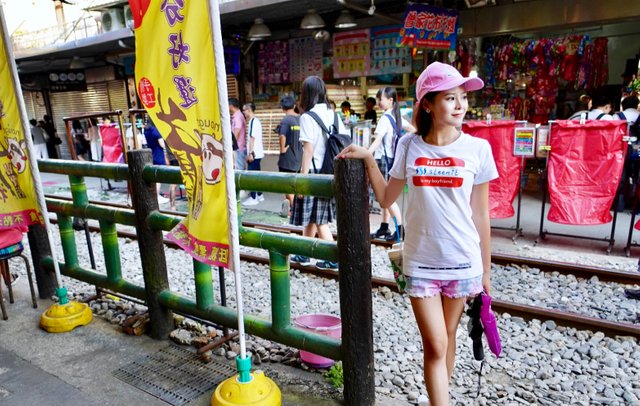 Nowadays, the trains make a honking noise well in advance of their arrival. People have plenty of time to step onto the pavement and watch the train slowly pass by.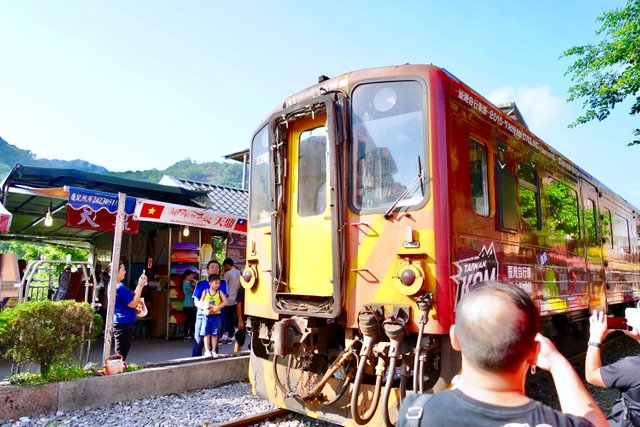 As I mentioned before, the trains originally used on this line were for transporting coal, but now they are part of the Pingxi Line which carries passengers between the old mining towns of the Pingxi district.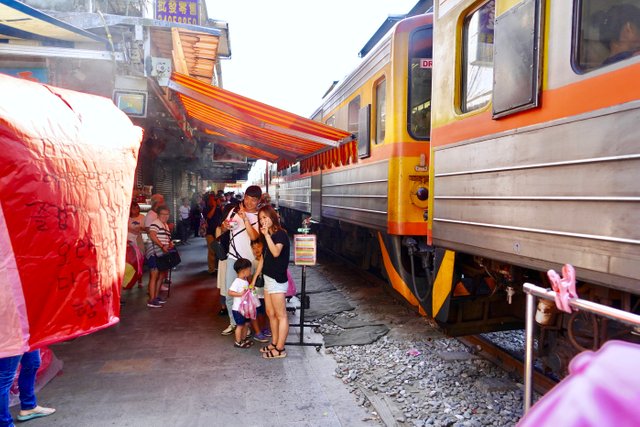 You might be wondering why this poster has cats releasing lanterns. That is because one of the towns called Houtong is also known as Cat Village. It is a small town that has an unusually large population of cats. In a later post we will have the opportunity to take a closer look.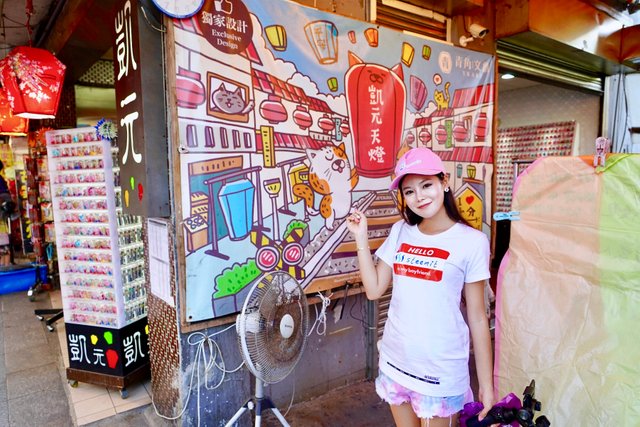 This is the famous Jingan Suspension Bridge which is just behind the Shifen Station. It connects Shifen with Nanshan Villages and was also used for transporting coal. Today, it has been transformed into a pedestrian bridge!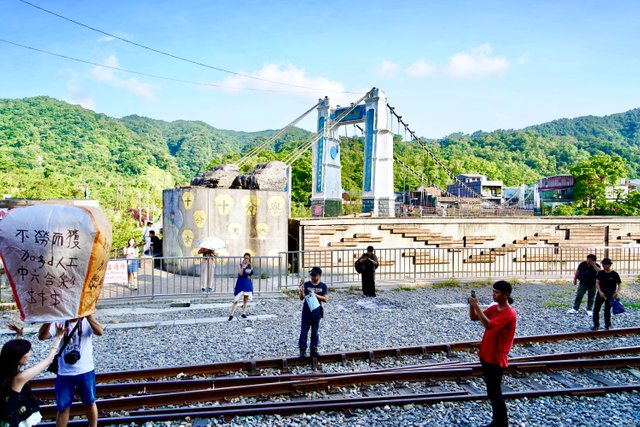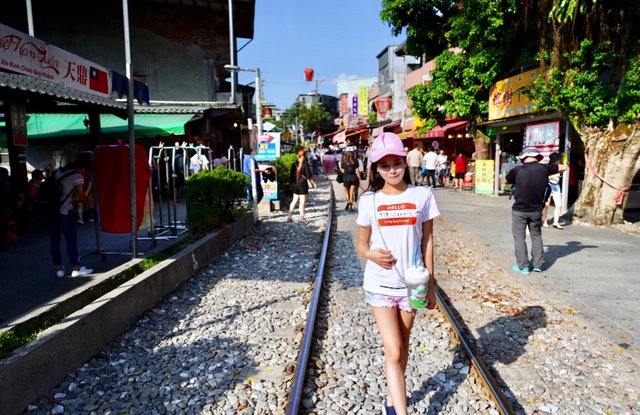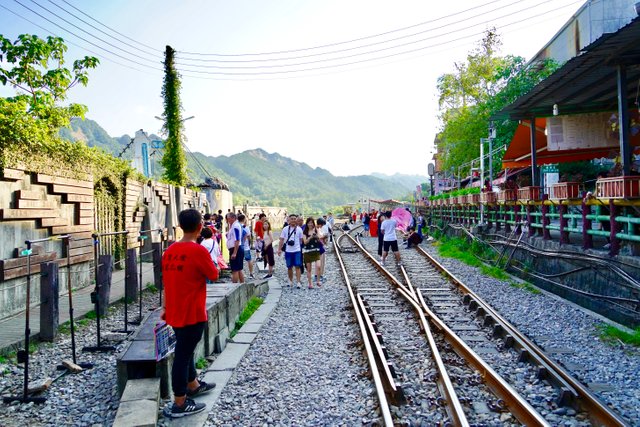 Sky Lanterns
I'm sure by now, you must be wondering what the multicoloured flying lanterns are for. They are in-fact historically used as a signalling system for people working in the railroad industry. Today, they are an auspicious activity where visitors can write their wishes in calligraphy on the sides of the lantern and then release them into the sky.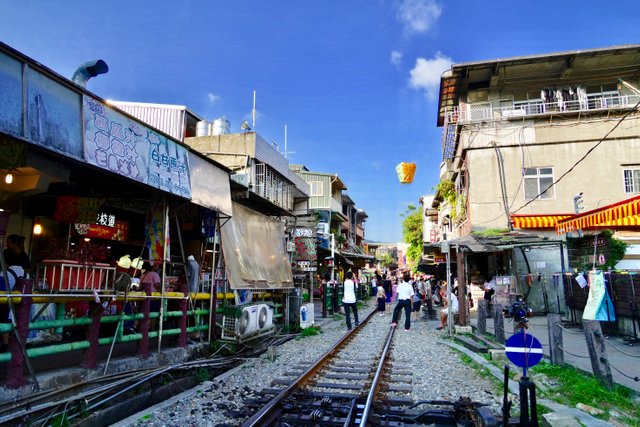 Each side is an opportunity for you to write down things you wish for. Most people will wish for health and prosperity but there are lots of suggestions provided in the small booklet if you run out of ideas.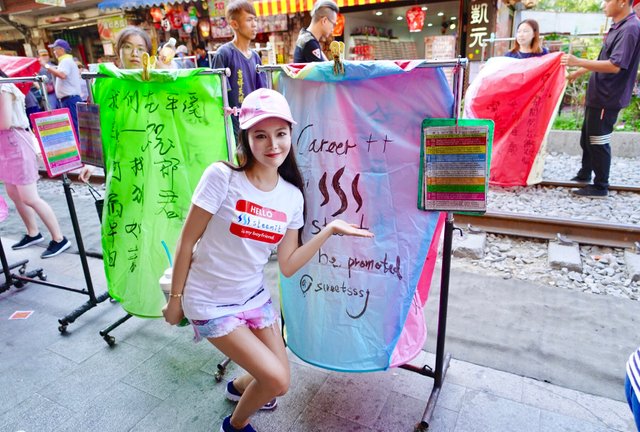 Of course I wished for a bright and prosperous future for Steemit. Little did I know that just a few months afterwards, Steemit and indeed the rest of crypto would grow so much. It seems as though my wish is beginning to come true!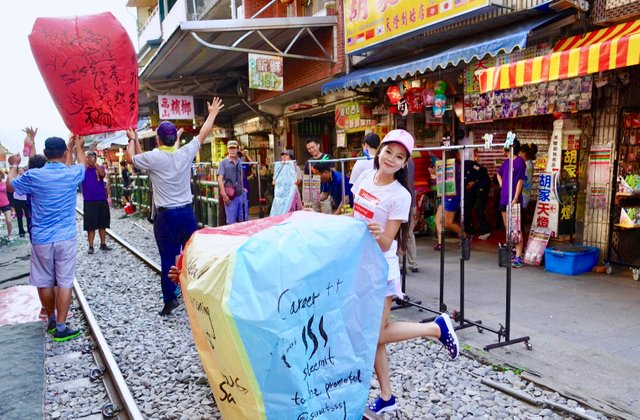 Once you're done writing, the lantern is lit and then set free. Rising like a hot air balloon joining the many others drifting in the sky!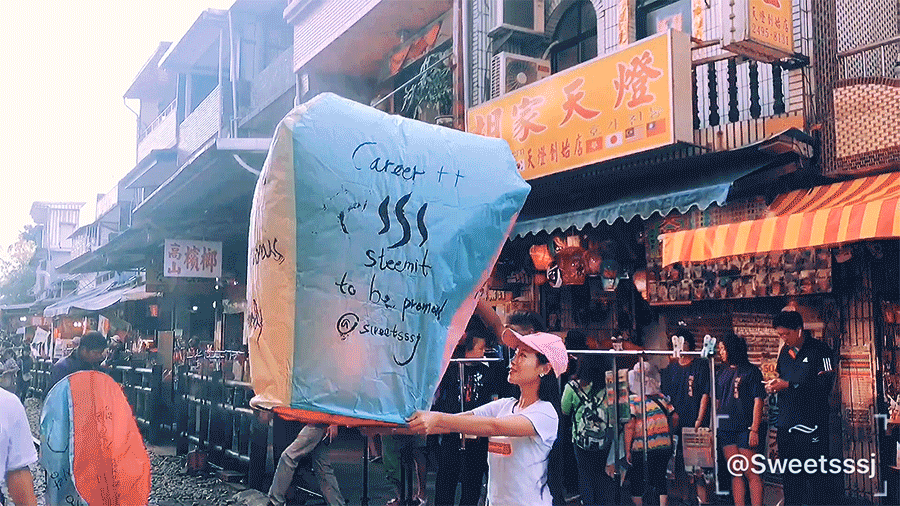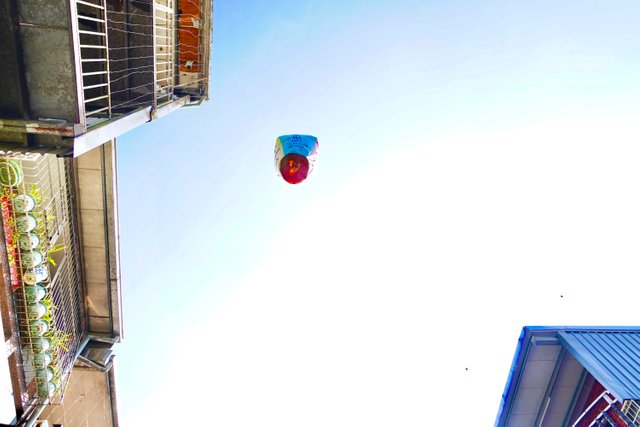 Make sure to check out the video!
---
The Pingxi District remains one of the most visited tourist attractions in Taipei because of it's well preserved Japanese history, but also because of it's beautiful natural landscapes. When there is so much Japanese colonial architecture, and local Taiwanese ambience, it is easy to neglect the beautiful mountains and landscapes which make for a beautiful and historical setting.
Each year, Shifen hosts one of the most amazing sky lantern shows for the Lantern Festival. On this day, thousands of lanterns will be released into the night sky almost illuminating the entire area with the thousands of burning flames in each lantern. It is such an amazing event that it has been recognised as one of the must attend festivals in a persons lifetime by multiple travel guides.
Experiencing it first hand made me wonder what the atmosphere would be like during the Lantern festival (which itself is an important festival to mark the last day of the beginning of the Chinese New Year). Perhaps I will make a return one day to attend this lantern festival and double up on my auspicious wishes for Steemit!
As always, I appreciate your upvote if you liked the post, do follow me for more travel adventures and leave a comment!
Merry Christmas and Happy Holidays!

在过完一个浪漫有温度的圣诞节之后,我想继续带大家畅游火辣热情,阳光明媚的台湾。眼前这片蓝的让人心都融化的海叫做阴阳海,它位于台湾新北市的瑞芳区。你也许已经发现了,在那肆无忌惮一蓝到底的海面上,有一丝不寻常的颜色,这里其实是台湾东北角滨海地区的一大特殊地理景观。你眼里那一抹金色的海水,还要归结于这片土地丰厚的矿物资源,或许是因为天生的矿石影响,也或者是后天人为开矿,开采时的矿石裸露在外,经过雨水和地下水的溶解,行成矿酸,使得水中长年矿物质含量颇高。因此入海口一半金黄另一半碧蓝的奇观,被永远的留在了这里。这样听起来,阴阳海的名字是不是更加恰当了?只可惜看到金色的海水因为污染造成,再美的景色还是忍不住叹息。
多么庆幸自己赶上一个万里无云的好天气,空气里没有一点污浊,可以让大自然以最完美的形式呈现山清和水秀,想象一下,这里的居民,每天享受的是怎样不一般的仙境。远处的山上清晰可见如同长蛇一样,绵延直上的黑色烟道,它们是工厂沿山势构筑的排烟管道。而这些管道是禁止游客参观的,因为至今内部仍然含有大量的有毒物质-砷化物,会对身体造成危害。黄金瀑布位于工厂上方,形成黄金水奔流直下的原因和阴阳海有些相似,因为早期盛产金矿,矿山岩层外露,雨水带着矿物质渗入地底,与地质内的矿产起了化学作用,酸铁水流经层层山沟,从而形成了独特的黄金瀑布景观。然而美好的事物往往都离现实比较遥远,这样金灿灿的流水也是摸不得的,水中带有砒霜的毒,所以远远观望的美才是最美。
接下来到了让我期待已久的地方,平溪十分老街,说到这里,不得不提的就是放天灯了。记得当年轰动一时的《那些年,我们一起追过的女孩》好像是第一部让我对铁轨上放天灯的场面印象深刻的电影,没想到几年之后,我可以亲自来感受这份放天灯的喜悦。从来没有放过天灯的我一来到老街就特别兴奋,四处找寻缓缓升空的幸福天灯,光看看别人放飞梦想我已经开心的不得了了,那等到自己放飞天灯的时候,还不是要开心到爆了。因为十分老街上有正在运营的火车站,所以十分会抢镜的小黄火车会不时的从老街中央开过去,非常特别的体验。也让我想起了几个月前刚刚去过的泰国火车菜市场,有火车,有集市的地方,就是充满了爱。
我在想十分一定是个十分幸福的地方,因为天空中飘满了有心人美好的愿望和祝福,会让这里的空气都变得加倍甜蜜吧。我开始要制作一个属于我自己的心愿天灯了。原来选择天灯的颜色也很有讲究,每一种不同的颜色都代表了不同方面的愿望,家庭,事业,爱情等等,你可以选择四面不同的颜色,并用毛笔将你每一面的心愿填满。书写天灯的方式也很有意思,店员会帮你把天灯挂在晾衣架上面,写好之后充气,点火,起飞。写到事业的部分,我想起了Steemit,所以立刻写下来对Steemit新一年的美好祝福。就这样我的心愿在我手中缓缓升空,带着美好的期许飞向深邃的蔚蓝天空,在这里,幸福的天灯成了人们寄托情思的载体,而那好似天灯尾巴极具生命力的火焰,仿佛让我离心愿更近了一点。
深呼吸,有些不敢想象,在写下标题里的数字之后,才发现这是Travel With Me系列旅游博客的第100篇文章。回头看看这一年多里的99篇美好回忆,感觉最要郑重说声感谢的,就是正在看文章的你们,感谢你们陪我走过了99篇游记,也感谢你们在读了99篇旅游记忆之后还没有厌倦我;感谢刚刚来到平台,充满好奇和激情写文章的你们,也感谢那些已经不太在平台上活跃的老前辈,也许我们今天才认识,也许我们已经是老朋友,我们以文会友,其乐无穷。在此真心的感谢你们对我的博客不遗余力的支持与帮助,感谢你们,一直都在。
最后,借着刚刚过去的圣诞节,这个空气中都弥漫幸福的甜和暖心愿望的佳节,我也对自己许个愿。记得林俊杰有一首歌《第几个一百天》,歌词里一句:第几个100天越来越有感觉,我也希望在Steemit的日子,无论我写了第几个100篇,对写作还是初心未改,越来越有感觉。谢谢大家阅读我的文章,希望你们能够喜欢并享受今天的内游记,我们第101篇再见吧。