Travel with me #118 : Ximending (西門町), Taipei!
---
Dear Steemit Friends:
I am back to writing and I have missed you all! I have been doing some exciting things for the last month, which I am excited to share with you in the future, but for now it's top secret! You may try to guess what I've been doing but I will be revealing nothing until the right time. I like to build your anticipations!
In today's blog I present to you a local view of Ximending which is an area of the Wanhua District in Taipei in Taiwan! Ximending is an important area in Taiwan's capital because it serves as a central source for fashion, culture and social activities. Most of the little area in the middle of the city is pedestrian, the first pedestrian only zone in the entire country. This makes it an amazing place to spend many hours, strolling around at your own pace with all of the other fashion lovers.
Ximending neighbourhood has a heavy influence on the youth and pop culture of the capital. It blends Taiwan's fashion in with other cultures from Japan and also the west. It has thousands of shops, stalls and food outlets, making it a great place to spend the entire day just soaking up the atmosphere of modern Taipei. It also boasts twenty theatres which are very popular, making it not just a centre of pop culture, but creative culture too.
We will explore all this charming shopping district has to offer from theatres to markets to shopping to art and of course, to food. Are you ready to start exploring with me? Let's go!
Ximending Red House Theater, a Japanese relic
---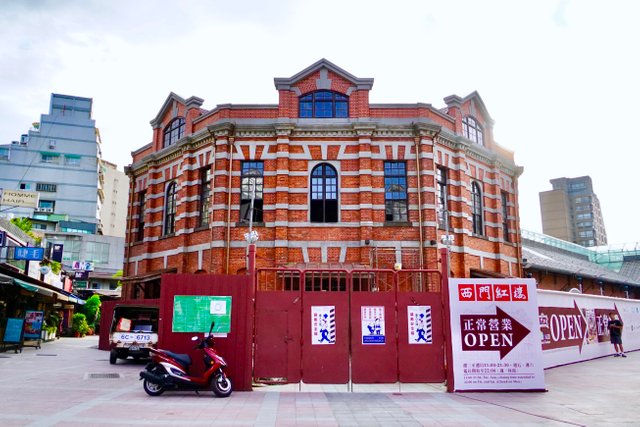 So famous for its theatres, the most iconic is the Red House Theater which was built in 1908 to serve as a market place during the rule of the Japanese. In 1945 its use changed to become a theater and it soon became one of the most popular, and visually impressive. It is classed as an important historical site and for many, it's the heart of Ximending, representing all things artistic and cultural and providing a beautiful focal point to the large central square.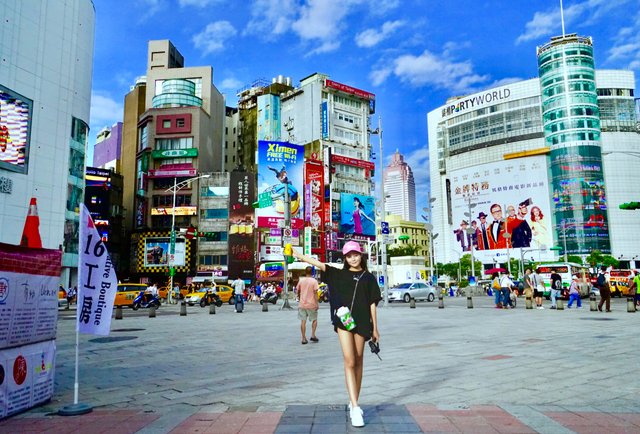 Surrounding the Theater you find a stark contrast between its age and the modern age. As soon as you turn around from the old red bricks you are met by concrete, high rise buildings and advertising. I love the mix of old and new. Red House Theater or Ximen Red House as it is sometimes known, was the heart of bustling commercialism in the area during the Japanese rule and then the heart of culture being used as an opera house and movie theatre. It's a great metaphor for Ximending which itself has seen ups and downs, re-purposing and rejuvenating.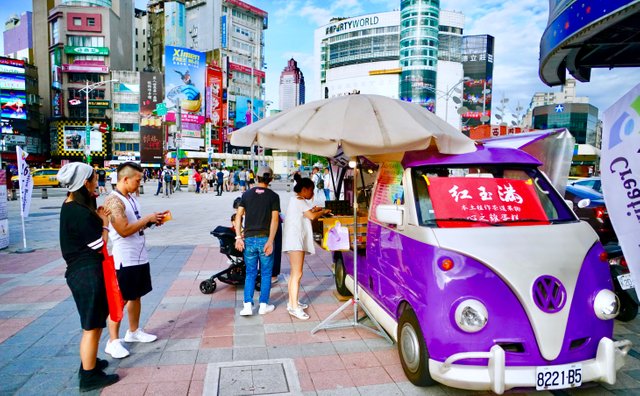 Once the centre for theatre goers and shoppers, the area lost much of its popularity in the 90s. In a clever move, the city pedestrianised the area, causing millions to flock back to the area and enjoy the more relaxed shopping atmosphere. Taking advantage of the pedestrianisation and increased popularity, market stalls and food vendors scatter every available space in Ximending meaning you can find anything you could ever want to buy and eat.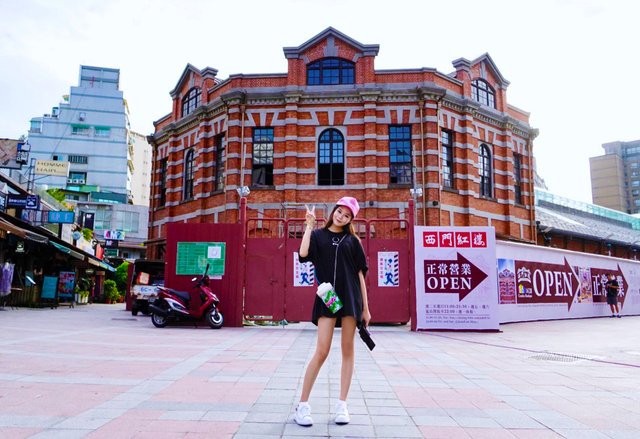 Street art and pop culture from the youth of Taipei!
---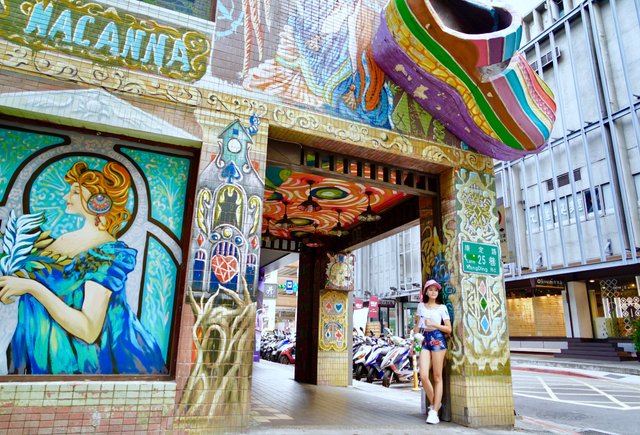 Many of the open concrete surfaces of the modern buildings have been heavily painted, some legally, some not. But all of the art found in Ximending has its own form of beauty. It represents the hopes, dreams, frustrations, interested and lives of the young people that live here.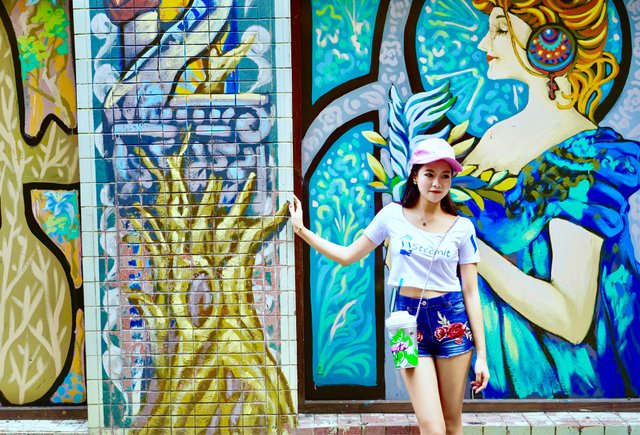 On many buildings, nearly every surface possible is covered in paint.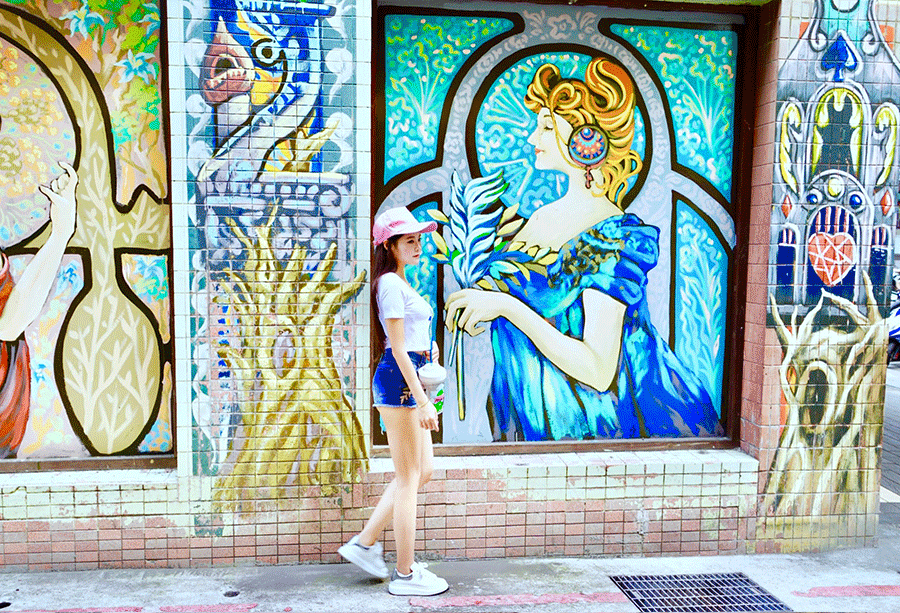 I loved how the artist here had covered the pillars of the building with natural motifs like the tree trunks. In a place where there is very little greenery, they bring their own.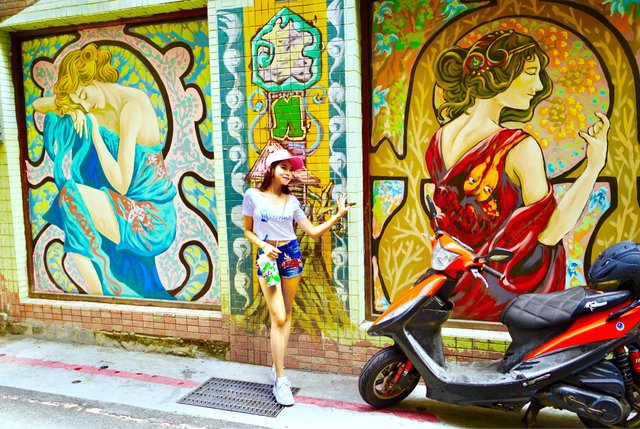 Almost Renaissance style figures mixed with modern motifs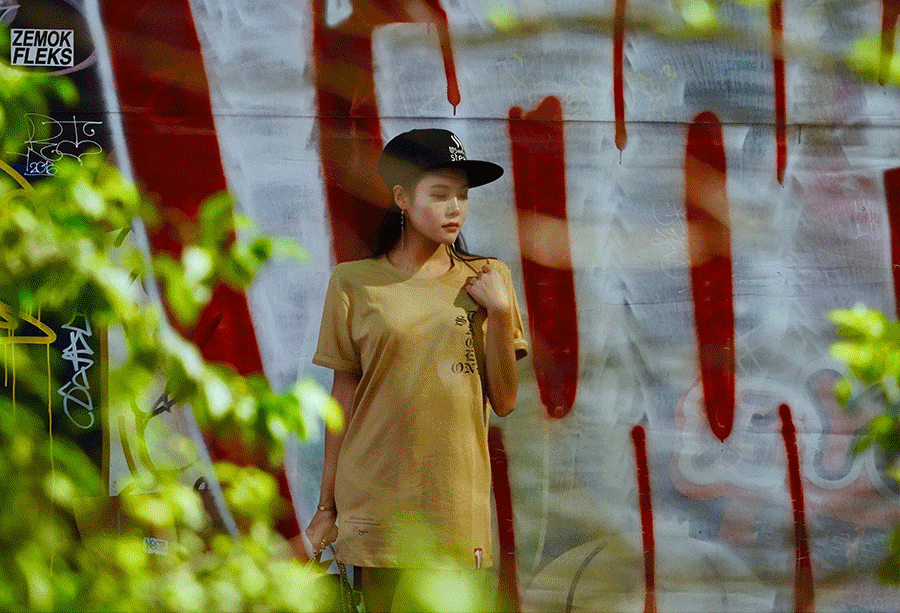 Modern style graffiti contrasts and mixes with each other
The streets and shops of Ximending
---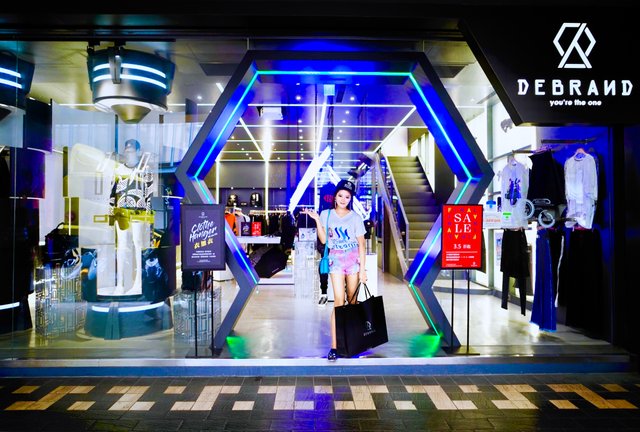 Apparently there are more than three million visitors to the shopping district every single month. Retail certainly sits at the forefront of the appeal for most of these visitors who come for the hundreds of different designer shops and fashion outlets.
The focus is very much on the young with shops vying for who has the best and most attractive shop front. They range from grungy to modern to futuristic, but what they all have in common is that they are all stylish! The crazy neon shapes of Debrand caught my eye and of course I ended up buying something too.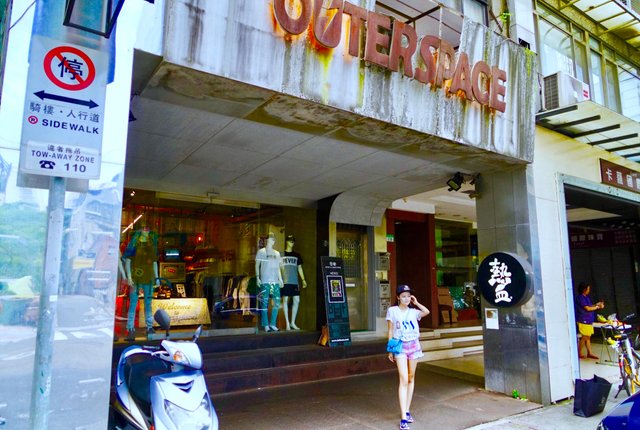 This storefront had a look like the game 'Fallout'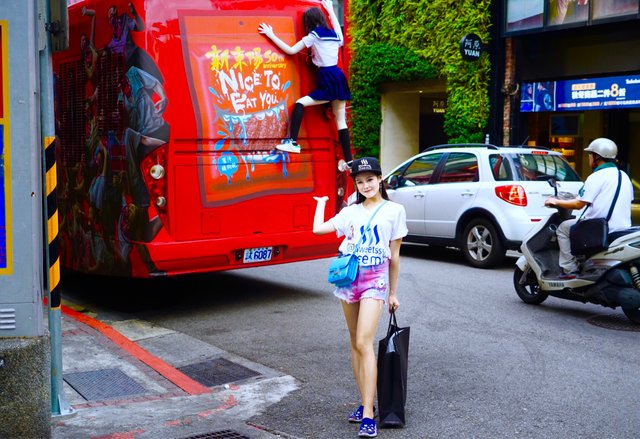 Now that's some crazy advertising on the back of a bus! The strangest I've ever seen. Certainly made me stop and look at it when I thought a girl was climbing onto the bus!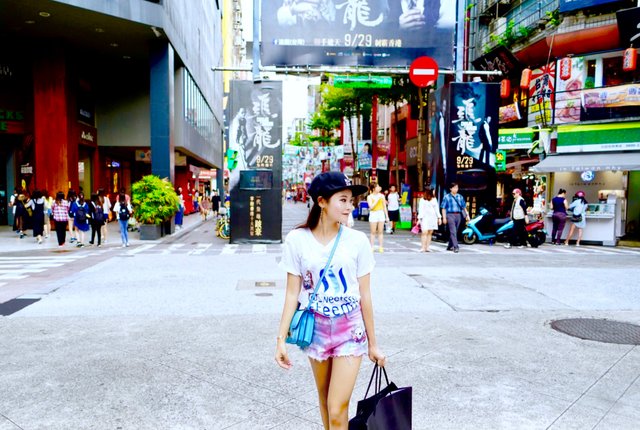 One of the central pedestrianised shopping streets full of shops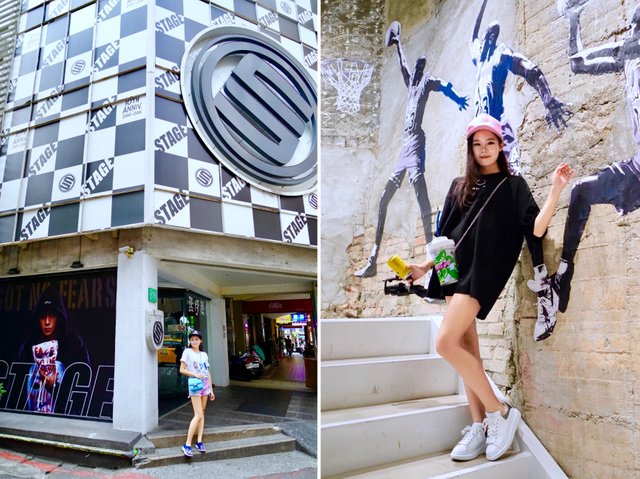 Art is everywhere here in Ximending. Not only is the fashion a change for people to express their culture and their creativity, so too are the walls. This spray painting of Michael Jordan reminded my very much of the famous graffiti artist Banksy... does he also work in Taiwan?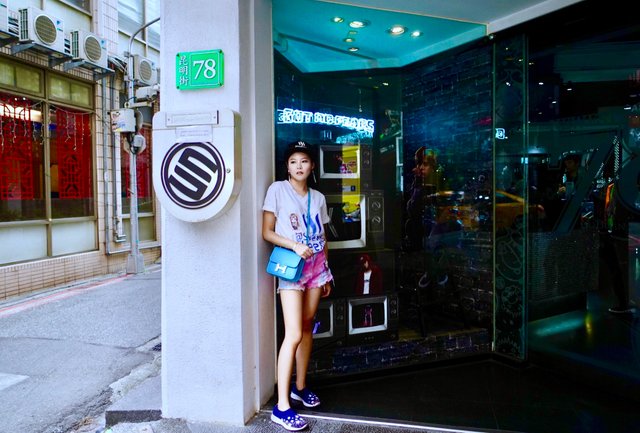 Life in Ximending starts early!
---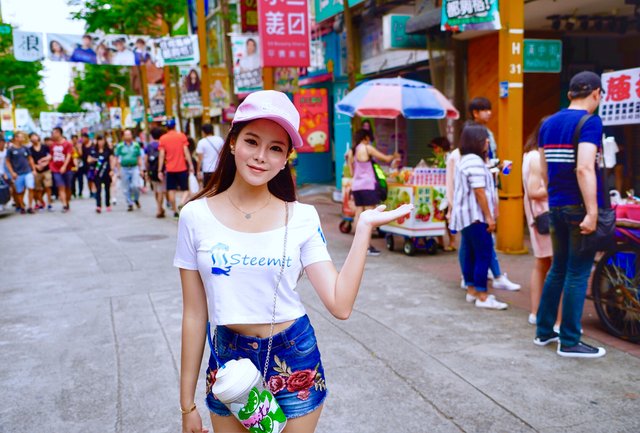 If you've read my blog long enough you'll know that I love a good night market. I don't know if you've ever been to an area that has night markets, but usually in the day they are quite quiet and a little eerie without the hustle and bustle of the expected market stalls. Ximending is amazing at night, but it is almost as busy in the day! I was up early and ready to explore and I was amazed at how many shoppers there were here already. Perhaps it's just a 24 hour shopping festival!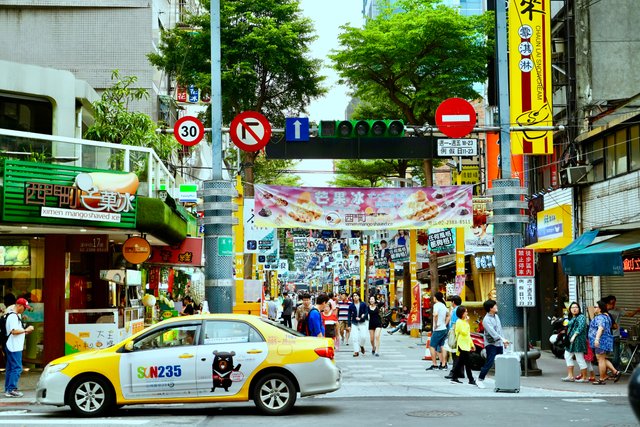 There were loads of market stalls set up everywhere and I realised that many people were also visiting the area for breakfast, not just for dinner at the night market! I'll call it the Taipei Breakfast Market.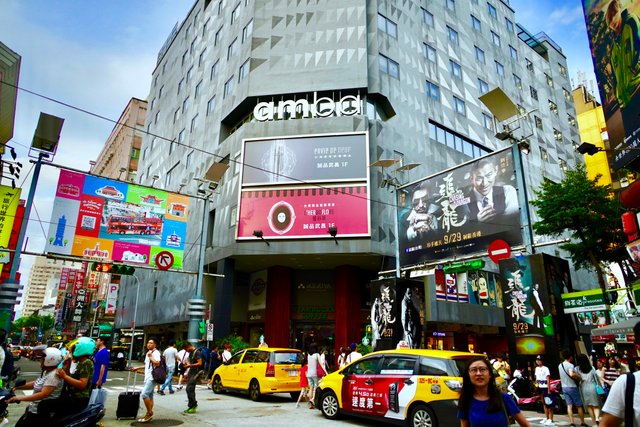 Some of the many adverts for shows, shops, movies - colour everywhere!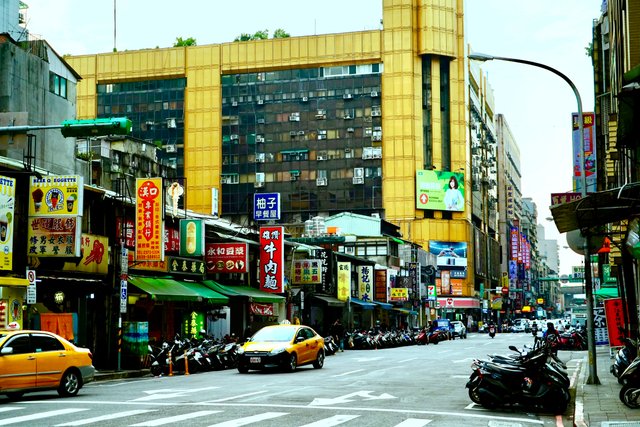 Life in Ximending stays up late...
---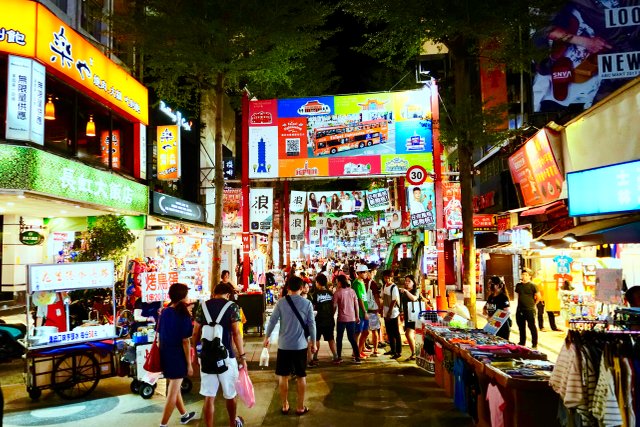 What shopping district would be complete without a night market? Ximending is known as the Harajuku of Taipei, and that becomes even more apparent at night. For those who don't know what Harajuku is, it is a district in Tokyo in Japan. It is synonymous with youth culture in Japan and is one of their centres of new and cutting edge fashion. Widely known as one of the centres of the Eastern and Western fashion worlds! Ximending is doing a great job at becoming a rival!
There are reportedly thousands upon thousands of shops and stalls in the district and looking at these photos again, it's not difficult to believe. Follow me now as we walk through these thousands of stalls. Most of them are fashion or food related but, as you can imagine, you can find a bit of everything here.
Though night markets are always overwhelming, they are also often extremely cramped, making it hard to see the size of them. You are more focused on squeezing past the person in front of you. But Ximending is such a large district and is so well managed, that you can see down most streets to see the sheer number of shops and stalls available. That's what made it so overwhelming!
Together now, we'll explore this market and I want you to take time over each image to see the colours, the items for sale and to soak up the atmosphere with me. They are talking better than I ever could!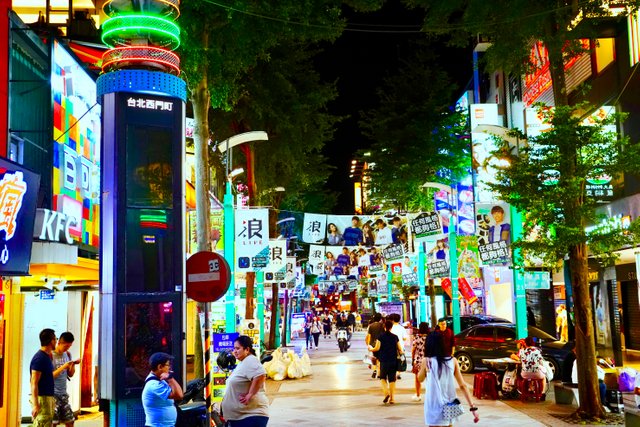 At night, it's nearly as bright as in the day time with so many lights!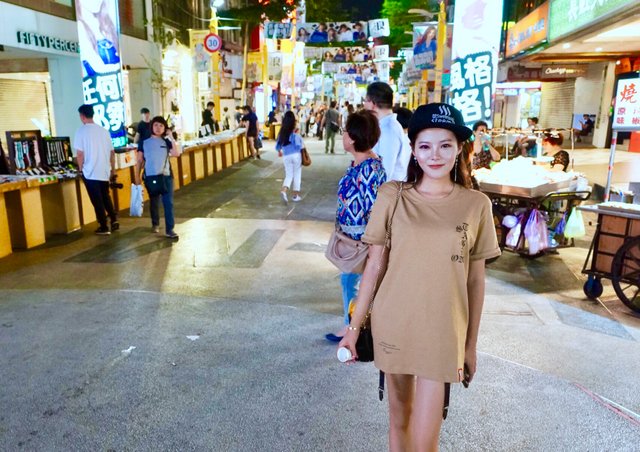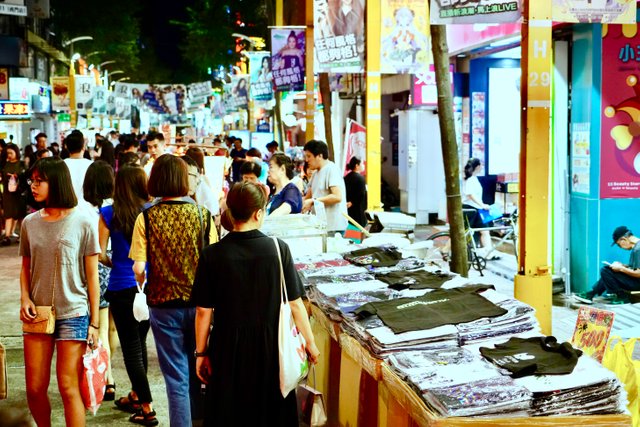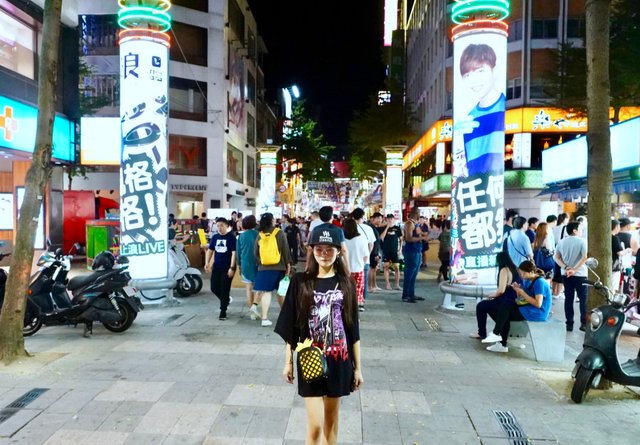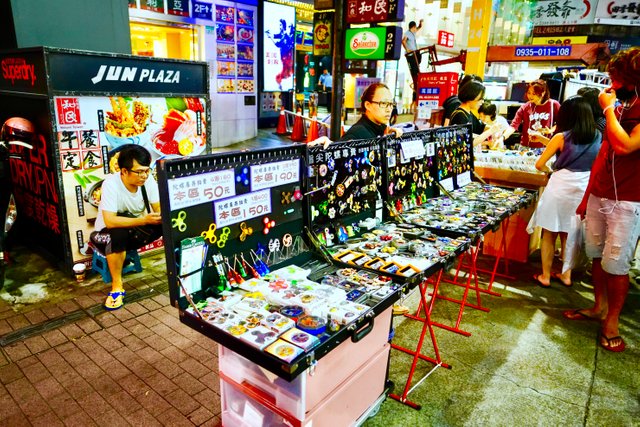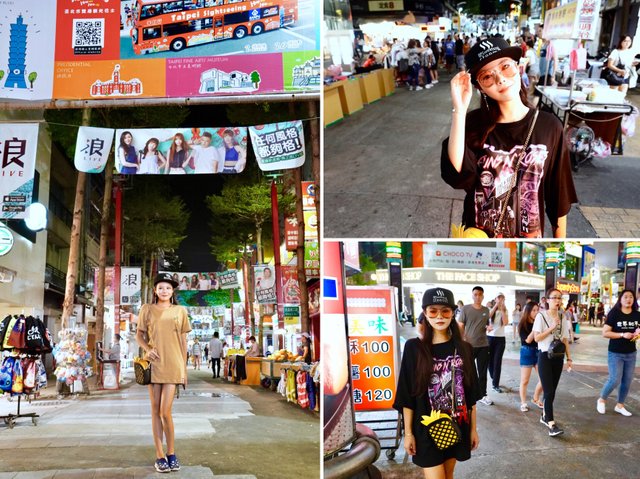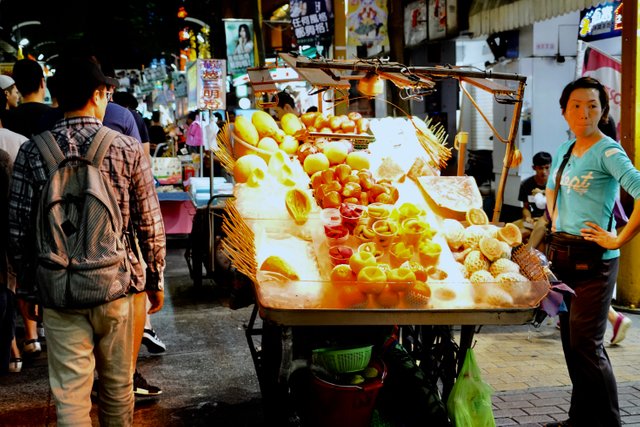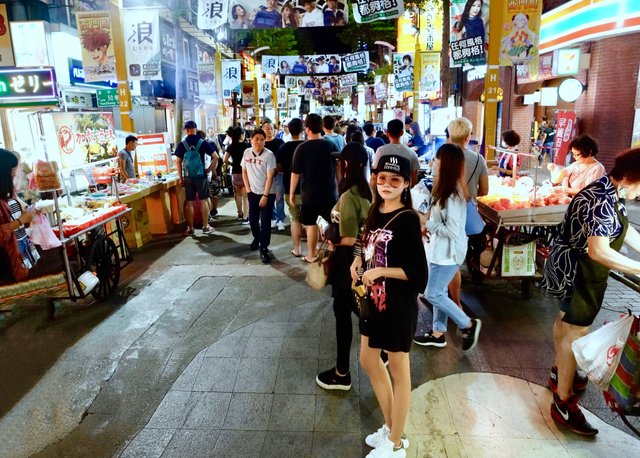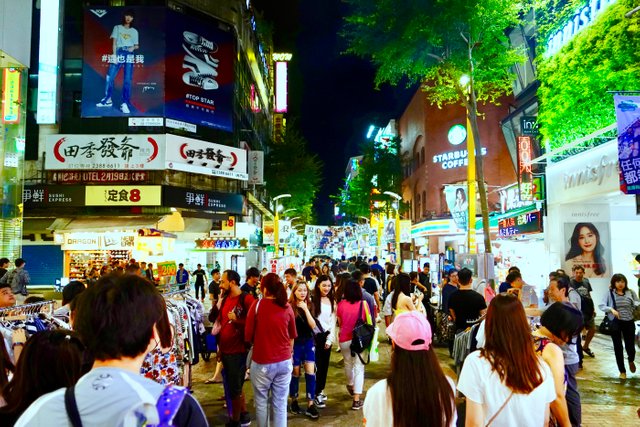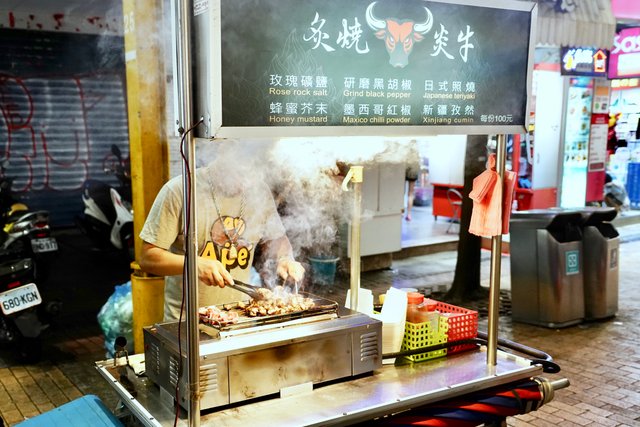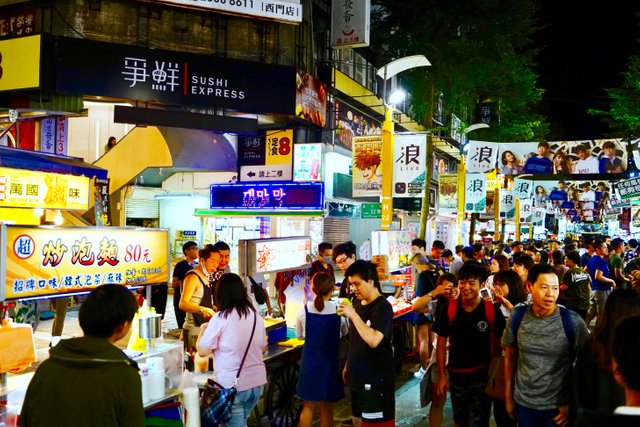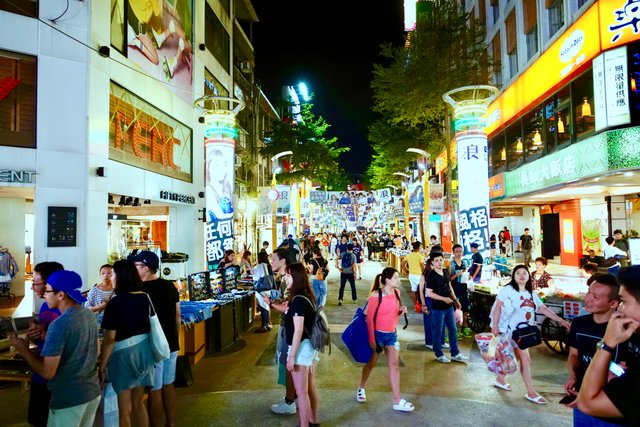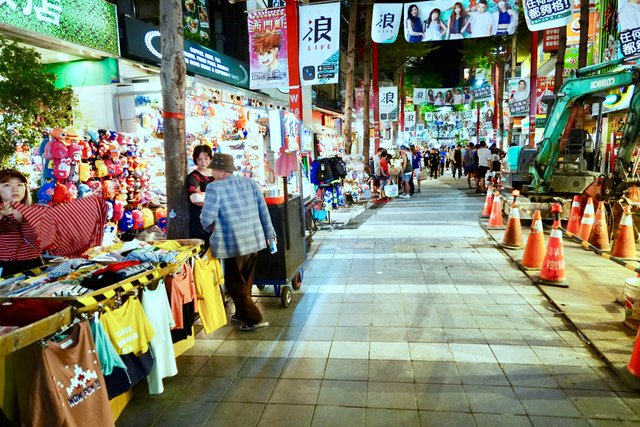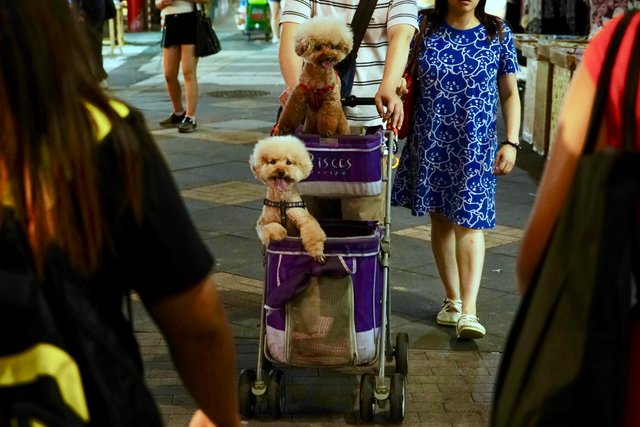 Of course, what post of mine would be complete without animals! Look at these spoilt little guys. They have their own chauffeur to take them around Ximending to shop for their favourite things. I bet they picked out some new collars for themselves, some tasty doggy treats for dinner and perhaps were on the look out for a new bed to sleep on too!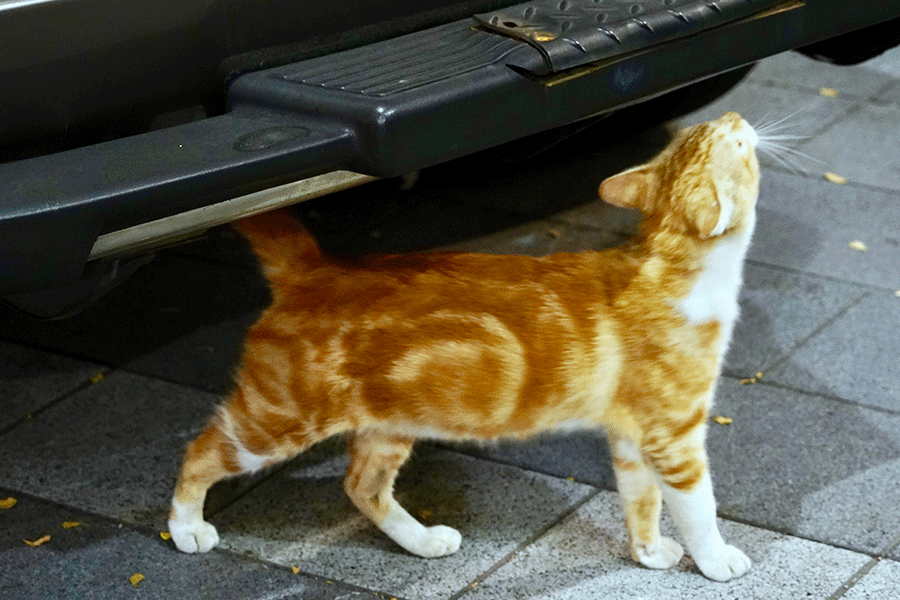 Even cats were getting in on the action in Ximending!
Ximending isn't just a night market
---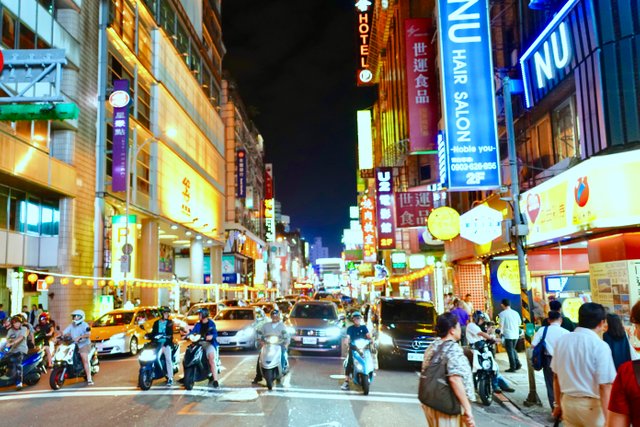 Ximending doesn't just have market stalls. All of the shops stay open late too, making it a fashion shoppers paradise. You all know me, I love my clothes and my fashion and I was in absolute heaven here.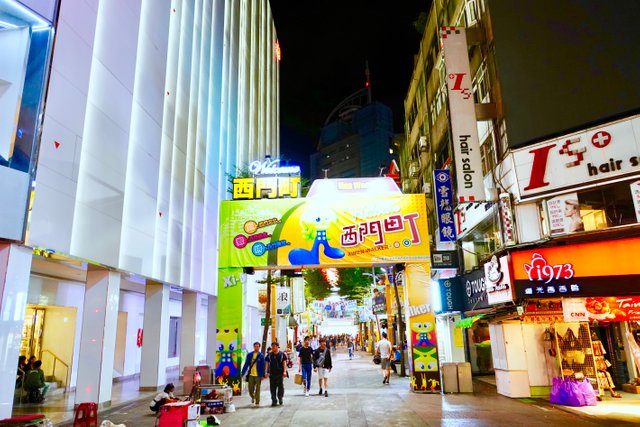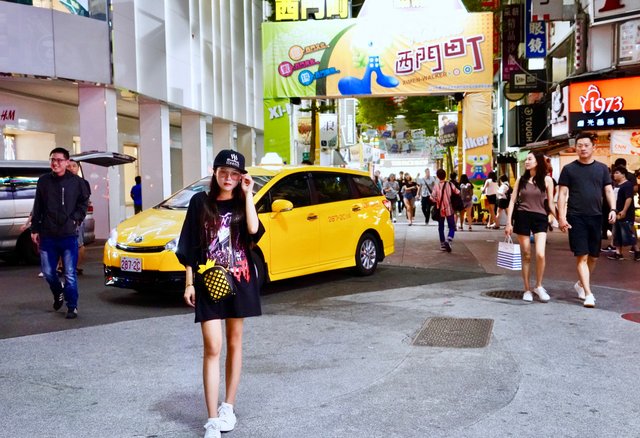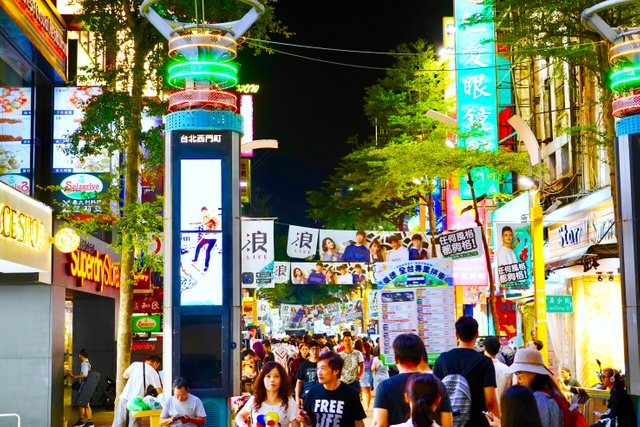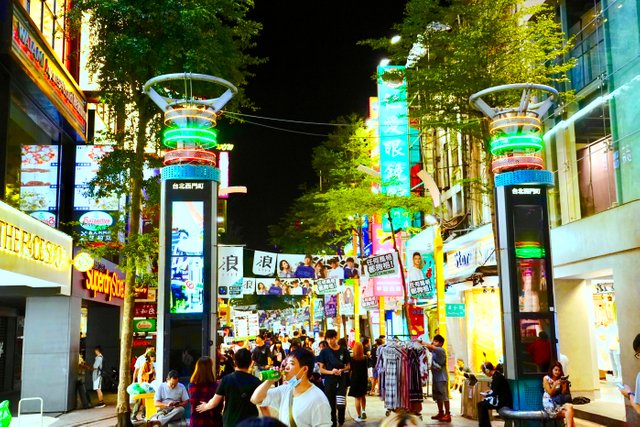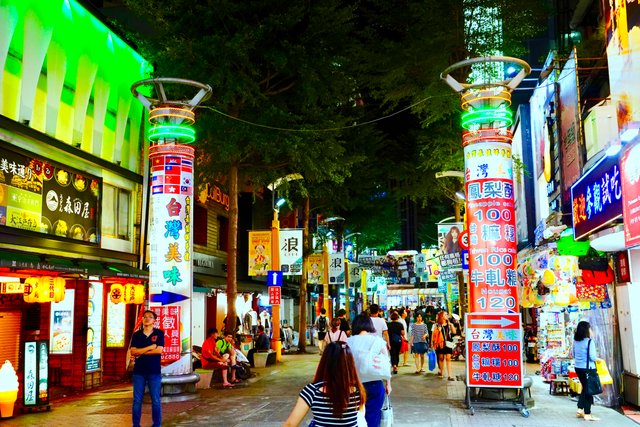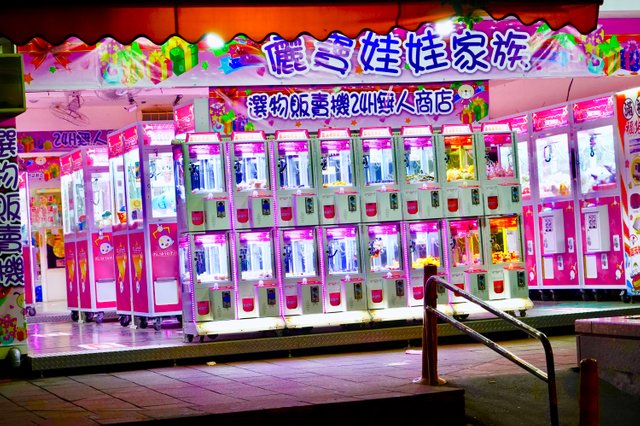 A very popular game in Taiwan and in much of Asia is the toy grabber machines. Found in every single arcade all over the world, they are a glass cabinet filled with items, usually toys. The game is, you need to use the claw located in the top of the cabinet to grab and then drop the toy into the slot where you can retrieve it! I have seen perhaps one of these in arcades in other countries, but in Asia, and particularly Taiwan, they are much loved. So as you can see here, there is a 24 hour toy grabber machine arcade with dozens of game cabinets! You could play 24 hours a day, 7 days a week if you wanted... and of course in the best colour ever too.
Not just theatres, cinemas too!
---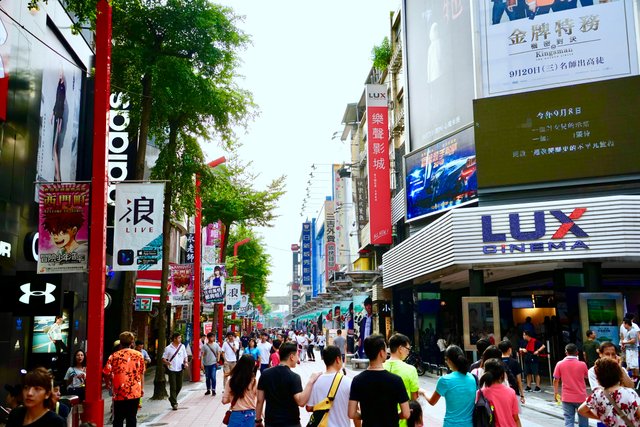 Locally, this street is known as Cinema Street and it's pretty obvious why. There were dozens of cinemas, all showing the best of Eastern and Western cinema, Anime and more obscure films too!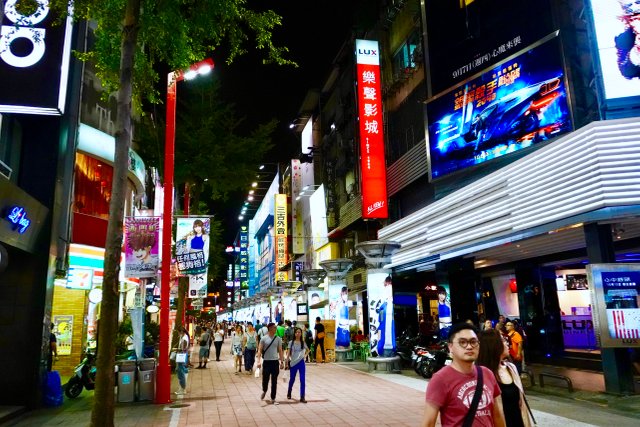 As you can see, the street comes alive at night when all of the bright lights of the big screens light up the street and tempt you in to watch their movies.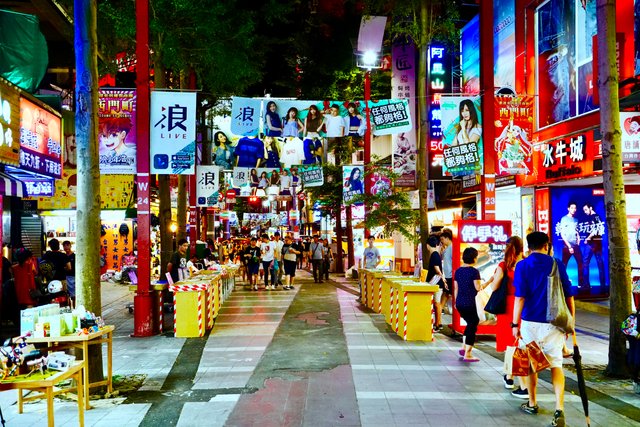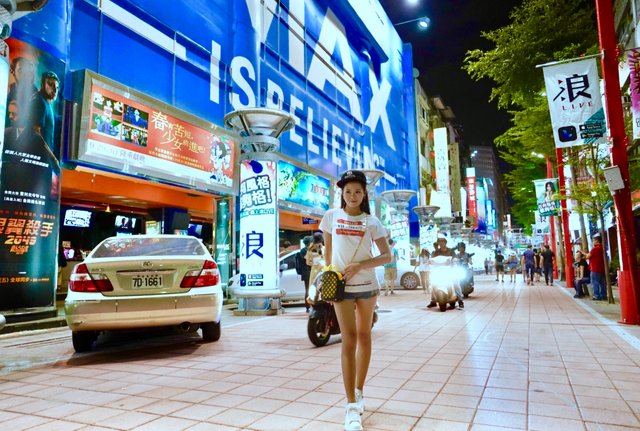 This IMAX cinema is absolutely huge. Which movie would you want to watch on IMAX?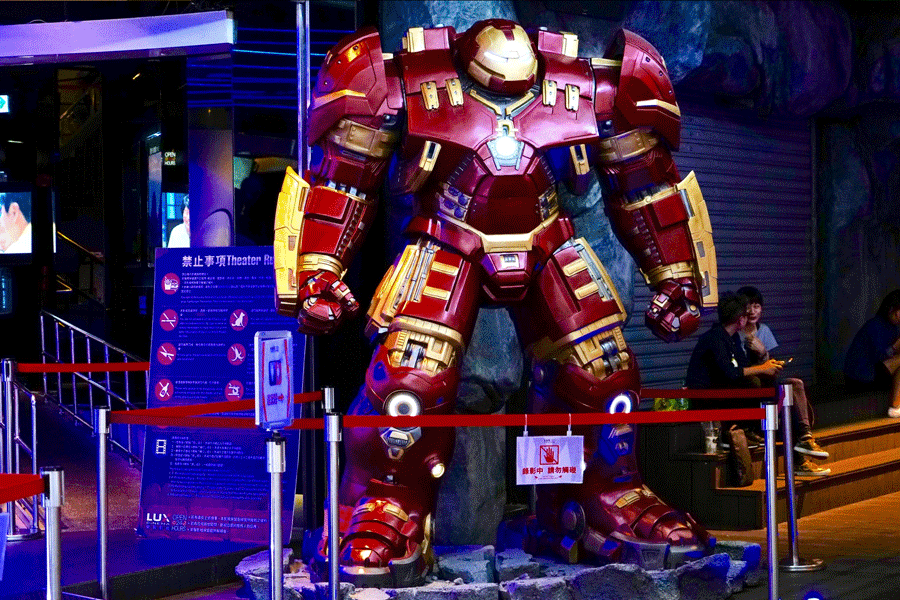 One of the cinemas showing off giant replicas of your favourite movie characters!
Singing the night away with some Karaoke!
---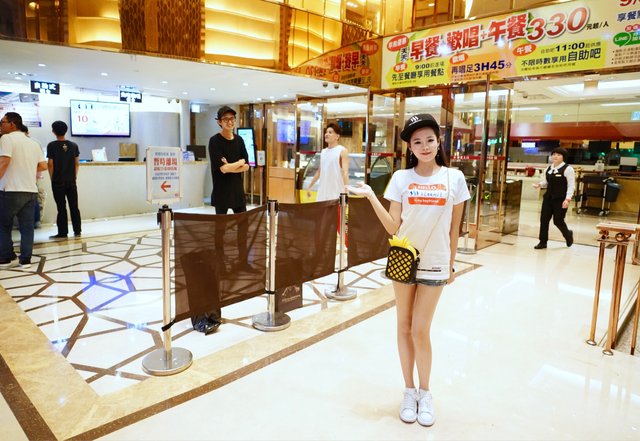 As many of you know who have followed my blog for the last couple of years, I love to sing and dance and express myself! Of course, that's one of the joys of blogging on Steemit in the first place, to express yourself and all your loves and passions. While exploring, near the end of the night, I saw a beautiful KTV place! I just had to go and have a go because I LOVE karaoke.
Karaoke bars are usually called KTVs in Taiwan which means 'Karaoke Television' and they are extremely popular, as they are through much of Asia. There's many different ways to take part in Karaoke, from clubs where you can take a turn on stage, to a set up in the corner of a bar, to the private booth set up.
Sorry, if you've never heard of Karaoke, let me explain. Karaoke was first developed in Japan and helps normal people like you and I, have fun, sing along to your favourite song, and feel a bit like a pop star. They play recorded music, without the usual singing, and then you sing along to the words which are printed for you to sing a long to on a TV screen. The karaoke market world wide is said to be worth $10 billion! As you can tell, it's very popular.
The first Karaoke machine was build in 1971 by Daisuke Inoue, which played music and allowed people to sing a long to the words through a microphone. Originally, the machines were in restaurants and bars, off to one side, for people to use. Over time, the more private style of entertainment started to take off where you could have a private area with your group of friends to have a good time and sing together - these are my favourite because I still get nervous if I had to sign to a room full of strangers!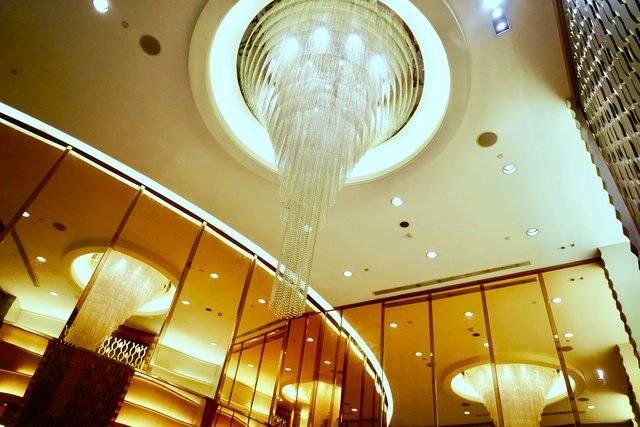 Look at these chandeliers!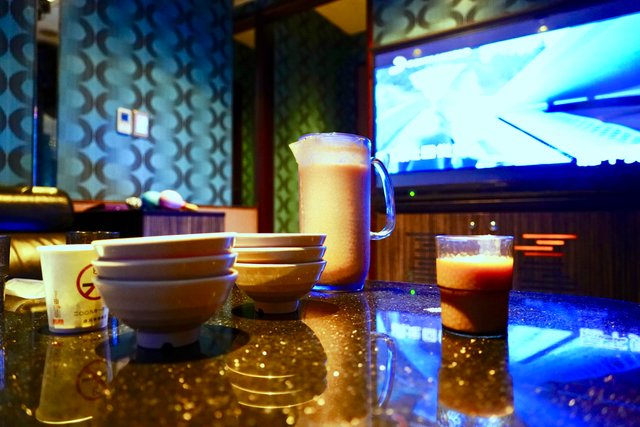 What I love about Karaoke is that it is very fun and very liberating. Your first time you are very nervous to sing in front of people, even just your friends, but you are all doing it together and that makes it great fun. You can express yourself and just have a great time, usually socialising around some food and drinks, and cheering each other's performances.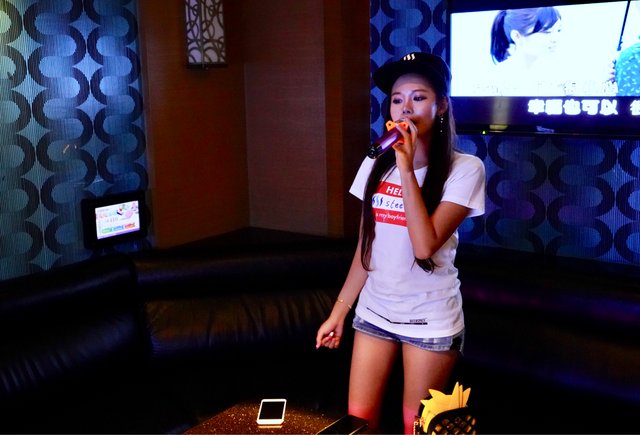 Thank you for joining me on my day shopping and touring around Ximending shopping district. It's really nice sometimes to be able to just take a step back from the hectic daily life and just enjoy a day walking around town, with no real goal other than to enjoy ones self and just 'be' in that place.
I hope you could see and enjoy the area and the atmosphere. Of all of the activities of the day, I saved the best until last. As you can tell I love KTV Karaoke and I just wanted to share that love for it with you all. I hope you enjoyed learning about it if you haven't heard of it before and if you have, but haven't tried it, you must go and experience it - don't be nervous or shy and just take some good friends.
If you've enjoyed the blog then please vote and follow and I would love to catch up with all of my new and also long time followers in the comments below. Thank you and have a great day!
---
亲爱的Steemit好朋友们,想你们啦!也许你们发现,最近这个月我在Steemit的动态没有那么活跃,其实呢,虽然人在旅途,从心底里我可是一分钟也不曾离开过平台,没错,我是去积累更多令人兴奋的疯狂旅程啦,在以后的日子我会在Steemit上和大家细细分享。
接下来让我们继续台湾的旅程吧。以前常常听到人们夸赞台北是个不夜城,结束一天的游览,正逢天色将晚,我迫不及待的踏上了通往台北夜晚最热闹街区的路,说的就是台北西门町。西门町位于台北市万华区东北方,是台北西区最重要并且国际化程度最高的消费商圈。在我的认知里,西门町绝对是台北年轻族群的驻扎地,在这里可以感受到整个台北的脉搏与心跳,这里仿佛汇聚了全台湾一切新鲜的血液,时尚文化还有诚意满满的夜生活体验。西门町的本地人用宽大的包容心,和热情充满激情活力的气质吸引了来自世界各地的游客。他们仿佛好奇的想要一头扎进西门町的世界,然后一秒钟变身最地道的台北人,感受全台北最接地气的时尚商区。
在西门町街口下了车,抬头看见高高挂起的西门町路牌,鲜艳的配色加上绚丽的打光,简直太醒目了,仿佛照亮了半边天。路牌后面延伸出一条街的广告牌,密密麻麻、五花八门十分吸引眼球,配合着动感的音乐,不仅给了我极大的视觉冲击,更让我体验到什么叫做心跳加速,那种心潮澎湃的激动。在西门町逛街,总是给我一种相见恨晚的愉悦,那么亲切又那么新颖。无论是工作日还是休息日,夜晚西门町的街道都可以用人潮汹涌来形容,街边布满了花花绿绿的店铺,老板们热情的招揽生意,仔细看每一家都很新奇,都有自己独特的创新。
其实西门町背后却有着一段深厚的历史,拥有台北市第一条指标性意义的徒步区绝对可以称之为这里的特色。当我初次听到西门町这三个字,就立刻联想到日本,这个地名确实取自日本,更神奇的是,只要你随便在街道上逛逛,总能发现不少日本文化的小元素,包括区域的规划,街边楼层的设计和盖建,让人恍惚间以为自己站在了日本大都市的路口。
町在日文中有着"田间小路"的意思,但到了今日更多的解读为类似于东京歌舞伎町的繁华街区。实际上在日治时代,西门町还只是一片荒凉的地方,后来日本人决定仿效东京浅草区,在这片土地开设休闲商业区,直到如今发展成充满了丰富多姿夜生活,吃喝玩乐俱全的休闲天堂。深爱热闹和探险的我,这次也如愿在西门町住了几晚,不仅体验了街道的人潮涌动,也赶上了各色活动夜夜笙歌,艺人做路演,丧失游行,街边随性的音乐舞蹈大派对,从早到晚,在西门町的圆形街口无间隙上演。接下来我就带领大家将西门町的文化娱乐生活一网打尽!
西门红楼
1908年的八角堂,红楼剧场,也就是如今的西门红楼,红砖砌成的八面型古迹建筑,算作是这里最早的娱乐设施。同时,这是我认为在整个西门町最为与众不同的建筑,在一座座高高耸起的摩天大楼和广告牌之中,更显的西门红楼古色古香,堆积着历史的印记,散发着耐人寻味的魅力和气息。我喜欢这种新与旧的冲突,给人独一无二的视觉画面。曾经的戏院已经落寞,如今红楼里面一层主要是咖啡厅和台湾特色商品的精品屋,并且免费供市民参观。而二层定期上演的相声、舞台剧和音乐会等艺文活动则是红楼的主要营业项目。说起西门红楼,给我影响最深的就是红楼曾经出现在马来西亚女歌手四叶草《好想你》的音乐MV里面,作为西门町地标出现,极其鲜明的特色。我很喜欢这首歌,之前在Steemit的唱歌比赛中也曾翻唱过。在红楼面前的中心广场合影,体会西门町古今融合的韵味。
活力四射的街头文化
走在西门町的美国街和纹身街,在一座座充满古早味的旧楼上,我找到了精致的涂鸦绘画和雕刻艺术,比如下面这座楼上凭空而降一只绘画成彩虹颜色的鞋子,而墙上色泽饱满的涂鸦则表达了西门町年轻人的热情,对生活的期许与爱,还有他们至高无上的理想。这种前卫、摩登的青春元素,给了西门町无限的生机。
西门町的潮牌店
不得不承认,台北的潮牌服装店是一个很有特色也非常受欢迎的地方,只要是对台湾演艺界略有了解的人,都可以在潮牌一条街上,找到熟知的明星所开设的服装店。在台北这样一个融合美国、日本等文化风貌的多元化城市里,诞生了不少独具匠心的设计师,引领时尚潮流的达人明星,比如罗志祥、吴克群、黑人等等。因为我对时尚、潮流和街头文化也非常感兴趣,西门町潮牌店里随性、自然、前卫和潮流的服饰也深深吸引到了我。就算是一件简单的T恤,也可以从设计细节上看到融合中西文化的潮流创新,这同时也代表了一种年轻,积极乐观的态度和生活方式。所以在西门町逛众明星的潮牌店也成为了游客们独特的享受。
西门町的早市
你不会想象到,西门町热闹繁华的生活景象是从太阳升起就开始啦!读过我之前文章的朋友们,一定不会忘记我所介绍的台湾各大夜市,而这些夜市所在地在早晨通常是冷冷清清,但是西门町却很不一样,可以说从早到晚都是人气十足。起个大早的我来到西门町的街道,看见西门町的本地人已经在上班的路上吃起早餐啦,一个挨一个的早餐摊,卖的全是让人垂涎欲滴的美食呀,台湾特色的金黄色煎饼,香喷喷的面线。
西门町夜市
西门町这里夜市的热闹程度可一点不亚于台湾那几个大名鼎鼎的夜市,街边吃的玩的用的,应有尽有,就算是纯逛也可以逛上很久,水果摊五颜六色的蔬果,各色著名的台湾小吃,很专业也很地道,这里夜市的丰富程度确实让人大吃一惊,基本可以定义为在西门町的一天,从清晨到午夜,从不会让你饿肚子。看来是夜市太好吃啦,街道上摩肩接踵,却压抑不住人们脸上洋溢的那种拥抱美食的幸福感,连狗狗们都迫不及待坐上推车,伸着脖子盯着烤香肠流口水啦。
西门町的电影一条街
1896年,西门町有了第一家戏院"东京亭",然而不止是戏院,如今的西门町有着一条繁华、见证电影脉动的电影街,20多家电影院,任何大片的首映式都可以在这条街上找到。走进电影一条街,铺面而来的是当今来自全世界新鲜出炉影片的元素和人物形象。最为特别的是,当所有商店在午夜打烊,电影街反而变得更加热闹,不愿就此结束一天、精力旺盛的年轻人早已在电影院对面的酒吧坐下,等待电影开场,就连旁边的24小时自动抓娃娃机店铺都是人满为患。我在西门町的电影院看了几场电影,无论是台湾本土电影还是进口片感觉都非常不错,几乎每家电影院都会有不同的电影供你选择,所以总可以在最合适的时间选一个自己想看的电影。
西门町的KTV
如果看完午夜场电影,却还不愿意回家,西门町的KTV成了夜猫子们狂欢的最佳场所,KTV门口站满了与朋友们聚会的年轻人,有的在等位,有的已经喝的面泛桃花,兴高采烈啦。如果看过我之前文章的朋友,一定对KTV不会陌生,毕竟,我曾经也是KTV和迷你KTV的常客,音乐的忠实粉丝。这一次我也有机会在西门町的KTV里面一展歌喉,这里的KTV拥有不被打扰的密封环境,绝佳的音响效果,饿了还有餐点准备,酒水饮料各式各样,真是太完美啦!
今天西门町丰富多彩的生活就介绍到这里啦,恐怕你也和我一样激动,想要亲自去感受一下啦吧,之后还有更多有趣的台湾旅行故事想要分享给大家!
---
▶️ DTube
▶️ IPFS