Go home through Solo or Ngawi, try to stop at Puncak Joglo in Wonogiri, Central Java. There are exciting activities that can be tried in Puncak Joglo that is flying with paragliding.
You can enjoy the panorama of natural beauty such as Gajah Mungkur Reservoir from the air with certified paragliding instructor. Paragliding flying experience from Puncak Joglo can be enjoyed by tourists about 10-30 minutes.
Chairman of the Village Owned Enterprises (Bumdes) Sendang Pinilih as the manager of Joglo Peak tourism object, Kamto said Puncak Joglo is one of the best places to fly with paragliding.
"So if anyone wants to fly, we provide a reliable tandem pilot who can enjoy the beauty of Wonogiri nature.It can be seen from the height Do not tell Wonogiri if you have not flown tandem in this Joglo Peak," said when met by Team Merapah Trans Java Kompas .com.
KompasTravel had tried to fly tandem with paragliding from Puncak Joglo. No need to trouble to fly tandem.
You simply follow the instructions of the paragliding tandem instructor before flying. You just run and jump until the paragliding fly.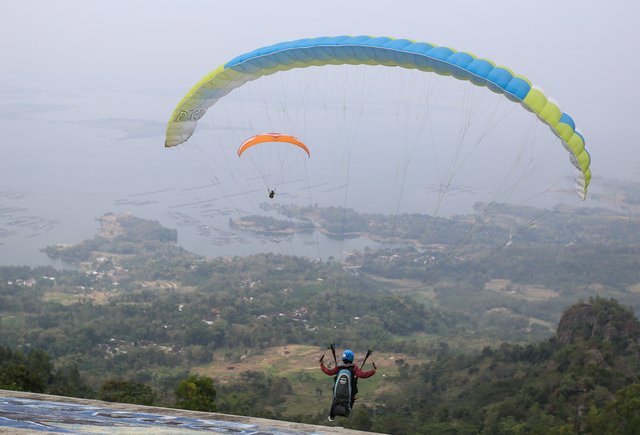 The sight of fish cages in Gajah Mungkur Reservoir and hilly contours can also be seen clearly. The air was hot enough during the day to fly.