On the 1st of August, I went on a month-long trip through Europe together with @reggaemuffin . Along the way, we visited many countries and Steemians. I wrote a diary during our travel, which I will post day by day througout September.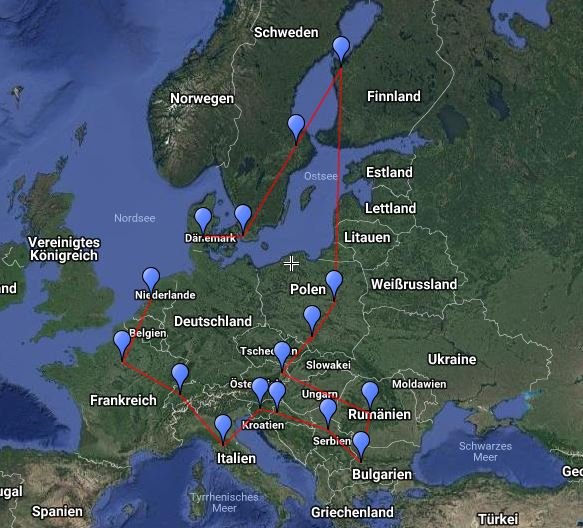 Our originally planned route.
---
Early in the morning, @reggaemuffin and I left in a train headed to Frankfurt. This first part was rather uneventful and surprisingly awake, even though the anticipated 22 minutes to switch trains in Frankfurt caused a certain anxiety.
We hadn't even arrived in Frankfurt yet though, when the announcement came through: Our connecting train had a delay of 25 minutes because of some disturbances in Mannheim. This gave @reggaemuffin the time to get himself a coffee (or "cold brew", damn hipsters). We were promptly approached by two fellow backpackers, a young man and woman, who asked if we speak English. We did. They then told us that they've been backpacking for 6 weeks but messed up their planning and didn't know how to get home now, as they were missing 7€ and had been trying to get them from someone since 6 am that day. This is, at least in Germany, a common story told by beggars (one guy in my city has been asking me for money for his ticket home since I moved there), but I chose to believe them in this case.
After giving them the 7€ and having done our good deed for the day, we boarded the train to Hamburg.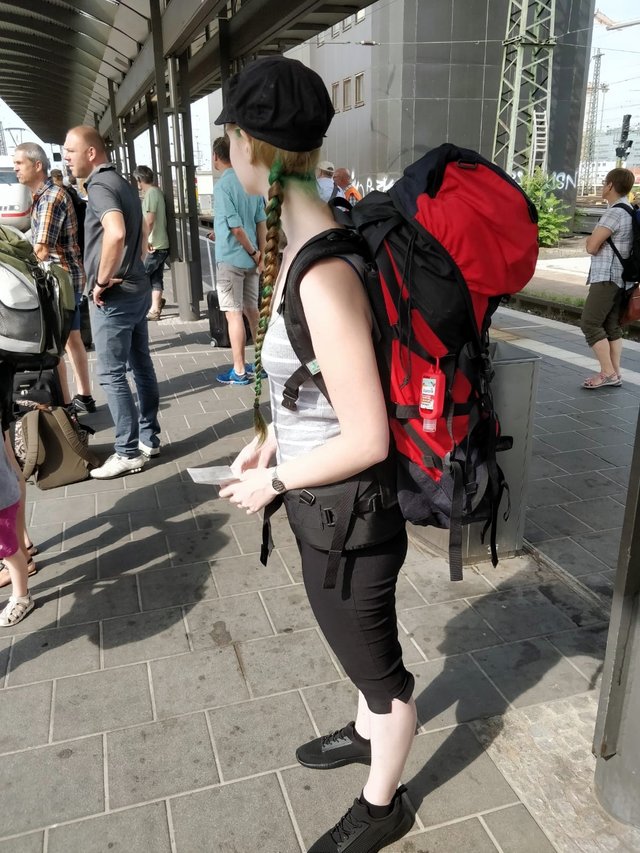 @suesa , waiting for the train in Frankfurt
In Hamburg, we spent not one, not two, but five hours waiting for our connecting train to our final destination of this day, Kolding. This hadn't been our original plan, we had previously picked a train that would have made us wait one hour four minutes. But reservation was mandatory there, and the train had been full. Tough luck.
Turns out that some good fairy had been the reason we had been forced to pick the later train, as the 25 minutes delay turned into 30, 45, 50 minutes until finally, we were an hour and 20 minutes late. What would have ended in panic was now nothing more than a slight nuisance. At least for us, the two metal fans we encountered complained that they had been supposed to arrive at Wacken an hour ago.
At Hamburg main station, the hunt for a very specific Döner (Kebab) shop began, the one where I had my very first Döner, 7 years ago. We found it!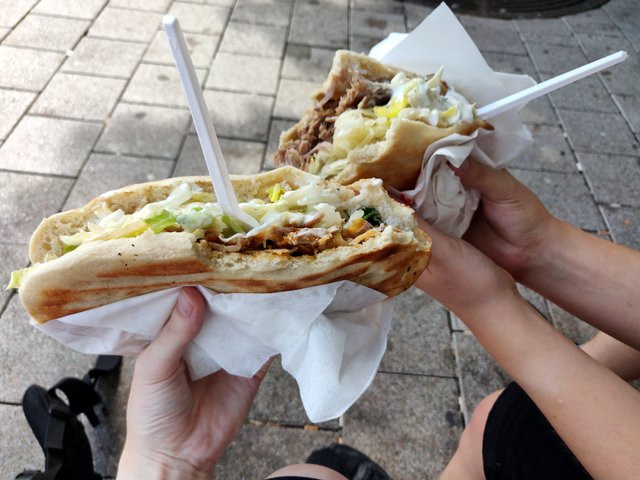 Just as I remembered
And then, we found power!
…. At Starbucks. We charged out laptops. Now you know how I was able to publish stories while on the road, free Wi-Fi and electricity!
At 19:01, we were finally … not able to proceed. Instead, we were offered a second chance to do a good deed, when our train to Kolding was canceled. I only caught this by chance, as I was checking the train app for the exact time the train would arrive. Next two us was a young couple, speaking what I assumed was Danish, so I asked them if they were aware that the train had been canceled. They were not. Together, we picked another train headed to Flensburg.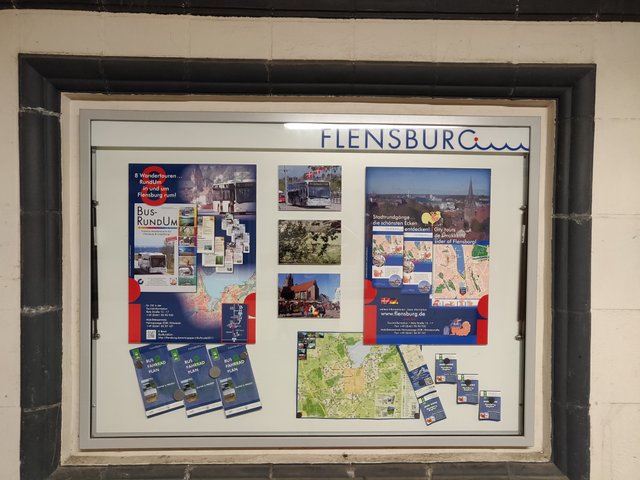 Looks like a nice city. Too bad we had to leave right away.
There, we switched trains again and finally, way past midnight, arrived in Kolding.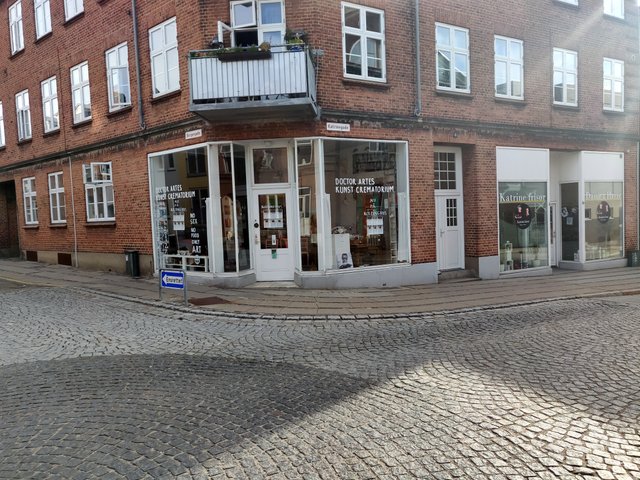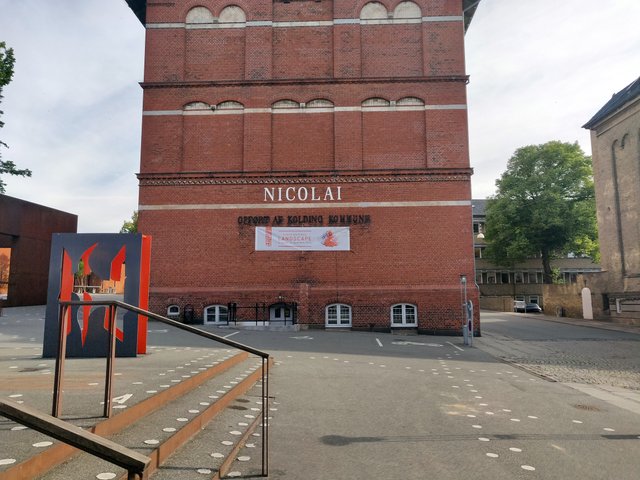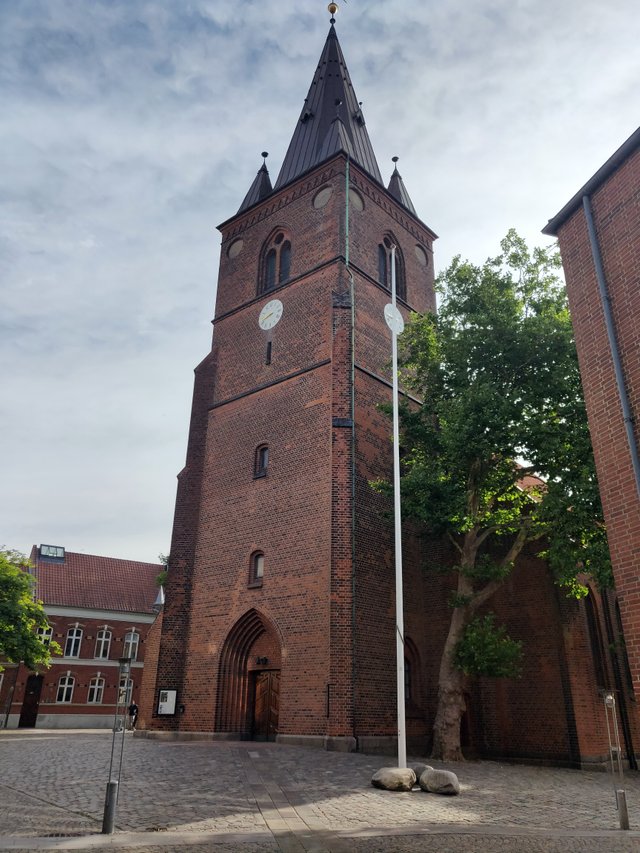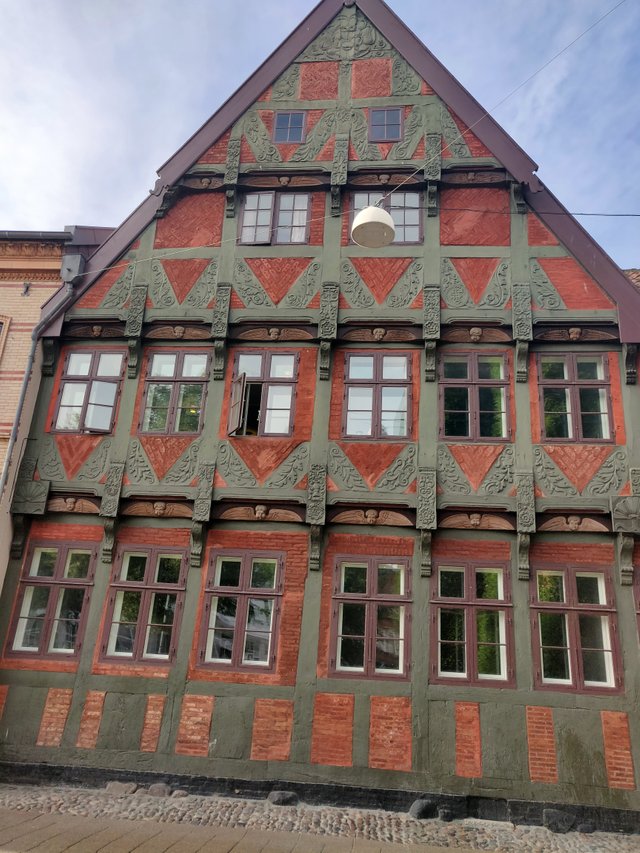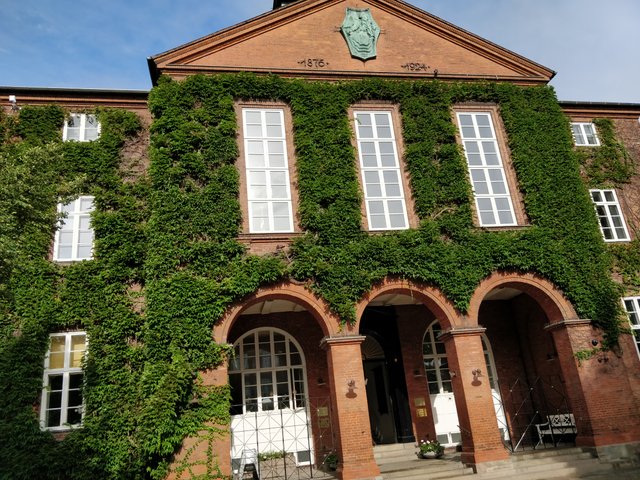 Some pictures of Kolding, that I took the next morning.
Our host, Mikkel, who we found via couch surfing picked us up at the station. I'm still amazed that he did that, he also had already prepared our bed and offered some food. We soon went to sleep, as the train on the next day would leave at 9 in the morning.