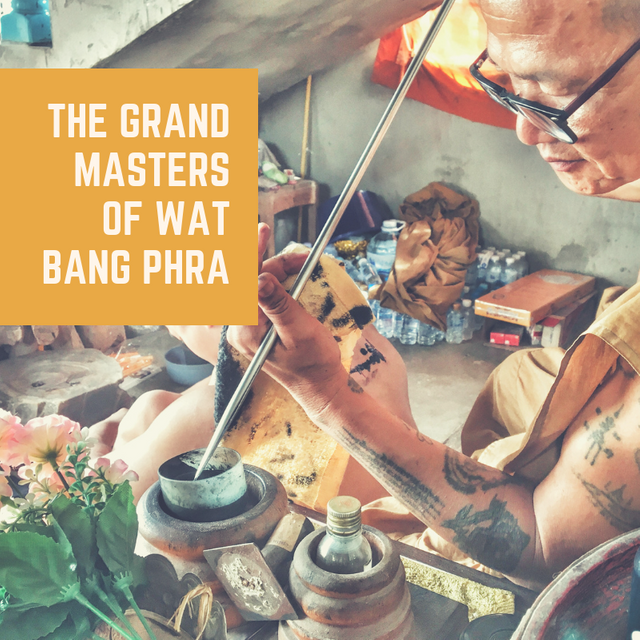 Grand-masters of Sak Yant are believed to invoke their disciples with supernatural powers and abilities from mastering different forms of incantations. They tattoo incantations on their disciples with magical ink or magical oil and if they're grand-master monks, then they would use holy ink or holy oil. The most famous temple in our modern era is Wat Bang Phra and it's located in a small rural town called Nakhon Pathom.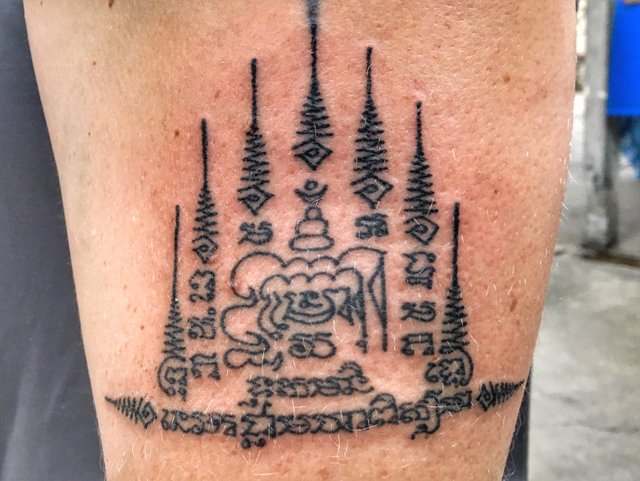 Nakhon Pathom is a short drive outside of Bangkok that can be down in less than a 2 hours but you'll most likely need a guide or a Thai friend. Sak Yant is still very much a deep part of Thai culture so a Sak Yant tattoo from Wat Bang Phra is more easily accomplished with assistance in the local language. Despite Sak Yant's introduction to the American pop culture by Angelina Jolie, there's still a deep belief system of magic that can only be explained by the Sak Yant monk and translated by a native.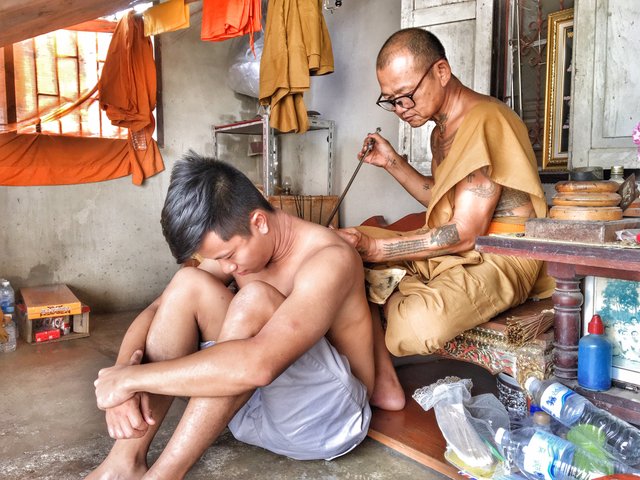 However one's view is on Sak Yant, the loyal disciples can't help but believe the universe is rearranging itself for them. To many loyal disciples, they went from rags to riches and even more astonishing, some have escaped the impossible with their lives to fight another day.
The Legacy of Luang Phor Pern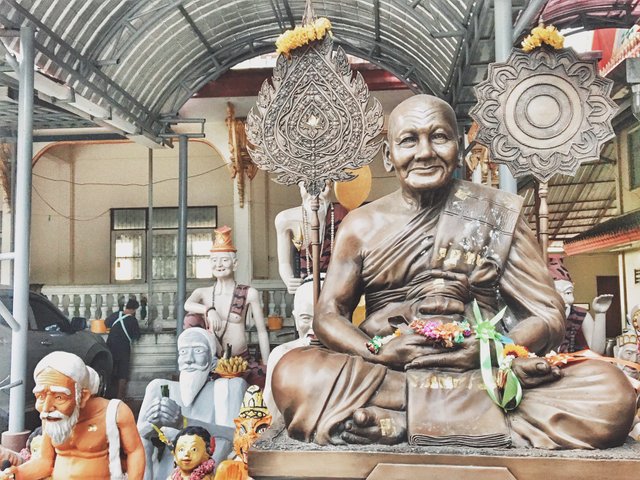 During the 20th century, Luang Phor Pern was the abbot of Wat Bang Phra where his mastery of Sak Yant empowered countless loyal disciples. When he passed onto the next realm June 30, 2545, BE (2002 AD), the incantation grandmaster left behind only a handful of monks as Sak Yant disciples.
One of the beliefs in Sak Yant is that the physical body is empowered with protective magic from the astral realms. For those who can't harness this energy themselves, they would ask their Sak Yant master to tattoo incantations on their skin to gain these supernatural energies and abilities. Luang Phor Pern had no Sak Yant tattoos himself, indicating that he was able to harness these energies and more importantly, consecrate items for the holy greatness of mankind.
Luang Phor Pern's mystic powers are observed 'til this day at Wat Bang Phra in 2019, 17 years after his passing. His body has yet to decomposed and can be visited in the main hall of the temple.
The Last of an Era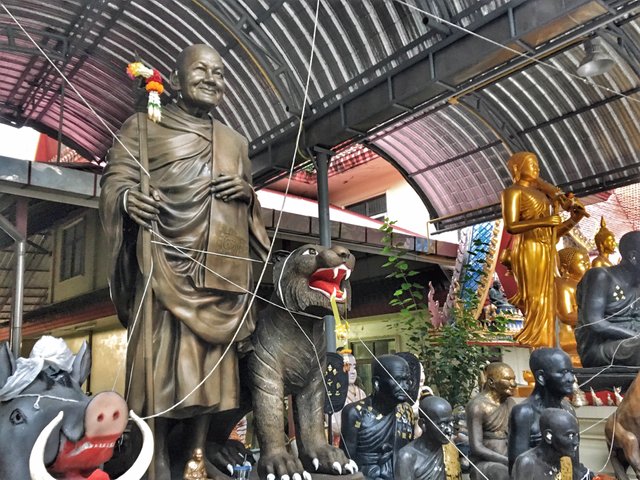 Out of the main disciples Luang Phor Pern had, there are only 3 left still tattooing themselves. By using the word "themselves," I mean applying the holy ink or magical ink respectively, by hand via a really big metal rod. When I say magical ink, it's referring to Ajarn Pui, the only Sak Yant master left that's Luang Phor Pern's disciple and not a monk. His Sak Yant quarters are still at Wat Bang Phra, on the second floor of the building next to the main hall, indicating his importance in the lineage.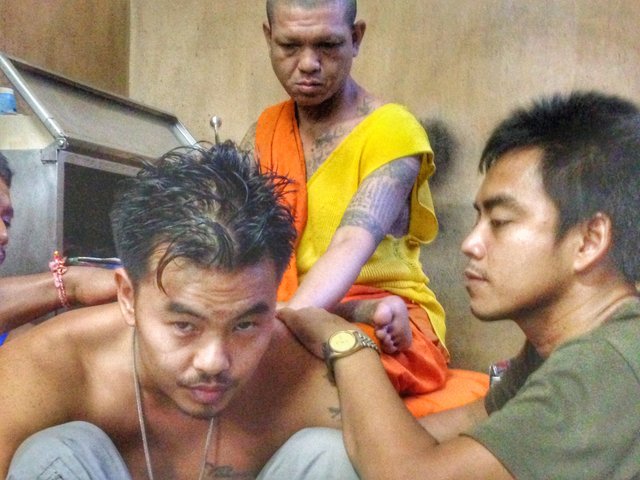 My Sak Yant journey started years ago and took 5 years to complete. For my family and I, our journey began with Luang Phor Paew of Chaiyapum, who is one of the original disciples of Luang Phor Pern. I've shared priceless moments with Luang Phor Paew at Wat Bang Phra and from those experiences, met so many wonderful people.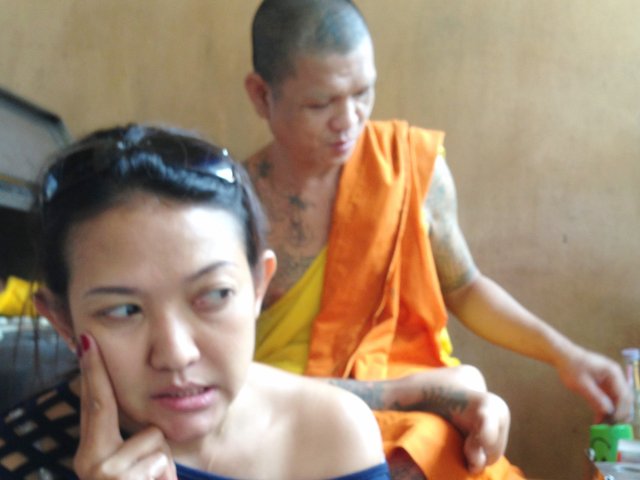 These times were special because his disciples would come from all over the country for tattoos everyday. I once had to wait 15 hours at the temple for a tattoo from 10 am to 2 am. After 6 pm, he kept saying to me, "we've come this far together, you're not leaving me now without this power I'm eager to bestow upon you, are you?" For my commitment, he gave me my twin tigers yantra on my lower back which signifies a milestone in the holy supernatural lineage of Luang Phor Pern. Luang Phor Paew is one of the three original disciples who is still tattooing personally.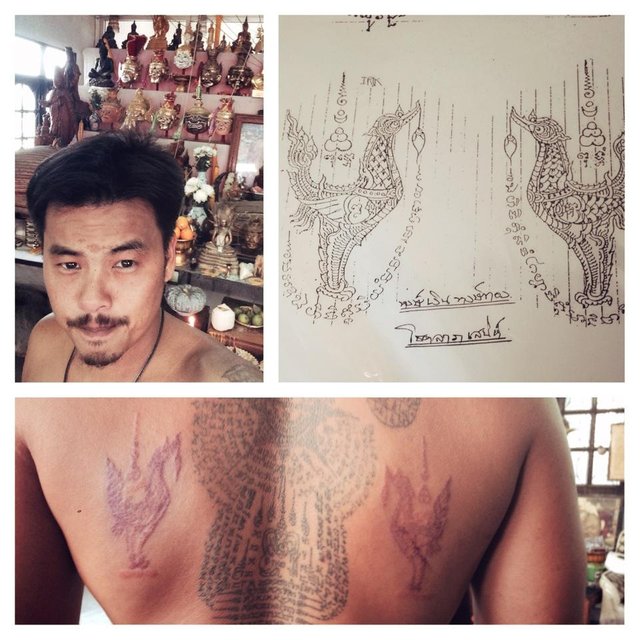 The days I would wait for Luang Phor Paew, I would visit the hall of Phra Maha Somchai and get yantras in oil from his disciples. Phra Maha Somchai is also one of the original disciples of Say Yant Grandmaster Luang Phor Pern but no longer applies any yantras personally. He still consecrates and recites incantations for disciples who receive yantras from his students on the second floor of his building.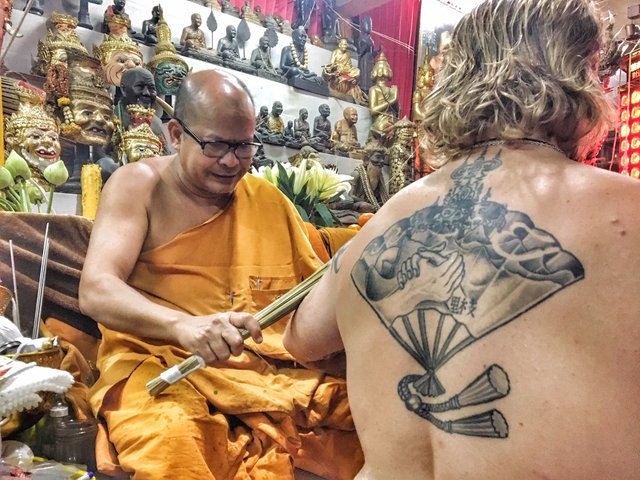 From Phra Maha Somchai, I've received numerous yantras in holy oil under all my holy ink that have been reconsecrated by his holiness after the tattoo session with his disciples. I'm honored to have gotten to know all the great Sak Yant masters who study under Phra Maha Somchai.
The Grand-master Making a Grand-master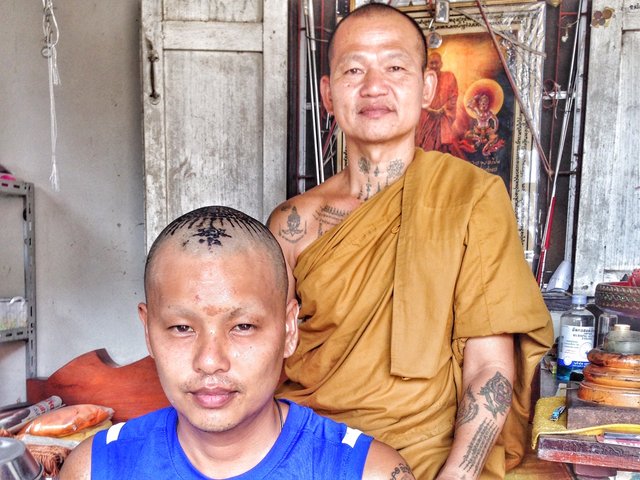 Out of all of my Sak Yant ajarns (teachers), I've spent the most spiritual and personal time learning under Luang Phor Ya of Lampang. He's one of two main disciples of Luang Phor Pern and my mentor monk who protects my father's beloved hometown of Lampang, Thailand.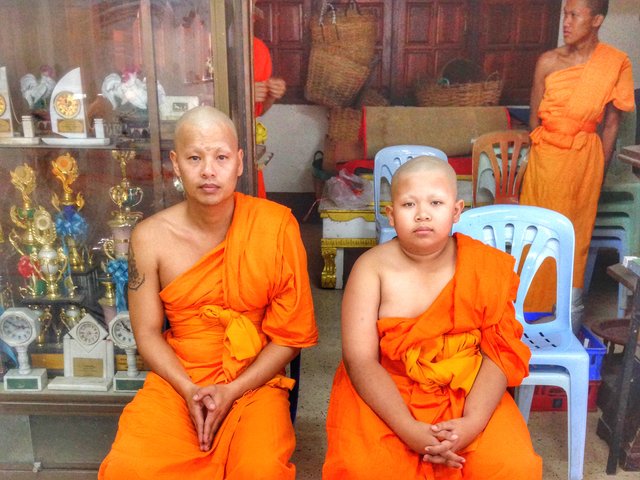 With the passing of my grandmother years ago, I became a monk at Wat Nang Liao and studied with Luang Phor Ya. During my short time robed as a monk, I received the 36 tid crown of protection from him, in honor of my grandmother. Literally, one of the highest yantras you can receive since it's at the very top of the head.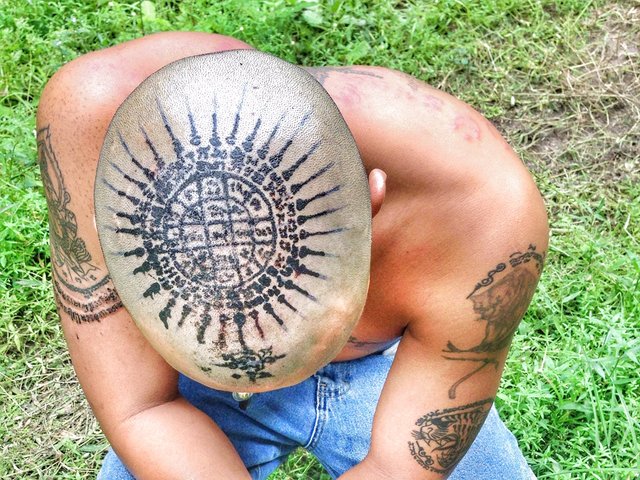 I spent countless years more studying under Luang Phor Ya in Lampang and introduced many family members and friends to his yantras.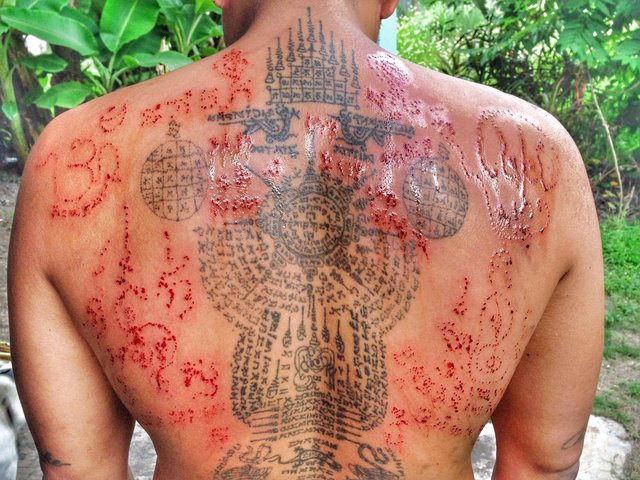 I have many yantras myself in holy oil by Luang Phor Ya before he covered them with yantras in holy ink. His intention was to stack the powers of his yantras enable the maximum abilities here and during my travels in the astral realms. I am honored to be one of his main disciples and to have learned the power of kindness from him.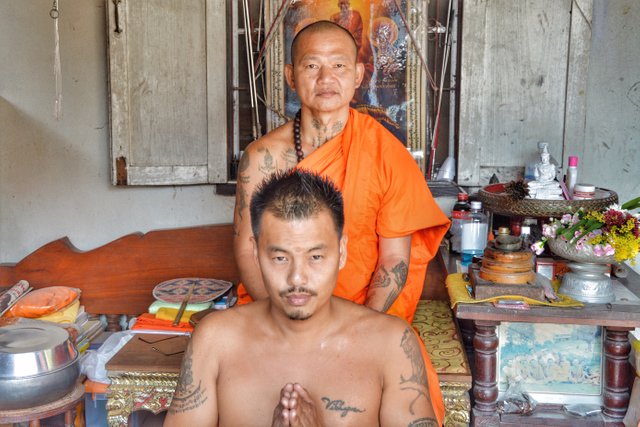 Luang Phor Ya is one of the last three original disciples of Luang Phor Pern who is still tattooing. He is over 60 years old at the time of this writing and is the eldest of the three. Time waits for no monk so he can be found at Wat Nang Liao in Lampang, Thailand for anyone interested in a Sak Yant tattoo by Grand-master Luang Phor Ya of Lampang.
The Powers of Sak Yant
I wrote more of an introduction to Sak Yant while introducing some of the monks who came from the lineage of Luang Phor Pern. To take a leap of faith in the mystic art of Sak Yant may be the most daring act one can begin but to experience the powers of the yantras is truly unbelievable. My experiences in Sak Yant has changed the way I view this realm and I now see that the art of Thai magic is real.
Authored & Photographed by:
Please follow my "Stewsak Fanbase" @ steemauto.com to share a piece of the curation on all of my posts.