In Jeong Jeon
20171231
In this posting, I'd like to post on In Jeong Jeon as I told yesterday.
In Jeong Jeon was the main official building for King's reign.
The name of this building 'In Jeong' means that 'reigning people in good manner'.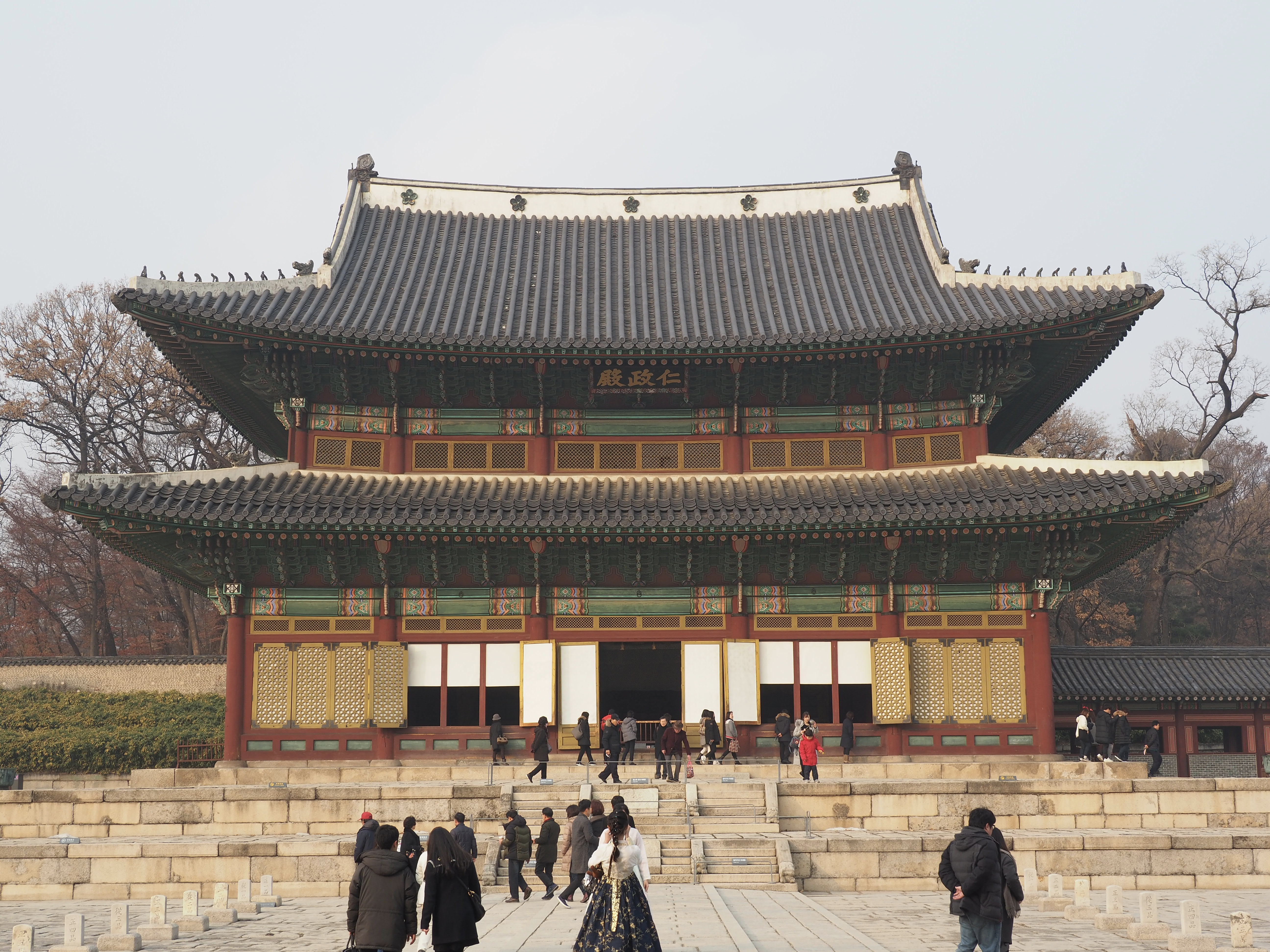 In ancient northeastern Asia, politics solely depended on king's mind.
It meant that politics was but a King's personal matter not a systematic process.
In Confucian philosophy, the best way of good politics was cultivating King's quality and ability.
They had set up the ideal type of politics and King and King needed to come closer to that ideal model.
But this kinds of political system had not been successful always.
Frankly speaking, it was not easy to find out the good Kings who had done their work well for people.
Confucian Political system was of a very large scale of bureaucratic order under the summit of King.
You could look at the marking stones. There are 18 grades of bureaucratic layers in Choson Dynasty.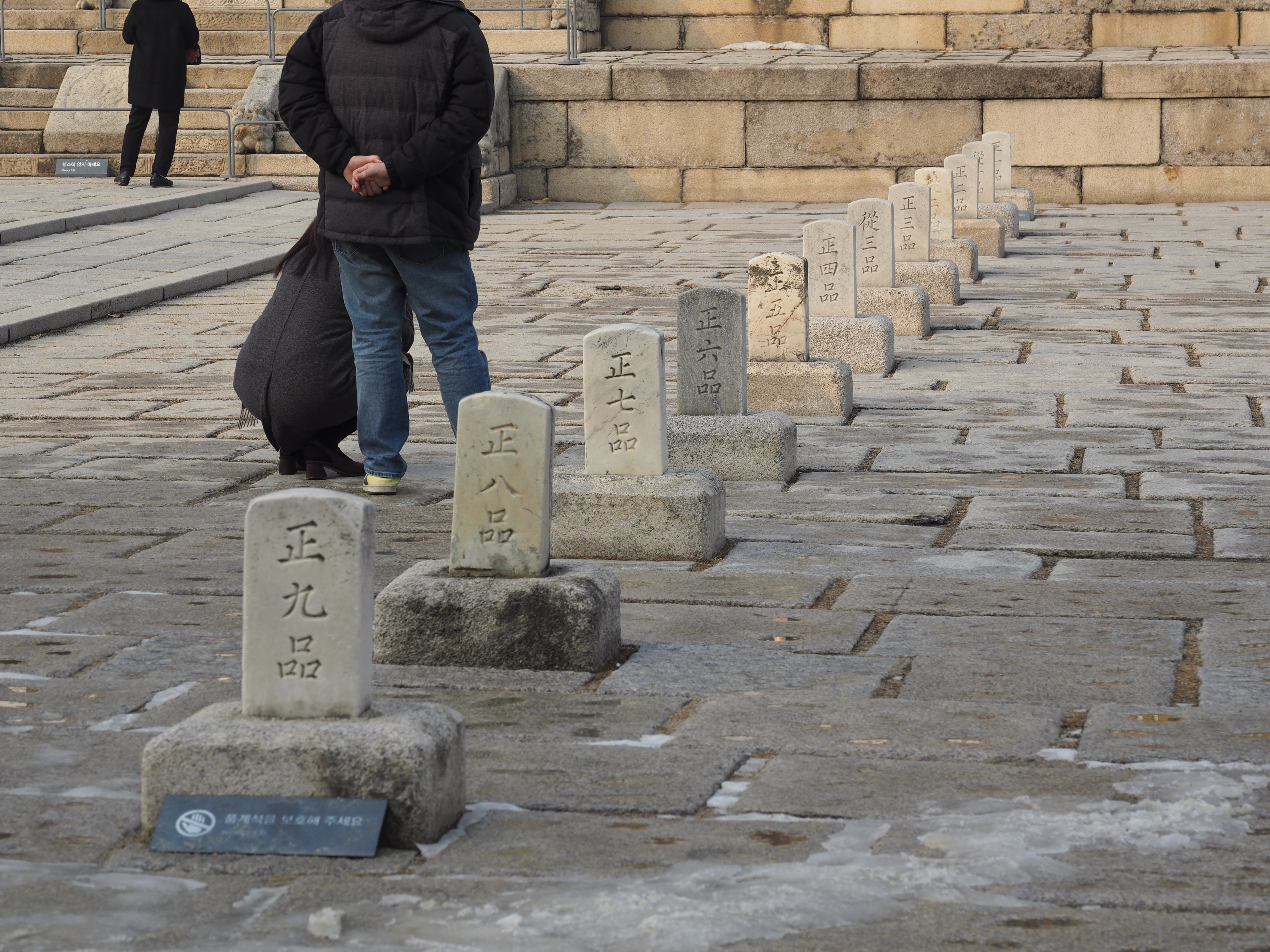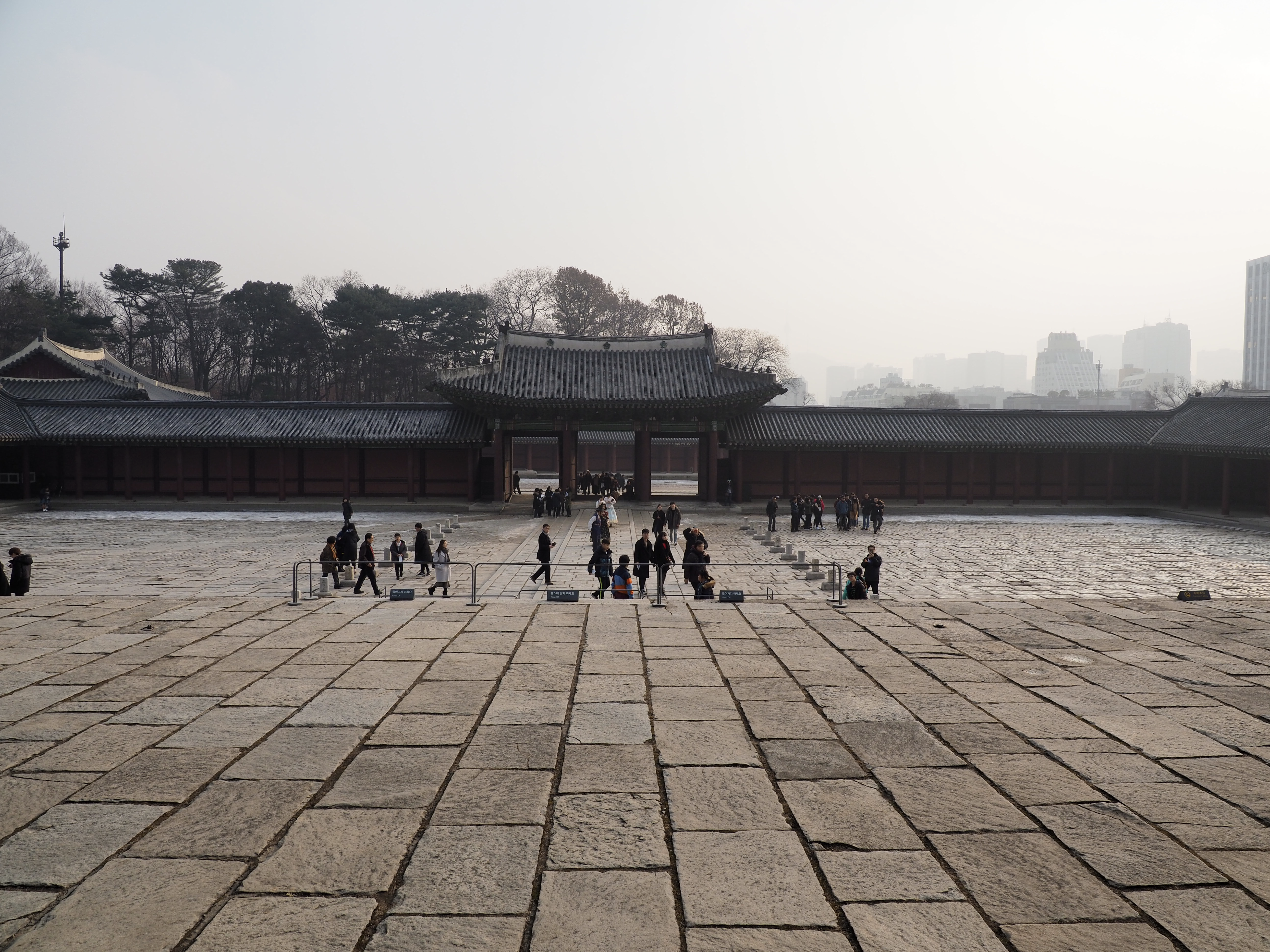 When the official ceremony had been performed, all officials were standing besides the marking stone.
That kinds of ceremonies was the essence of Confucian philosophy.
In this aspect, Japan was quite different from Korea and China.
In historical process, Japan seemed to be slightly different from Korea and China.
The strange thing was that Korea(Choson Dynasty) was much more strict in keeping Confucian Doctrine.
I don't know who to explain the reason why Korea was stricter than China in keeping Confucian Doctrine.
Anyway the palace 'In Jeong Jeon' was a symbol of the Confucian political system.
There are 3 palace in Seoul which had been built in Choson Dynasty.
Actually Chang Deok Goong was built by King Tae Jong who was a son of 1st King Tae Jo.
He had became 3rd king as a result of Coup. He built Chang Deock Goong to show his political power and legitimacy of his reign.
In architectural aspect, it was said that Chang Deok Goong was strongly influence by Koryeo Dynasty. But it was not easy for me to notice the differences between two kingdom's architecture.
Impressive thing was that the fore ground in front of In Jeong Jeon was covered with wide stones.
My brother told me that the stones covering 'In Jeong Jeon' were different from that of Gyeong Bock Goong. The ground in Gyeong Bock Goong was covered with small pieces of stones.
So when it rains, in Gyeong Bock Goong, you could enjoy the beauty of the rain patterns shown by the holes and the ways made between small stones.
You could take the best shot of In Jeong Jeon at the corner.
You need to remember this tip.
Small tip could make your travel more meaningful.
Then let's look at the inside of In Jeong Jeon. Inside of In Jeong Jeon was similar to that of Gyeong Bock Goong. I had posted on that several weeks ago.
king's chair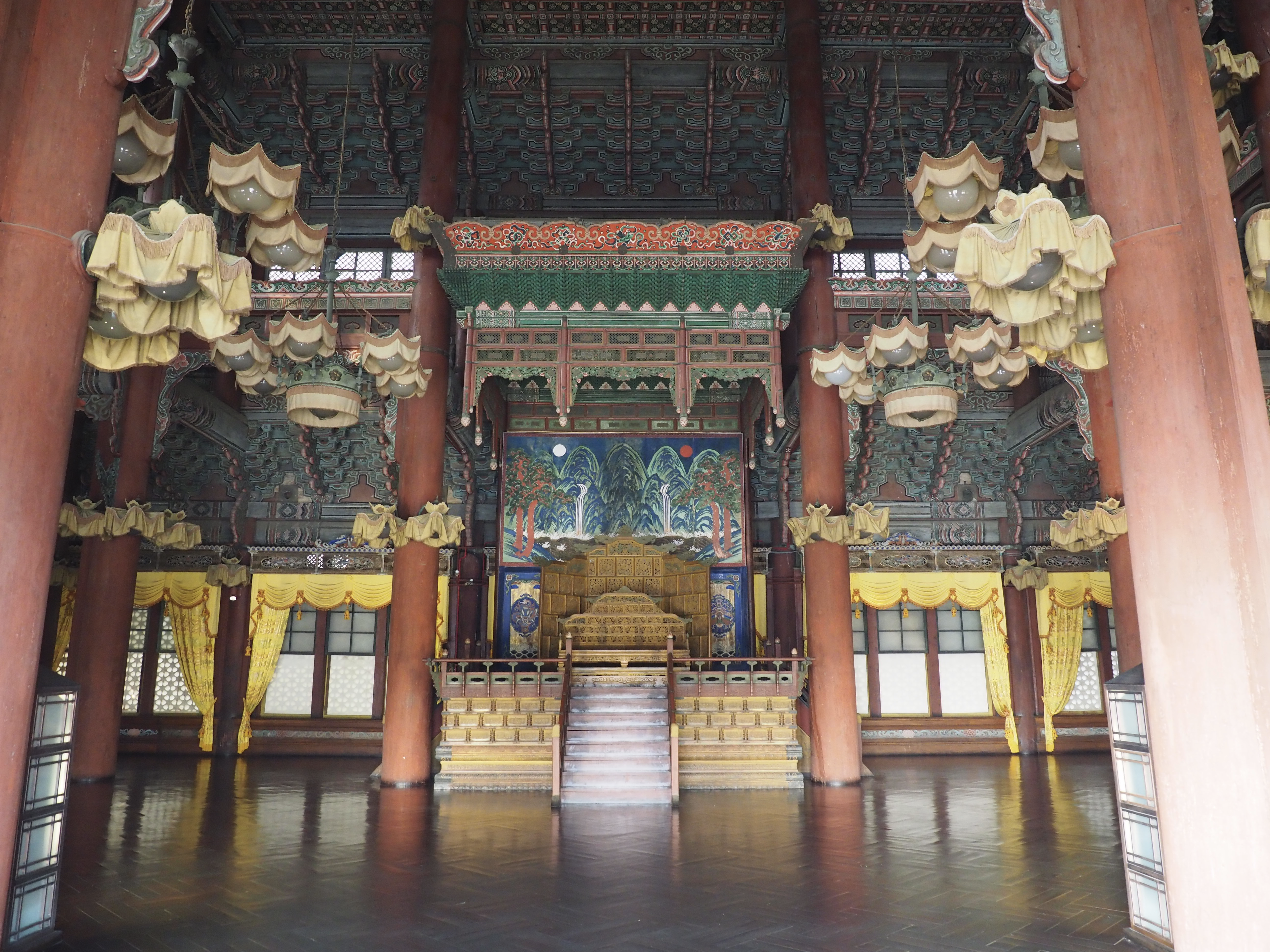 ceiling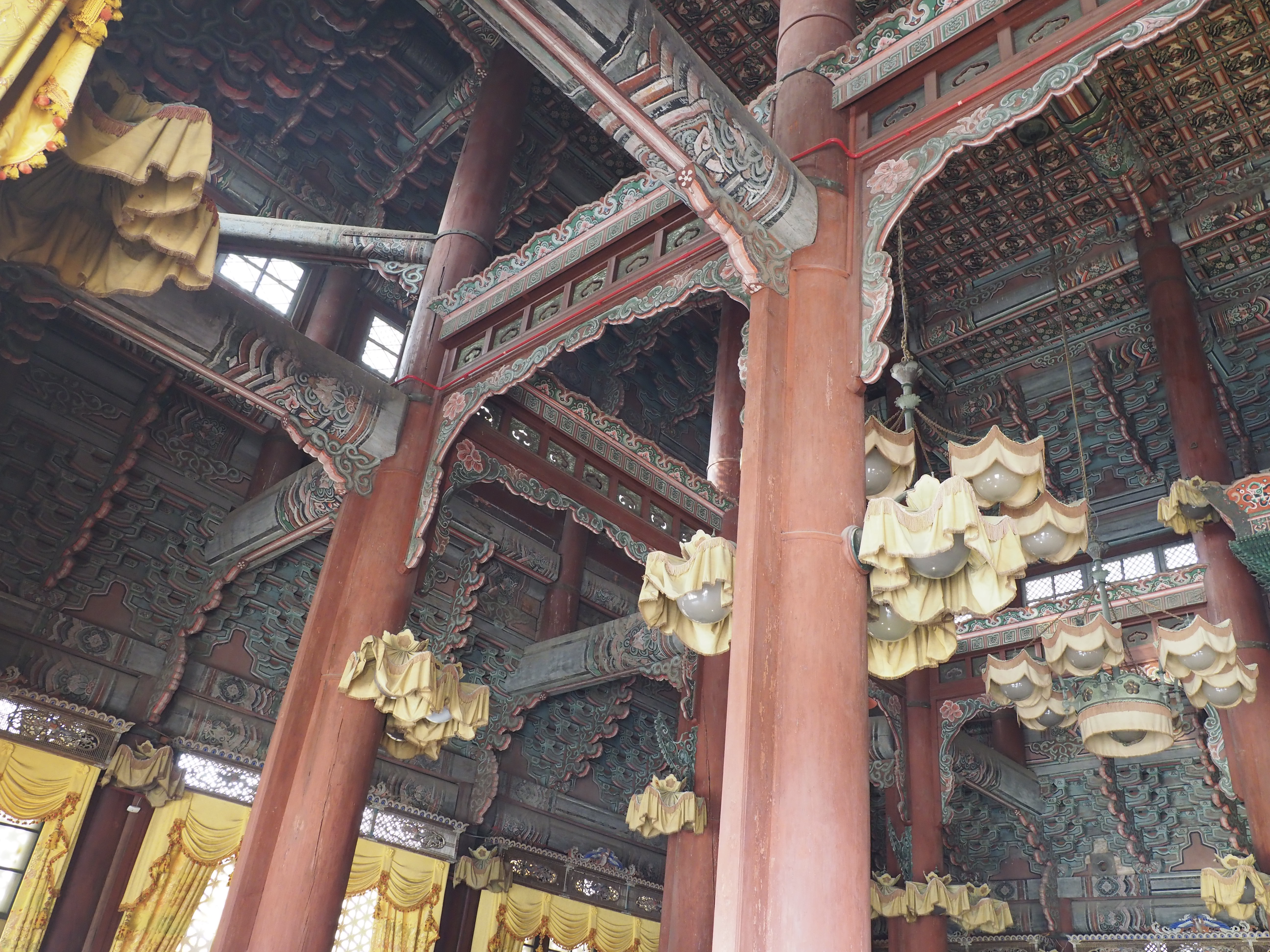 Thank you so much
I wish All Steemians a happiness and a success in cpyptocurrency investment.