The company goal is to help travelers from around the world fill their passports with the stamps you get when you enter or leave a country. This concept of passport stamps is where the company gets it's name "More Stamps". The company headquarters is in Hungary, but it operates internationally via the internet. More Stamps specializes in special vacation packages and customized itineraries, international and domestic flights, hotel accommodation, and transportation services. More Stamps Global allows its customers to book flights, hotels, rental cars, and more at a variety of locations around the world.
More Stamps Global encourages its clients to use cryptocurrencies for all online bookings and payments. More Stamps Global claims to be the first worldwide online travel agency to accept 40+ individual cryptocurrencies as payment for travel services. I feel this agency represents a significant step forward in the adoption of cryptocurrencies. More Stamps Global is an online travel agency which is run by crypto-enthusiast who want to be the industry leader in providing travel services to people who wish to pay with cryptocurrency.
My research into cryptocurrency uses for commerce has shown me that there are online travel agencies which accept cryptocurrency, but they limit you to buying flights. While More Stamps Global allows travelers to book full itineraries and pay for the whole trip using their cryptocurrency funds.
Plus other online travel agencies also limit you to paying with Bitcoin, Bitcoin Cash or Litecoin. However More Stamps Global allows you to choose from 40 cryptocurrencies+ Steem.
This is unique in my research so far and it makes More Stamps special and unique. I think this is an important step forward in making the adoption of cryptocurrency widespread, because you can go buy goods and services with cryptocurrency like fiat. The currencies accepted include Steem, DigiByte, Ethereum, Litecoin, OmiseGo, Augur, iExec, Salt, 0x, Basic Attention Token, Bitcoin Cash, Bancor, Dash, Decred, and many others.
Addendum: I contacted the Founder if More Stamps because Steem wasn't on the list of cryptocurrencies on the website and he said they would accept Steem and we get the 10% discount for paying with cryptocurrency.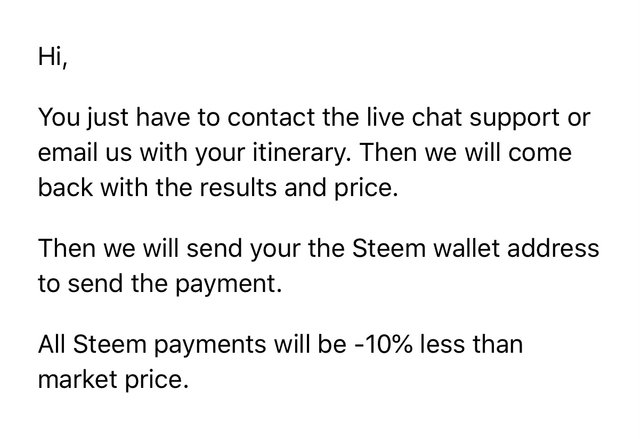 Please visit www.morestamps.global for more information.
About More Stamps Global
Website: https://www.morestamps.global/
Facebook: https://www.facebook.com/MoreStampsGlobal
Twitter: http://www.twitter.com/MoreStamps
Instagram: https://www.instagram.com/morestampsglobal/
Press Contact Email Address:
support@morestamps.global