I reach out to all the first time travelers to this beautiful(read topsy-turvy) country called India. You might have watched our movies, read about our religions, our food, our culture, our history and you just couldn't make sense out it sitting in your homes! So you decided to prepare your back-pack and fly down here to see, witness and feel the Indian pulse.
But wait, the moment you landed something didn't feel right!. The people aren't their musical self, its a mad rush everywhere, and OMG there are folks peeing on the road and please dear autowallahs(3 wheeler rickshaw) please leave me alone I rather walk than pay you twice the travel fare.
Maybe the first time traveler, which is you, felt a little cheated. 'Hey I didn't sign up for this mess! where are the nice, smiling friendly village folks? Where is that delicious aroma of ancient recipes?'
Well dear traveller, what you seek like the 'Santiago' of 'The Alchemist' is right there. Actually you just landed in the middle of it and you are going to take some time to 'Master your senses' like General Zod had to in the 'Man of Steel'. Say, you just landed from outer space and are facing trouble adjusting with the gravity.
How do you overcome this sensation and start enjoying your time in India?
To understand India's culture you must first understand its people. And to understand its people you must understand its traffic.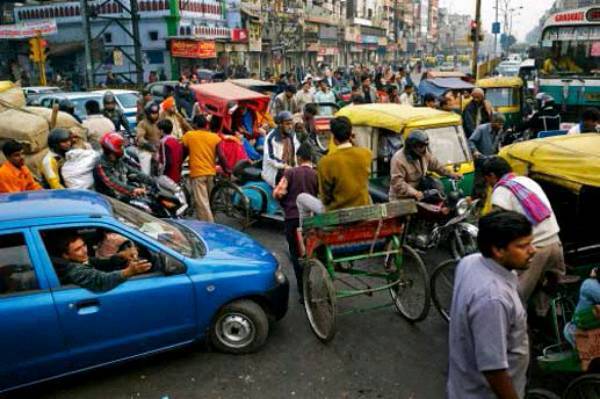 Just have a look at the above picture. This is what typical downtown looks like. It's teaming with people. There is no concept of personal space. One driver doesn't bother about the other. Pedestrians are least bothered whether a truck ,scooter, car or a rickshaw hits them. You might also see an enterprising fellow transporting big gunny bags balanced on a 2-wheeler. The traffic light is red but the people are just blind to it (Not color blind :) ). Oh, you ask me where the cops are at? Well we don't know, we have to mostly do with ourselves.
You might say - 'You know what! the crowd in this picture doesn't look very educated. They look like they might not have gone to school. Poor fellows.'
Now where you might be right you must know that lack of traffic sense is rarely a problem of improper schooling. Have a look at the picture below? I took this while on my way to work. This is a highway with mostly well educated office-goers on its streets. What do you see below?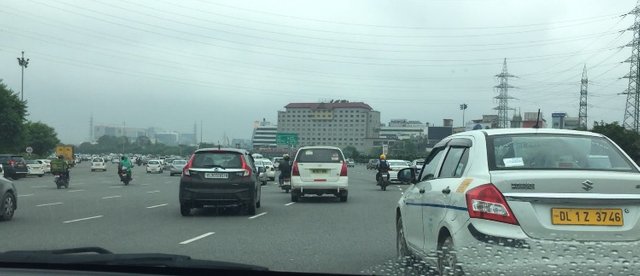 Well for once you may not see mad pedestrians trying to cross the road. But look deeper. These guys (including myself) are well to do, mostly upper middle class, college educated people but it seems they do not understand the concept of lane driving. Well Jake(my imaginary friend from New York) nobody understands the concept of lane driving.
Lets pause the traffic discussion here. Let start the mindset scrutiny. Below are the key traits of an Indian Man or Woman.
Effectiveness trumps Efficiency - This is a Japanese nightmare. What do I glean from from people zipping left,right and center? Well everybody is in a mad rush to get the job done. We have to reach our offices,shops or markets so that we can start our work. If we have a job in hand, we have to get it done. Doesn't matter how, but we must be on the job from day 1. It doesn't matter if we create traffic snarls, it doesn't matter if we don't greet someone, it is ok if we don't greet anybody while we are at our jobs. Please do not come in our way and prevent us from making a living.
Also most people in India aren't drawing handsome pay packages, 60% of India survives on low yield(low income) agriculture. it is a tough place. Hence every second counts. Most people you see in a big city aren't really their permanent residents. These poor fellows have come from far away villages(in search of better opportunities) least bothered about recreation but only worried about sustenance till the next day.
Efficiency is only about cost not welfare - You see the guys transporting big green colored boxes on two wheelers? Why do you think they are doing that? Well it is the cheapest way to do so. To hell with safety. This is a defining trait of an Indian. We worry about cost. We are price sensitive. We are not cheap. We donate at our places of worship, we lend money to our friends in need, we believe in fate and consider events are the best that could happen. But we hesitate to spend a penny more to get the same pounds of vegetables. Our savings are the highest in the world. We save for the rainy day as you never know when disaster could strike. How does this make us to you? Well it makes us a little rude to you. You are someone from a better place seeking something god knows what! It just doesn't make sense to the hardworking, near wretched labourers as to why would someone want to travel here.

The force is with me and I am one with the force - Well we may not be colorful Jedi's but that's how we think. When we are on the move, when we are on the job, homogeneity with our respective fellows flies out the window. We become a single Panzer Tank like entity. And we suddenly condense into a single one man army. Your problem is not my problem. Hence if I am peeing on the road that's not your problem. If I am chucking the garbage in you face it's not my problem it's yours.

Where is the culture? Where is the food? Where are the stories I heard? - Again Mr Santiago, it's all there. You just need to calm down first. Remember India is a world different than yours. But even in pure entropy you can find patterns. Start with the food. Don't go to five-star restaurants, ask your guide, your hotel manager on the most local and authentic place you could get the local cuisine. Trust me, a home-made dish made by a grandmother running a humble restaurant is the real food. find such locations. You will meet the most humble,curious and large hearted people in these avenues.
The real India is in its villages. Now we don't advise you going into a dusty little hamlet with no places to sightsee. We advise you to plan your travel via home-stays/resorts located in the deep, green interior. Experience India with its most humble and large hearted people. Experience the freshest and most authentic food in our villages. Well that's a start, you did some basic interaction. Now what? Well you need to start on treks? You will meet like minded people in a safe environment. Use a reliable trek organizer to plan your journey. You will see India's natural beauty first hand. India has snow,desert,rivers,lakes, beaches etc.. You need two lifetimes to see it all. But yes always venture supervised.
Well now you have covered our food and our natural beauty. Now what? Go to our cities. Go to cities with a rich cultural heritage. Target cities like Hyderabad, Jaipur, Udaipur, New Delhi which house historical places. By this time you would be well versed with survival techniques and would float like a butterfly. But you will encounter a particularly nasty problem. Eye-balls and stares.
How do I fend off these ugly eye-balls and stares? - Well Indian society is largely sexually repressed. And when Indian men(the particular issue) witness foreign women dressed up in shorts & tank tops, the attire unfortunately invites these stares. This is a problem of Indian men not of the visitors. It is an unfortunate aspect of present day Indian society. One way out of this for (especially women travellers) is to don up indian clothes. You would divert 80% of the stares and it could make your stay more comfortable. Also Indian clothes provide enough avenues to flaunt and show-off so don't worry.
To summarize, India is a different world, an experience, unlike any other. We are not a perfect people but hey Santiago who is?