Travels Through Morocco - Atlas Mountains, Part One
Nothing like the fresh, invigorating air of the Atlas Mountains
After 3 days in Marrakech, we felt it was high time to get out of the intense, sticky heat of the city and drive south to the famed Atlas Mountains. Not even a few minutes outside the heart of the city, you begin to see the looming presence of the Atlas Mountain range, stretching seemingly forever into the horizon (as you can see from my photo below!). As we drove closer, the mountains got more and more dominating, until we stumbled upon some Berber villages dotted at the base of the mountain range.
One of the villages we stumbled upon was a village called Ourika, about 2km from the mountain (again pictured below). Here they create one of Morocco's most famous exports: Argan Oil. Extracted as an oil from the argan tree, its an oil that is used locally for cooking, but is exported to other countries due to its famed cosmetic properties. Its very sought after, and because of this a lot of fakes are made and sold in cities like Marrakech and Fes where they use other inferior oils such as sunflower or olive oil.
Hence it was nice to travel to the source where it is made purely and naturally, and see how it is done for myself. In fact, I was lucky enough to have a photo with some of the hard-working people who make this product from scratch!
If you do get a chance, try to visit this wonderful place. It's a nice break from the hustle and bustle of Marrakech (and is a bit cooler too!). Stay tuned for the next post where we climb up the mountains to find waterfalls, ravines, rivers and impressive peaks!
The Atlas Mountains, Morocco
---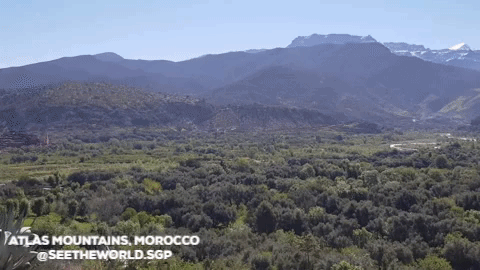 ---
Details
🌏 | Atlas Mountains, Morocco
📷 | Samsung S8
🎨 | Lightroom Mobile edits used
---
Over the next few weeks I'll be trekking through Morocco and I'll be share with you my thoughts, feelings, tips and warnings about visiting each place along the way. Being a photographer, I will be doing this while sharing my photos with all of you too! I sincerely hope you all enjoy.
Please do follow if you want to keep up with my travel through this country <3
Any upvotes or resteems are hugely appreciated! Much love, everybody.