Let me tell you a tale aboot me ain hike near the bonnie banks, bens and lochs wherein my breeks end up drookit and my baffies didnae stand a chance...
To compensate for the o-so-long absence I have some photo's you might like. In case the title and introduction didn't already told you where I have been last few weeks, it's Scotland. The land of numerous castles, non-stop bagpipe music and haggis. NONE of which I came across during my 15 day stay! Maybe someone hid all the castles before my arrival, plugged all the pipes with corks and ate all fresh* haggis in the country. That is for now the most reasonable explanation I can give. Luckily I was not disappointed with the amount of red heads with the most amazing beards or the number of sheep blocking the road.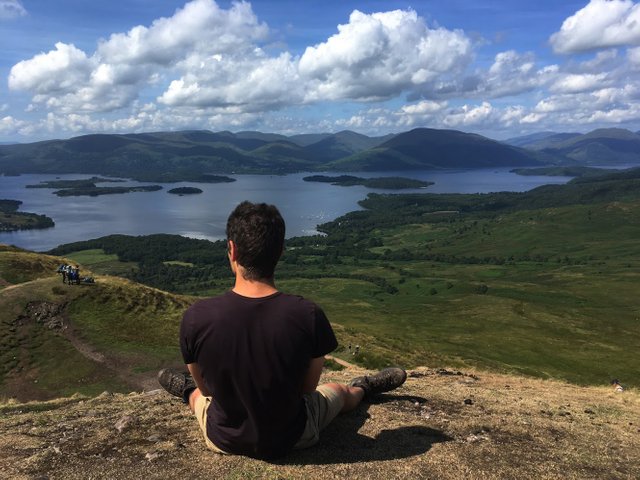 Me pondering if it is worth going down, asking those people to step a few meters to the side for my picture.
I planned a 15-day trip together with my little lady. Very straight forward, arriving at Edinburgh (Notoriously pronounced as Edinbrahh), taking a bus to Fort William in the north, hiking max. 10 days towards Glasgow and staying there to eventually take the plane back to Brussels (Notoriously far from Brussels itself, Charleroi Airport). We went in rather unprepared when regarding knowing what there is to see. Just to give an example, it took until our arrival in Glasgow that we actually fact-checked if Scotland is a country on its own and if the capital was indeed Edinburgh. fyi: In fact it is more complex and it is, just as England and Whales, somewhat a country on its own albeit as a part of the United Kingdom of Great Britain and Northern Ireland (UK). It is like Greenland which is a part of Denmark, which also has a capital, Nuuk (I had to look this up). The complexity and divisions of the UK should be an entire post on its own but as a future geographer I am rather ashamed that I did not know this.
Well I'm sidetracking here. Back to the trip! Did you know Edinburgh has a 45 meter (150 ft) high cliff only 10 minutes walking from the city center? Well, we were just as surprised when we decided to visit the Holyrood park.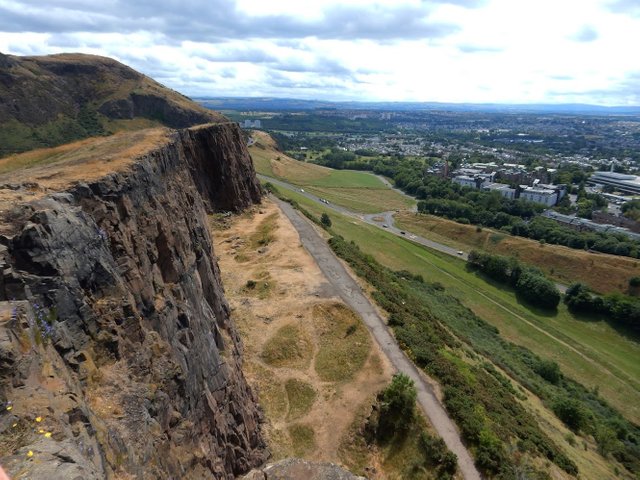 The injected sills became exposed during the long period of glacial erosion and now the dolerite/diabase layer offers a beautiful view of Edinburgh city. Their is also a 200 year old path running up these cliffs which some Scots seem to like to run on, in the scorching heat of the past weeks.
I'll try to keep my pictures to a minimal since scrolling is so exhausting and I don't want your index finger or thumb (or whatever finger you scroll with) to get overworked.
So after two nights it was about time to head to Fort William. The hiking connaisseur amongst you might already noticed I am walking the West Higland Way in reverse and that again is correct. It a famous hiking trail of about 150 km (90 miles) that shows you the amazing highlands and Loch Lomond. Most people walk it from South to North (Milngavie/Glasgow to Fort William) but for we decided to go against the stream, literally and do it in the opposite direction.
I now can proudly say that I said hi to all people walking the regular WHW in the period between the 17th and 25th of July 2018. If you happened to be one of those, Please leave a comment!
It cannot always be rainbows and sunshine.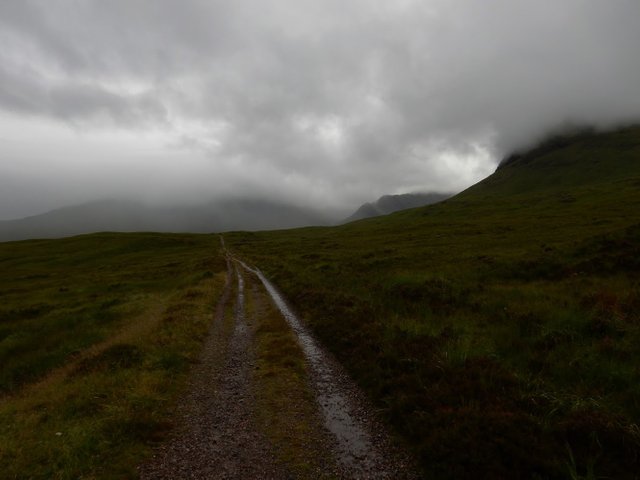 There are of course days when you wake up in a cold wet tent. Pack your bags and put away your tent while being surrounded with H2O and that sucks. But even then you get amazed by the majestic landscapes and clouds that look like they are about to devour you. But luckily there are views like this that make it worth walking in wet trousers, Especially since our playlist was limited and we had listened and sung to "The bonnie bonnie banks of Loch Lomond" way more times than I hoped for. It surely was a relief to finally meet the big boy in real life.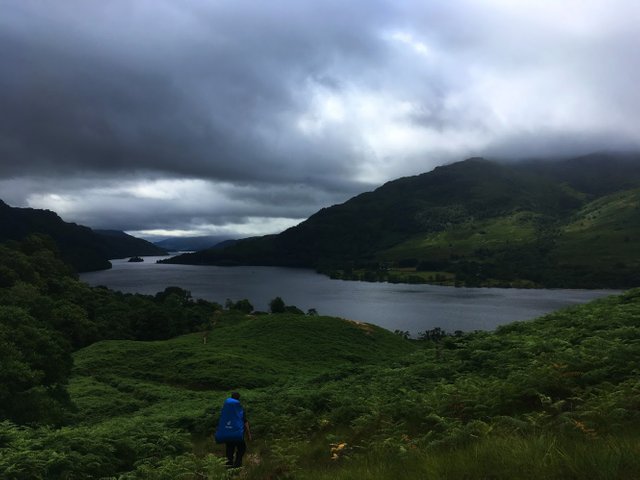 We also spotted the monster of Loch Ness! It must have migrated through some unexplored cave system because the images below CLEARLY indicate Nessie hiding in these waters!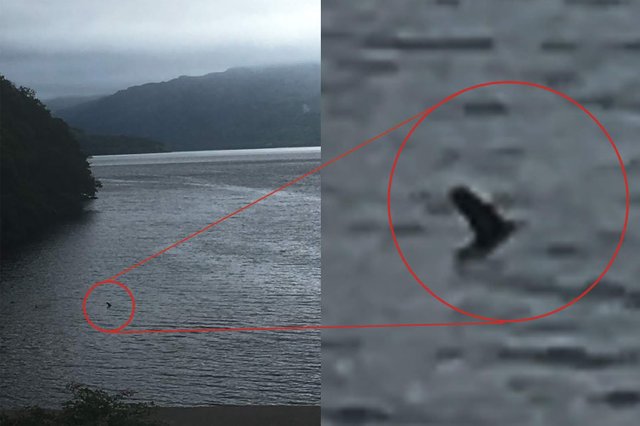 What can you say about it... I think we can finally prove this century-old myth to be true...
So after 8 days of hiking we finally arrived in Milngavie, the starting point, and for us the final destination of the WHW. You might think that was the most euphoric point of our travel but you couldn't be more wrong. After all those days sleeping on a hard ground in the cold of the night you really deserve some more luxury. Luckily Glasgow has a wide variety of Hilton hotels so why not give them a try? For me a Hilton style hotel is not that common and the excitement was real! Included swimming pool, cookies at arrival and a breakfast buffet for which I gladly take my hat off. We couldn't wish for more. Sadly we left the next day for a more regular hotel and spent 3 more days in the city of Glasgow. The science center is a real recommendation for all ages! science stuff made fun and really accessible. Easily lets you kill an entire afternoon.
After those days we had our flight back to Belgium and were awaited by a nice heatwave, making us wish we could sleep in a freezing tent again!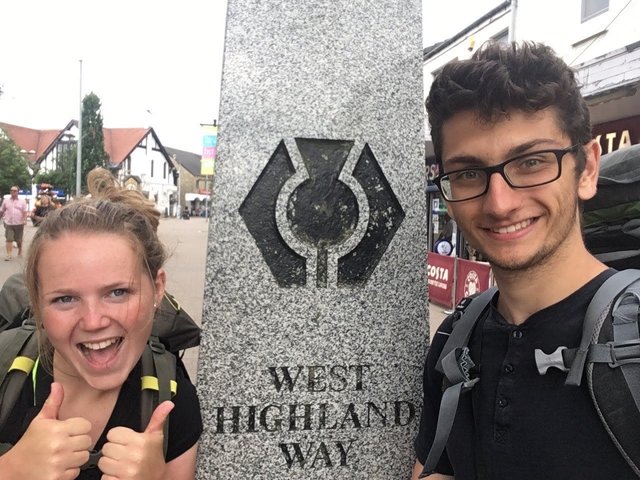 I hoped you liked the images and the small stories. All images were my own, taken with a Canon Coolpix s9900 because apparently people like to know that kind of stuff. Please don't sue me for copyright since I used numbers without stating where they come from.
Regards, have a nice day and stay curious!
* There was canned haggis in the stores but this can't be the real deal is it?