Three reasons why Piedmont is a wine and foodie's paradise
Piedmont has been regarded by many as the new culinary capital of Italy. It stars and showcases some of the best local cuisines, high end restaurants and beautiful wineries. The produce and restaurants are world renowned and they have the best wines in Barolos to match the mouthwatering local dishes. A quick stop tour to the North West of Italy simply cannot be missed and amongst many other reasons, here are my top three reasons why Piedmont is the perfect region for foodies and wine buffs alike!
Ceretto
After a brief introduction to some of the local wines made out of the region's famous Nebbiolo grapes, I booked myself on a wine tour at the well respected winery, Ceretto. Situated just outside Alba, this is a third generation family business operating since the 1930s. With 160 hectares of vineyards between the Roero and Langhe regions, this medium sized winery showcases some of the best organic wines in the region! They sell about 1 million bottles a year and offer a wide range of grapes and wines. The views from the entrance building were fantastic, lots of gorgeous vineyard views!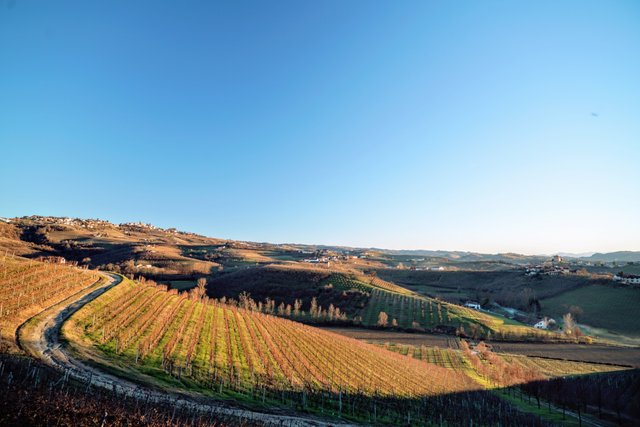 What I was most intrigued about was the differences between Barolo, Barbaresco and Nebbiolo. We had a young and passionate guide for our tour who gave us a proper history lesson of the region and the existence of the establishment. We were given a little walk around the grounds and shown the massive stainless steel casks.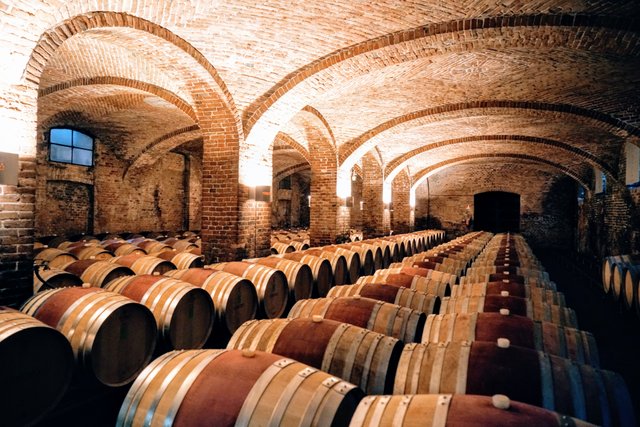 Then came the real interesting part, the wine tasting. We started off with a sweet white wine, their Blange, which had a bit of acidity and is famous for being held in these massive stainless steel casks. Then came the Monsordo Rosso, which were a combination of Cabernet sauvignon, Merlot and Shira in a French style. This was one of their best seller that were intended for the mass market with familiar flavours, probably rich from the cab sav. The best thing about this tasting was how relaxed and slow it all went. Our guide really took his time to explain the wines we tasted and we all talked about how it tasted and the flavours. It was probably the most relaxed and informative tasting I have been to!
The main grape of the region is the Nebbiolo grape and it took me ages to understand the differences of this with Barbaresco and Barolo. With the Nebbiolo grapes, this turns into a simple, fruity and easy drinking young wine. Cerretto then ages this for 3 years and it then becomes a Barbaresco. Further ageing for another 18 months in some wood casks and this qualifies as a Barolo. This is a strong, bold and sharp flavour that is so intense, with so many layers of complexity!
When I first arrived into Turin, I was keen to try the King wines, Barolo. I immediately didn't enjoy it because of the strong flavours. But over the whole weekend, I was able to appreciate this intense wine through slowly easing myself into it, first with Nebbiolo then Barbaresco. It is now probably my favourite wine to drink! So beautifully complex and sophisticated.
Before we left the winery, our guide mentioned how 2018 has been one of the best years in terms of wine making, in this region. The weather was perfect and everything was done by the book, something that is very rare. So I will definitely be back in 2020 and /or 2021 for the bottling of the Barbarescos and Barolos!
Fontanafredda
Before I left Ceretto, I mentioned how I was going to be visiting Fontanafredda the day after. My guide was keen to distinguish between a winery like Ceretto, Fontanafredda and another winery I wanted to visit Pira Luigi. Pira is essentially a small family run winery that has only a handful of staff. Fontanafredda on the other hand is probably the biggest commercial winery in the area and sell around 8 million bottles of wine year, with Ceretto somewhere in between. I was eventually not able to visit Pira but had a chance to see Fontanafredda and I was glad I did. This winery was much larger and you definitely can feel the commercial side of it, even with the tourist facilities. The whole campus was massive!
Here, Nebbiolos are aged for 6 months, Barbarescos for about 26 months and Barolos are at 38 months. The tour itself was a real showcase of the sheer size of the winery, with so many rooms, warehouses and floors!
This was a proper history lesson and even gave a huge amount of info around all the other grapes and wines on offer.
The tasting here was less formal, where I was given a seat in a communal table in the shop and was poured a few glasses of wine, then left on my own to taste. To highlight the large commercial scale, the tour guide poured my wine and had to rush off for the next tour! The wines itself were also very nice and I got to try a Dolcetto, a young red and dry wine and also the Alta Langa (sparkling wine of pinot noir and chardonnay). After the tasting, I went for a little walk around the massive grounds and found a massiv man made pond at the back - sheer size of this commercial winery!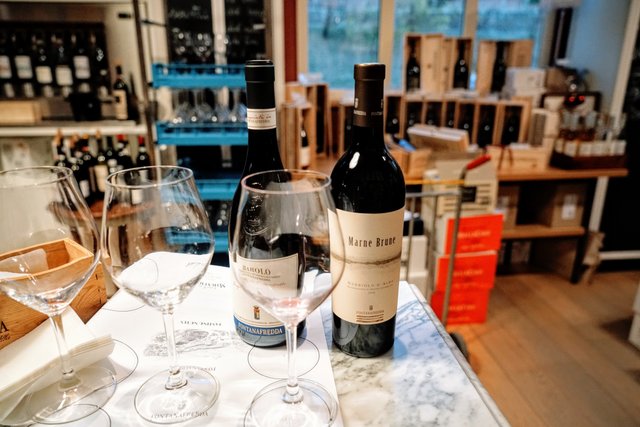 Piazza Duomo
To finish off this incredible list of three, the final and probably the best reason why all foodies would fall in love with Piedmont is the incredible and unbelievable restaurant in the centre of Alba. Piazza Duomo is a three Michelin star restaurant that has been listed as one of the Top 50 restaurants in the world. Head Chef Enrico Crippa focuses on sourcing produce locally, sometimes even from his own farm and has a wealth of experience working with the best chefs chefs and restaurants around the world. His influences are so diverse, from Spain, Italy to even Japan and his modern take on food is just unbelievable.
Knowing that this was my birthday weekend, I tried booking a table months in advance but was only able to get a spot on the waiting list. Having not heard back from the restaurant, I sent a chaser email while I boarded my flight to Turin. Luckily, there was a last minute cancellation and I was able to secure a table for myself! From speaking to fellow travellers, it sounds like high end Italian restaurants will always refuse a bookings unless you are persistent - essentially keep calling and bugging them and your chances are higher at getting a reservation!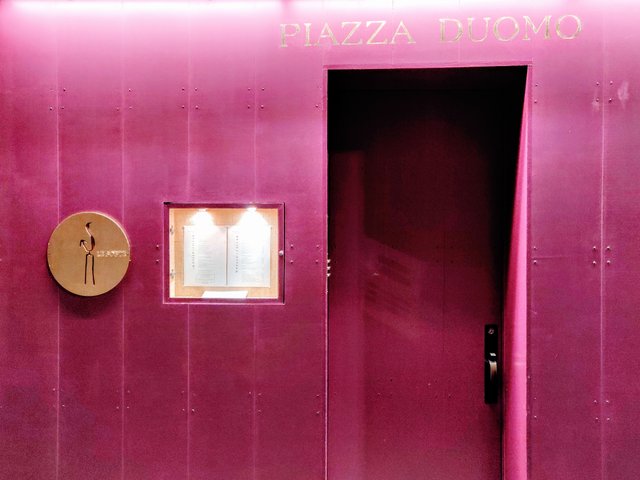 The entrance to this spot is via a small side street which gets you to climb up a set of back entrance stairs. But once you made it through the entrance, you literally walk into a whole new world. To much of my surprise, the whole room was pink! Everyone was really nice and attentive and once a settled down, I was offered a menu, which was extensive with set menu and a la carte options.
Once I ordered, a set of finger foods were served to get you started while you waited. This was definitely the most extensive Amuse-bouche ever. There were countless little dishes to try and taste, all covering pretty much the whole table! Each dish was unique with some fantastic flavour pairings and combinations.
I couldn't get over the fake olive, which was actually soft veal! There were mini salads, pickled mushrooms, avocados, seaweed flavours at the base of this veg, crunchy fish skin, foamy stuff and so much more! A lot of the mini dishes had really Japanese like influences, from the time the Head Chef lived in Japan for 3 years. I am talking about the soft steamed egg custard (chawanmushi), the use of seaweed, salmon, avocado and the sashimi like textures with the fish skin. It was a whirlwind of flavours that was the perfect start to the meal.
With an association with Ceretto, I knew the wines on offer were going to be decent. I started the evening with a glass of bubbly (Nascetta with Chardonnay), then i had an amazing glass of Barbaresco which was very strong with a smooth start and a big kick finish.
Probably the most exciting dish on offer is the salad made up of 51 different types of leaves and vegetables. Before the dish was served, you get a little green piece of card that detailed ever single element of the up coming dish. You know it is serious salad time when they also give you a pair of tweezers to enjoy the leaves with!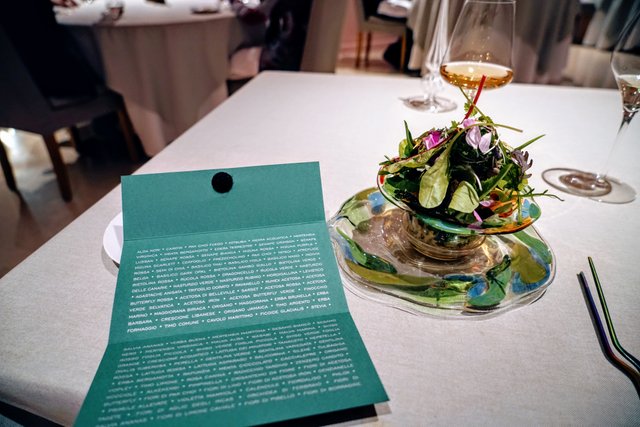 The salad was sizeable and again had these flavours of Japanese cuisine in it. There was hints of soy sauce, lots of crunch, sesame, nuts and fish skin. I was advised to lift the bowl up at the end and to drink the residue sauce from the little holder. That tasted really refreshing with orange flavours of sweet, favoury and bitterness. What an incredible salad!
As a starter, I ordered the sea bass capacious, which came in this mesmerising and symmetrical pattern - everything so evenly dotted around the plate.
The fish was delicious, fresh and meaty which also came with a side of leaves made up of crunchy and refreshing vegetables. To finish off the dish there was also this mini green drink made out of some leaf and it was quite refreshing to go down with that smooth and salty fish!
For the mains, I went for the deer and Foie gras served with red cabbage and topped with some white truffles. The local delicacy here is white truffles - in fact there is a whole season where people go white truffle hunting in Alba! The presentation was simple with the meat in the middle and loads of vegetables piled around.
The deer had this super intense meaty and gamey flavour with this intense sauce that cuts across. It was all perfectly seasoned and works so well with the white truffles. The vegetables add a bit of texture to soak up that delicious sauce! There really couldn't have been a better way to finish off a meal!
All in All
I don't think anybody needs to be convinced of how incredible Piedmont is. There are way more than 3 reasons to come visit this region. There is no doubt that food and wine is a big hit here and the above three are just three of the many many other reasons to come by and check it out for yourself. Make sure to take your time to visit the region, so you get plenty of time to really enjoy the flavours and soak up the great wines! Stayed tuned for my next post - The perfect itinerary for a weekend in Piedmont!