Bali
Indonesia is becoming more and more popular as a travel destination and Bali is at the heart of it all. Visitors are attracted to the beautiful beaches, relaxed pace of life and incredible resorts. I was lucky enough to be attending a wedding at the island and during my brief time managed to catch a little glimpse of what the hype was all about. There is a lot more to see in Bali and Indonesia and I will be sure to come back to see more of this amazing country. Here is what I managed to get up to in my limited time on the gorgeous island!
Nusa Penida Island
With a late flight arriving into the city, we decided to catch an early morning tour to check out one of the nearby islands. With so little time to spare, it was a full day trip to Nusa Penida to get a glimpse of the amazing waters, beaches and sea views. We were picked up early in the morning and after an introduction to Bali traffic, was on our way in a ferry to the island about an hour away. Make sure to wear comfortable clothes that you are happy to get wet! The boat ride is bumpy but the water was so nice and clear.
Snorkel time
There was a driver who picked us up in his Jeep and before we knew it, we were on our way to our first location. We chose the one day island tour with snorkelling package and our first stop was a mini sandy beach where we boarded a little boat.
It was a short boat ride out to Mantra Bay for some incredible snorkelling in the gorgeous waters. The waves were pretty strong and we actually got a bit seasick from being dragged backwards and forwards in the water! Unfortunately, we didn't manage to catch sight of any mantras neither, but the blue waters were so clear and beautiful!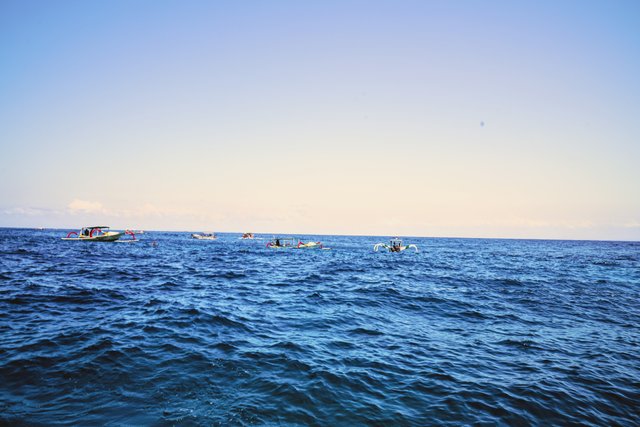 Angel's Billabong & Broken Beach
After drying off on the beach, we were back on the road. Although the island isn't very big, it still took us around an hour and a half to get from one side to the other. The roads are really bumpy and rocky and the distance covered was only around 35km! The bumpy roads were well worth it when we reached our second destination though. Angel's Billabong is a natural pool surrounded by massive cliffs and rocks. It has really calm and blue waters too.
The peaceful pool of water leads onto the main seafront offering a dramatic contrast of heavy waves and massive water splashes. It is somewhat mesmerising to see all the water crashing onto the side of the walls and cliffs. We actually stopped there watching for quite a while!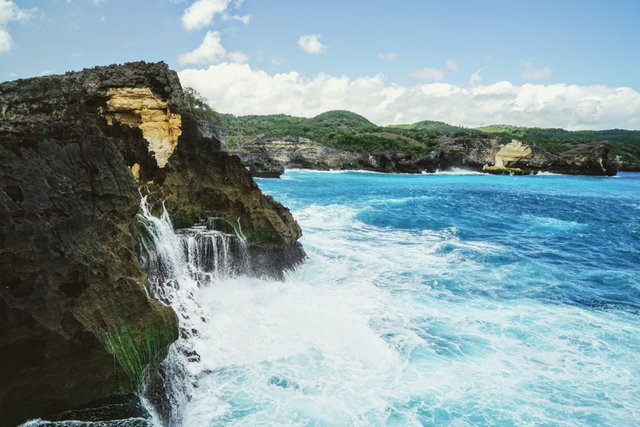 At this point we made a quick stop for lunch. Our driver had packed us a little lunch of rice, meats and vegetables. We managed to find a little seating area just around the corner from the incredible water views.
The last spot before getting back into the car was Broken Beach. Standing at the edge of the cliff, you will see this natural cliff with an arched tunnel underneath. It is incredibly picturesque with the endless backdrop of the sea and the waters coming underneath the arch with each wave!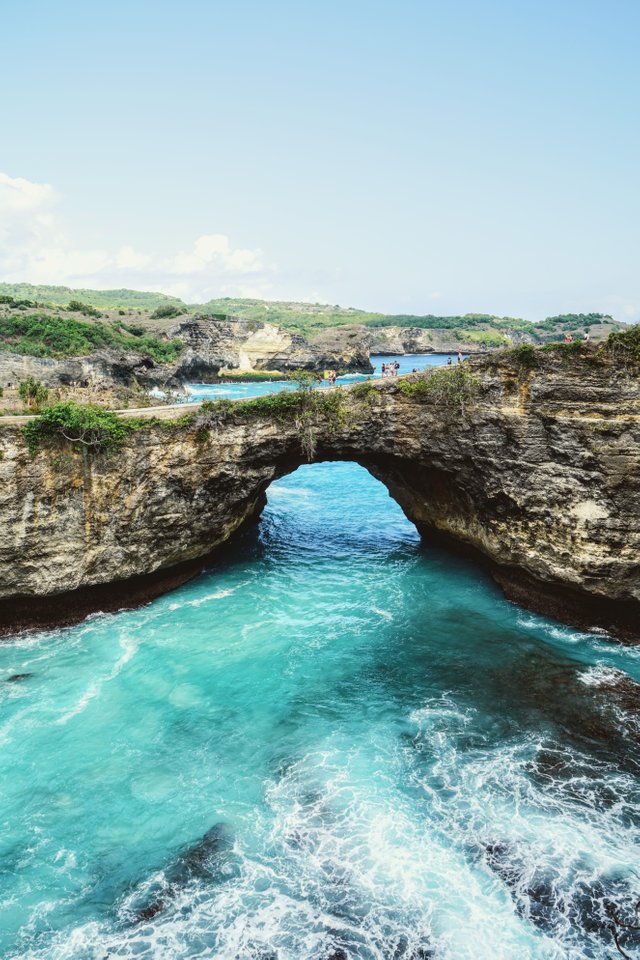 Kelingking Beach
After another long drive, we were at our last spot of the day before the boat ride back to the main island. Probably the most famous photo taken in Nusa Penida is Kelingking or the dinosaur. The view is simply stunning of the little dinosaur head. There is a mini path that supposedly takes you down to the exclusive beach but we have been warned about how dangerous it is to head down. We were happy with just checking out the views!
Seminyak
After a hectic day trip to the island, we were looking forward to a relaxed half day in Seminyak before the wedding ceremony. This area is filled with hipster cafes, coffee shops and the like and as we drove to and from town to our resort, they all looked quite relaxed and niche. With only a few hours spare, we tried to see as much of town as possible. First stop was at the infamous W hotel for their beautiful green entrance.
From here, we headed into the hotel and across onto the gorgeous beach front. It is so peaceful and perfect if you wanted a nice walk along the sandy beach.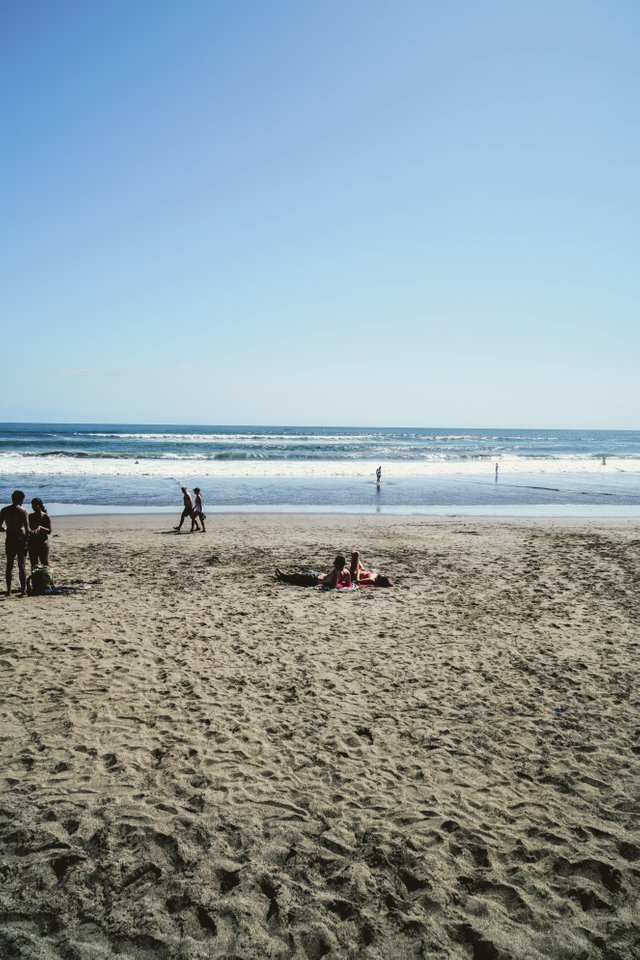 Next door is the Potato Head Beach Club, a perfect place to sit back, relax and sip cocktails and nibbles. This is where all the tourists hang out for a nice relaxing afternoon by the pool!
The main town has a lot of other things on offer, such as the Nyaman Gallery for some nice local artwork and the Sundari Day Spa for massages!
Food Time
We managed to get two meals down before the wedding in town. The local speciality is actually duck and we could not have asked for anymore than a mini roast duck feast at Bebek Tepi Sawah. This is a perfect spot with a great cool atmosphere and delicious meat!
For seafood lovers, Echo Beach is your spot. Come by to watch the sunset and dig into all types of seafood! Choose fresh meats and fishes from the counter and sit back as they grill and cook it for you, while you enjoy the salad buffet. A perfect way to end the day with some local wines and incredible sea views!
All in All
What a great little short trip to Bali. It really gave us an introduction to this great country. The nature is second to none, the beaches are amazing and food delicious. I honestly cannot wait to come back to explore more of this amazing country!
Stayed tuned for my next adventure!
Check out some of my other travel posts!
Mumbai | Hyderabad | Baalbeck | Qadisha | Sidon | Jouneih | Beirut | Portland | Oregon Road Trip | Seattle | Sousse | Tunisia Road Trip | Around Tunis | Tunis | Northern Ireland Road Trip | Singapore | Penang Street Art | Penang | Ipoh Malaysia | Plovdiv | Rila | Sofia | Hoi An | Ha Long Bay | Sapa | Hanoi Food | Hanoi | Surrey Hills | Colonge | South Wales | Mostar | Sarajevo Food | Sarajevo | Croatia Coast | Mosselle | Krakow | Angkor Wat | Riga | Tallin | Tallinn-Riga Bus Tour | Dead Sea | Jerusalem | Tel Aviv |