Having been to some of the more popular destinations in the US, I always had this perception that America is America and that it is all going to be similar to that time I visited NY, or LA or San Fran. Luckily, I had a friend's wedding to attend in Seattle and this allowed me to give the West coast another try! Seattle and Portland are so different to the rest of the States and I was so pleasantly surprised by what it had to offer. Definitely different to my recent travel locations like Tunisia, Singapore, Penang (Malaysia) and Bulgaria! This is a three part series of my week in America, starting off with a city guide of Seattle, then a road trip through Washington state and Oregon and finally, Portland. It was a lot of fun - filled with two incredible cities and some awesome countryside!
Emerald City
Sitting on the north western part of America in the State of Washington, is the high-tech city of Seattle. With companies such as Amazon, Alaska Airlines and Microsoft all coming from this area, the city has seen its fair share of corporations. And then there is the international coffee chain, Starbucks and the Boeing Factory! There is so much going on in this coastal city! Staying a few days here really gave me a sense of this growing place, with beautiful waters and greenery. There is such a vibe here that makes it so unique from the other large American cities. There is a lot to do and squeezing a day or two in is just perfect!
Downtown
The most popular spot in Seattle is at Pike Place Market, a street filled with covered markets, stalls and food stores. In 1907, there was a growing problem with overpriced onions and the city proposed a market for farmers to sell produce directly to customers. There is an array of shops selling seafood, flowers, fresh ingredients and other produce. A visit to Seattle cannot miss a stroll along the busy markets stalls and seeing the vendors in action.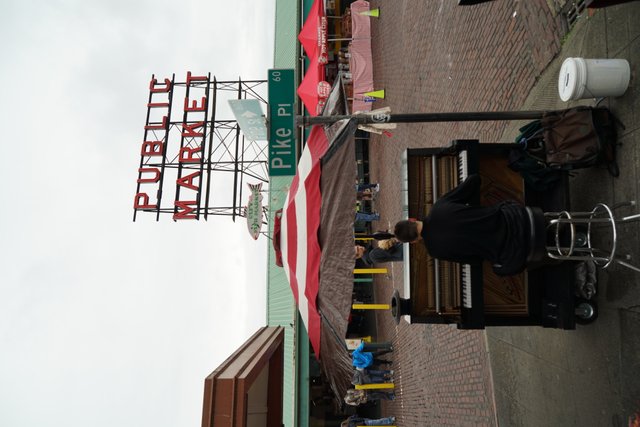 This market is the perfect place to go to at around lunch time, walking around and seeing whats good for lunch. Make sure to stop by at Pike Place Chowder where the large queue is a testament to the popularity of their seafood soup.
For more of a substantial meal, Anthenian Seafood Restaurant and Bar has been around since 1909, serving up great fresh dishes. Their Seafood Saute was just incredible with a selection of salmon, prawns, clams and mussels all cooked with a great sauce and full of flavor. Make sure to grab a table by the windows for their awesome views!
For a coffee pick me up, head to Storyville Coffee, a nice specialty coffee company with an amazing purpose of stopping human trafficking. It has been around since 2006 and serves up some great coffees in a relaxed atmosphere.
Alternatively, you can head to the first ever Starbucks around the corner. The original store was actually burnt down but the renovated one still gives you a retro feel. They have kept the original logo and the coffees are great, with plenty of Pike Place specials to take home with you.
The area also has this incredible cheese shop. Beecher's Handmade Cheese is a sight to see, where their glass window displays the production of their goods. The queues are long for their Beecher's Mac and Cheese but make sure to pop round the back to taste some of their flagship samples. I definitely couldn't resist buying a small bit to go!
The Gum Wall
There is something strange and beautiful about this alleyway filled with chewed up gum. It is creative but at the same time slightly disgusting! The alleyway is literally filled with thousands of chewing gum. Photos are great here and there is something strangely menthol about this side street!
This downtown district is probably the most touristy spot in town and you can definitely see why. It is just so nice to stroll along the pier side, checking out the water views, popping into the market for some food while doing some shopping of local produce and products! You can even pop into the local wine bar for some Washington state wines!
Starbucks Reserve (Pike Street)
Since this is the birth place of Starbucks, there are a lot of little Reserve stores popping up around town. The largest Starbucks store in the world is on Pike Street, where it is also a roaster and the perfect place to showcase some of the more unique coffees from around the world. You can come in for a walk around in the roaster, do a self guided tour and check out some of the machinery. Or just sit back and order a fancy and unique coffee, extracted in super cool ways. There is also a fresh bakery section and an iced espresso coffee bar.
Having been here, I can honestly say that the coffee here is way better than your normal Starbucks. I ordered a bean from a far off location and filtered probably in some weird contraption. A fantastic experience overall!
Perfect Views @ Columbia Tower
Most would have headed to the famous Space Needle to catch a view of the whole city. They would have queued to get to the top, only to find that it is probably under renovation or something. To avoid disappointment, head to Columbia Tower instead. This is an office building with a fantastic 360 degree viewing platform at the top. It is one of the tallest buildings in Seattle and is significantly taller than the Space Needle! The views are spectacular and you can see the sports stadiums, the tiny little Space Needle, the awesome bridges, the waters and the outskirt islands. If you plan to visit this area, pop into Pioneer Square, Chinatown or the Pinball Museum!
Broadway and East Pike Street
On the slightly more east side of town near Seattle Central College and Cal Anderson Park is a couple of streets with really cute shops and cafes. This area around Broadway and East Pike has the best ice creams at Molly Moon's (all handmade), incredible local clothing shops (all very hip and modern) and the best ever bookstore (Elliot Bay). Grab yourself an ice cream or coffee (@Capitol Coffee Works) and walk around for some new books, old school records and just shop!
Gas Work Park
For those who have a car or decent Uber/Lyft credit, head over to this wonderfully strange park. This used to be a coal gasification plant and you can still see remnants of odd looking factory and machinery!
The view of Seattle is also really nice here from Kite Hill. This is another place for a little walk around, with the nice green grass and mini hill. I loved the views from the top! A great place to just people watch and seeing if those kites can stay in the sky!
Other Places to eat
For those craving for Southern comforts, head to The Wandering Goose. This cutesy little spot offers some of the best breakfasts and deep fried chicken in town. You will have to queue at the counter to order before finding yourself a table. Their menu ranges from Bubble & Squeak to Biscuit & Gravy to Mac & Cheese and Fried Chicken! Don't get confused about the biscuits though! Deep fried chicken lovers will have to stop by on Friday nights for their Fried Chicken Friday dinners!
Seafood lovers will be in love with Taylor Shellfish. This place offers fresh seafood ranging from a large selection local oysters to delicious cocktail prawns, tuna poke bowls and the Moqueca Brazilian shellfish stew. This is a slightly more pricey spot but a place well worth a stop for those deliciously fresh seafood!
Other food spots worth mentioning are Matts In The Market, Cafe Pettirosso, Expresso Vivace and The London Plane.
All in All
There could not have been a better start to my week of adventure around south west America. Seattle has this super cool vibe with its ever growing tech companies fueled with awesome coffees, great views and insane food spots and markets. I can't wait to share what the the rest of Washington state and Oregon has to offer!