Portland.
One of the most unique things I found about Portland was how much they love locally sourced products and produce. Literally everywhere sold or were serving food and products from the state of Oregon. I am talking about everything from local wineries, locally roasted coffee, restaurants serving foods from Oregon farms and loads of locally made products and shops! It was pretty insane and the whole vibe of the city reminded me of London's Shoreditch, back in the old days but just at a massive scale. Well, a whole city of bearded men and hip females and the perfect place to end our road trip from the flashing city of Seattle. This is a city full of amazing food carts, local shops, donuts and supposedly weird (but super friendly) people! All weird and amazingly wonderful!
Touristy things to do
After opening about how hipster and cool this city is, I am going to start with some of the more touristy but popular sights. The best place to start off your visit is by taking a Lyft up to the Japanese Garden and the International Rose Test Garden. We unfortunately visited at the wrong season for roses but this place is probably the world's biggest rose garden, with over 10,000 rose bushes and around 650 varieties. I can only imagine how amazing this place would look when the roses are blooming!
Around the corner from here is the Japanese Garden, a 12 acre zen and heaven-like park that opened in 1967 and is probably one of the most relaxed places I have ever been to. It does remind me of the one in London's Holland Park but about 10 times bigger! The entrance is very Japanese looking with these looming trees above you as you climb up the little hill.
The whole place is filled with super zen rock gardens which has this really peaceful feel to it. There is something about just staring at those perfect symmetries and circles. This is the best place to stroll around, relax and just enjoying the peaceful nature. There is this big fish pond and even Japanese looking traditional buildings!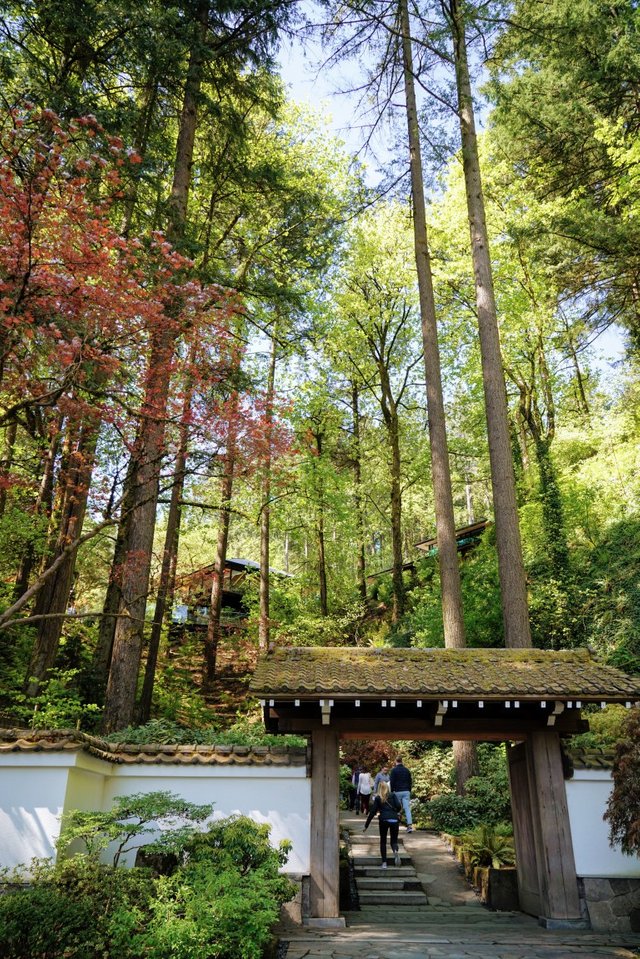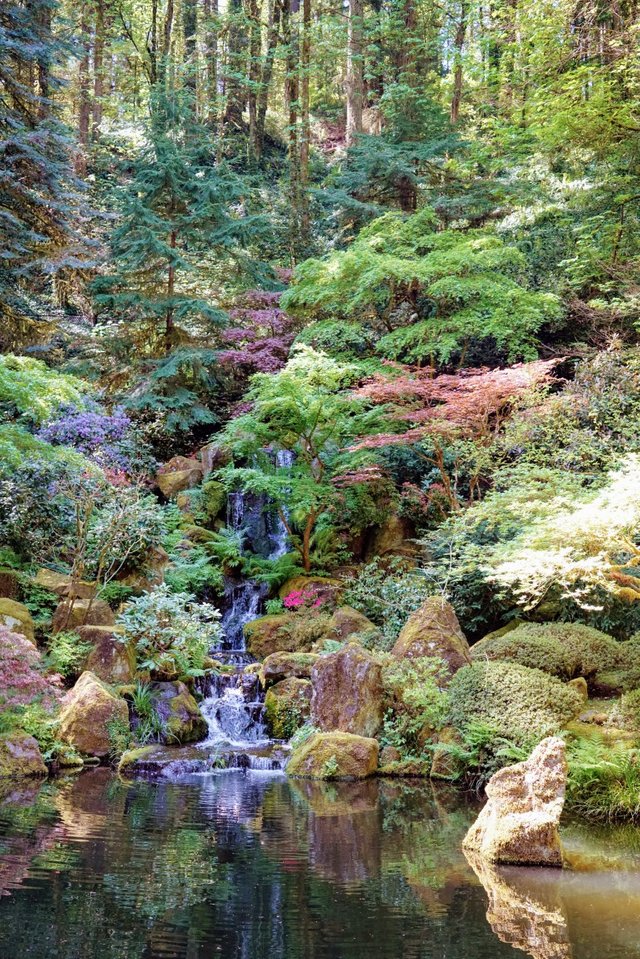 Powell's Books
Next up, head to the largest independent book store in the world, in the centre of Portland. It is massive with a great selection of books and some awesome looking local Portland prints and merchandise. You will definitely get lost in here, but its one of those nice feelings to just meander around aimlessly and randomly picking out your next best read!
This road has quite a few small independent stores, so a perfect place to look out for some of those locally made products (MadeHere PDX). There is also a decent coffee shop around as well, to sample some of Portland roasted beans!
Pioneer Courthouse Square
Known as Portland's living room, Pioneer Courthouse Square has a mission to enrich the environment of the City's public park for the benefit of Portland's community members and visitors. They do this by holding regular events with some recent ones including the flower festival, the Cannabis festival, the science march and even the Tibetan National Uprising Day! These diverse range of events make this social arena really special and unique for the city and its community.
In one of the nearby shopping malls is the Made in Oregon store, a perfect place to get out of the sun and roam around for local products and enjoying that no sales tax law! I got myself some local wines and amazing pinot noir salt!
After all that shopping, it is time to head to the waterfront to check out some of the city's water views and bridges. You can hire a bike and cycle along bridge after bridge until you hit the Ariel tram station and take it up for some spectacular views of the city!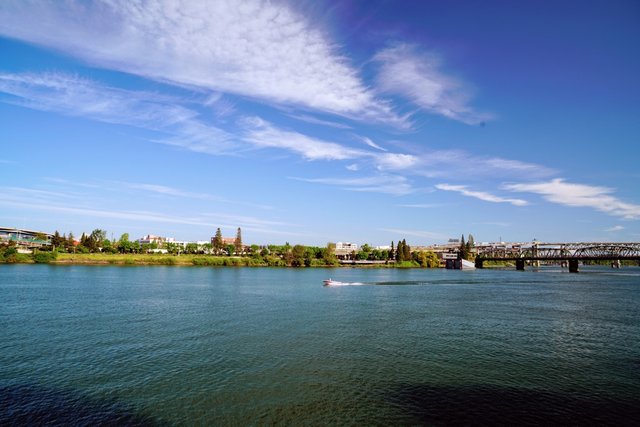 Richmond Area
This district has a completely different vibe to the centre of Portland, with its low buildings and super chilled vibe. The whole neighbourhood feels really friendly and is the kind of place I would be happy to live in, popping in to the local pubs and bars and then walking home - all kind of perfect for a Sunday afternoon.
The main street is filled with local shops (Field Trip, Nationale) and restaurants and even an incredible ice cream spot (Salt & Straw). My favourite place was of course the local urban winery! There were a large selection of wines on offer and all barrelled up here. This is the perfect example of Portland loving things local! The spot was cute and comfortable with a great menu of food and incredible local wines! (Of course, more Riesling for me after my German Mosselle wine trip!)
FOOOOOD
Now, for the main event - where to eat and what to eat in Portland. I rarely saw any large restaurant chains and everything was just small independent spots and restaurants. Choosing a handful of places to go to was so hard but here's my top list!
Matt's BBQ
If there is one place you have to eat at, it is Matt's BBQ. Go into Google and search for "Portland Best food" and you will get list after list of the best places to dine at in the city. Click into any of these lists and you will get incredible restaurants and among most of those fine dinning spots is always Matt's BBQ, a food truck in the middle of a family neighborhood, just slightly out of town. It is one of those food truck areas with a few stalls but this is a special one. The meats were succulent, soft and juicy. Everything was incredible and full of delicious meaty flavours! If you are popping into Portland and only have time for one meal, this is the place! Think brisket, pulled pork, ribs, sausages and mac & cheese!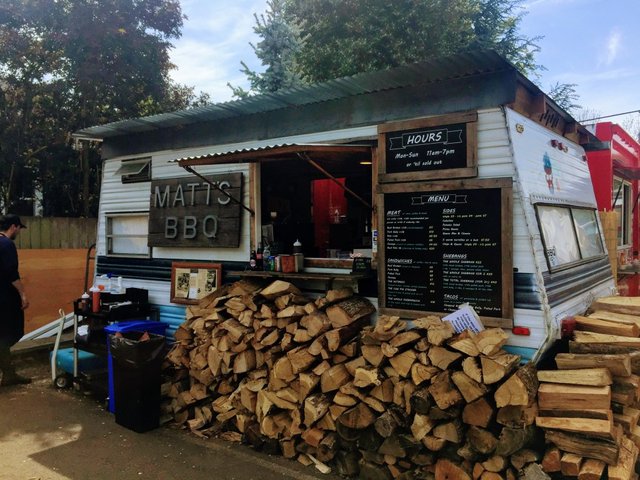 Alder St. Food Cart Pod
Sticking with food trucks, in the centre of town is the ultimate food truck experience. Lining the streets of a whole block is the Alder Street Food Cart pod, with literally the whole block perimeter lined with food trucks offering cuisines of all kind. We tried an eye catching mac and cheese and of course my low carb option of a philli cheese steak. The food experience is great here and the options are incredible - something delicious and easy!
Voodoo Donuts
This is probably the most famous donuts spot in Portland, with quite a few stores around the US. Voodoo Donuts is famous for their crazy toppings, with donuts that include captain crunch, maple bacon, sprinkles, peanuts and coconut. The store is always filled with people enjoying their colourful sweet treats. Across the road from here is also a Keep Portland Weird sign!
Ox - meat
For more of a sit down meal, head to Ox - a restaurant serving Argentine inspired Portland food. The different types of restaurants in this city are incredible and the best part is when they put Portland into the mix to make it their own! The menu here is full of meats and the Asado Argentino for two was perfect. Grilled Short Rib, House Chorizo & Morcilla Sausages, Skirt Steak, Sweetbreads, Fried Potatoes and Green Salad! You really cannot get better than that meat feast! The vibe is also very comfortable, friendly and intimate!
Trifecta Tavern
Our final dinner in town was at Trifecta Tavern, a morning bakery and evening dinner spot. The low lights make it a perfectly intimate spot serving a selection of incredible food. We tried the pan seared Alaskan halibut which was delicious and the grilled shrimp which was also amazing with a side of asparagus! A great date night spot too!
Coffee places @ Water Avenue and Sterling Coffee
Water Avenue is a local roaster in South East Portland close to the Willamette River. This relatively new roaster makes some incredible coffees with a a real impressive approach to sourcing their beans. What is really interesting is their custom built roasting machines which have individual motors, exhausts and agitators, which allows the roaster accurate control over the whole roasting process, making a perfect cup of coffee!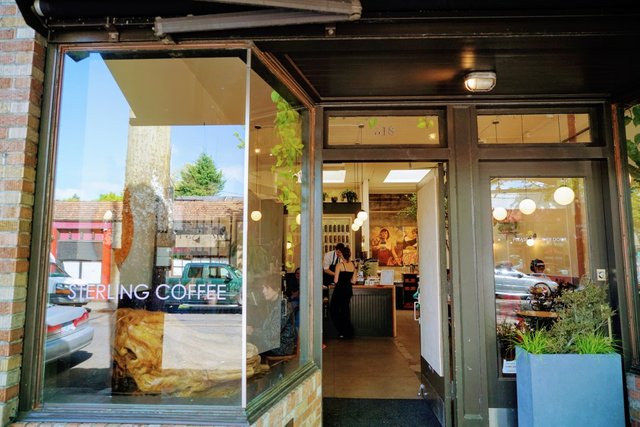 A notable mention must also be given to Sterling Coffee, probably the best place to get a feel of what Portland's cafe culture is all about. Their approach to coffee is all about their service and how they connect with their customers and providing an incredibly comfortable atmosphere to sit back and enjoy that black poison. Having been around for 12 years, they sure now how to do it right with their comfortable shop and pretty good coffee too! A great place to sit back, just people watch and appreciate the the culture of this great city!
All in All
What an an adventure it has been since starting in Seattle, meandering around the Washington and Oregon state countrysides and finally finishing off in the wonderful city of Portland. I never would have thought this city would ever feature highly in my travel destinations, but it is an amazing place to visit, with so much to do! The city's vibe is incredible and I loved every single bit of it. Oregon and Washington has been a pleasure!
Coming up next: somewhere in the Middle East!
Don't forget to check out my ultimate list of travel essentials!