After spending a few days in the magical capital of Czech Republic, Prague, we wanted to spend some time exploring what the countryside had to offer. A little road trip was the perfect way to head up North towards the German border. The region was known as Bohemian Switzerland - an area of lush trees, gorgeous hiking paths and amazing nature.
Most people won't think of doing a road trip out of Prague when they visit this region, so we were so glad we decided to do something different and explore some of the less visited areas of the country. Historically, this was an extension of Switzerland, with plenty of castles created to defend the region along the trade routes. These fortifications and castles definitely add to the character of the region, along with some of the most amazing landscapes and views. This makes it a perfect little excursion from Prague, ideal for an overnight stay in a farm and a bit of relaxation with the natural greenery! Here is our itinerary for a quick little detour out of the capital.
Day 1:
We started with our car rental in the centre of Prague at the main train station. It was easy enough to register and pick up the car with our rental company (Budget). Our first leg was a 1.5 hour trip up to Hrensko, a little village by the river, near the national park. The drive up was very easy, with little traffic and very comfortable and wide roads. We stopped at the first restaurant we saw for some warm tea and coffees, in eager anticipation of our little hike.
Our main target for the day was to see Pravčická brana, also known as the Falcon's nest. We had to park a bit of a way from the entrance of the park and slowly make our way to the entrance.
The walk up is very mild and easy with a very straightforward path to follow. As we visited in December, the greenery were replaced by these amazing autumny orange leaves, which was all really picturesque!
After a bit of a hike, we finally got a glimpse of the arch way. This is the largest natural stone arch in Europe and is absolutely massive as a back drop when you look up at it!
There is also a pretty old school looking building next to the arch that used to house guests for the park.
At the back of the building, there is a little path that leads you around and up some stairs towards a nice aerial view of the arch and house. It is well worth climbing up for some photos. Do bare in mind that it can get a bit foggy and cold!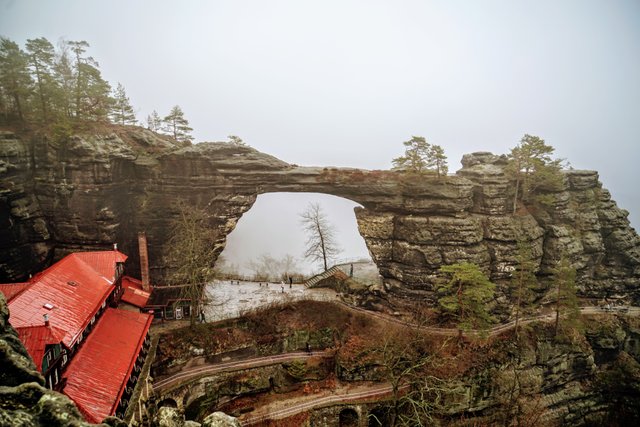 Evening in a modern farm.
After some (lots) of photos and getting a bit cold, we had to climb back down towards the car and head towards our stay for the night. We drive further into the forest, cruising around endless farmlands and fields towards Penzion Na Stodolci (The Barn Inn). This is a really old farm (since 1881) and offers lodging for the night and some delicious food. On arrival, you will be greeted with a very homey like feel at the entrance, with wooden interiors and a very comfortable room for the night.
Dinner was served downstairs and was a selection of delicious German style meats, fish and this unbelievable cheese plate. With some fine local wines, this was the best way to end a long day of hiking and driving.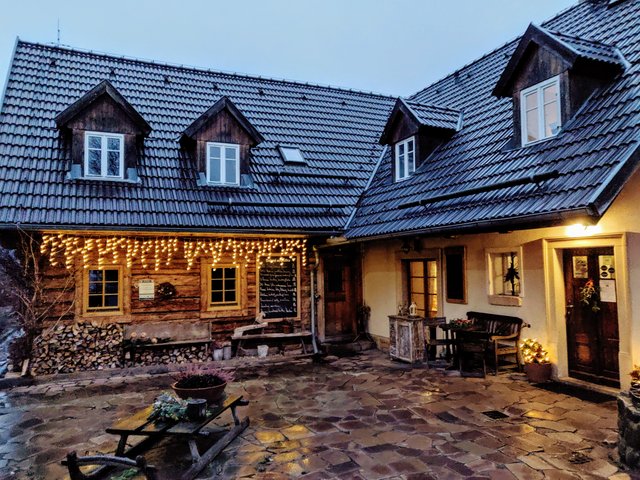 Day 2.
The second day started with a mighty breakfast spread of local cheeses, meats, hot foods, cereal and fresh yogurt. It was one of the best breakfast spreads I have had in a long time!
We managed to do a little walk around and exploring of the farm and came across a fine looking Tesla by the barns (farm owner not doing too badly!).
We then started our drive towards Bastei, just across from the German border. Sitting at 194 meters above the Elbe river, we wanted to check out the natural rock formations that were caused by water erosion over a million years ago. It was quite unbelievable how incredible nature is when it comes to things like this. It also really reminded us of Avatar the movie but in real life! The fog also adds to the excitement!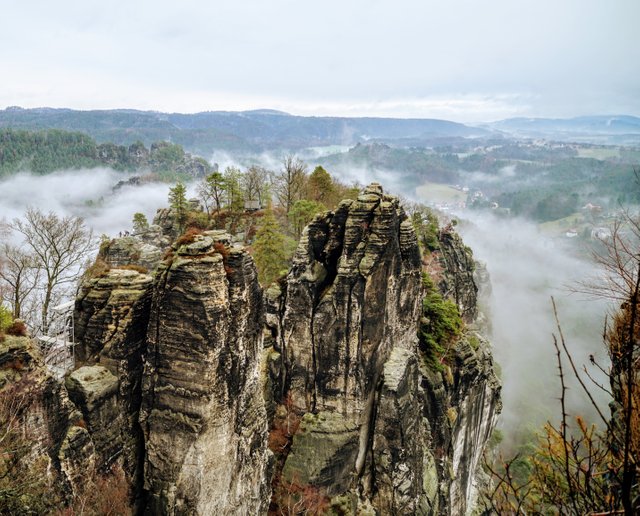 With tourists visiting this site for over 200 years, a little bridge was created so that people can cross over and see the rocks closer. Although this was not the original wooden bridge built in 1824, I do like how they have used stones to match up with the natural rocks. There are a few paths you can take and explore while admiring the incredible rock formations.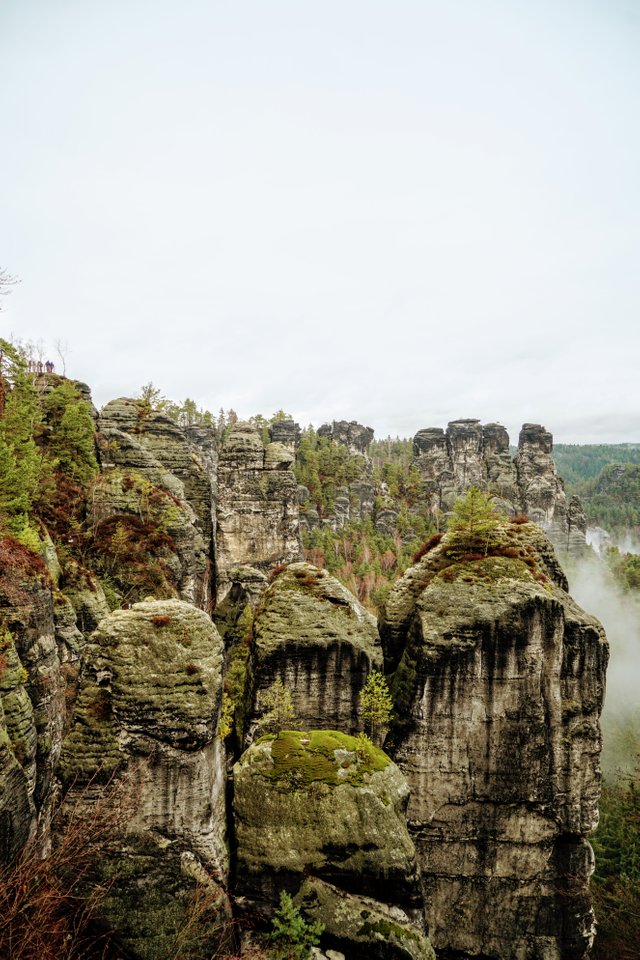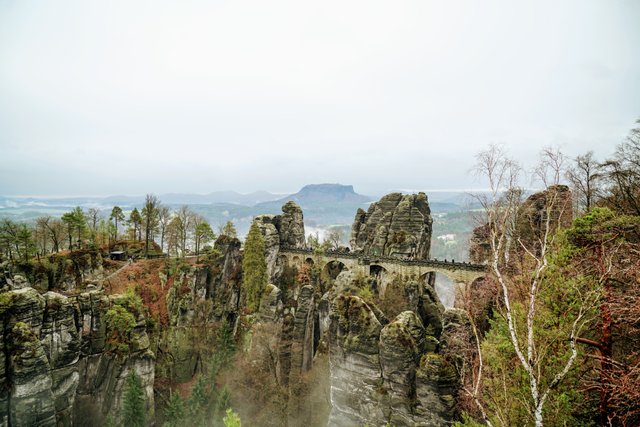 Make sure to stop by at Panoramarestaurant Bastei after your walk around and treat yourself a nice cup of tea with some stunning views before the drive back to Prague.
All in All
This is the perfect one night stay over in the countryside for those looking for something different to do while visiting Prague. It is super easy to hire a car and drive up and the natural scenes are just magnificent. You also cannot beat a nice stay in a farm with some homey food and comfortable barn stay!
Stick around for my next post!