Brighton.
A perfect weekend getaway from London is a little trip down to the South coast at Brighton. This hip little city is filled with incredible restaurants, food and gorgeous sea views. A weekend is the perfect amount of time to relax, have a little walk around, eat up and laze around cute little cafes. Probably the best way to refresh and break up the weeks of work! Here is my little guide to a weekend in Brighton.
Start off at the Pier
Probably one of the most iconic landmarks in Brighton is the pier. It sticks out of the water and can be seen anywhere along the coast. I first visited at night and managed to get a sneak peak into the old school arcade! It really brought back memories of my school days with those penny coin machines!
I came back during the day to check out the incredible water views. Not only does the pier offer gorgeous endless waters, the waves are super mesmerising. I really loved standing there just watching the waves crash into the beach. There is always something quiet therapeutic about this and it was a bit like the water crashing against the rocks in Bali. Calming but still so dangerous at the same time.
The best thing about this coastline is that it goes on for ages! My Airbnb was around the corner and I managed to go for a few incredible runs along the coast. It was perfect with the white cliffs too! Top tip is to check out the sun setting into the waters!
The Lanes
In the center of Brighton is a collection of small alleyways and side streets called, The Lanes. This iconic part of town is famous for the little antiques shops and cafes. Its a perfect Saturday afternoon area to go for a little wander around!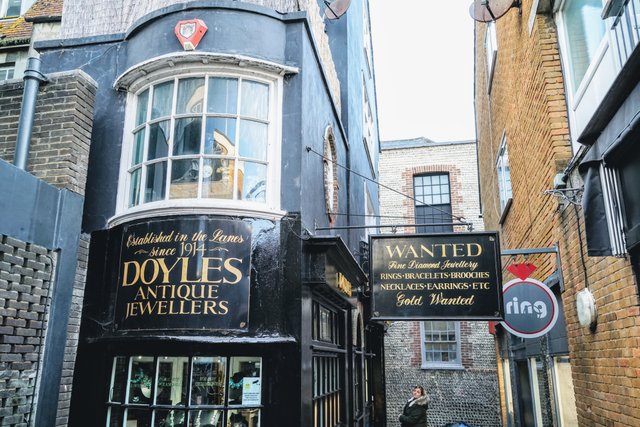 Royal Pavilion
Not far from the centre is the Royal Pavilion, something that stands out so much architecturally, you won't miss it! This is a Grade I listed former Royal Residence built in 1823 in a Indo-Saracenic Revival style. This was the seaside resort of the former Prince of Wales and is very unique in terms of style. In fact, it was used during the First World War as a military hospital, where wounded soldiers from the Indian Army were actually treated. It also really reminds me of Kellie's Castle during my visit to Ipoh, Malaysia.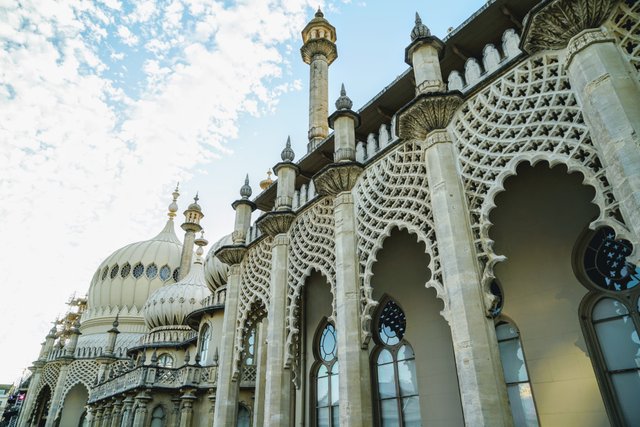 North Laines
Another area well worth visiting is North Laine, a semi residential area with lots of little shops, cafes and pubs. This is the spot for your Sunday afternoon stroll and shop. There are so many little cute cafes and independent restaurants around here, along with second hand stores and cute spots for a bit of shopping! Definitely don't miss out Pelicano Coffee Co - it is incredible how many independent coffee shops there are in Brighton! Another great spot in town is Small Batch Roasters.
Open Market
The final place to visit in Brighton is the Open Market. This is a covered market filled with local traders, food sellers and little shop stalls. Sunday is a great time to visit and it is not very big so just go for a small walk around and see if you can spot any hidden treasures!
Where to eat in Brighton
So on to the main event! I have heard so many great things around food in this city. It is absolutely shocking that none of the restaurants have a Michelin star because a few of them definitely should do!
Riddle and Finns
No debate at all - this is the best restaurant in Brighton. Hidden in the Lanes, this is the perfect spot for seafood and fish. If there is one place in Brighton everyone has to visit, then this is the one. The little restaurant is an old school champagne and oyster bar, with high tables and all in a small little space. The food was just incredible - fish, seafood and the like. I started with some shrimp and then had the best whole grilled fish ever. It was fresh, full of flavor and just unbelievable. The freshness reminded me of the great meals I had in Tunisia and Croatia but it is the flavors and the perfect cooking that took it to another level!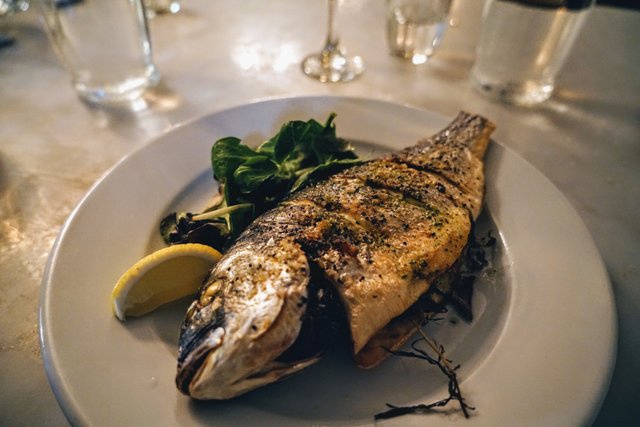 As this is a highly popular spot, you might have to wait a little before you get a table. There are no reservations so head on early, put your name down and pop into a neighbouring bar for a drink. I arrived at 6pm and still had to wait for an hour! Luckily, I was directed to a nearby bar called the Mesmerist - a quirky little place and to much of my surprise, served up some Washington wines! I haven't tried any wine from this part of America since my little road trip from Seattle to Oregon and I was super excited when I saw that it was a Reisling on offer (My fav road trip was down Germany's Mosselle, wine tasting this)!
English Seafood
If you didn't get enough seafood, then head to English's of Brighton for lunch. This family business has been around the block since 1945, serving up some delicious fish and seafood. The oysters look fab as well and the lunch menu is a real bargain!
Marmalade
This is the cutest little cafe just outside of central Brighton in Kemptown. The perfect kind of place to grab a breakfast early in the morning, sit back with a coffee and just watch the morning go by. A perfect little spot!
64 Degrees
A restaurant open by celebrity chef Michael Bremner in the heart of the Lanes, offering little plates to share and explore. The flavour profiles are fantastic combinations of fresh food and ingredients. Things that you would not have thought went well together but tasting so unbelievable. Think Jerk Salmon, Toasted Coconut and pineapple or Beef Rump Carpaccio, Roscoff Onion and Smoke Chestnut Mayo! The open kitchen concept is perfect for solo travellers or for those curious and want to take a look at the action!
It is also worth mentioning Plateau for their incredible list of naturally produced wines and Ten Green Bottle - more wine. Lastly, by pure coincidence I even managed to try out some Ethiopian food while in Brighton. Abyssinia is near the Open Market and serves up some of the most home like comfort food. There was some incredible stews, injera and amazing coffee! It was my first time trying this cuisine and I promise that it won't be my last!
All in All
Brighton was such a pleasant place to spend a weekend at. There is just so much to do and see and eat. The weekend went by so quickly that I can't wait till I come back to explore more of this charming little city!
Check out some of my other travel posts!
Mumbai | Hyderabad | Baalbeck | Qadisha | Sidon | Jouneih | Beirut | Portland | Oregon Road Trip | Seattle | Sousse | Tunisia Road Trip | Around Tunis | Tunis | Northern Ireland Road Trip | Singapore | Penang Street Art | Penang | Ipoh Malaysia | Plovdiv | Rila | Sofia | Hoi An | Ha Long Bay | Sapa | Hanoi Food | Hanoi | Surrey Hills | Colonge | South Wales | Mostar | Sarajevo Food | Sarajevo | Croatia Coast | Mosselle | Krakow | Angkor Wat | Riga | Tallin | Tallinn-Riga Bus Tour | Dead Sea | Jerusalem | Tel Aviv | Bali |