I have no idea where this exactly is, but it should be somewhere where I located it on the @steemitworldmap. At least, that's what I think it should be. So, it was getting dark and we are on our way to our next destination, Croatia! The idea was to drive there until we couldn't drive any further and sleep in the car. As I was driving, Joyce was trying to see outside. After the 100th time, I pulled the car, parked it somewhere on a steep 'parking lot' and kind of forget to pull the handbrake to prevent the car from moving.
Fuck me sideways, my heart beat so hard when I noticed the car was rolling backward where the hell we came from. Handbrake! Whups. And I already knew I was getting in trouble once I had to restart the engine. I don't know about you, but hey, I suck at driving away on a steep hill. When we parked the car, safe and sound, we got out of the car and there it was... nothingness. Complete silence. We started to hear nature as we adapted to it. The sound of water sliding towards the mountain was near. there was a small water stream on the mountainside. It was dark so we couldn't see anything.
I decided to bend the rules and got my tripod out. I wanted to see what my eyes couldn't. I planted the tripod and trusted my guts while trying to remember what I saw while driving. A tunnel, mountains, I made a turn, so that would result in a small S-curve if I manage to frame it in the composition. "This should be right", hmm, me trying to figure out what settings I should use. I would need at least an aperture of f/8.0 to be sure to have at least 'something in focus', and I guess I would need at least a shutter speed of 60 seconds to see anything at all. Let's give it a shot.
The first photograph that I took was black. But I knew I would get a lot of information back in Camera RAW at the cost of quality. The noise would probably be worth it and all I had to do is to crush the blacks to get rid of it. I wasn't really satisfied and wanted to see how much I could push my camera.
Knowing that long shutter speed would consume a lot of battery life, I just needed to take another shot. This time, I doubled the shutter speed and extended it to two minutes. And what the hell? There was a car here? At this time? Wow, so lucky! But I barely made it because of the digital processing part my camera needs to go through before you can take another shot.
Wow! The lights on the back of the car added value to the image I believed. Let's reposition the camera a little bit more, so I can see more of the tunnel. This time, I just wanted to catch more moonlight cast on the mountainside right of me. I guess I would need to triple the initial shutter speed. 3 minutes. Let's go for it. As I was standing next to my tripod, trying to look if I could see more in the darkness, I saw another car coming from the other direction.
At that moment, I had no idea what to do. The camera is directed straight to the tunnel, so that would mean, if the light of that car would front the sensor of my camera, this would blow up the entire shot. But hey, I think I timed it well and closed the shutter speed right on time and stopped it when the car was half-way the road that was right in front of it.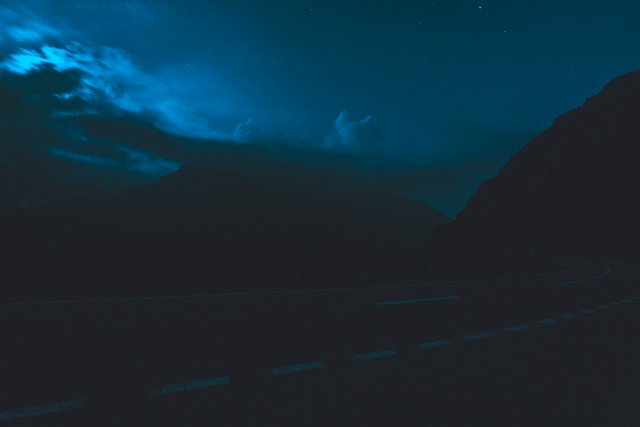 ©2018 - @rubencress | Shutterspeed: 61", Aperture: f/8.0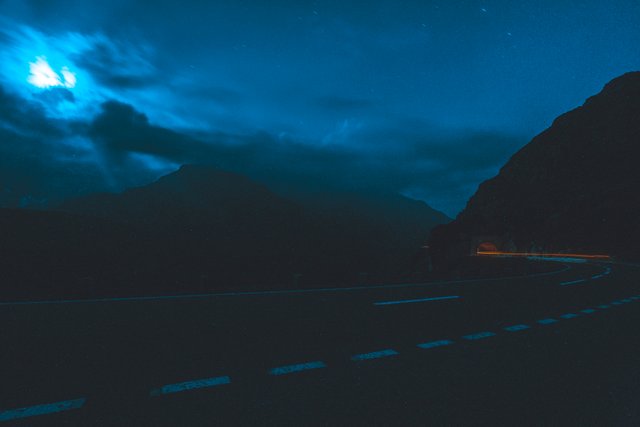 ©2018 - @rubencress | Shutterspeed: 123", Aperture: f/8.0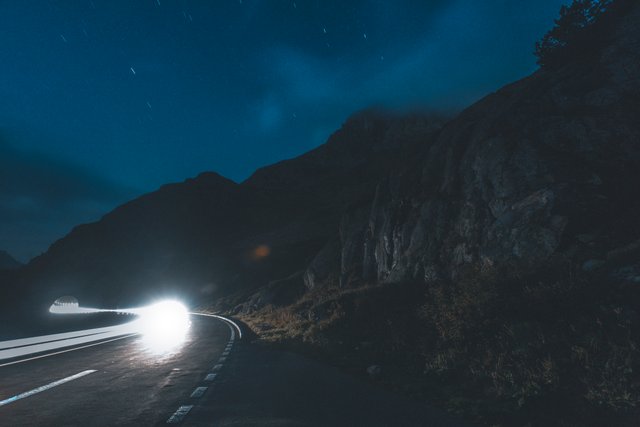 ©2018 - @rubencress | Shutterspeed: 202", Aperture: f/8.0
And what are the odds, two cars at this time, at this location? I bet that there aren't many drivers out there that would love to drive here. The turns are crazy. You can't see anything. I think I drove around 30-40km/h and 10km/h in the turns when we were getting up.
When we were have reached the highest part of the mountain, it was time to get down. I literally didn't have to accelerate at all the entire way down! As a matter of fact, I had to hit the breaks more than I was used to!
This was kind of a freewrite, but I did some spelling corrections in the end. Hope you enjoyed the story and seeing you in the next one!
Cheers,
Ruben