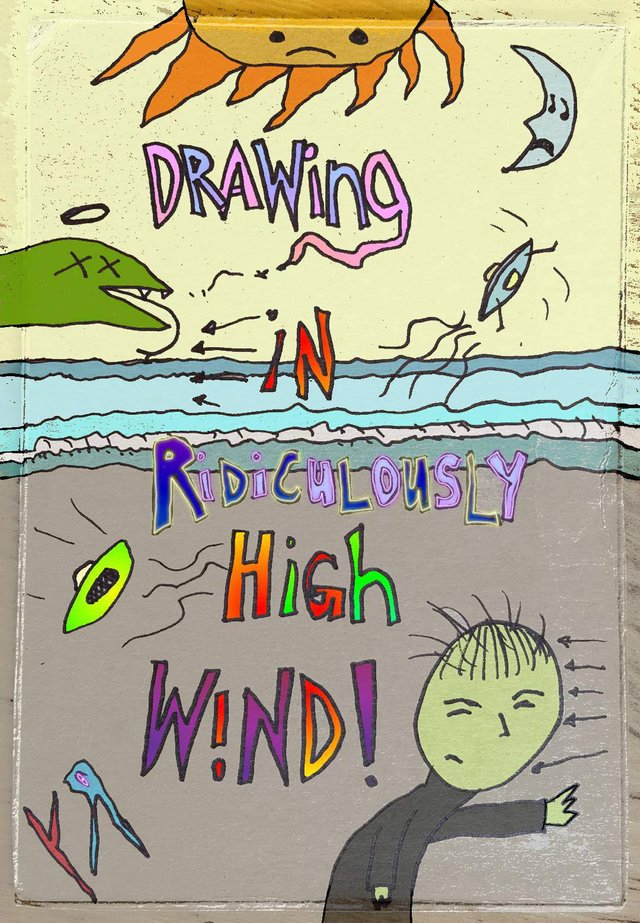 Sitting at an indoor picnic table at a Costco (in Warrenton, Oregon) waiting for my family to finish shopping. I WAS playing the demo model for an Asteroids Deluxe 3/4 standup machine (like the Asteroids machine my kids bought me for Father's Day,) but after I'd been there for 20 minutes, I thought the staff watching me on the closed circuit t.v. cameras were probably about ready to send the THUGS out to batter me a bit and toss me out of the building.
Now I'm chillin' near the exits on a bench.
Yesterday, we had a lot of fun (full post to follow...probably on Tuesday), but for a little while yesterday afternoon we walked from our hotel down to the beach. It was nice, probably upper 60s (f) and only a little cloudy. (Much nicer weather than you usually find at a Northwest beach.) The only problem---AT ALL---was the sixty mile-an-hour winds!
The drinking straw on my water bottle was almost instantly covered in sand; I had to hold my sombrero onto my head at all times (lost it once and had to chase it down the beach); and when I parked in my folding chair and got out a chunk of cardboard to draw......it proved a bit difficult. One hand on my hat, the other trying to keep my drawing from blowing away (it escaped once) WHILE drawing... Yeah, I was lucky I got anything down at all!
Still, I managed a little modified seascape (Sharpie on reclaimed cardboard with digital embellishments and color, 2019), but I didn't have the gumption to try for a second piece. Oh well...
I think, after we're done shopping, the next stop is HOME. Good. I'm ready to be done!
---Richard F. Yates (Holy Fool)
Posted using Partiko Android