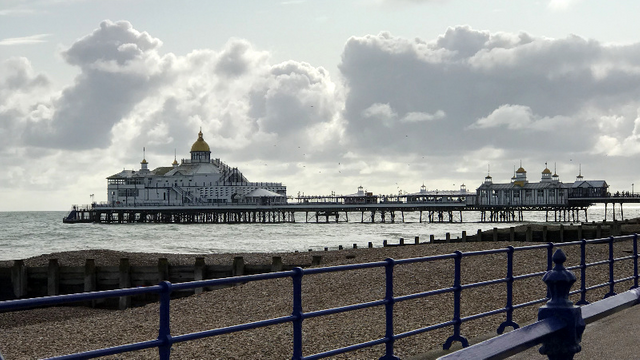 What a Week
Mostly good things happened. I'm settled now in Eastbourne, at least for a few months. That's a nice development. It means @michelios and I can get back to work on all things Steemhouse. All the moving about has been hard on both of us.
Eastbourne is a gem on the banks of the English Channel. This time of year it's quiet, homey, and secure, and I love it. Of all the places in England that I have visited so far, this one calls to me the loudest.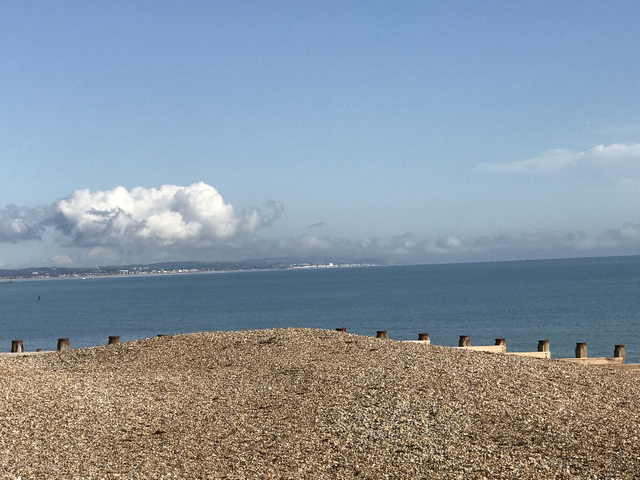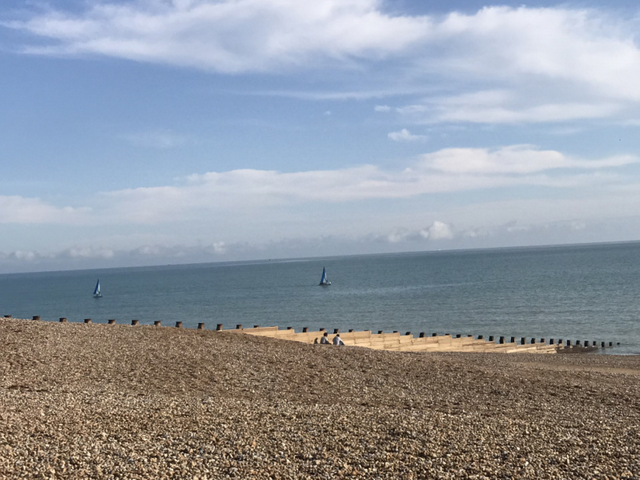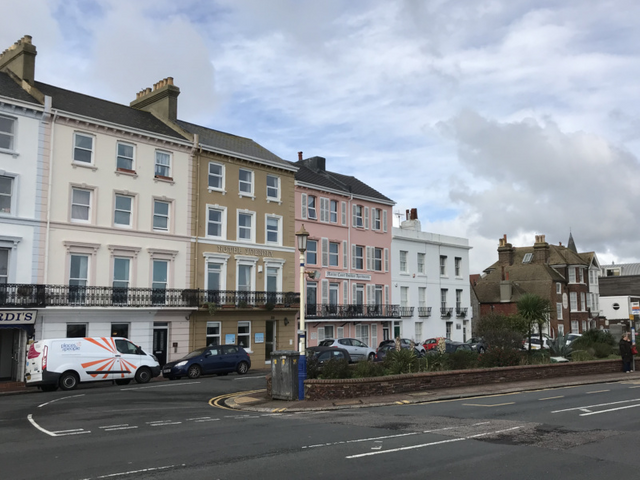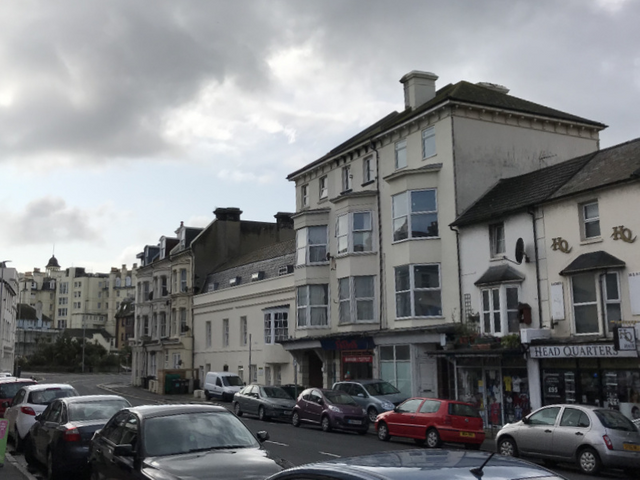 Even the names of some of these places make a Southern U.S. gal feel right at home.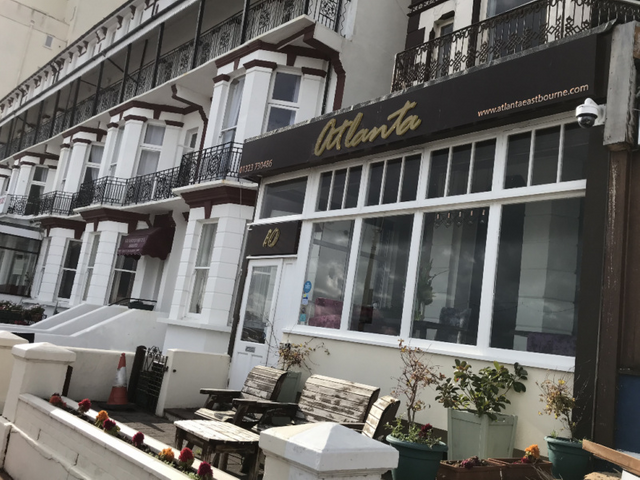 I did have to survive five whole days without reliable Internet, though. That was tough for someone like me who needs to stay connected. I got no work done to speak of, fell out of touch with friends, family, and Steemhouse business, and watched with morbid fascination as Monsieur Polite with a French Accent descended into depths of grouchy I don't even think he knew existed.
Yeah. It's been fun.
And Not So Fun
In the middle of the connectivity crisis, @sk43's dad passed away unexpectedly. I can usually put a positive spin on almost anything, but that was a blow. Bill Kay was one of the finest human beings I've ever had the privilege to know and he will be sorely missed. The only way @sk43 could tell me was via Discord message that I couldn't even respond to right away because everything I typed turned red. (Meaning I had no connection.) I spent two bitter days trying to find plane tickets I could afford so I could at least make it to the funeral, only to discover that once I landed, I'd be unable to travel further. I don't want to waste a whole post on that problem or explain in the comments how I know beyond all question that U.S. airport car rental locations will not accept a bank debit card, so let's just say all efforts were frustrated, and I didn't have enough internet to beg anyone to pick me up at the terminal. That was a dark time for me and I was unable to be there in any way for @sk43 or his family, all of whom I love like blood kin.
I was, thank goodness, able to have a lengthy phone conversation with @sk43 yesterday and I'm reassured that he's dealing with things as well as can be expected. My deepest condolences go out to his mother, sister, and her three children, as well as everyone else who loved Bill for the fine human being, father, husband, and grandfather that he was. For sure, being five thousand miles away did not lessen the impact his passing had on me as well.
Before the Bad News
Before I heard about Bill's passing, I was mumbly-grumbly about the lack of internet but nonetheless completely charmed by this little town where I had made an unexpected landing. I'd found Eastbourne by way of Airbnb, where a listing for a "big budget studio on the sea front" drew my attention with its very affordable off-season price. Once we arrived, we learned that our hostess was not only quite accepting of all three dogs but also willing to offer us a month-by-month stay through the winter months. We'd researched short-term let listings in other English towns and knew what market prices look like, as well as what the "hidden" costs of renting an unfurnished apartment would be, like electric, gas, and water services. So there was no doubt we'd found a perfect solution for our dilemma.
That internet situation, though--the building here was once a fisherman's house located directly on the sand beaches of old Eastbourne. It's constructed like a tank, or more accurately, a medieval Faraday cage. Wireless signal has a very difficult time passing through these walls and even the shreds of service that leak through are faint and virtually unusable. I have no way to prove it (yet,) but based on interior architecture and neighboring structures, I suspect that the original home was set further back and the front room and facade were added in the Victorian era, around the time the modern streets here in Eastbourne were planned.
"Listed" architecture surrounds this building on all sides, meaning the structures are preserved by a historical society of sorts and have intact records dating back to the eighteenth century.
For example, the Sea Beach House, one of the "only grade 2 listed seafront accommadation in Eastbourne, where Alfred Lord Tennyson was reputed to stay," and 37 Marine Parade, or Ye Olde Bakery, "a simple, plain cobblestone-walled building partly faced with cement. It dates from the early 19th century and has a single window to both storeys with a dormer in the attic space above." Yes, it once was a real bakery, but now has been converted into holiday apartments.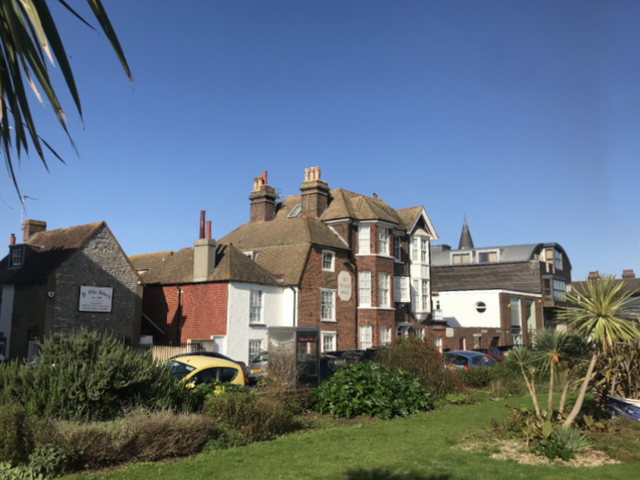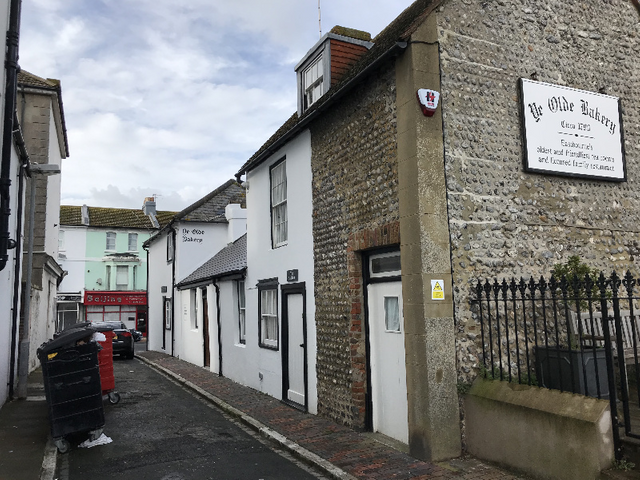 Close-up of the old rockwork on "Ye Olde Bakery's" exterior walls. You can see both old world cement grouting and modern cement grouting in this photo.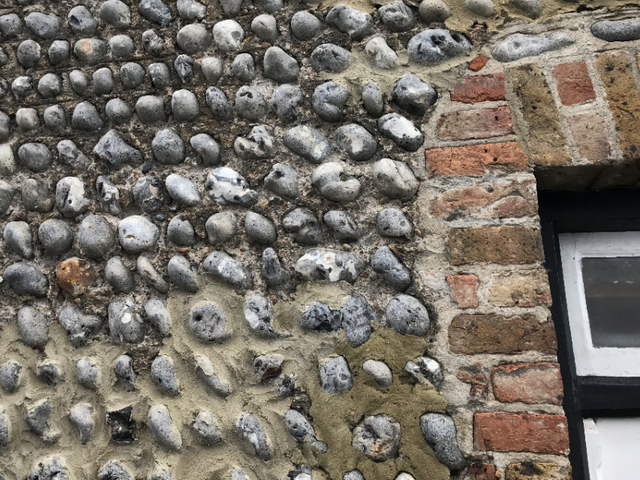 This alley intersects the other alley running beside Ye Olde Bakery and fires my imagination--and yeah, triggers the bladders of our doggies every time we walk past.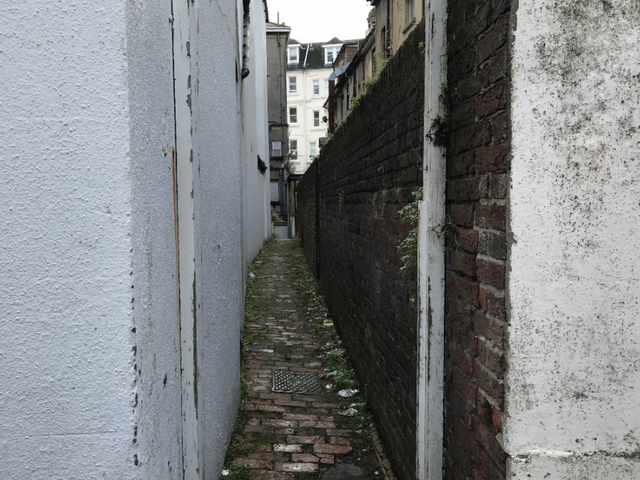 Then there are the "two 'rather plain' houses of approximately the 1840s, these have their roofs hidden behind a cornice and parapet. Each house has three storeys with two windows to each, small iron balconies at first-floor level and a string-course above. Fanlights survive above the doors."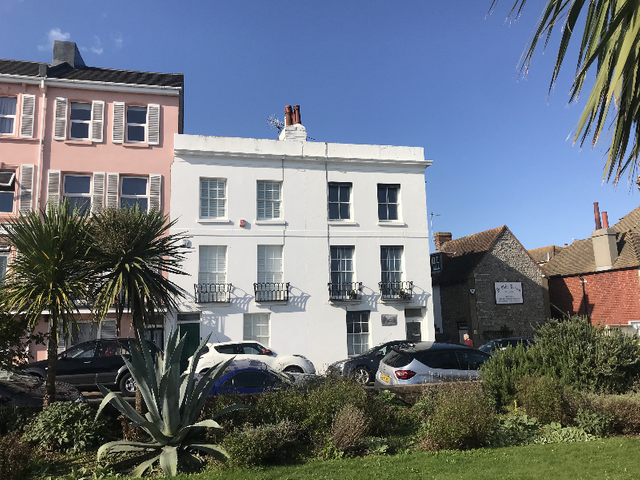 And this one, which stands "on the site of an earlier building in which the 'Society of the People Called Methodists' was founded in 1803 to encourage the spread of Methodism."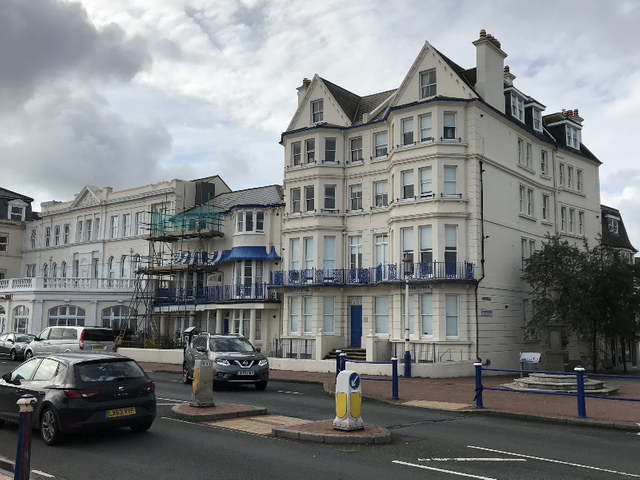 This particular section of Marine Parade contains many buildings known as the "Sea Houses." These buildings are fascinating in both their history and construction. The photo below, dated prior to 1850, was taken of the approximate area where Sea House Square (next two photos) now stands. As you can see, the sea front was much closer to the buildings before the construction of either Marine or Royal Parade but the modern town had definitely started to take shape.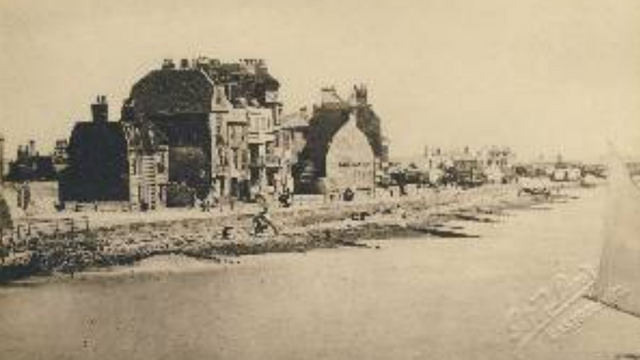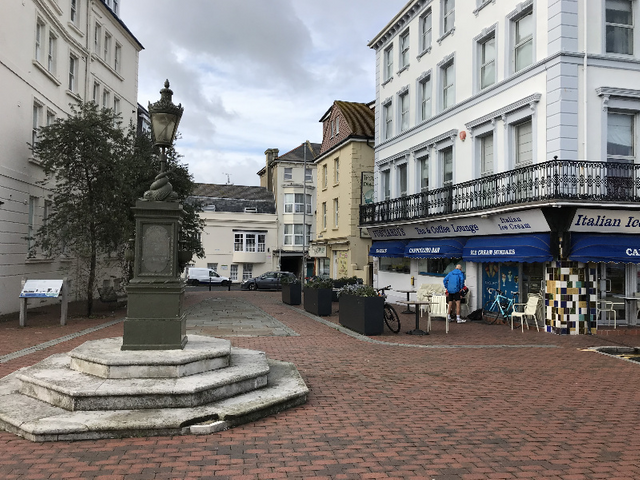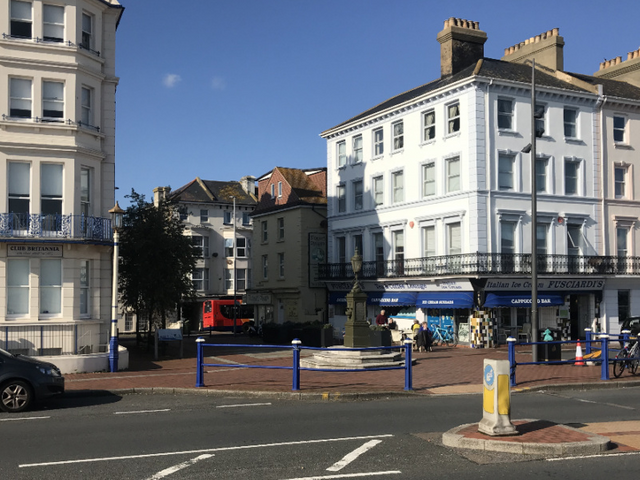 Interesting item of note: Fusciardi Ice Cream is a local landmark. No, I haven't eaten anything there yet, but it's on the short list.
The area around Sea Houses Square is one of the oldest intact "modern" settlements in Eastbourne. But human history can be dated on this coast as far back as the Stone Age. Ruins of a Roman town called "Anderida" survive here in the form of a stretch of ancient pavement and a Roman bath buried beneath the town. Evidence of an impressive Roman villa still exists between the Queens Hotel and the Eastbourne Pier, hidden from time beneath the "Carpet Gardens." In 2014, skeletal remains of a sub-Saharan African woman were discovered near Beachy Head that date back to early Roman history. More recently, Charles Darwin drafted sections of "Origins of Species" in one of the sea houses near Marine Parade around 1850. There is no shortage of ancient artifact or lore in this region.
One thing that enraptures me about this locale is the pervasive love and acceptance of doggos. I've never been anywhere, even in England, where our furry friends are more revered and welcomed.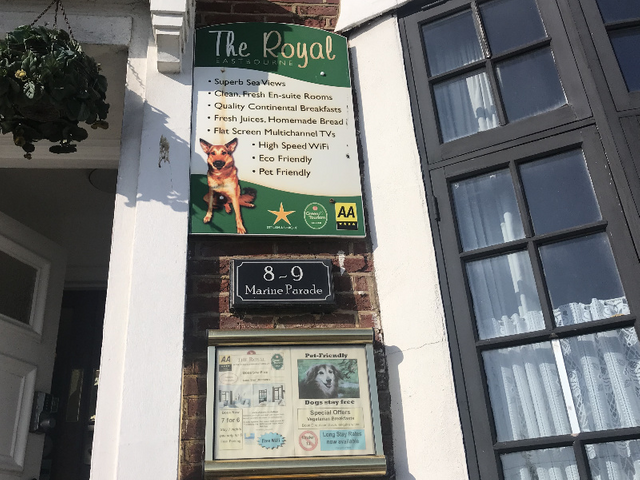 A post I plan for the near future is "Dogs of Eastbourne." I intend to spend an hour outside on Royal Parade capturing vignettes of all the dogs, native and visiting, who romp around me in the space of just sixty minutes. It will stun you.
I can't conclude this post without a word about the locals. In the short time I've been here, I've met some fascinating people. Some I've exchanged contact info with and remain in touch with on Facebook. (Hi, Nicola!) Just like Linda from the subway in New York earlier this year, these people will most likely become permanent friends who I arrange to visit with again in future travels. I vascillate wildly between hating people and loving people--I've met such diverse types in my life--but so far only the bus drivers in Eastbourne have triggered even the slightest spark on my truncated fuse. (They can be rather surly.) On the whole, this is a friendly town that loves its visitors and seems to regard them with great fondness. I've heard multiple tourists comment on the friendliness of drivers stopping to wave pedestrians past and the overall cheerfulness of the population. I could not agree more.
One example of this is the gentleman Michel and I met at Crown and Anchor tavern one afternoon as he took a beer at a table by himself. Oh, what a delight! He broke the ice by commenting about my rapt focus on the laptop, and how our society lives with its noses buried in technology and barely notices the world around it anymore. After my reply that plunking around on a laptop in a tavern was far preferable to working in a stuffy office somewhere for eight hours a day, he conceded that technology might have its uses--but was quick to show me his own mobile phone that...gasp! Just. Makes. Phone calls. I didn't catch his name, but this gentleman made my day.
Life is good in Eastbourne!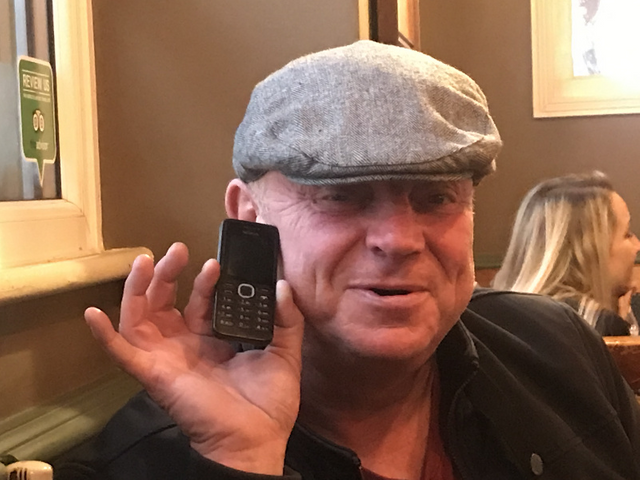 Click the video below to see a time lapse of Royal Parade in front of the Sea Houses transform from 1895 to 2019.
And as a bonus, here's the video Michel grabbed at a stoplight in London on our way to Eastbourne--this is the King's Troop, Royal Horse Artillery. These animals took my breath away.