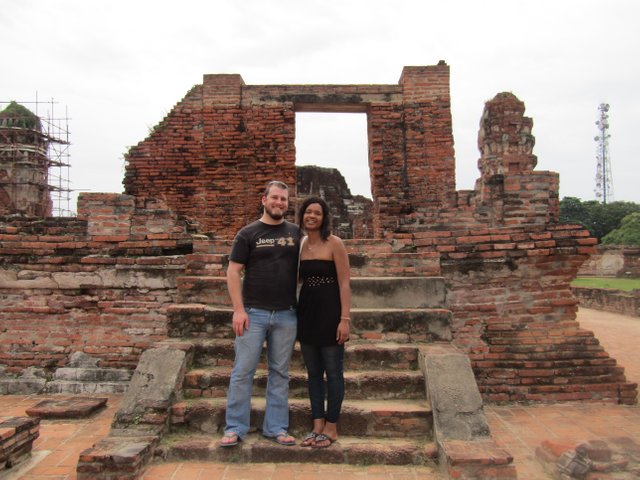 Myself and @bunnychow in Ayutthaya
Greetings, my fellow Steemians! It's been a while since I've had a chance to post and it's because myself and the lovely @bunnychow have embarked on our adventures at last. If you recall, we sold everything and left South Africa to pursue adventure and a new life as digital nomads. Our first destination was Thailand and we arrived about two weeks ago.
It's been a busy two weeks as we settle into our new way of life where we are our own bosses and get to choose when and what to work on. So far we've been making decent dollar doing transcription work and I'm applying for online teaching gigs to supplement that. There's also a copywriting opportunity on the horizon, and of course, there's Steemit!
Keep an eye out as I will be posting about how viable the digital nomad life is for us.
Thoughts on Thailand so far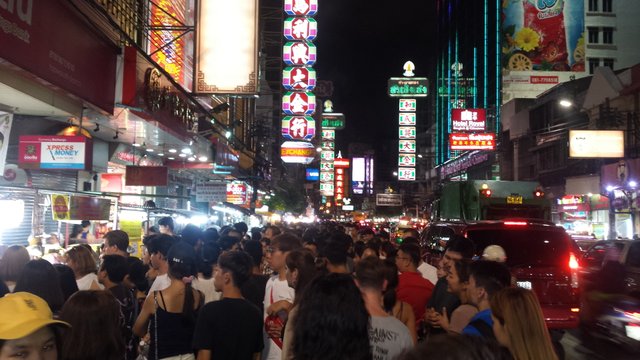 China Town, Bangkok
We've been having an amazing time so far. The food is even better than I remember from when I was last here in 2005, although the beer seems to have gotten more expensive and they're now regulating beer Chang's alcohol content... Back then it was a lucky draw whether you got 5% ABV or 7% ABV. I suppose that's progress...
A sad development for @bunnychow is that wine is incredibly expensive... We're talking $24 for a bottle of Australian red. If you consider that we were getting very decent South African wine for less than $5, two weeks ago I'm sure you will sympathize with her. Fortunately she likes Mai Tai's!
As I said, we're loving the food. There are 6 restaurants within 100 meters of our flat and we're eating out every single day. When a meal for two costs as little as 80 baht ($2.41) there's not much incentive to cook.

Tom Kha Gai
One thing that we have noticed is that almost everything is sweet. Even regular bread is a lot sweeter than we're used to. Half the time it feels like we're eating cake!
What to expect going forward
Now that I'm back to my blogging ways you can expect regular updates of all the stuff we get up to on our adventure. Coming soon will be photos of our trip to Ayutthaya last Sunday. It involves bicycles, ruins, Buddha's and beer with ice in it.
We're headig to a famous river market about 100km out of Bangkok this coming Sunday, so expect pictures and tales from that. You can also keep an eye out for the next stage of the adventure when we head off to Hanoi, Vietnam on the 25th of July!
Photos were taken by myself, @bunnychow and a pair of Japanese tourists who used our camera