Amazon Account Manager's Day Out- Alobijod Cove Guimaras
Going back to Iloilo is a combination of working, visiting my loved-ones and rigid training on being an account manager of Amazon.Being one is not an easy thing to do.We usually have our training from 12:00 midnight until 7:00 in the morning that is because I'm still having my online classes in the afternoon until 11:00 pm.
There are 7 of us are in one apartment doing the task but others are in there towns.That is because the seven of us don't have a stable internet connection in our places.So we rented an apartment and divide the expenses among ourselves to make our bills a lighter burden.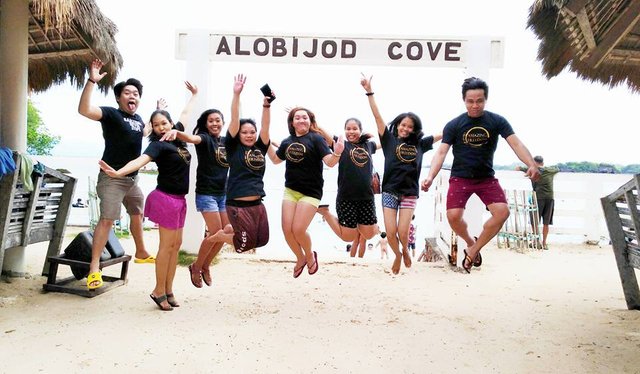 Working in Amazon should require you to be keen on details especially with numbers.The tasks are challenging, the responsibilities are mind boggling and we make sure that our clients will be satisfied with our service because the job competition out there is very stiff.
One thing that makes our day fun was our boss sent us funds so that we can have a trip to Guimaras which is known for their Mango Festival.They have the sweetest mangoes in the Philippines and known to have many beautiful beaches.It was just few minutes away from Iloilo by ferry boat.
It adds up to our excitement that we can bring our family members with us.Thus, I brought my two sons with me and my sister.When we arrived in Guimaras Port, we headed to Jordan Guimaras where Alobijod Cove is , we rented a jeepney for Php750.00.There were 17 persons all in all composed of 4 kids and 13 adults.It was raining hard at that time so the jeepney driver just slow down while driving.It takes us more than an hour to arrive to our destination.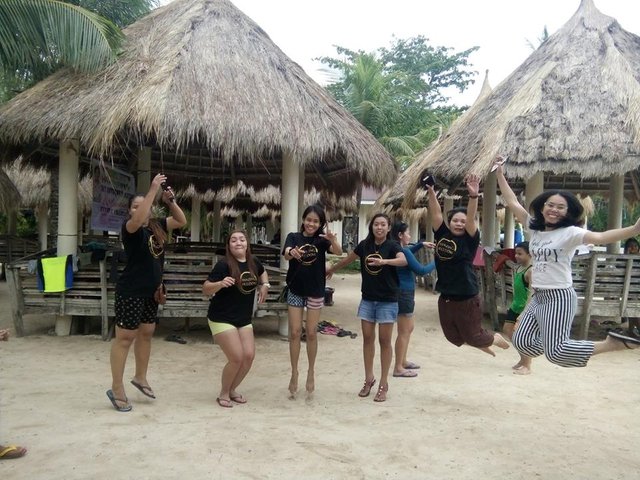 We are addicted to jumpshots
We arrived in Alobijod Cove at 8:43 am.The entrance fee is Php30.00 for adults and Php 20.00 for kids.The cottage is for Php 800.00 pesos and can accommodate 20 persons.We brought our foods so we paid Php300.00 for the corkage fee and if you brought drinks with you , you need to pay Php20.00 for 1 liter of coke you brought inside.It was not fair though but since it's in their rule , we just follow.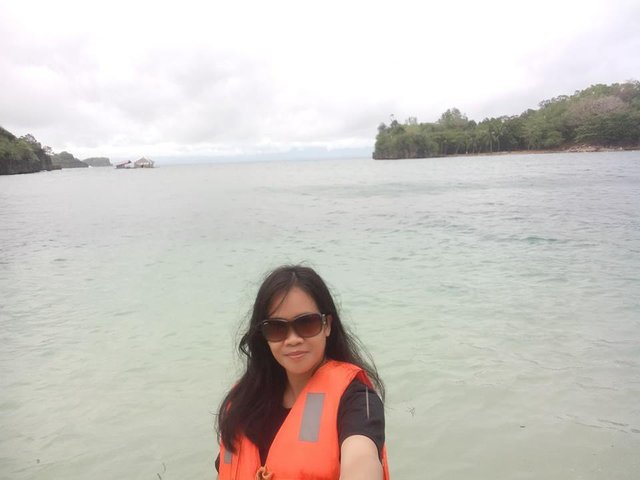 The beach front has an amazing view giving you the glimpse of other neighboring islands.The sand is white and my sons can't wait to swim and play with the sand and waves.It's actually their very first time to go to the beach.They were so excited and happy.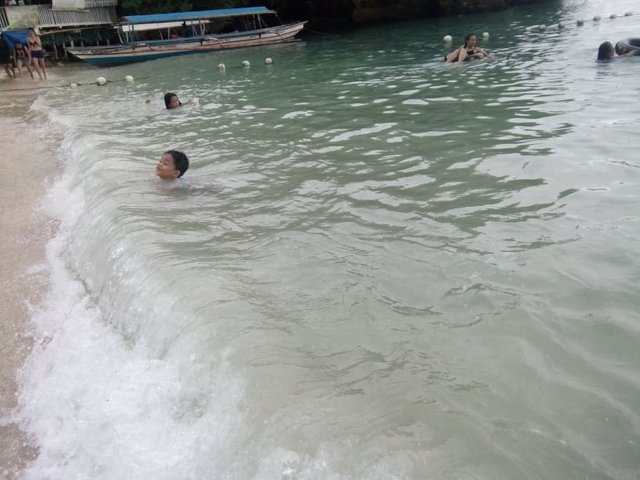 Bimby playing with the waves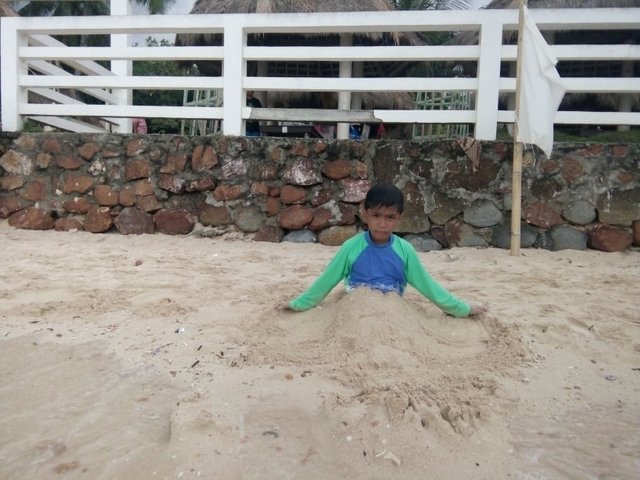 Borgy covering himself with sand
Since it's a day tour and we wanted to make the most of our time, we rented a boat for Ph100.00 per hour good for 7 persons for an Island Hopping.This is the best part for me since we can really visit and see the other neighboring islands and set our feet in there.It was still cloudy and the sea was rough.Our boat ride was bumpy and thrilling.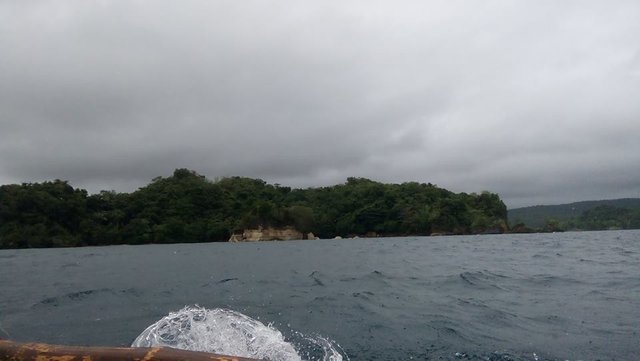 And we just let the kids swim and of course we took pictures , stayed for few minutes and went back to Alobijod Cove.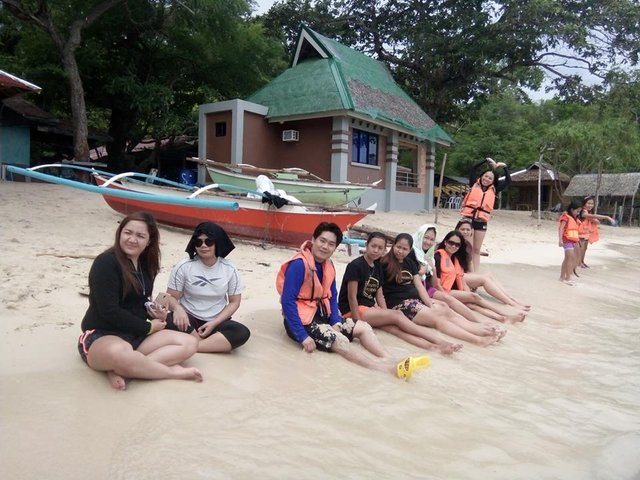 So that is how we chill out for a moment.We went back to Iloilo at 2:00 pm .The rain poured again and the kids are complaining about how cold they felt because of it.It was a rainy adventure though!
Thanks for Reading!
6/13/2018 @ 12:22 pm


Please support SURPASSINGGOOGLE as a witness by voting him at https://steemit.com/~witnesses and type in "steemgigs" at the first search box.
If you want to give him witness voting decisions on your behalf, visit https://steemit.com/~witnesses again and type in "surpassinggoogle" in the second box as a proxy.
@paradise-found is a sweet and great person, a very humble and generous encourager, let us also support him by voting and typing in "gratefulvibes" at the search box
Others that we should support are: @henry-gant, @kenny-crane, @beanz, @teamsteem, @good-karma, @busy.org, @esteemapp, @hr1, @arcange @bayanihan, @acidyo, @anomadsoul, @steemitph, @jerrybanfield, @darthnava, @paradise-found, @geetharao, @stephenkendal and @richq11; they also have supported us. Thank you very much.
I thank @iwrite and @purpledaisy57 for mentoring me. Godbless!