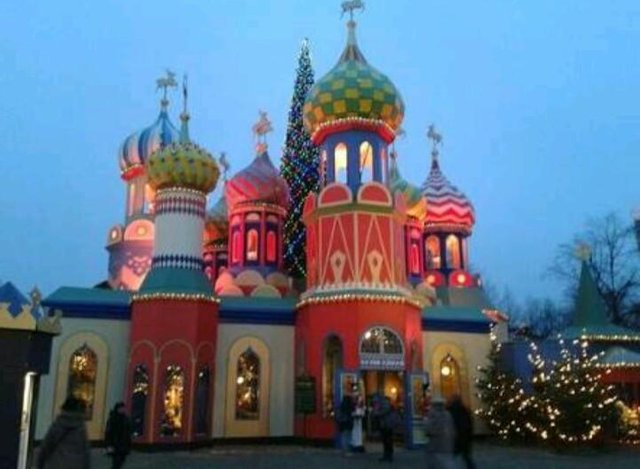 this photo I took at christmas last year, and still stored memory when I vacation to Denmark last year.
Denmark has two of the world's oldest amusement parks and one of them is located right in the center of the capital. Since it opened in 1843, Tivoli Park has been greeted with great joy by the locals and enjoyed by visitors who come to Copenhagen. More than just a theme park, Tivoli Park hosts live music daily at its venues and has some of the city's best restaurants.
Tivoli Park receives over 4 million visitors each year, This is a great family destination with attractions for all ages. For many visitors arriving in Copenhagen by train, Tivoli Park is the first attraction they will see when a roller coaster passes over Central Station.
Take the top of one of Tivoli Park's roller coasters for a thrilling experience. The Tivoli rides are available from roller coasters and traditional wooden playbills to modern interpretations of classical entertainment. The Demon reaches speeds above 40 miles per hour. Enjoy unrivaled views of the city from the top of Himmelskibet one of the world's tallest carousel.
Explore the beautiful 8.5-acre gardens that unite the park. At night more than 100,000 specially designed lights illuminate the paths and trees. Enjoy a dragon boat cruise on the lake in the middle of the park or grab a seat at the lakeside bar and restaurant. The most famous place for fine dining is Noma, which is internationally praised and famous for its innovative dishes based on traditional Nordic food.
The Tivoli Park is in central Copenhagen and can be reached by biking or walking from many downtown hotels, the central railway station is next to it and some roadside parking is available in this area. Tivoli is open every day from April to September, but only during certain times in the other months will Apply admission.