Day 6 - Cooking, complaints and another 12 hour shift!
Day 6 - Someone put me in charge of cooking!
I thought I'd write this now, as I will be working until 9 this evening so I will explain quickly what happened this morning.
First of all, although I'm still shattered and I'm still getting sore (I feel like my whole body is constantly sore at the moment), but no horrendous back pain!
As for what happened this morning. Well, another 6:30am start. This time, one of the girls who works here is usually responsible for cooking in the mornings, but she had a day off today so it was me and the manager who were on. But I was pretty much just left to it! Which was a little stressful! I have about 20+ people to feed, and the menu basically consists of either poridge or cereal, they can have tea/coffee (which I didn't deal with), and they can also have a main breakfast after their poridge or cereal. Vegetarian is a selection of veggie sausages, hash browns, beans, mushrooms, a grilled tomato and an egg (either scrambled or fried). The full scottish breakfast consists of; sausage, bacon, black pudding, hash brown, tomato, beans, mushroom and an egg (either scrambled or fried).
Luckily I had hot pans to keep everything warm in. I won't explain everything that happened, I'm sure you guys don't want to know the details! But most of it went well (although I had to get the manager to help me with plating up and doing the poridge for me!) until a few dishes in, I had no idea who was in and who wasn't, so I ended up having to just dish it up the best I could! But someone complained that someone else had their meals first before them and was apparently quite rude to the manager. And I ran out of bacon!
Luckily, however, both the manager of the whole company (a different person to the hotel manager) said I did really well (I'm guessing the hotel manager told her) and the hotel manager said I did well too... apparently I did better than what she did when she first did the breakfasts!
After breakfasts it was sorting out the laundry (a company deals with most of it) and the rejected linen and then cleaning rooms again, not too bad this time because most are stay-overs (which means not a deep clean!).
There is beautiful blue sky here today (on Skye, haha!) but I'm back to work at 4 until 9, so I'm resting for the dreaded evening shift! Two days off tomorrow and Saturday anyway. Hopefully I'll have some blue skye again!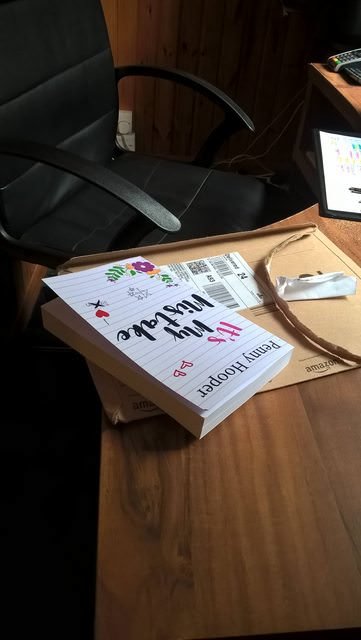 My own image, please do not copy/use without my permission, please!
Oh yeah, and the hotel manager bought my book! (See image above!) Haha. Yes, I signed it for her!