Hi Steemians! Today I am here to share with you about one of the MOST AMAZING experiences of my life, MEETING THE WHALES, and the reason I am telling you about this adventure is because it should be in everyone's bucket list! This was certainly an incredible experience, being in a boat surrounded by this enormous animals is just breath taking!
ALL PICTURES ARE EXCLUSIVE and were taken by me (a couple of them by my mom).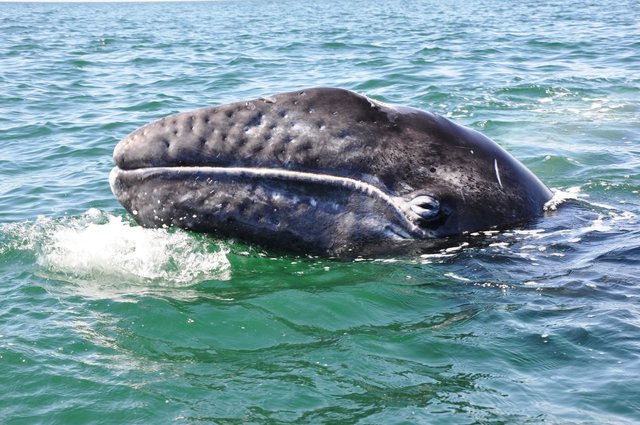 One of my best shots of a Calf. Into which whale do you think he become? @ned , @dan , @smooth , @berniesanders, @pharesim ? Make your guess!
The adventure started when we took a small plane in Hermosillo Sonora, we were going to cross the Gulf of California to get to Guerrero Negro, a small town right in the middle of Northern and Southern Baja. This is just one of the multiple options you have to get there, certainly the faster one, other options are to fly either to Cabos or Tijuana and make your way there by car or bus (it will probably be a 10 hours trip from either side).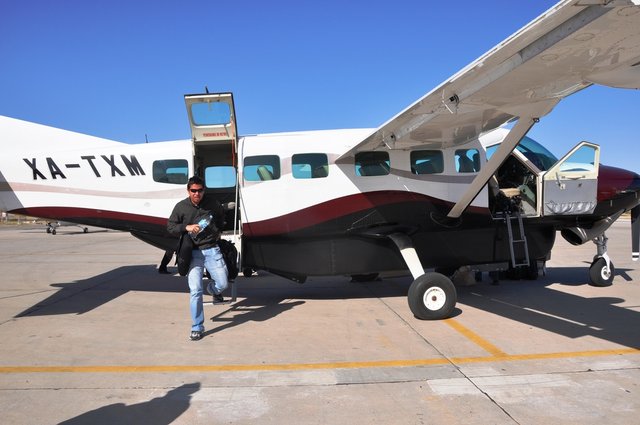 This is me coming down from the plane.

Kuyima Campsite at San Ignacio Lake
Once we were in Guerrero Negro we had to travel by car to get to the San Ignacio Lake, after almost 2 hours, we arrived at the campsite, Kuyima, this was a really really cool place, there were probably 12 tents and a common big tent where all of us had breakfast, dinner and gathered to do activities and chat. The people that goes to the Kuyima campsite are mostly foreigners, there were people from Holland, Paris and the US so you get to know people from all around the world.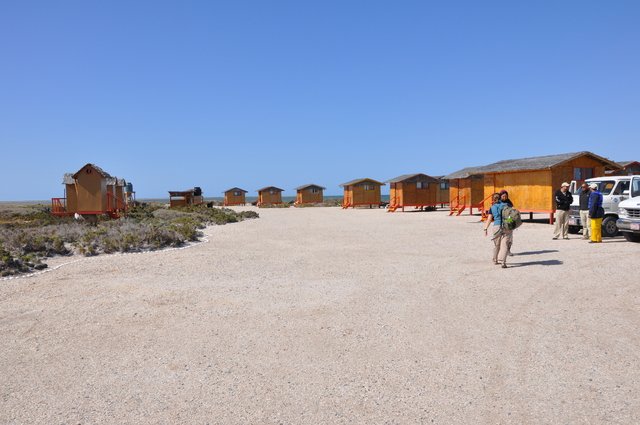 Great place to Relax
Kuyima is an excellent place to relax as well, cause for 3 days, you will be completely surrounded by nature and isolated of technology, cars, noise and pollution. All you will do for this 3 days is have amazing meals (seafood mostly, I personally loved the fresh oysters and the scallop) with a dozen of nice people from all around the world, venture into the San Ignacio Lake to find whales for 4 hours each day and sleep in a calm and quite tent.
The Best Season to Visit
We visited the Kuyima Campsite in late February, personally I think this is absolutely the BEST TIME TO VISIT, mainly because by this time, the whales have already gave birth to their babies and most important, the calfs are already old enough to come close to the boats.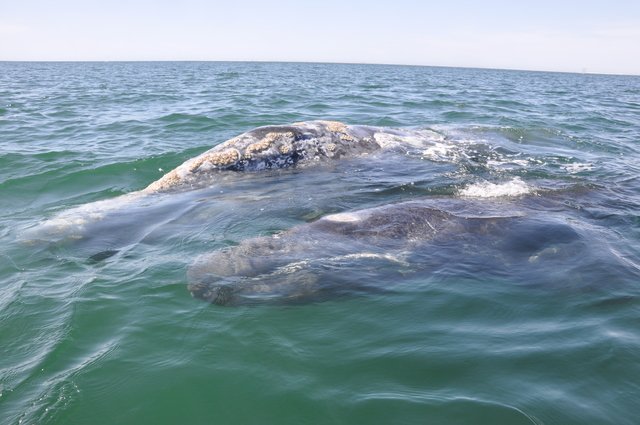 A Calf swimming along his Mom.

Whale and Calf
Like I mentioned before, late February is probably the best time to visit the San Ignacio Lake, it is really amazing to see a whale with her baby at her side! The whale actually pushes the calf to the boats, this happened to us several times, the whale had her baby laying on her back and she was taking him closer and closer to the boat! That was really awesome!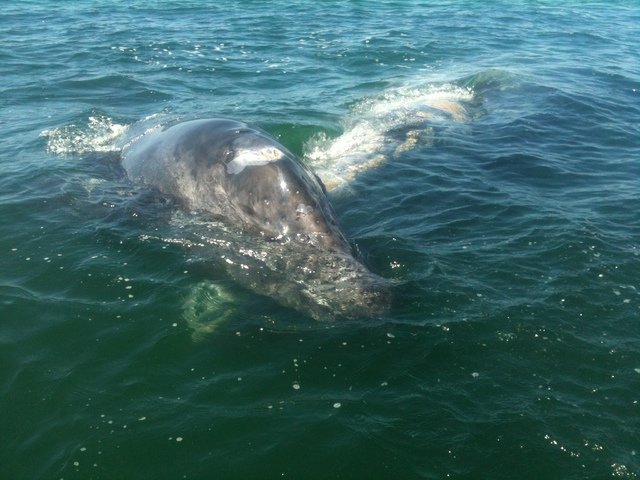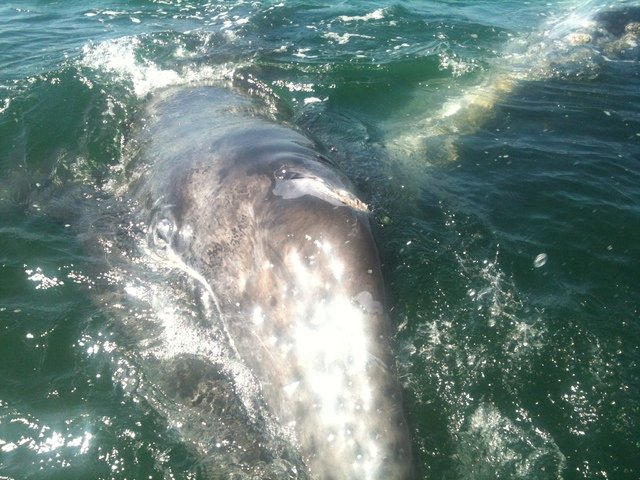 A whale pushing her baby to the boat.

Me with a Calf!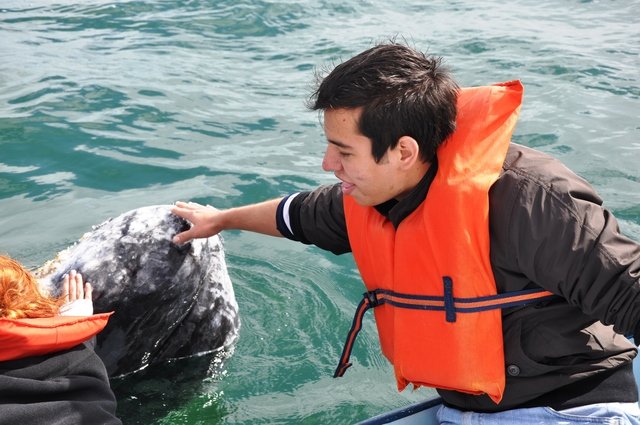 Some tail shots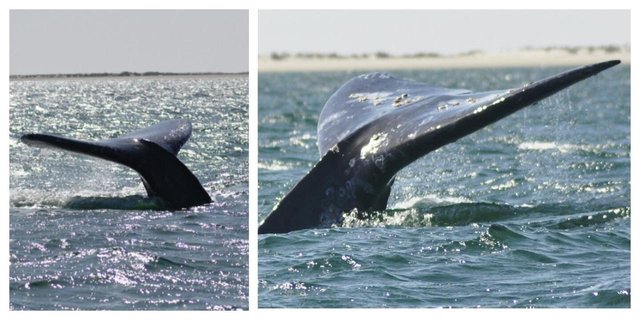 One of my best photos!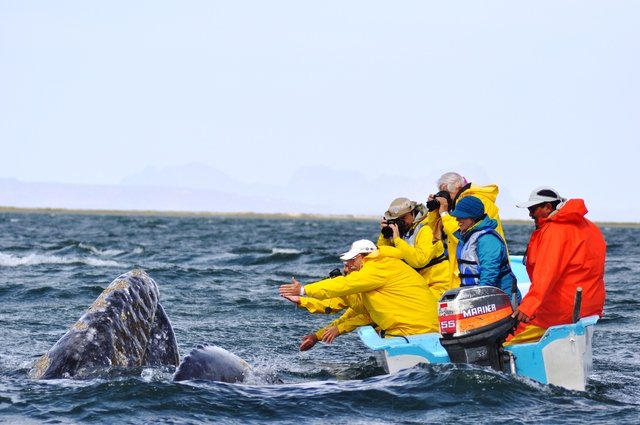 Well, I hope you have enjoyed this and that some day you are able to do this INCREDIBLE adventure yourselves! It certainly was a wonderful experience.
If you want to get more information you can visit Kuyima Camp website:
www.kuyima.com
Bye for now!