I always wondered what would happen if we just left everything behind and followed our dream of being free to travel and live the life we wanted. About six months ago, my husband lost his job unexpectedly. Even though it was difficult news at the time, it ended up being a blessing in disguise and pushed us to do something new. We had already been tossing around the idea of taking our home business to the road and doing what inspires us. We do real estate photography, precision agriculture using drones, and drone integration consulting to help people envision how drones can benefit their business. Our sensors can detect pest and disease stress in plants weeks before it's detectable with traditional methods to help people create more sustainable and profitable agricultural operations. It's incredible how far technology has come. Not long ago, this technology was only found on satellites in outer space. In addition to all of this, I run a couple of blogs and do freelance editing on the side.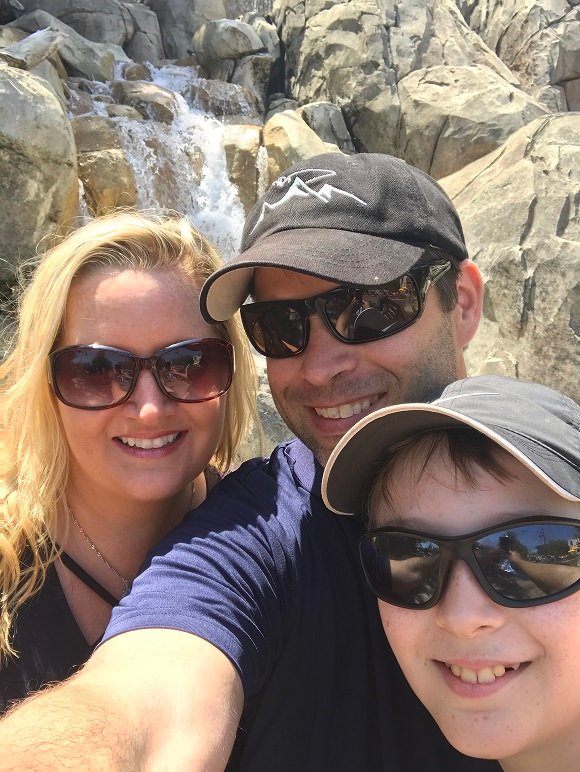 So, we decided to leave our comfort zone and face the unknown. We bought a motorhome and took a leap of faith. We homeschool our 13-year-old son, so we are able to be flexible as to where we go. I must admit, it was a little scary at first, and still is at times. We just have to have faith and believe that everything will work out.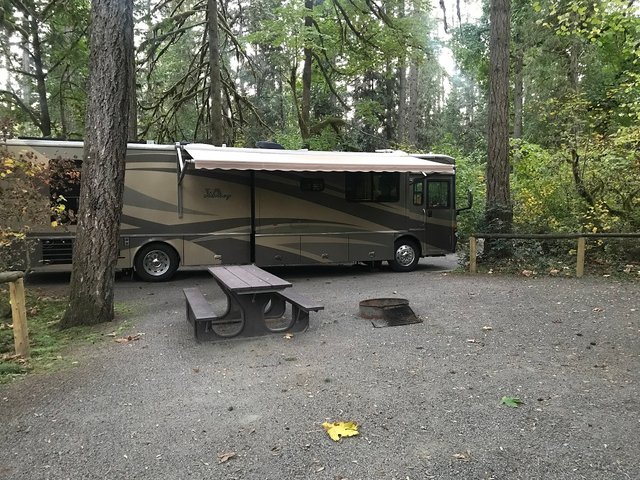 This post will be the first in a series of that journey. There are so many more details than we realized going into this. Here's how it started.  Things flowed for us right from the start. We found a Class A motorhome to buy within a week that was nearly half the book value, so we were able to get into it with equity. That's something that doesn't typically happen when buying a motorhome. Most people start off upside down driving it off the lot. We chose to go the private party route to avoid some of that markup. We were amazed that we were able to get one that was so nice and feel so grateful to have it. We did spend a little more than we normally would on something like this, but this was home, not just for recreation. We knew we wanted a larger one if it was going to be for living in.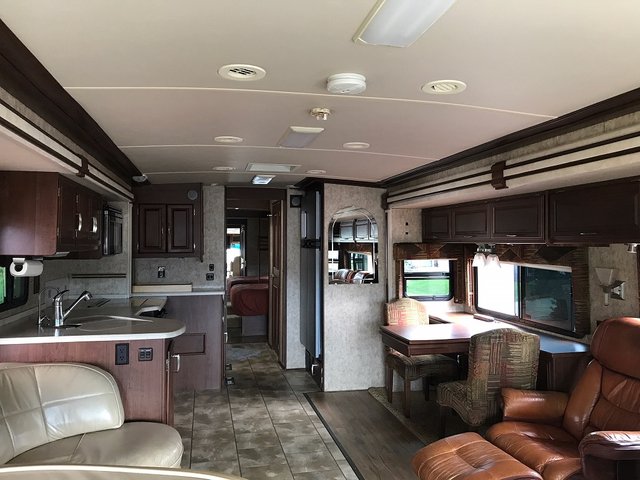 We packed up everything we had, and rented a storage unit to put most of our things in. Then we packed up the motorhome with all of the things that we needed for nomadic living. We had to stay in the area for a while to tie up loose ends and wait for our tags. It was nice being near our things in storage. There were so many things that we ended up needing that we didn't think we would, and things we didn't need that we were able to return to storage to make more room in our much smaller space. Doing something this extreme definitely takes diligent, strategic planning, and is not for the faint of heart.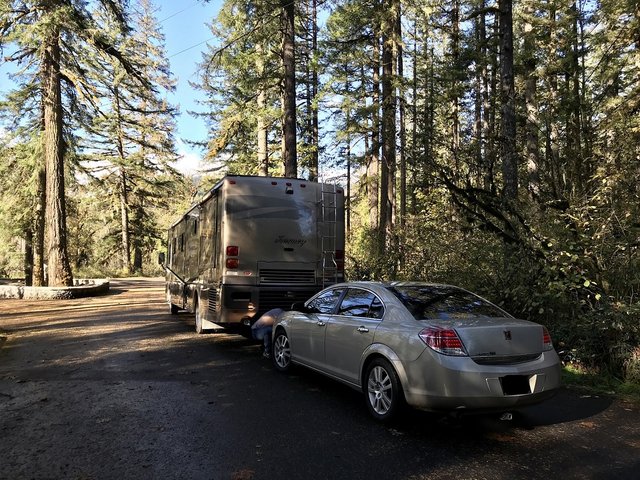 We headed out of Oregon, on our way to Washington to stay on my parent's property for a short time. They have a picturesque log cabin in the woods, situated on the bank of a crystal clear, pristine creek. It was bounding wildlife with geese splashing in the water, chickens grazing in the yard, grass hoppers jumping everywhere, wolves howling at night, deer and moose could be seen occasionally, and wild turkeys coming right up to the motorhome.  My mom has a way with wildlife and can call the wild turkeys, wild ducks, and wild geese. They seem to come to her from out of nowhere. Their big black Labrador Retriever, Angus, followed our son everywhere playfully begging him to throw another stick. We had to be cautious while out and about because there was a bear with cubs on the property frequenting an old apple tree not too far from the cabin.  While out exploring the property, we were surprised to see a cougar print.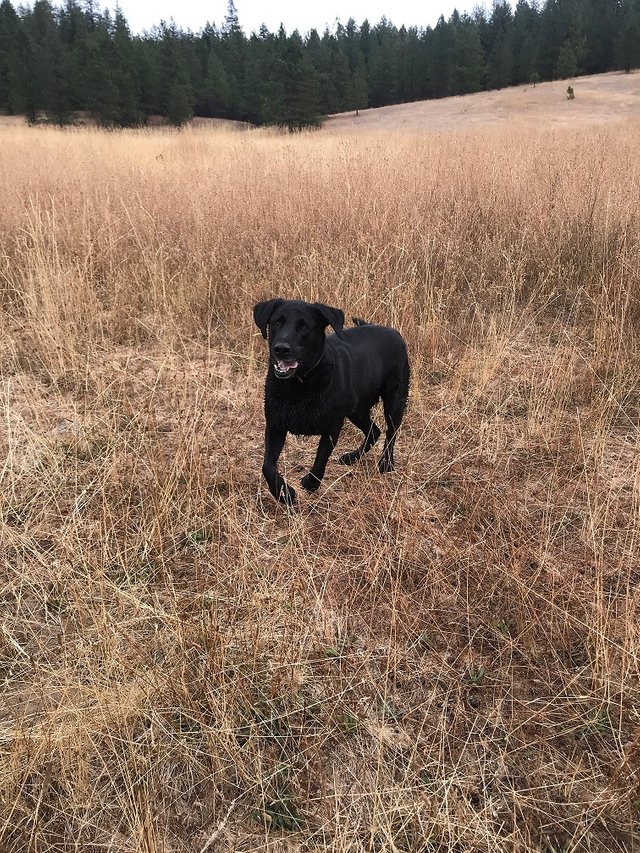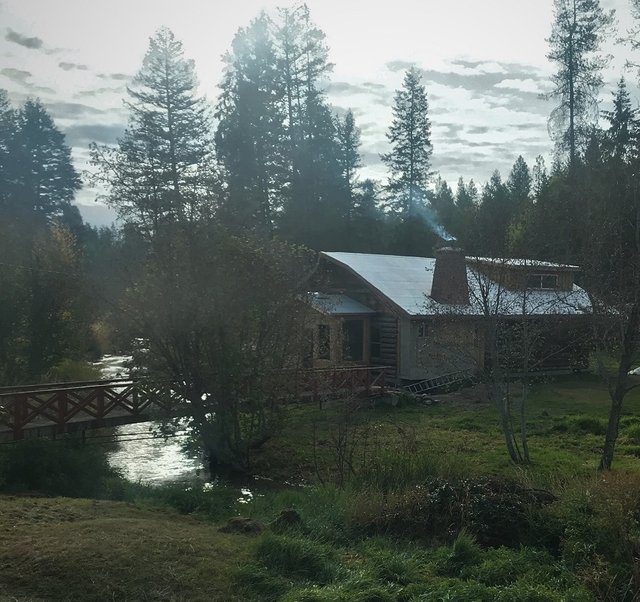 One morning, while sitting there sipping our coffee, gazing at the creek as it sparkled in the early morning sunlight, we got to watch as two bald eagles perched high at the tops of the pine trees towering over the cabin. It was such a beautiful site to see.  We sat there and observed them until they flew away.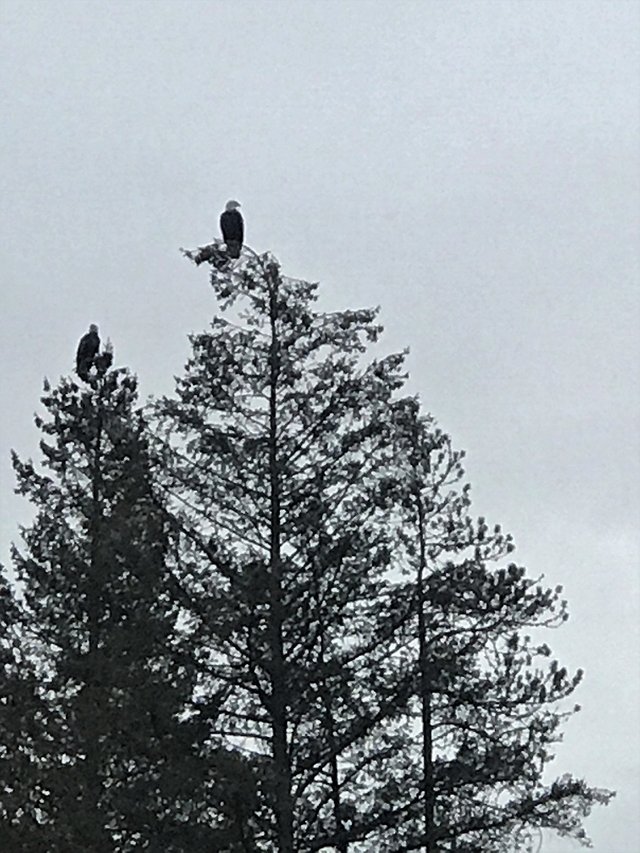 My parents are beekeepers, and we got to watch them work their magic with the bees. It was so fascinating to watch. The bees would fly up to them and blanket their hands like gloves. I asked my mom if she has ever been stung by the bees, and she said, "no, they know me." Apparently, certain breeds of honeybees can recognize your scent, and are typically very docile.  The yellowjackets, however, are very aggressive. In recent years, they have been more prevalent in Washington, and in Oregon also. They were attacking the bees to get to the honeycomb and killing the bees, as they are carnivorous.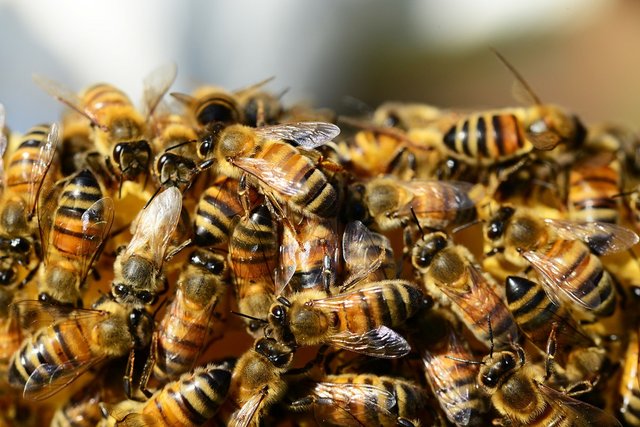 One of the highlights while we were staying there was helping with their apple harvest. They have an old growth apple tree on the property that produces tons of apples. These are some of the best apples I've ever tasted. There were so many apples that they filled a small truck bed full and we brought them in by the bucket full. We then put them in a sink full of water and vinegar to wash them. After that, we placed them in a basket on the kitchen island where one of us were waiting to run the apples through a peeling and spiraling hand crank machine. Another person cut the spiraled apples in half. They oxidized very quickly, so we soaked them briefly in lemon water. The vitamin C in the lemon water slows down the oxidation process. The apples were canned and made into homemade applesauce, and rum raisin apple butter.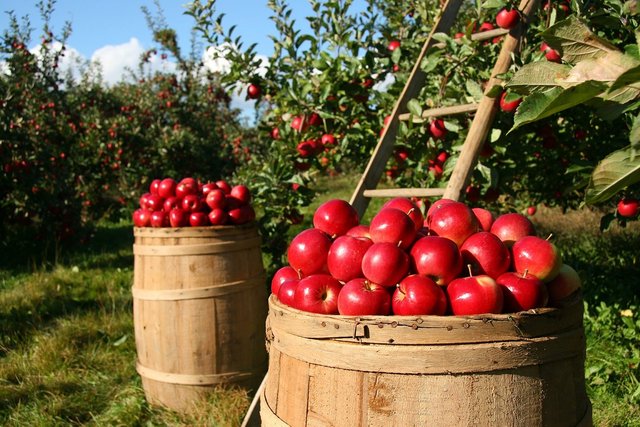 When all the apples were peeled, sliced, and bagged, we got to enjoy our efforts and sip on some of Papa Dean's homemade apple cider. It was incredible, and far surpassed any store-bought apple cider, ever!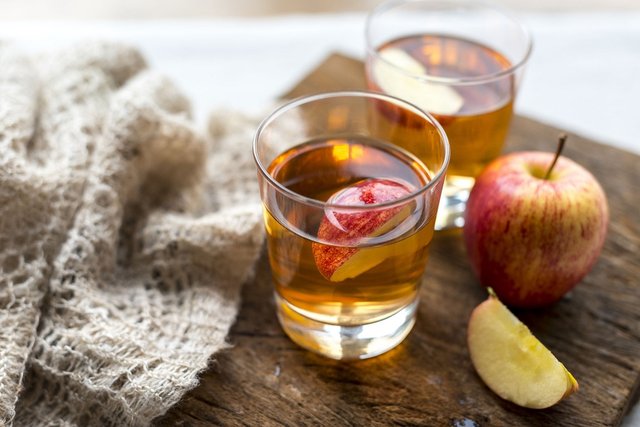 Towards the end of our stay, we got to hike up to an old homestead to explore, about two miles away. From the cabin, we walked through some open farmland, then took a trail leading uphill into the tall pines. We followed the trail for quite some time, climbing our way to the top. As we got closer to the rock house, the forest opened up into grasslands with tall pine trees surrounding the open area, and a beautiful grove of fall colored aspen trees. We explored the old house that had no windows or doors, peeking inside where it was all overgrown with shrubbery, small trees, and grass. The stove, fireplace, and even a mailbox were built into the rock walls. Outside the tiny one room house, was a small old growth apple orchard, and remnants of a small old barn. There was a little spring for fetching water down below the house. As we walked around the apple trees, we saw some grizzly bear signs. It appeared that it had eaten too many apples and made itself sick. We didn't hang around too much longer in that area as the signs appeared fresh. We walked over to the old barn and sat on the old worn logs, and peered off into the woods around us, taking some time to just be, and enjoy being out in nature again. It felt so great to get outdoors and do some hiking again, as we had been so busy with our move and planning efforts. It was such a wonderful time being there and was the perfect place to start this new chapter.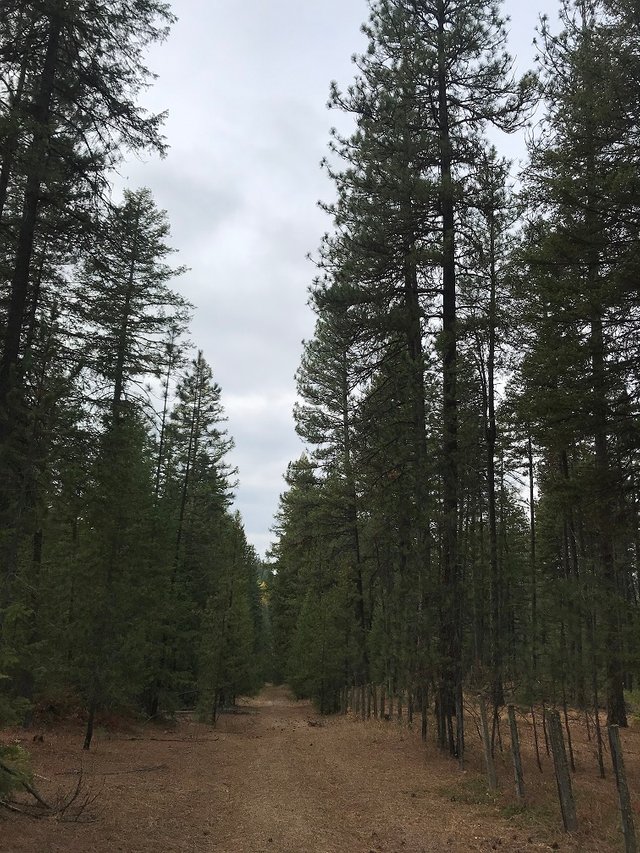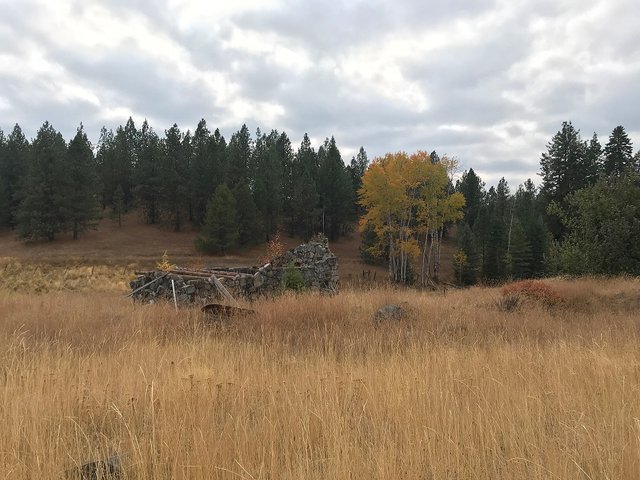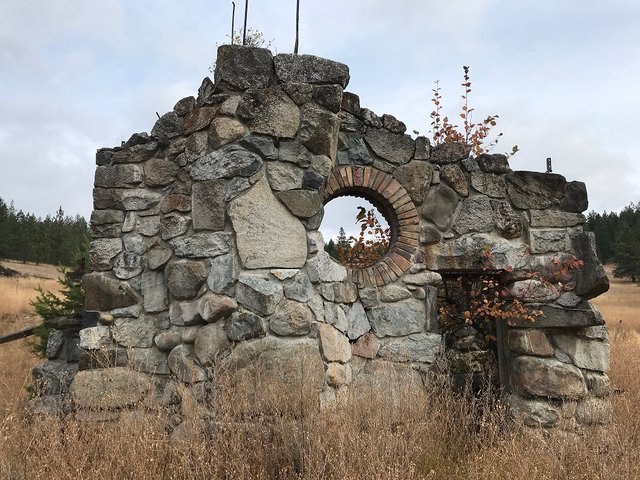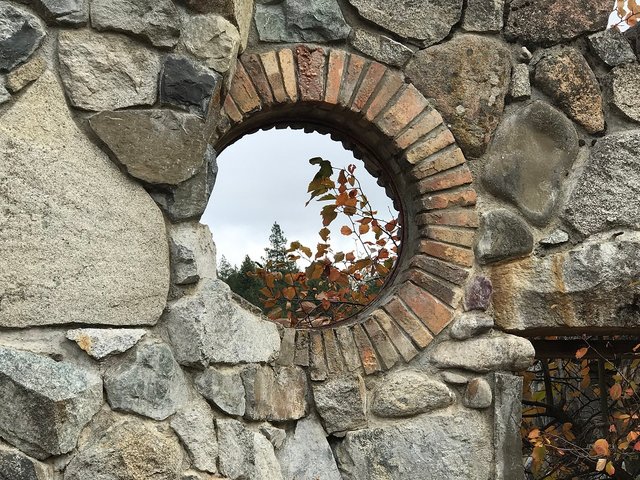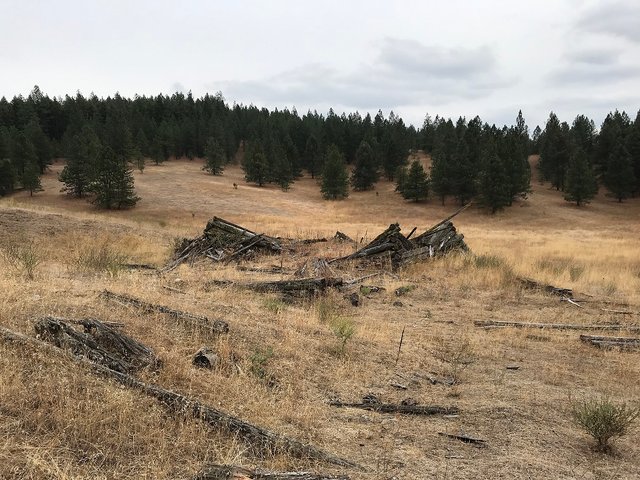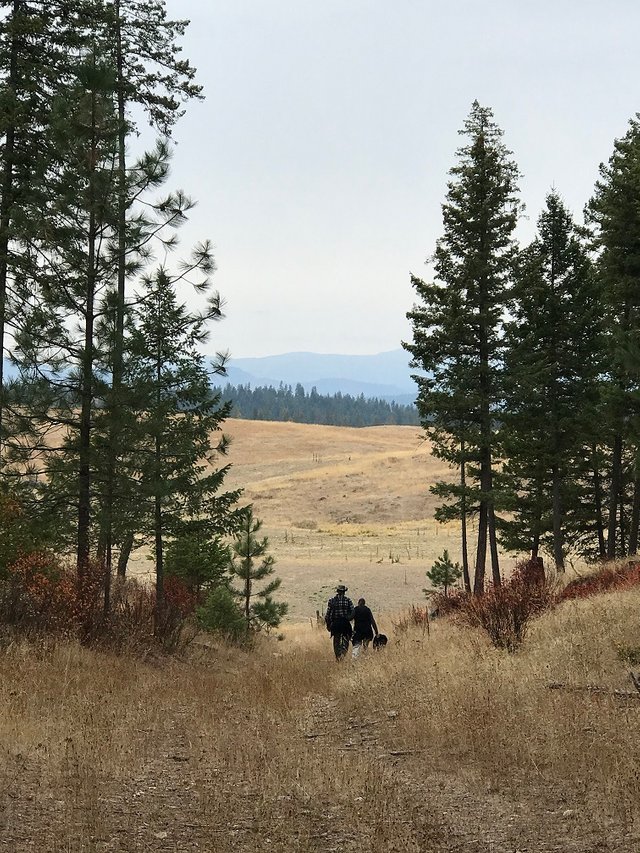 After spending some time in Washington with family, we headed South, back to Oregon for business.  Next destination, a BLM campground just outside of the Willamette and Mt. Hood National Forest near Mill City. From there, we'll head South for the winter where we can fly the drones during Oregon's rainy season.  I hope you'll stick around to see where the road took us and where we ended up!