Berlin, Berlin!
Hello Steemians! I wasn't here for a while because of series of amazing and unbelievable events in real life, but here I am in Berlin! Today's post will be about my favorite part of Berlin so far, along the Spree river between Kreuzberg and Friedrichain, two parts of the city once divided by the wall.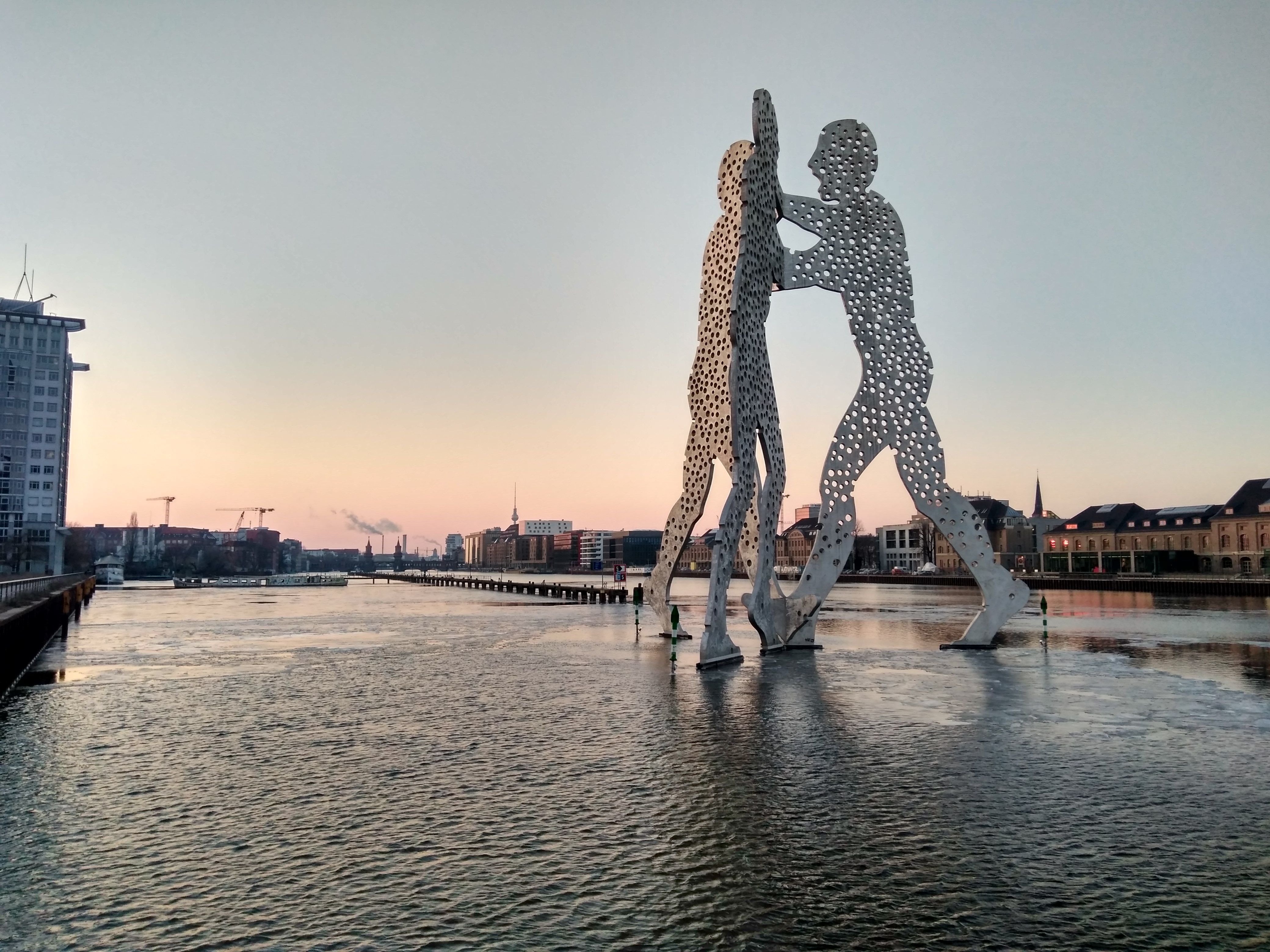 This above is a 'Molecule Man', 30m high aluminum statue by American artist Jonathan Borofsky. During the walk along the river you can't but see three man on water, leaning to each other, bodies filled with numerous holes, depicting ''the molecules of human being coming together to create our existence''.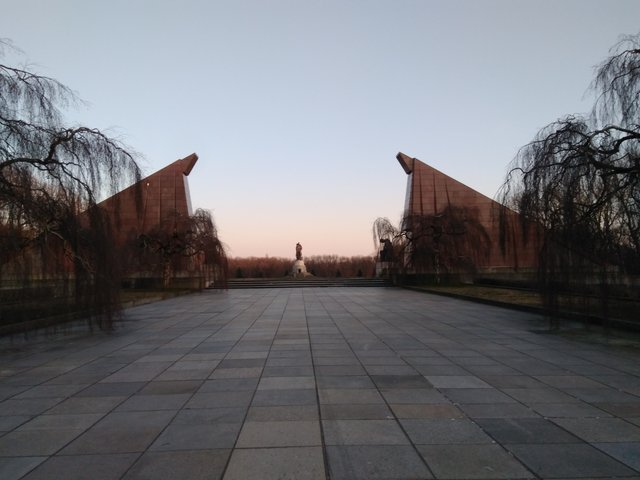 My walk actually started a bit before, at Treptower Park, also located along the Spree river, that is famous for a Soviet War Memorial from 1949. (You know I like those!) The cold crisp weather and golden hour sunbeams really emphasized this strict composition. Moving on to Treptowers, found an interesting boat stuck in a frozen river!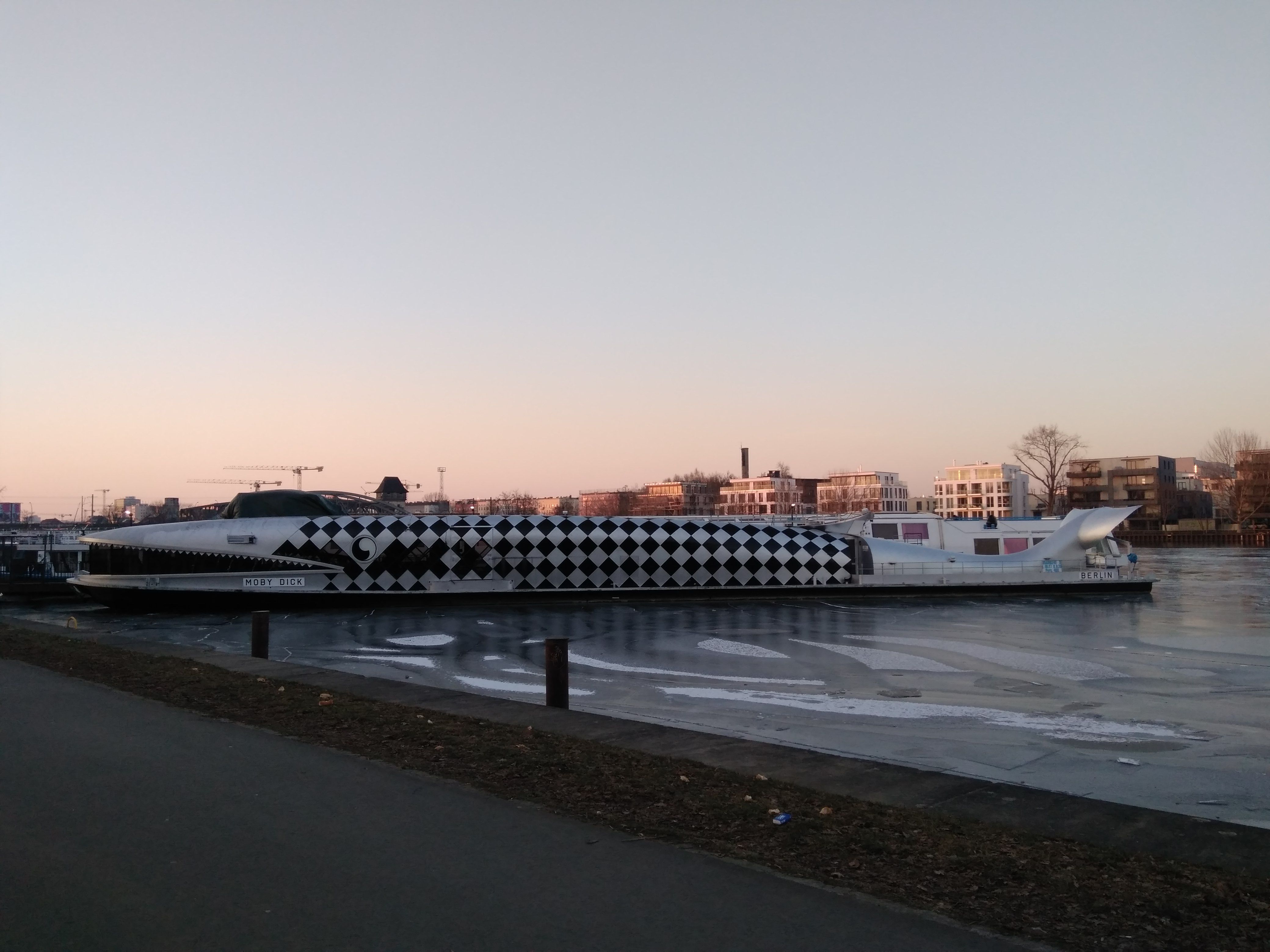 This area refers to as Mediaspree, 3.7km long on both sides of the Spree. In 19th and early 20th century this was predominately industrial and commercial buildings. Most of them are characteristic of that era and therefore under preservation. During the Cold War, the wall ran parallel to the river on its northern bank and the buildings included border security, so development of the whole area was not possible.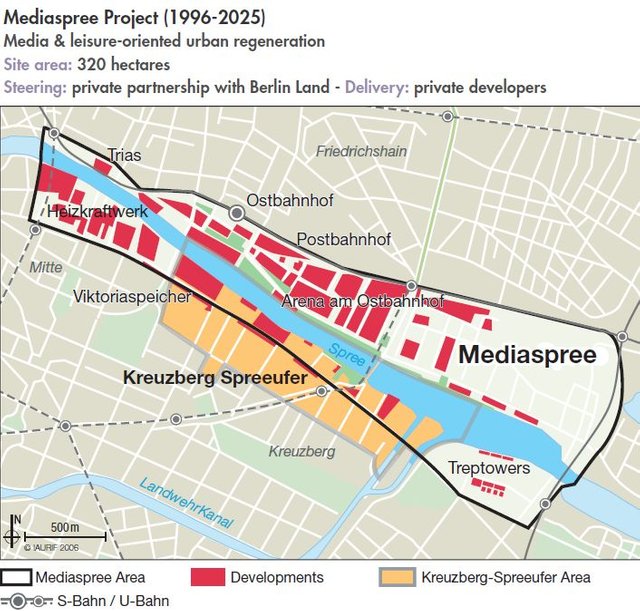 (image source: iau-idf.fr)
After Berlin Wall was torn down, East Side Gallery was formed, when artists designed a part of the wall that was not demolished. Development of the area actually began in 2002 by passing a land use to Mediaspree project. It is a label and not an institution, that locates communication and media companies and restructure them, also building office buildings, lofts, hotels and others.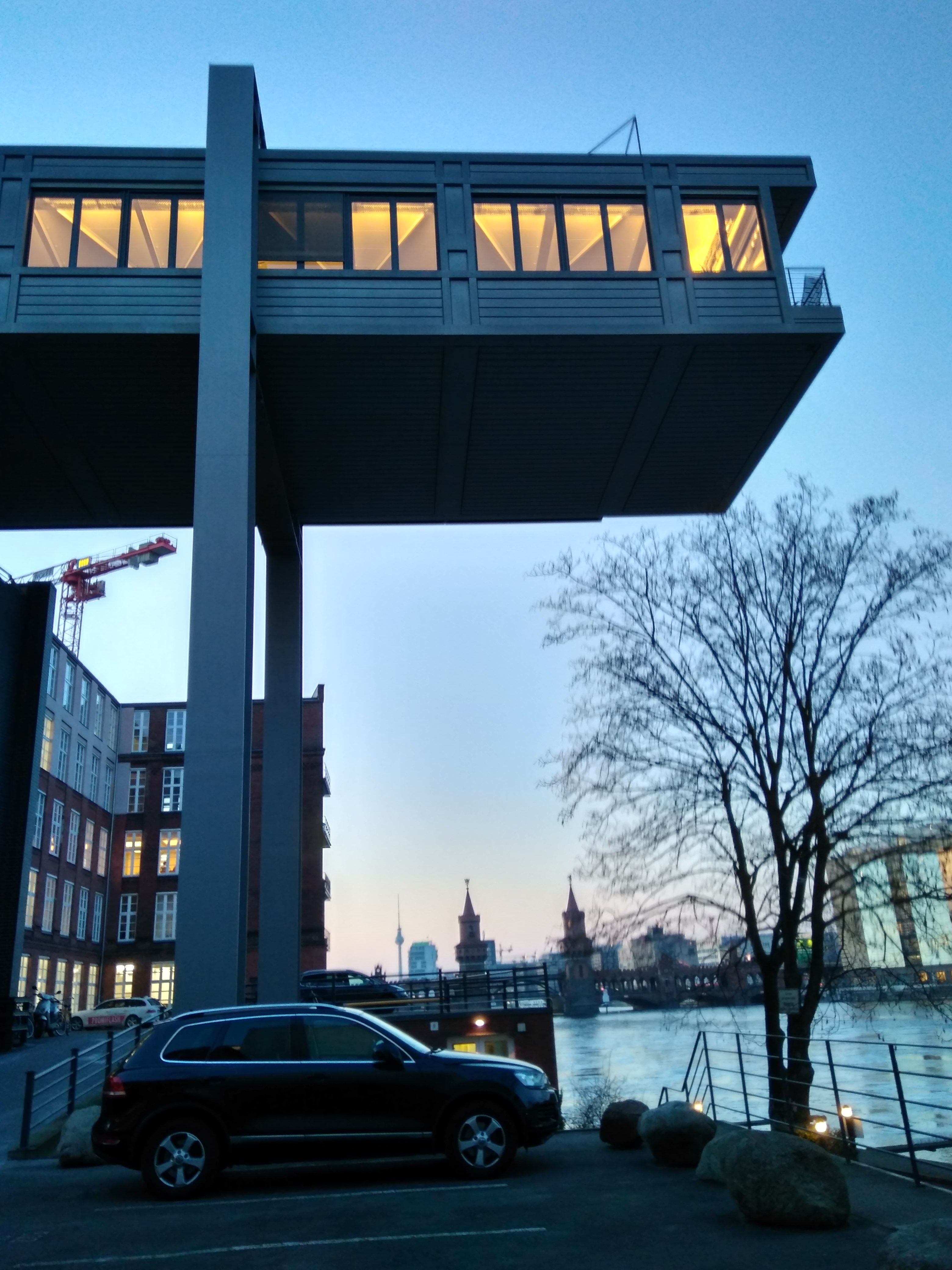 Among many reused old industrial buildings one really caught my eye. Industrial palace on Silesian Gate got me with its steel and glass newly built structure striking over the river. Built in 1908 now hosts administration offices. These are some sunset views from below!!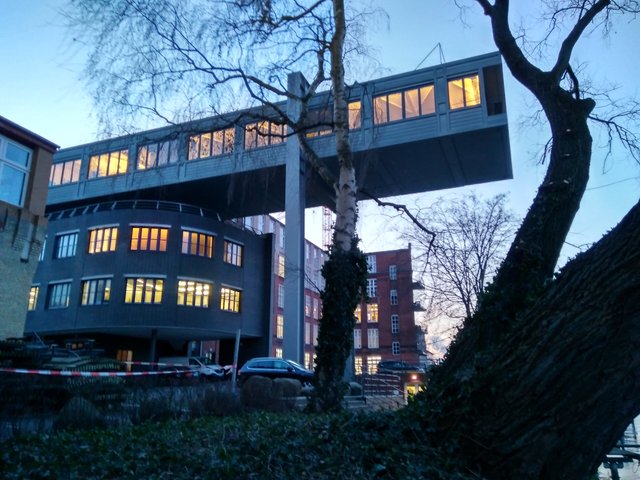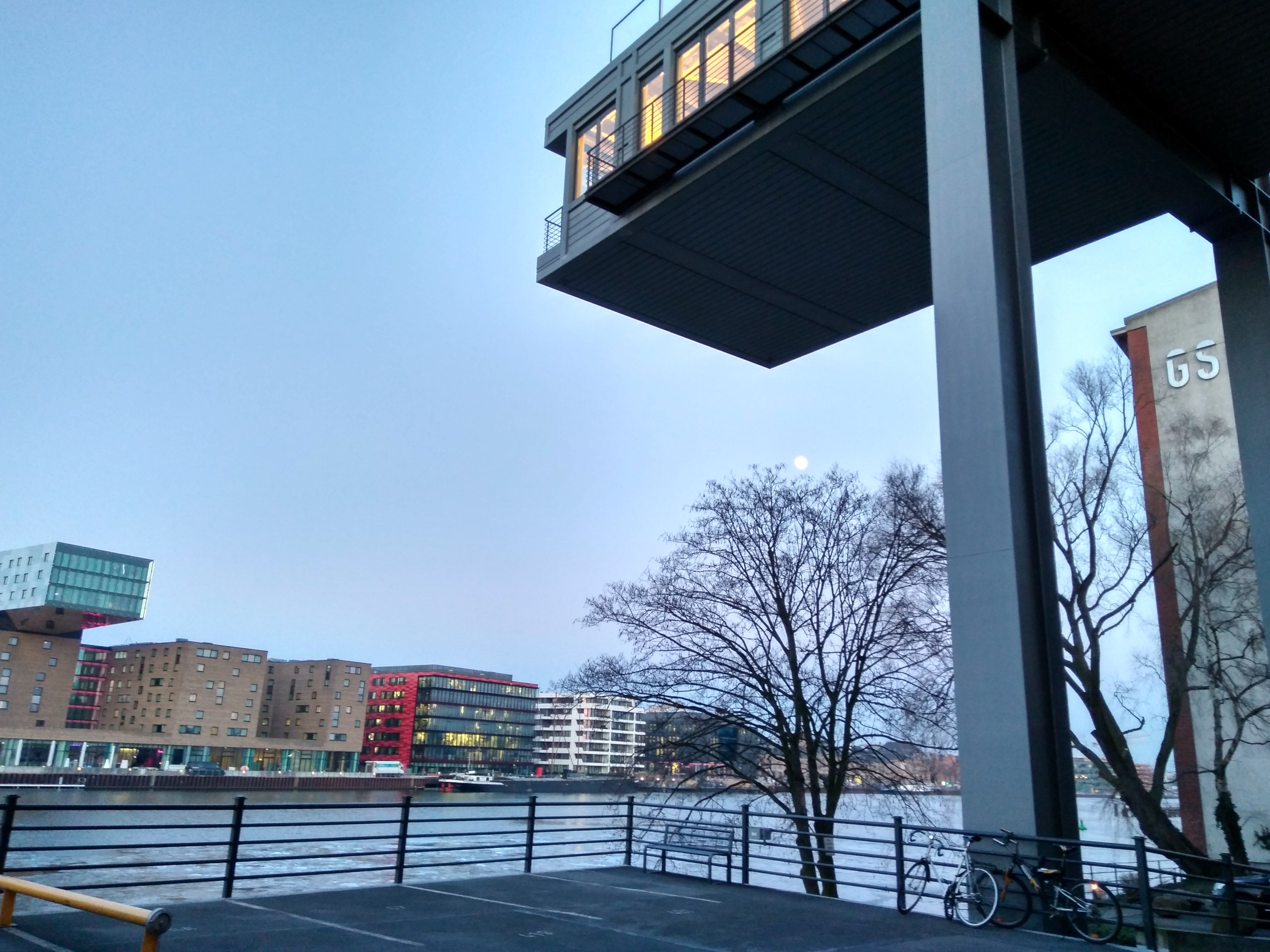 Moaning at the NHow hotel over the full moon.
The last scene is frozen river hugged by ice cold wind, overviewing the building of former granary on the other bank.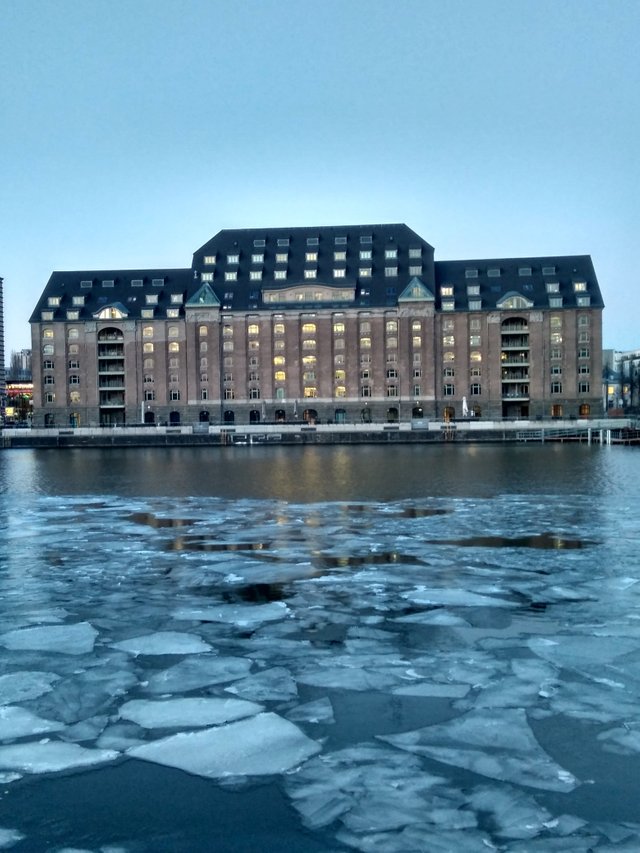 Thank you for following! Thanks to @matko-md and @buzzbeergeek for support and @curie for upvoting my last post. Thank you everyone for reacting and reading! <3
So much for this post about vanished boundaries in a physical world. I would like to end by lyrics from the song 'Berlin, Berlin' (M. Dietrich), that embraces Berlins soul for someone that is starting to fall in love with this place and its soul:
Berlin, Berlin, du bist ein heißes Pflaster * Wer dich nicht kennt, verbrüht sich leicht den Fuß * Wo die Moral wohnt, wohnt auch gleich das Laster * Und der Verriss blüht neben süßem Schmus
Berlin, Berlin, you are a hot place * Who does not know you scalds your foot easily * Where morality lives, so does the vice * And the tears bloom beside sweet cuddles