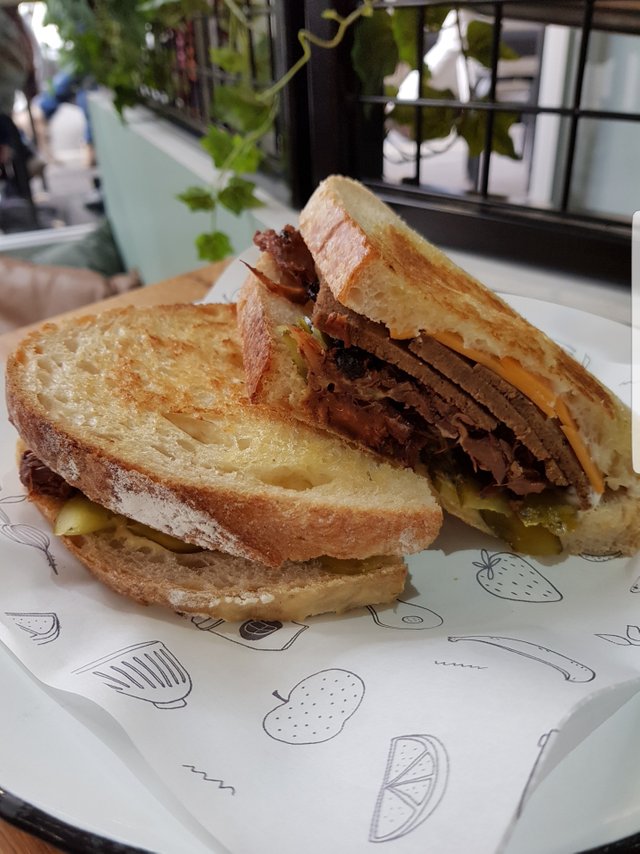 You've never eaten a grilled sandwich like this. It's layering of guilt-free melted cheeses will demand your undivided attention before melting your face off.
Up the escarpment and far away.
Rain spattered against the windscreen of the car as it whirred along the coastline until reaching Stanwell Park. The whir turned into a tzzzz as the electric motor propelled the vehicle up the escarpment until finally arriving at Helensburgh train station. The train did the rest from there.
Sydney is a very do-able day trip from Wollongong. Leaving before 10am meant I had enough time to prance about town before having to leave for home. And by prancing, I'm referring to eating delicious food and collecting my piled up online comic orders from King's Comics.
I love many things. Warming winter food eaten on a bleak day is one of those things.
I didn't know where today was going to lead me. I should have. I'm always giving in to the urge to eat lunch out despite bringing my own food every time I go to Sydney.
As I sat on the train, I whipped out Happy Cow and noticed there was a vegan sandwich joint very close to Central station. I had a look at a couple of other places on the app but none had the torrent of five star reviews that Shift Eatery had. My mind was made up. I had to see this place for myself.
The Shift Eatery Experience.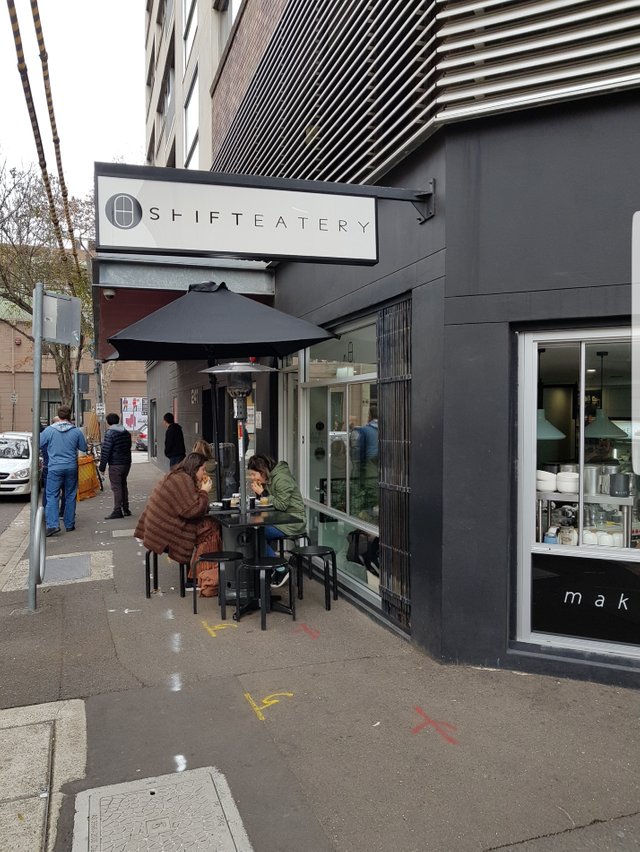 Finding the place was a cinch. If you're reading this from SteemitWorldMap, you already know where you're going. From Central station, head up Foveaux Street and take your second left up Commonwealth Street. Skip for seven seconds and you'll be right out the front of Shift.
Why am I even giving directions? We all use Google Maps.
Put your phone down and take a deep breath.
These moments don't happen all that often in life.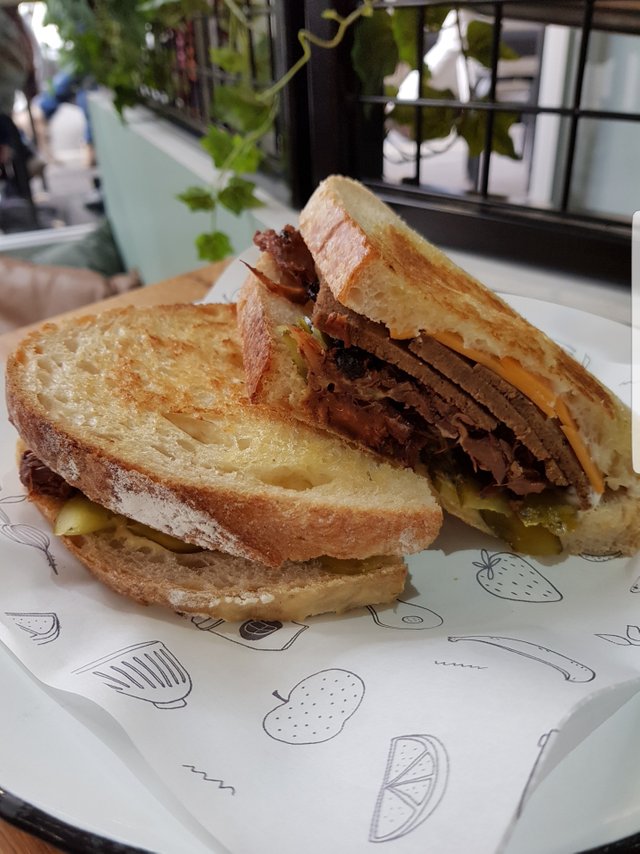 Seared over a hotplate, the "No Whey José" is the epitome of grilled sandwiches.
I was engrossed in conversation with Shift Eatery's owner, James when my sandwich came out looking divine. I was trying to explain why I was taking photos of the kitchen and the staff hard at work. I think Steemit got a mention, but our shared passion for veganism took over. James suggested I tuck in before my sandwich cooled off. Wise move.
Just eat the damn sandwich.
I held the sandwich up to my nose and took a huge whiff. Aromatic vapours electrified my olfactory receptors. The toasted bread was warm and inviting. It was golden brown, seared in a smear of plant oils and fats over the grill. The sour dough crunch was followed by the acid twang of gherkins and Dijon mustard.
This wasn't a sandwich.
It was a challenge designed to force meat eaters to examine what it is about their current diet that makes it so hard to change. These foods are the solution.
Texture maketh the meat.
Shift make their own plant meats on site and this vegan take on a traditional Cuban sandwich (reminiscent of the 2014 movie, Chef) had Cuban 'ham' as well as marinated pulled Jackfruit.
After savouring the first half of the sandwich, I decided to completely finish my mouthful. I attempted to cleanse my palate and turned the sandwich over so that the smooth 'mojo sauce' and cheddar 'cheese' were the first flavours to hit my tongue.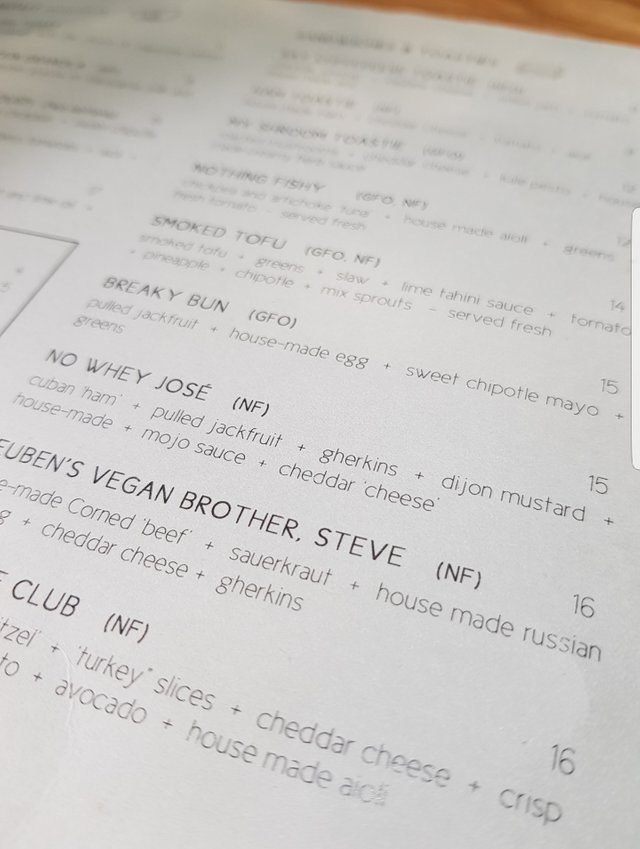 I'm assuming that creamy sauce was the 'mojo sauce'. I loved it. I loved every mouthful.
Be mindful, the experience of eating such a complex sandwich can be adjusted by flipping it over to control which flavours hit the tongue first. Use this new knowledge wisely. With great power comes great responsibility.
The food was A-Grade, despite my vegan bias.
Being vegan, it is difficult to approach new vegan places objectively. However, I tried. I spoke with the owner and his passion for relatable vegan food, as he put it, drives the menu choices and his hopes to get more people going vegan. The menu is innovative, yet familiar and will not frighten meat eaters.
The service was exceptional.
As soon as I arrived, I was greeted within moments by a courteous, beaming young lady. She asked if I wanted a menu and I took a seat at on the bench that was edged by tasteful plastic greenery. Knowing what I know about the ease in which Devil's Ivy grows, that would be the next logical choice. The space was well lit and it would absolutely thrive. Seeing as though Shift Eatery has only been established since September 2017, it's surprising how efficiently everything is running and how tight the place looks.
I had asked another employee if he had any recommendations. He was more than happy to suggest a few options enthusiastically. It was clear the team were knowledgeable and passionate about their work. They wanted to be there and sought to make my experience enjoyable in every aspect. I also noticed that as people were leaving, they were saying goodbye and thanks to the staff. A community was being nurtured here.
I returned.
As I paid the bill, I promised I'd be back to pick up something else to take home. If I was in hospitality, I wouldn't be holding my breath expecting customers to keep their promises. However, I didn't lie. After my trip over to Pitt Street to grab my backlog of comics, I popped my head back in. This time, I left juggling my umbrella and a brown paper bag.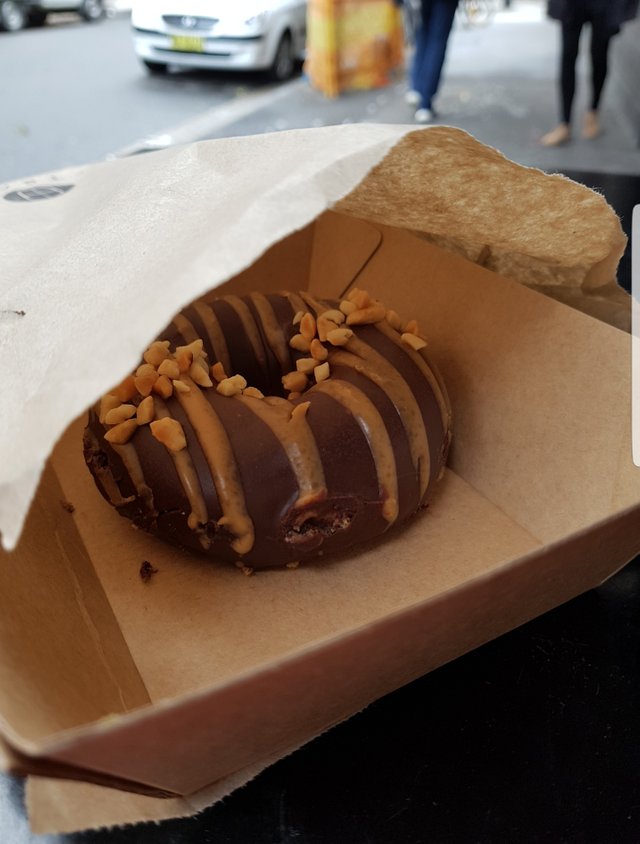 The 'Snickers' donut was a tough choice. I was a paywave away from also securing a lemon meringue tart.
They also sell pantry and fridge items.
This is where you just grab the keys, wallet and phone and go and experience this wonderful place for yourself. Bring a friend and sit down with a pillow. Yes, they have pillows.
Find Shift Eatery here. They're open every day from 8am until 3pm.
All the best,
Nick.
Please UPVOTE this post if travel articles inspire you. Your vote keeps me writing my best content.
All content is original and belongs to @nickmorphew. [19 June 2018]
Disclosure: This article was not a paid promotion and was not self-upvoted. Nor were there any affiliate links.
I'm looking for an artist to cover my work on my fantasy saga, Adventures in Elowyn Glade. Click the link!
More Gobbling reviews: