Best of Cambodia and Vietnam tours
Imagine a country full of ancient and modern history, saturated with beautiful religious monuments, teeming with wildlife, and lush with rice fields, grasslands, and rivers. This is probably not how most people think of Cambodia, but after travelling through the country on this 17-day tour, your opinion is likely to change. Get off the tourist trail and let our travel experts show you the real heart of Cambodia.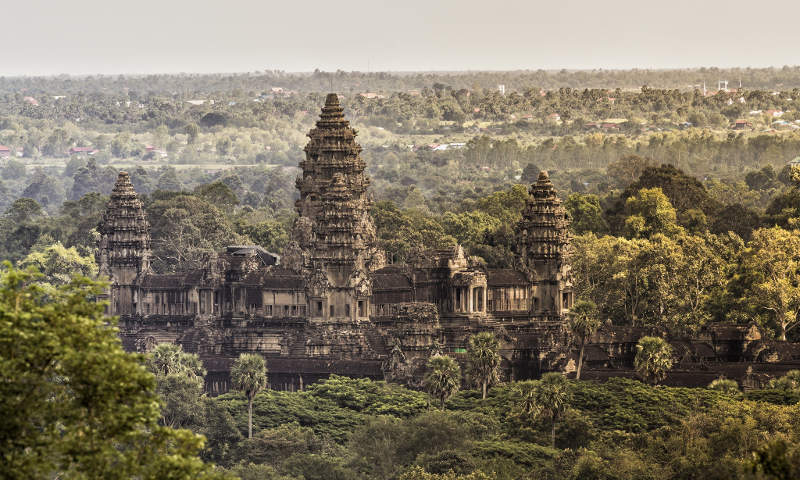 Time & Places Activity :
Day 1 Phnom Penh
means car
Arrival in Phnom Penh. We welcome and transfer you to hotel. Rest of the day is your leisure time to explore the city on your own.
Overnight in Phnom Penh.
========>
Day 2 Phnom Penh
means car
Morning, visit the notorious Choeung Ek Killing Fields & Tuol Sleng Genocide Museum (S21 prison) which serve as a testament to the crimes of the Khmer Rouge (From 1975–1979. Enjoy lunch at a local restaurant.
After lunch, take some minutes at Independent Monument for photo taking. After that, visit the opulent Royal Place, home to Cambodia's Royal family, and its Silver Pagoda. Continue your visit at The National Museum with its superb collection of Khmer art. The last place to visit today is Wat Phnome, the most famous buddhist temple in Phnom Penh.
Overnight at hotel in Phnom Penh.
========>
Day 3 Kratie
means car
Head to Kampong Cham, soak in the scenery of rural Cambodia, drive through cashew nut plantations, rice fields, and traditional villages. Tour the town center before continuing to Wat Nokor.
Afternoon, your lesiure in the sleepy riverside town of Kratie. Enjoy a spectacular Mekong sunset.
Overnight in Kratie.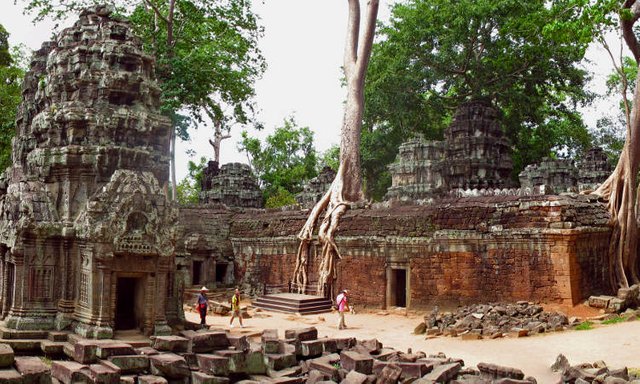 ========>
Day 4 Kratie
means car
Morning, a walk to a local market, see local people trading. Set out for a countryside tour. And then board a boat to try and catch a glimpse of the endangered, freshwater Irrawaddy dolphins. Continue towards the village Sambo for a visit of Wat Sorsor Mouy Roy Pagoda.
Afternoon, cross the river to the island of Koh Trong, take a horse cart or biking, see floating village and much more. Return to Kratie by boat.
Overnight in Udom Sambath, Kratie.
========>
Day 5 Kampong Thom
means car
Depart for Kampong Thom, see the countryside scenery and the local life during the transfer. Visit take 1000 steps climbing up to Phnom Santuk Mountain, enjoy spectacular vistas from the top. Continue by road to Kampong Thom. Afternoon, your leisure time in Kampong Thom.
Overnight in Kampong Thom.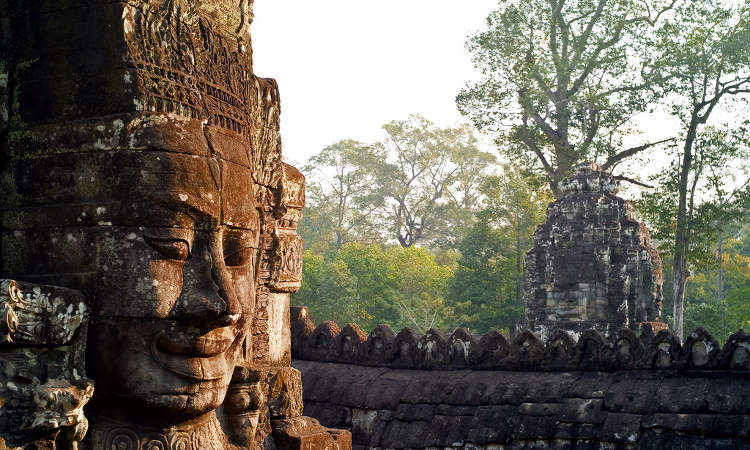 ========>
Day 6 Siem Reap
means car
Heading out to north of town, visit Sambor Prei Kuk, a jungle-enclosed temple complex, very less touristy and worth your visit. See the melding of architecture with nature surrounding. Lunch with local food. Continue towards Siem Reap.
On arrival in Siem Reap, check-in at the hotel and leisure in the afternoon.
Overnight in Siem Reap.
========>
Day 7 Siem Reap
means car
Morning, visit to the antique capital of Angkor Thom. Continue your visit at Ta Prohm, one of the most beautiful temples in Angkor. Lunch at a local restaurant.
Afternoon, visit Angkor Wat the most famous of all the temples on the plain of Angkor.
Evening, enjoy buffet dinner and watch Khmer Traditional Dance Show at a local restaurant.
Overnight in Siem Reap.
========>
Day 8 Siem Reap
means car
Morning, visit some famous temples in Siem Reap including: East Mebon, Ta Som, Neak Panan, Preah Khan, Pre Rup.
Afternoon, sightseeing at the Tonle Sap Lake, the "Great Lake" of Cambodia, on a traditional wooden boat.
Overnight in Siem Reap.
========>
Day 9 Siem Reap
means car
One hour transfer to the quiet Beng Mealea. A short walk through the dense jungle to discover the wonders of an overgrown temple, Beng Mealea, undiscovered for centuries. Continue your visit to the pretty temple of Banteay Srey.
Afternoon, stop at a local communities and interact with locals, get intruduced about local produces, Palm Wine and Palm Sugar.
Overnight in Siem Reap.
========>
Day 10 Hanoi
means airplane
Morning, your leisure for your relaxation in Siem Reap. Afternoon, we transfer you to airport for flight to Hanoi.
Overnight in Hanoi.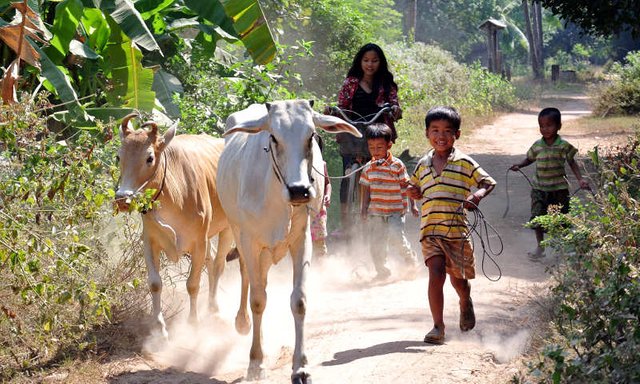 ========>
Day 11 Hanoi
means car
Hanoi city tour. Visit some famous places in Hanoi that includes The Temple of Literature, Hoan Kiem lake, Ngoc Son Temple, Ethnology Museum and a cyclo tour around the Old Quarter of Hanoi.Evening, transfer to station for a night train to Sapa. Overnight in train.
========>
Day 12 Sapa
means train
Arrival in Sapa. Get a shower and breakfast at a hotel in Sapa. Leave your luggage at its store and star trekking.
Admire the wonderful scenery of Hoang Lien moutain ranges, terraced rice paddies. Meet Black H'mong tribes. Towards the Zay village to enjoy the great landscape.
Overnight in a local house of a Dzay family OR at a hotel in Sapa town (as per your preference).
========>
Day 13 Sapa
means train
Continue exploring the beautiful Sapa. Trek through bamboo forests towards Giang Ta Chai waterfall, visit Giang Ta Chai village, Muong Hoa River, Supan village.
Go back to Sapa town.
Overnight on train back to Hanoi.
========>
Day 14 Halong bay
means boat cruise
Early morning, Arrival in Hanoi. Get a shower and breakfast at hotel.
We leave Hanoi for Halong bay around 8.00am. Upon arrival in Halong, embark and have delicous lunch onboard. We cruise through thousand amazing islands and islets during the lunch. After lunch, take a refresh in your room before visiting Surprising Cave, kayaking, swimming… Go back to the boat, get a drink and enjoy a sunset scenery in the bay.
Overnight aboat in Halong bay.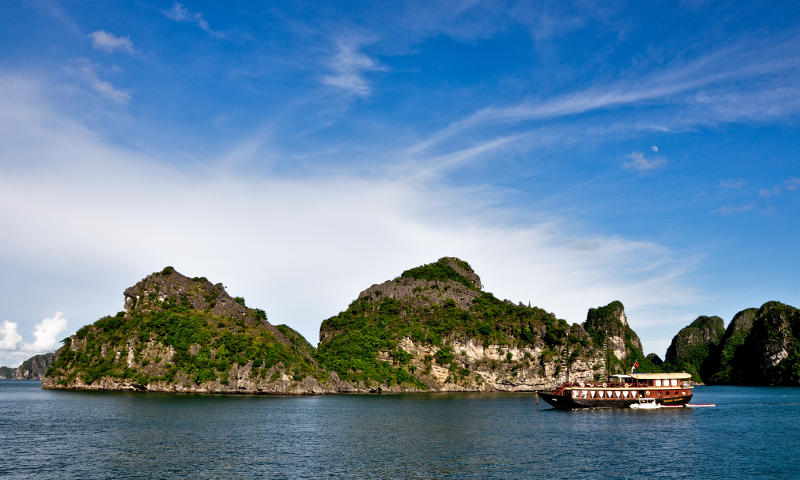 ========>
Day 15 Halong bay
means boat cruise
One more day in Halong bay. Scenic cruising to the most tranquil areas of Halong Bay. Get on an island for swimming, sunbathing…
Spend another night aboard.
========>
Day 16 Halong bay
means boat cruise
Morning, breakfast on board. Cruise further and stop at a Pearl Farm village. Continue cruising through many islands and islets to explore the hidden charm of Halong bay. Lunch on board while going back to the prier. Transfer back to Hanoi.
Overnight in Hanoi.
========>
Day 17 Hanoi
means car
Breakfast at hotel. Your leisure time in Hanoi to explore the city on your own until we transfer you to airport for your departure flight.
======================================END====================================