Attractions Of New York
The most popular and most visited sights of new York.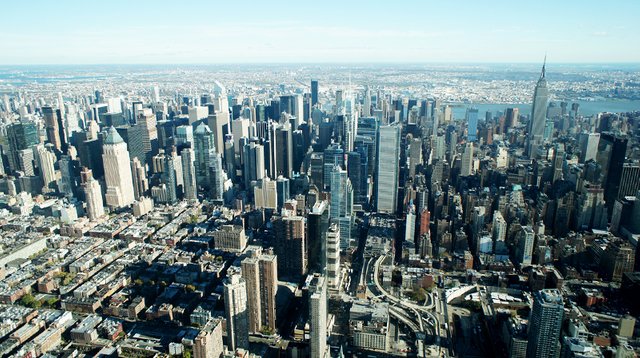 New York included in lists of the most visited cities in the world. Every year there are millions of tourists. To spend two weeks in new York was the right decision. For me, new York is a pleasant concentration of excitement and inspiration, for which I am prepared to return again and again. This is one of the few cities in the world where I feel comfortable, after new York on my list meticulously stands up London, fun and spontaneous Amsterdam— Budapest. Your city is when every second a local resident asks you for directions because you're absolutely organically and naturally dissolve in the urban space.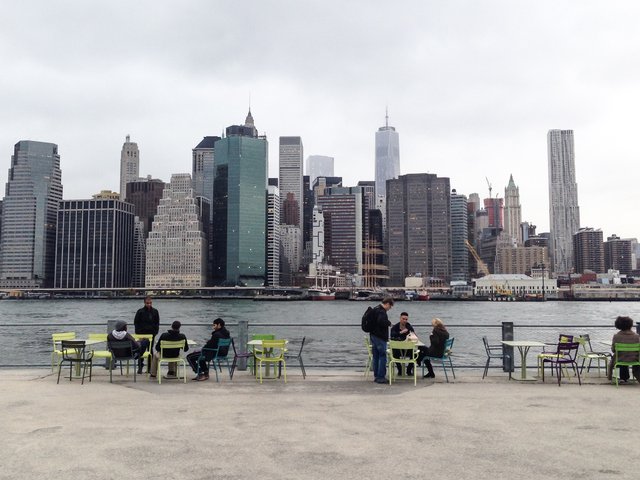 I'll tell you about my two-week journey through different areas of new York: Park slope family set consists of the Pope, an architect, mother, designer and two children: a boy and a girl, that in Williamsburg juice and beer it is customary to pour in the banks, and cobbles is frail it's time to move, when these same banks seem childish. And also about the suddenly interesting Red hook and Bushwick painted.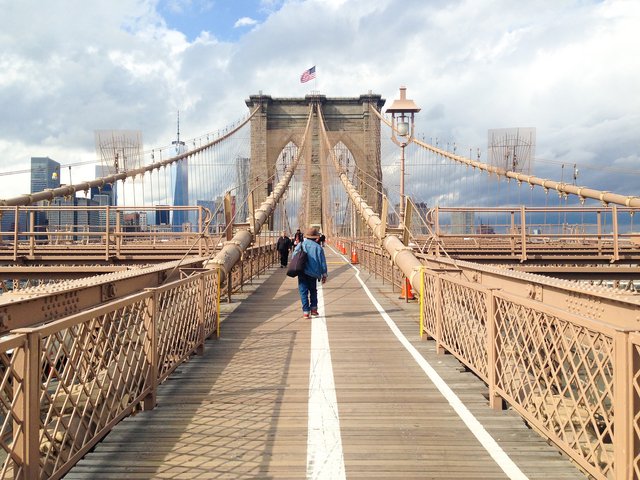 On this trip I almost never got out of Brooklyn and can be a guide to its many areas. Once Brooklyn had a bad reputation in the "Sex and the city," taxi drivers refuse to leave Manhattan and move Miranda in Brooklyn was similar to suicide. Today, Brooklyn is not only a city, but also fashion brand: all products from soap to shoes say "made in Brooklyn" on the streets there are information pillars "Explore different neighborhoods in Brooklyn, even Amazon snobby replaces the shipping address the city of new York in Brooklyn.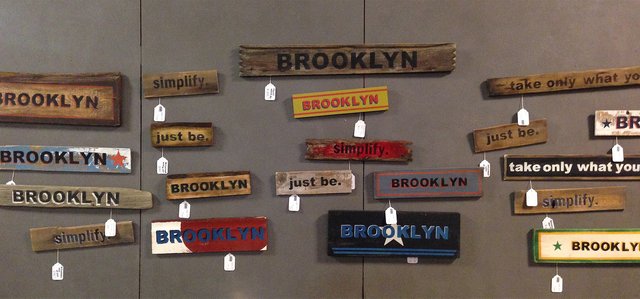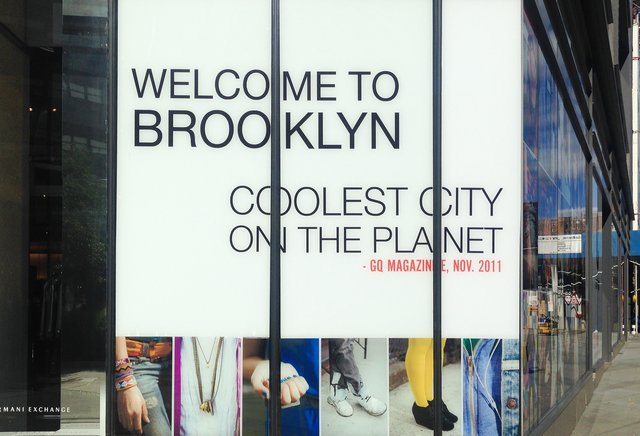 Do I envy the cities in which the districts are worlds apart. Moscow shares the metro stations, and I would say that living on the "Kursk" than in "Syromyatnikov" (the latter, I think, even my housemates don't understand). In new York or London, I can draw a portrait of a resident of Shoreditch or Chelsea, or Bedsty cobble hill — and with our communism in the same house can live and poetess Valentina, and alcoholic Dima, and diplomat Sergei.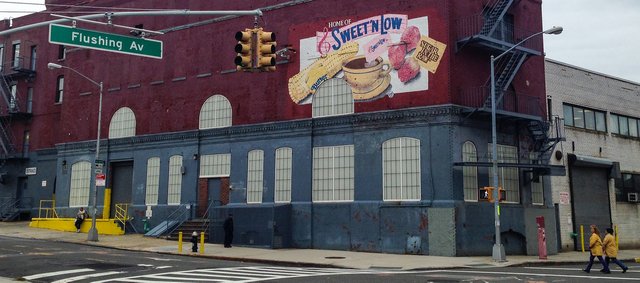 I drew a map of Brooklyn where they showed all the differences of its regions.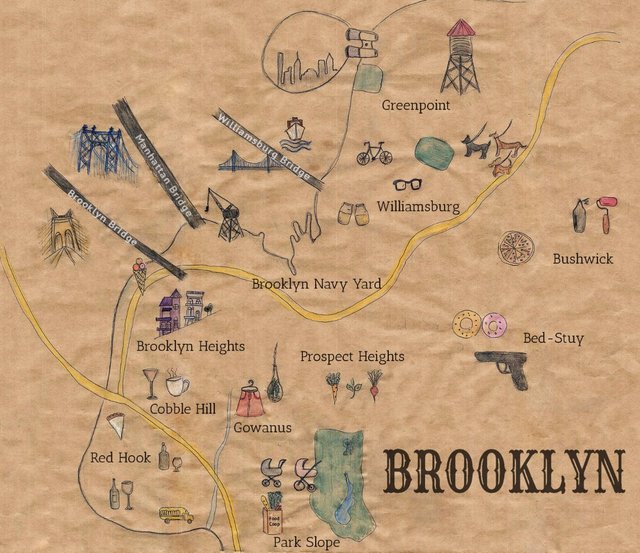 Williamsburg — the most classic example of a fashionable Brooklyn: it brings together all those who for their profession adds word art or design. Someone has rightly arguing that to live in the center of a lot at Williamsburg was gone, but round the clock fun and noisy area all the same is pleasant and comfortable.
All the first floors are occupied by shops, cafes, bars and restaurants: if you focus only on their appearance, then they can just leave one door and go to the next.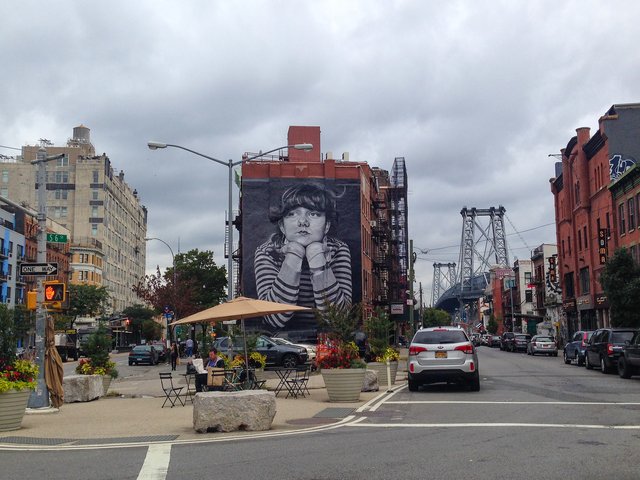 My friends live on the border of Williamsburg and Greenpoint, I stayed with them the first time, so perfect Williamsburg was formed long ago to me is Breakfast at Five Leaves (medium and big breaks for two), with a coffee at Blue Bottle and a walk to Manhattan across the Williamsburg bridge.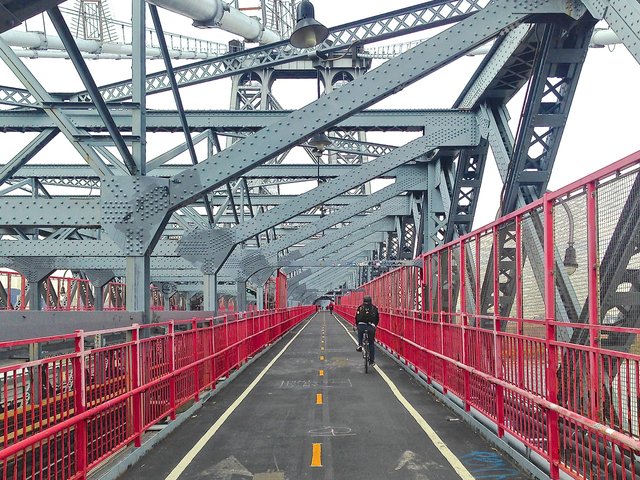 The correct city in the correct methods of movement.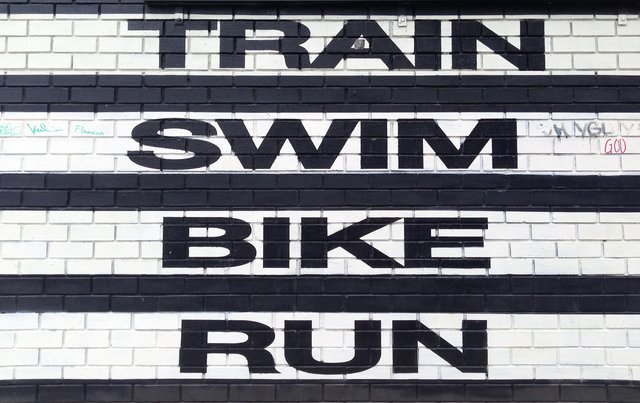 The first thing I saw this morning, when I came home — it's a squirrel crossing my path. Them here to the surprise of many proteins is a new York pigeons. And fire escapes — new York decor.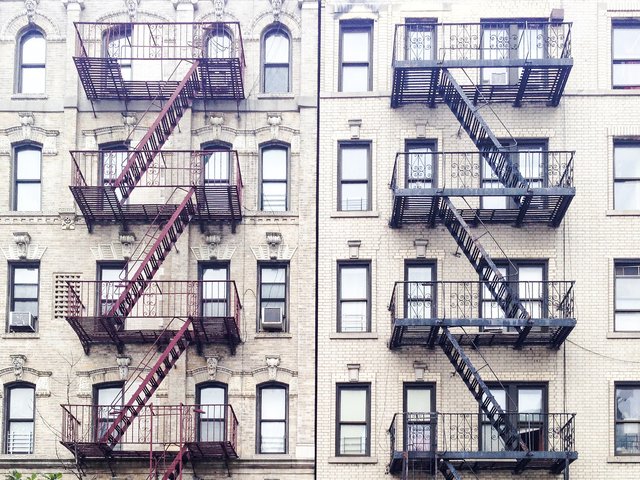 South Williamsburg — the traditional habitat of the Hasidim (Hasidim are the representatives of particular religious movements in Judaism). The Hasidim adhere to the strict customs in all spheres of life, to read about them on Wikipedia a pleasure, and to see live and quite well.
Except for the austere black suits and traditional fur hats with a hole (shtreimel), I was surprised by the large number of children. Women walking with a stroller for two toddlers and three or four children of different ages. I thought it was a living example of kindergartens at home, and it turns out that the average Hasidic family in the United States 6-8 children.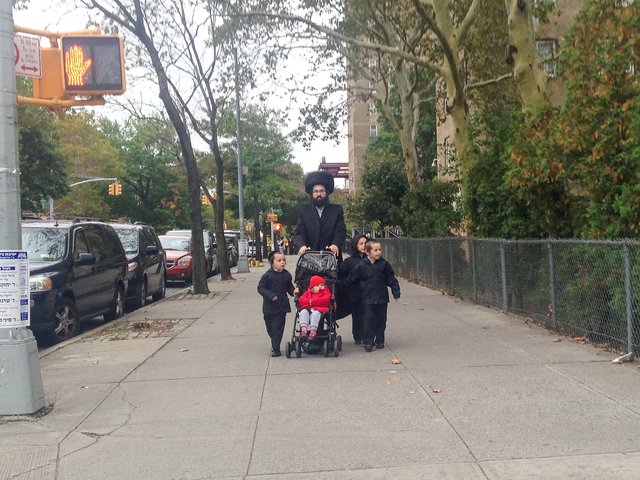 High rent is the main disadvantage of a good area (hence the talk about the vulgarity in the center of Williamsburg). My friend rented a room here for a thousand dollars — the room was so small that it was jokingly called shoes box and fits inside the frame with only a windowsill at arm's length. About housing in Brooklyn, and Willemsbrug) has an interesting column in the New York Times: before, moved here from Manhattan in search of cheaper housing, now the middle class flees to new Jersey or East Harlem (but about where to run the middle class in Moscow for housing, nobody knows).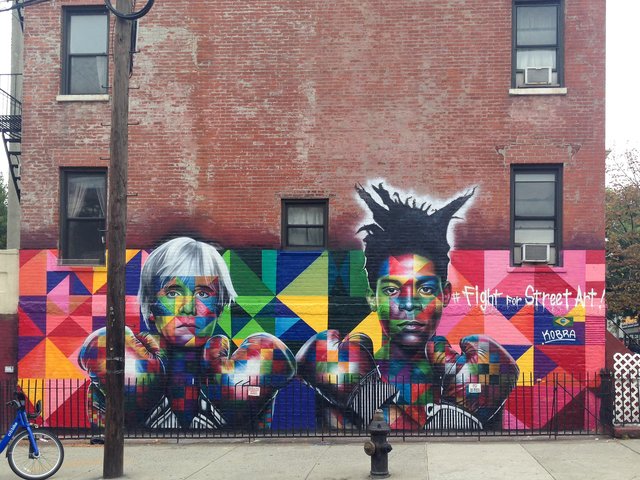 North Williamsburg Greenpoint starts — originally a Polish neighborhood, but as a result of popularity of his neighbor gained a lot of new residents.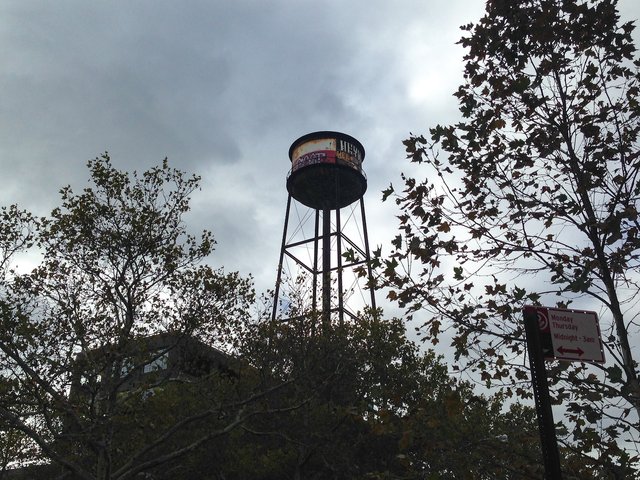 Some guides call Greenpoint a living example of the past of Williamsburg, there are still unspoilt bars and art-a cluster of old hangars, so it's time to run to watch the story.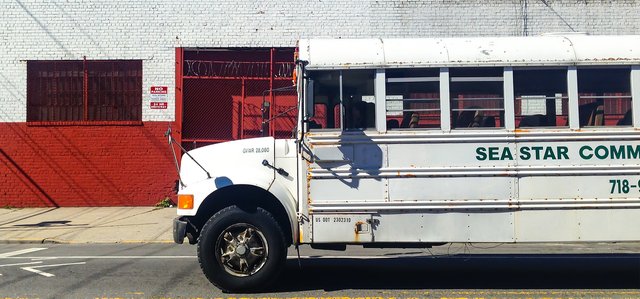 Red hook — my discovery number one of this trip. Among most new gorkavtsev Redhook known only IKEA — "Redhook? There is nothing to do". There's really few years ago was opened by IKEA (the crazy lovers of local designers and lovers of small production), but the Swedish hypermarket is not the main attraction. Graffiti, industrial buildings, and art centres in former factories, a winery near the water, the most delicious key lime pie and an amazing combination of colors and textures — generally, there's no better place to spend the day.
The recipe of transformation of the old warehouse.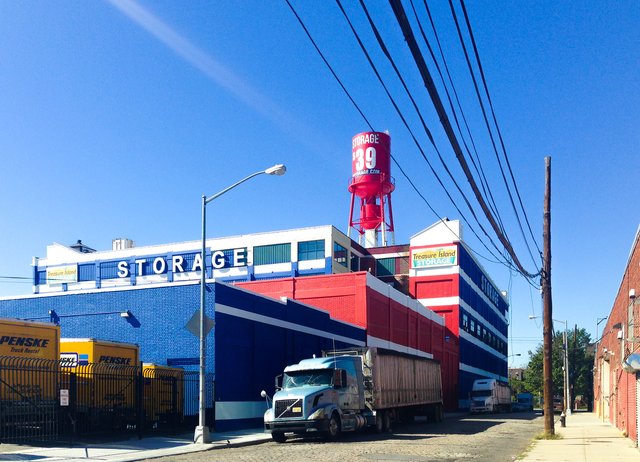 School buses behind barbed wire.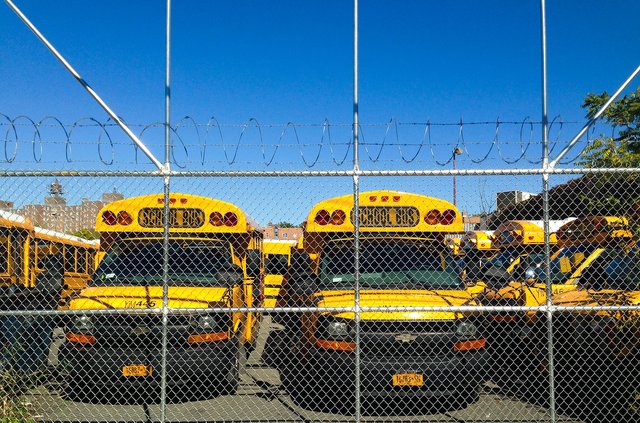 Lunch offered to go to the Fairway Market — a huge grocery store right on the water. There are good and selection of ready meals, and fruits and vegetables, and the building itself and the view.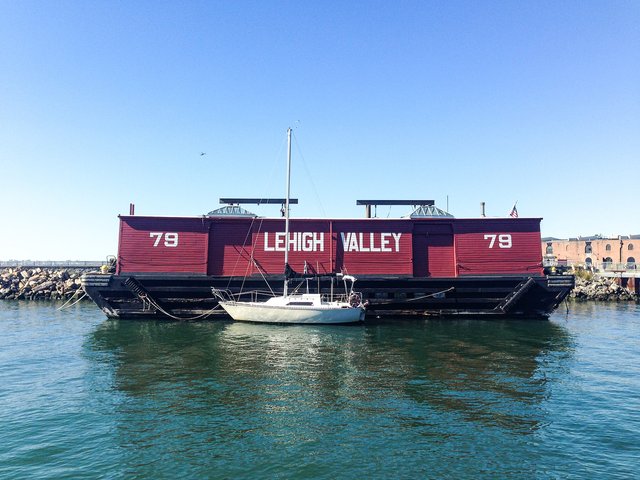 Greetings from Amsterdam.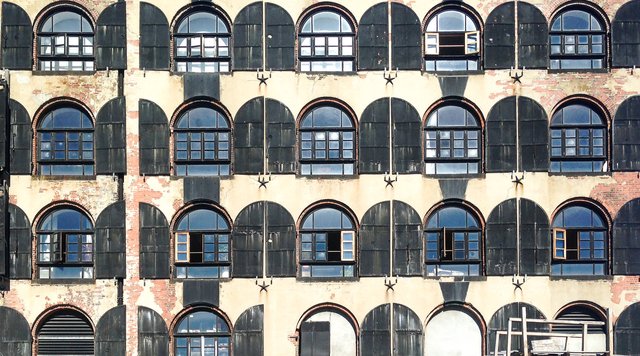 In front of "Key Lime Pay" — leave room for the best key lime pie in new York.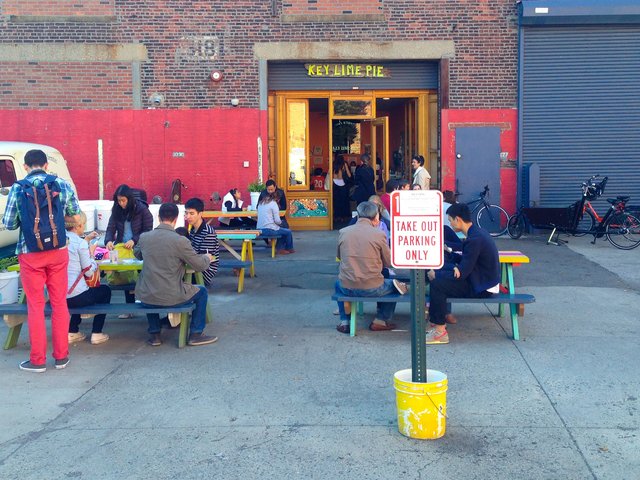 Next another nice little Park on the water (just remember that told the local: "Red hook is nothing!").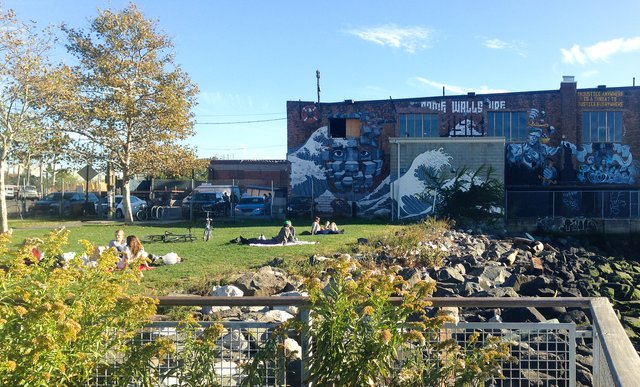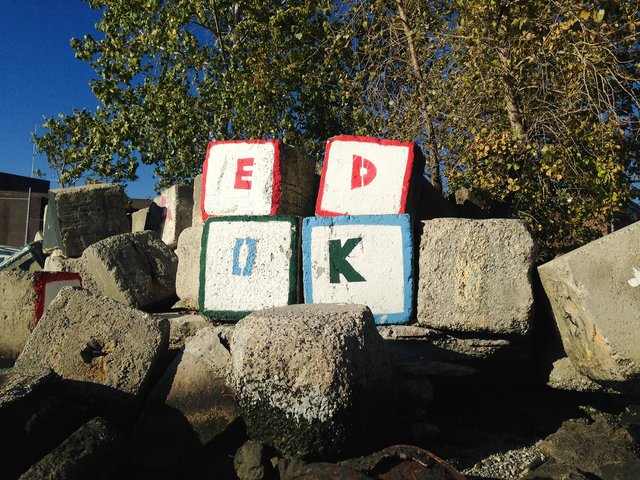 Here, as in some other parts of Brooklyn, preserved wooden posts.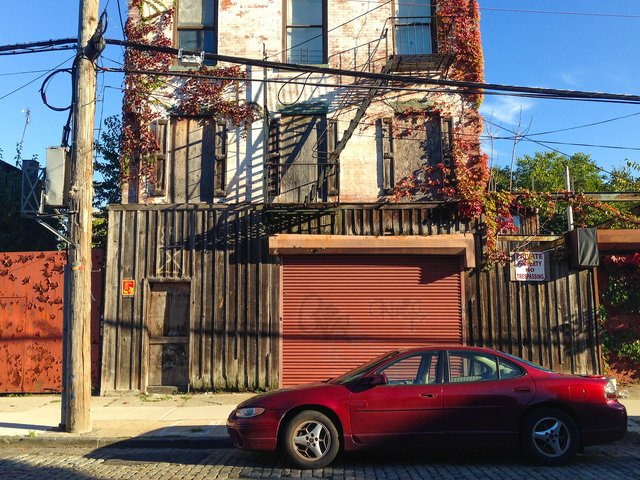 You should definitely go to Red Hook Winnery — a cute little winery in a brick building. I accidentally got on a tour where passionate girl told me how they make wine. My Russian mentality especially liked the story about mayor Bloomberg, who in my own way helped the winery after hurricane sandy: the day before he had tried their wine and he liked it so much that the problem with the blackout was decided after his personal phone call and a couple of hours.
The winery has a bar where you can order a tasting set or just enjoy a glass of wine. The guys are particularly proud of their orange wine — I advise you to try. I'm a fan of red wine, they found delicious white and bought a bottle with him.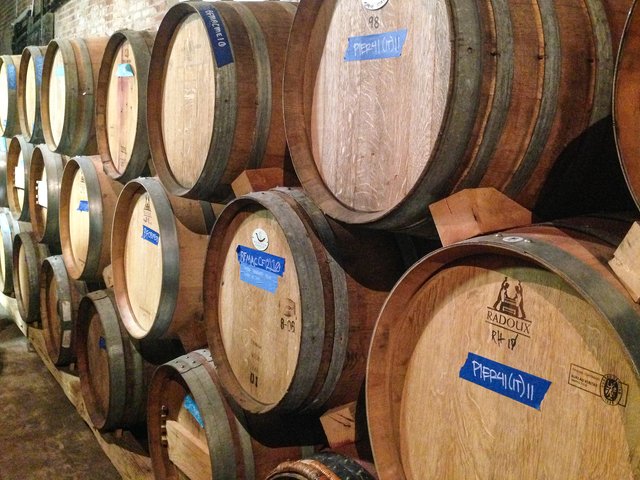 After the wine tasting, key lime pie and two pieces of pizza from Mark's Pizza (I recommend), it's time to try whiskey. The Americans are preparing the drink on the corn that amuses a lot of whiskey-parents from Scotland, so American English has its own word for whiskey — whiskey, while Scottish, canadian or Japanese drink called whisky.
Cacao Prieto is a very small production, which serves several types of whiskey (whiskey) and chocolate.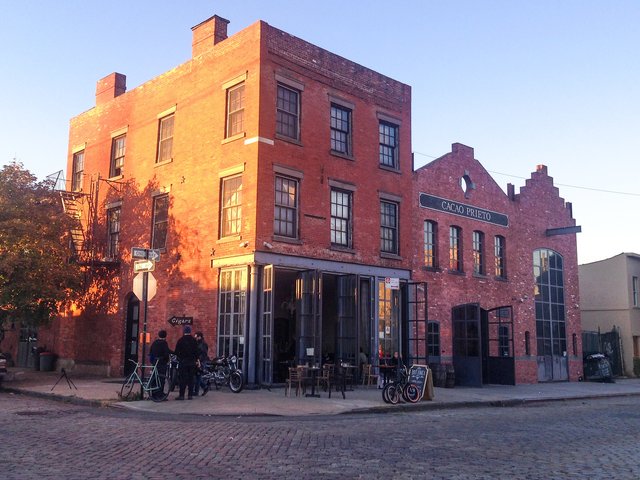 Judging by the advertising on the fence, Cacao Prieto is not the only whisky production in Red hook, but I have not tried yet.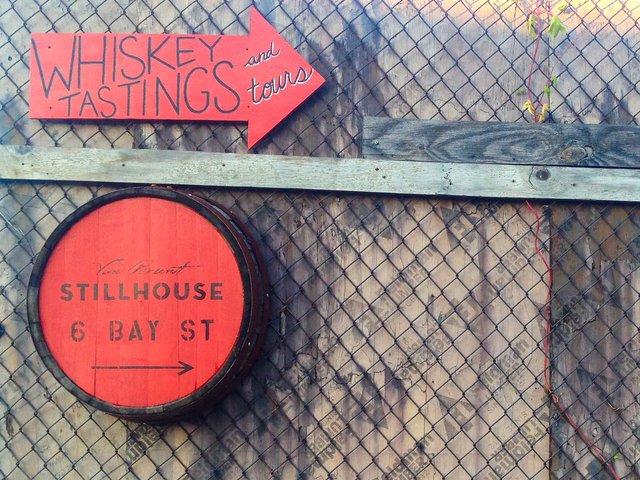 Knitted street art.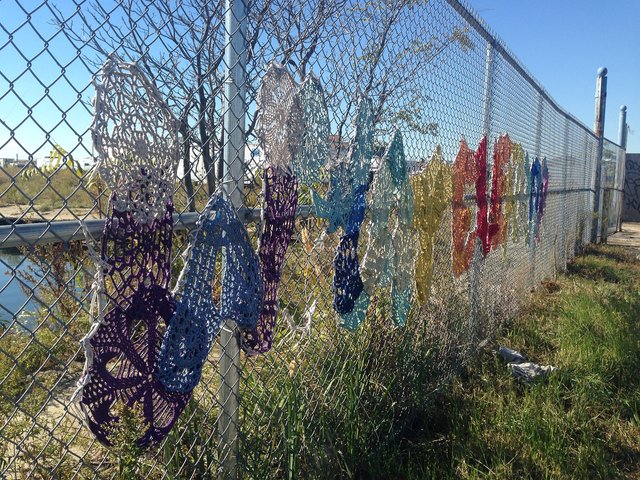 To complete the walk in Red hook offered in the art center Pioneer Works is a huge loft with a strange exhibitions, beautiful toilet and small events.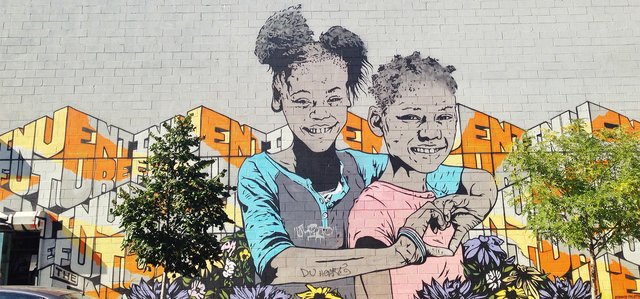 Another discovery this trip is an industrial and graphic Bushwick, but unlike their already highly-popular hipster neighbors he is only beginning to develop. Wikipedia describes Bushwick as a working-class neighbourhood with a rich criminal past and great hopes for the future.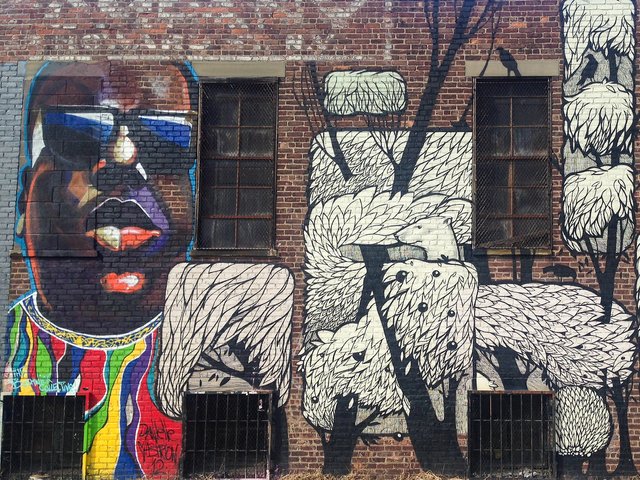 To come here is primarily for tagging, which has grown to a few streets, and called the Bushwick Collective. Joseph Ficalora is its formal curator — he finds the best street artists and helps them to paint the streets of Bushwick.
The history of the area as Museum of street art starts in the ' 80s, when the area was bleak and dangerous, and the Joseph Ficalora — young and ambitious. He climbed to the roof of the factory owned by his family — the memories it was one of the few safe places in the area, but the view from there was opened a depressive: gloomy workers returning from the plant, and prostitutes on the roadside.Then Joseph wanted to turn the grey zone into something bright and beautiful that came out of this better to see than to discuss.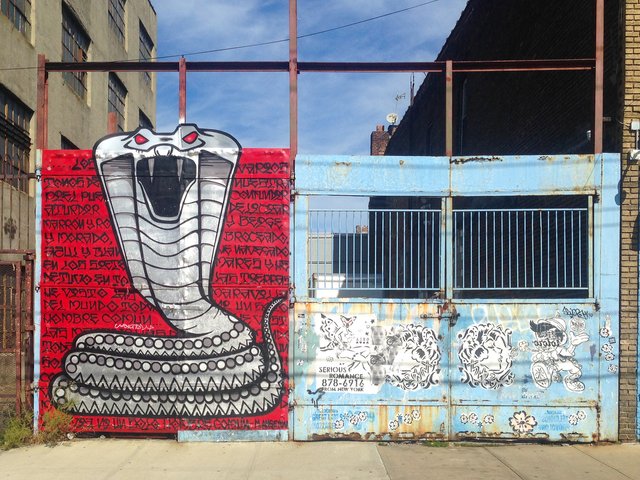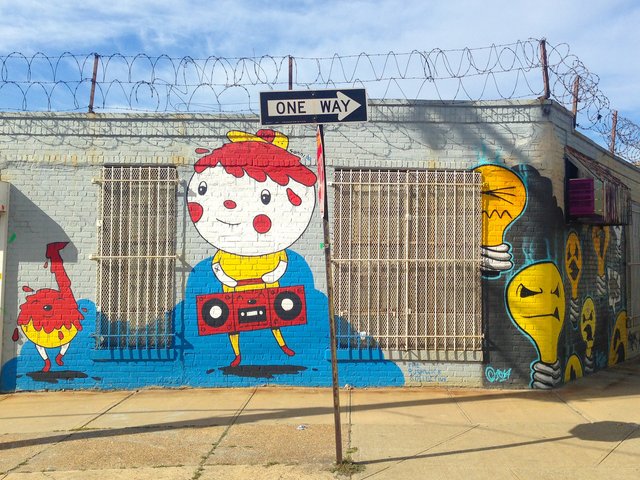 The car is a chameleon.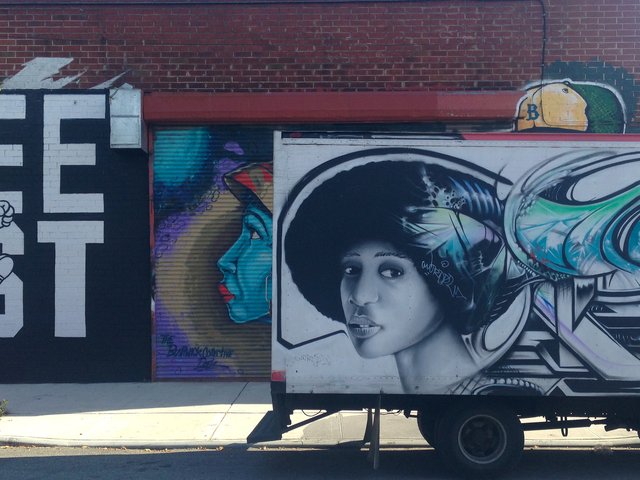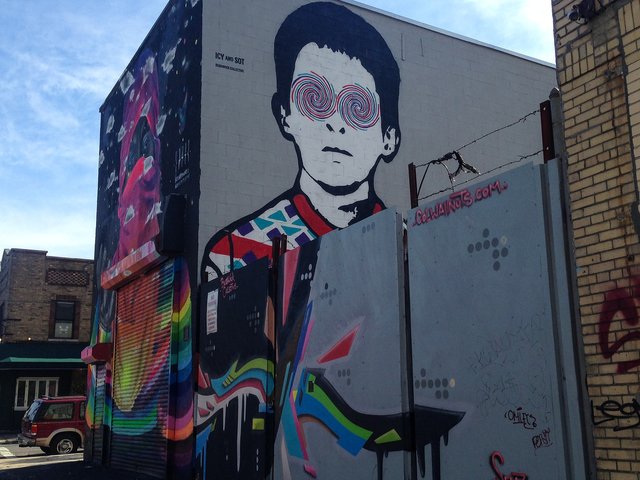 For a short walk I came across two artists in the process.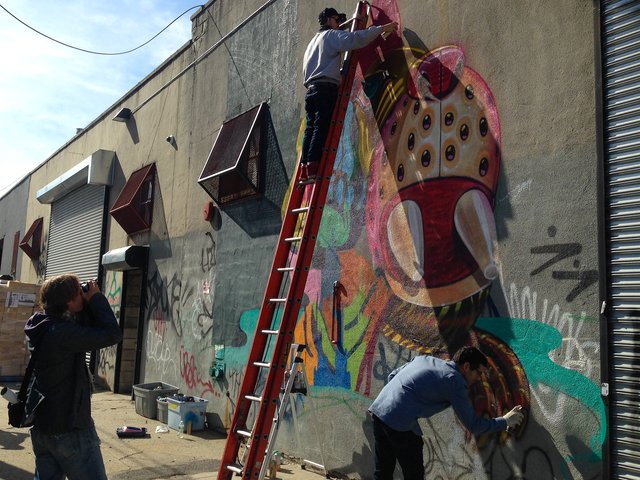 If you don't count graffiti, street Bushwick places look unfriendly and appropriately its definition from Wikipedia. The password from the Wi-Fi at the coffee shop — brave street, the name of the network near the I was shot in Bushwick. The main paradox: at a café sitting, young and beautiful, and walk the streets of zombie and scary. I suspect that between the trendy Bushwick points are only available to local portals. Besides the visual art, Bushwick is famous for its pizza Roberta''s Pizza. Go hungry and be prepared for long queues at the entrance.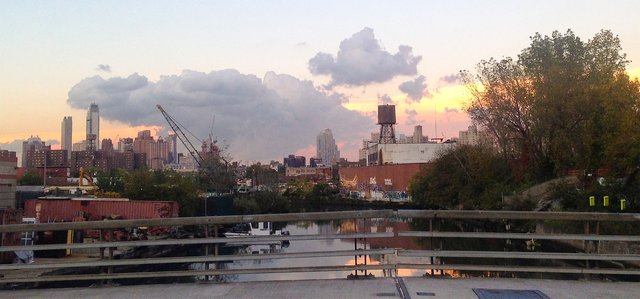 Among my favorite areas kobila hill (adult hipsters) and family Park slope Gowanus is ambiguous. I love this new York contrast— it is necessary to move the Brooklyn fifth Avenue, and is mothers with strollers and shaggy dogs walk the streets suspicious of the company. I must say that none of the industrial area I was not offered to fill the face or borrowed mobile phone, but the local contingent is sometimes confused.
In Gowanus, is to run for the world's best second-hand No Relation Vintage Store. This is a huge (more than you had imagine) a store with a bunch of blouses and skirts for five dollars. In addition to the usual cute dresses and shirts in a cage here a huge collection of special pieces of odd fabrics (any dresser go nuts here), and vintage millitari. And this is the only store where men love no less (or more!) women.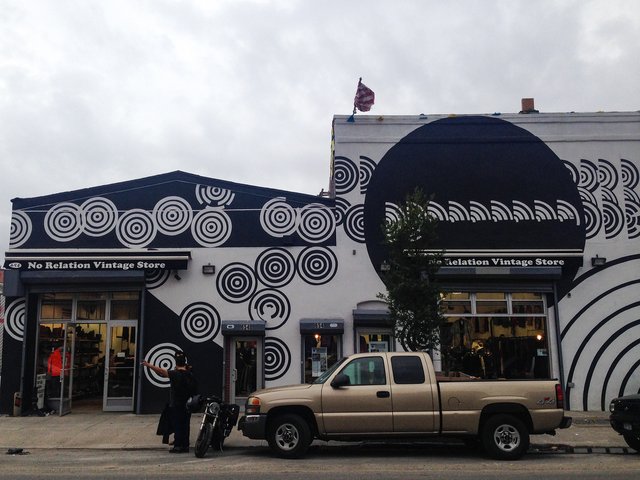 Gowanus is known for its canal and former chemical factories, which did not hesitate to dump their waste themselves-know-where. Say that a few years ago the water was blue-green in colour and peculiar smell spread all around. They also say that the mafia dumped into the waste channel their you-know-what. All these facts betray Gowanus more charm and a message on Yelp offers a simple solution: "Gowanus — go anus."
But today, as expected, is the new fashionable area with lots of beautiful places. The first came in Whole Food Markets, built on the embankment of a huge supermarket. The clean channel has allocated $ 100 million, and not sawn, spent and continue to spend at the destination.
Of the interesting places worth to go to a sweet pie with a dollop of cream at Four & Twenty Blackbirds and buy everything for your home in Twig terrarium. Everything is so delicious and beautiful that defies photography.
About Park slope said it best casual companion to Brooklyn beta: "When we first moved to Park slope, it seemed to me that everything is the same: whoever I met, it was a family where the mother is a designer, husband is an architect and has two children, a boy and a girl. You can go crazy, but two years later I was to finally meet other people!". This is really a very family, very pleasant.
The triumph of the brown stone (the so-called classic new York brick house).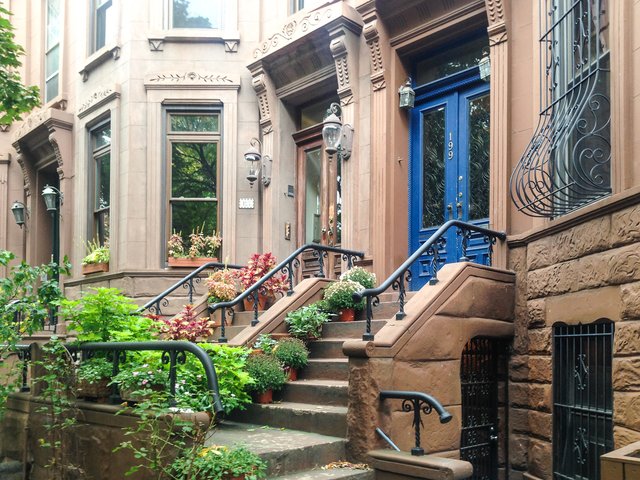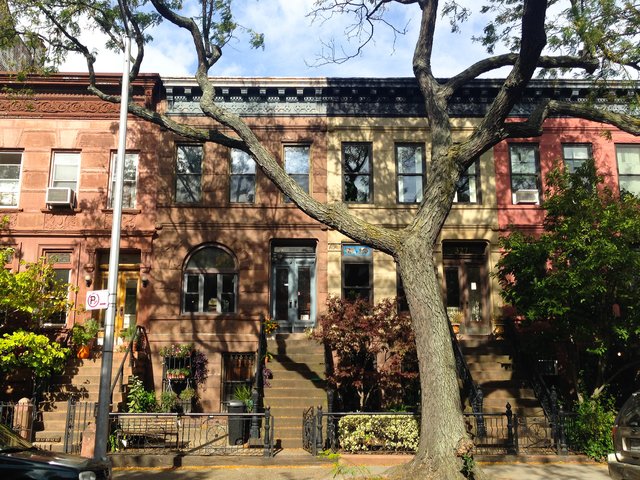 Good graffiti. Girl with a giraffe.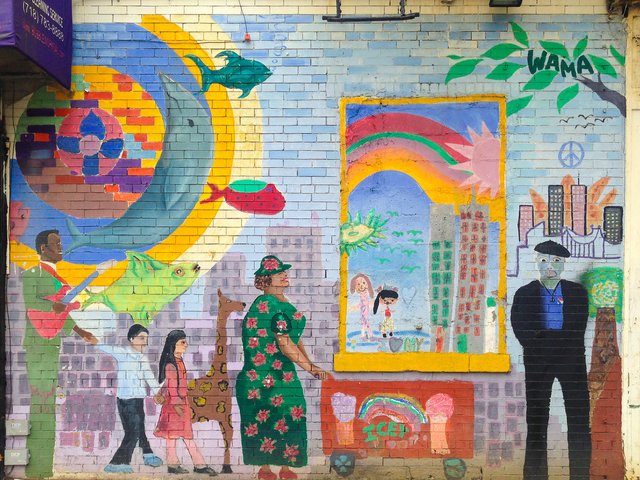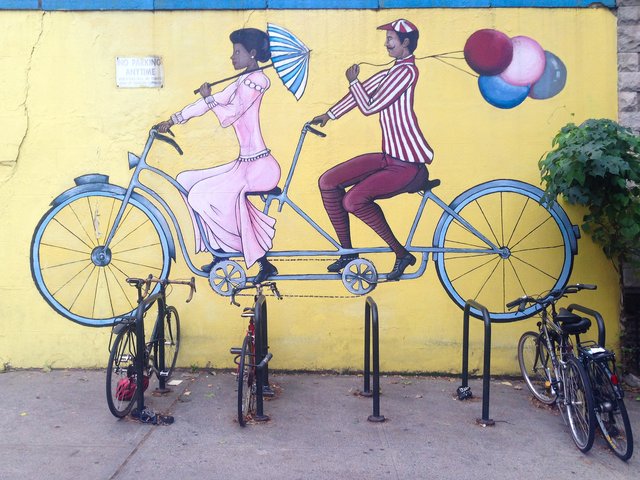 In Park slope I already found two delicious beer pub Bierkraft and The Double Windsor. Both places are ideal for correcting the taste and the beginning of a great love of beer.
Here is one of the oldest food cooperatives — Food Coop. The cooperative's members must work 2 hours and 45 minutes every four weeks, they get the opportunity to buy guaranteed good products. I did not want to let inside, and I asked for a tour (excursion at the grocery store for a guest from Russia, agree that it is interesting). "New York is very difficult to find good products" — convinces me consultant. This will be my favorite joke in the whole trip.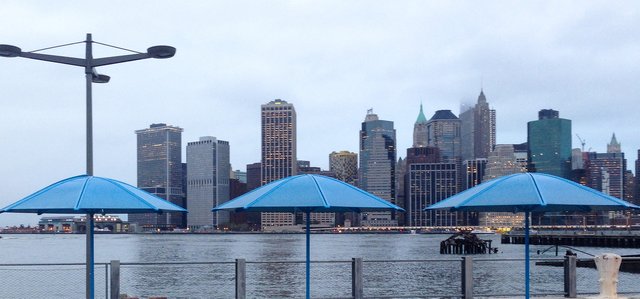 Brooklyn bridge Park is my favorite walking route with classic views of Manhattan.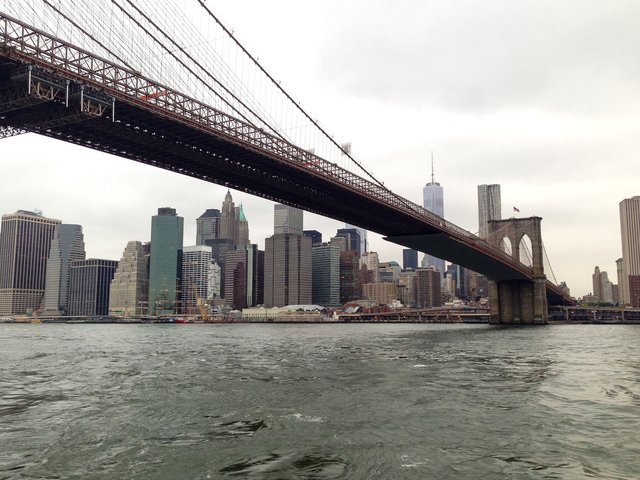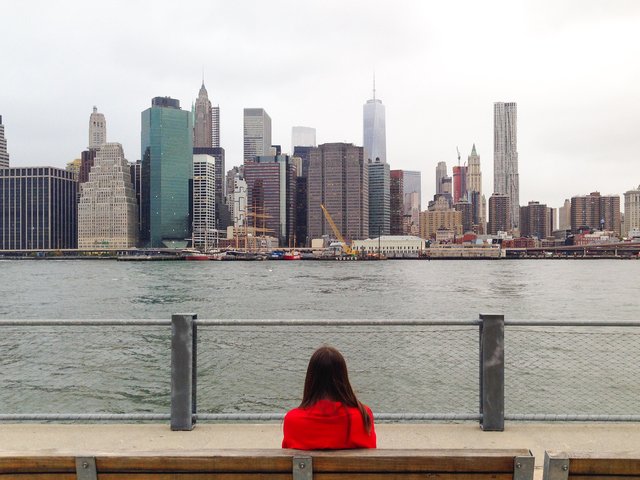 Every Sunday on the fifth pier is a large food market with the unpronounceable name Smorgasburg. Here the guys with the Billboards would not have to criticize narrow-minded local gastro-projects — the choice of food is huge: from anchovies breaded ramen to sandwiches. But, what is interesting and proves the triumph classics, the longest queues were for the fries and the famous donatum Dough.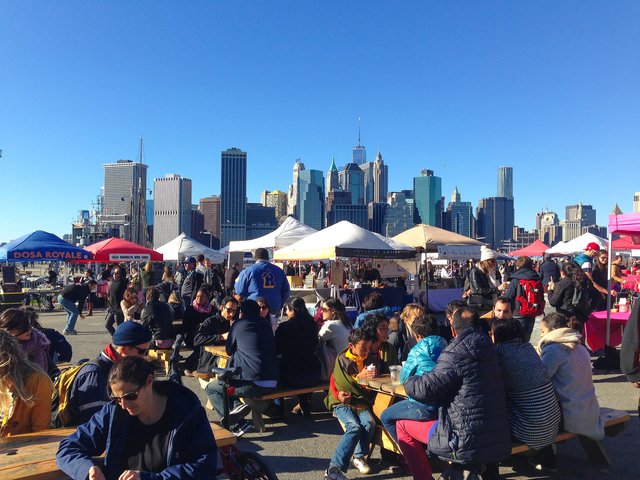 I also stood in line for both favorites and I can say that potatoes are really good (huge portion was worth seven dollars at the new rate), and the donuts I had to try even earlier in Bedste — just happened to see a long queue and the girl cheerfully said that for such donations, I just have to wait twenty minutes.
"We fry in Bed-Stuy" — here sounds the same as "I'm dancing ballet on the streets of Cherepovets: the district Bedsty not the best reputation and it is safe and cool to cook the donuts here.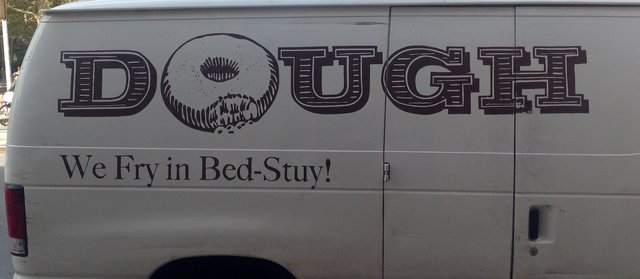 I suggest to try on the market corn is the most delicious three dollars in new York..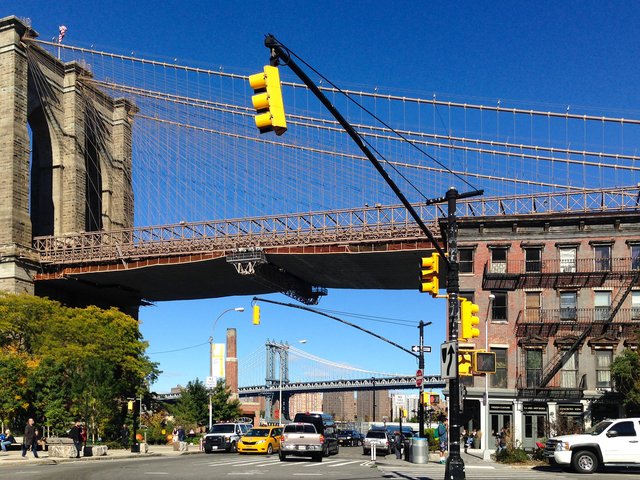 Above the Park-the promenade is a rich and exemplary beautiful area of Brooklyn heights with suitable species.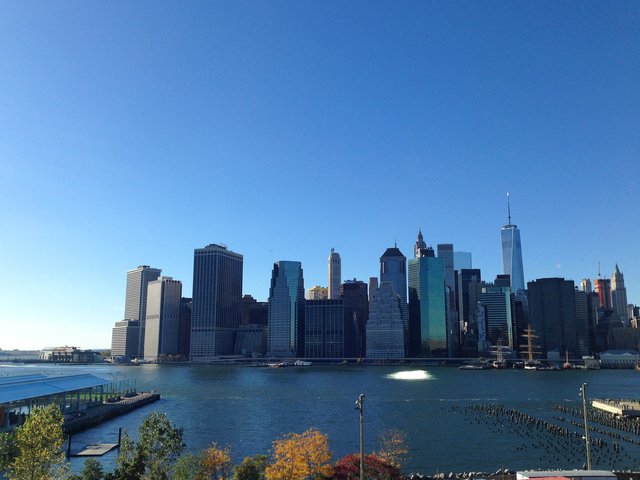 Wooden colored houses it is similar to San Francisco. And sometimes in Paris and London.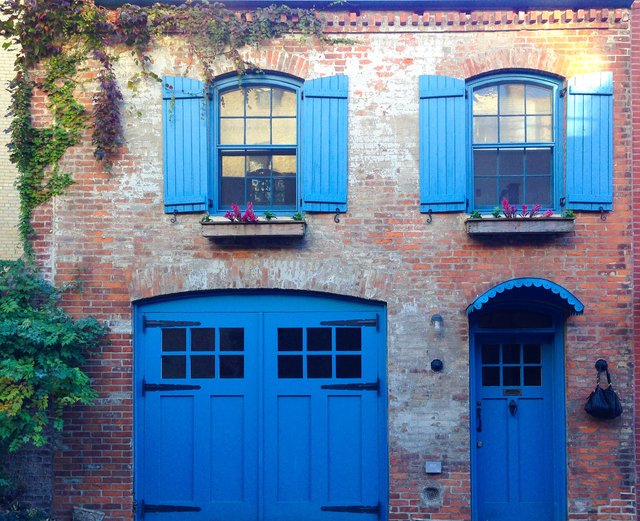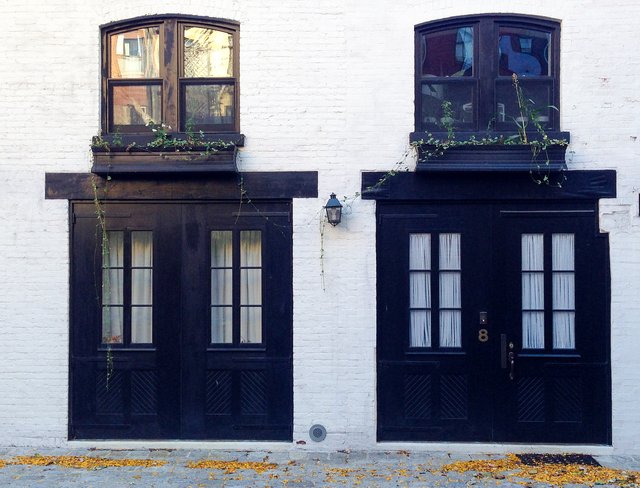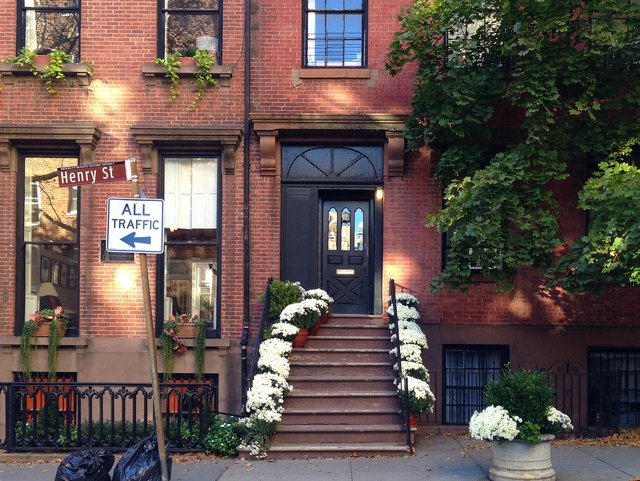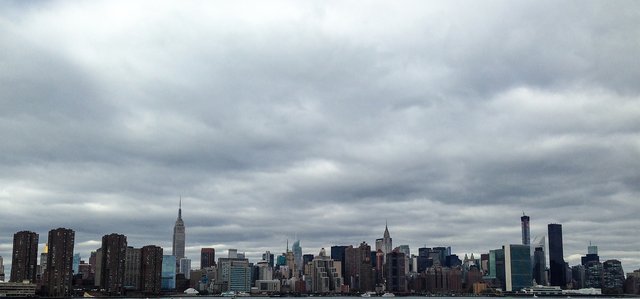 Our relationship with Manhattan at this time was hard: I quickly tired of the noise of Midtown, and I try to think seven times and once to rise above 28th street. But Manhattan is different, too, and in the lower areas (in Tribeca or Greenwich village) and I feel great.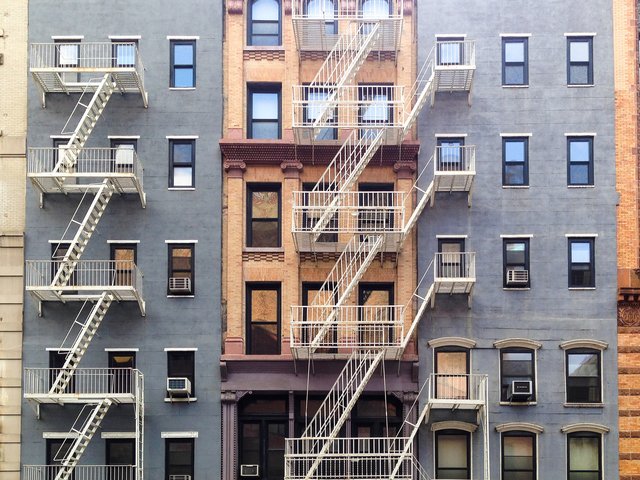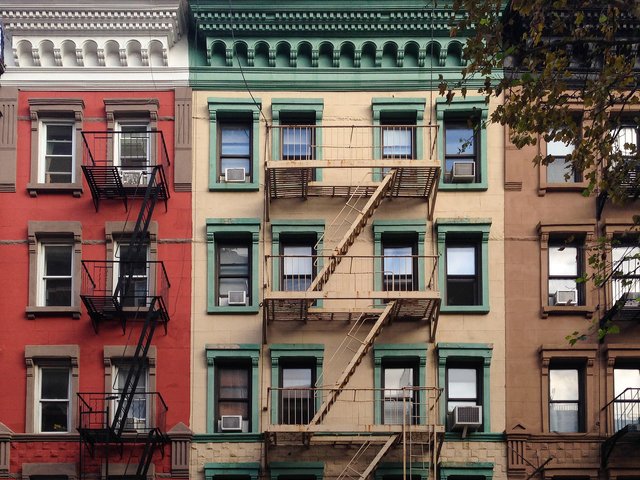 In the areas of Noho and little Italy hidden a lot of cute places, one of them Egg Shop. My sympathy to this place is like a victory for my inner aesthete on foodie: I'm not impressed with the food and was surprised at the portions— after a week in new York, I used to pester one dish, but here first time I am left with a slight hunger. But I'm a big fan of their identity and philosophy — the egg is the Foundation of all the dishes, and simplicity — the main assistant.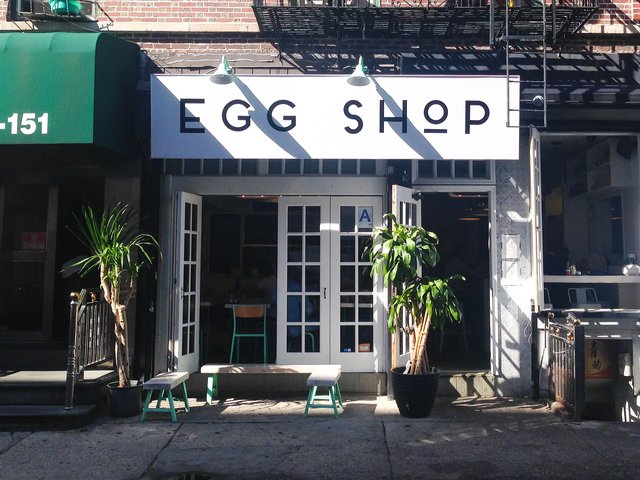 The cranks are treated as in any big city — not to notice.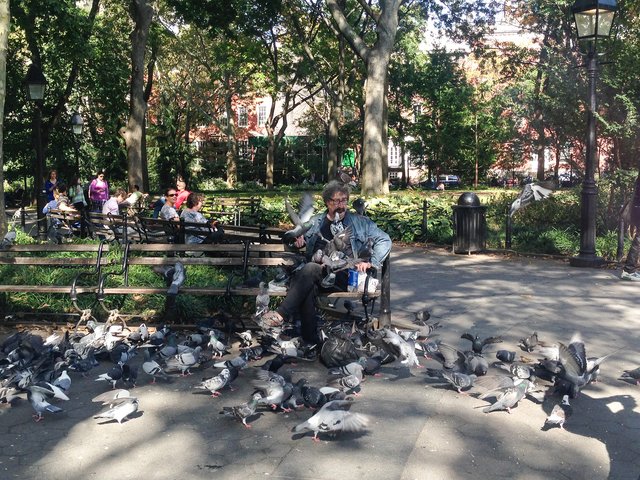 For many people the way from Brooklyn to Manhattan still seems to be something complex and long, but I think it is one of the most enjoyable and turn it into a pedestrian journey across the bridge.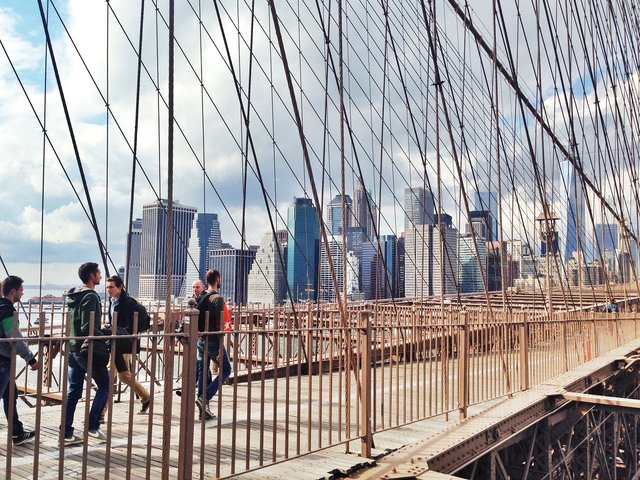 View of the metro station with the high Line Park.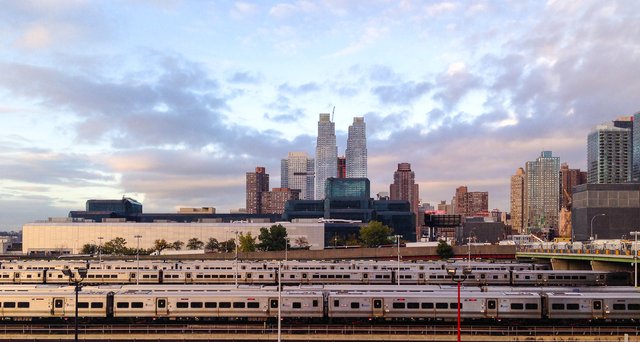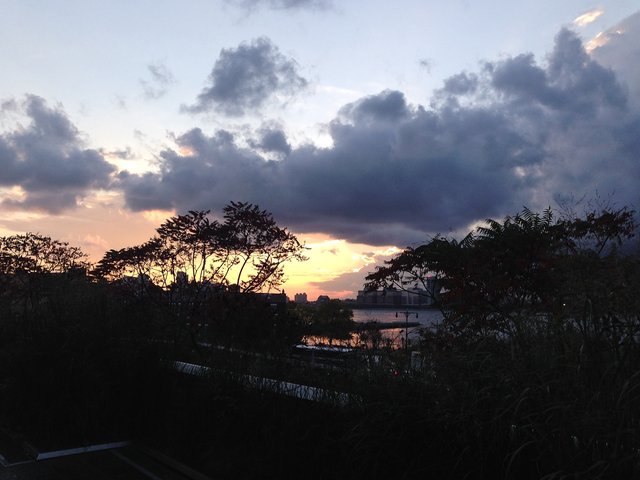 Manhattan likes to be photographed and always turns out well.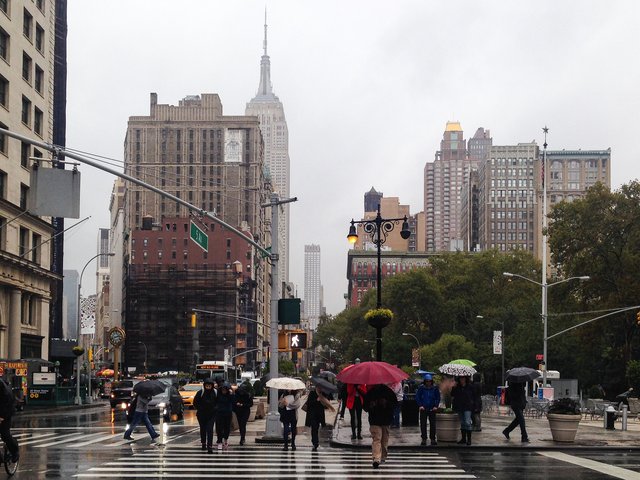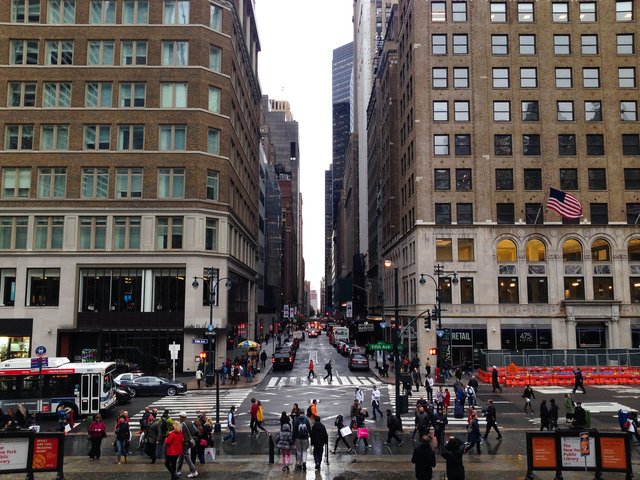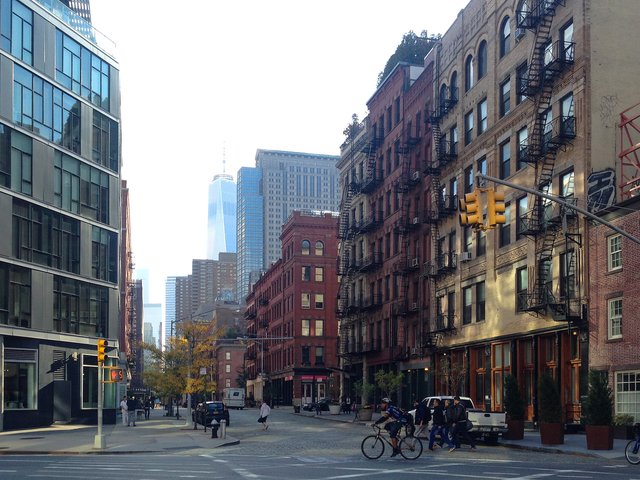 Fishs Eddy is another place that you cannot miss — there is a huge collection of dishes: from hipster jars and tree slices to plain white plates and special equipment for baking..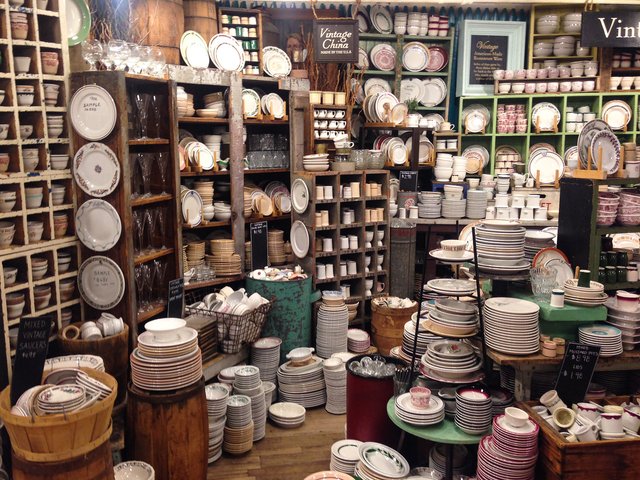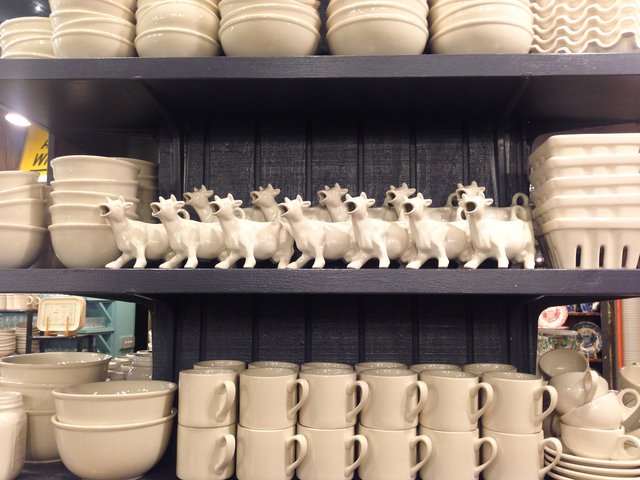 Every Sunday at Union Square is a large food market, and every time I come to new York, I return again and again.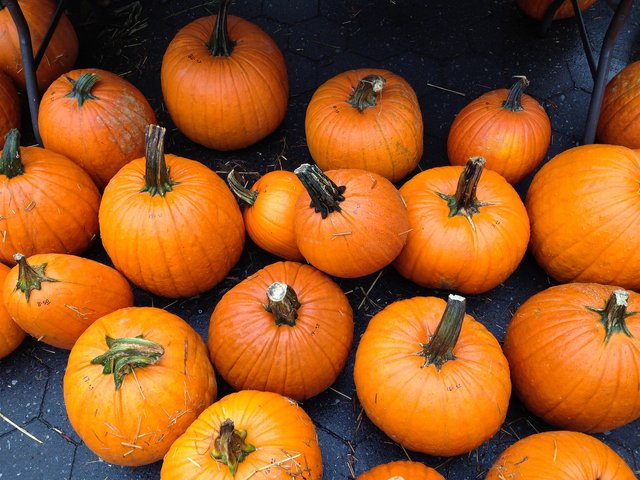 I'm a second year in a row, find the pre-Hellouinskie madness. All: cupcakes-muffins, coffee, cream, Breakfast cereal and even cider — you can buy pumpkin-flavored.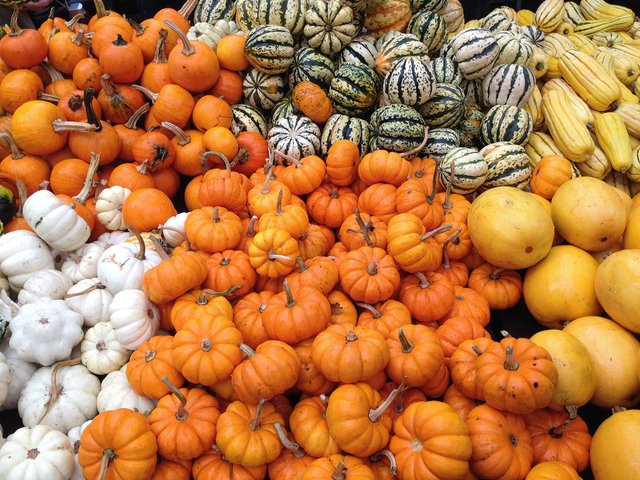 On the last day under "Ghostbusters" I made friends with a pumpkin party. The first experience of pumpkin carving was good.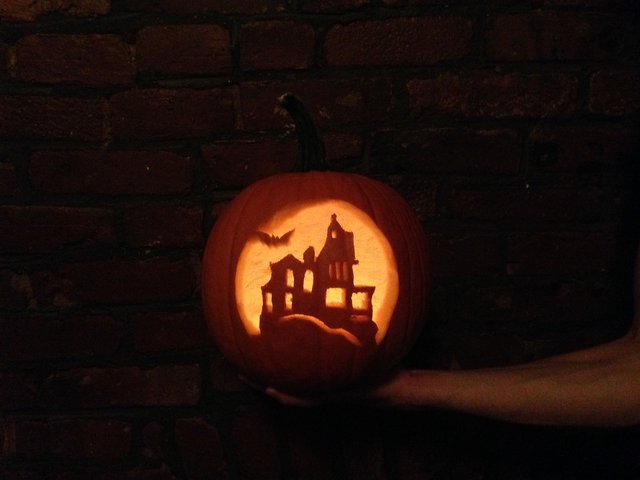 Most importantly, looking at these pictures, not to forget that in new York it is very difficult to find good products".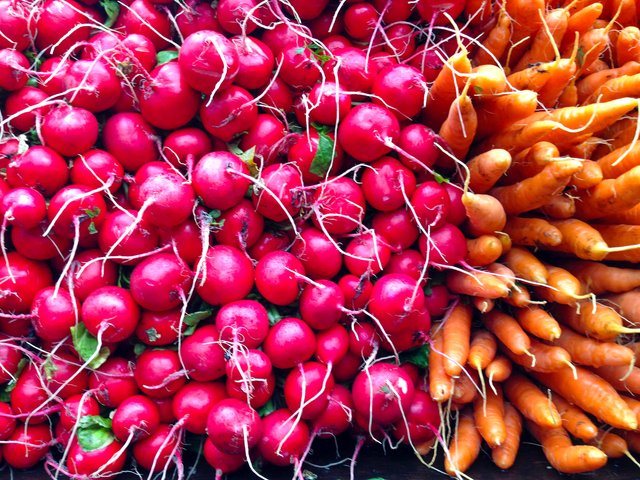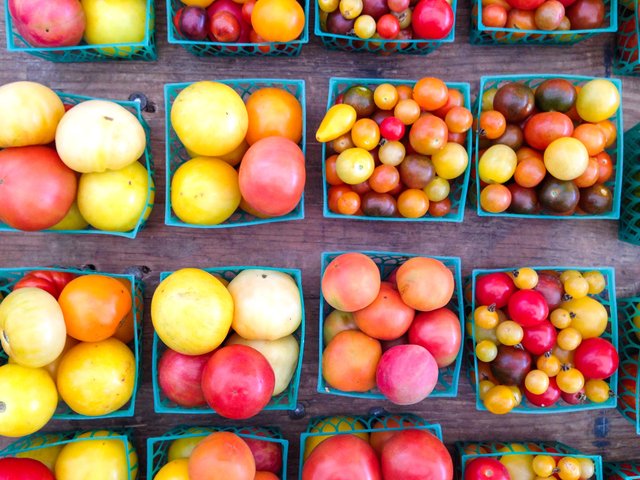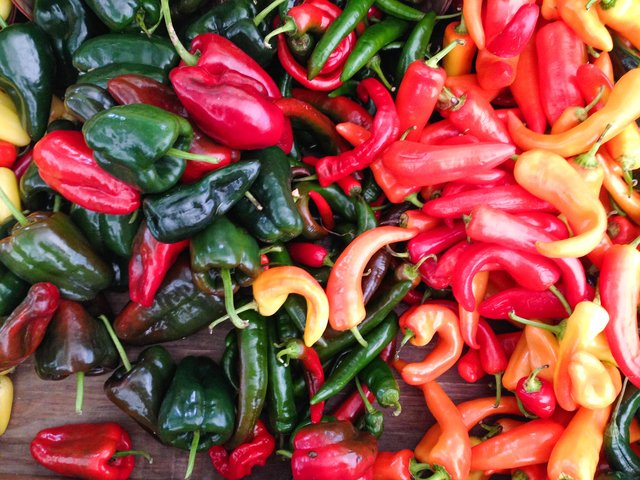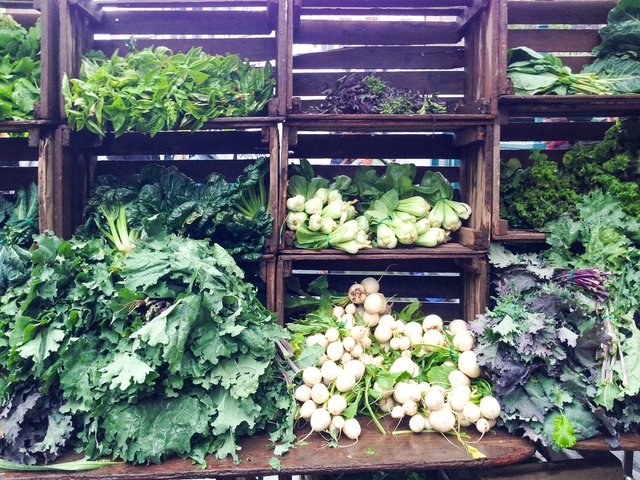 Someone travels the country, and it was a great trip in one city. I have not found the source, but saw the notice that only 1% percent of the tourists outside of Manhattan. Even if it is the author's imagination, then I'm inclined to believe them — new York do for many ends Central Park and Fifth Avenue. So I wanted to show the new York that I love so much.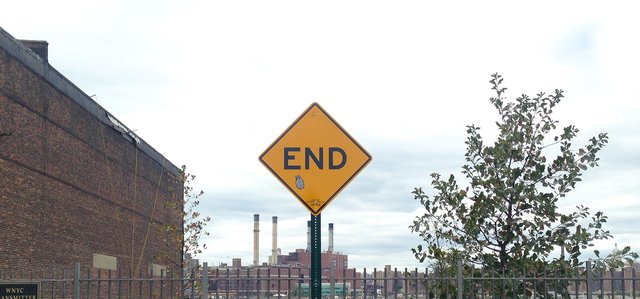 Thank you for your attention!!! Good Luck To All!!!