Visiting the Traditional Long Houses of Marudi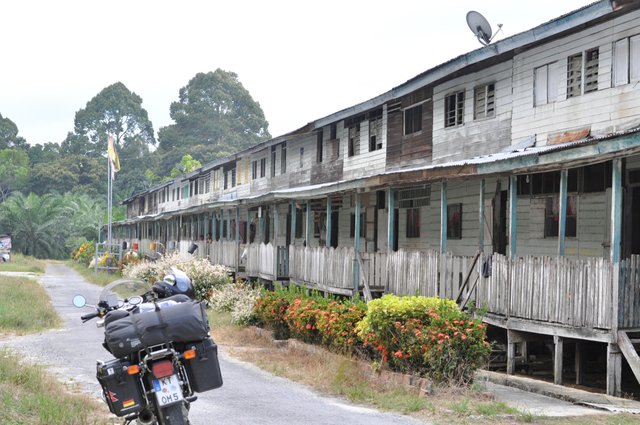 On my motorcycle tour around Borneo, I came to visit a more remote town called Marudi, which lies in the state of Sarawak close to the Brunei border, and right by the Baram river. Coming from the city of Miri, it's about a one-and-a-half-hour drive and a ferry ride inland through green hills with some spectacular views of hilly jungle and oil-palm monocultures.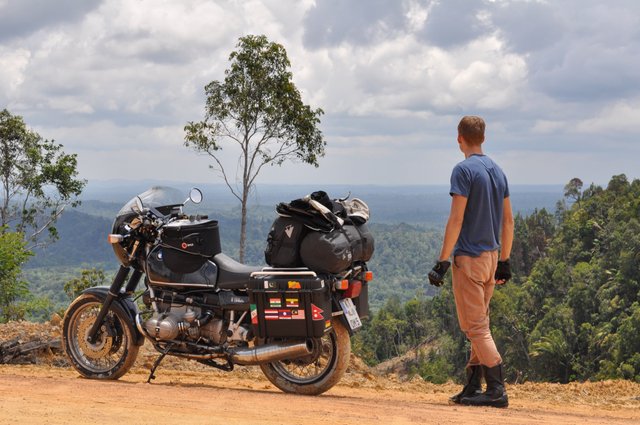 Marudi is well-known for its Long Houses, which traditionally have been built by just adding house after house until it became, well, really long. The reasons should be economical and social ones -- because of wild animals and insects, you would want to build your house on poles and of course, it is a lot cheaper if you could just save one of the walls and build a lenghty apartment instead of a whole house. They are easier to connect to a common water and electricity supply and living in such a remote area, there is also a social aspect to it when people are living merrily together.
I stopped at a more traditional wooden long house and it was already afternoon, so I asked the people if there was a place to stay. I felt a bit strange for this question, since they didn't seem to be used to having tourists around. "Yes, we have!" they told me -- I would just need to wait for the owner of an apartment that does offer homestay, since he was still out, hunting in the forest. Cool, why not stay there over night? The owner happened to be the head of the long house, he had dinner with me and a simple bed prepared in their living room.
Parking my bike on the back side of the long house, I got some curious looks. As I walked through the street behind the long house, I was amazed by the friendliness of Sarawak people, and some kids were shying away from seeing a Westerner. From balconies and backyards, I got so many smiles from people and some were waving me to come -- I hadn't done anything from being the tourist.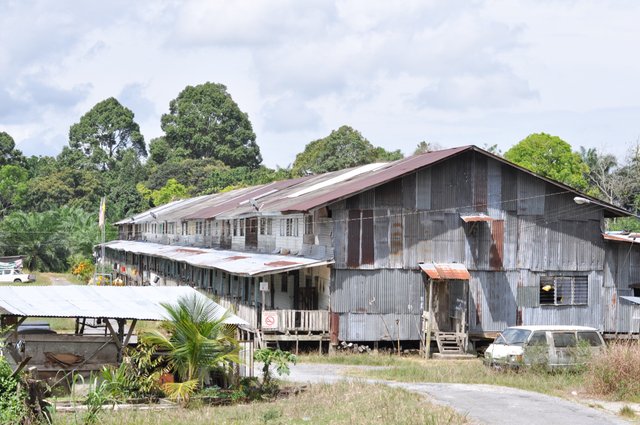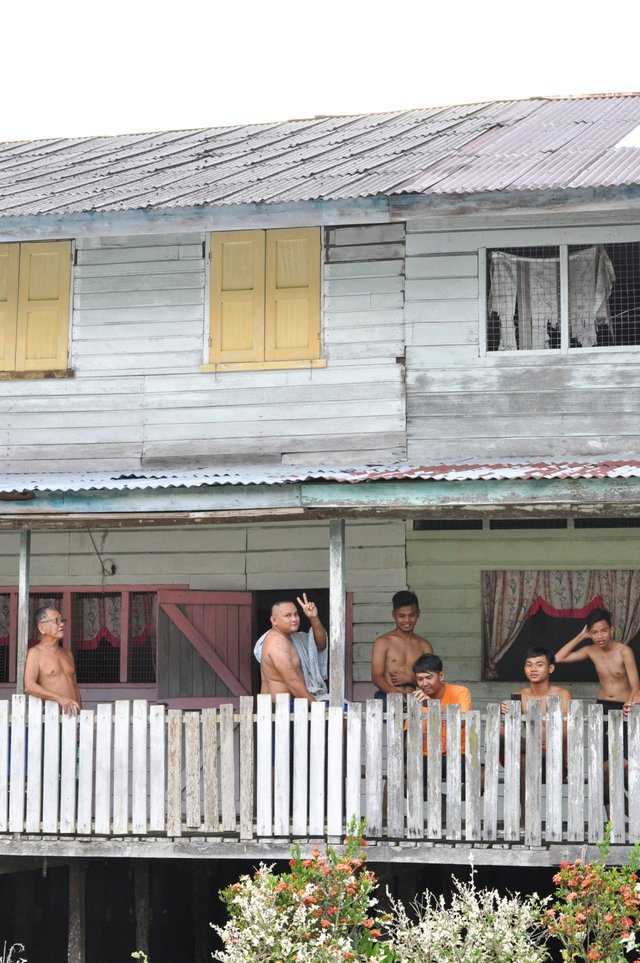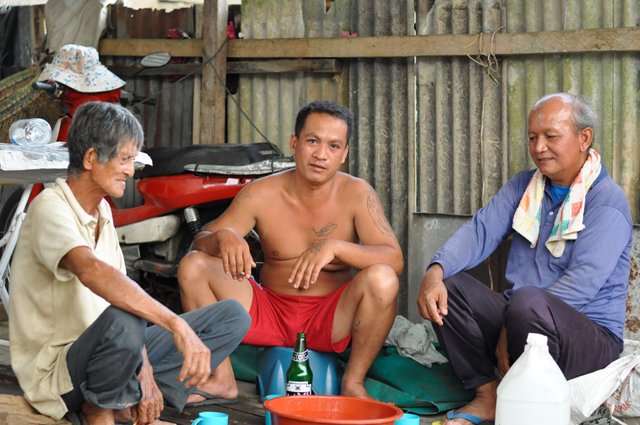 I talked to these three men who were hanging out after a day of farming. They told me about their hardship nowadays, the rubber and palm oil prices have dropped significantly and it has become hard for them to make a living, not to say to make money. Since their area is quite remote, there are not a lot of investments from the state of Sarawak.
Even if they obviously didn't have a lot, they brought and offered me some fruit juices. "You know, you are very lucky to be able to travel", one of them told me. How right he was. I felt for their situation and it made me a little sad I couldn't do anything about it apart from sharing time with them and spreading the word about their village.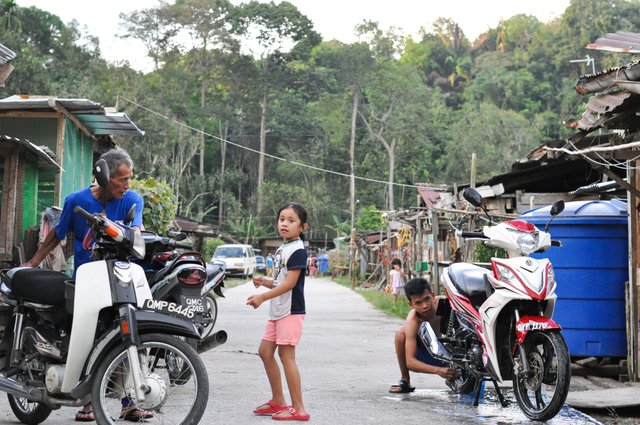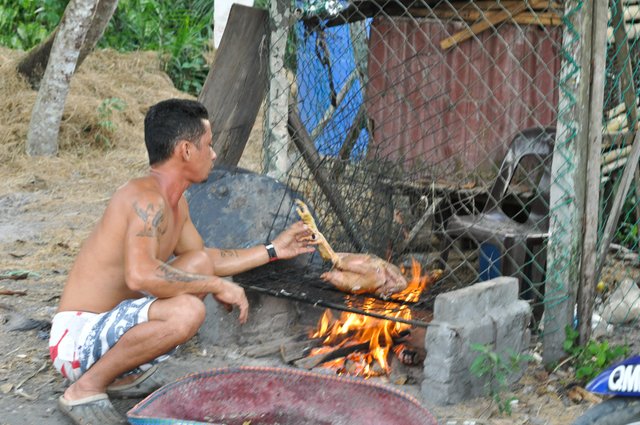 Soon, a bunch of interested people were mingling around me. Once again, I felt like the ordinary superstar, a thing that happens a lot when traveling in Asia as a European. It's really amazing how easily a smile makes a connection and opens doors. I have met many people on the road and I am convinced that independent of your nativity, the world tends to reflect your mindset and your openness, if you show it.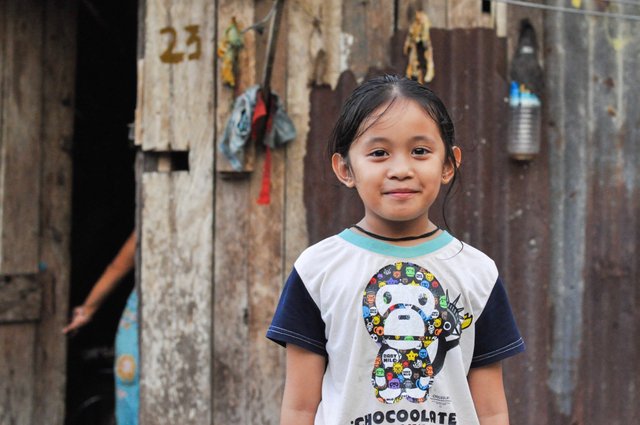 I for sure would like to recommend all those Borneo travelers out there to go to Marudi. It offers a beautiful and peaceful scenery and overall, it is a very original cultural experience waiting for you there, truly on the path less traveled. Needless to say, it won't even cost you a lot. The people in the Long Houses didn't ask anything for accommodating and feeding me, but they appreciated a small donation.