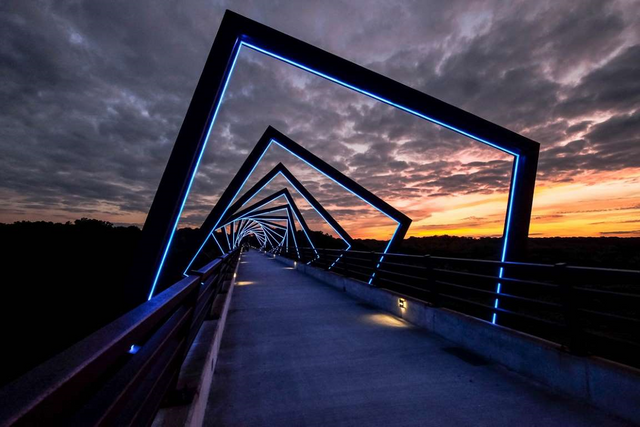 © Flickr/Jason Mrachina/CC BY-NC-ND 2.0 - Iowa: High Trestle Trail Bridge
The High Trestle Trail is a recreational trail in Iowa that runs along what used to be a railway track, perfect for hiking, biking, and horse riding. Its bridge — which is almost half a mile long and stands 13 stories high, not only gives you a great view of the Des Moines River Valley but is a great sight itself.
The structures built over the bridge are meant to emulate the view one would have looking through a mine shaft (as the area has many mining shafts that were historically worked on by immigrants), and their lighting makes for a stunning scene at night.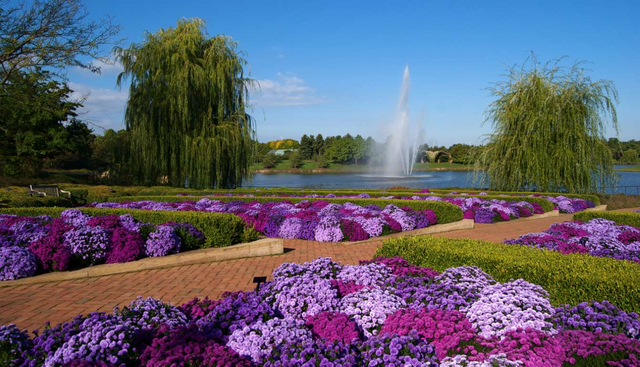 © istockphoto.com - Illinois: Chicago Botanic Garden
Located in the village of Glencoe, the Chicago Botanic Garden covers 385 acres, including a lake with nine small islands, and features 27 gardens full of breathtaking plant life.
A must-see Illinois destination, the garden also has several examples of fantastic architecture in its buildings and structures.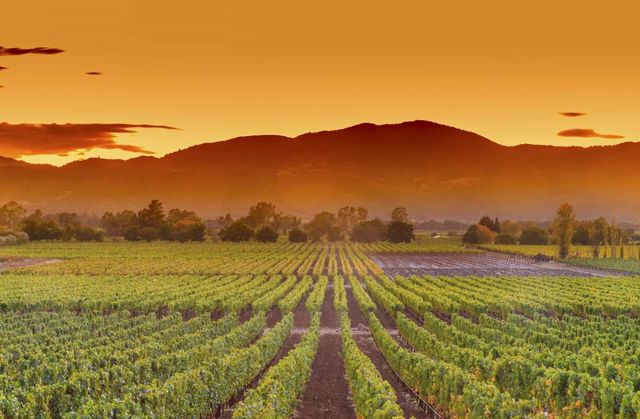 © istockphoto.com - Napa Valley
Napa Valley's biggest claim to fame is its wine, encompassing more than 400 wineries.
It is the most important wine-growing region in the United States, visitors also visit Napa Valley for its scenic views, as well as its gourmet food and spas.
Rest and relaxation abound at this California destination, and a dip in the hot springs or a mud bath is a must.
Golfers can also wind down at one of the 10 golf courses present throughout the valley.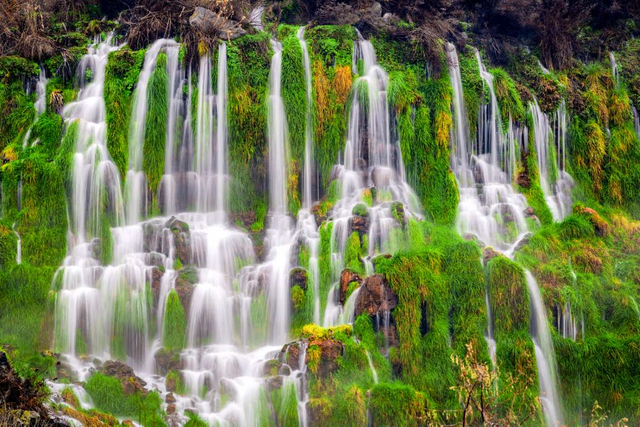 © istockphoto.com - Idaho: Thousand Springs
Located in southern Idaho, Thousand Springs State Park is home to the most stunning site in the state — multiple waterfalls bursting out from the walls of a canyon.
Grass on the canyon during the warmer months makes the scene even more beautiful, and the pure water that comes out creates lovely springs and pools below.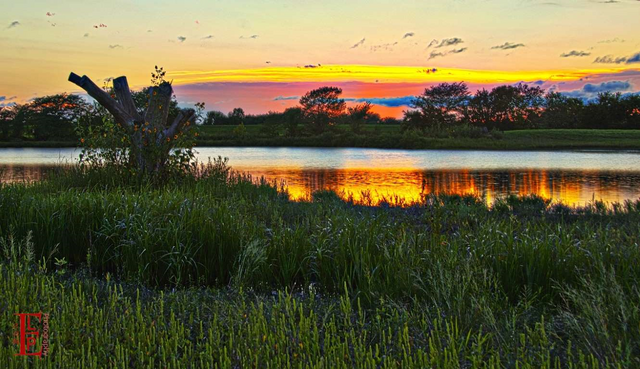 © Flickr/Patrick Emerson/CC BY-ND 2.0 - Kansas: Haskell-Baker Wetlands
The Haskell-Baker Wetlands in Kansas is an artificially sustained wetland and nature preserve located just south of the town of Lawrence.
Its 640 acres are home to at least 413 species of plants, 265 species of birds, and 61 species of other animals. Trails surround the area for visitors to enjoy the view without getting wet.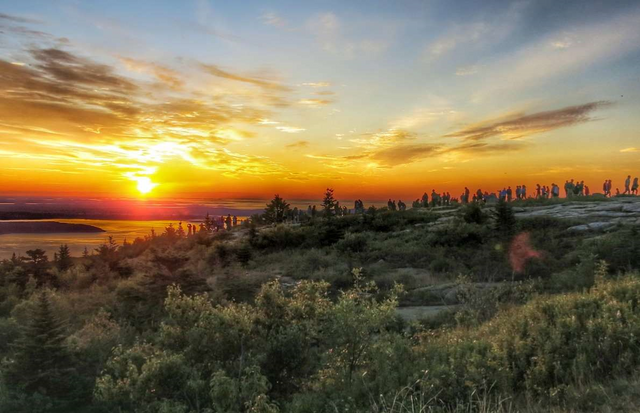 © istockphoto.com - Maine: Cadillac Mountain
Located on Mount Desert Island right off the coast of Maine, Cadillac Mountain is the crown jewel of Acadia National Park.
If you go early enough in the fall or winter, you'll also be able to see the spot where the sun rises earliest in the day.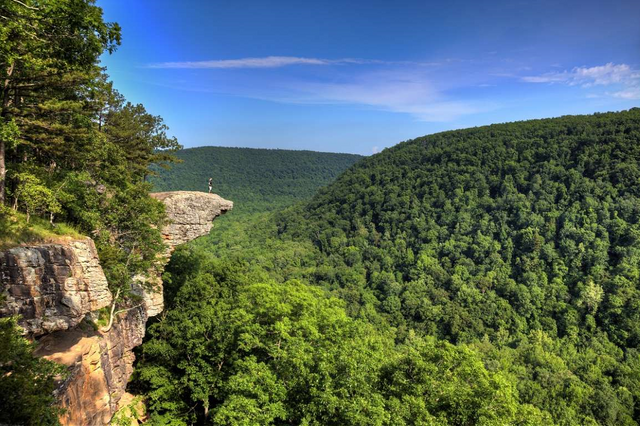 © Dreamstime - Arkansas: Hawksbill Crag/Whitaker Point Trail
The Whitaker Point Trail, also known as Hawksbill Crag, runs along the northern edge of the Upper Buffalo Wilderness, part of the Ozarks of Arkansas.
A popular hiking destination, the hike to Whitaker Point is just three miles round trip, and its amazing views of waterfalls, rock formations, and wildflowers have made it one of the most photographed spots in the state.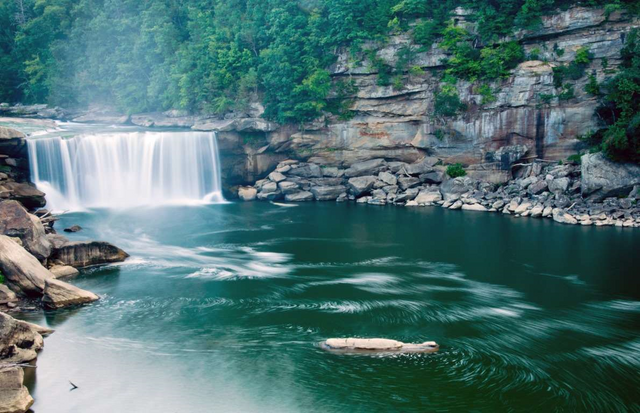 © istockphoto.com - Kentucky: Cumberland Falls
Sometimes referred to as "Little Niagara" or "the Niagara of the South," Cumberland Falls is a crystal-clear waterfall located on the Cumberland River.
It's the main attraction at Cumberland Falls State Resort Park in southeastern Kentucky, and if you visit on or near a full moon on a clear night, you might even catch a moonbow.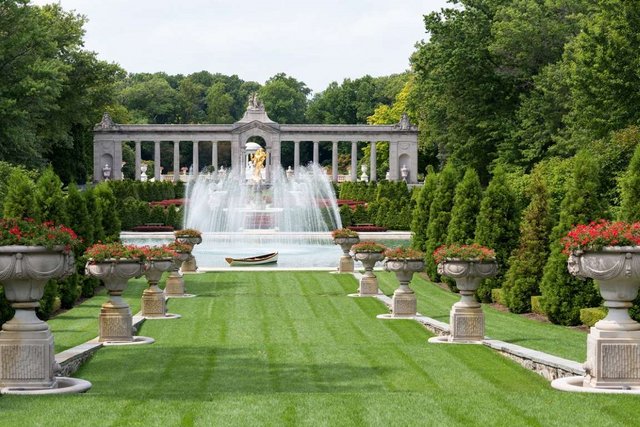 © Flickr/Robert Lyle Bolton/CC BY 2.0 - Delaware: Nemours Mansion and Gardens
A country estate made up of 300 acres and a classical French mansion that has 105 rooms, Nemours Mansion and Gardens is a stunning sight in the Delaware capital of Wilmington and the most Instagrammable spot in the state.
Built by the Du Pont family, one of the richest in America, its gardens were inspired by the gardens of Versailles and remain the biggest Jardin à la française, or French formal garden, in North America, complete with a gorgeous layout of greenery, fountains, pools, and stunning structures.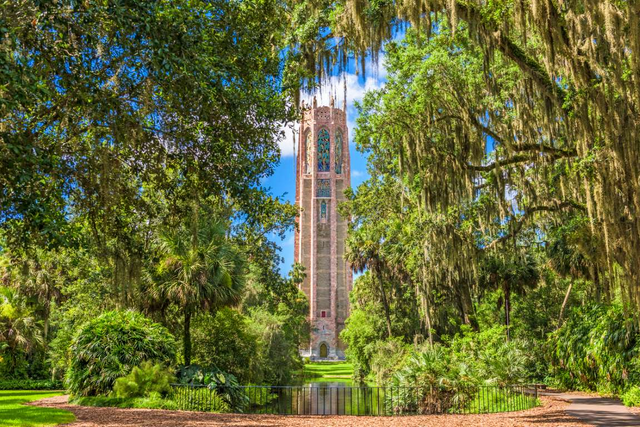 © istockphoto.com - Florida: Bok Tower Gardens
Bok Tower Gardens is one of the most stunning sights in the state.
It's marked by its Bok Tower, or Singing Tower, which stands 205 feet high and has 60 bells.
It includes a 250-acre garden, walking trail, estate, and visitor center.
Also known as Bok Mountain Lake Sanctuary, Bok Tower Gardens is also a bird sanctuary, home to over a hundred different species.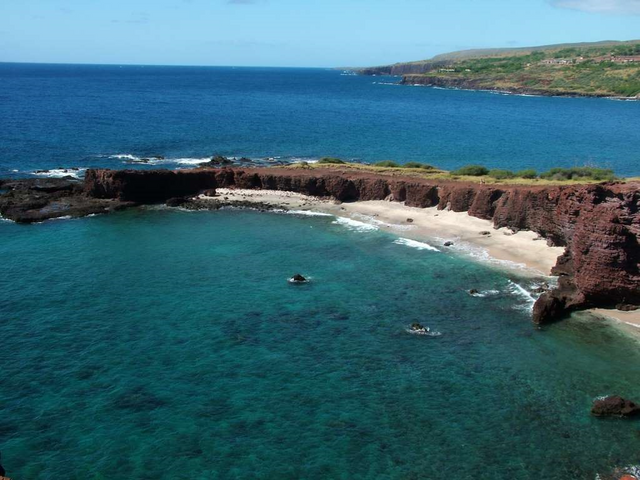 © Dreamstime - Hawaii: Hulopoe Bay
Hawaii is known for its scenic beauty, so it's hard to pick just one place to go.
Hulopoe Bay in Lanai, however, is a gorgeous location that also has managed to avoid being overrun by tourists.
Its pristine white sand beach looks amazing against the clear blue waters, and spinner dolphins have also been seen visiting swimmers at shore.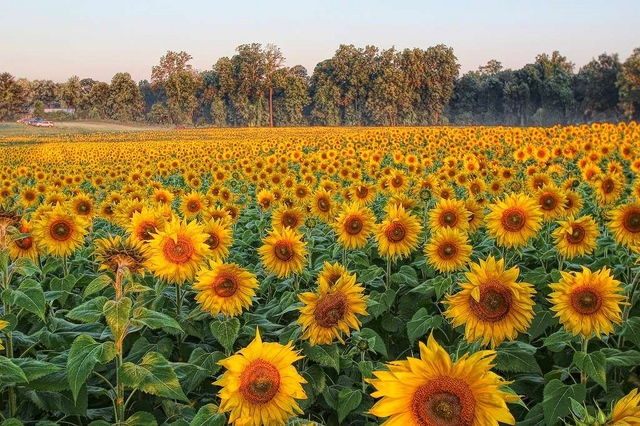 © Flickr/Forsaken Fotos/CC BY 2.0 - Maryland: Clear Meadow Farm
Clear Meadow Farm is a family-owned farm in White Hall, Maryland. It has gained notoriety for its amazing sunflower fields. Visit at the end of summer — late August through mid-September — to see the sunflowers bloom into a sea of yellow and green.
Once they've dried down, the sunflower seeds are harvested at the end of November to be used for bird seed.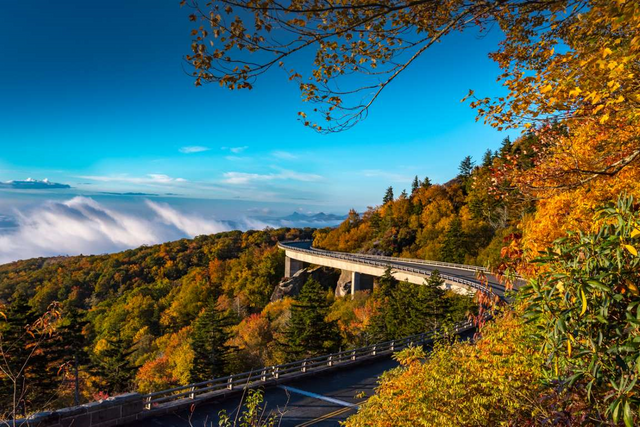 © istockphoto.com - North Carolina: Blue Ridge Parkway
An officially designated All-American Road and National Parkway, the Blue Ridge Parkway is the best way to appreciate the Blue Ridge Mountains, part of the Appalachians.
It runs 469 miles through Virginia and North Carolina (mostly the latter), from Shenandoah National Park to Great Smoky Mountains National Park.
A drive through here would take you through some of the best landscapes on the East Coast.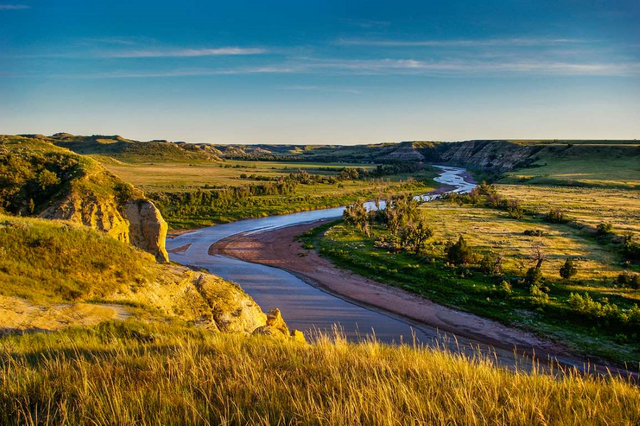 © istockphoto.com - North Dakota: Theodore Roosevelt National Park
A truly patriotic destination, Theodore Roosevelt National Park is located in the badlands area of western North Dakota.
It's so named in honor of the 26th president due to his love for the North Dakota "Wild West" and his dedication to national parks and preservation.
It's a great place for a scenic drive and has about a hundred miles worth of trails for walking and horse riding, as well as plenty of camping and hiking opportunities.
It's also known for its wildlife; you can see badgers, bison, cougars, coyotes, elk, wild horses, and more, as well as over 180 different species of birds.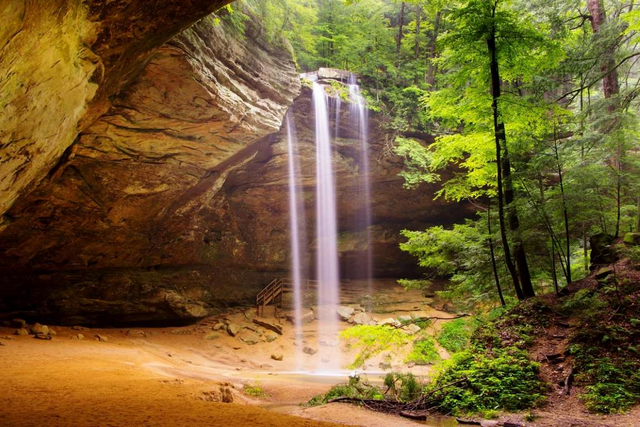 © Dreamstime - Ohio: Ash Cave
Ohio's Hocking Hills State Park is home to plenty of natural wonders, such as waterfalls, cliffs, caves, and amazing rock formations.
Of its seven sections, however, the most awe-inspiring is Ash Cave.
A huge recess cave that you can only access after going through a narrow gorge, it's 700 feet wide and 100 feet deep, and the top of the entrance rim is 90 feet high.
A runoff waterfall from up top makes this cave even more picturesque.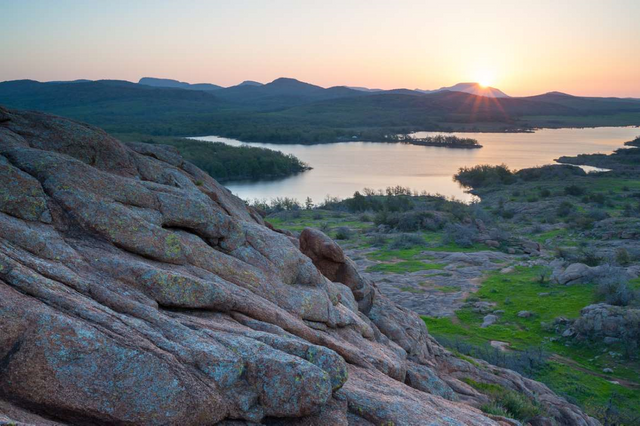 © istockphoto.com - Oklahoma: Wichita Mountains
Located in southwestern Oklahoma, the Wichita Mountains is a popular destination for hiking and rock climbing.
The geologic diversity here makes for differently colored mountains as well as amazing views from any of its summits.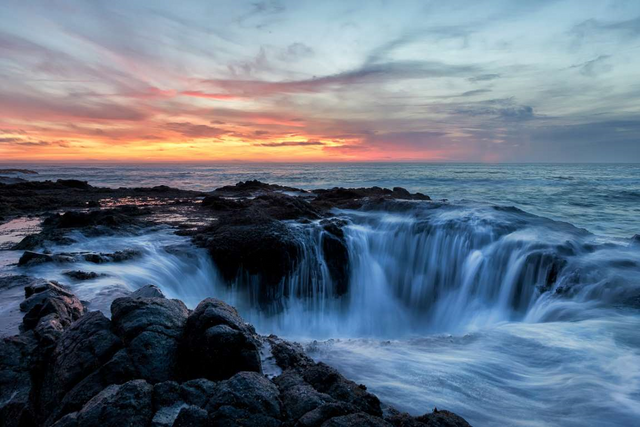 © istockphoto.com - Oregon: Thor's Well
It's only 20 feet deep, but Thor's Well is a jaw-dropping sight located in Oregon's Cape Perpetua.
A saltwater fountain, the ocean's tide is responsible for what looks like an awe-inspiring sinkhole.
Come between approximately an hour before high tide and an hour after to see it in full force.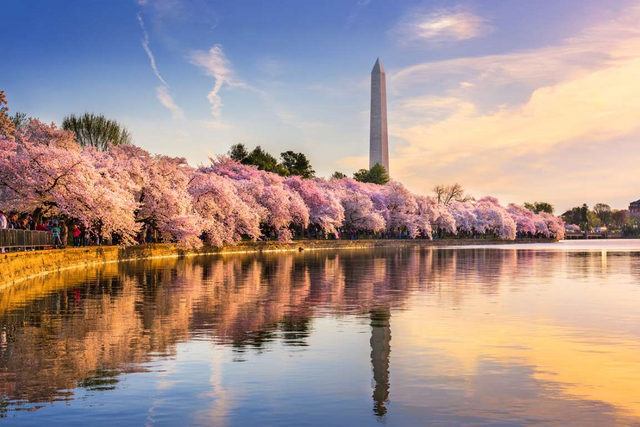 © istockphoto.com - Washington, DC: Tidal Basin
Tidal Basin is a reservoir between the Potomac River and the Washington Channel.
From here, you can see the Washington Monument and Jefferson Memorial.
Both of which are situated along the basin, as are other Washington, D.C., memorials, including those honoring Franklin Delano Roosevelt, Martin Luther King Jr., and George Mason.
Running about 10 feet deep, the Tidal Basin covers more than 100 acres and is a popular site for paddle-boating in the warmer months.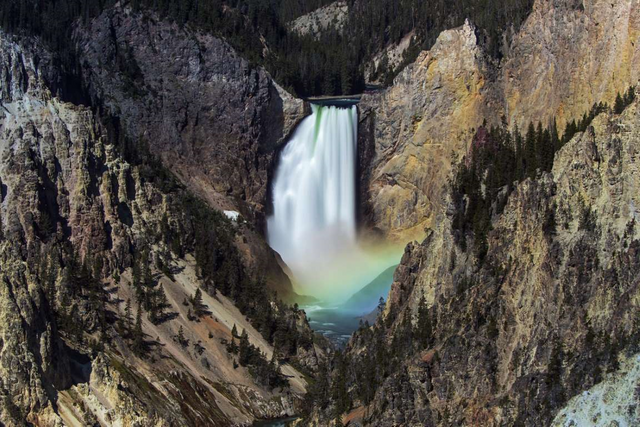 © istockphoto.com - Wyoming: Lower Yellowstone Falls
Wyoming's Yellowstone National Park is the country's (and possibly the world's) first national park, as well as one of its largest.
The best spot to catch a view of is the Lower Yellowstone Falls, the highest in the park and the highest-volume waterfall in the Rocky Mountains.
Various trails around the surrounding canyon offer a good vantage point, as does a one-way loop drive.
Thanks for viewing. Enjoy the weekend.