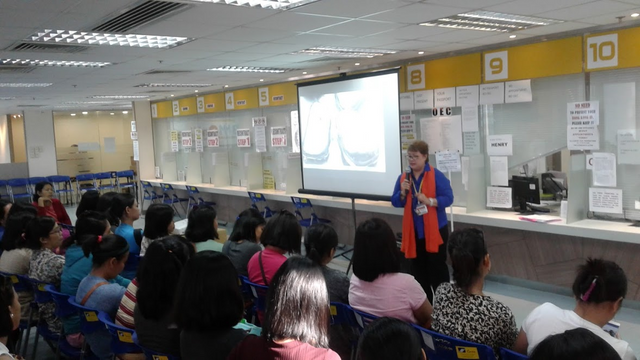 Rosemarie G. Fortajada during the Orientation Seminar
When I was in Hong Kong, we did volunteer at the Philippine Consulate. As a member of the Progressive Labor Union and an Executive Member, we also helped in the Post Arrival Orientation Seminar. Discussing to OFW's about the reality of being a worker, their rights, their behavior (Employer-Employee) relationship, their adjustment period to get to know each other.
Whether you are looking for work abroad or have just been newly hired for a job overseas, there is one important document you must not overlook. It is the Overseas Employment Certificate (OEC) which is required by the Philippine government to recognize a Filipino's status as a legal overseas worker.
Often referred to as Overseas Filipino Workers (OFWs). The last official count puts the figure of Filipinos working abroad at more than 10 million, spanning 170 countries.
This astounding figure was reported by the US-based Migration Policy Institute from data compiled by the Philippine Overseas Employment Administration (POEA) since 1970, while more recent statistics by the Philippines Statistics Authority show that in the period of April to September of last year alone, 2.3 million Filipinos have ventured abroad to work.
Despite the relentless growth in number, being an OFW is harder than it already seems. While the emotional and financial stake is already high, it gets harder for aspiring OFWs as they need to ensure their OEC are in order besides complying with visa documentation in their sponsor country.
Not only do these documents entail time, but also money. So, make sure you do it right to ensure you can legally come back to the Philippines or fly to your sponsor country.
Following are the key information you must know to ensure smooth processing of your OEC or 'Balik Manggagawa' as it is known in the Filipino language.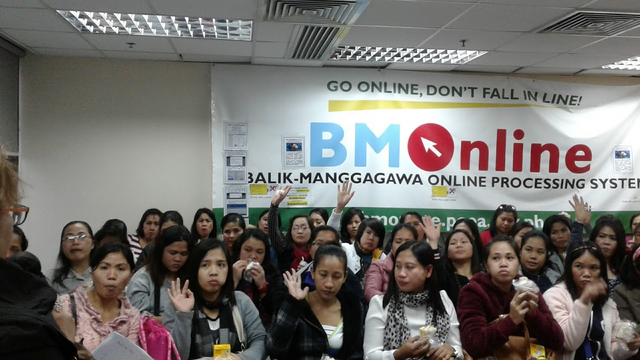 Newly arrived OFWs in Hong Kong during the PAOS - Post Arrival Orientation Seminar
What is an OEC?
OEC means Overseas Employment Certificate. It's an OFW's travel exit clearance, which is a proof of being a documented overseas worker. Having this will grant you permission to leave the country not as a tourist but as an overseas worker.
This document will be presented at the immigration upon departure and it is only valid for 60 days from the issuance date. Thus, if you're planning to fly out of the country or planning your trip to the Philippines, your exit must fall in that 60-days period. An OEC will grant an OFW to the following:
a.) Legal exit from the Philippines as an overseas worker.
b.) Exemption from travel tax and terminal fees upon departure.
c.) Supporting document for application for OFW housing loan and personal loans in the Philippines.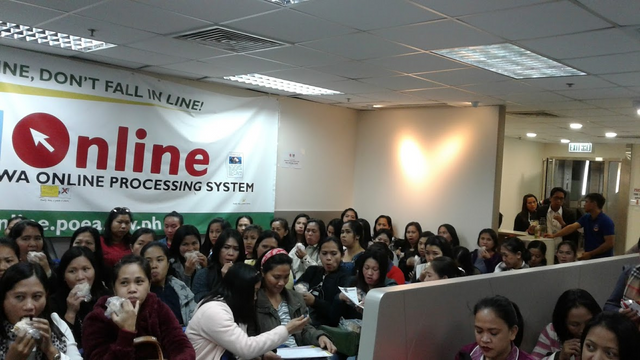 What are the OEC Requirements?
An OEC is processed separately from your work visa application, thus requiring OFWs to secure a separate set of documents.
a.) Passport with at least six months validity from departure date
b.) Valid work visa, work permit, or any equivalent document
c.) Verified employment contract or offer of employment
d.) Printed Balik-Manggagawa Information Sheet
Requirements differ for skilled and professional workers, low-skilled workers, and household service workers.

OFWs bound for Canada and the United States need to submit additional requirements.

There are two phases of the application. The initial phase which is very profession centered, the applicant will be required to submit documents pertaining to their qualification.
Professional and Skilled Workers
Company Profile, Business License/Commercial Registration of the employer.
POLO (Philippine Overseas Labor Office) Endorsement Letter addressed to the Administrator seeking exemption from the ban on direct-hiring.
Additional country-specific requirements:
Canada Labor Market Opinion (LMO), Labor Market Impact Assessment (LMIA) for and Canadian Letter and Employer's Certificate of Registration from ECON (Province of Saskatchewan Executive Council) or Saskatchewan Immigration Nominee Program (SINP).
Approval is required from workers to Saskatchewan in lieu of LMO. USA labor Condition Application and Notice of Action, The Middle East, and African countries.
Contingency plan issued by the employer, additional documents to support job application:
Certificate of employment or Business Permit: If self-employed
Diploma and Transcript of Records (TOR)
NC II / PRC License
Curriculum Vitae / Resume
Proof of certificate of insurance coverage covering at least the benefits provided under
Section 37-A of RA 8042 as amended;
Notarized Statement on how the workers secured his/her employment with attached
photocopy of employer's passport/ID and contact details
2nd Phase: This phase mostly involves local labor law compliance, thus the documents for this phase are from government labor-related agencies.
Valid Medical Certificate from DOH-accredited medical clinic authorized to conduct a medical exam for OFWs.
Pre-Employment Orientation Seminar Certificate (PEOS)
Pre-Departure Orientation Seminar (PDOS) Certificate issued by OWWA
POEA Clearance (for employers under Section 124d of the POEA Revised Rules &
Regulations)
For a seamless process, bring photocopies of your original documents and arrange them separately according to the POEA list.
FEES
Who can process the OEC?
Individuals who are hired by an employer overseas through a local agency will only need to compile the documents required as the agency will process OEC for them. However, those who are hired directly by an overseas employer will have to do it themselves through their POEA and OWWA's offices or through their online portal.
Where to apply?
Hired directly by an overseas employer? You'll need to apply for an OEC by yourself, either as through walk-in or the Balik-Manggagawa (BM) Online System.

Here's where you can lodge your OEC application. Walk-in application for departing OFWs still in the Philippines
Compile the documents (whichever is applicable) above.

Proceed to POEA's main office at EDSA corner Ortigas Avenue, Mandaluyong City (Balik-Manggagawa Processing Division/BMPD) or at any of their regional offices.

Labor Assistance Counters at Manila, Cebu, and Mindanao airports (only for returning OFWs who are staying in the Philippines for five days or less)
Returning OFWs
Philippine Overseas Labor Offices (POLO) in the country of employment.
A walk-in application may take a whole day to several days to complete. But you can reduce the processing time to less than an hour by setting an appointment online.
Online appointment setting for both departing and returning OFWs:
Just log in to the BM online appointment system (http://www.bmonline.ph). Online registration is needed to get on the scheduling system.
Choose a schedule and venue for processing.
On your appointment date, submit your documents and two copies of accomplished BM Information Sheet.
Once POEA approves your application, proceed with paying the required fees and then wait for your new OEC.
Getting an OEC exemption:
Only OFWs who are returning to the same employer or workplace and have a record in the POEA database can be exempted from securing an OEC.

To get an OEC exemption, log in to your BM Online account before your scheduled return to your employer.

Then click on "Acquire OEC or Exemption." If you're exempted, the system will display a confirmation message with your BM Exemption number and pre-departure instructions on what documents to present at the airport.

Sources:
https://www.philippine-embassy.org.sg/labor/overseas-employment-certificate-oec
https://www.migrationpolicy.org/article/philippines-beyond-labor-migration-toward-development-and-possibly-return
https://psa.gov.ph/content/total-number-ofws-estimated-23-million-results-2017-survey-overseas-filipinos
The post If You Are A Filipino Seeking To Work Overseas, Read This First appeared first on iMoney.ph.