More than 300 drones present a lightshow in honor of the coronation
The Radio Control Airplane Modeler Sports Association (RCSA) and PTT Public Company Limited brought together 300 drones over Bangkok's skies Monday evening to celebrate a lightshow in honor of the royal coronation of His Majesty King Maha Vajiralongkorn.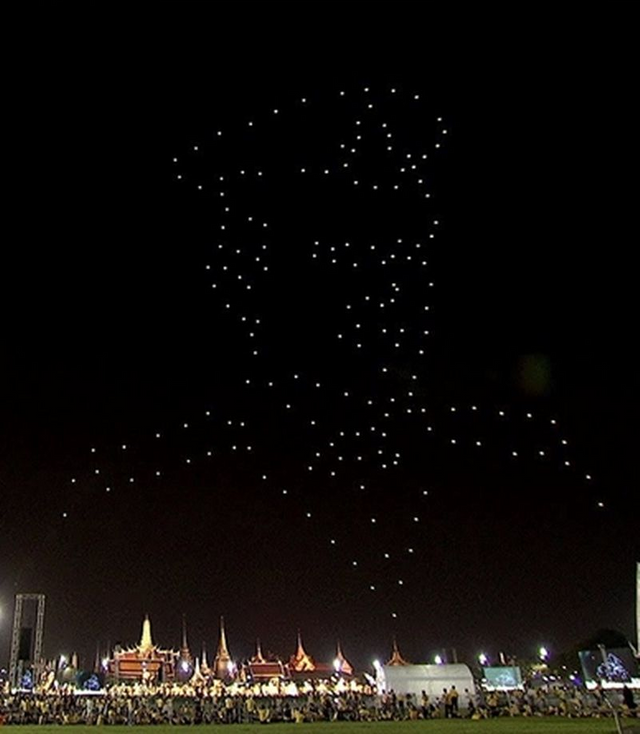 The event took place on the evening of the 6th of this month, when the RCSA teamed up with the PTT to bring together over 300 drones in the Light and Sound Show to show off the light of drones over the skies of Snam Luang.
The light and sound show was divided into 2 sentenc:
Der erste Satz wurde Ehre den König " Honor the King " genannt, wobei der " King's Coronation Song " zusammen mit der Licht Show gespielt wurde.
The second light show was called "The Symbol of the Nation" and the "Song of His Majesty the King".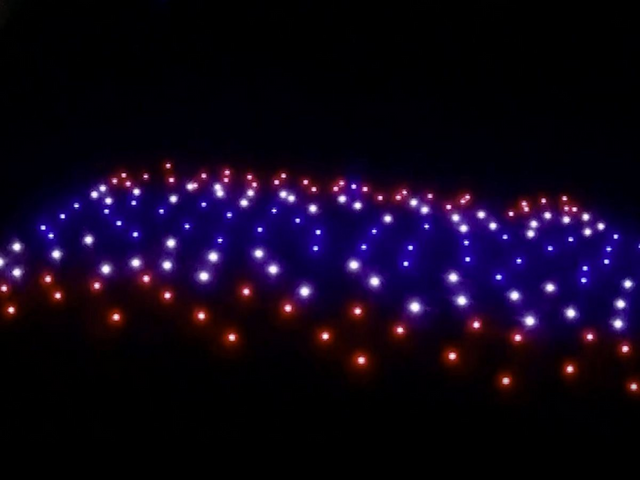 The first show showed the love of the Thai people for the king and the Thai royal family. There was also an offer of good wishes to the king as a good representation of the kingdom. The first light show included a picture of the map of Thailand, the Thai flag, the Thai word of the Chakri dynasty, the number 10 in Thai, the image of Rama 10 and Rama 7, and the message of Long Live the King "Long Live The King ".
The 2nd Light Show entitled "The Symbol of the Nation" was played along the "Song of His Majesty the King". The light show represented the history of Thailand and the rich culture that runs through this land. Among the images of the light show included a picture of the national animal of Thailand "The Elephant" and "The Cassia Fistula Flower", the national flower of Thailand.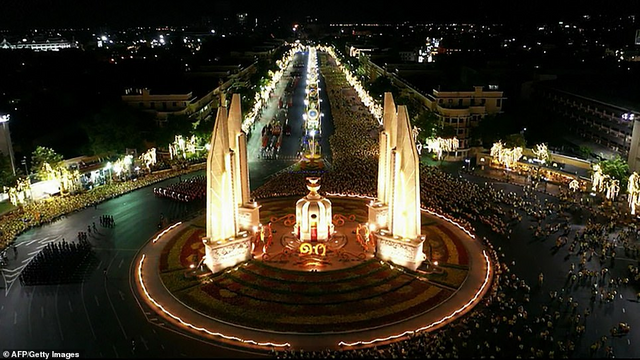 Sanam Luang was dominated by citizens, all wearing yellow shirts - that represented the love and respect they bring to the king and the royal family.
At the Light Show, people brought all their phones and cameras with them to capture the beauty of the moment, as a souvenir to show they were participating in Thailand's big day, the King's Coronation. This is an event that will probably take place only once in many lives of the Thai people.
Sources: Manager Online, Thai Visa, Thailand Tip, Mirror, Daily Mail