Paradise in the Prairies: University of Alberta Botanic Garden and the new Aga Khan garden. 30+ Image tour
Good evening friends!
I think it's fair to say summer is holding strong in Alberta, no snow this month yet and it's the perfect time time to go look for some outdoor blooms. Don't laugh too hard, it has officially has snowed every month of the year here. The typical Western Canadian Prairie summer is hot, dry desert like temperatures with minimal moisture and super long days where the sun seems to shine forever. I remember when I first moved here 12 years ago(the anniversary should have just passed) It was very confusing and hard to adjust my internal clock to my newly extended days. Don't under estimate how it messes with a person to have a few hours more daylight than used to at once for the first time. To this day it still amazes me, I love it and wouldn't have it any other way I just wish it could stay. From here on out the shorter the days will become at a very fast pace and summer will soon fade away with the sun.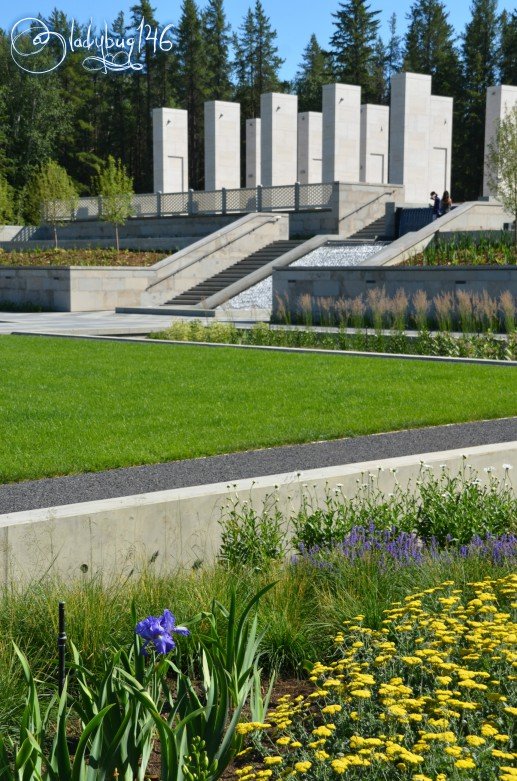 Shot 1/250 sec. f/8 40 mm, ISO 100
Every summer my mission is to find hidden gems in unlikely places in this magnificent landscape I call home. Just outside of Edmonton, where the Boreal forest and the Prairies meet in Devon Alberta, a paradise quietly awaits 70 000 visitors each year. The University of Alberta Botanic Garden (formerly known as Devonian Garden) is part of the Faculty of Agricultural, Life and Environmental Sciences and used as a the university's plant collection, research and education facility and is open to the public for viewing during the summer months. Established in 1959, this 97 acre forest garden holds several themed displays that we will walk thru starting with the newly opened Aga Khan garden.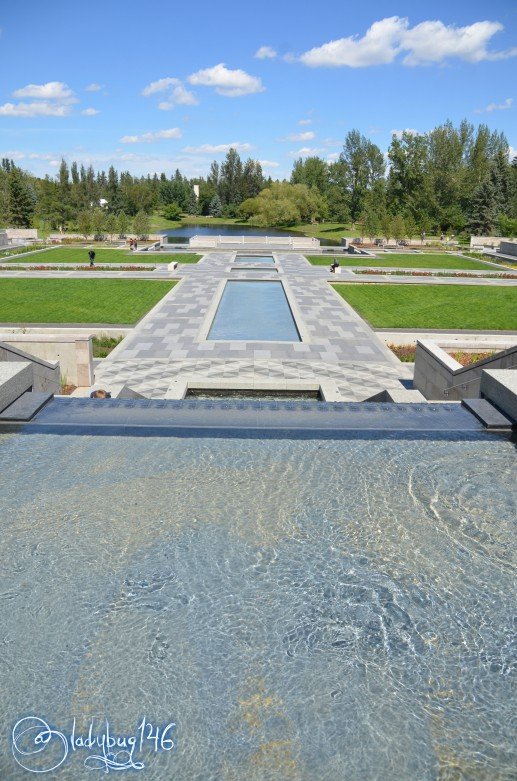 Shot 1/250 sec. f/8 18 mm, ISO 100
The 12 acre garden displays Mughal inspired limestone pathways and granite water fountains and central waterfall filled with North-American flowers took almost 10 years to engineer, plan and build was made possible by a research and cultural partnership between the University Of Alberta and Aga Khan University with a $25 million donation from the Aga Khan. It may be open to the public but it isn't yet complete. Finishing touches will be ongoing thru the summer along with adding more plants to the collection in time for it's official grand opening summer of 2019 when the new plants fill out and structural features of the garden are completed.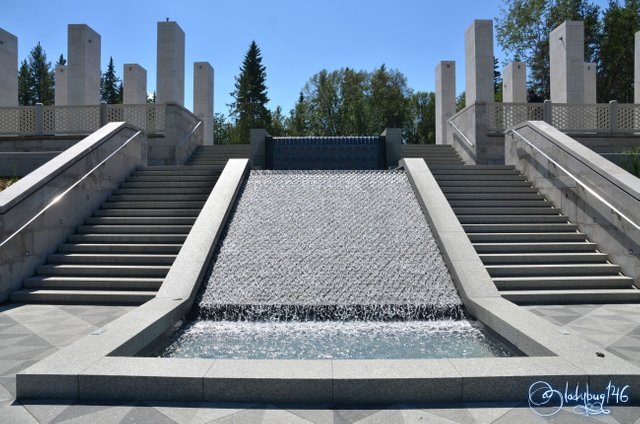 Shot 1/320 sec. f/9 18 mm, ISO 100
The intention behind the Muslim garden and pond is to create a space for peace, reflection, understanding and friendship between all cultures that make the fabric of our country and our city. It is expected to attract at least double the number of yearly visitors with it's beauty when it is completed as the second and the largest Mughal garden in Canada also holding the title of the most northern in the world. Over 25 000 various plants, flowers and trees are expected to line the sides of the walkways and geometric patterns, fountains and pond.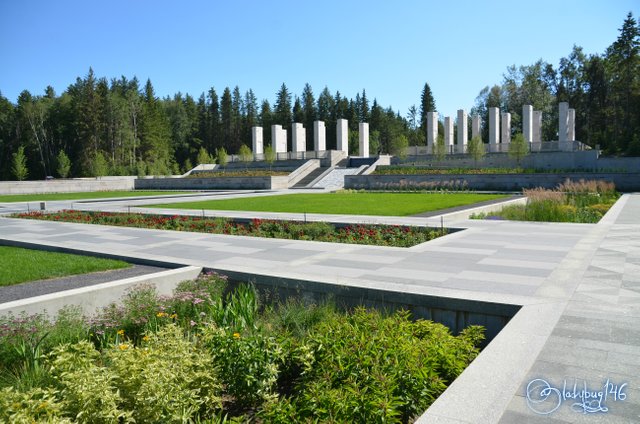 Shot 1/250 sec. f/8 18 mm, ISO 100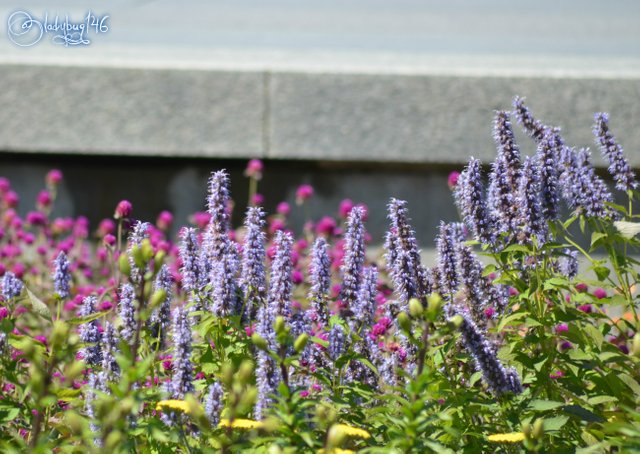 Shot 1/1000 sec. f/5.6 300 mm, ISO 400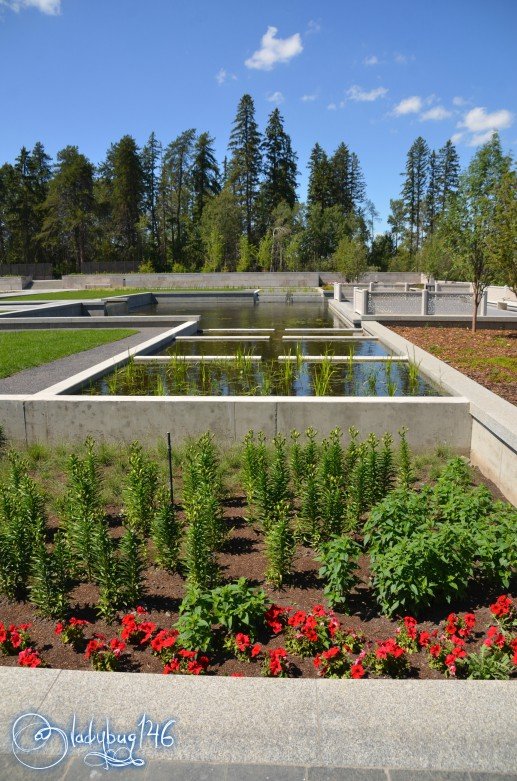 Shot 1/250 sec. f/8 18 mm, ISO 100
We almost picked the perfect day( you will understand later), bright sun shine and the bluest of skies and golden canola fields that surround the forest garden the Western Prairies are known for could be seen for miles. The temperature reached near 30 Celsius and no flash rain, thunderstorms or possible tornado on the radar for the entire day. We took our time walking around and absorbing it's beauty for quite some time. Even in it's unfinished state, it's one of the most beautiful garden I have ever seen, the architectural features and visuals are magnificent and full of small details far exceeded my expectations. I wish I could have spent more time and capture every single details and sections in the Aga Khan garden but we had already spent half of our afternoon in this section alone when there were many more to visit. I do plan on returning later this summer, maybe on a slightly cooler day. I can only imagine what it will look like once completion and I can't wait until next summer's grand opening 😏 It was time to take one last quick tour before moving on.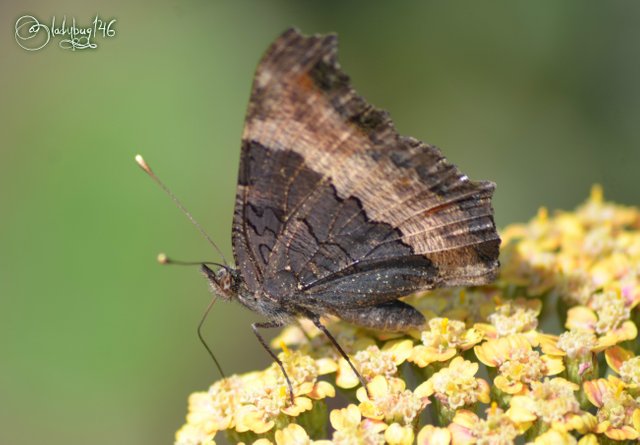 Shot 1/250 sec. f/5.6 300 mm, ISO 100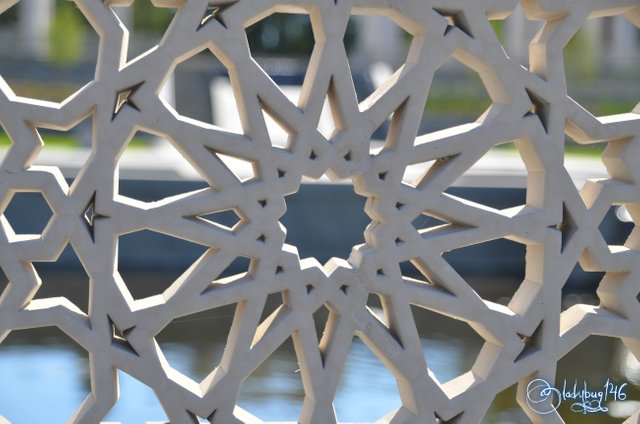 Shot 1/500 sec. f/5.6 65 mm, ISO 200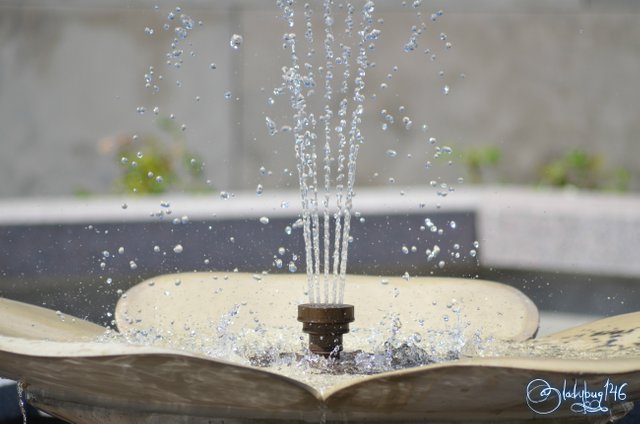 Shot 1/1600 sec. f/5.6 270 mm, ISO 400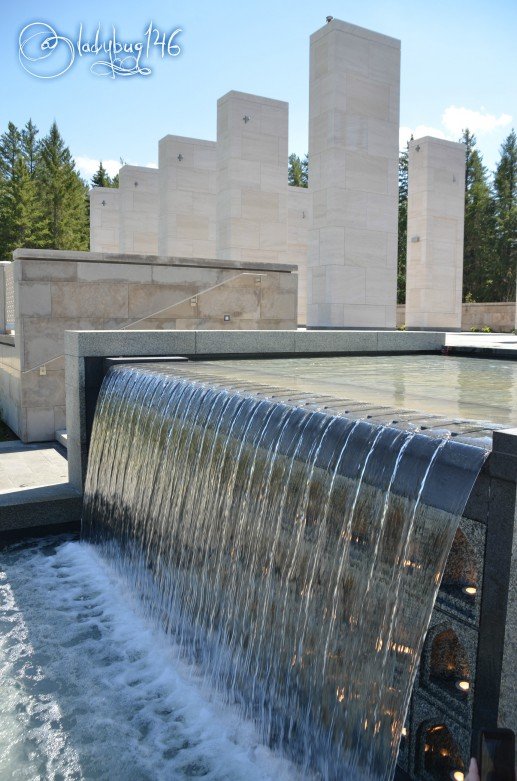 Shot 1/250 sec. f/8 18 mm, ISO 160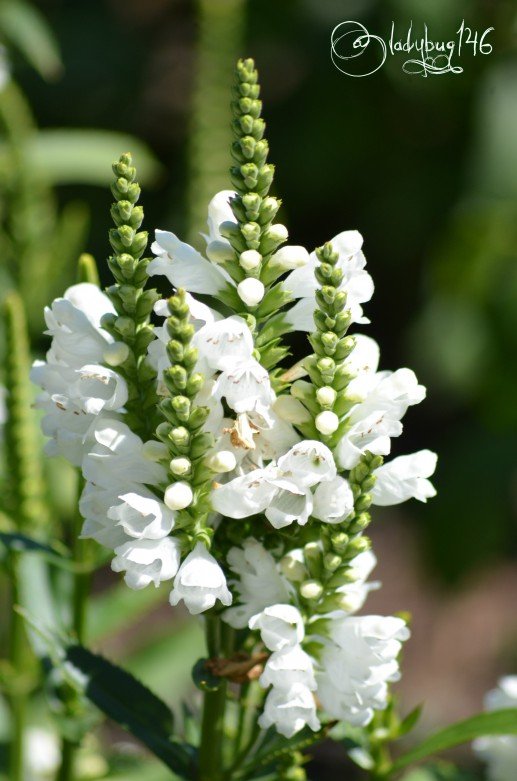 Shot 1/1250 sec. f/5.6 270 mm, ISO 400
As much as it saddened me to have to walk away from this new found paradise, this was just the beginning. We made our way down around the pond towards the herb and sensory garden. As time progressed, the afternoon was getting warmer and after absorbing the sun from the limestone structures, I felt a little baked, the forest path offered a partially shaded area where the fragrance from the flowers quickly made me forget about the last garden I admired so much. More mature plants and flowers filled one of the most peaceful scene strait out of grandma's backyard or country house, perfect time for a little rest from the sun.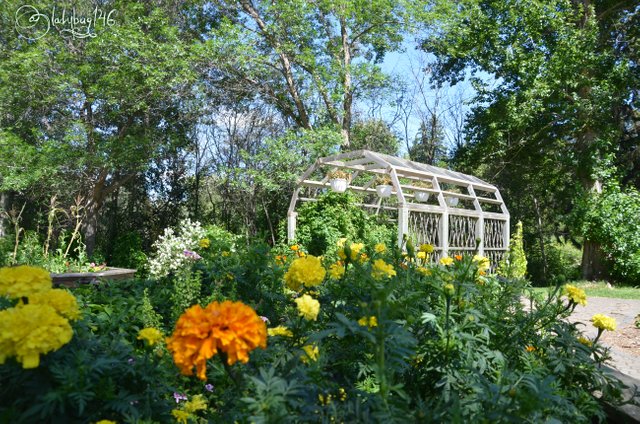 Shot 1/200 sec. f/7.1 18 mm, ISO 200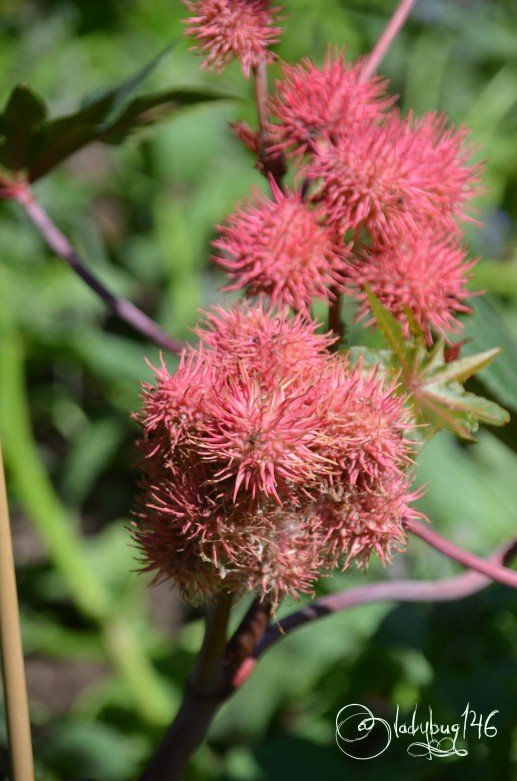 Shot 1/1600 sec. f/6.3 200 mm, ISO 400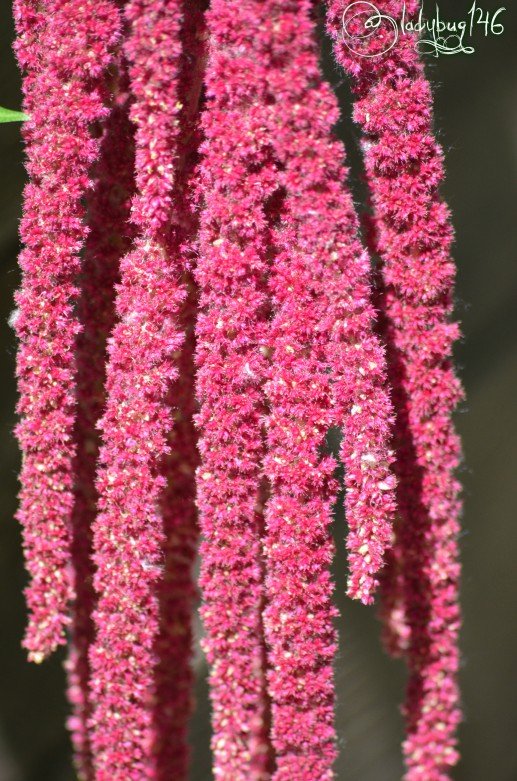 Shot 1/1000 sec. f/5.6 270 mm, ISO 640
After some much needed shade, it was time to tour the herb and medicine area, very small patch of foliage packed with various poppies and other medicinal flowers with all the buzzing critters kept me busy and ignoring the heat for probably far too long... was totally worth it ! It had this wild untamed look to it but so peaceful very fitting for a forest garden, looked natural. All this time I have been living here and had no idea this place even existed until recently and @silvergingerman & I have spent quite a few hours on the near-by riverside maybe 5 minutes away. We also found out there is a bird sanctuary next door so as we were walking closer and closer, that's all you could hear, birds chirping and the breeze rustling the leaves and flowers around us, peaceful and added to the experience but not very helpful for photography. 😒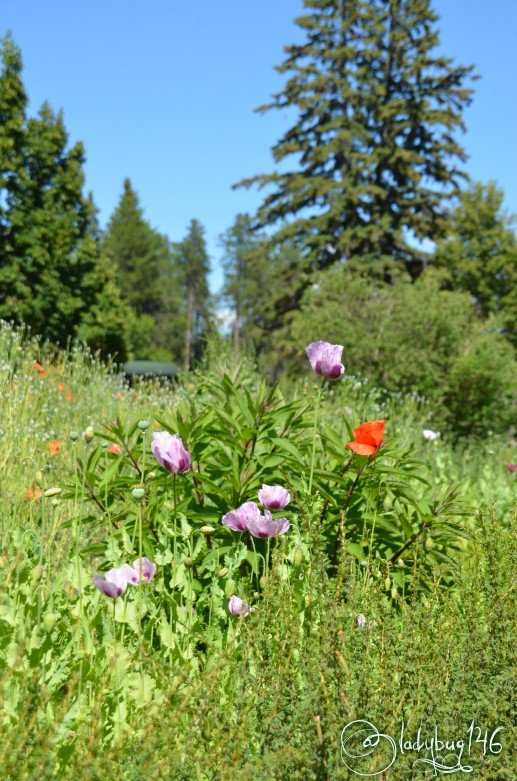 Shot 1/250 sec. f/8 46 mm, ISO 100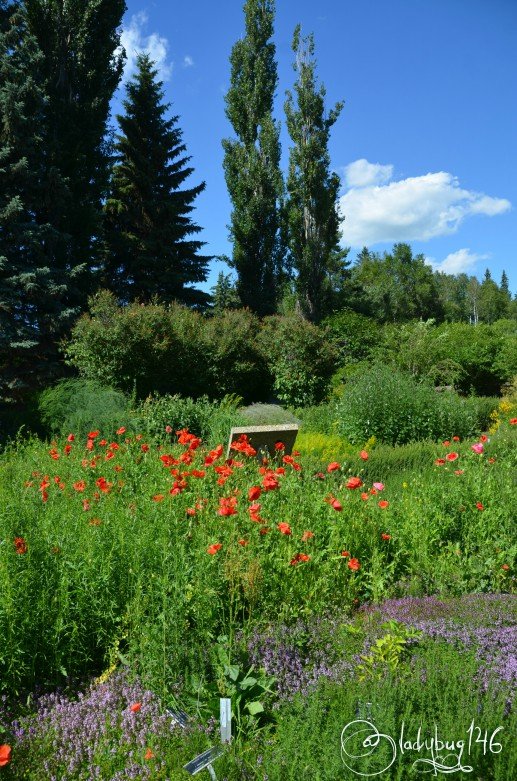 Shot 1/250 sec. f/8 18 mm, ISO 100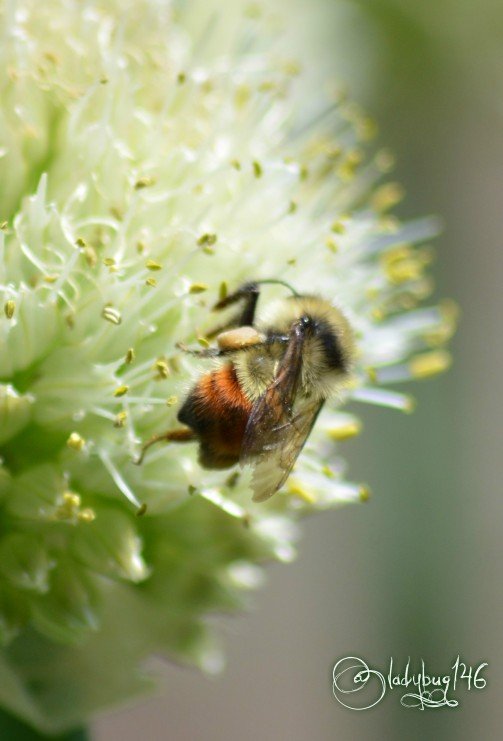 Shot 1/1000 sec. f/5.6 300 mm, ISO 400
It's hard to focus, every little detail was fighting for my eye's attention while lost into my own thoughts, it certainly was a sensory overload, my brain and camera loved it. I sometimes wonder what draws me to photography, do I prefer recreating what I see or interpret?? is it the places it takes me and the experience I have that inspire me to my next discovery. This truly is a magical place, one that is perfect to get lost into your own thoughts, guarantied all of them will be good, it's hard to think about life's troubles surrounded by this much color, beauty and peace.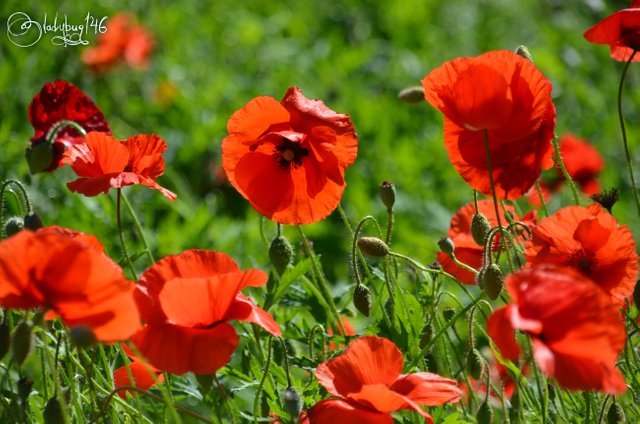 Shot 1/1600 sec. f/6.3 200 mm, ISO 400
For the first time in my life , not only did I get to see but also stand in a field of red poppies, something that was on my photography bucket list. As I'm standing in the field and I can hear some of the words to the poem In Flanders Field written by Lieutenant Colonel John McCrae playing in my head. Reminding me to be thankful for my freedom as this flower commemorates the sacrifice of young men who gave everything for my Canadian freedom along with Europe's. As much as I could have gotten lost in here forever, time was flying and I still had a large section of the park left to view before closing, time for one last look.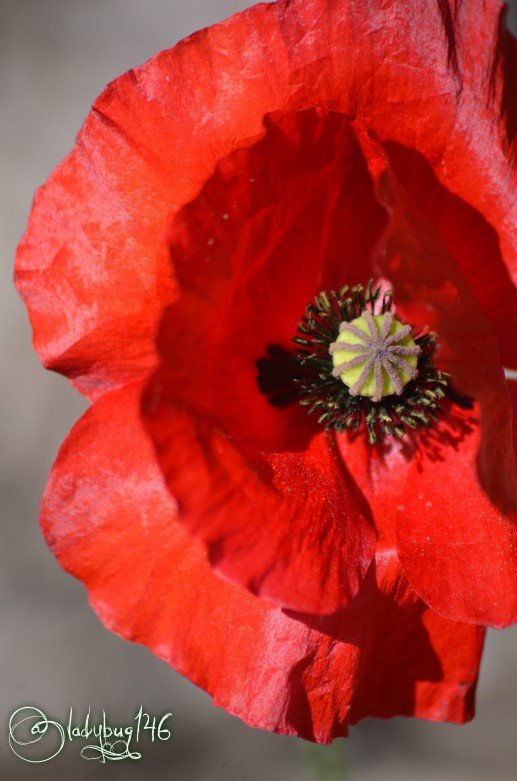 Shot 1/1000 sec. f/5.6 300 mm, ISO 400
Believe it or not, Alberta is a natural host of a small number of succulents, our dry desert like conditions allow the low growing cacti to thrive during our summer season, not a shock I would find a few hanging out in their special little corner. Mind you that list is very small!!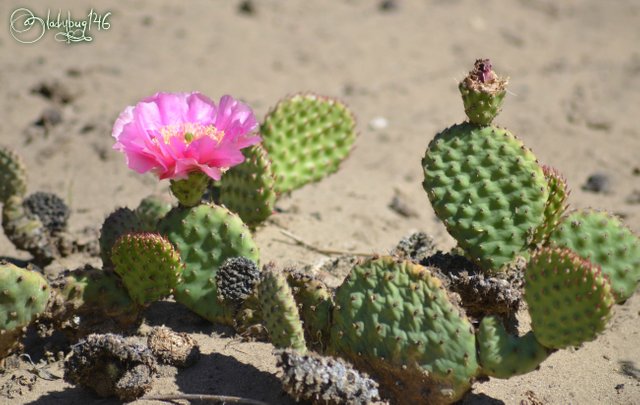 Shot 1/1600 sec. f/5.6 300 mm, ISO 400
So far, the day seemed like a dream I never want to wake up from, no fairy-tale is complete without a castle tower replica standing on top of the hill overlooking the 5 acre Alpine garden, a display of wild flowers and other high altitude plants. I didn't see too many flowers yet, it may be still to early or in between blooms, catch them next time. Regardless, we walked up to the mock castle, actually a memorial for Patrick Seymore, much of the garden was developed under his influence. it was interesting to photograph the masonry patterns, maybe one day I'll get to enjoy the real thing in Europe!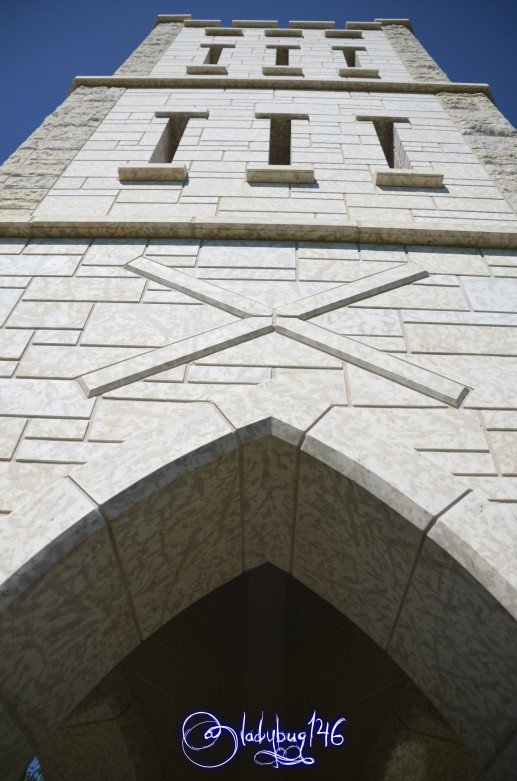 Shot 1/2000 sec. f/3.5 18 mm, ISO 125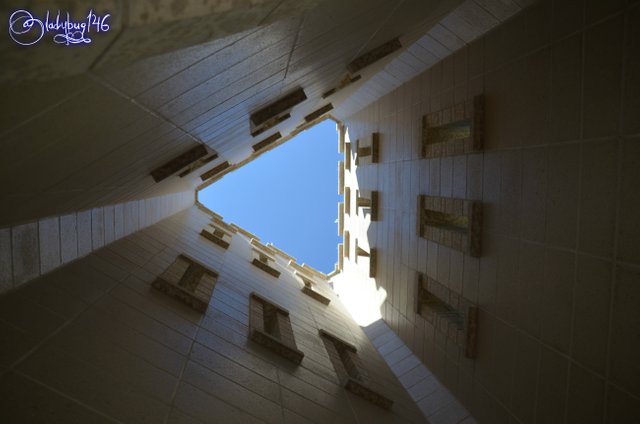 Shot 1/1250 sec. f/3.5 18 mm, ISO 200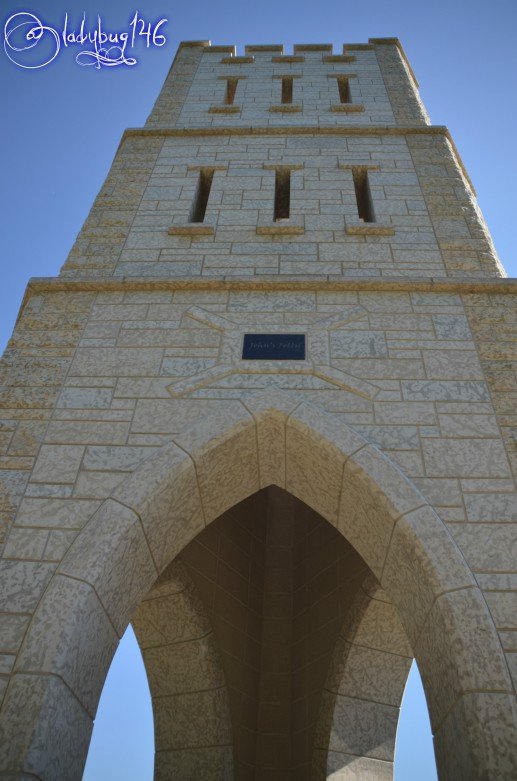 Shot 1/1250 sec. f/3.5 18 mm, ISO 200
As time was passing , I quickly came to the conclusion I wouldn't have enough time to see everything. I spent most of their open hours there already, I will have to come back to see the tropical plant and butterfly greenhouse and whatever else I missed, I never expected to see this much...what a surprise! It was getting close to closing and at this point I was starting to display signs of heat stress, the sun & heat takes a toll and sometimes water isn't enough but before we left we had time to do a quick tour of the Kurimoto Japanese Garden.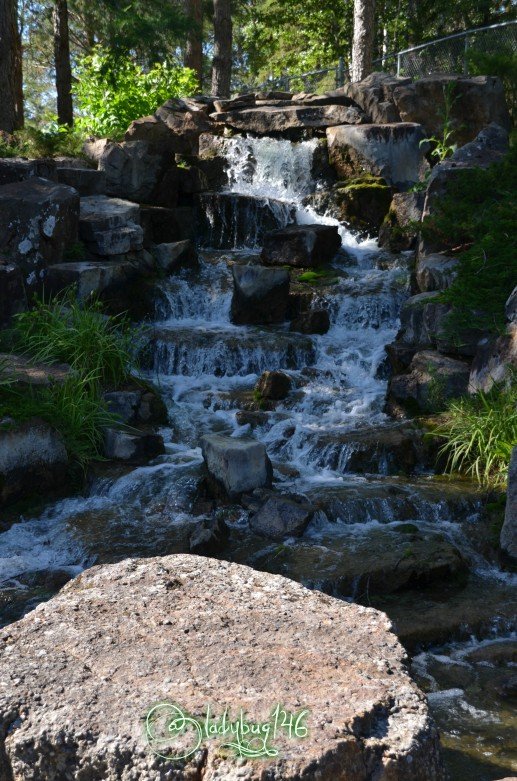 Shot 1/200 sec. f/7.1 40 mm, ISO 200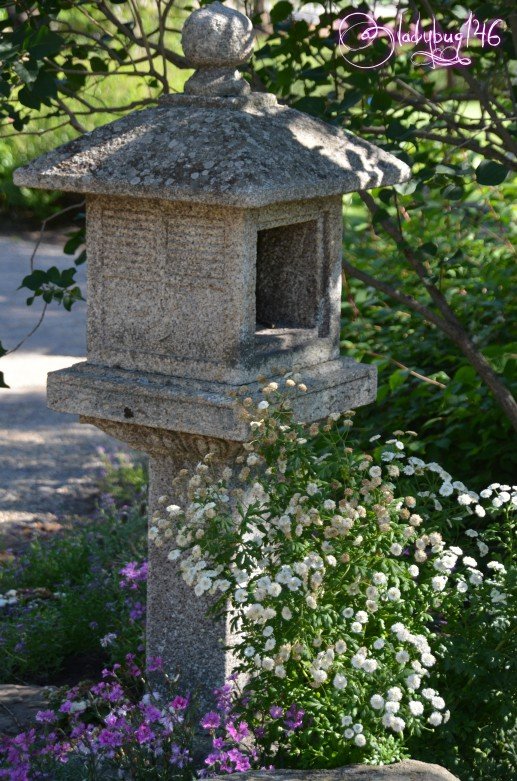 Shot 1/320 sec. f/5.3 78 mm, ISO 400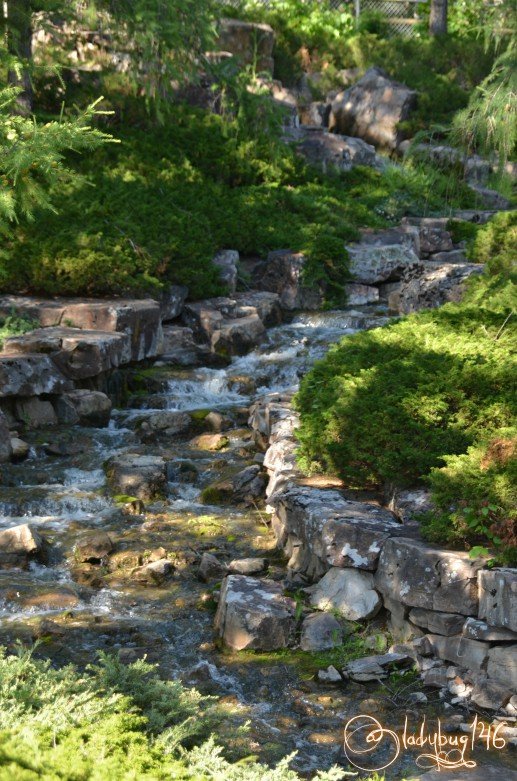 Shot 1/320 sec. f/5.3 78 mm, ISO 400
Build in 1990, this garden features a strolling-style garden filled various Japanese statues and structures but with plants that can survive our northern climate. Right as we entered the gate, we were greeted with the serene sound of the gentle cascade and right in front of us a beautiful pond. I'm not sure if the flowers have bloomed yet or if it is still to come, there was a few but not as many as I expected, the view was spectacular nonetheless. The path taking us along the cascade led us to a bell monument and all around the 5 acre garden and of course a pagoda.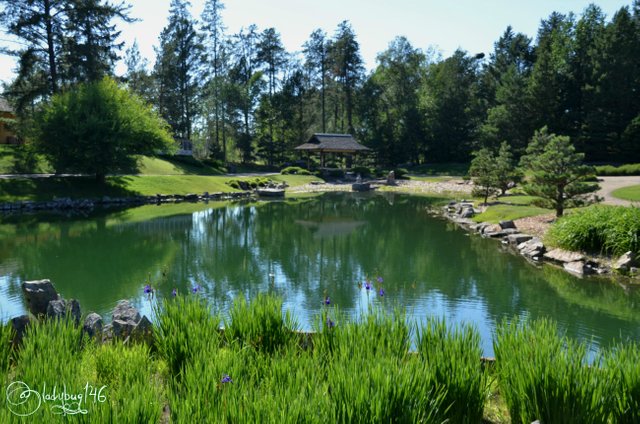 Shot 1/250 sec. f/8 26 mm, ISO 160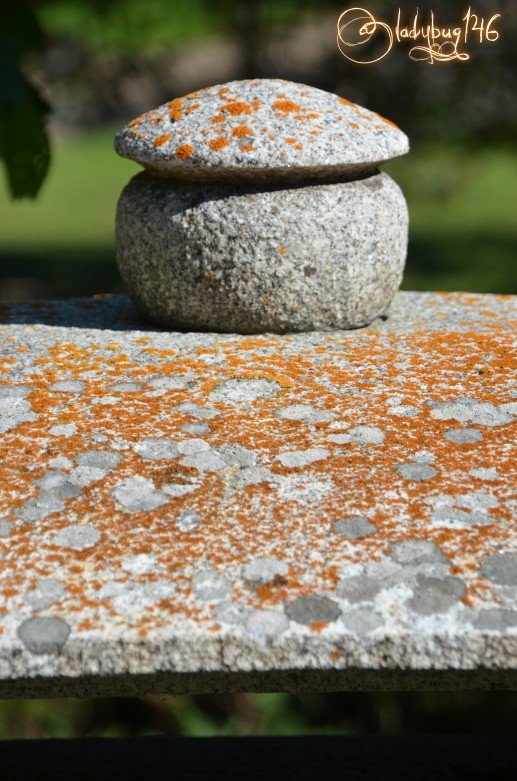 Shot 1/1600 sec. f/6.3 200 mm, ISO 400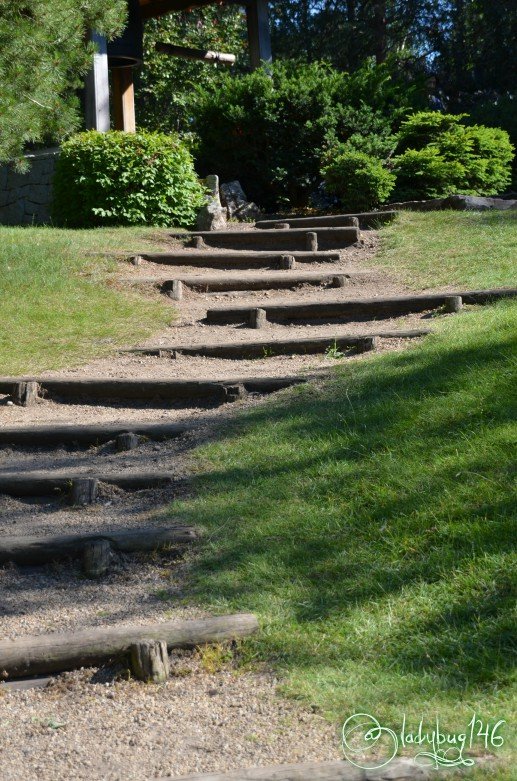 Shot 1/250 sec. f/8 46 mm, ISO 160
I really enjoyed my experience at the University of Alberta Botanical Garden each garden had a unique feel and visual experience, really it was a treat for all senses and I hope they keep expanding the grounds in the coming years but it's closing time. I highly recommend anyone to visit if you have the chance. If not inquire about your local universities, they may have a similar program you never knew about.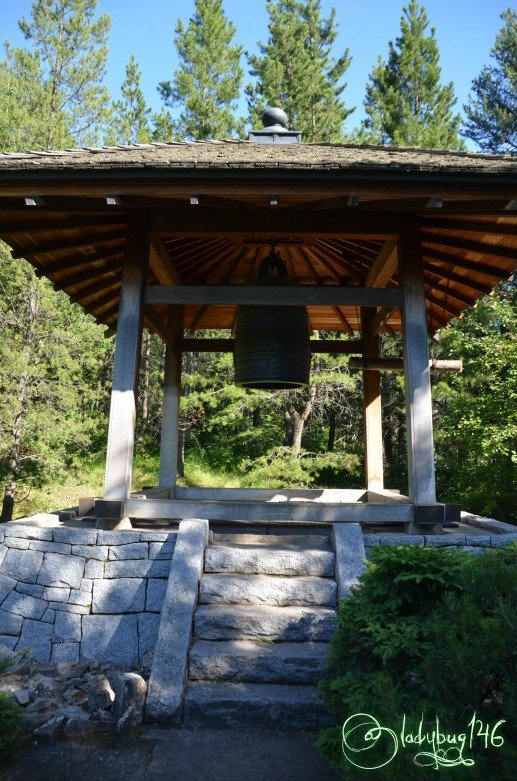 Shot 1/200 sec. f/7.1 18 mm, ISO 200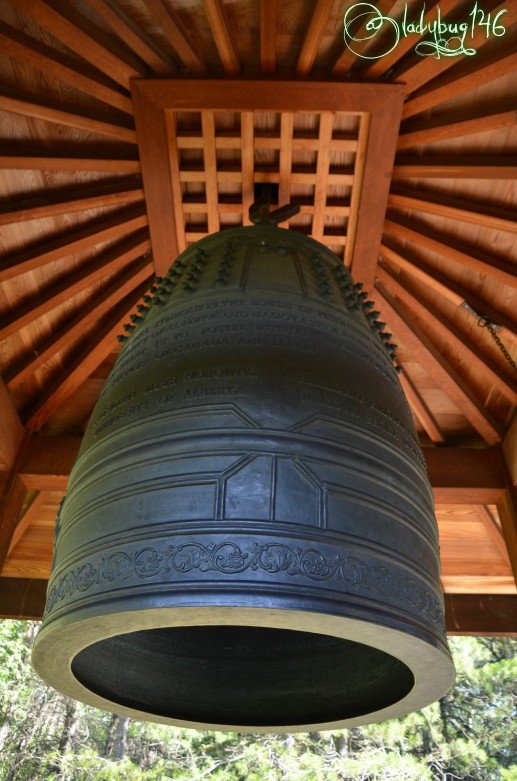 Shot 1/125 sec. f/5.6 18 mm, ISO 400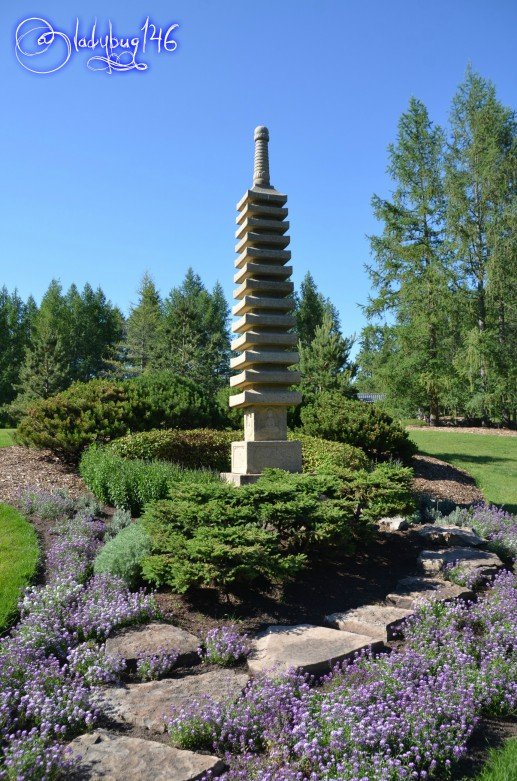 Shot 1/250 sec. f/8 18 mm, ISO 140
All images were taken with Nikon D7000 paired with sigma lens.
Cheers! X🐞X